You are now reading   intro | one | two | three | four | five | part six | seven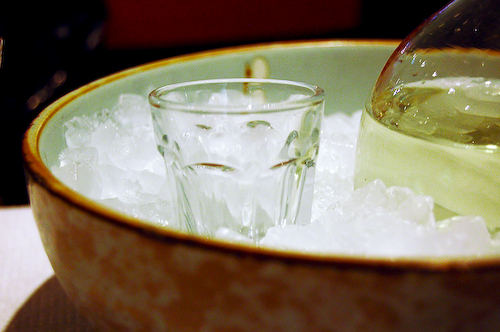 I think I've covered most of the wine basics in five parts and feel as if this would be the perfect post to write about some alternatives to the grape staple.
There is so much stuff out there to try, it would take you a lifetime to experience it all. The human quest to continually search for methods to refine the hedonistic has reached the point where you can find alcohol being made from pretty much all kinds of starch based foods out there. I'm not going to go into every single one, instead I'll highlight the two which I think most of you will find interest in: sake & scotch whisky.
1. sake
Or japanese rice wine, is about as close as you can get to a wine alternative. The general conception is that sake is meant to be had warm… but the truth is, it's meant to be had cold. Like wine, sake has several grades of refinement and each of them affect the quality and ultimately the taste. Without wanting to go into too much detail, the best sakes are made from using the purest water and having the rice milled to it's tiny core , ie, stripping away all the rougher outer bits.
Great sake can be fragrant, fresh and pure – with slight hints of sweetness. Sake's highlight is it's purity – so you will notice the smoothness straight away when you drink it. Think, superior light cream, not hard like water, but almost like water, but protected by silk going down your throat. Great sake tastes like that.
Now as with wine, temperature plays an important role in sake drinking. The warm stuff is usually what is referred to as 'filtered sake' . Filtered sake is about the lousiest grade of sake you can get. Interestingly enough, it's not made from rice … it's made from the shells of the rice. While it still carries the same characteristics.. it won't be as smooth as higher grade stuff, which is why it is served warm to thin out the hardness and to amplify the little flavour in the sake.
Real sake ( ok well, real to me anyway ) is served cold. Generally speaking, they fall broadly into two categories: dry & crisp or sweet & wet. Personally, I prefer it bone dry and crisp since you get the great flowery fragrance and purity coming through. But sometimes a little sweetness can be nice.
I alluded to sake grades earlier, my japanese is fuzzy, but if you keep the few items in mind the next time you run out to buy a bottle (or order in a restaurant) look for these things:
Honjozo – filtered stuff, made with added alcohol and preservatives because of dodgy rice. Not very good. Usually served warm, equivalent of table wine.
Junmai – Pure and made only from rice, pure water and koji ( the fermented bits) . Cold please.
Ginjo/Dai-ginjo – Same as junmai but made from rice polished down to 60% its original size. Dai-ginjos is made with rice down to 50%. Served cold.
Junmai Daiginjo – The above two but maybe added with residual alcohol to bring out more aromas and flavours. The top of the range. Can only be served cold.
Prices per bottle can range from anywhere between £5 to £££ (refuse to slap a number) , although if you spot a bottle which is a dai-ginjo or a junmai daiginjo going for around £30 and is refrigerated in the sake shop – then buy it. If you are in london, then the best place to buy sake is japan centre in Piccadilly circus.
If you want to eat sushi and drink sake try sake no hana (if you have deep pockets) which is Alan Yau's latest venture and has an exclusive sake list with no wine on it. If you are hit by economic woe, then look up donzoko. It's a great little japanese restaurant with the walls adorned with huge bottles of sake (a la kill bill style) . They also happen to house a japanese karaoke bar in the basement;  serving cracking noodles, great sushi and a huge sake list.
2. scotch whisky
There are actually lots of different kinds and they are made all over the world, but probably the most well-regarded ones come from the scotland. The 'scotch' is made from distilling malted barley several times until you get a golden hued liquid which carries the sweet fragrance of the beautiful malt it was made with, and also hints of smokiness which was imparted to it by the oak barrels it sits in for years and years before it gets bottled.
Generally speaking whiskies fall into two major categories, namely the single malts and the blended malts. Single malts are made of pure malted barleys from one distillery (hence it being 'pure') while blended malts  as it name implies, is a mixture of grains and malts. Whisky lovers lean toward single malts as it tends to produce whisky of more distinct character and taste. Having said that, it does not imply that blended malts are a slouch (far from it) as it can be argued that a blend of several good stuff invariable leads to a great drink in itself.
Of course, the only way to find out is to drink it.
The guiding principle in differentiating grades of whisky is by it's age. Typically the lower range ones will be matured in their oak barrels up to ten or twelve years. At fifteen years, you're getting toward the mid-range, eighteen is formidable and anything over twenty one years will be stunning.
Like wine, different whisky brands will have different characteristics, for instance it can range from being mellow & sweet, with hints of fruits & honey to being superbly strong, oaky and so hard it almost burns when it goes down. Personally, I think whisky is an acquired taste (well, arent all drinks an acquired taste?) as you really need to be able to tolerate the heat in order to appreciate it. And it can get very, very hot.
The brand names you should know about are glenfiddich ( sweeter I find ), glen morangie ( stronger ) , chivas ( for the blended aficionado ) and glenlivet ( well balanced ).
Of course, like wine – the lesser known producers will make stunning examples which are hard to find. If you're hunting for a nice christmas present and you happen to be in London then you won't go wrong with vintage house in soho. In addition to a super whisky section, they also have their own cellars (under the shop) and carry a wide selection of bottle matured champagnes such as a 78′ Dom. I'm told that matured champagne loses its fizz over time and turns into a buttery cream like the same way a french chablis ages. Well perhaps when there is cause for a huge celebration, I'll go try it out and let you guys know about it – till then, I'll stick with my budget conscious barolos.
Before I forget, if you really want to buy a 'real' bottle of whisky then the easiest thing to do, is to get yourself to scotland. You can start in edinburgh where you will find a smattering of whisky shops surrounding the beautiful castle. Be forewarned though because the rain is literally cats and dogs. Aside from that, it's a beautiful city saturated in historic stone buildings… and also a hive for punk culture.
In part seven, the final post…
We've almost, come to the end now! that's six weeks so far, next week is going to be the final post to conclude the seven part series so do come back for that one in seven folks.
Did you enjoy reading this post? Why not subscribe to my feed updates for free. Alternatively,  You can subscribe via email.