QGTW now reading    intro | part one | two | three | four | five | six | seven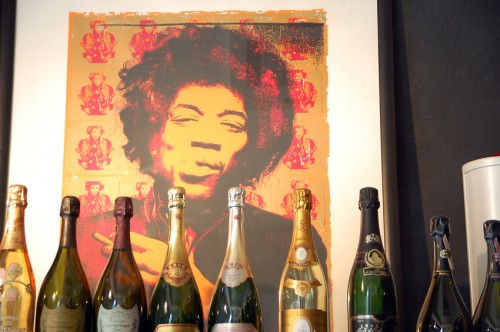 Love wine? Me too, now let's talk about it, all about it and from the very beginning.
Here's a little index of what's covered in this post:
A brief exposition
Wine is good for you
Everybody loves somebody else
Old World vs New World
Red Grape Varietals
White Grape Varietals
A brief exposition
Wine is made by fermenting the juices from crushed grapes. Yeast converts the sugars into alcohol and they continue to work its magic well after it has been bottled, making wine truly 'alive'. There are a complex set of chemicals that interact with one another to give the nice and sometimes not so nice flavours. When it works, its stunning, but when it fails its amazingly horrible. We've been making wine for nearly 8000 years, with the earliest records dating back to ancient Israel. All that rich history and culture is distilled into what we call wine.
Wine is good for you  
It has been said that the French know their wine, and they live longer for it. Red wine contain many goodies such as poly-phenols and anti-oxidants which help lower the risk of cancer and heart diseases. Generally, drinking small amounts of alcohol before you eat will help prep your digestive system. However, too much alcohol will fry your liver and kill you. Ok, my apologies, kill is a pretty strong word but its definitely unhealthy to be donning any form of alcoholic goggles on a consistent basis. You know who you are, don't over do it… too often.
Old world vs New world  
 Wine is grown on pretty much every continent these days, well except maybe the Antarctica. They can be classed as coming from two main 'regions' if you will: Old world and New World. Or, retro and new funk in my vernacular. 'Old world wine' usually refers to the established wine nations in Europe, in which the individual regions in those countries have come to define the traditional styles of wine. So stuff like Bordeaux in France, Douro from Portugal, Rioja from Spain are considered retro. Although when people mention old world, they are usually talking about French wine. These oldies tend to name their wines after the regions they are grown in.
So Burgundy is actually (well, usually) Pinot Noir grapes grown in Burgundy, France. They tend to be more disciplined in approach, more subtle, not 'loud', more mineral, you can almost taste the soil where the grapes were grown in. That kind of old, musky, dusty. Just retro. Everything else can almost universally be classified as New World, with certain exceptions of course.   New world includes Chilean, Australian, Californian and South African.
Wines from these countries tend to be cheaper, as they are newer, sometimes it is also due to newer wine production technologies but generally speaking, new world wines break away from the rigid conservatism of old world wines. They also tend to give their wines cooler names instead of adhering to traditional nomenclature. New funk wines are fruitier, more colourful, louder, weirder, daring, sweeter, everything just feels more amped up you know, its like Jay-Z versus Elvis. Funk v Jazz. Both have their strong points, and both are a matter of personal choice.
Everybody loves somebody else
So how do we judge what's good and whats not? The 'correct' answer is Robert Parker. He's like god as far as wine is concerned. His famous 100-point system can literally make or break vineyards. But, the real answer: You are the best judge of wine. Yes YOU.
Everybody's palette is different, everybody tastes different things because we've all got different taste buds, so something like pinot noir, which is a lighter style might be heaven to me, but to you it might taste like watered down grape juice. My advice to tasting great wine : Try everything.
Thats key.
When I first started I was pretty shy about drinking and wanted to read more about it before taking the plunge. Be daring. Try everything. Only then will you truly know what wine is. Don't ignore the critics completely, but approach their reviews with a pinch of salt. Tune into to the keywords they use and try the ones that 'sound' like it ticks most things on your list. Now, you wouldnt really know what's on your list till you've gone out there and tried the different styles.
Now, you might be wondering what to buy or try first or how much all this is going to set you back. Don't worry, I'll give you a basic list of things to look for in Part two. Hang back for that. For now, its worth understanding the different grape varietals that make up most wines.
Major Grape Varietals
I'm not going to go into every single one because there's simply too many of them. Different breeds grow in different places around the world and some are cross bred too. So I'm just going to mention the important ones. If you don't already know, wine comes in white, red, rose and sparkling. Different grapes grow better or worse in different parts of the world and produce huge variations of styles. It's the main reason why different bottles of wine taste so different. However, each grape has fundamental flavour profiles and this is just a brief overview of major grape varietals you will likely come across.
Let's start with the Reds:
Style: Medium Body, fruity, slightly peppery, smooth, rounded flavours. 
This is probably the most popular of all varietals. It is the primary grape for French Bordeaux's and excellent examples are found all over the world including Chile, Argentina, Australia and  South Africa. Its widespread because its relatively easy to grow compared to the other varietals and thus produce consistently good results. Because they have a high yield, it also means that the cheaper wines tend to taste pretty good. 
I like to think of cab savs as being the median on a bell-shaped curve. Typically, you will find that cab savs are forward, fruit driven, flavours of chocolate and peppers. Medium-bodied, so it's not too heavy but its not exactly a light weight either. Cab savs do everything, but not to any extremes. Its a good bet that a medium body cab sav will likely please most people.
Style: Lighter Body, perfumes, strawberries & vanilla, silky texture. 
This is considered to be an elegant varietal which can and has, produced some lovely wines. Pinot noirs, or Burgundy to the French, are expensive. And you will often be disappointed. Low yielding, these grapes are notoriously hard to vinify as they are difficult to grow. However, some of the finest and most expensive wines in the world come from Burgundy. In particular, Nuit-St-Georges from the famed 'Coast of the Nights'. 
Pinot is close to my heart. I probably drink pinots 70% of the time, having tried examples of this varietal from both the old and the new world. Pinot Noir tend to lighter bodied, their colour is also translucent and approaching pink as that's how light they can get. Pinot's tend to be on the sweeter side imparting flavours of vanilla, strawberries, cream. But these days, new world pinots can be very bright and fleshy, full of fruit and decadently sweet. 
Old world Burgundies, on the other hand, tend to be more mineral, while their new world cousins lean closer to the fruit. Great pinots also carry the distinctive silky texture which is so smooth that it feels like you're drinking creamy silk. But, it's not often you'll find this case…unless you are willing to fork out hundreds of pounds for say, a 1996 Latour.
Style: Full-bodied, peppery ,dark chocolates, amped profile.
Full-bodied, high in alcohol content and a big wine. Dark chocolates and black pepper with plums, everything is larger than life. As you can probably imagine, having amped up flavours also means amped up wines. Shiraz are muscular wines and have been made popular by some great Australian examples. The sun down under compliments this style. And by far, the most famous of the Australian shiraz's are the Penfolds Grange. Most of the vintages are awesome and they tend to hover around £120. That's a pretty good price for something that is considered spectacular in its own class.
Style: Light to medium body, plums, berries, high in tannins.
Ok, one of the things you will find in wine drinkers are that they are a horribly biased bunch. Take me for example. Personally I hate merlot.
It tastes of berries and plums, its light but at the same time its kind of muscular. But generally, I think the palette is just hollow, it just feels like someone cut a big hole in the middle of the wine and just took out all the important middle bits. Merlots are tannic, ie, it's got a sticky after taste. That's why you'll mostly find merlots blended with something with more body like cab sav. You might enjoy it, but personally, I avoid it like the plague.
Style: Medium to full body, jammy fruits, smooth texture, dominant flavours.
The steak wine. This is a famous grape in Argentina and they produce wines which are characteristically smooth, very fruit driven and are easy to drink. Medium bodied, however, the flavours are robust enough to compliment overpowering beefiness. I would say Malbec falls between a Cab Sav and a Shiraz.
Style: Light to Medium body, easy drinking, fresh red fruits, vanilla.
Primarily used in Spanish Riojas, they are also made famous by great Argentinian examples. I think this varietal will give people the correct impression of red wine. Tempranillos are fresh with nice round flavours of berries, plums and vanilla. It carries that fruity, sweet component. Nice.
Now, lets take a look at the whites:
Style: Crisp & clean like lemonade with apples & pear, sometimes buttery & creamy
This is probably a pretty widespread version of white wine. Personally, I like chardonnay, especially French Chablis. It's bright, fresh and so crisp it can cut through a mirror. Good Chablis can also be buttery & creamy which is wonderful.
However, some new world chardonnay tend to be over oaked. Oak is that disgusting smoky flavour you get with some wines. I hate oak. I think oaking should be kept to a minimum in wine, I mean, its like the makers threw cigarette buds in while they were making the wine.
That's why its become a trend for vineyards to release unoaked chardonnays, which tend to be bright, clean and lively.
Style: Sweet pears and juicy fruits, wet, sizzles, lively, fresh
This is a white varietal everybody must try. Rieslings are largely grown in  Mosel, Germany and Alsace, France. My personal opinion, pick up a German Riesling and forget the Alsatians. German Rieslings are regarded as one of the best whites in the world. Depending on the harvesting time, it can produce a dry-version, which is very clean in taste, but has a bright bouquet of flowers and juicy fruits. Its high acidity gives the wine a nice sizzle.
Then there are the sweeter riesling variants, which have a wetter-body that coats your mouth. It is like drinking light cream, minimal sparkles, apples, pears, and sweet juicy fruits. It's a really nice wine to have on its own on a summer days.    
Style: Dry like paper, mineral, sometimes stuffy and sour
Most whites are very clean anyway, but sav blanc is just really clean. It's palette is like a whiteboard. It's very mineral and lemony in flavour. Its almost too innocent. You can easily have this with food that has direct and very clean tastes. Like grilled fish or chicken. Good for summer too.
Style: Rich, Peachy, Wet, Lemon and Lime, a little buttery
Semillon is like a Chablis but after having a shower and doused with lots of clean bright fruit. You get some nice unoaked australian semillons that remind you of the sun. This is a nice wine to have for summer.
Style: Off-dry and wet, lively and young, with sweet lemons & oranges
I want to talk about the Italian Pinot Grigios because they are lovely. They are crispy and acidic and impart a natural sparkle. Grigio tends to be lighter in body, sweeter and just an easy wine to understand.
Whats Next 
Phew, so that's a brief overview of some of the more common grapes you will likely come across. Now that you have a basic flavour of what to expect, you are probably ready to start tasting some wine now. Here's a couple of suggestions to start with:
RED: Cassilero del Diablo Pinot Noir 2006 £6.99 oddbins 
It's a lighter style, so its easy to start with. Tastes of ripe strawberries and carries a slightly sweet edge. Try this with actual strawberries and some warm baguette.
WHITE: Dr Loose Riesling 2006 £7.49 oddbins
It's wet, rich aromas of flower and bright fruit, acidic and it sizzles with nicely sweet fruits of pears, apples and oranges. Its a great example of the venerable riesling grape.
Hope you enjoyed this, next week in part 2, I'm going to tell you abit about how to read and understand wine labels, identify your palette, show you how to sniff & scoff, how to store wine properly and also some gear you'll need to get started.
See you in 7 days guys!