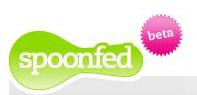 You know people often ask me where I find out about things to do in the city and my usual answer is "well I just do" . Strictly speaking, that's an exaggeration because I don't always "just do". That part is alot of reading, spotting adverts, recommendations from peeps and just generally keeping my "just do" radar up. Afterall, no man is an island as we are all social animals.
Really, we are. ( As according to a variety of scientific and non-scientific studies/surveys over the years in a number of fields which I will not refer to in this post ) ( sorry, I'm being cheeky yet again, *handslap* ) (yet more brackets, 'optional' reads )
As a blogger, I spend as much time blogging as I do web surfing and in recent weeks have been told of this new website, spoodfed.co.uk, which quite literally 'spoonfeeds' it's users events/entertainment/stuff to do in London. It's still fairly new, but it's already looking pretty good and more importantly, they list the more 'obscure' events which is always an attraction for me because, as you know, I'm a stickler for rarity.
Spoonfeed me kang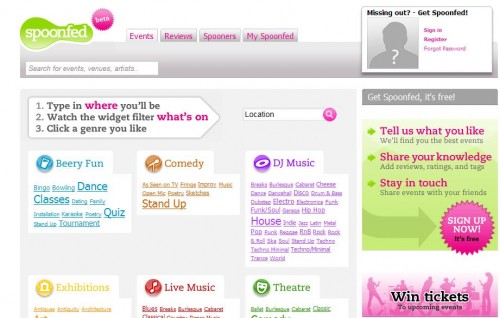 Well here's the homepage and it's fairly easy to follow, there are the separate categories and tags of the events which it falls under. I must admit, websites like these are very useful because believe me ( and this is for the benefit of my readers beyond the shores ) , there are an overwhelming number of gems occurring in the city all the time, and sometimes overlapping that the word doesn't always reach the wider public in good fashion. Even for me, keeping my radar up for cool things to do is a nightmare if you don't know where to look. It's even worse if you're a tourist without a clue. London is really so much more than just a big carousel overlooking a rather uneventful river, you just need to know where to look , and in this case, be 'spoonfed' info.
Play play play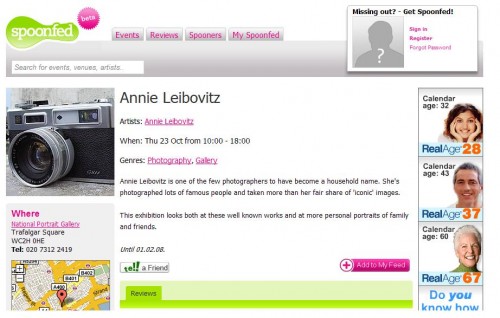 After accidentally stumbling into the Saatchi Galleries last weekend (which are showcasing a really excellent 'revolution' exhibit at the moment) , I'm in the mood for some cool photographic exhibits. So I clicked on the photography tag and it returned a few results of the coming events. This oneis starting today and it's annie leibovitz at the national portrait gallery in soho. Wow, this is pretty cool, Annie has only photographed, oh I don't know, pretty much everyone in show business who's somebody, so it'll be an interesting visit I reckon. Put that one down in my diary, next to Phantom of the Opera and beijing noodles just down the road if I'm feeling peckish.
This is why London is cool
There are just so many things to do in the city and they cater to all kinds of entertainment as well, if there's a hobby you are really into, its a good bet you'll find a society or an event which celebrates it in pretty glorious fashion in this city. All you need is a good guide to tell you where its all happening.
It's all happening when I get spoonfed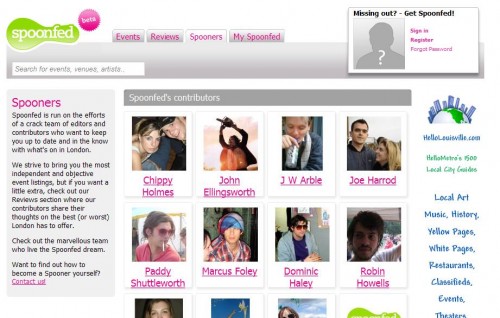 No doubt I'm adding this gem as one of the many sources for when I need to get out of the house. Besides any website in which the contributors brand themselves as 'spooners' has got to be legends in the making! Visit spoonfed now.
Did you enjoy reading this post? Why not subscribe to my feed updates for free. You can also subscribe via email too, and for free.