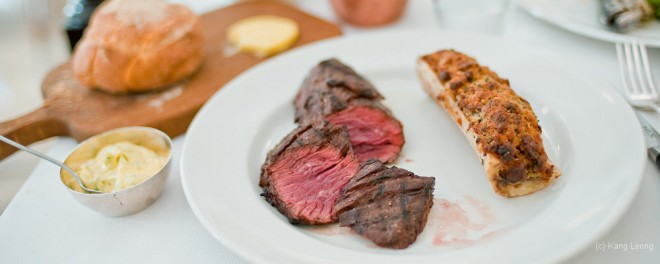 In the last few weeks, I embarked on a hugely carnivorous adventure to sample some of London's serious purveyors of the bovine to bring you this mini-guide to London's most well-hung. By far my favourite newsletter to put out yet. LondonEater presents The Steak Issue.
Dear fellow London Eater,
The LondonEater Newsletter, Vol 2, Issue 3
Steak is both functional and glamourous. Nothing compliments a whizzy jammy new-world red like a beautifully charred steak with a juicy red centre, the beef well-hung before, and well-rested after. Yes, beef is on the rise in London, chefs are modeling their output after New York's famed steakhouses, Peter Luger, Robert's to name a couple. To emulate Big Apple steak, restaurants are not only importing Prime USDA meat, they are also importing the vaunted charcoal grill (made in Spain) known as the Josper which is primarily capable of infusing a signature charcoal smokiness. 'Sealing the meat' is the art steak-houses engage, that is to sear the steak to produce a dry, crusty caramalised outer layer whilst ensuring the centre is still juicy. The greater the contrast, the greater the effect of amplifiying the spewing juices inside the steak. Sealing the juices is a myth, and largely an illusion. Finish off with a whippy béarnaise, or for purists, rock salt and you have the perfect meal.
I have prepared a short guide below with links to more detailed articles and reviews which I have been adding to my website over the last few weeks. Here I have concatenated what I hope will be useful links to help you find the best steaks in London. Enjoy…
best,
Kangpad…. yeah I got an iPad, and it's great, run out and get one.
The Basics
Lets talk about Beef
We start with a holistic view of the wonderful world of beef, with a walk-through the major cuts, done-ness and types of breeds around the world, including a mystically super-marbled type of beef known as Matsusaka.
An Illustrated Guide to steak cuts
Have you always wondered about the differences between a sirloin and a ribeye? The significance of dry aging, what makes a Josper Grill so special, and what is the main difference between grain and grass fed beef, USA versus Britain. Lots of photographs.
My Recommendations
Butchers
Ginger Pig
Their East Moor farm boasts the largest herd of Longhorns in the UK. Longhorns are Britain's oldest pure breed, the beef has great marbling characteristics and GP also dry-aged their own. Probably the best of England has to offer, fans include Heston Blumenthal.
O'Shea's Butchers
Dermot and Darragh O'Shea are 7th and 8th generation Irish butchers respectively. Their family business was established in Tippery in 1789. Darragh O'Shea runs the Knightbridge shop. I believe their family farms Angus breeds. They dry-age in-shop at Knightsbridge. I bought a 40-day hung cote de boeuf which I thought was absolutely fantastic. Unbelievable marbling, plenty of juicy beefiness. And ever so so fragrant. I am beginning to be believe the best of Britain are O'Sheas.
Jack O'Shea
Jack is Darragh's brother, technically speaking Jack and Darragh's produce are similar. JOS is located inside the Selfridges food hall, with dry-aging rooms there. I tried a t-bone and a ribeye which were fabulous. The cote de boeuf from Darragh's was juicier though. I usually gaze deeply into the meat counter whenever I am at Selfridges to marvel at the marbling… the marbling indeed. They also import Prime USDAs.
Wholefoods
Scotch beef is hard to come by in London these days, but you can get good Angus beef at Wholefoods in Kensington. You can see the impressive dry aging cabinets behind the meat counter. The beef carries wonderful grassy flavour. A firm tenderness, if that makes sense.
Restaurants
Premium £35++ per steak
Goodman
O'Sheas, Nebraska Prime, NZ Wagyu are all on their menu. They also have their own dry aging rooms. Grain fed proponents and they dry age their own steaks downstairs, this is why I love them. The sheer choice of top quality beef is unbelievable. They have perfected their Josper grilling methods managing to create a super crispy caramalised exterior, maintaining the juicy bloody centre and infusing a sizzling taste of charcoal that marries beautifully with the natural fragrance of well-hung beef. Their starters are ably amazing as well, featuring Frank Hederman Irish smoked salmon, a cracking lobster bisque and a creamy seafood risotto made with lobster butter. This is my favourite steakhouse in London, if you want to spend money on the best cuts of beef, Goodman is the answer. I recommend Prime USDA bone-in ribeye (700g to share) or the O'Shea's Porterhouse (700g to share as well) when available, with truffled chips, the stilton and bearnaise sauce.
Hawksmoor
They use the excellent 35 day aged longhorn stuff from Ginger Pig. Their steaks are beautifully cooked in the josper, juicy steaks. Bloggers love this place, but I prefer Goodman.
Maze Grill
Turn right for the Grill at Jason Atherton (or I should say James Durrant's) well received Gordon Ramsay restaurant. Personally I have not been to this restaurant at time of writing, but rest assured it is on my list. Reviews are rare, but the general sentiment is that Maze Grill know their meat. Their specialities are Creekstone prime USDA, corn fed, aged for approximately 35 days and Australian Wagyu '9th grade' Gold style. Creekstones are also used in Peter Luger in New York. A Gordon Ramsay restaurant.
Mid-range £25-£35 per steak
Chapters All Day Dining
This is the sister restaurant to Andrew MacLeish's Michelin starred Chapter One. All day dining is headed by Chef Trevor Tobin and located in Blackheath. He had done a tour of famous New York steak restaurants including Peter Luger and Balthazar to see how the Yanks did it, prior to opening shop at Chapters, additionally, he had helped the Goodman team headed by John Cadieux to get their operations running. John trained on the Josper at Chapters before heading Goodman. Their restaurant manager informed me that Chapters are one of only nine restaurants to own a Josper (Hosper) grill in the UK too. As it is based in Blackheath, steaks are alot more affordable than the Central London haunts, range of meat is limited. Hanger steak only £11.50.
Hix Oyster and Chop House
This was Mark Hix's first restaurant in London, opened in 2008 to critical acclaim, two years on, the rather elegant philosophy of oyster and steak is still going strong. Hanger steaks are served with a cross-sectioned whole bone marrow stuffed with garlic and breadcrumbs and then baked. The béarnaise is excellent at Hix, subtle creamy rather than buttery.
Budget up to £25
Le Relais de Venise L'Entrecote
This is based on the famous steakfrites restaurant that began life in Paris, now an international sensation, think of it as a kind of fast food steak, aside from puddings, that's all they serve. There are two in London, Marleybone and the City. For £22, you start with a lettuce and walnut salad and then tuck into two servings of entrecote, the second serving kept warm as you eat the first. Served with frites that would make any Parisian proud and smothered in the famous butter sauce.
Eastside Inn Just the onglet and frites, £18.
This is not a specialist steak restaurant, rather it is an exceptionally great French restaurant owned by Bjorn van der Horst, formerly of La Noisette. Their version of steak frites uses the Onglet (Hanger steak which is cut from the diaphragm of the steer, close to kidneys) and their definitive homage to the Parisian bistro classic give the essential dish a breath of fresh air. Exemplary production values. This is the best onglet steak I've ever had in London and I highly recommend it.
My favourites right now
1. Zucca
2. Koya
3. Eastside Inn
4. Hind's Head
5. The Fat Duck
What I am up to online elsewhere…
I now occasionally write restaurant reviews for Redvisitor which is an amazingly awesome Travel website which has only just launched a few weeks earlier. I am preparing a feature on London restaurants right now which should go online soon. Do give Redvisitor a quick look see.
I also wrote an 8 page 'Insider's Guide to London' for The Address Magazine recently. You can view a digital version of the magazine here. Flip to page 93.
Look out for my quirkier blog posts and additional restaurant reviews which do not appear on LE at Lastminute.com's blog where I am a one of their many bloggers. My review of JW Steakhouse is due to go online sometime in the middle of next week over there.
In the next issue Fantastic new openings by crazily talented chefs are opening left, right and centre, in about two weeks from now, I will aim to showcase the latest and greatest and provide just a snapshot of the exciting openings to come in the months ahead, including Heston's London debut. Stay tuned.
Did you enjoy reading this? You can subscribe to the Newsletter. Alternatively, you can subscribe to the RSS feed. Free, free free.