I attended a mega steak tasting dinner very recently put together by Douglas who writes the magnificent Intoxicating Prose, and the good people over at Chapters All Day Dining in Blackheath. One of the few London restaurants which has installed a Josper Grill. It was an enlighteningly event and I thought it would make the perfect platform to hang a discussion of steak around it. Lots of pictures of meat inside.
A Prologue
Chapters All Day Dining is located in Blackheath, South East London. Once the old Chapter Two to Chapter One, the latter a One Michelin Starred restaurant, and the former re-imagined in 2008 into the less formal all day dining venue it is today. A particular trek from West London personally, and my first time venturing to these parts.
Alright, so I wanted to write more about steak. I say more, since I had written a little piece about Beef a few months ago, and I thought rather than write a straight up non-review of a bespoke blogger event (which is not very useful anyway), I thought I'd use this backstage pass to talk about the salient points regarding the wonderful world of steaks. This dinner also gave me a little insight into how London restaurants prepared steaks today, particularly how restaurants are moulding their business to replicate famed New York haunts.
Meet the Chef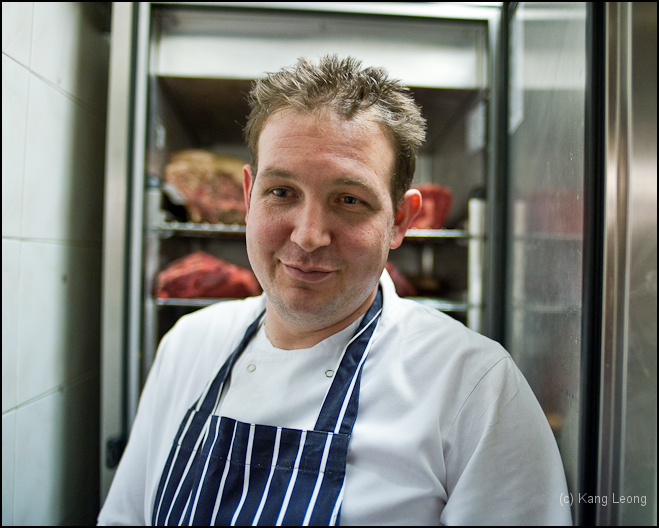 Trevor Tobin is the head chef at Chapters who cooked dinner for us. Us being a contingent made up of Niamh, Douglas, Denise, Carly and Luiz. Along with Exec Chef Andrew MacLeish, he had done a tour of famous New York steak restaurants including Peter Luger and Balthazar to see how the Yanks did it. Additionally, he had helped the Goodman team headed by John Cadieux to get their operations running. John trained on the Josper at Chapters prior to opening Goodman. Chapters are serious about their steak. Phillip Urasala, restaurant manager, informed me that Chapters are one of only nine restaurants to own a Josper (Hosper) grill in the UK.
Chapter One: Introducing steak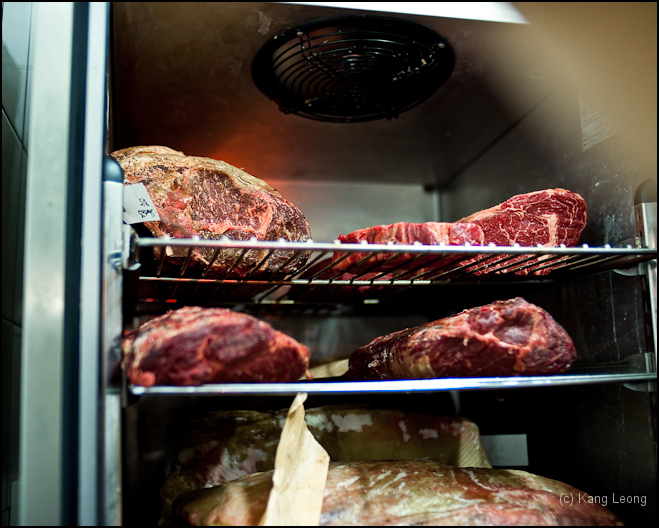 A well marbled, well hung, 10 oz rib eye on the bone, preferably Prime USDA, Angus, cooked over charcoal at 650 C. Perhaps some blue cheese or gorgonzola and creamed spinach on the side with triple cooked chips. Not forgetting a small bearnaise sauce, or maybe a choice of a bordelaise with bone marrow. For me, that's the perfect meal. But what makes a good steak so special? Why does Wagyu cost ten times as much as a Sainsbury basic range and what makes a Josper grill the perfect steak-searing machine? I just love steak, and I wanted to collate my thoughts about it.
Fat = Flavour
Great steak is all about marbling. Marbling being the marbled pattern that is created from the intramuscular fat inherent of the meat. What you are looking for are those creamy yellow dotted bits. The more creamy bits you see, the higher the marbling, the fattier it is, the more potential for flavour. All the flavour is in the fat, folks. Marbling is partly genetics (Like say Wagyu, Angus or Longhorn showing more marbling than say a Charolais) but it is also affected by feeding methods. Length of time, feedstock (grain or grass … or beer..) and age of cattle also affect marbling. The secret in achieving good marbling equates to expensive beef. Marbling also contributes to tenderness as well, and as you suspected, the higher the fat content, the tenderer it would be. In Japan, the quality of marbling determines the grade of the beef, and the price is determined in an auction, hence the 'market price'. As a point of reference, Prime USDA carries a marbling 'score' of 6, Japanese Wagyu is as high as 12, though I have seen 14th grade Wagyu being sold in Asia before. Beautifully marbled beef is suppose to smell great, almost fragrantly perfumery. There is also another reason for fragrance, and tenderness: Aging.
The importance of Dry Aging against Wet Aging
We can't have a discussion about steak without talking about aging. Aging beef is perhaps the most crucial step in preparing the meat as it allows it to achieve much more flavour and tenderness than if you cook it straight from the abattoir. The process breaks down connective tissue so as to tenderize it. Aging is the natural tenderising process, as oppose to artifical tenderising powder which mimics the effect of natural enzymes breaking down the meat. There are two types of aging: Dry aging and Wet Aging.
Dry Aging involves hanging entire halves of carcasses or selected premium cuts in a cool, dry area to allow the beef to age naturally. When dry aging, the natural enzymes in the meat are allowed to break down the fibrous tissue which acts to tenderise the beef. Dry aging also means that the beef loses water content as it evaporates over time, leading to a loss of weight but which means that the beef gains concentration in terms of flavour. Dry aging is typically between 14 to 28 days, sometimes it can be as much at 40 days and at times up to six months. Dry aging also causes a layer of fungal 'crust' (which doesn't affect the meat inside) on the outside. This is the reason why dry aged beef needs to be trimmed and this means throwing away as much as 20% of the initial weight of the meat, more if it is dry-aged longer than usual. As you can appreciate, Dry-aging is an expensive process, but it is the gold standard in enhancing flavour and tenderness. A well-hung piece of meat is dull red, instead of a fresh red. This is why premium butchers and high end steak houses are so boastful of their on site dry aging facilities. The next time you go to Goodman, ask for a tour. Dave, the restaurant manager will happily take you downstairs.
Wet Aging is to vacuum seal the meat such that no moisture is lost, the natural enzymes do their work, but in a slower way than dry aging. Unlike dry-aged meat which requires a more intensive surrounding, wet aging requires less maintenance. Basically, you are leaving the bag of beef to rot in its own juices, in a fridge over a couple of weeks. With the moisture retained, it is thought that wet aging takes three times the length of time to achieve the same flavour concentration as dry aging. A process that was pioneered in the 70s, it quickly became the preferred method for aging beef in the States since it is cheaper. Most lower grade US beef (USDA Choice for example) is wet aged. The beef isn't as tender and not as flavoursome as dry aging of course. For more info, have a look here.
The moral of the story: Always go for dry-aged beef.
The Steak Cuts
Depending on which part of the animal the steak is cut from; it can be leaner, it can be fattier, it can more flavoursome, it can even be an offal masquerading as a steak. In this section, I thought it would be helpful to discuss the major characteristics of cuts, how to identify them and why people prefer one over the other.
The Fillet
The fillet is easily to identify: It looks like a red log. When sliced, it looks like a red medallion. It is also the leanest cut of the animal. Hence the redness. Marbling is usually minimal relative to the rest of the animal. The tenderness is largely because this is the least exercised part of the animal. Since it is so lean, it is also usually quite bland. But then equally the high degree of tenderness makes it perfect for a saucy recipe or having it to be paired with another more intense ingredient, like foie gras in a Tournedos Rossini or perhaps a bacon wrapped filet mignon and an oyster-stuffed carpetbag steak.
Some taster notes here on this: Chef Trevor kicked off the tasting with a Cumbrian fillet aged in his meat locker for 18 to 19 days. The beef is sourced from W.G. at Smithfields. Cooked in the Josper to medium rare. He chose to only gently sear the exterior so it was still as tender as the meat inside. He kept the cooking light to match the delicate nature of the fillet. Served closer to rare than medium rare, well-rested. The meat was so butter-tender. British Beef is mostly grass fed, and I was surprised how much flavour this meat had. Of course, this meat carried the smoky charcoal sensations, hallmarks of the Josper.
The Ribeye
You can think of the ribeye as the anti-fillet. Cut from the rib section, it is usually very fatty and you will see a high degree of marbling which leads to a juicily tender cut of meat. It is usually the 2nd most expensive cut – after the fillet – but it is the most prized cut amongst beef lovers, including myself. Because of the high fat content, it is usually seared abit longer to allow the fat to melt and baste the meat for flavour and juiciness.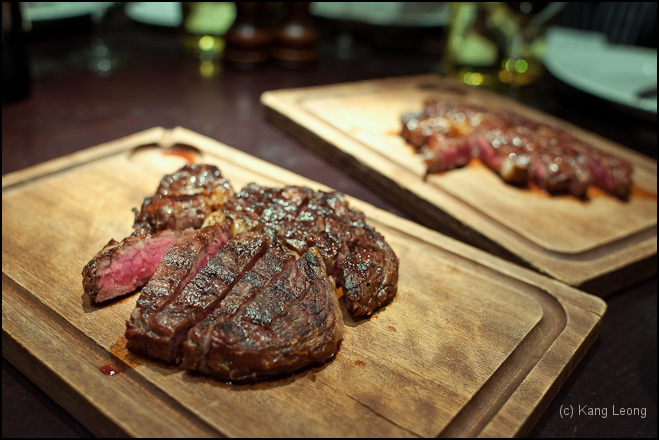 Trevor prepped an Oz ribeye, Hereford and dry aged in-house for 40 days. Note the marbling! As you can probably tell, this meat is different from the fillet. The chef chose to caramalise the outer to a crispy crunch, the meat is closer to a medium than a medium-rare. I wasn't too impressed with it though, the cut was surprisingly tough for a forty day aged ribeye, and the fatty bits were thin on flavour, no blue cheese here. Sorry Australia. On another note, Trevor did inform me that he has aged Australian meat to 180 days before, which as one can imagine, leads to pretty interesting results. Not today.
Bone-in Ribeye (Cote de Boeuf) and the Sirloin
The only cut better than a ribeye, is a ribeye on the bone, the cote de boeuf. The extra fat around the bone gives the meat extra flavour, oh yes it makes a difference, a juicier end product.
The shot below also depicts a sirloin (right). The sirloin is cut from the rear of the animal. There are two types of sirloin, the top is cut from just under the tenderloin, it is tenderer and is usually the cut throw into the grill. The bottom sirloin is tougher. I liken the sirloin to the happy medium in between the fillet and the ribeye. It has the flavour comparable to the ribeye, but it isn't too mushy, while tender it has a very firm chewiness which people appreciate. I tend to view the sirloin as a very balanced cut of beef. Not too chewy, not too much fat, not too lean. I still prefer the ribeye though, fat rocks my world.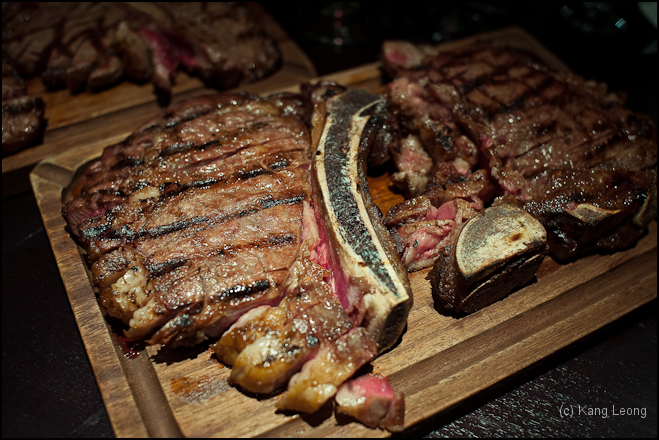 These are Chapter's most prized cuts. Both are Prime USDA steaks from Omaha, Longhorn grain fed cattle. The meat is pre wet-aged (I guess on the flight over via NY?) and then dry aged for 18 days in the chef's locker. So this is unorthodox… I wonder if Goodman does the same.
Now this is what we're talking about. I immediately noticed the tenderness of the ribeye, much more so in comparison to the Oz version. Grain fed beef also takes on a much different taste, cleaner and dare I say 'sweeter' than grass fed beef. The fatty bits have a very distinct blue cheese flavour, almost verging on a gorgonzola with the same sort of creaminess, hallmarks of prime American.
Le Onglet or The Hanger.
This is sometimes affectionately referred to as the 'butcher's steak' as it was originally the cut of beef the butcher kept for himself. Where it was once neglected by diners, this exotic cut of meat is now lusted after by steak-lovers for its strong offal-like flavour and a sinewy tender texture akin to kidney. There is only one onglet to each carcass. Technically speaking it is not a conventional steak cut, it 'hangs' from the steer's diaphragm, and it is situated very close to the animal's kidneys, which is what gives the meat its wonderful gamey flavour. The onglet requires abit of skill in prep, in that it has a noticeable central fibre which joins two pieces of onglets and there is very noticeable grain (like streaks) in the meat which when served, it must be sliced across the grain. Also, because of the grain, it is usually served rare, any more heat and it becomes too chewy.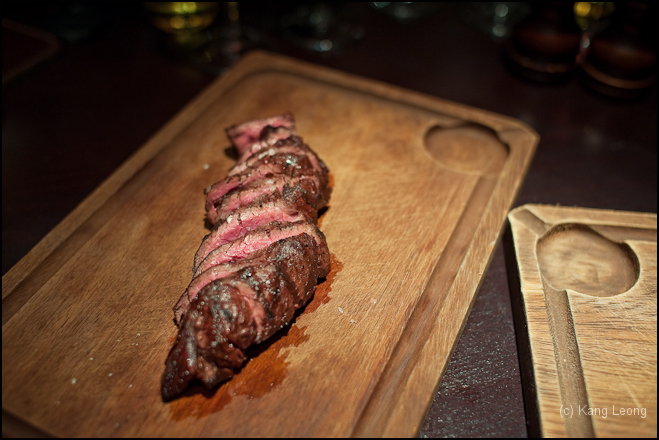 This example is one-half of the conjoining onglet, English beef, grass fed. Served rare as it should be, it mimicked the chewy texture and flavour of kidney. Personally, I would have preferred it to be a tad more rare. Though, I could tell he was very scared to burnt this cut in the josper, as it wasn't as caramalised and did not exhibit as much smokiness as the rest of the steak we had on the night. In my humble opinion, I think that because the hanger steak needs closer attention, perhaps an open grill or even pan-frying is better suited to delivering perfect onglets as opposed to the guesswork in a super-hot josper where you basically give up control to the charcoal. Personally, I feel that the French do better hanger steaks than we do, with a preference of pan-frying it.
The Porterhouse and The T-bone
Can you tell which is which? The Porterhouse and the T-bone are essentially the same except for one major difference: The former has a larger piece of fillet attached on one-side of the bone. On the other side, is a sirloin. In the picture below, you can clearly see that the one on the left is the porterhouse.
T-bone/Porterhouse steaks are the best of both of worlds. On one side, you have a tender fillet, on the other side a juicy sirloin. The meat on the bone is of course, a flavour-bomb. Plus it looks great. The porterhouse is the choice cut in this case, and it can be an incredibly satisfying experience tucking into one, especially when you finish, desperately digging into bone and then simply resorting to sucking on the it.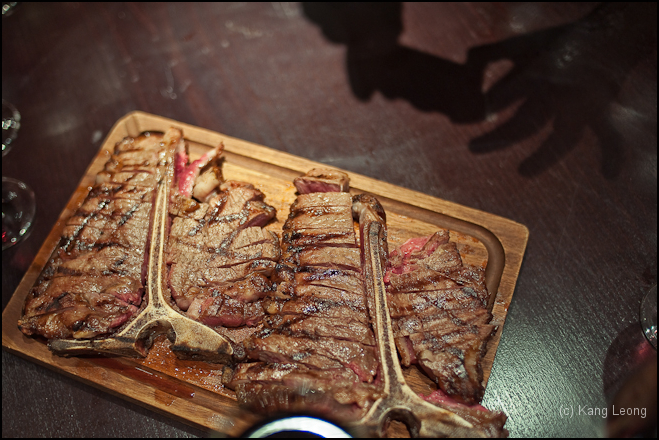 These are Prime USDAs and as you'd expect, succulent and tender, As we approached the end of the tasting, I found myself desperately trying cram more of steak in. I couldn't do it.
Ok we are on to the big finish….
BRITAIN VS AMERICA.
So this is what we had:
West – Prime USDA Porterhouse and T-bones
North – Prime USDA Bone-in ribeye and Sirloin
East – Scotch T-bone and Sirloin
South – Scotch Bone-in ribeye and T-bone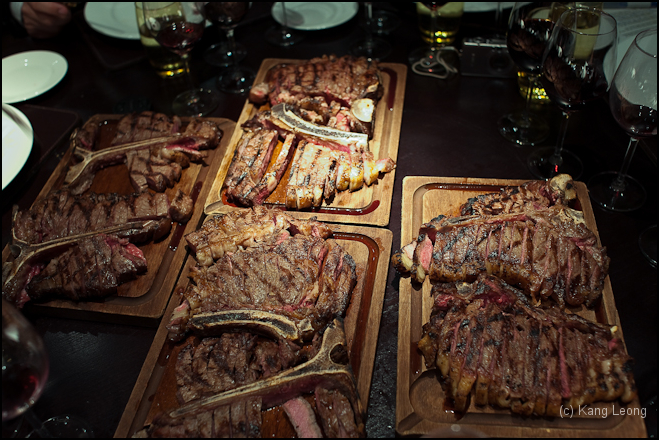 British reps step up step up… Scotch Angus, dry aged 21 days, grass fed.
Mad props. The scotch ribeye has bags of beefy flavour, like a kind of clean flavour, purer. It is however much chunkier and firmer in general when compared to USDA. On the other hand, the Prime USDA exhibited a nuttier, creamier flavour, with a tinge of blue-cheese. It is alot more juicier and it is markedly more tender as the beef is more marbled after all. The last time I did a steak comparison at Goodman, the American stuff also came up top, personally. It's the super tenderness, and the sweeter beefiness.
Debunking the Josper Grill
Despite popular belief that this kick-arse grill is all-American, it really isn't. It's Spanish. So just what exactly is it? And what makes it such a special steak-grilling machine anyway?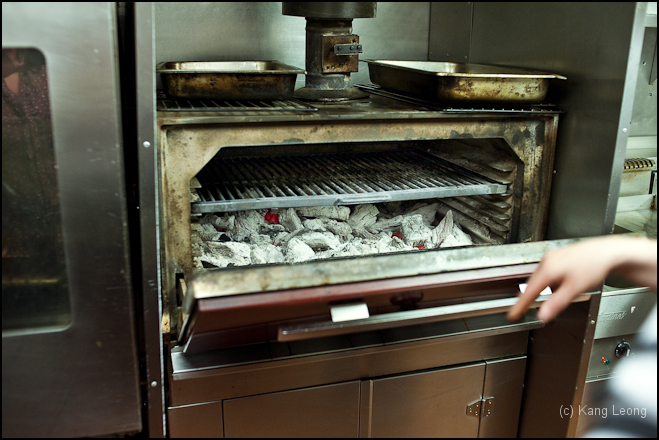 So this is what a Josper Grill- pronounced 'Hosper' – looks like. And I was surprised how small it was. Maybe measuring 3m x 3m only. It is basically an oven stuffed with charcoal that has refractory materials that can withstand temperatures up to 1000C (I'll dispute the chef and say it goes to an average of 650C to 700C). The chemical engineer in me thinks that the refractory material on either side of the grill which prevents the intense heat from melting kitchen appliances around it are made from a magnesium alloy – that's what is used to line the walls of blast furnaces which melt iron ores to make steel.
So the choice of charcoal is important. Different types of charcoal embers will create different types of heat, and I imagine pass on the flavour of the 'smoke' on to the meat. Chapters uses Argentinian charcoal, I'm not sure what Goodman uses. Because the josper is a sealed oven with its fuel source being charcoal, it needs to be opened every now and again to let air in (once the oxygen is exhausted) to reignite the flames from the charcoal. It quite literally sets the steaks on fire.
There are only reportedly nine Josper grills in and around London. We're not sure how many exactly, but not many UK based restaurants have one. Let's name drop. Maze Grill, Bellavista, L'anima, Hawskmoor, Goodman, Chapters Blackheath, Chapter One, La Chapelle…. and one more which we cant confirm yet. Circus? The Big Easy? El Pirata, maybe.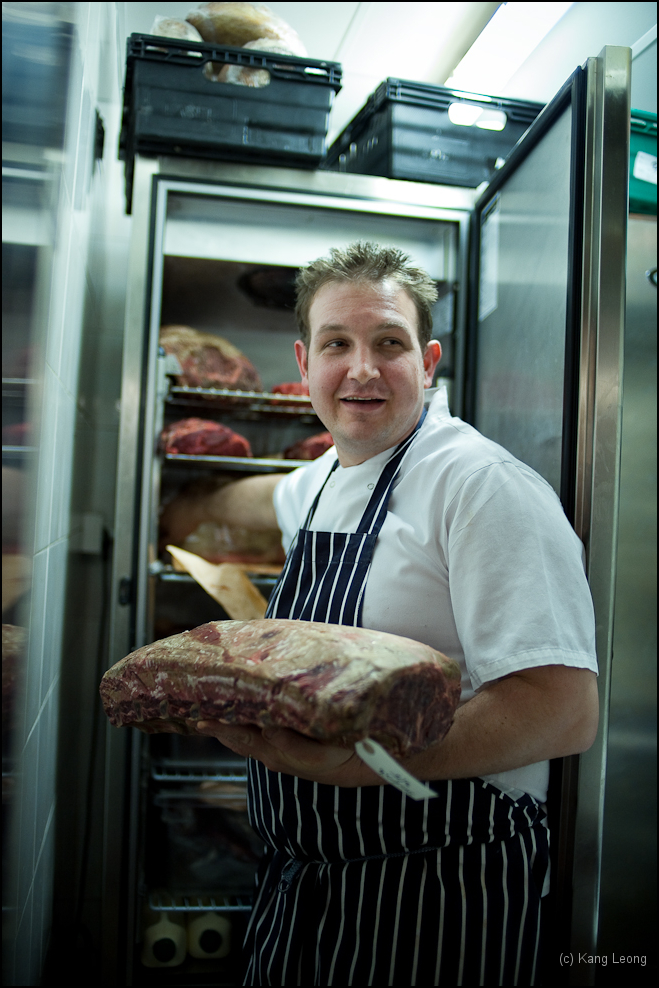 Our steak odyssey ended with Trevor showing us his meat locker chock full of beef. Here he is showing off his American prime rib. Note the seven ribs, Brit beef only has five.
In the end, this was a satisfying meal, Trevor surely knows how to grill a piece of meat, additionally he supplemented his steaks with an assortment of beautiful starters, especially the risotto in wild garlic and creme fraiche.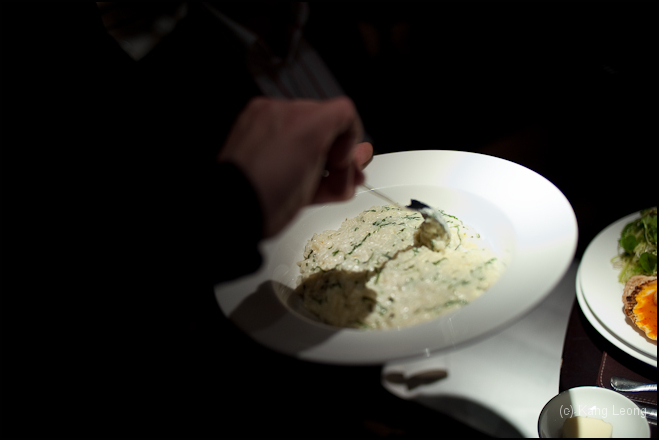 The pristine cream-coloured risotto was heavenly, it was textured like a smooth rice pudding, but it had rich aromas of wild garlic which translated into an intense flavour on the palate. A really lovely plate of food I thought, simple too.
Of course if I had to make comparisons, I think Goodman still comes out top, but that is mostly down to the sheer choice of meat they serve. O'Shea Irish beef, New Zealand Wagyu, Scotch Angus, Lake District Herefords… top dollar for top quality beef at Goodman, it had better be good. It is roughly £6.25/100g for Goodman's Nebraska beef. Chapters' Prime Omaha are a much more affordable £4.50/100g. The Oz Ribeye 320g is under £20 and the hanger steak is only a mere £11.50 for 250g. You do get great value for decent steaks at Chapters and if I lived in Blackheath (and if this meal is anything to go by) I would be confident in Tobin's team delivering a juicy steak. The bearnaise is whippy, eggy and fragrant. We didn't try chips so can't comment.
Thank you Douglas, Trevor and Phillip for putting this together.
Where to Meat in London
I just wanted to close this discussion with a more informed list of steak purveyors.
Butchers
Ginger Pig : East moor farm boasts the largest herd of Longhorns in the UK. Longhorn cattle are Britain's oldest breed, the beef has great marbling character and GP also dry-aged their own. It is probably the best of English beef, fans include Heston Blumenthal.
O'Shea's Butchers – Dermot and Darragh O'Shea are 7th and 8th generation Irish butchers respectively. Their family established themselves in Tippery in 1789. Darragh O'Shea runs the Knightbridge shop. I believe their family farms Angus breeds. They dry-age in-shop at Knightsbridge. I bought a 40-day hung cote de boeuf which I thought was absolutely fantastic. Lots of marbling, plenty of juicy flavour. And it smelled so fragrant. I am beginning to be believe the best of British are O'Sheas.
Jack O'Shea – Jack is Darragh's brother and his business is based in Selfridges, with dry-aging rooms there. I tried a t-bone and a ribeye which were great. The cote de beouf from O'Sheas was juicier though. I usually stare at the meat behind the counter at Selfridges. The marbling.. the marbling! They also import Prime USDAs.
Wholefoods – Scotch beef is hard to come by in London these days, but I think you can get good Angus beef at Wholefoods Kensington. You can see the impressive dry aging cabinets behind the meat counter, and the beef carries wonderful grassy flavour. Firm tenderness.
Restaurants
Goodman – O'Sheas, Nebraska Prime, NZ Wagyu are all on their menu. They also have their own dry aging rooms. Grain fed proponents and they dry age their own steaks downstairs, this is why I love them. Also, I think they have perfected the josper smoked steak. Trust me, you can't go wrong here. The sheer choice of top quality beef is unbelievable.
Hawksmoor – They use the excellent 35 day aged longhorn stuff from Ginger Pig. Their steaks are beautifully cooked in the josper, juices well sealed. Bloggers love this place, but I prefer Goodman.
Maze Grill – Turn right for the Grill at Jason Atherton (or I should say James Durrant's) well received Gordon Ramsay restaurant. Now, I've not actually been to this restaurant at time of writing, but rest assured it is in my list. Their specialities are Creekstone prime USDA, corn fed, aged 35 days and Australian Wagyu '9th grade' Gold style.
Hey guys do chime in with some suggestions or if there are some glaring errors with my work here. Hope you enjoyed this steak-out. Read the precursor write-up "Let's talk about beef" here.
Did you enjoy reading this? You can subscribe to the Newsletter. Alternatively, you can subscribe to the RSS feed.