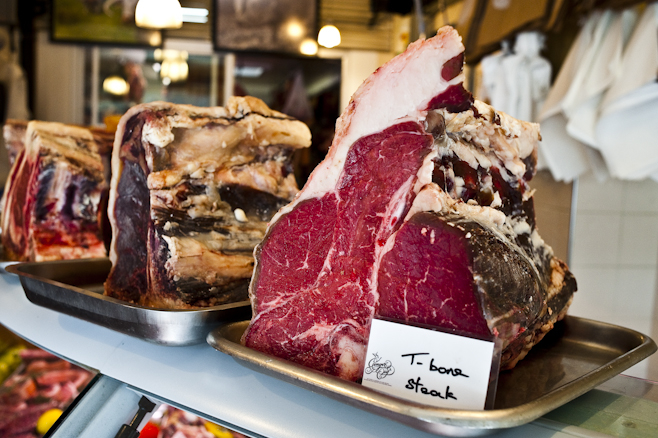 I have vivid childhood memories of tagging along to the supermarket with my mum and her methods of judging if a piece of meat was fresh or whether it had gone off, she would always sniff the meat – if it smells good, it can't be bad. Growing up in Brunei, everybody has a passion for beef, so much so that the government owns a cattle farm in Northern Australia, over 2000 square miles and just a shy larger the country itself – completely dedicated satisfying the appetite of a nation. Ironically enough, quantity doesnt equate quality as the produce is of largely forgettable quality; so bad that I would say it's some of the worst beef I've ever eaten. Local supermarkets would use red tinted fluorescents to light the glass counters so as to make the beef look more appealing. My mum would always hold it up against white light, and she almost always opts for the tenderloin and nothing else because that was the only cut of beef tender enough not to turn into a rubber tyre after searing. This meant that all beef had to be tenderised before cooking. My mum started out with powdered tenderisers, though it soften the meat, it gave it a horrible plastic taste. Later on, she switched to a more 'direct' approach to tenderising with a studded steel hammer designed to pound the life out of the meat. Her speciality were seared black pepper tenderloin steak sandwiches. I liked mine with white bread and just a dash of Heinz… those were the days. Beef import choices weren't always limited to the government owned ranch and back in the colonial days (Eighties), supermarkets stocked air flown Prime USDA beef, and even scotch beef, but that was a long time ago. In the ensuing years, my family's quest for the bovine would be supplemented by regular trips around the globe and unsurprisingly, we would seek out the best grills in town to satiate our ever growing appetite.
Today I still carry the torch to continue my dad's legacy of searching out for the best beefy things around. Cattle of one form or another has been consumed since the stone age and several methods of cooking has evolved over the centuries ranging from just eating it raw to slow stewing. I count myself fortunate to have tried many variations including recently conquering a fine piece of Biltong which my colleague brought back from his trip home to Jo'burg. Some recipes I'd like to try out include a carpetbag steak – an interesting one – which is basically a steak stuffed with fresh oysters. Something which doesn't sound as appealing, but equally intriguing is a restructured steak: basically, an inexpensive steak formed by binding together small chunks of low-quality meat to create something which taste more expensive … artificial.
A discussion about beef has to include abit of blurb about the major breeds. Various sources suggest that there are anywhere between 250 to 800 recognised breeds across the globe which largely fall into two categories. Bos indicus are adapted to hot weather; Bos taurus for cooler climates. The cattle site is an excellent resource which describes the different known beef breeds in further detail, in addition to in depth and albeit scientific articles regarding the cutting edge of cattle breeding. Among the more popular breeds in today's kitchens are the Black Angus and the Wagyu breed which in recent decades has gained in significant popularity due to it's signature marbling and natural flavour.
One area of beef which I continue to find fascination with are the cuts. As I understand it, the entire carcass is first divided into the primal cuts, before being diced into derivative bits. Depending on which country it is, primal cuts vary slightly but let's use this butcher's chart prepared by the American Angus Association as a go by:
Chuck – Is the meat cut from the upper chest of the animal. Otherwise sold as braising steak in the UK, it is usually used for in stews or slow cooking.
Brisket – This is cut from the lower breast of the animal, immediately below the chuck. It is usually a tougher cut and so is often used in slow cooked recipes. Brisket is also used to make salt beef.
Shank – The beef shank is lean and tough, it is after all what the animal exercises most. It is rarely sold due to its size and difficulty in cooking it. Though if you find one, it is usually one of the cheapest cuts and the bones would make great stocks.
Short Plate and Flank – This belly bit of the animal produces the Bavette – a relatively tough cut of meat, and is usually roasted and cooked to rare or medium rare. When a kitchen can get the tenderness right, this cut of meat has great flavour.
Rib – This particular part of the animal is probably the most prized. Situated at the top of animal, it is the least exercised part of the animal, and is also where the supposed prince of steaks – the rib eye is cut from. Rib eyes are prized for their marbling which produces a wonderful balance of tenderness and flavour. This is personally my favourite cut of meat, particular a bone-in ribeye – the bones and fat are where all the flavour lies…
Short Loin – This section produces the most tender cut of beef : The tenderloin. However it's tenderness comes from the fact that it is the least exercised muscle, however it is a relatively lean meat, and so is usually quite bland in comparison to say the ribeye. There are two other famous steaks which are cut from this section too : The porterhouse and the t-bone. Both steaks basically have two distinct cuts of steak held together with a bone in the centre. Both steaks have one side made up with the sirloin, and the other side with a fillet. The Porterhouse is differentiated by the relatively larger cut of tenderloin when compared to the T-bone.
Sirloin – This cut is easily recognised by it's layer of fat across the outside of the meat. Sometimes known as the New York Strip, it is one of the most popular steak choices, since it has a good balance of flavour and tenderness. Some prefer it to the ribeye because it is a leaner meat, with the top layer of fat providing the flavour… but not me.
Round – Finally the cow's bottom, is where you will find the round or rump steak. Tougher than the more expensive loin or rib cuts, but when prepared correctly can be extremely satisfying for its great flavour. If memory serves me right, the rump is particularly popular in Germany.
Oh there is one more cut that is gaining much popularity these days and that is the hanger steak. It is located in the flank area and is close to the kidneys. This gives way to an interesting string-like toughness but most of all, it imparts wonderfully rich and liver-like flavours. It's wildly different to any of the conventional cuts and is sometimes known as the onglet or the butcher's fillet – as the legend goes that butchers would not sell these and traditionally save this cut back from themselves. Must be had rare to medium rare due to its relatively toughness.
Which brings me to talk about the degree of cooking which ranges from raw, blue, rare, medium-rare, medium, medium-well to burnt like toast. Personally, I like my steaks still bloody and prefer medium rare because it preserves juices, flavour and maintains the natural tenderness of the meat… with just enough of the inherent fat melted into the meat to ooze flavour… ooh… in terms of figuring out how cooked a steak is, the rule of thumb is pretty accurate by simply comparing it to the tender bits on your face : chin – rare ; tip of nose – medium ; forehead – overcooked.
So far, I have had tried most of the popular breeds from their respective countries. This includes Prime USDA, French Charolais, Scotch Angus, English Casterbridge, Welsh Black and Australian Wagyu. Everything in that list, apart from the American classification was eaten in their native country. To me, a perfect steak is a combination of an expert griller and also a high quality of meat. I place more importance to the latter than the former. I look for wonderful marbling which usually translates to flavour and tenderness. If we use the ribeye as a point of reference, then the most tender steaks I have tried thus far are Prime USDA ribeyes. They just have a buttery texture that simply disintegrates in the mouth. French Charolais, in opinion are tougher than their international counterparts and are best eaten very pink. In terms of flavour, I like Scotch Angus ribeyes which some say is due to the grass they are fed on in Scotland. But the best steaks I have ever eaten surely have be the wagyus in Sydney. 450g of pure bovine bliss, I don't remember the name of the restaurant, but I do remember that it overlooked Bondi beach. There is just a wonderful balance of rich flavour and chunky tenderness.
One particular type of breed that continues to elude my voracious appetitie are what I believe to be the true King of steaks : Kobe beef. Bred in Kobe, Japan, this was the original location of the vaunted Wagyu cattle, before breeding began in elsewhere in America and Australia. The 'new world' pretenders does not seem to replicate the original Kobe steaks in terms of truly ridiculous marbling. Unusually high in unsaturasted fat, as a point of reference, while the most expensive cut of prime USDA is graded at 6 on a marbling scale of 1-12, Kobe beef tends to be graded at 12 (Source: Wisegeek) , giving way to sensations incomparable with any other beef (including wagyu breeds but raised elsewhere). Of course, nobody really knows how or what the Japanese feed their wagyu cattle on, some say their coats are brushed with sake, others claim they make the cows listen to classical music, while most will claim that the cows are simply drunk all the time from excessive beer bingeing. A Kobe steak is distinctive in the way it looks; it is more white with red speckles of muscle instead of the other way around. Take a look at a picture of the meat here.
Of course just when I thought I had my eye on the real target, I stumble across another variant of the Wagyu known as the Matsusaka. Sometimes affectionately referred to as 'Art of Meat', the cattle are raised in Matsusaka in Japan and are rumoured to be even richer in marbling and flavour and supposedly better than the best of Kobe beef. There is alot of mystery behind the cutting edge of Japanese cattle breeding, exactly how they do it, nobody really knows. There is a concise history which you can reference here if you'd like to know more. Anyway, the most prized Matsusaka cows have apparently sold at auction houses for six figure sums. Take a look at a picture of raw matsusaka.. look at the marbling on that badboy! Anyway, as far as I know, Kobe or Matsusaka beef can only be eaten in Japan. Japan is on my vacation list this year, so I will report back to you know once I come back.
Steaks are a personal journey for me, from a childhood of watching my mum pound fillet steaks to a pulp to sampling beautifully aged porterhouse cuts, my mum is still sometimes amazed that there are some steaks which need no tenderising. Anyway, after this love-letter to steaks, I will need to recharge the protein batteries. If you'd like to do the same and you live in London then there are only four names you need to know : Goodman, Hawksmoor, Jack O Shea and The Ginger Pig.
PS : I would love to hear your stories about your favourite steaks and some tips and recommendations too, so feel free to leave your mark in the comments section folks.
Did you enjoy reading this post? Why not subscribe to my feed updates for free. Alternatively, You can subscribe via email.