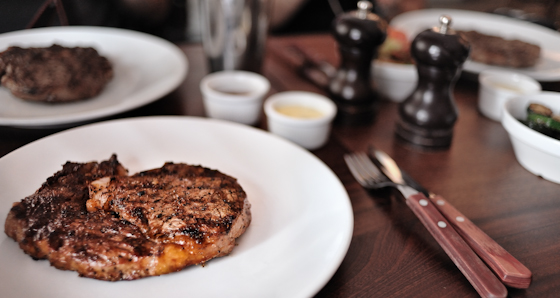 The internet is in agreement: The Hawksmoor steaks are to die for. But let's not jump to conclusions just yet. Bring on the mandatory steakporn and let the procession begin.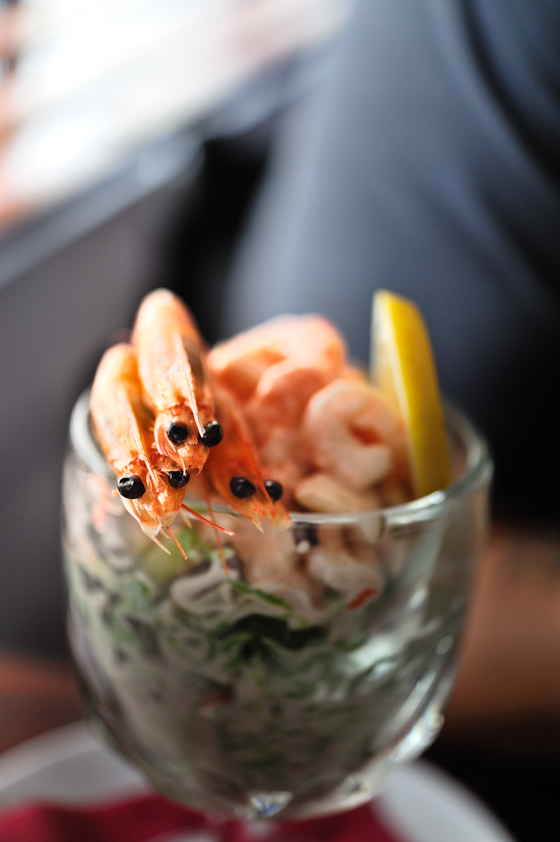 "Dictionary-thick" Steak.
I took the day off, and my out-of-office message read like so: "Kang will be shooting the breeze on a Sunny Wednesday afternoon… ahh. Call him tomorrow." I also made my first proper 'fine art' photo-print at super print-house Metro Imaging. It is an A3 sized portrait of a cat (what else do you print for the 1st time?), who lives with a friend of mine, in Taiwan, and whom enjoyed sitting on my socks, of all things.
If only he knew, if only. It really was 'gallery' quality and it had better be at thirty pounds a go.
I was there to meet two others who are also positively mad for food. A couple minutes after I arrived, Mark whizzed into the door. It's a little surreal meeting someone for the first time, but is also someone I chat with quite regularly on twitter. So it's like we've met, yet we haven't. I'm still not used to the whole the meeting virtually and then in person thing yet. We thought it took awhile for Catty to arrive; but little did we know, she was already in the restaurant, on another table! Eventually, all three of us settled on the same table, and almost immediately we began laughing, and joking, and we couldn't stop talking about food. Oh how very exhilarating meeting like minded foodlovers… I'm not alone in my obsession. Aye.
Eat me.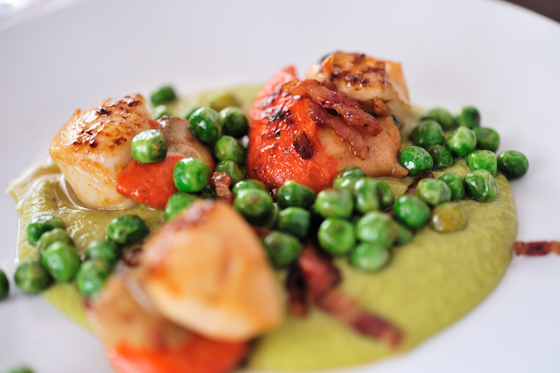 I could have sworn that my starters were roast scallops with peas and samphire; it says scallops with devilled broadbeans on the website though. Ah, anyway for £9.00; the scallops rested on a creamy green bed, which tasted like mushy peas to me; actually there was a bit of tanginess, dare I say it tasted like pea ketchup. Hmm, perhaps I was seeing things because samphire was absent on the dish. As for the scallops, it was quite good; a little soggy on the inside, but on the outside was quite an open chargrilled flavour, a little on the subtle side though, like flames that have been put out with lemonade.
Alright enough bullshite, I came for steak, you are reading for steak and so we shall, now talk Schteak. (my Michael McIntyre Moment.. my mandrawers, argh!)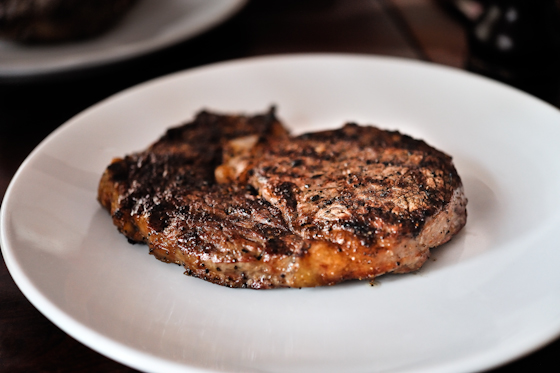 We ordered three 400g Rib Eye steaks. They weren't kidding, Hawksmoor does serve dictionary thick steaks; one could immediately smell the real charcoal grill it was cooked it – wonderful barbecue aromas filled the air and I felt I really was in the shrine that worshipped the bovine. Alright then, time to dig in.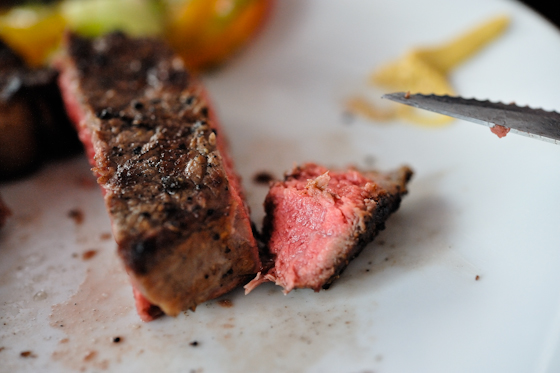 I don't usually like photographing half-eaten food, but I wanted you to see the Hawksmoor's definition of medium rare. To sum it up, it was perfect. The entirety of the meat looked as if it was coloured in with a pink crayon; it wasn't rare in the middle, just so slightly cooked, and more beefy aromas were rising as one cut into it.
Right then, the first bite was… um, good. The texture is alittle tougher than I expected, it's abit chewy, just abit too chunky. I was expecting it to be meltingly silky but it was quite the opposite. Still, it was still soft, considering its about an inch thick. I must say, the steak is really perfectly cooked. The crusty charred bits interacting with rock salt, left me nodding with approval, but I was most impressed with the way the juices were magically sealed within the meat. I had noticed there was no messy drool on the plate, and with each bite, the meat was just spewing wetness which coated my entire mouth.
The steak came on its own – naked – without any complimenting it, such an innocent sight I thought; brave and bold, the ultimate distillation of its form.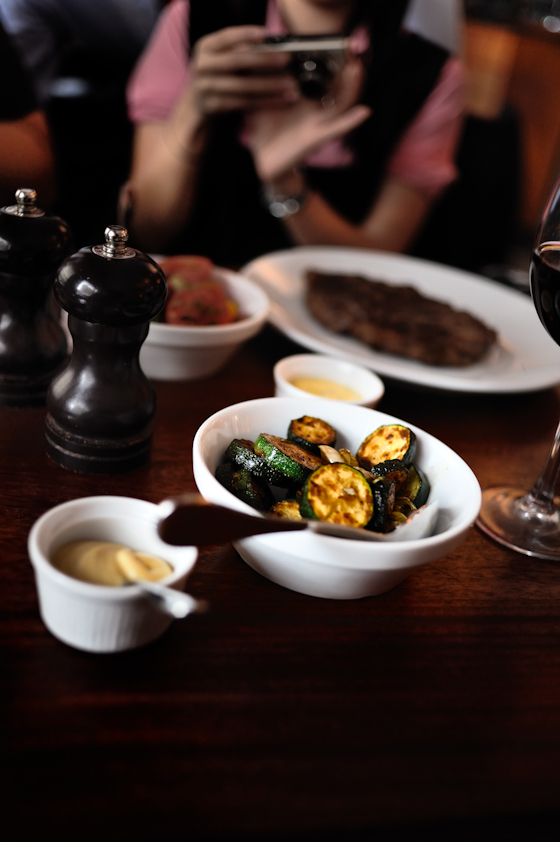 The taste was very reminiscent of something I quite enjoy: Twisties. Cheese flavour to be exact. I also tried the fatty marbles and those were the best bits, they were all dominating marrow-flavoured cubes. I couldn't really bring myself to swallow too many of the fatty bits, since it was chunks of fat, but man that flavour was definitely something special.
But.
As much as I hate to say so, there is a but. It was a really good piece of meat, don't get me wrong and I think it is entirely valid that this is one of the best steaks in the city, but it's not the best steak I've ever had. I think it's all the hype which has gradually built up around it and it had led me to expect that Hawksmoor housed a bunch of voodoo doctors who could turn 35 day dry-aged Longhorns into Grade 9 Kobe beef.
This was not the case.
The beef itself didn't really have much natural flavour to it, it was merely ordinary and as I said earlier, the texture was just abit on the chunky side for me. I expected beefiness to fill my mouth, but in spite of the inherent sealed juices, I was actually longing for some kind of béarnaise or even red wine jus to dunk my chunks of beef into.
Having said that, the meat was outstandingly cooked. Maybe its down to personal preference, I do believe that the quality of steak is down to the quality of meat. You don't need to do much to it, and one looks for natural flavours. In this case, I think that the weakest part of the meat was probably the meat itself.
The Aftermath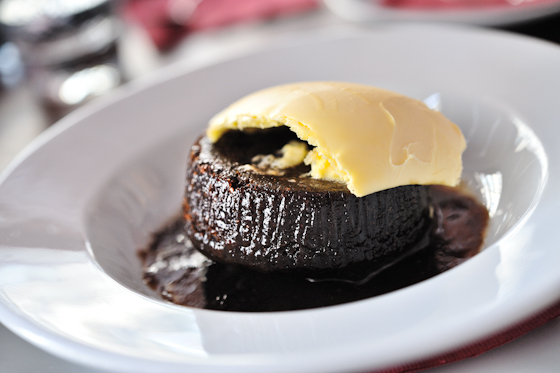 My meal ended on a high note with a really gorgeous sticky toffee pudding; our waitress couldn't stop recommending it to us, and I could see why: it was luxurious. Topped with what I believe was a dollop of clotted cream, the pud was full flavoured, yet it lent itself a light airiness in texture, and the puffy pud was accompanied by a rich toffee sauce that lingered long. Raw sugar and honey sweetness, it was so very good. So good that with abit of hype, it might even be legendary. Perfectly sticky.
Mark and Catty were excellent company, our little lunch meeting went for over two and a half hours, and like all great meals; great company made it worthwhile and memorable. I look forward to future tw-eat-ups with fervent anticipation. As for Hawksmoor, well, I think it is certainly up there as one of the best steakhouses in London, indeed the kitchen does know how to cook the perfect steak, but reluctantly, it wasn't the best steak I've ever come across. The three of us paid £150 for the meal; including two glasses of wine and a couple of side dishes; which is fairly priced I would say.
If you love meat, you should definitely give Hawksmoor a try, but go without expectation and you should be well-rewarded. Go with my more than hype-induced anticipation, then you might walk away feeling just a little torn.
The Gist of It
Hawksmoor official site
157 Commercial St E1 6BJ (020) 7247 7392
£50 for 3 courses, steak in a variety of sizes.
Verdict: Perfect execution, legendary pudding, but it falls short of the Grail. Don't believe the hype, but go and try for yourself in anycase.
Like this blog? Why not subscribe to the email newsletter ; alternatively you can subcribe to the RSS feed.