Oh the sun, the sun. I spent most of last week in Norway, and happily returned to a gloriously sticky London on Friday, feeling utterly like a tourist in my very own city. There could be no better than now to loaf around in a restaurant designed for oysters slurping and scoffing seared slabs of beef. My first visit to a Mark Hix restaurant.
What could be more attractive than the idea of a no-frills chophouse. There are lots of similar oyster bars around London now, each featuring their very own centre-piece of a cool-to-touch marble topped long bar table with its variety of brassed high stools, and a snoozy, utopian, languorous ambiance. It is the original idea of eating out, an enjoyable, holiday-factor that is at times misunderstood and lost altogether in this city. I blame the weather, as we are tightly wrapped up most of the year, the numbing cold contributing to the habitual tighter-arse in an exercise of upright eating and upright seating, but not anymore, not in May at least, ray-bans and flip-flops. Why so serious right.
As a fellow restaurant collector, you must have read about Mark's great surname in copy online or otherwise. His name is now attached to four restaurants, three in London and one in Dorset. His namesake haunt in Soho is said to be the crowing gem in the growing Hix empire, his latest addition to Selfridges not so well received, and I've heard little aside from the stunning views at the Dorset one. Hix is the ultimo heavyweight London sleb chef who has been partly credited with spearheading the revitalisation of British gastronomy. He had spent most of his career (17 years) with the Caprice constellation of luxury restaurants, stewarding then Corbin-King productions such at the Ivy, Le Caprice, Scotts and J.Sheekey to pre eminence. He doesn't need his own TV show to be famous, he writes a food column instead. With a name like 'Hix', I would imagine is instantly marketable, ultra modernist, monosyllabic, faddish, at Hix, one could be eating fazzling pop-rocks with powdered samphire crystals. As oppose to say 'Kang's' where you might accidentally choke on minty lambchops. I'm digressing.
The Oyster and Chop House was Hix's début restaurant after going solo in 2008, situated very close to the Smithfield meat mart, and actually on the site of a once famous fish restaurant. Informal, Anglo-Bistro, ceiling fans, unpolished wooden floors and echoing chatter with sound waves bounced off from the high ceilings. Redolent of an old-world ambiance which at my tender age, I have really only read about in iBooks and on Wikipedia.
The decor is suppose to evoke a sense of the ol' chophouses of London perhaps to bring back a time when porter beer was served with large slabs of beef in porterhouses, which some argue gave birth to the naming of a particular cut of steak. Is it a British invention or was it a pub in Manhattan? Hotly debated, you tell me, as a reference point, I managed to find a New York Times article written in 1909 that considers the Porterhouse in more fleshy detail, aptly titled "Porterhouse Steak".
In keeping with the old world design, the menu decidedly harks back to the days when oysters and poverty were synonymous. Starters such as Steak and oyster pie; Lamb sweetbreads with braised gem heart and bacon and pork crackling with apple sauce stand out from this most British of menus. Mutton curry, whole roasted black bream and of course Porterhouse steaks feature as mains.
I decided on a quick lunch at HO&CH on Friday to refuel before a laborious afternoon meeting, Charz joined me for lunch on her day off. Naturally being the poor people we were, we decided to kick off this swift one with a selection of Loch Ryan (Scotch) Natives and rock oysters from Carlingford Lough (Irish) and (of course) Maldon (English) respectively. There were only two other rock oyster choices available, which we didn't try.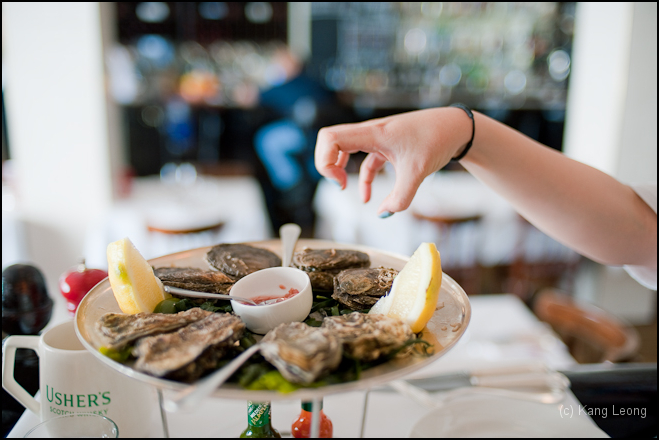 It is hard to place myself in a time when oysters were not luxury. They were once in abundance, but that was way back in Victorian times (some history here). Oysters are of course known for their aphrodisiac qualities mainly due to it's high zinc content for male virility and legend has it that Casanova consumed sixty a day to keep himself, in shape.
More trivia, natives are usually pricier than rock oysters for its more limited availability. Natives take about five years reach maturity and they are only available during the months where there is an "R", ie, not May through August. The age of Natives are said to give way to a more complex, subtler and metallic palate, where as Rock oysters, which are available all year round, are sweeter, punchier taste.
We were into the tail end of May at time of visit, though HO&CH do not seem to be affected by an arcane Act of Parliament which prohibits Natives from being fished in the summer days from May to August, or indeed if it still applies. There is another more practical reason for not eating Natives during this period as it is said the flesh is milkier and generally less exciting as this is spawning time… but perhaps farming methods have changed?
Speaking of farming methods, I googled this and most farmed oysters are not only regularly tested for harmful microbes, but are usually placed in a UV filtered system to kill bacteria before it goes out to restaurants. Oysters can go through as much as 10 litres of water per hour, so imagine the amount of baddies that go through your internal filtration system if it weren't 'cleaned' artificially before consumption. So don't go shucking stray oyster at the beach, however tempting.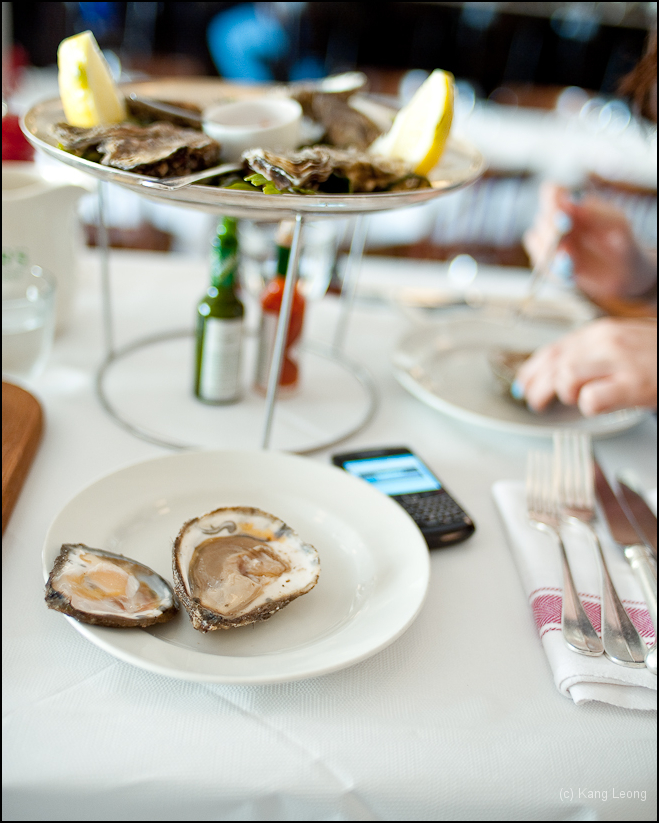 Shucked but served, covers on. I started with the round-edged Lock Fyne Natives which exhibited the soily, minerality usually associated with Natives. Mmm… close but no cigar. These Natives tasted a little flaccid in comparison with my previous experiences, and it was a little on the small side. Also, I would have preferred it to be just a tad icier, but it could have been the weather that were melting the oysters, though honestly, oyster criticism is surely redundant literature. One can hardly go wrong with live ones. The Maldon Rocks exhibited intensely salty and fishy sensations, but rather surprisingly, I preferred the Carlingford Rocks the most, it carried a cleaner taste, just a bit livelier for some reason. I am hardly the shellfish connoisseur, though you would be proud to know that I avoided seasoning my oysters with the vinaigrette, opting for just a squidge of lemon and natural flavour. Gosh this is the weather for oysters isnt it? I still prefer Bentley's for oysters.
Hanger Steak with baked bone marrow and bearnaise (£17.50)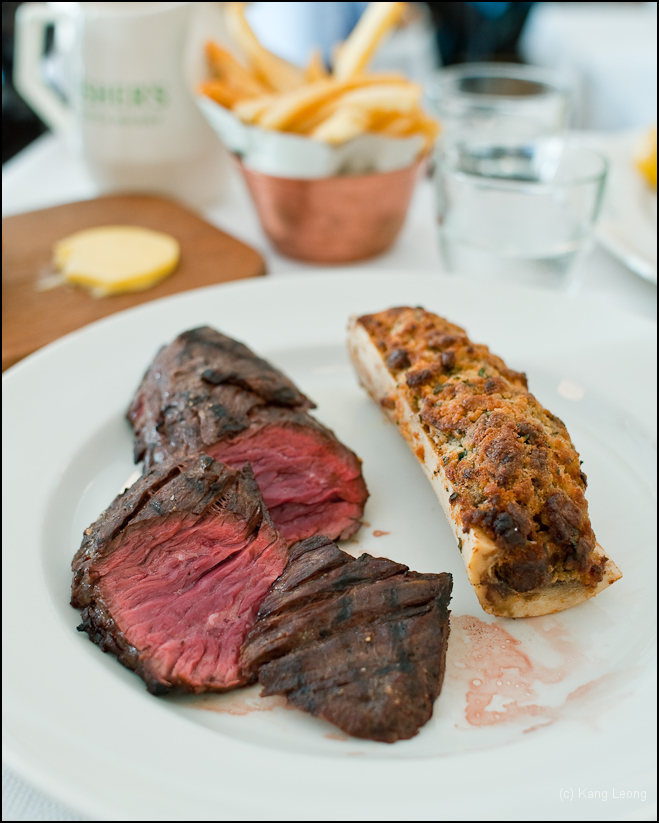 I've been obsessed with steak all throughout May, and if you have been following my reviews recently, you'll know that I have a strange fascination with the this cut of meat. Flavour of the month. The hanger, otherwise, the onglet is also at times referred to the 'butcher's steak' as it was originally the cut of beef the butcher kept for himself. Technically speaking it is not a conventional steak cut, it 'hangs' from the steer's diaphragm, and it is situated very close to the animal's kidneys, which is what gives the meat its wonderfully pungent offal-like flavour and a sinewy tender texture akin to kidney.
OK on to the pseudo judging. Full marks for serving it pre-sliced (and across the grain), it was also perfectly rare. However, the steak itself was a little dry, perhaps too much charring, the exterior was a crusty armor, and the little drips of blood had solidify on the plate. Unfortunately, I forgot to query the waitress regarding the whereabouts of their stock and as Mr Hix is such a well connected individual, I wondered if it was sourced in a bespoke manner , directly from a butcher, rather than from simply tapping up Smithfields next door. My notes suggested a mild flavour, one could hardly detect the pungency of kidney. I also detected a very noticeable burnt bitterness on the palate, I'm not entirely sure if this was because of the grill or if it was inherent to the meat. The steak did not exhibit much barbecue-like flavour, plus I'm quite certain it was served unsalted. A raw output, in the sense that it was so basic. I would have preferred this just a tad less crust on the outside, and perhaps a little more juiciness, the meat itself was good, but I've had better hanger steaks in London. A particularly great one at Eastside Inn (which I wrote about here). Fortunately, a deliciously milky béarnaise accompanied the steak, masking the otherwise tepid dryness. I really enjoyed the cross-sectioned bone marrow, baked with what appears to be garlic, parsley and breadcrumbs, not unlike garlic bread with blobby bits of marrow giving way to a big-bodied flavour. Wholesome. There is little doubt then, steak and marrow make an excellent combo. I also ordered the skinny frites (£4) which were ok.
Mark Hix was present at his restaurant when we visited, sipping coffee whilst being surrounded by an army of very attractive PR girls (I assume) pitching ideas to him as I tune in via the grapevine. "Mark, we could this" , "Mark, or we could that", "Mark, all hail Caesar". I didn't recognise him at first (such is my ignorance) though he looks exactly like his photographs plastered across his website and most newspaper reviews. Tousled silver hair and all.
I skipped dessert, and I enjoyed the overall experience. I wanted oysters and steak and it was delivered as suggested. A most pleasant Anglo affair. The atmosphere is the real winner, I hadn't a clue what a 'real' chophouse is suppose to feel like, but this one is certainly cosy. I think there are several London gourmet pubs which will compare well against HO&CH, especially in 2010, but having said that this is a restaurant I would return to, especially to try the steak & oyster pies. Simple pleasures eh.
(PS: Haha, sorry Marina, I rambled past 1500 words to describe two dishes.)
The Gist of It
Hix Oyster & Chop House Official Site
Oysters, Grill & Pudding £40 per person, Britpop.
36-37 Greenhill Rents, Cowcross Street, EC1M 6BN
Tel: 020 7017 193
Tube: Farringdon
Glitter, Glitter : Time Out London ; Londonelicious ; World Foodie Guide ; Intoxicating Prose
; Fay Maschler
Did you enjoy reading this? You can subscribe to the Newsletter. Alternatively, you can subscribe to the RSS feed.