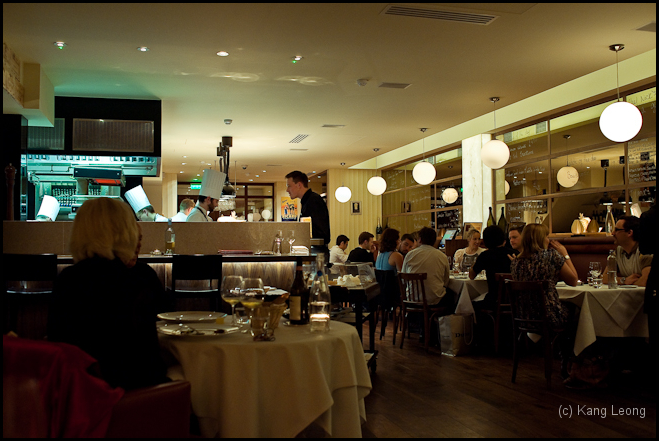 This will be my third visit to Eastside Inn, which is hands down my favourite restaurant in London. There is much fire in Bjorn van der Horst's sauces. Though the restaurant's history is short, it has undergone significant changes of late changing from a Restaurant-with-a-Bistro to a Bistro-with-a-lounge-bar. My love affair with ESI continues. Here we go again.
What a difference a year makes. Pop-up was the fad, the Big D was a mere rumour, @GotchyaLondon yet to terrorize Twitter, Hawksmoor was still known for steaks rather than burgers. Then, we were bemoaning the opening of a wallet-busting French restaurant seemingly fit for Expatriots of the Universe with an adjoining Bistro attached to it where the chefs and recession-hit Londoners cook and dine. That's all changed now. My first visit to the premium Eastside Inn restaurant produced one of my most memorable meals in 2009, but at a steep £90 premium. The second visit to the breathtaking open-kitchen Bistro was a much friendly £45 three courser, which I also rated highly. I praised the verisimilitude of the food, citing the astonishing balance on the palate, the exciting combination of competing ingredients… and general gushiness about the genius in the pan.
The restaurant has now undergone a minor facelift, the premium Restaurant is being converted into a lounge, while the Bistro has become the main dining room, and it is now open daily Mon-Sun, right through the lazy afternoons. Gone is the £75 premium (and surprise) menu (officially anyway) , which in retrospect, I feel a little melancholic about, since it was so very good. They have expanded their bistro menu however, and introduced changing daily specials, in which some of the past highlights (like the poprock-showered flaming whisky meringue…oh yeah baby) make cameo appearances. Eastside Inn is Bjorn and Justine van der Horst's baby – Bjorn once headed up La Noisette and the Greenhouse – and you will see either of them in the restaurant on most days. Bjorn inspecting proceedings in the see-through kitchen, and Justine running front of house. There is a sense of family unity about Eastside Inn which I really love. There is a group photograph of the team in the walkway to the restrooms in the basement which conveys this team spirit. All smiles. On the third visit, I appreciated the same warm greeting from the same recognisable faces, enough for me to consider uprooting from barren West London (what have we got? Harwood, River Cafe and Sushi Hiro?) to the foodie mile of St John Street.
Thierry, the sommelier greeted us with a couple of glasses of complimentary prosecco, it doesn't suggest this on the menu, but I saw him lay on the free bubbly on other tables as well. My brother was visiting from Reading, and he asked me to take him to my favourite.
The revised bistro menu is now spread over four courses featuring what are mostly French-inspired classics. Hors D'ouevres include in-house prepared duck rillettes (£3.50) and salmon gravalax (£4.95). Starters feature Justine's favourite French Onion soup (£6.95) and one of my favourites, the chargrilled baby squid (£9.95). For mains: steamed mussels "a la Normande" (£12.95) and the cassoulet "like in Toulouse" (£14.95) when available is as described, just like Toulouse. Naturally, me and my brother decided to have four dishes each.
Hors D'ouevres to begin, duck rillettes (£3.50)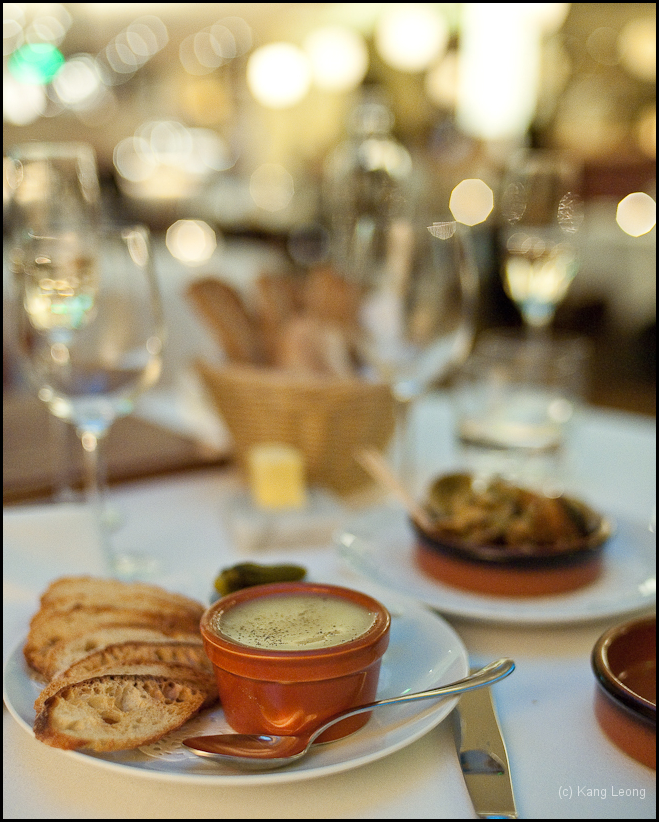 Oh yes. Big, intense flavours, the buttery fat (is it fat?), like a ooze-like gravy, was beautifully fragrant. Immersed with the crusty toasts was incredibly satisfying, and digging into the chunky yet smooth, oily and silken flossed duck meat was fantastic. Rustic, simple pleasure really, a hugely sinful start to the meal.
Little clams, white wine, garlic and parsley (£4.95)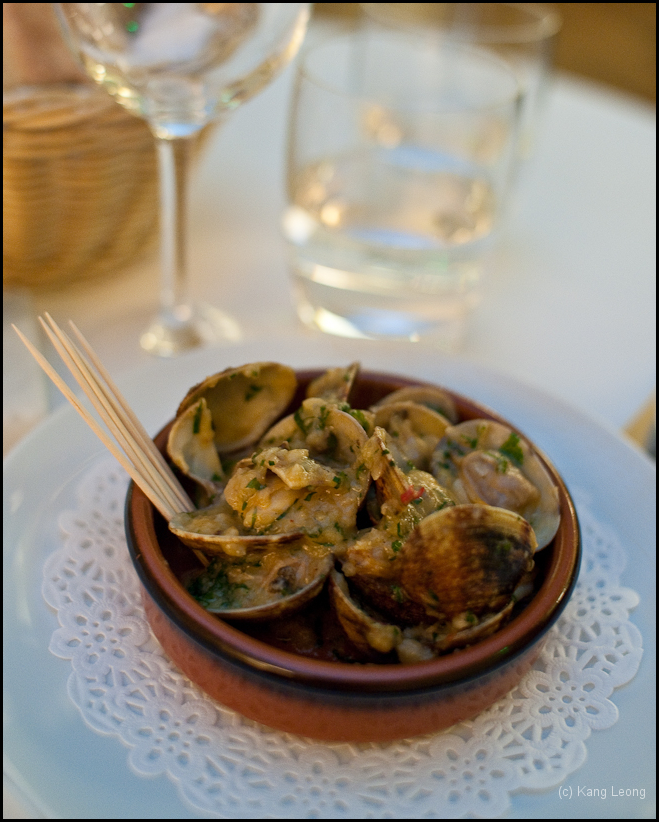 Like a green-eyed monster filled with envy, I gobble up my brother's little clams… As I was tucking into the rillettes, my nose sniffed out aromas of garlic and shellfish. I shoved my rillettes into his corner of the table and grabbed the clams away from him. A lumpy garlic and white wine sauce was smothered all over the clams…. beautiful, again simple pleasures, a wonderful start to the meal.
For starters, I opted for the crab mayonnaise, sorrel and melba toast (£9.95)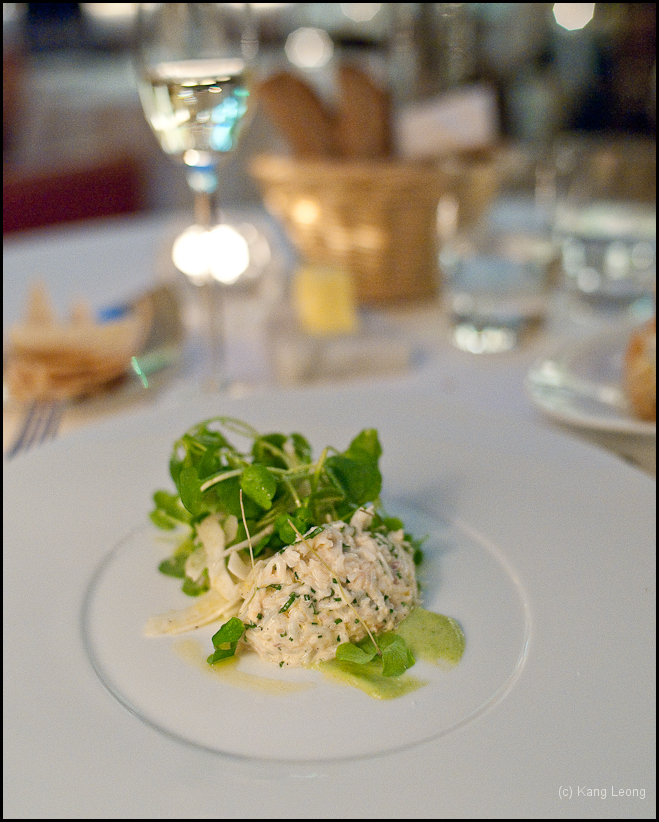 The razor thin melba toasts were great, baked to a crusty crisp, the crab exhibiting exquisite shellfish richness, deep flavours of the sea with a lightly peppery salad on the side. The intensity was perhaps just a tad too much and too salty to be quite honest.
Roasted bone marrow, bacon bechamel, toast and watercress (£8.95)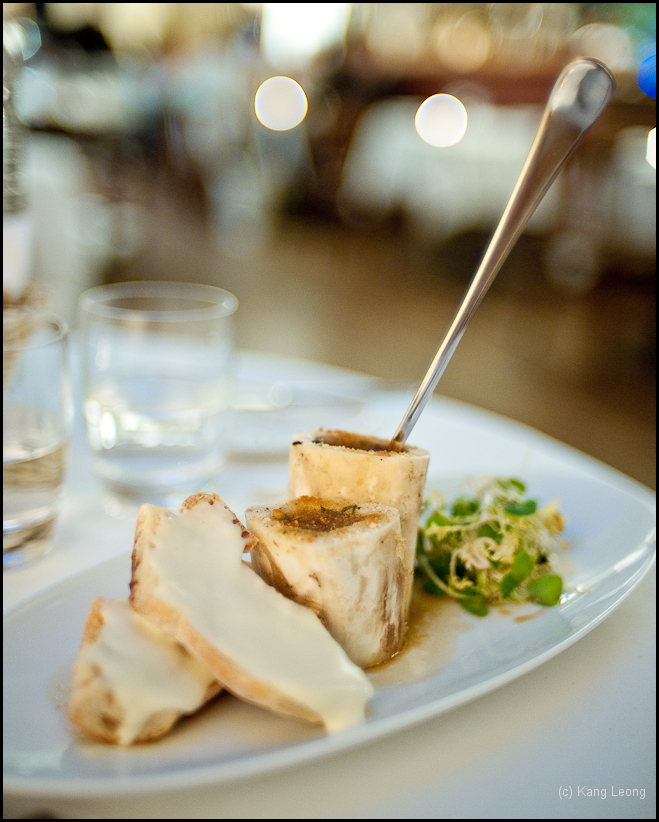 This was really well executed. The bechamel sauce was again very rich and deeply salty, carrying with it a sweet edge to it, and clearly the flavour of bacon. The bone marrow was very warm to touch, the oozing fatty marrow bits married beautifully with the sweet-ish sauce-on-toast. What else am I going to say right? Oh yes that's it. Looks like there is another star marrow dish on St John Street, in the place of parsley salad, we have a bechamel sauce. Maybe they should nickname St John St, Marrow Mile, Hawksmoor uses it in their burgers afterall.
Time to move on to the mains, the younger Leong chose braised leg of Lincolnshire rabbit, tagliatelle and mustard sauce (£14.95)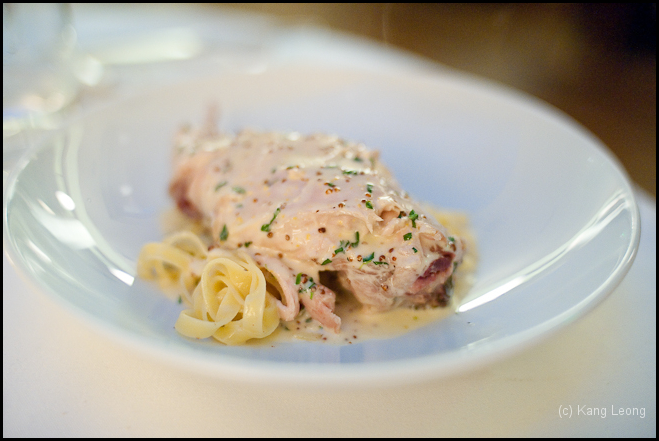 Oh yes, I remember this from my previous meal with LF, and I am glad to report that the superb mustard sauce and the wonderfully spongy pasta is as good as ever. Creamy, savoury and it just pinches your palate, tickling on the nose, very rustic. Yes, I'm going to use the word. Umami. Kapow.
Steak frites, onglet with shallots (£17.95)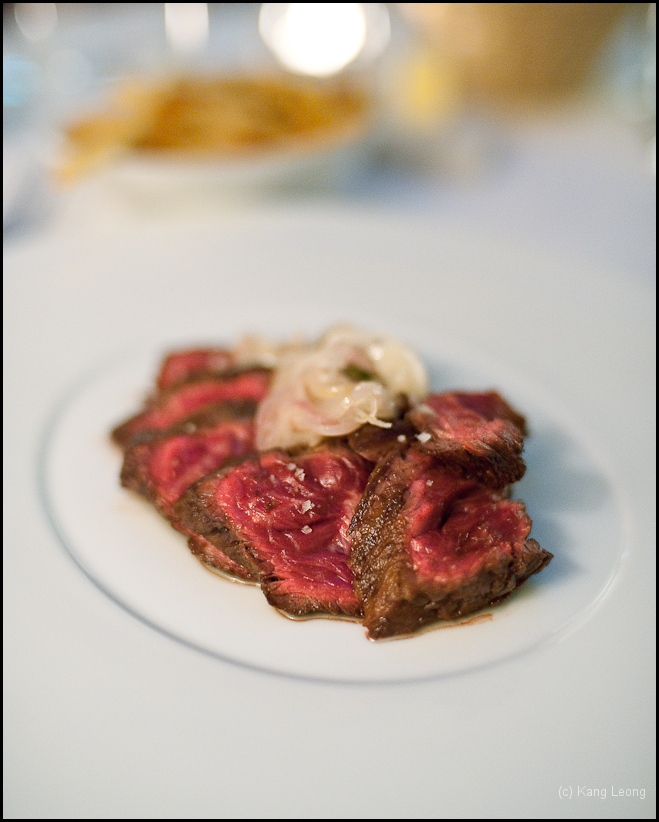 The definitive homage to the Parisian bistro, I have been eyeing this ever since Aaron the Grubworm reported on Bjorn's virtuoso handling of this meritorious cut of beef. Yup, believe the hype. It looks as if it has been further trimmed in-house which could explain the reduction in size, but more so, it could explain the distinct lack of sinewy grain which plagues the onglet steak if ill-prepared. This one however, was just perfectly rare, perfectly spongy, perfectly juicy. This is how you serve L'Onglet. I have written about the onglet being better suited to pan-frying as opposed to searing over charcoal as it carries a natural bitterness to its flavour, and I think this is a good example of it. It's much better than the Hix version too. Served with caramalised shallots (or onions..) and crispy crunchy triple-cooked-like seasoned frites (perhaps with parsley), give the essential bistro dish a breath of fresh air. Exemplary production values. Can steak be gourmarised? If so, this is it.
Pudding is one of Eastside Inn's real strengths. I really wanted to give their flaming whisky pop-rocks meringue another go, but it wasn't on the menu this time around. There is a daily changing 'classic dessert' and for this service, it was a classic French pud, the Opera cake with praline ice cream (£7.95).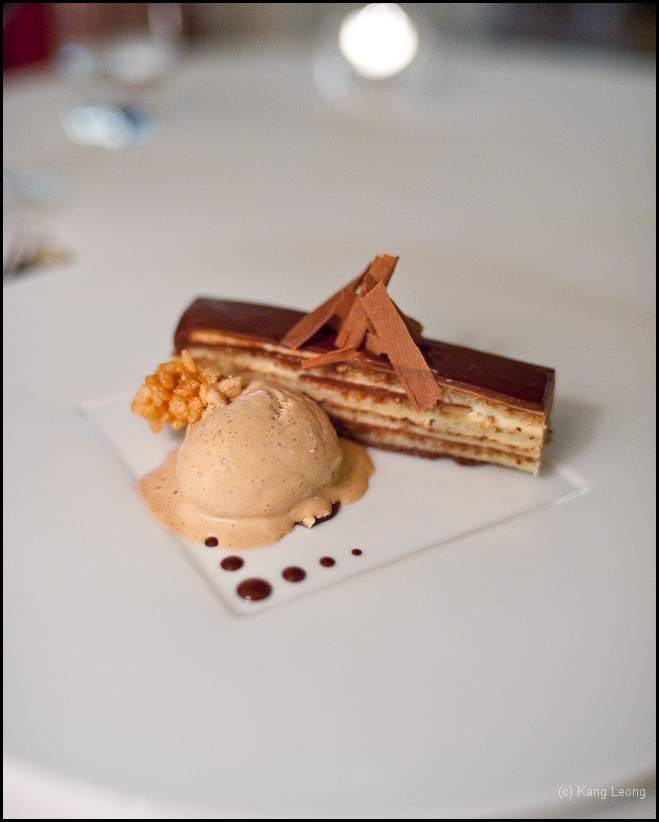 The layered sponge was light, I think it was layered with a hazelnut icing … just gorgeous… and the foamy praline ice cream was divine. Not a flaming whisky meringue poprock ball of fire, but good enough.
Finally, the Eastside Inn souffle, lemon and lime, earl grey ice cream (£6.95)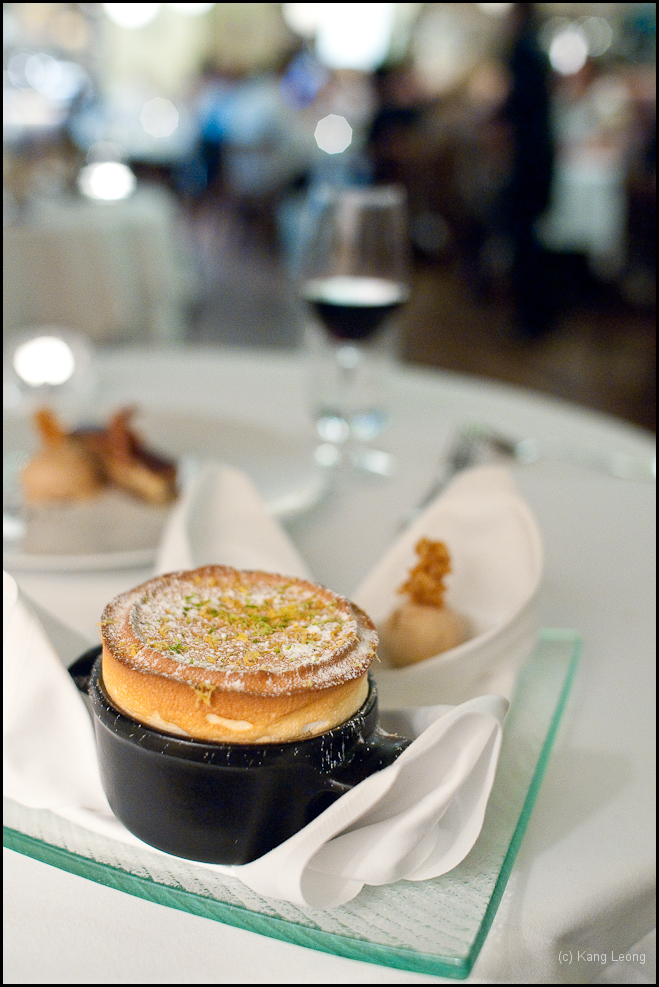 Look at that perfectly risen souffle – the mark of a technically superior kitchen? My brother who is a Raymond Blanc nut (he praises Blanc's sabayon in particular) was amazed at the brilliance of this souffle, light, airy, puffy, warm. Kudos for choosing a effervescent flavour – lime – the sizzling acidity took away much of the stodge factor of the rich French meal. The last iteration was an Orange Marnier which I felt was a little too much, this one was perfect. The heady fumes of lime were refreshing, and the earl grey ice cream gave this souffle an interesting, almost herb-like flavour, unique.
Eight dishes plus two glasses of wine and service came to £104.45. Pretty good value isn't it?
I seldom return to restaurants with the feeling of being captivated by the now expected if fanciful surprises the kitchen throws at me. I am happy to report that on the third visit, I remain doubtlessly mesmerised by Bjorn's food. The bistro style cuisine is classique, rich French sauces, intense seasoning, one's mouth will run a little dry, and the saltiness is my only criticism from this meal. Bjorn was not present in the kitchen during this visit, which is rare as he is usually on site. This was the same day Bjorn made an appearance on Saturday Kitchen. When you eventually try this restaurant, be sure to look out for Bjorn running his kitchen, and do say hello. I love this restaurant, this is my favourite for the moment. I feel like I've been saying it for years now, food is exceptional and Eastside Inn comes with my highest recommendations.
The Gist of It
Eastside Inn Bistro official site
French £45 per person
40 St John Street EC1M 4AY
Tel: 020 7490 9230
Tube: Farringdon
Did you enjoy reading this? You can subscribe to the Newsletter. Alternatively, you can subscribe to the RSS feed.

Many thanks to Restaurant Vouchers for sponsoring this meal. Do take a look at their vouchers including 2 for 1 Pizza Express vouchers, Zizzi vouchers and many more.