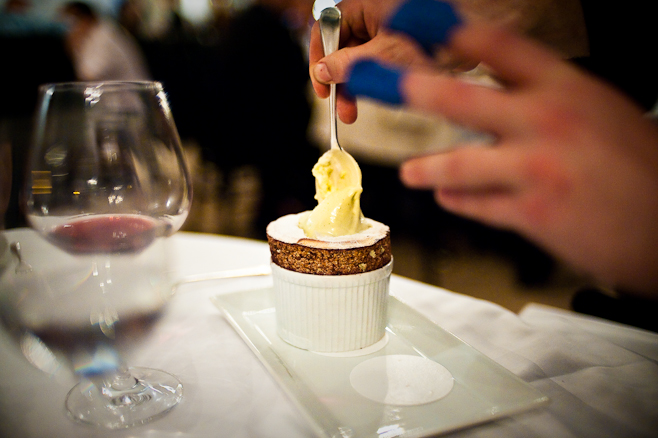 As many of you have heard, the big news for restaurant obsessives this week is the (leaked) release of the 2010 update to the Michelin Guide. As usual, there are some winners, some losers and some shock decisions where potentials didn't make the big time. Whether you love it or hate it, backpatting exercise or true culinary standard, winning a michelin star (or two) is still seen by many as the ultimate accolade in the restaurant world. The iconic Red Guide has been kicking around Britain since 1974 and in it's latest iteration has decided to award another three jewel to the British gastronomical crown. As of 2010, Britain now boasts four three-star restaurants. The lucky fella is of course the international brand name Alain Ducasse, and the winning restaurant is based in the Dorchester… which coincidentally is owned by the Sultan of Brunei.
The other big winners are of course the rising star himself Mr Brett Graham and by extension his mentor Phil Howard of The Square. The Ledbury finally lives up to their 'rising stars' status bestowed upon them last year, and in my view they have scored a surprise whopper with the addition of Harwood Arms to the list. So now both master and apprentice share the limelight in London, both on equal footing with two stars. I think 2009 was definitely the year of Howard and Graham, I had already alluded to this in my Ledbury/Square reviews in 2009 and while they weren't quite the hottest tables in town, they certainly ran the best kitchens.
So who were the biggest losers then? Without a doubt, it's got to be Gordon Ramsay. Whilst his pride and joy at Royal Hospital Road remains untouched; Claridges has been stripped of it's solitary star. To add insult to injury, reports of his GR Holding's financial losses certainly does not help. So this looks like a personal kitchen nightmare for Ramsay, it would be interesting to see how he digs himself out of this. Less TV work, less books and more time in the kitchen perhaps? For more on this, you can read Jay Rayner's extended commentary. Though probably more damaging is The Capital being stripped of both stars! I was planning a visit (I still am) since it was the most affordable of the London two stars, but I had thought it was more underrated rather than dipping standards. Oh well, now that they have lost their stars, I have somehow become more fascinated with it… will they suck it up and cook their pants off this year to recapture the glory days? Has anyone been and what were your thoughts?
One announcement I was expecting never came and I am still reeling from the shock of Eastside Inn's exclusion from this list. For me, this was 2009's breakthrough restaurant, and I think Bjorn thoroughly deserves his sparkles. Coincidentally, I actually dine at the Bistro last night, and had a chance to speak with Bjorn himself about this year's revision. I could tell he was gutted, well I am gutted for him as well. Though I fully expect them to gain a star when I do this write-up again in a year's time.
Which brings me to speak about the significance of this list – how accurate is it, and what are their benchmarks? Does it guarantee good food? In my view, I feel that the Michelin guide doesn't simply seek out great cooking, it's judging a much smaller pool of restaurants which are backed with moneybags, or chefs with star power… sometimes, I just feel that it is abit of a back patting exercise, and stars being granted on the basis of reputation than on the back of bloody great recipes, executed by well-oiled kitchens. Then again, I don't want to say that there is a definite pattern to things, because I don't think there is any conspiracy here, nothing more than a madman's babble. I think if one enjoys old fashioned wining and dining, the validity of the michelin guide still hold true. Not to say that the restaurants in the current guide serves bad food, but that good restaurants do exists outside this guide. Heck two of my personal favourites are not even in this list, Cambio de Tercio and Eastside Inn. I think it is down to different people having different perceptions of food, afterall, it is such a subjective topic that sometimes pinning down great cooking to a set of rigid standards is paradoxical to the spirit of food. One aspect of the guide that gets overlooked is value for money. As much as I love throwing money away to fund my ever increasing trouser sizes; the prices at multiple starred restaurants are simply out of reach for me. One thing is for sure: this list is not definitive. Somehow I feel that in the new mellenium, this sort of worship of the glamarous is horribly outdated, but still, I respect it.
Finally, looking into my personal crystal ball, I predict 2010 to be the year of the Galvins brothers. As I alluded to in my Bistrot de luxe write up, I think they are blazing a trail of glory this year; Windows has already won a star this year, and I am now ever anxious to see what the kitchen at La Chapelle is really capable of. They are highest on my list, and I expect to visit very soon.
Ok so what are your thoughts on this year's guide? Feel free to share. I have put together the London List below and the information has been sourced from the official Michelin Guide website. For the restaurants which I had been to, I have linked it to my write-up where applicable, for the ones where I didn't write it up, I have included a short remark of what I thought of the place. Deletions are marked with a strike through.
I'm hardly a Michelin Star worshipper, having only been to 19 from this list of 50 in the last two years. If you would like to follow a foodblog dedicated to the glamourous try Gen.u.ine.ness and FoodSnob.
Three Stars: 4 Restaurants
Alain Ducasse at The Dorcester, Mayfair (New 2010)

The Fat Duck, Bray, Berkshire – On my eat list

Restaurant Gordon Ramsay, Royal Hospital Road, London

The Waterside Inn, Bray, Berkshire – On my eat list
Two Stars: 7 restaurants
The Ledbury, Westbourne Grove (New 2010)

Le Gavroche, Mayfair – On my eat list

Marcus Wareing at the Berkeley, Berkeley hotel, Knightsbridge

Pied á Terre, Bloomsbury

The Square, Mayfair
Hibiscus, Mayfair
L'Atelier de Joël Robuchon, Covent Garden
The Capital, Chelsea, London (lost both stars)
One Star: 39 restaurants
The Harwood Arms, Fulham (New 2010) – definitely on my eat list
Bingham Restaurant (at Bingham Hotel), Richmond-upon-Thames (New 2010)
Apsleys (at the Lanesborough Hotel), Belgravia (New 2010)
Galvin at Windows (at London Hilton Hotel), Mayfair (New 2010) – On my eat list
Tamarind, Mayfair (New 2010)
Texture, Regents Park (New 2010)

Chapter One, Kent

Hakkasan, Soho *I don't like it, used to be great under Yau, but now that it is sold, quite frankly, it sucks.

Rhodes TwentyFour, City of London

Club Gascon, City of London

River Cafe, Hammersmith
La Trompette, Chiswick
St John, Clerkenwell

Tom Aikens, Chelsea – On my eat list

Rasoi, Chelsea

The Glasshouse, Kew Village

Chez Bruce, Wandsworth List

Amaya, Belgravia

Nahm, Belgravia

Zafferano, Belgravia

Hélène Darroze at The Connaught, Mayfair – On my eat list

The Greenhouse, Mayfair

Murano, Mayfair – On my eat list

Maze, Mayfair
Benares, Mayfair *Mixed, only above average food in a poncy setup, I'd rather try Tayyabs for a quarter of the price.

Umu, Mayfair

Kai, Mayfair – On my eat list

Semplice, Mayfair

Wild Honey, Mayfair
Nobu (at the Metropolitan), Mayfair *I like, abalone sashimi is excellent, and the miso black cod is still the best in town.
Nobu Berkeley, Mayfair *I like mainly for it's wood fire oven; truffle cabbage steak is heavenly.
Sketch The Lecture Room and Library, Oxford Circus
L'Autre Pied, Marylebone

Rhodes W1, Marylebone

Locanda Locatelli, Marylebone

Yauatcha, Soho *I like, but.. I don't think it's michelin material.
Arbutus, Soho

Roussillon, Victoria

Quilion, Victoria

Aubergine, Chelsea, London (lost star)
Ambassade de l'Ile, South Kensington, London (lost star)
Assaggi, Bayswater, London (lost star)
Foliage, Knightsbridge, London (lost star)
Gordon Ramsay at Claridge's, Mayfair, London (lost star)
Richard Corrigan at Lindsay House, Soho, London (lost star)
Source : The Michelin Guide for Great Britain & Ireland 2010 )
Did you enjoy reading this post? Why not subscribe to my feed updates for free. Alternatively, You can subscribe via email.