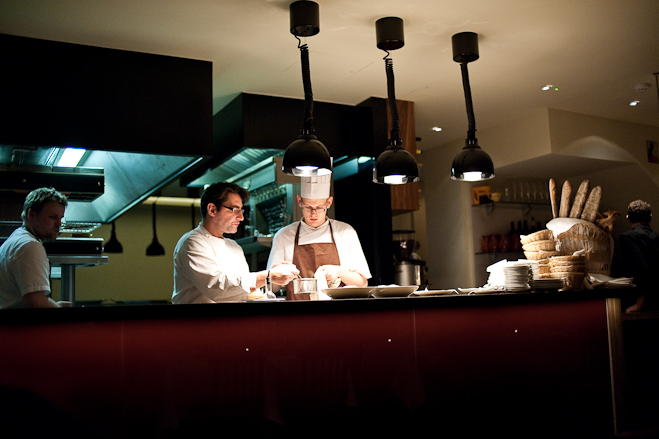 One of the most memorable meals I had in 2009 was the newly opened Eastside Inn restaurant in Farringdon. The pride and joy of Bjorn van der Horst, formerly of La Noisette, the food was simply superb and cooking was of a high order. The major issues I had mainly was to do with the high prices, and also the rather boring dining space, however where I left it during my last visit was merely half the story. Half the story because the unique feature of Eastside Inn is that this establishment is in fact two eateries in one. One being the restaurant, and on the other side of the wall, the Bistro. Hooked on the haute cuisine rendition, I vowed to return to try the Bjorn's concept of something a little less formal, and a little more regional.
The Bistro and the Restaurant – side by side – have separate entrances, even though I'd like to think of the Restaurant bit as the adjoining dining room. Anyway, I had arranged to expand my social circle and meet with some cyber peers, M of Mathilde's Cuisine , N of Laissez Fare and the bubblicious Catty LIVE. I was running late as per usual, and when I got to the door, I was greeted with the same warm welcome as I remembered back in December, but this time with a difference. The front of house followed with a "Oh hello sir, welcome back.". Whoa, hang fire – you remember me? And then the sommelier walked past, turned back to smiled and was also pleasantly surprised to find me back in the restaurant, the pattern continued with a few waiters I met on my last visit. I didn't make the reservation, so they didn't know I was coming, but what I'm trying to say is that the staff at Eastside Inn are top people. As it was a weeknight, my hectic mood was instantly wiped away and I felt like I was visiting an old friend rather than a restaurant. Ah yes, one of the major reasons I came back was also to dine in the presence of the centrepiece of the Bistro which is dominated by the large open kitchen. The man in the middle of the lead photo is Bjorn. Call me a groupie, but I respect chefs who run their own kitchens personally and from what I know, Bjorn is here every night, nurturing his labour of love and watching over every dish before it heads out.
If you are planning a visit to Eastside soon (and I urge you to), then do make sure you get a table at the Bistro because it has bags and bags of ambiance when compared to the Restaurant. You might ask what other salient differences distinguishes these two spaces, well for one, the Bistro has a separate menu on its own. As you might have guessed, the Bistro menu is simple, more stripped down and alot cheaper, averaging £7 starters, £15 mains and £6 puds. One thing to note is that you can have the Restaurant surprise menu (which comes in three flavours £45 / £55 / £75) at the Bistro as well. Alright, enough babble, let's get on to the food, what Eastside Inn does very well indeed.
Starters are Game Terrine, apple puree and country toast £7.95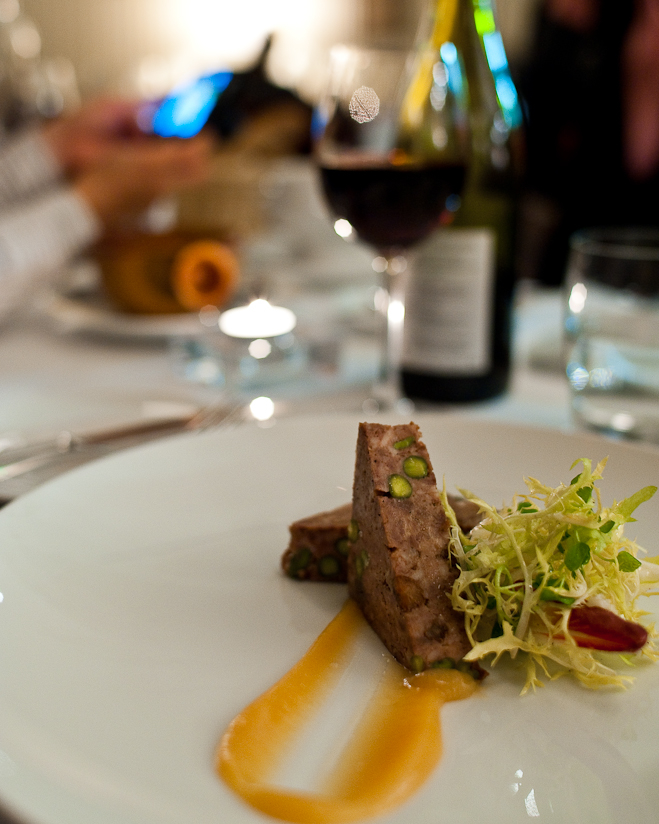 Terrine is served cold, but had a chunky livery texture which bounced back on every bite. A gently seasoned dish with just the subtlest of tart in the apple puree. One of the hallmarks which had won me over in the previous meal was how well the flavours were balanced and this dish was no different. Harmonious and so easy to eat, a delightful start to the meal. On the other ends of the table, the three foodies were lustfully moaning in agreement with their entrees. Being the foodbloggers we are, we forwent all manner of etiquette to share spoonfuls of our dishes. I particularly liked N's baby squid served with coco beans and rocket – a mouthful of charcoal, the squid just underdone to remain chewy juicy and ever so tender. Another winner was Justine's favourite onion soup which Mathilde had opted for. Justine is of course Mrs Bjorn van der Horst. If it is good enough for her, it's good enough. All in all, I was very happy that the signature style which I had sampled at the Restaurant was written all over the starters. It is the same kitchen which churns out the consistently high quality food afterall, and watching Bjorn check every plate of food before it is sent out really had me smiling ear to ear.
On to the mains then: Cassoulet, like in Toulouse. £14.95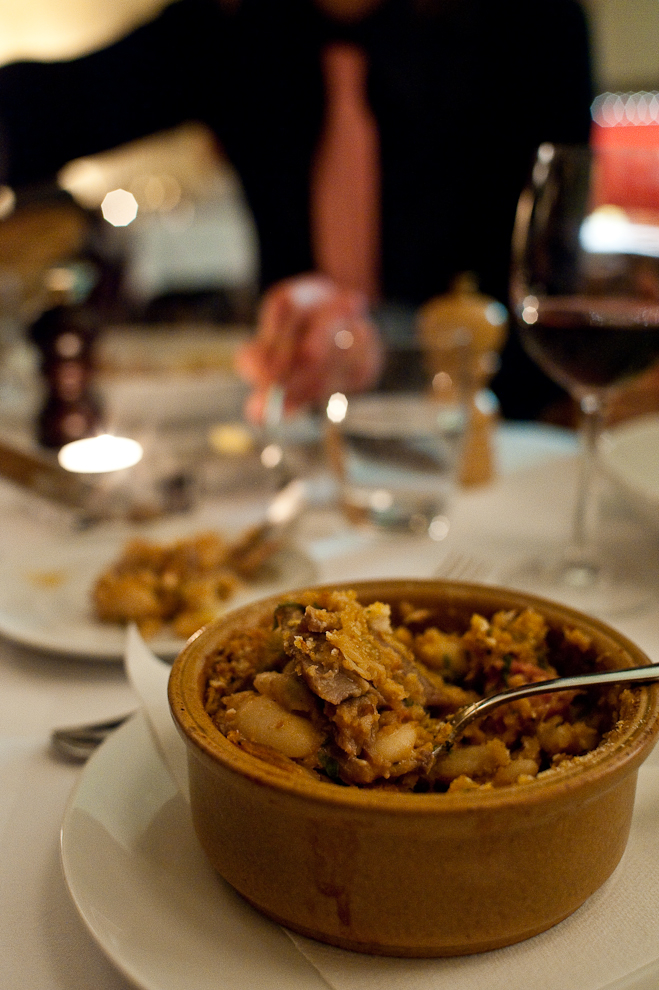 Now I'm not going to go on about this pride of Toulouse as I've never had a true Toulousian cassoulet, but what I will say is that the Eastside Inn version is excellent. This was the Tuesday special and one immediately detected fragrant fresh from the oven aromas. The crumbly breadcrumbs were crispy when mixed in with the beans and the pork produced another stunning balance of hearty and rich flavours. Warming and rustic, almost anti-haute cuisine. Simple yet so elegant but definitely very well cooked. As I said, I'm no expert on verifying the authenticity of traditional recipes, but simply approaching it as a dish as any other dish – this was superb.
N and Mathilde opted for this braised rabbit with Tagliatelle and mustard sauce, £14.95 which I think deserves a mention.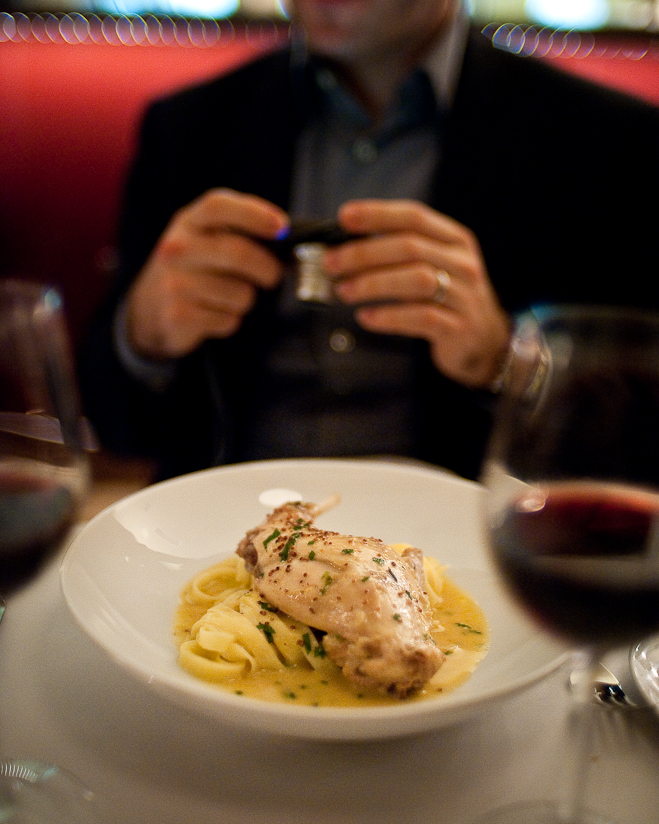 N had spooned a small serving onto his side plate for me and Catty to share. But as I tried a little bit, I decided to throw chivalry out the window and wolf down the rest. The rabbit tasted like, well chicken breast but the crowning success surely had to be the creamy mustard sauce. Again, elegant yet well executed and balanced flavours. Nothing overpowered and everything jived.
Finally Grand Marnier Souffle, milk chocolate ice cream £6.95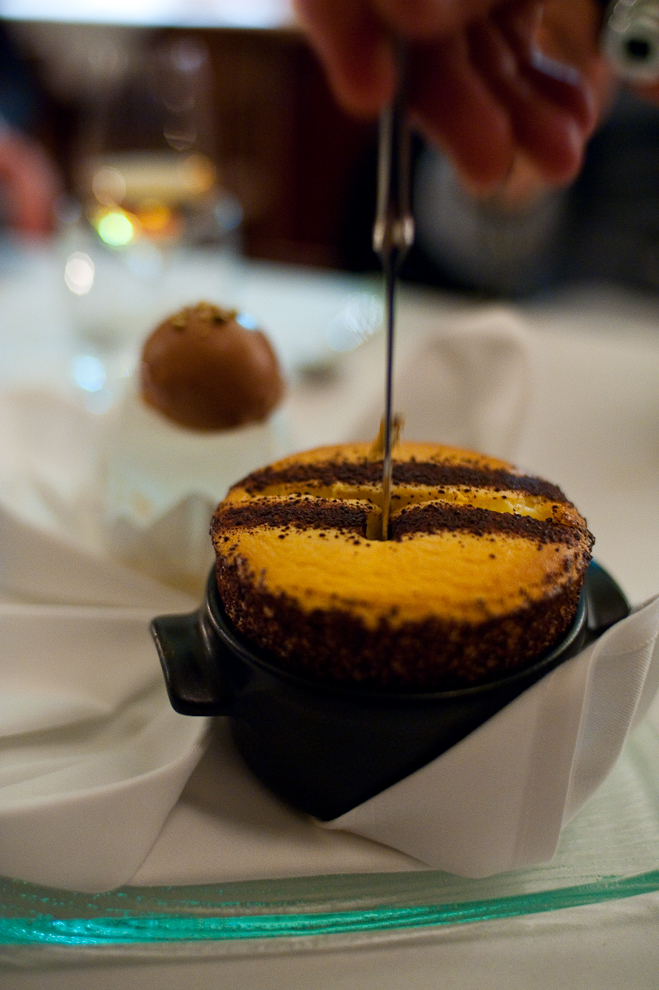 I really do think that pudding is one of Eastside Inn's strongest areas because this souffle was absolutely divine. Yes, it was lighter than air, and yes the rich milk chocolate ice cream was concentrated and lush, but I was most impressed with but a sharp hit of orange just faintly detected under the aromatic veil of liquer infusion.
Our bill came to around £45 per person which includes the cost for a bottle of wine. All in all, this was a fine meal. Judging the Bistro bit on it's own, I think it's a great restaurant, serving great food with a kitchen that pays distinct attention to creating balanced and harmonious flavours. Nothing overpowers and everything is just such a joy to eat. For me, the major difference between the Bistro and restaurant menu is down to ingredients. If you like your lobsters, then do opt for the restaurant menu, otherwise if you're after a more modest affair, the bistro menu will do just fine. More than anything, what I love about Eastside Inn is the warm service, and I also think Eastside Inn has nurtured a beautiful culture which projects an air of modesty and humbleness, something which I think is sorely lacking is lost in most high nose places where pretension and glamour are all but rampant. We were lucky to then have a quick ten minute audience with Bjorn and Justine and I can tell you now, they love food, and they love their restaurant. Mindful that this is Michelin season, I asked Bjorn about his thoughts on the Michelin man's harrowing exclusion, I could tell he was a little gutted to not be acknowledged for his hardwork. The Michelin man clearly doesnt know what he's missing, but at the rate things are going, and mindful that Bjorn and his team will continue to work at their passion, I am sure it won't be long before the glitters come. 2011 I reckon.
I cannot recommend Eastside Inn enough, and as I said before, try a table in the Bistro, talk to Bjorn and don't forget to enjoy the food.
More photographs on my flickr account.
Other considered accounts of Eastside Inn : The Catty Life ; Oliver Thring ; Genuiness
The Gist of It
Eastside Inn Bistro official site £40pp
40 St John Street EC1M 4AY
Tel: 020 7490 9230
Tube: Farringdon
Did you enjoy reading this post? Why not subscribe to my feed updates for free. Alternatively, You can subscribe via email.