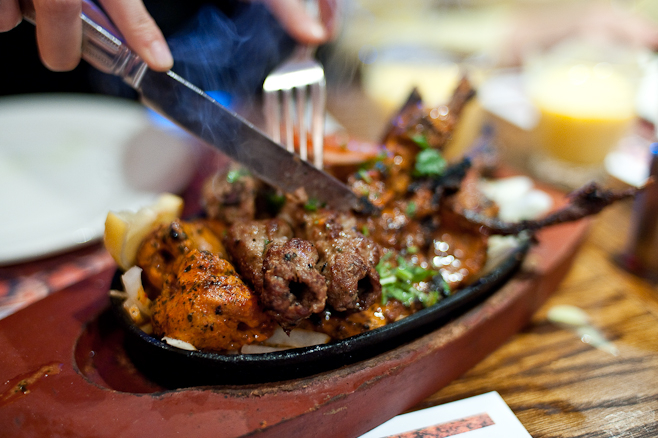 Sometime in 2008, London food bloggers unanimously join in chorus to sing the praises of arguably one of the greatest (and cheapest) restaurants ever to grace London, elevating it's status to that of legend and institution. The restaurant in question is Tayyabs. As 2009 closed, the crowded favourite is as hard as ever to secure a weekend table, and the now signature meandering queues into the restaurant and in between the already crammed tables are still ever present. It is likely that you have already indulged in the Tayyabs magic, like the rest of us, and like the rest of us, probably failed to call well in advance to reserve a table. Which is why you should be happy to learn that late last year, the former Tayyabs restaurant manager, a certain Mr Ali, opened a new restaurant in the similar vein to his former employers.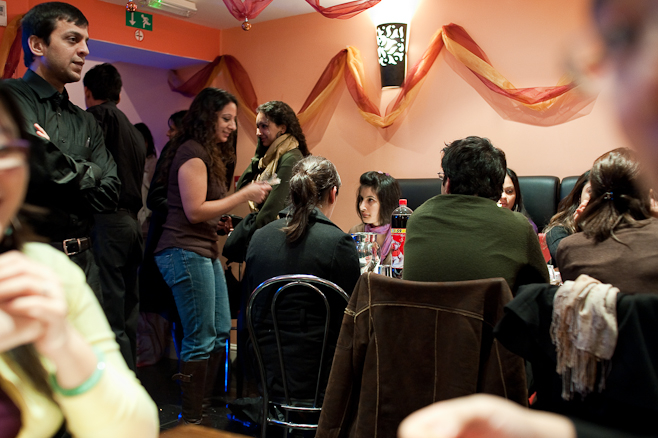 Admittedly, Indian cuisine is one of my palate's weak points. I vaguely recall my parents taking me to a purveyor of North Indian food, called Tandoori and located in the Holiday Inn Park View Hotel, Singapore. This was well over 20 years ago, and last I checked (2008), it had been replaced with a sushi bar. The one thing that had stayed with me all this time, was how everything was so fragrant and that spicy and hot food can be mutually exclusive. A hazy impression of a memory, but that was the first time where I first experienced the rich diversity of Indian cuisine in the way that different spices and herbs played its role in enticing the senses. As I understand it, Northern Indian cuisine consists of about nine distinct types, with Punjabi being one of them. Broadly speaking, Northern Indian curries are thicker, creamier and are distinguished by their use of dairy products; a preference of bread over rice, and an abundant use of fruit and vegetables (source: Indianfood.about.com). Taking a closer look at Punjabi cuisine, I learnt that diversity is one of its hallmarks and it is so diverse that it can even be different when comparing restaurant style against home cooked Punjabi cooking. In restaurants, clarified butter (or desi ghee) is used heavily, as well as a wide selection of vegetarian dishes (source : Punjabi Cuisine). This is just literature as I've never been to India or Pakistan to try real Punjabi food, and my experiences with Indian food is limited to the London based restaurants and elsewhere. My research had also led to learn about the differences between Indian and Pakistani Punjabi cuisine – while similar, are not quite the same. Rather than come to my own conclusions about something I don't know much about, I thought I'd find an online thread which discusses this topic in more detail : See 'Salient differences between Indian and Pakistani Cuisines' on Chowhound. (Note : I'd love to learn more about this so please feel free to add to the comments.)
Right then, now that we have a better idea about Punjabi cuisine (thanks to @monkeybanjo), we could approach Needoo with some sort of gauge. Stepping out from the shadow of a much loved institution – comparisons with Tayyabs would be inevitable, but then again, the two restaurants are so similar in execution, that they even seem to have used the same web designers to build their web portals. (see Needoo and Tayyabs). The menu at Needoo is almost a carbon copy of Tayyabs, it is instantly recognisable, although their daily specials vary.
For those of you in the know, the now signature mixed grill isn't a visible option on the Tayyabs menu, but it is now on the Needoo menu. Though, it is nothing more than just a selection of tikkas, which you could order separately and have it served on the same sizzling hot iron plate. The Needoo version is similar to the Tayyabs version, for £10, it buys you seekh kebabs, lamb chops and chicken tikka. The Needoo version is an equal visual treat to the original, steaming, sizzling and colourful. Upon closer examination, the dish is much saucier in comparison. The kebabs carry a deep flavour, the lamb chops appear to have more of a spicy bite. It is pretty close to the Tayyabs version, but somehow I prefer the original. I'm not sure if it's just nostalgia though, the Tayyabs version is all sizzly, smokey, more intense…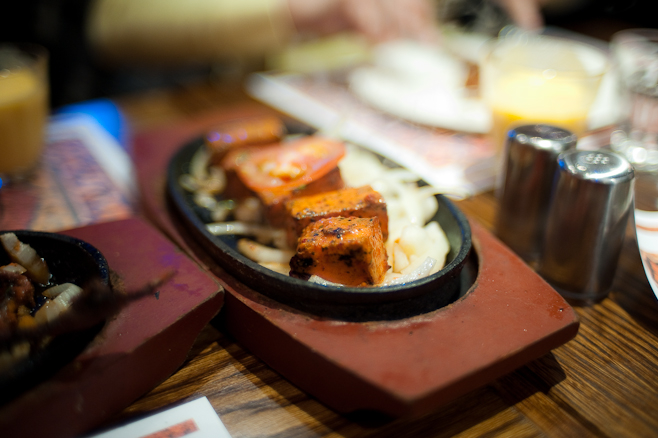 I had to order a paneer dish. Also served on a sizzling iron bed; this chilli paneer tikka was also finished with the same spicy gravy as the mixed grill. Yes I liked this too, lots of full bodied smokiness – especially at an attractive £2.50, absolutely unbeatable prices.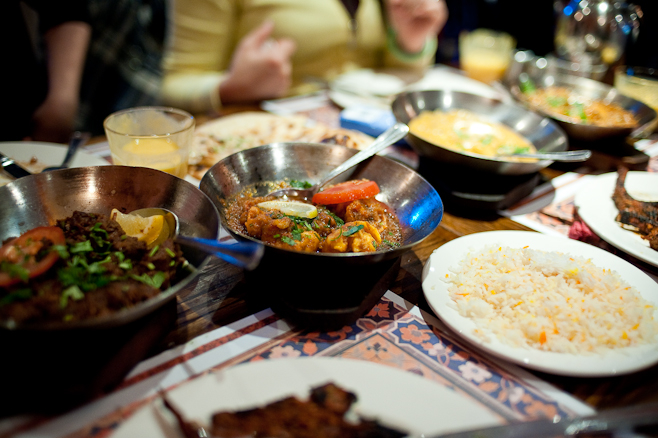 Now let's move on the main dishes. We ordered five items : Daighi Dry Meat (£6), Bhindi bhagi (Okra £4.50) ; Karahi King Prawns (£11) ; Haleem (Saturday special, £5.50) ; Chana Chicken (£6). Let me start with the dry meat…. not good. Lifeless, deflated and frankly ordinary. The okra -which I really enjoyed at Tayyabs – was soggy. Generally speaking, the dishes seemed to lack punch, even though we noted food was generally spicier and hotter than Tayyabs. In fact, so much so that my throat was being to pulsate as I worked through the dishes. Perhaps it was my tender tastebuds, but I found the heat to be overpowering. One of the reasons I really enjoyed Tayyabs was how wonderfully balanced the flavours were in that the spiciness were offset with a citrus edge, making it taste alot more vibrant. At Needoo, the heat was turned to the max and it was numbing. The Heleem pretty much epitomised the theme of the food, a muddy lentil mash with the spice so amped that it just blew all other manner of flavour out the window.
On the surface, Needoo is as good as Tayyabs, but personally, I prefer the latter. Casting my mind back to my previous experiences and preconceptions about Indian cuisine; I think Tayyabs just gets a better balanced of flavours. With Needoo, I walked away with a mouth on fire and the gradual numbing of the gums was abit of a turn off. Of course, this is just my opinion as there seems to a small legion of supporters who are growing fond of the new kid on the block. Just take a look at the chowhound thread ; even Jay Rayner gets in on this one. In the end, our table of six paid £67 for the food, plus two large jugs of mango lassi – at these prices, it's hard to ignore the sheer quality of food to be honest.
Speaking with fellow restaurant hobbyist Mark of Food , he has heard through the grapevine that there are even higher peaks than Tayyabs in Whitechapel such as Lahore. Indian cuisine remains a fascination to me, I have drafted a little hit list for this year and hopefully will get around to trying out all the gems in the City, and perhaps one day try Punjabi cuisine in its native format.
PS: Please leave me a few suggestions too, would love to hear what I'm missing out.
More photographs at my flickr account.
Other considered opinions here : Cheese & Biscuits ; Food Stories ; Marina of Metro ; Jay Rayner for the Guardian
The Gist of It
Needoo £12pp official site
87 New Rd E1 1HH
Tel : (020) 7247 0648
Tube : Whitechapel
Did you enjoy reading this post? Why not subscribe to my feed updates for free. Alternatively, You can subscribe via email.