2009 has been a hugely gluttonous, but productive year for this website and for me. For those of you piling on the pounds along side of me, we've definitely had some memorable meals no? And my, my have our ranks been swelling. This time last year, we were 200 odd regular subscribers, today we're 600 strong. You should know that you mean the world to me. There will be no more new reviews in the festive period as I plan to take it easy over the next ten days, but fear not, new content will be back with a bang on the 4th Jan 2010. In the mean time, let's reflect on the highlights on what a great year it has been.
Here's 9 of my most memorable meals in 2009.
St John
Let's kick things off with something British. I like restaurants which push the boundaries, and Fergus Henderson's 'nose to tail' concept was certainly something that appealed to me. For such a well liked restaurant, I was delightfully surprised to find an easy going feel about the place: no ponciness on the menu, what you see is what you get, and just brilliantly cooked offal slapped on a plate. I tried their legendary roast bone marrow, sipped some of the most tremendously hearty veal broth (ever), and witnessed the bloodiest pigeon ever to be presented. I don't think St John applies to everyone and one has to be pretty brave (or have ordered a strong shiraz) to wash down all the gaminess some of the dishes will throw at you. However, if you're up for a totally alternative experience, I can think of no better restaurant in London to try than this one. You'll certainly remember it, as I did.
Goodman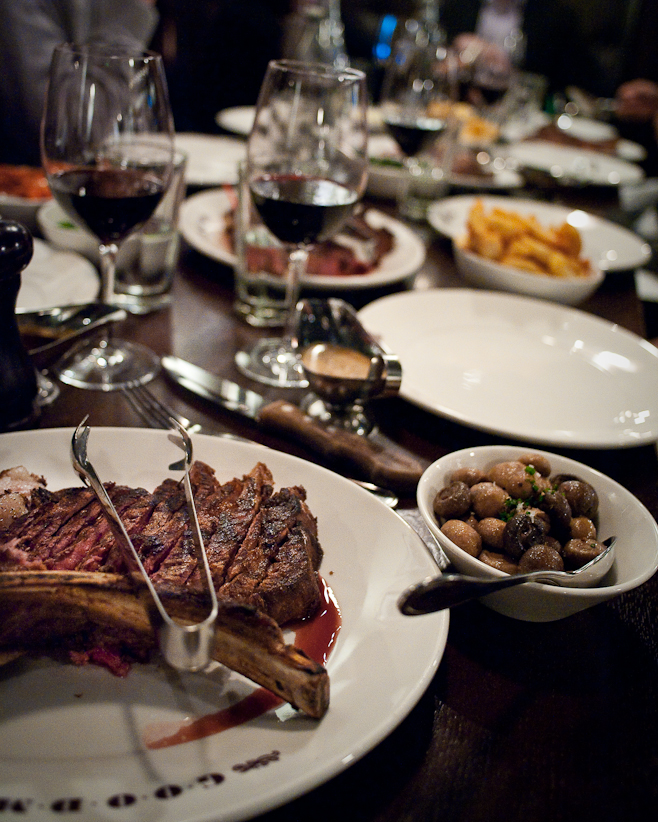 I love steak, and I know many of you do too. I tried Hawksmoor – the blogger's choice, yeah not bad, very good actually but I prefer Goodman just because they can grill a steak just as well (One of few in town equipped with a Josper grill), and they have a multitude of choice when it comes to type of meats, chief among them : Prime American beef. On my first visit, they overcooked my rib eye but it was still very good. On my second visit, they served Irish Jack O'Sheas along side the American stuff, perfectly bloody and it was orgasmic. On my third visit, they presented us with stuff from all over the place, including cuts from Lake District and I was literally blown away. Last I heard, the Russian owners were now importing Wagyu from New Zealand. It's expensive, but you get to choose what you pay for and the sheer number of quality choices is – in my opinion – Goodman's greatest attraction. Steaks are all about the meat afterall, my favourite steakhouse in town, go try the massive porterhouse cuts and make sure you ask for medium rare.
Sushi Hiro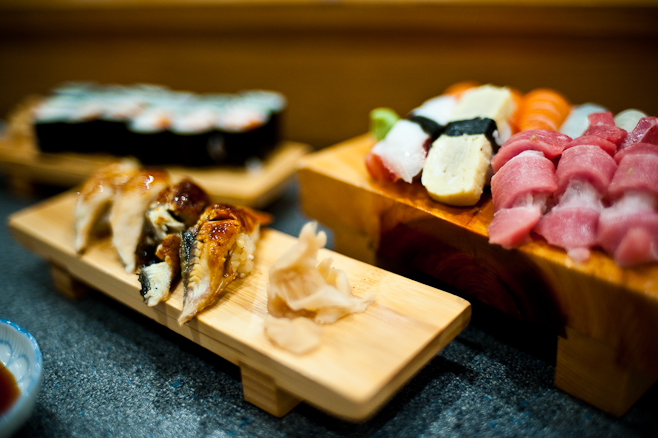 As much as I love steaks, I can't eat it everyday. On the other hand, sushi is like the perfect food : it's healthy and it melts in your mouth. I frequently return to this modest sushi bar out in Ealing (once every 60 days or when I have a sushi craving or whichever comes first) and it has never, ever failed me. Not only do they serve the silkiest raw fish in town, they are also one of the most affordable sushi bars that I know. Forget sNobu, if you want to try the best sushi in London, this is it.
Ledbury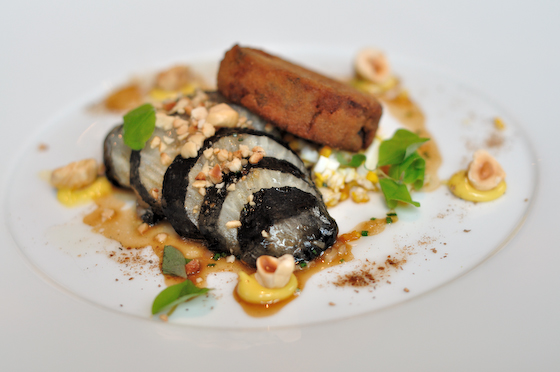 I went to the Ledbury in March, and so far, no dish has surpassed my experience of the "Celeriac baked in ash with hazelnuts, wood sorrel and a kromeski of middle white pork". It's the best dish I have had this year. I'm simply going to cut and paste my original notes on this:
It didn't take them very long to plate up and what a glorious looking dish. The little mayonic dashes dotted around the dish is actually a black truffle mayo I'm told, and it also comes with some shaved hen eggs. The celeriac was simply amazing. It had a rich salt flavour, but also had a warming smokiness associated with it as well. The inherent natural sweetness of the celeriac added dimension, and the slices of celeriac seemed to retain alot of moisture. The texture was almost like a gently silky steamed turbot, or even a cod. If I was blind tasting this, I wouldn't have guessed it to be a vegetable. The hazelnut really added alot colour to the flavour, it gave it that regal and fragrant aftertaste. The breaded pork – in comparison – was smooth and mild, but the celeriac didnt need it at all. Of course, when you try to put abit of everything together, the dish becomes a whole new rollercoaster ride altogether, though the celeriac really dominates.
In other words, effing awesome. Only £13 a pop – go before Brett gets his 2nd star in January and hikes his prices.
Eastside Inn Restaurant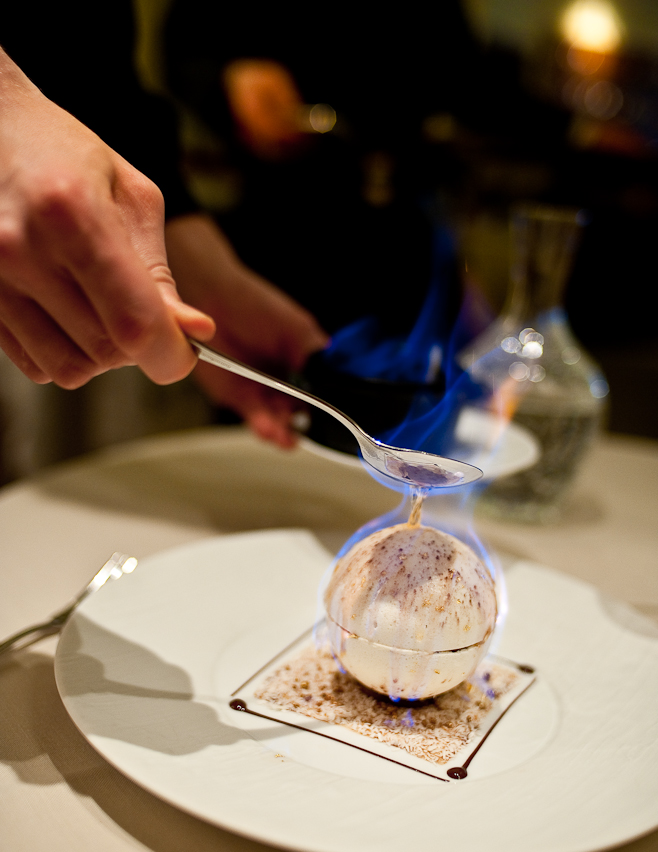 I was reluctant to include this in my end of year round-up because I have niggling issues with this restaurant. First of all, this weekday only establishment is too expensive. The ala carte is £70, a glass of burgundy is £13 – my wallet was visibly thinner after paying for one of the priciest lunches, not to mention servings comparable to Calista Flockhart's diminishing frame. But, I did have very, very good food. The lobster, sweetbread and cepes – oh my god, the best lobster soup/sauce/veloute I have come across thus far. And to top it off, a flaming whisky meringue with pop rocks – gimmicky but it was fantastic. I predict great things for Bjorn in 2010, great things and I will be returning to the more affordable Bistro come the new year.
Franco Manca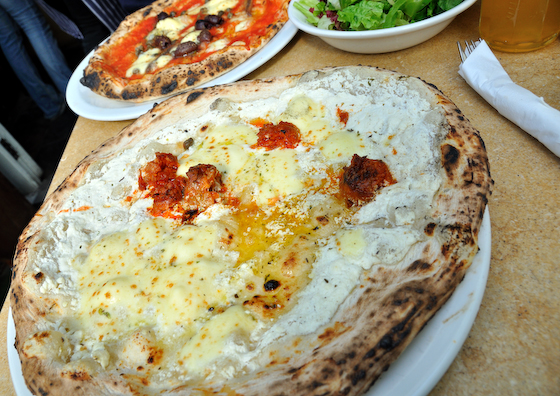 I was discussing the need for a point of reference with fellow food fanatic Mark of Food. By Mark. He brought this to my attention and he highlighted how it was important for a readership to be able to gauge what the author is talking about when he compares experiences. And so going forward in 2010, this is an area I would want to pay more attention. For one, to give people the chance to relate, and secondly for my own discovery in terms of trying different things. Which brings me to the pizzas at Franco Manca. Many say that this is the real deal. I've had FM three times now (at their original Brixton location), the base is indeed incredible: doughey, chewy, toasty, just fantastic. But is it the real deal? Who knows, I've never been to Italy. What I do know is that if you want pizzas that are unusually amazing, you need to give Franco Manca a try. Alternatively, the Donna Magherita recipe is pretty stunning as well.
La Trompette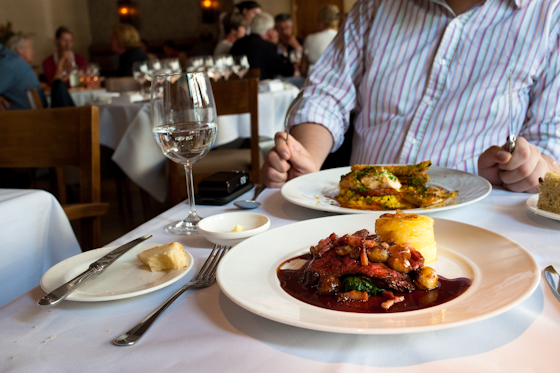 I was gob smacked to find such good food at such low prices – the three course a la carte is under £30, dinner is under £40 and it's got a michelin star. The grilled bavette of beef was – and I quote:
was a bovine sponge that soaked up the syrupy sauce that carried deep balsamic and saltiness..
…or something like that. Equally good were the giant ravioli of crab, salads were enticingly fresh and everything about this Chiswick outfit was a breathe of fresh air. If I had to choose one restaurant to take someone out to which served great food, had comfortable atmosphere, is well priced, nothing too adventurous, something French, maybe abit posh – this would be it.
Sheen Suppers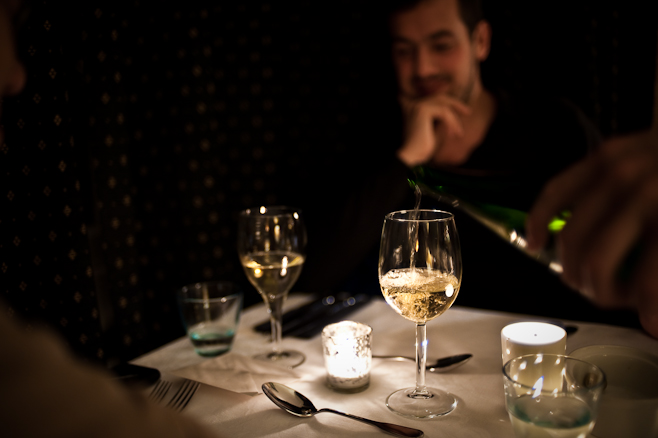 I will remember 2009 as the year of the home restaurant, underground supper clubs and the rage against the man. Eating in someone's front room is abit strange but when it's done right, it can be quite enthralling. The most memorable one to date has to be Sheen Suppers. We started with an amazing prawn and pancetta pate, followed by a hearty gnocchi with a ragu of beef shin, before finally finishing off with a proper orange sponge cake. To top it all off, each course was paired with a wine. I donated £25 toward the meal, since you know, it was a dinner party and there is no such thing as a home restaurant.
Uncle Lim's Kitchen…
..should open a branch in central London, because this is the best Hainanese chicken rice money can buy within the M25. It's near enough perfect and almost as good as anything you can find in South East Asia, almost. I can't afford to eat £50 dinners everyday and I wouldn't really want to do either (well..) . Most of the time, I am happy to settle for something tasty, something cheap and something comforting. I could have this for lunch everyday, just like it is originally intended and I just might if I lived in Croydon.
And that's a wrap. I hope you've enjoyed all the 2009 restaurant write-ups. I have unloaded more adjectives and more vivid images than ever before, I promise to continue the trend into the new year and I hope you continue to read my work. Thank you for being such a wonderful audience, folks.
That's all he ate in 2009, here's to a bigger belly in 2010.
Did you enjoy reading this post? Why not subscribe to my feed updates for free. Alternatively, You can subscribe via email.