Tap. 12.30pm. Tap. Text. Tap. Oliver Thring. Tap. 'Just setting off now – see you there.' Tap. I stopped just outside the market entrance, feeling a little jaded as I attempted to follow my iPhone's GPS lead. And then, it happened, like a tingle in the gut, I sensed the presence of another 'one' who obsesses about the tastes and the smells, like me. Bicycle helmet in hand, sun striking a silhouette against his mean bits (too much?) , he uttered, in deep baritone: "You wouldn't happen to be… Kang?" Yes folks. It is he. Mr Thring has finally landed. We shake hands like two hungry gentlemen and proceeded to fall in line with the masses who've come for a pilgrimage. The pilgrimage to eat the best, damn pizza known to Londoners.
White Pizza
Almost immediately after we met, all we could talk about was food. food. food. So much so that I didn't mind waiting in line at all. In my short life as a food blogger, I've (virtually) met some truly inspirational London foodies who spread their passion for all things edible through their excellent blogs. Doug, Helen and Helen and Lizzie and Niamh, all truly magnetic personalities – you'll get hungry just following them on Twitter.
There was no better person to stand in the queue with for what is touted as the best in London. As Ollie has already proclaimed – you will queue. And while you wait, you will be looking over the menu of just six choices of pizza. Just as I was taking in the rays of sunshine penetrating the roof and being completely immersed in the lively bustle of the chattering crowd; I was immediately jolted back to the here and now, when he said to us: "Two of you? You will be next." I can only assume he's the owner, what with his man in charge stride.
It's all about the bounce in the dough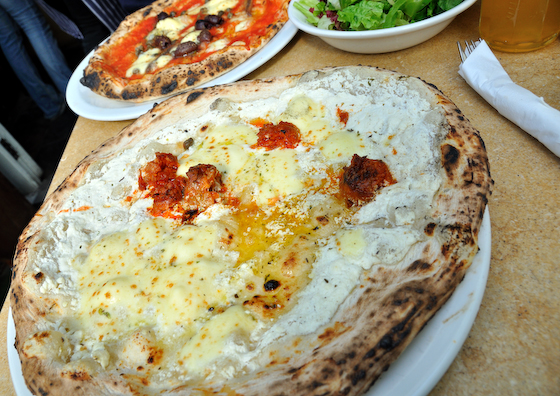 I was detoxing this week folks: occupational hazard. We ordered two pizzas, a salad, a lemonade and Ollie had a red and a white plus an espresso and the bill was under £18.00. Seriously? Tasty and cheap, inside my kind of heaven (I do not idolise Ms Underwood).
Yes, it is true, your orders are taken as you are about to sit down, and by then the pizzas  would be ready on your table. 40 ticks in 500C of wood fire. I went with the white one of ricotta, organic pork and mozzarella.
The first cut. Spongy. The sourdough is risen over twenty hours. The first bite. Squidgy. With a rubbery bounce, lively enough that it required abit more bite in your bite to tear it away. The first taste, appetising, really appetising, I am chewing and I am feeling the umami from the dough in my mouth. The first smell. Oh the flavour, you know that crisp, roasted dough that makes your stomach yearn for fulfillment, it was a crunchy bite but the insides were moist, soft and such a joy to chew down on.
Yes, the chorizo is good, the cheese is good but the dough is spot on, it's really really good.
So much so, words stopped flowing when I was eating there as these were the notes I took: "Spongy. Tear resistant, and…" And? That was it. Forget blogging, I was too busy eating.
Are you spying for Pizza Hut?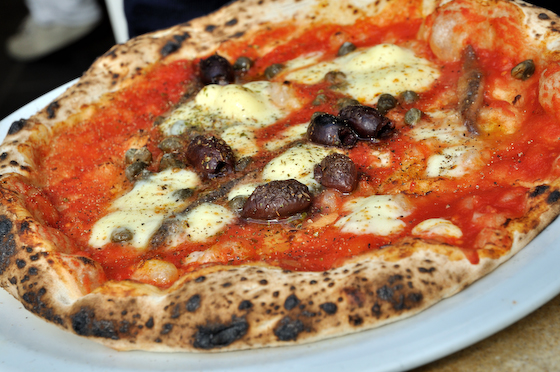 That was the most hilarious comment I've ever received while photographing my meals. It was a bloke with his family and he followed on by telling us to go back to our pizza hut suits to tell them that this is how Real Pizza is made. And you know, it was in the way he said it, you could hear it in his voice, you could see it in his eyes and you could also see it in his hands as he held his slice – dearly – as he stated his claim. He was proud to be eating there.
The wines by the glass, horrendous. The salad, don't even bother. But the dough, or should I say, the memory of it was absolutely surreal.
There is no fuss to Franco Manca, no extras and it needs none of the fancy poncy because this is just good pizza. A gem and exactly what food is about: heart and soul.
The Gist of It.
Franco Manca Official Site
4 Market Row Electric Lane, Brixton SW9 8LD
Pizza £6
Verdict: My best experience of the Italian stuff in London, and maybe yours too. Go and eat lots of it.
Did you enjoy reading this post? Why not subscribe to my feed updates for free. Alternatively, You can subscribe via email.