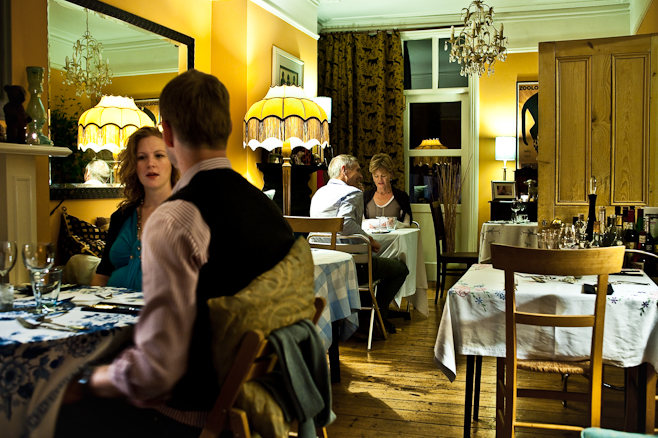 Eating in someone's home is both exciting and a little daunting. I never know what to expect and how I should act, especially since the host has graciously opened up their private space. I suppose home restaurants are one of the positive things to come from this recession, or more accurately from the growing awareness of the online social conscious.
This will be my 3rd experience at a secret restaurant.
(Note: Please let me know if you would like me to take down any pictures.)
Twitter is a revelation, I continue to meet like minded food lovers online and it was through the magic of the interwebs, that I had come in contact with Lara. Of course, it was still surreal to have met her and Iain for – in the flesh – the first time. It was at a charity dinner last July – both are down to earth who live for good food it seems, and it was then that she told me of her plans to launch Sheen Suppers in her home. It took me a while to show up, but I eventually managed to squeeze abit of time to keep my promise. For this meal, I joined Euwen who was also planning a visit after reading about it at Essex Eating and Food Urchin.
We arrived as a table of four, somewhere in East Sheen.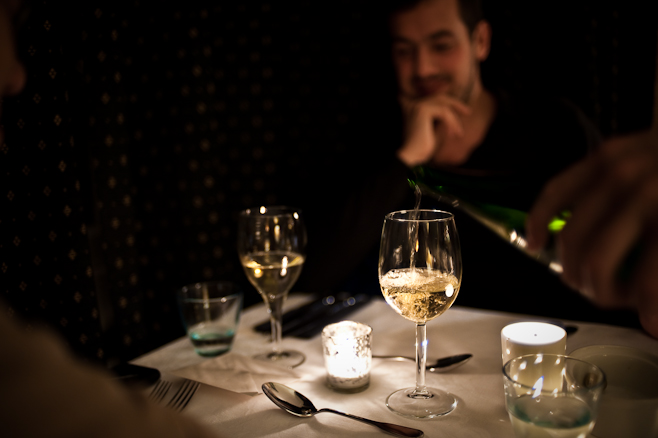 The living room fit six tables snugly while we settled into the corner by the window. Lara's home is exquisite and cosy, as it was a Friday night, I sank into the warmth of the living room. I was ecstatic about the wooden floors. The lights were dimmed and just the faintest hum of jazz in the background. We really liked the romantic ambiance and enjoyed whispering in conversation. Iain – Lara's partner – was in charge of front of house activities, charming and articulate, he wasted no time in laying on the golden juices. While Lara was in charge of the four course menu, Iain was responsible for pairing each course with a glass of something, something – amazingly, they only asked for a £25 donation for this.
I remembered the first bottle – a gerwerstraminer from Alsace, to go with the first course of Pancettta & Prawn Pate, Cornichon Salad and toasted wholemeal bread.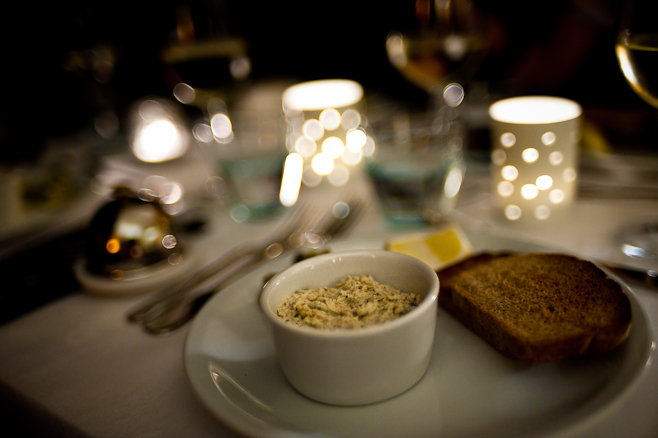 Iain was generous – he topped up our wine … and I saw him do it for every diner in the room! Wow, I was quite impressed with the pate. Served cold – the hard paste-like pate was surprisingly well balanced in taste. We looked at each other, amazed at the quality of this dish and noted how this could have easily been a hit at a 'real' restaurant. The timing of the dishes was immaculate. With but short pauses in between just enough to get engrossed in conversation before the next course came.
Mains: Gnocchi with a Ragu of Shin of Beef, Broccoli with chilli & Sea Salt. I can't remember the red Iain served us with – I think it was a Grenache (Iain/Lara – perhaps you can chime in?).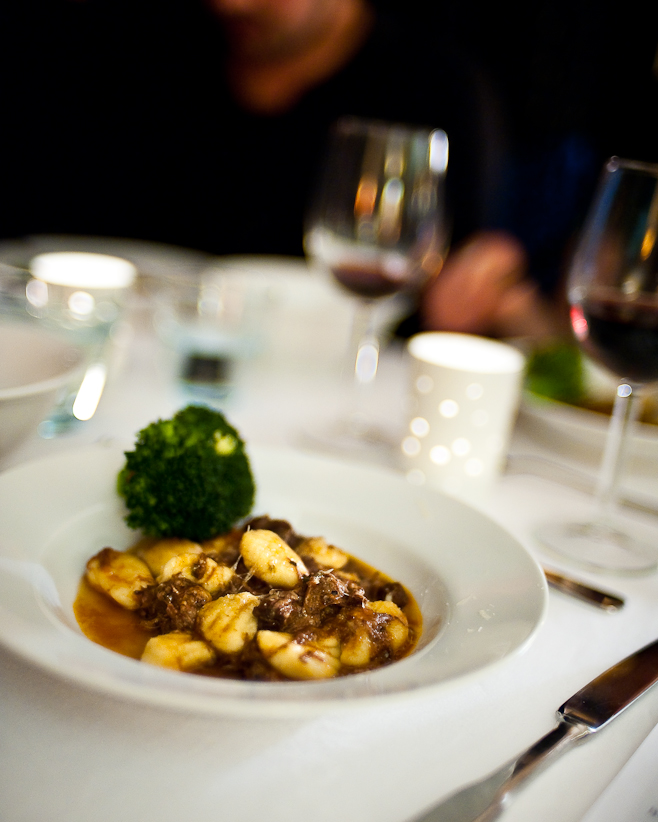 The potato gnocchi was superbly pillowy, and the warming beef ragu was divine. It needed just a touch more seasoning, but that's only because we're nitpicking, otherwise its perfect. We looked at each other again, in amazement at how slick this home restaurant food was. My my, Lara can cook and then some.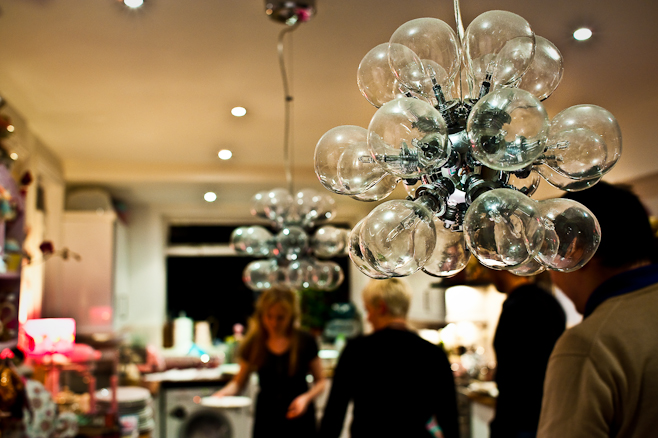 I had seen the photographs of the pink smeg fridge so I thought I'd pay a visit. Her kitchen looks great, Lara has one of those magnet knife holders – attached to it was also an itinerary of the night – very organised.
After a swift tour, we were back in our seats for the cheese course: Blue wensleydale, somerset brie, applewood smoked, oatcakes and crackers.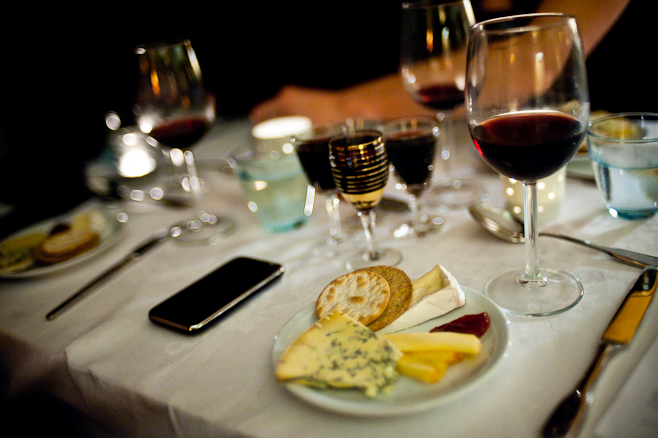 Iain had prepped four mini glasses of Taylor's port, which was consumed before the pudding arrived of course. He was kind enough to top it up again. As he ran out of Taylors' , he poured us an Australian example instead. After about four or five glasses (in total… I think), I was actually tipsy.
And finally, orange sponge pudding, white chocolate ice cream, dark chocoalte orange cup and some chocolate sauce.
The sponge was moist, light and as you sink your spoon into it, a zesty steam fluttered into the air. What a pudding, and what a meal.
I've always said that I admire the bravery of living room restaurateurs who are doing it as a pastime of sorts. I believe that it takes tremendous effort to put these things up – not to mention opening up your house to strangers – and for me, it is a precarious thing writing a 'review' about it, which I have tried to curb throughout this blog post. What I will say is that I had a jolly great time, the food was delicious, and the wine alone was worth it. About the only thing I regret was not meeting the rumoured fat cat who was hiding upstairs (I saw 'Yoga for cats' in the loo and wondered if he was stretching upstairs). Anyway, I expected a comforting meal and I can safely say that my expectations were completely exceeded.
I thoroughly recommend it, if you still haven't done a dinner at a stranger's home yet give Sheen Suppers a try, you might be just be back for more.
(Not) the Gist of It
Sheen Suppers
(Not) in East Sheen
(Not) in London
(Not) £25 for four courses and flowing wine
More photographs on flickr here.
Also, check out the blog posts about Sheen Suppers by Dan at Essex Eating and Dan at Food Urchin.
Did you enjoy reading this post? Why not subscribe to my feed updates for free. Alternatively, You can subscribe via email.