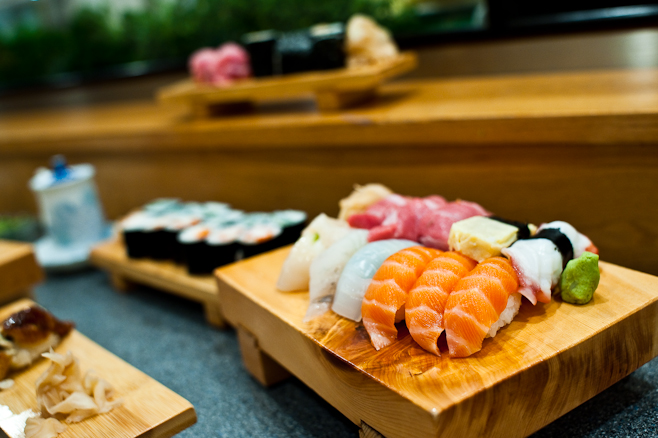 If you follow this blog, you'll know that I am only the biggest fan of this sushi bar located in Ealing Common, a convenient and frequent after work spot for me. It's been about a year since I last wrote about it, and it's time we revisit to find out if it's still the best.
I am fascinated with the 'Kaizen' philosophy of improvement or more specifically refinement. The attention to detail is like a quest for perfection where the summit is somewhere between an exacting science and aspiring art. A sweeping generalisation to apply to Japanese cuisine: Sushi looks gorgeous, tastes great, is all about attaining a state of umami and it's healthy.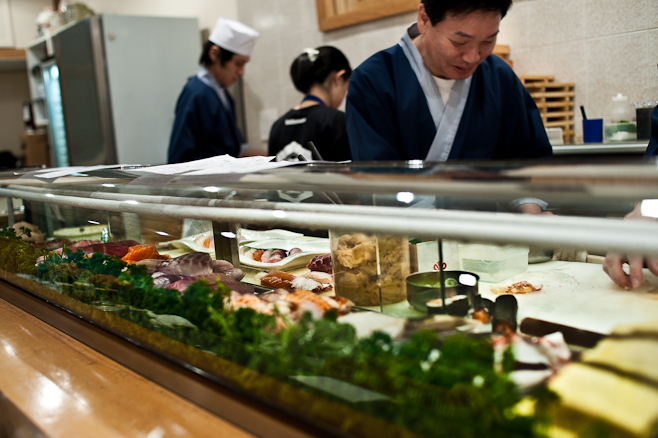 Sushi Hiro is the embodiment of the refinement philosophy – a sushi bar stripped to its essence only delivering raw fish, rice and not much else. The only hot stuff is tea and miso soup. There is never more than five working at any one time – two waitresses tending to the tables, and three behind the counter. The Itamae (sushi chef) is a jolly fella, he's abit shy, but he's the main man during both lunch and dinner service. When he's not around, Sushi Hiro goes on week long, and sometimes month long breaks. He handles all the artful nigiri and rice balling work, as with all sushi bars, it's always a pleasure interacting with the Itamae and watching him work his magic. He is usually flanked by two Wakiitas, one is responsible for rolling sushi, and the other slices sashimi.
I've been trying to take my brother to Hiro for what seems like forever, and we always seem to go when it's shut. It closed for a month in September for summer break. We finally secured a booking for a Saturday night… but the Piccadilly line went down for maintenance. Rats. Determined to wolf down the freshest salmon in West London, we took the rail replacement bus out to ealing common. Naturally, we were running horrendously late. On the way there, I rang multiple times to assure the waitress that we would soon arrive, and on multiple occasions she rang back telling me to cancel. We booked for 6.45pm, but didn't get there till 8. Half an hour left on our reservation, we thought that since we've already come this far, we may as well force ourselves onto the sushi counter.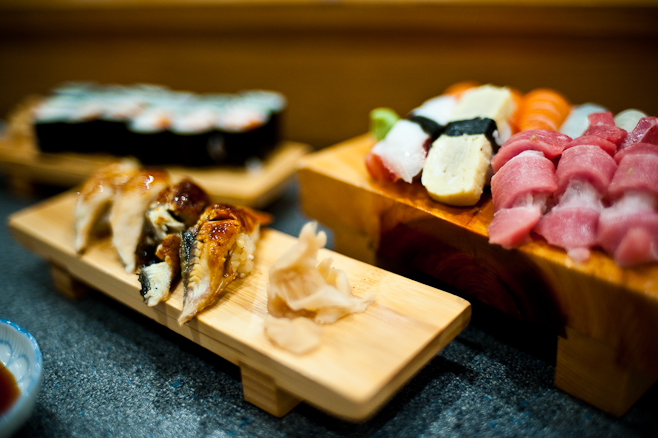 Wary of time, I frantically filled in the order sheet for what we wanted to eat. Which was: eight pieces of belly tuna nigiri, two sea unagi, two river unagi, six salmon, two tamago, two squid, two turbot, two scallop, two octopus, a crab roll, squid & shiso leaf roll and finally, a scallop pieces roll.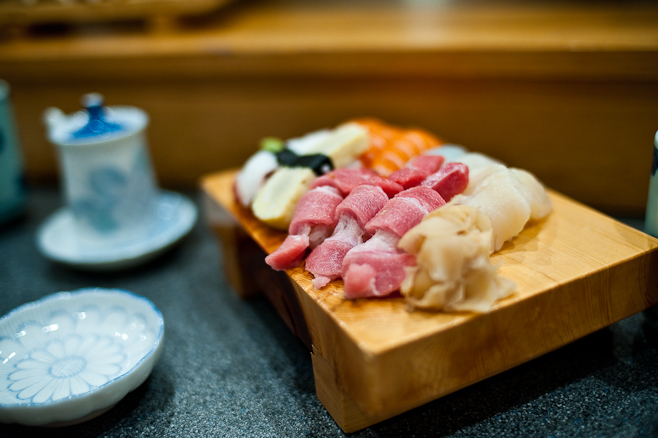 The Itamae takes his time to craft the sushi and one should always expect to wait as he plates up his creations by hand. Luckily for us, a couple of reserved tables had dropped out, so it meant we could extend our stay. We discussed how the world changed while my brother had been away in Reading over a couple of glasses of plum wine. Fifteen minutes later, both of us were revelling in the fresh fish. My brother was amazed at how the fish didn't seem to have a fishy odour, and everything tasted lively. Oh yes, they haven't lost their touch, I was hungry and I was refraining from just swallowing whole chunks of nigiri and slowed down to savour every single bite. The rice was mild in taste, not too much acidity from the vinegar. Soft in texture, but hard enough to keep it's shape, it wasn't too glutinous so it didn't stick to the roof of my mouth – it struck a calming balance. Apart from the belly tuna which didn't seem up to scratch (it was falling apart in pieces), everything else was superb, my brother really liked the salmon, I especially enjoyed the luscious scallops.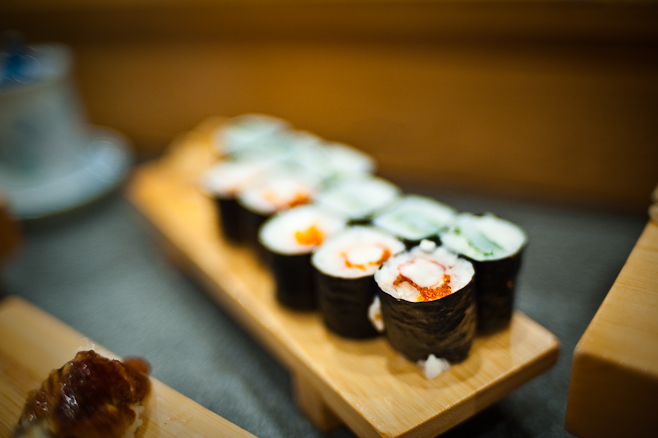 The crab roll was a godsend. Stuffed with 'real' crab, the bouncy sweetness of the meat created a harmonious umami with the rice and soya sauce. The squid and shiso leave roll while simple, was probably one of the most unique flavours I've ever tried, its abit like a squidgy mint.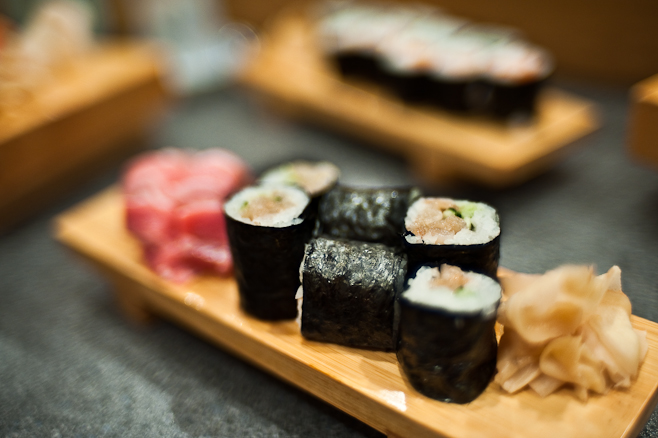 Finally the scallop pieces roll. This one takes abit of getting used to. It uses the chewiest bits of scallop which has a unique oiliness. I was reading up on sushi etiquette and apparently nigiri is supposed to be finger food. You should also dip the fish, and not the rice, into the soya sauce, as the rice soaks up much more than the fish. It's an interesting article.
The bill came to £58 for two. Plus two glasses of plum wine, we put down £65 and still had change for tips. For the money, sushi hiro is unbeatable. The fish is superb, the rice is terrific, the venue could not be more atmospheric and watching the itamae work his magic is always a breathtaking way to end the day. A personal favourite, and one which I wholeheartedly recommend to sushi lovers everywhere.
The Gist of It
Sushi Hiro
1 Station Parade Uxbridge Rd, W5 3LD
Tel: 020 8896 3175
Nearest Station: Ealing Common
Did you enjoy reading this post? Why not subscribe to my feed updates for free. Alternatively, You can subscribe via email.