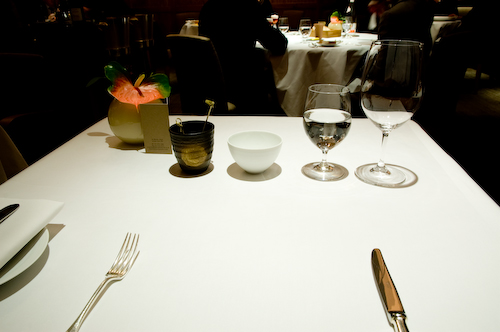 Hibiscus is the highly regarded michelin starred joint maintained by Claude and Claire Bosi. The french couple arrived on the shores of england some 11 years ago and have sinced established a name for themselves here in London. Located in the posh bit between marylebone and oxford street, hibiscus has garnered an exceptional reputation and to date, I don't think I've read a bad review of this place. On this occasion, I popped in for a late lunch on a very wet november afternoon. Care to join me for a yet another photographic food odyssey?
Recession eating
Ok, let me be clear from the beginning. The recession is very real and a kind of gloom has seemingly clutched the city ( if not the whole country ) . In times like this, it seems appropriate to be writing for shrinking wallets, although having said that, I'm not really in it to blog about the best seven course three starred michelin restaurant in the world.
no.
If you want to read about the best ways to stuff yourself silly and throw lots of money away go read foodsnob and genuiness instead. They really do a bang up job blogging about euro-centric haute cuisine in london.
As I've said before in my wild honey review, great food does not need to be expensive to be great. Let me reinterate it – if you're a great chef, you will be able to put together a mind blowing £25 menu. Actually , let's rephrase that: If you can't even cook a solid £25 three courser , what makes you think I'm going to shell out £100 for seven?
This has got nothing to do with affordability – I can afford a meal just fine – this is about value. And I think value should be hard-earned… unless if you're an investment bank ceo whereby you can literally run your company into the ground and be paid millions to do it, but I'm a food blogger and that's all I'll say about Dick and John.
Hibiscus ala decor at £25 a pop. pop.
Now that I've set the 'mission' if you will, I approached Hibiscus with the idea that haute cuisine can also catch fire at the budget end. I think we've already seen with places (again) such as wild honey and great queen street that awesome food can be had at sensible prices. Hibiscus happen to be offering a three course set menu for £25 , their seven course taster is 'only' £70.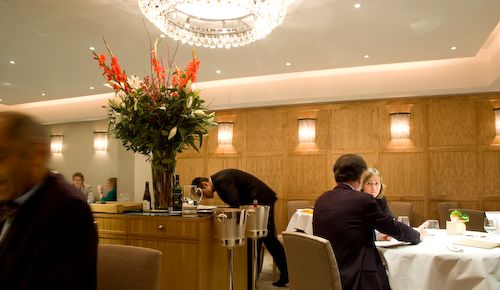 Let's get the bad news out of the way first. The decor is REALLY horrible. The restaurant is actually quite small, I'm not certain, but I think I counted about 15 to 18 tables. The room looks like a rectangular box and the walls are a mix of grey paint and dour light brown woods, coupled with the low ceilings, it just seemed like the dining space was some sort of cargo box. For lights, there were these dinky 1980s style side incandescent lamps and there was a small and sobering chandelier which overlooked the center piece chest of drawers from which the waiters kept the cutlery and plates.
I was really trying to get a nice shot of the place, but it's that wood – I just kept thinking, this is 1970s pretension … and I wasnt even born yet. I'm sorry Claude, here I thought the Gordon Ramsay chains' glitzy hotel lounge decor were devoid of soul, your decor is just too subtle, too plain and too sobering for it to come alive.
Ok, let me be fair then, perhaps that's what the Chef is gunning for, perhaps I'm missing the point completely, after all this is a serious restaurant and his decor certainly is sending that message: "Im serious Kang, watch out."
Pre-starter fizz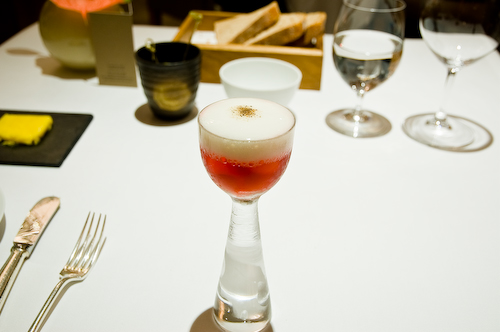 In the midst of all my rambling ( and after ordering a glass of cote du rhone) – the waiter informs me that he's going to have to hold off on my red because it will clash with the pre-starter. Hmm. That's intriguing, my very gently silky cote du rhone clashing with a starter?
It wasn't until he placed the ice cold glass in front of me and explained that it was some sort of bubbly rose (I want to say kris flower? ) with little pineapple bobs and topped off with abit of black pepper that I understood what he meant by clashing.
" Just a wake up call… refreshing you know. " said the frenchman.
I thought well ok, it's a nice precursor to the meal ,  the moment I sipped it, I really did wake up. I felt my eyes widened because this was lovely. Indeed it tasted of a bubbly rose with hints of strawberries but what was really interesting about it were the pockets of pineapple syrup. I'm not sure if you can make out the little balls of pineapple from the picture, but think water balloons bursting in your mouth, that's exactly what I felt. In addition to the bubbles form the champagne, there were the big pineapple bubbles bursting in my mouth too. It really was a fresh way to re-start my day. Oh, Im still thinking about it as I write it, little pineapple bombs bursting!
All my ranting on the decor is now completely forgotten, I'm buzzing, I'm excited, I want my red wine and I'm ready to be dazzled.
(My red wine did finally get served and it was extremely nice, very sweet, medium bodied with a bit of a spicy aftertaste, hints of berry jam and just silky smooth … for £6.50 a glass – Formidable.)
Warming autumns starting with terrine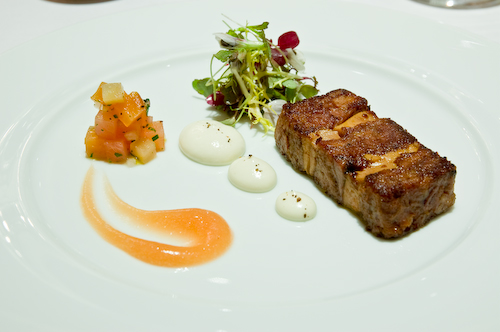 As with any sensibly good restaurant, the menu is seasonal and hibiscus is no different.
Recognising the cold, cold autumn ( winter? ) outside, I started with a caramelised terrine of welsh mutton & foie gras, pickled beetroot and fresh lavender cheese, not forgetting abit of autumn greens on the side.
The portion is abit dinky, but what a lovely dish. The mutton was superbly delicate and had a melt in your mouth texture. There was an intensity in it's smokiness which married nicely with the surprisingly gentle foie gras it was sandwiched in. I felt as if the wide and dominating lamb flavour was rounded out by the creamy foie gras. I'll say again that the delicateness of the terrine was out of this world. You could chew on it , but it was soft like a fresh brioche almost approaching a mousse as you are about to swallow.
The mutton had a uniquely Mediterranean grilled smokiness which was lovely and was brought to life by the cream cheese. It added to the moistness of the terrine further by adding more flavour and savouriness. There is a chinese proverb to describe this kind of dish called "Luk Hua Ko" or roughly translated to "One taste and it dissolves" . The beetroot was nicely tangy, with a sorbet like quality and was just a beautiful balance to the dominant terrine to clean the flavour palette just as it was beginning to overpower your tastebuds.
Balanced, delicate, moist , superbly cooked and goes down easy – wowie.
I love my pollocks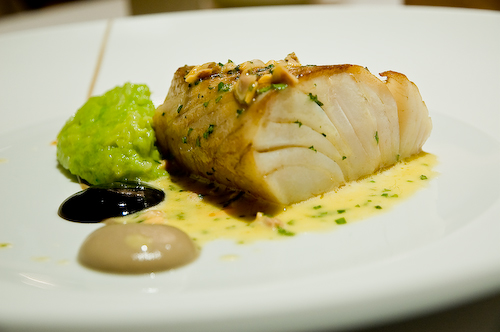 Mind blowing. The starter was really that great that it's still lingering in my mouth. Wow. I can't stop thinking wow. If she was a woman, she would be perfect like Cheryl Cole. I could have her all day long.
Erm, anyway, for mains, I went with the cornish pollock with field mushroom puree ( the lighter one ) , pickled clams ( the small bits on the fish ), roast salsify (ditto) and field mushroom ketchup ( the dark coloured one). Can I just stand up and applause the Chef please, because that is a perfectly cooked pollock. I'll explain, it's not slightly undercooked like some restaurants do in order to keep the bounciness,  where its abit raw in the centre of the fish. This one was just perfect, the fish was firm, bouncy and the flakiness just fell apart wonderfully. I will note that this is probably also due to the fact that the fish was very fresh. Naturally, such a perfectly cooked fish means that it tasted beautifully, it opened up my appetite and was just a wonder to eat. The pickled clams were salty and carried abit of tanginess to it. It gave the heavily salted pollock an interesting edge and enhanced the flavour. The two versions of liquidised field mushroom carried contrasting tones in which the ketchup was sharp and paper thin, while the puree was creamy and mellow.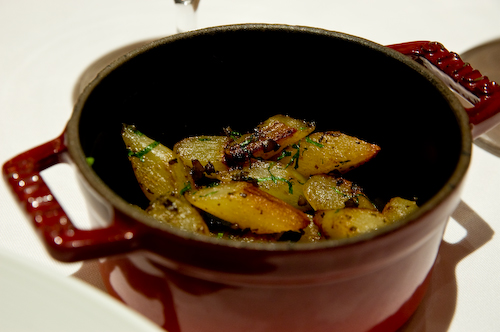 Aromas of vanilla rose from the creamy sauce which the fish rested upon and was delicately warming to wrap a moist heartiness around the fish. Lovely. Oh before I move on, there's also the roast salsify on the side, very warming, full of flavour with a sweet hit to go with the roastiness. Very nice.
And then, I tasted the cabbage on the side and my heart sank alittle. While each of the components of the dish were all stunning, each of them were all heavily seasoned and the greens were the most heavily salted out of them all. I could literally see the big chunks of sea salt sitting on top of it. The saltiness of everything just pushed it over the edge for me. The saltiness overloaded my tastebuds and drowned out all manner of flavour and taste to the point where my mouth actually dried up and I was downing a glass of water.
I'm so disappointed because everything was just perfect – if only he salted one less thing, either amp up the greens and leave the fish unsalted or vise versa, but instead it seemed like the chef just went on abit of a salting rampage.
Which brings me back to the seriousness. Sometimes too much of a good thing is just bad. I was tempted to pour a glass of water to wash away the salt, but I didnt. You can probably tell from my push and pull that I'm struggling to deliver my verdict on the mains, on one hand – its like the best cooked pollock I've ever had in London. On the other the seasoning was so completely illogical that eating it made for frowning eyebrows.
( I checked with the diners next to me and they did indeed complain that the 'intensity' of the dish killed the cat. )
Claude, I'm torn I really am. I recognise that you can indeed cook, in fact you do it so well I welling up. (I've given you 1926 words so far, the most ever) On the other, you're breaking my heart because it's like you've dotted the face of mona lisa with black spots. Why would you do that?
Let's get over it with sweet potato pudding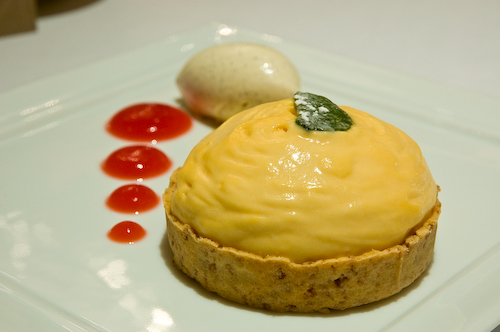 My heart still confused over the fish, I chose to end my meal with the 'fine' sweet potato tart, vanilla ice cream and blood orange gel. The balanced sweetness in the custard was of a foamy mousse like texture. The airiness of the custard sat atop a gently light sweet potato based which married well together. There is also a mashed sweet potato paste which served to enhance the custard-sweet potato flavour axis. Beautifully complimenting each other, the exceptional vanilla ice cream only served to build on the theme. The ice cream deserves a spotlight because it is the perfect example which describes that vanilla is not plain – but a very real and very fragrant flavour in itself. It isnt even white in colour, i suspect there were so many vanilla pods poured into each and every scoop that it resulted in this superbly saturated vanilla flavour. The airy texture held together rather well as there was this inherent fullness in which I suspect clotted cream was used in the ice cream mix too.
The blood orange gel was sharp, tangy and abit gimmicky because I don't think the potato tart needed the contrast at all since it's a subtle creaminess rather than a sugary hit. But yeah, I could see the point of the balancing act, even if it was unnecessary.
2190 words in and I'm not finished yet
Look, if you love food – you would have either read the proper reviews or would have already eaten at this venerable name. All I'm doing is adding fuel to the fire, in short: Hibiscus is really that good. Based on the evidence on show in their set menu, I'm more than convinced that chef Claude Bosi is a star. In fact, his cooking is so spot-on, dare I say his food is representative of the best technical kitchen in London. Alright, he did cock up with the fish a little, but that's a small problem which is easily rectified with LESS SALT.
I think Hibiscus is exactly what haute cuisine is all about and why the seriousness is serious and not pretension. There is a very fine line, but I feel Hibiscus falls on the right side of being serious.
High cooking even in a £25 set menu , as i said earlier if you can cook, you can cook.
Now, just imagine what happens when you leave Chef Claude with an arsenal of quality ingredients, let his creativity run wild and allow him to cook the food to perfection, just thinking about it is abit scary. Applause Claude.
I'll be back for your ala carte in the new year because I think you're that good.
Did you enjoy reading this post? Why not subscribe to my feed updates for free. Alternatively,  You can subscribe via email.
Basics Hibiscus 29 Maddox St Mayfair,
W1S 1
(020) 7629 2999
How to get there: Oxford circus tube How much: OK, £25 3 course set lunch, £60 a la carte dinner