A dollop of off-the-curb eating quirk to brighten up those midweek blues every wednesday or thursdays or both Photo by The Dana Files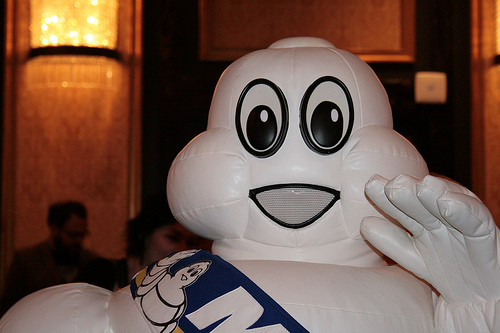 The Michelin guide is quite possibly the most prestigious restaurant rating system in the world. Gaining one of these bad boys is like giving a restaurant a license to charge ridiculous amounts of money and be able to create gimmick heavy food while almost guaranteeing rock-star celebrity status within the community. The rating system is fairly straightforward in that it only gives them away to a fairly small group of establishments (and their mates) which are deemed worthy. There are only three categories:
One Star given for a very good restaurant in its category
Two Stars given for excellent cooking, worth a detour
Three Stars for exceptional cuisine, worth a special journey
Over the decades, the Red Guide has had its fair share of critics, citing that because it's a French publication – it's ratings tend to be skewed toward French restaurants with an emphasis on stuffy over complicated formality and way too much attention to presentation rather than just straight forward great food. 
What did you expect right? It is a European based publication after all and they only release the red guide for a handful of countries (in which the UK is one of them) and interestingly enough, Tokyo holds the most number of stars compared to any other country (173 with one or more) . Still, the French version is now headed by a German woman, the Honorable Goddess Ms Juliane Caspar. She must have a sensitive tongue. I'd love to take her out for a meal.
In addition to the glamorous three stars, The Michelin guide also awards the 'Bib Gourmand' to restaurants which provide good food at moderate prices. In the UK, that means a menu priced at no greater than 28 squiddies.
So does this mean that a three star place is a guaranteed meal of a lifetime? Well, I don't know, never been to one, but very few are in this category and there are only three in the whole of the UK and only one of them is in London (belonging to a certain flying Scotsman). It does guarantee that it's going to be pricy though. I've noticed that restaurants in contention/possessing of a Michelin star do seem to loosely follow French conventions when it comes to service and style. In the UK, the price of the menu is also quite indicative of how many stars they possess ( 3 courses ):
3 stars : £125 and up
2 stars : £75 to £95
1 star : About £50
In contention : £about 50 squiddies too, maybe less in recession.
I have been to a few one stars ( Hibiscus , Maze ) but only one two star ( Square ) and it seems like the Square is way better than the rest in terms of cooking, service, ambiance, even down to the cutlery. Does this mean that the more stars a restaurant holds, the better the food? Well, I don't think so, I think it's indicative of quality, but it doesnt guarantee that a one-star place is going to taste any less compared to a two-star place. I think when that happens, it means more stars for the former and a deduction for the latter. In that regard, it really means that holding a star does not equal good food (if it did, there would be no debate over this guide). 
Personally, the star just means more £££ to me and sometimes I just want simple tasty food and not burn a hole in my wallet. Although I do enjoy a beautiful dinner, after all that's what I write about, but a beautiful dinner need not come from restaurants with a surcharge from the Michelin man.
What about you? What's your view on the Michelin man? Is it a guiding light for your restaurant experiences, or do you rely on word of mouth and hidden gems to find your dishes? 
Did you enjoy reading this post? Why not subscribe to my feed updates for free. Alternatively,  You can subscribe via email.