We have a shortage of good, great British restaurants. There has been so much press lately about how crap British food really is, but you know I wonder, is it really that bad? Everybody has heard about a certain Jamie ranting about how food in this country is the 'new poverty'.
Conversely, there has been positive media on British food with shows such as Great British Menu , essentially a cook-off showcasing the best dishes from the region, and the winning dishes being served at a swanky venue to self-important members of 'high society' most probably somewhere in London. A phrase on the show that gets mentioned alot is local produce. I think its a great concept, not only is locally sourced food fresh, it keeps costs down and it helps out your local butcher. Successful chefs are also resourceful buggers.
Emergence of the great british restaurant
To average Joe Bloggs, possibly suffering from the recent credit fallout that is ravaging the city, all he really wants is a good meal. Media attention, good or bad, usually makes for interesting shifts in society, and in this case, Great British restaurants.
What kind of name is 32?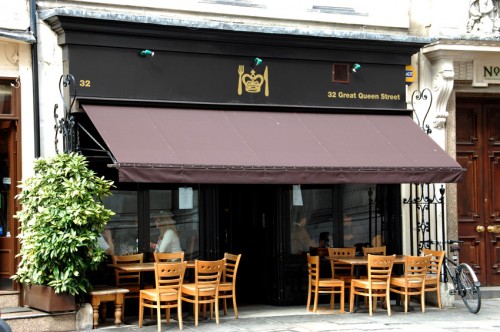 Well its not a name. Its the actual address of the place. I recall when this gastropub opened last year they only had so much as a black banner with no words, I walked back and forth a few times before I realised that 32 Green Queen Street was actually at 32 Great Queen Street. Thankfully, they've got a logo now, so it's much easier to find.
The British are British
GQS is created by pretty awesome talent. Its founders' previous ventures include the Anchor & Hope in Waterloo, as well as the Eagle in Farringdon. So high expectations are to be expected.
GQS is a gastropub of sorts, its got a really great atmosphere, untreated wooden floors, Burgundian red walls, wooden furniture, vintage paint coatings, good looking staff, the bar table even feels 'pre-aged' to give this contemporary retro feel. You know one thing I love about restaurants is soul. GQS's is so strong you can literally feel its heartbeat. It even smells great, well, as a great restaurant should.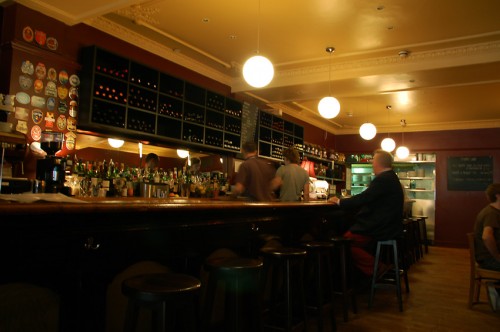 The gastropub really comes alive when you eat at the bar, and get a front row seat to watch the kitchen in action. Ok, they are a little noisy when pumped up, but god its great watching the chef pull a sizzling minute steak out from the oven and then call for 'Service!' before landing in front of me.
Its not just glorified pubfood
When I was trying to convince my friends to eat here and told them:
a) its a pub-like eatery b) it serves modern British cuisine
The words 'pubfood' were immediately written across their faces. Let me state now that this is no ordinary pubfood here, its more like great food. Although before I get into that, I must talk about the drinks.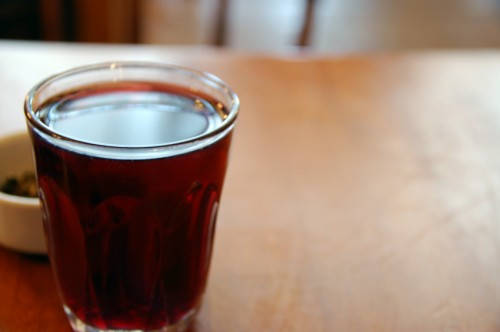 The wine list in particular is reasonably priced and they feature very drinkable stuff such as a nice Beaujolais that you can easily knock back. By the glass, carafe and of course by the bottle, they serve their drinks in these really cool, small eastern European style glasses. What great attention to detail.
Crabs on Toast
Wow.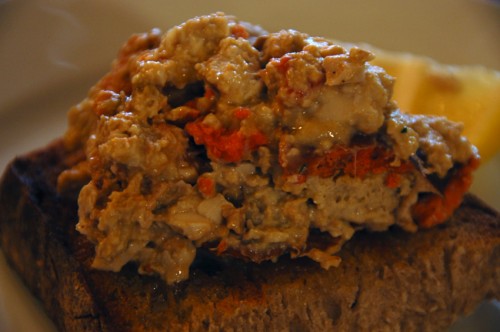 Let me gather myself. Ok. Wow. This is nice. Its simple, elegant and have very dominant ingredients that are well balanced to produce a very consistent taste. You can clearly taste the crab and crab roe that marries with the gentle mayo binding everything together. It has a luxurious texture and the flavours just pop out at you. It is very fresh, rustic and most importantly appetising. It just kind of opens up my tummy if you know what I mean.
This is by far, the best crabs on toast I've ever had. Guys, this is very close to finding that dish. Cracking.
Menu talk
The starter really set me up nicely for the mains, I was buzzing with excitement and started reminiscing about all the other great meals I've had here. You know how I love specials. GQS does not seem to have a fixed menu. The items seem to rotate with the changing weather. Their menu is almost too simple, its all laid down on one printed A4 sheet, no fancy names, just a simple description of the main ingredients.
I don't usually order salads, but I once had samphire with walnuts and a nutty oily dressing here … and decided I was missing out all these years. I also once ordered Berkshire pork, gently roasted. Decadent and summery. And you must try the Hereford minute steak. Its pan-fried, then oven-cooked, so its sizzling on the outside with some sort of green garlic salsa on top. Oh man it was good, great.
Now, on to my mains
I ordered the Hake with what appears to be a medley of roasted vege on the side. I see capers, aubergines, olives, sweet onion and red peppers.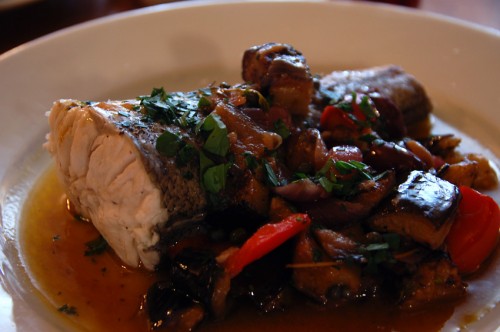 The fish is cooked just well, though I would have personally preferred it just ever so slightly undercooked. Moist and delicate, it falls apart like a fluffy pillow. The vege combo is just right. Everything fits together, the flavours seem to compliment each other and hang around the fish theme. You know, this feels alittle bit like fish with ratatouille on the side.
A pat on the back for the chef to do one of the most important things before serving:
Rest the dish.
It's just luke warm and give the meat time to relax and the flavours to settle making it all the more perfect. Kudos. Again, good, great food. This dish is really hearty and comforting, great for the coming cold nights.
And who can forget pudding
The puddings look a rather uninteresting read. Creme brulee, chocolate tortes and a selection of ice creams. However, do not judge a pud by its name. The strawberry and coconut ice cream gets special mention. It is so rich, with big frozen pieces of what looks like fresh strawberries, I am not sure if they spiked it with some strawberry jam, but it is so good. You have to try it if it is on the menu. Unfortunately, I didn't go for that today, instead I went for the chunkier muscat caramel custard.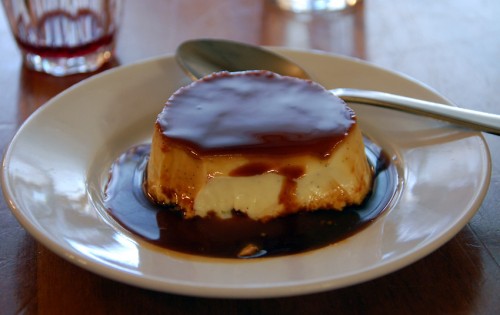 The muscat gives the caramel sauce a sizzling alcoholic finish. The custard is smooth, heavy but at the same time, rather light as it just melts in your mouth. You can also taste the vanilla beans, at this moment in time, the very attractive waitress comes over to ask me of my intentions with the food photography. I must admit, I was a little embarrassed and caught off guard. She was lovely and her service was top-notch. Staff here have a relaxed charm and they help contribute to the soul of GQS.
The British are here to stay
I am a firm believer that every culture produces their own versions of great food. Even one such as British culture, completely tarnished and torn apart by the media and Europe, however, with places such as great queen street flying the flag, it has only served to solidify my beliefs. I have enjoyed all my meals here, each one feels like the chef guiding me through a forest of milk & honey and pointing out the brilliant colours and smells along the way. Bleary eyed and in awe, I am a captivated audience to the opera that is Great British Cuisine.
Did I find that dish? A thousand times yes. Crabs on toast are must-tries. Minute steak is affordable and sizzling. Strawberry ice cream is to die for. I don't think there is a bad dish, the kitchen is simply genius. Should you bother? If you are a tourists with low expectations of English food, this place will change your mind. If you are a Londoner sick of over-priced Michelin stars, this place will delight you. If you are British, make no mistake, you will be proud. Basics 32 Great Queen Street (name) 32 Great Queen Street (address, sorry being cheeky) wc2b 5aa | 020 7242 0622 service: lunch 12pm – 2.30pm tue-sat 12pm – 3pm sun | dinner 6pm – 10.30pm mon-sat How to get there: Covent Garden Tube station How much: For the food, reasonable. £30++ per person including a glass of wine Accepts all major forms of payment service not included so tip generously