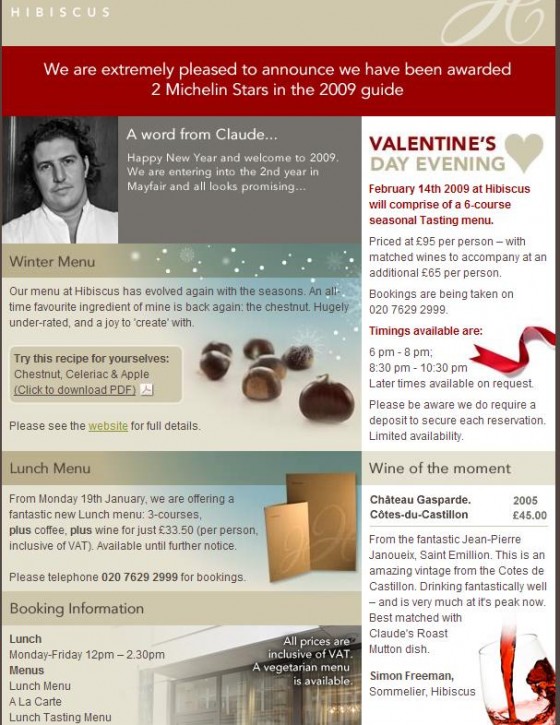 *Post Update 23/01/2009* I should have mentioned Lantana's Scrambling Eggs blog. 
You've just had the meal of your life at Cambio de Tercio, it's a fine Spanish restaurant. On their business card, they leave you a link to read the Cambio Blog. Upon opening firefox, you see that the blog is written by a number of staff, each of them giving a certain perspective from within the food industry. The younger chefs could have just returned from a gastro trip to Italy and learnt fresh new recipes to which he has published them on the blog. Another series of posts could be the chef's 'open diary' which allows you to follow the train of thought of how a dish was created. There could even be 'biased' guest posts from diners and plenty of shots of the food, ingredients. Better yet, a dedicated 'fan blogger' reporting about the restaurant from behind the stove.
Would you read that?
The rise of the corporate blog
Let's face it, there's a blog for everything these days and these kind of official diaries -the corporate blog- are growing in popularity. Heck, even the White House has a blog now. ( oh yes, read it here )
This idea ain't really that strange since more and more businesses are now embracing Web 2.0 , and most restaurants have already snazzy jazzed their websites and some even send out email newsletters informing their clientele of monthly specials or any other news. I receive Hibiscus's newsletter personally and the latest one reported Claude being re-awarded his second star.
Of course if you are a restaurant owner, your question would most likely be 'is it worth it?'. I think the short answer is 'Yes, if done right'. Same can be said of all things to be honest.
What is a food blog?
Before we get any further, lets just think about what a blog does – it helps promote a message and a brand. Successful blogs are read by millions because we find the content worthwhile. The best way to judge what works and what doesn't is to look at what's already out there: Food Blogs. Broadly categorizing them, we have three major types: 
Recipes, eating in
Eating out
Commentary 
Of course that's just a sweeping statement – no two blogs are really ever the same, but the ones that make the big time are all because the author has genuine passion for their topic, and thus would have alot to say about it. I read and discover lots of food blogs all the time, but I rarely come across one which is written from the other side of the stove. Would it make for a great read? I think it would, I'd certainly read it. In fact, let's brain storm a few flagship post ideas which would be easy to put up:
What it's like to wait on a busy weekend
Sommelier musing of the week: Why I think pinot rocks
The real kitchen equipment the pros use
What I cook when I'm not a chef
The myth of buying in bulk
Meet my meat man
The ideas are endless and take almost no time to write up to be quite honest. It would just be a kind of reflection on doing the job and for restaurant fans (like myself) , stuff like that would just be interesting. It needn't be maintained by one person, everybody can chip in and get involved, not only does it help market the professionalism of the restaurant staff, it helps build a personal connection too because I'd know who's cooking my food on tuesdays (let's say). The truth of the matter is people love to gossip, it's the same reason why fly-on-the-wall docummentaries have made a power mad perfectionist swearing chef  from Glasgow one of the country's biggest celebrities. The blog is just an extension of that idea.
Success stories
Brewdog– A scotch beer business – made the big time shifting their products with the help of bloggers propping their 'internet street cred' as it were in this Times Online article:
Watt ( Co-founder of Brewdog ) found the most popular bloggers in each country and sent free samples to them. Having built a following, they convinced local importers to sell their beer and international orders took off. Today exports account for 80% of sales.
They have a blog too, not quite updated on consistent enough basis to be brimming with content – but you can see the potential. Vinoteca , a bar & wine shop in London also maintain a blog. We all know how important word of mouth is and the reputation of a restaurant is quite an essential aspect to it's success.
Though as both a food lover and an internet user ( as weird as that sounds ) , reading compelling blog posts and coming away learning new stuff is an added plus. 
How will it work?
Is a blog difficult to maintain? – well, as I just pointed out: no; provided everybody chips in. Is a blog expensive to maintain? Well no. Most restaurants already have websites, just slap on cms software, get a camera to take pictures and blog. Even better yet – get a blogger.com or wordpress.com hosted blog and try it for free. 
Will people instantly find it amazing? If the content is worthwhile, compelling and a damn good read – then why yes of course. And when people find it amazing, they'll read more about the restaurant and they'll want to eat the food and tell all their friends about the restaurant. Now that's better, cheaper and more effective than any advertising campaign or relying ( and paying ) on royal mail to ensure your fliers are delivered before the August bank holiday weekend.  
That's just my two pennies of a new wave of food content I'd like to read. What about you, do you think this would make a smashing blog idea? Would you want to follow your favourite restaurant's new offerings?
Discuss. 
Did you enjoy reading this post? Why not subscribe to my feed updates for free. Alternatively,  You can subscribe via email.