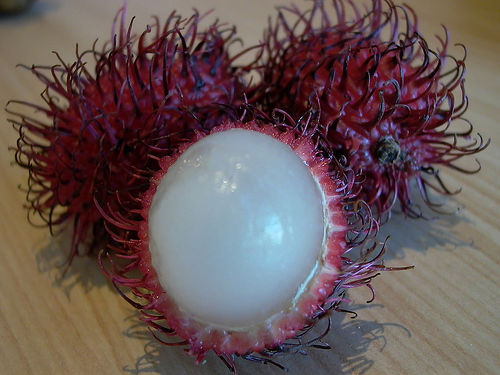 You have a strange food fancy don't you? Let's face it , weird combinations can and often will turn out better than one might expect. How else could you explain michelin star chefs turning bread into jelly, or working bacon into an ice cream ?
Ok, i'm going to out myself here and declare my weirdest food combo: Laksa and a cheese toastie. Laksa is a sort of curry noodle soup and a cheese toastie is well, a cheese toastie. It might sound weird, but damn does it taste good! I thoroughly recommend you get a bowl at your nearest thai takeaway and dunk that toastie into the luscious soup ( you just have to take my word for it ) . The other time I had curry and cheese was a baked curry lasagne. Very good too.
Anyway, if you think i'm weird, here's more weirdness around the web:
weird-food.com I knew it, it had to be done, there is an entire website dedicated to weird fancies! This entry actually made me think of lobster as a weird food:
Lobster
(USA Northeast, among many)

The best part of the lobster is also the yuckiest part: the lobster butter. Crack open the head. There's a green mucus stuff. Scoop it up with your fingers. It tastes really good. It's also in crabs. In Steve McQueen's last movie, Tom Horn, he plays a cowboy at a banquet, confronted with his first lobster. Trying to look unperturbed, he says, "Well, I will say that's the BIGGEST bug I ever ate!"
Live octopus tentacles Can I just say that I personally love octopus, its got a silky smooth texture which is nice, but the korean delicacy of eating MOVING raw tentacles is frankly abit sickening to watch. The suction bits will actually stick to your teeth. Yuck. You have been warned! Watch video below at your own peril:
minitokyo forum thread odd/weird food combinations Any of you participate in online forums? This thread, started by unicorn2006, asked the question and some responses were golden, like this one by emilami:
french fries with chocolate syrup
cheetos with mustard
eggs with ketchup (or salsa depending on how it's cooked)
colby cheese and milk chocolate
And check this one out by DarkAiley:
My friend and I like:
Dipping PIZZA in BUTTER
DIPPING FRIES in SUGAR
Wrapping FRIES arud STRAWBERRIES
BACCON dipped in VINAGER
Finally, miawmiawmiaw says:
Our food. Proudly Filipino.

Pig's blood soup, Dinuguan
Bull's testicle soup, Soup#5
Fresh roll with coconut shoot meristematic tissue (you kill an entire coconut tree to get this one), Lumpiang Ubod
Chopped pig offal, pig ears, fresh egg, hot chilies, Sisig
Fermented tiny shrimp, Bagoong

Now, my own.
Smoked fish, Tinapa with lettuce, feta cheese, and basil-garlic-olive oil-mustard vinaigrette.
Standard pork steak with lots of star anise.
Shrimp sauteed in Sprite or Mountain Dew or any clear softdrink.

That's all, perhaps. I'm a self-proclaimed chef.
This thread is proof that everybody has weird food fetishes indeed. So, have you got any?
Did you enjoy reading this post? Why not subscribe to my feed updates for free. Alternatively,  You can subscribe via email.
Rambutans image courtesy of prb