I'm doing things slightly different today.
Crispy fried calamaries, sliced for convenience, dressed with black squid ink and garnished with lime. Simple, effective, appetising. By now, I'm ready for oxtail and apple foam.
Seven reviews in search of that dish, the question must have crossed your mind: What is London Eater's absolute favorite?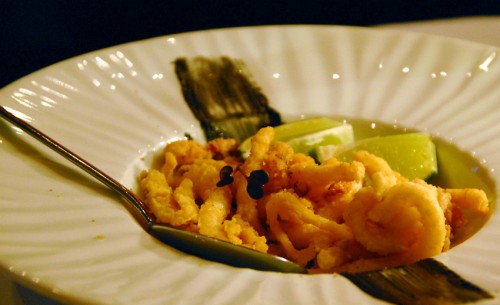 It's time I address that question. My favorite dish might be a japanese-peruvian recipe, but if I had to choose one place…
West London in Spain
My first brush with Spanish food was a nice little eatery called Cafe Espana on Old Compton Street in Soho. It was there, I was first introduced to tapas, sangrias and paellas. I have this friend who was fascinated by Spanish culture; she loved the food, the language, the movies, the men (sorry, I had to be cheeky).
While she gawked at everything else, I savoured the garlic chicken casserole and patatas bravas. the Spanish indeed eat well and I was converted.
Good things come in small sizes
Tapas are small dishes to share. They come in the cold varieties, ham & olives and also the hot ones, fish in sauce, chicken in garlic, you get the picture.
As with all things anglicised, some of it kind of gets lost in translation. I'm told that in Spain, the tapas concept is completely different to what we have over here. In Spain, its more like bar nibbles to compliment the drinking. We have roasted peanuts, they have calamaries, olives and warm bread.
Over here, UK tapas is a full blown cuisine. Faux-cuisine, unauthentic, in-genuine, call it what you like, for me there's only good food and lousy food.
The setup
It's a lovely space, I go on about a restaurant having soul alot, this place is kind of where that started.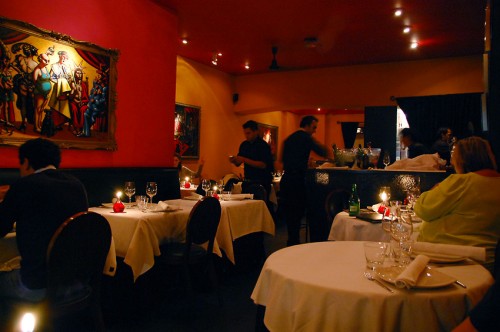 The moment you enter the restaurant, it's like you've stepped into another world. The vibrant walls are decorated with beautifully striking portraits complete with Spanish flair. The staff whizz around the restaurant with enthusiasm and vigor. Lowly-lit, candles, black wooden doors and a well-dressed service. It's abit like showing up for a west end show where the ambiance gushes out to you.
If you can, ask for a table right at the back. The back tables are overseen by a skylight which adds to the atmosphere.
Menu Speak
The a la carte is separated into the tapas section, which doubles as appetisers, and a more traditional mains section. All the mains can be ordered as a tapas, which is basically a half portion for half the price.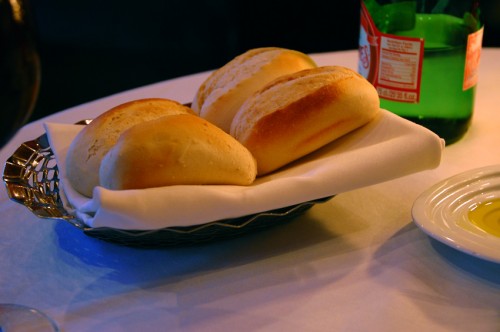 I would say food here is quite progressive, however it builds on classical spanish dishes. Kind of like a cool remake of a classic movie, think Ocean's Eleven. The mainstays are premium ingredients with big flavours. They include croquettes with a bechamel sauce and made with fine spanish ham, lightly fried calamaries sometimes with a whipped garlic mayo, slow cooked and then caramlised ox-tail, hake with cockles & mussels and also a very nicely roasted fillet of beef.
One thing to note is that the food is regularly updated to reflect the latest 'trends' in the industry. For instance, there was a time last year where it was the craze to do away with light sauces and bring in foams (more on this later on). Though I tend to think of them as constantly evolving to fine-tune their recipes. It's like an artist slowly adding brush strokes to his masterpiece in an never ending quest for perfection.
If there's such a thing as perfection.
I've had enough poetic gloss, its time to eat
I took my mate Jon (again) and we decided to go tapas style. I'm a big fan of tasters & sampling. It lets me discover without stuffing myself silly. Correction, I still stuff myself silly but with more variety.
This actually brings my attention to Jason Atherton's Maze, which I think, is similar to Cambio. But that is for another meal and another post.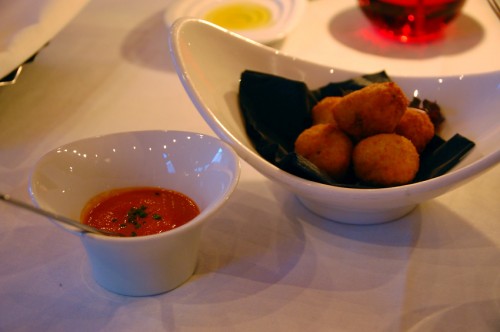 The first dish were the croquettes, deep fried with serrano ham and bechamel. It is served with a red tomato paste. The pictures don't do it justice, its gently deep-fried, but really crispy. The filling made me go weak. I always say balance of flavours is key to any great dish. Cambio is all about balance. It's savoury, appetising, but not too salty and at the same time, everything is smooth, just so creamy and smooth. Not bloaty creamy, but light gentle creamy.
That's one thing about great chefs, they can make simple food smooth. If you've had great food you will know what I mean. The moment it hits your lips, everything feels just right.
The sweet spot
Char-grilled octopus is nicely flamed to give that smokey taste, wonderfully tender yet bouncy at the same time. However, the best part of the dish:
The potato puree.
It marries nicely and compliments the octopussy (it is not a typo) flavour with stunning results.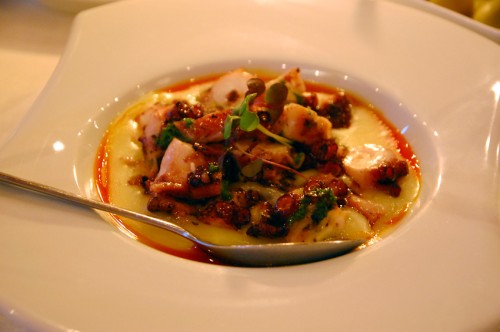 Think blended potatoes, so fine that its a consistent paste. But its so well binded together that it has the texture of a solid mash, with the fluidity of double cream. I know it sounds abit ridiculous, but it really is that good. It's just the way the chef pairs and compliments flavour upon flavour, like building a house of cards, delicately balanced, when it all comes together in harmony, it's like opera. Symphonic and totally edible. Finished off with olive oil and sweet paprika, ladies and gentlemen:
This is the dish.
Foaming it
Next on the list was caramilsed oxtail with fresh green apples and apple foam.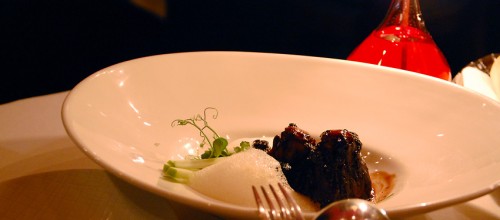 The oxtail, as expected is strong in flavour and full of beefiness. Which is nice that it is paired with something as light and refreshing as an apple foam. The apples give a sharp taste, however, like two crashing waves cancelling each other out, the sharpness smoothed the beefiness and gave the dish a nice round flavour profile. Did I mention the oxtail is slow-cooked (either 4 or 12 hours, can't remember)? So expect  melt-in-your-mouth super tenderness.
Hake with green beans, in a tangy mango sauce and beneath the greens is polenta (which I think is like a ground up corn cake)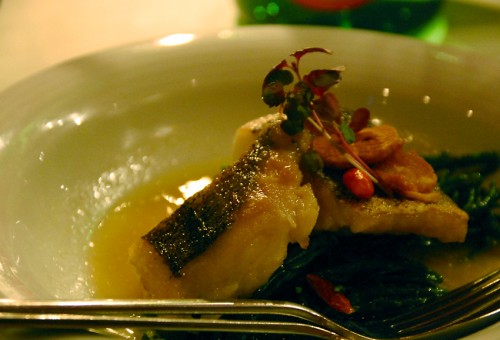 The Hake is supremely cooked. It is just ever so slightly undercooked, giving the fish a bounciness and not flaky. To me, sometimes chefs forget that cooking is really, about cooking. Forget the garnish, forget the ingredients, the meat must be cooked right. That one element is what all good food is made of.
At Cambio, the chef's fundamentals are spot on. If i were to grade it, I'd give him 101%. An extra mark for making my dad a happy eater too.
However, the mango sauce was abit too sharp for me and did not contrast well with the fish at all. In fact, I think this fish could have done without the sauce as it really drowned out the fresh seafood taste.
I always ask for at least one recommendation from the staff, in case I miss a gem. This one came with a wink (ok well, wink at the food) and a 'very nice' in a spanish accent. I had to do it.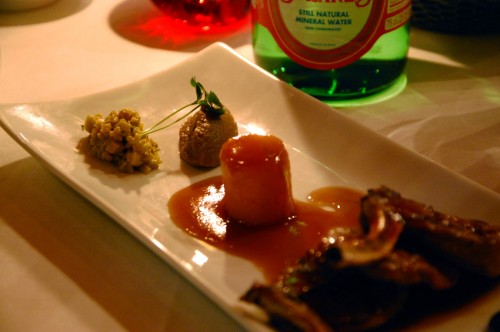 Grilled lambchops, with a potato fondant, I cannot remember the sauce, but it's a type of gravy. The green paste is asparagus puree. Apologies up front as I forgot to jot down the exact make-up of this dish.. I was too busy scoffing it down instead!
The chops are grilled to perfection, as expected. It's well rested and incredibly tender. The interesting part of this dish is the potato fondant. Think baked potatoes, but because it's been pureed and then reformed, it holds up well – yet it has a very smooth texture. Here's the best part, mix all the individual components together and you'll notice how the flavours meld together and create an altogether more complex set of flavours.
Have any of you seen Ratatouille? Remember that scene when the rat-protagonist was teaching his friend how to appreciate flavours and he told him to close his eyes and with each bite, its like small fireworks, each a different colour and mixing & matching complimenting flavours made the fireworks brighter…..
Boom.
Last but not least, fillet steak with foie gras and mushrooms.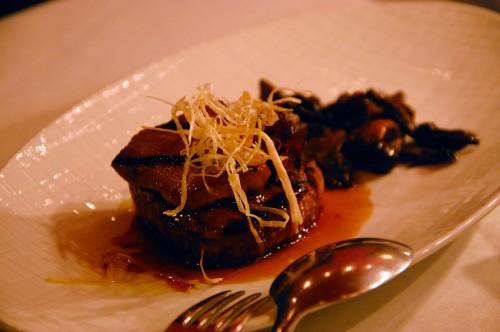 Ok hats off to the chef. Foie Gras. Check. Perfectly cooked fillet (Pan-fried, then baked I believe). Check. Mushrooms with lots of umami. All are classic ingredients full of flavour and umami, and all of them compliment each other very nicely. By now, I'm suffering from a little bit of too much goodness and starting to feel a little picky. Nevertheless, this is another stunner. The beef is perfectly cooked for me. Medium rare. Not too pink that blood is spewing out. But not medium rare when it's erring close to medium, so the juices are still flowing. There is a hint of heat explosion that seems to come from inside the meat. It's abit difficult to tell where this comes from, but I have a feeling it's due to the way its been cooked. It must have been a pretty hot oven to infuse the heat inside the meat but not overcook it.
I've left it to last. I love Cambio De Tercio. They tick all the right boxes for me. Spot on, zippy service, waiters who know their menu inside out and they make educated recommendations. A robust wine list consisting of the best Spanish Riojas, and one that spans all budgets. The decor that oozes flair, character and is relaxed, just a nice space to eat in.
Finally, the food, more specifically the cooking. Everything is not only perfectly cooked, all the ingredients are so well balanced, you feel like you are eating food that created by an artist. Recipes that even if you tried to replicate at home, wouldn't seem to taste right as it's missing just that extra touch from the skillful chef.
The creators have breathed soul into the place, bringing impressive culinary expertise to the Big Smoke. Ok, I think I've done Cambio enough justice, it's places like this that this blog was setup to tell the world about… so now that you know, go try the those flavour explosions for yourself. Superb.
Did I find 'that' dish? Again and again. Almost everything is superb on the menu… except the hake with mango sauce doesn't mix well. Quiz the waiters for great recommendations. The calamaries, the char-grilled octopus, try the iberico ham, the patatas bravas, the lamb chops, the fillet steak and the melting chocolate pudding that takes 20 minutes, well worth the wait. Should you bother? If there's a special person & a special occasion, or you just love food. Eat here. Basics Cambio De Tercio 163 old brompton road SW5 0LJ | 020 7244 8970 How to get there: gloucester road tube station How much: Abit pricy. Roughly £50 per head. Tapas £7 to £15, Mains £15 to £20. http://www.cambiodetercio.co.uk/