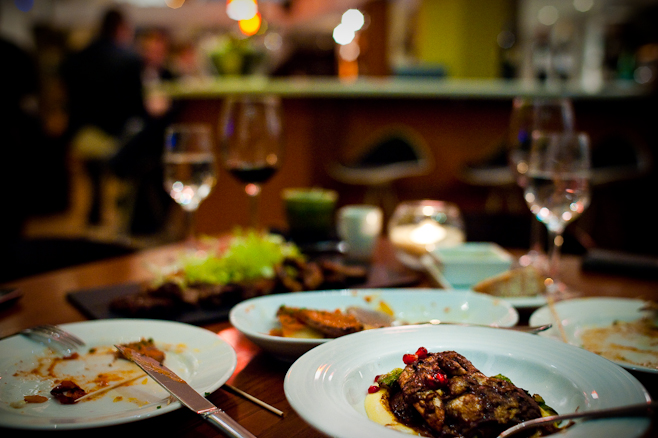 I am just about the biggest fan of Spanish food, I could be served deep-fried croquettes – with a frozen centre – and probably still walk away a happy camper. In London, I have already established my favourite Spanish spot – Cambio De Tercio, (go there it's good) – and ironically enough my eating schedule of late has excluded many Spanish restaurants. Until now that is.
Like many things in food & wine, I heard about the awesomeness of Iberica through word of mouth. Reading up the several blog posts already out there on this place (here and here), I swiftly put it on my list. This tapas bar isn't the usual undersized eatery usually the case of London's finest. Instead, Iberica is spread over two storeys, and its namesake brand is also a purveyor of other things Spanish. The shops based within this establishment also sell anything from olive oil to music DVDs, though I didn't tour the shopping bits when I was there. I guess Iberica is suppose to be a bit of a Spanish Centre; it almost doesn't look like a restaurant, which explains how Mark missed it when walking along Great Portland Street. Anyway, so this place is massive. Iberica – the tapas bar – is found in most of the ground floor, and one can just about spot the formal restaurant -Caleya – on the 2nd floor. There's lots of open space at the venue, the 2nd floor is an exposed mezzanine, and downstairs, tables line the glass walls. As I waited for Mark to arrive, I ordered a glass of red – the Castillo de Perelada Crianza 2006, £6.50, a mix of six grapes and one I would really recommend you try if you like jammy reds bursting with life and vibrancy. Plenty of new worldliness, as whiffs of strawberries and (i know it sounds odd) bubblegum excited the nose. My palate probably needs more training as I usually lean toward younger and sweeter wines – preferring new world pinots (and beaujolais) and tempranillos to old world burgundies or big bad syrahs.
A more than adequate exposition, time to dive straight into the tapas menu. The menu is large, consisting of over 40 selections. There is little they don't serve at Iberica it seems. About the only thing I regret not ordering is the Iberico ham platter – priced at £20 – which is a selection of Extremadura D.O , Guijuelo D.O and Heulva D.O.. Some people think I'm just a snob for my preferance of jamon iberico, but I sincerely do enjoy the deep sweet and nutty flavours it imparts, in addition to the juicy oily layer that accompanies the usually hand carved slices. Oohh, I really regret it now.
Lets kick things off shall we – (L to R) Panfried monkfish parceles with lemon "fritos de pixin" (£9) ; Broken eggs with iberico ham and fried potatoes (£7.50)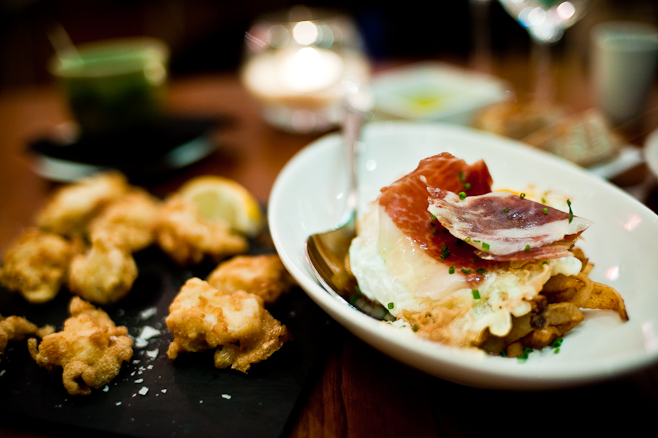 The monkfish was alright, the fish was fresh and bouncy, the batter itself was stimulating, but the food got cold quite quickly, and the loss of the sizzly subdued this dish. On the other hand, the broken eggs – which already sounded like a winner on the menu – were fantastic. There was an endearing saltiness that lingered on at the back of my tongue – I am guessing it's due in part to the deep flavours of the iberico ham combining with the really excellently pan-fried potatoes sitting under the egg. It was wholesome and rich, my favourite dish of the evening.
Next up were the Fried Artichokes with pear alioli (£6.85)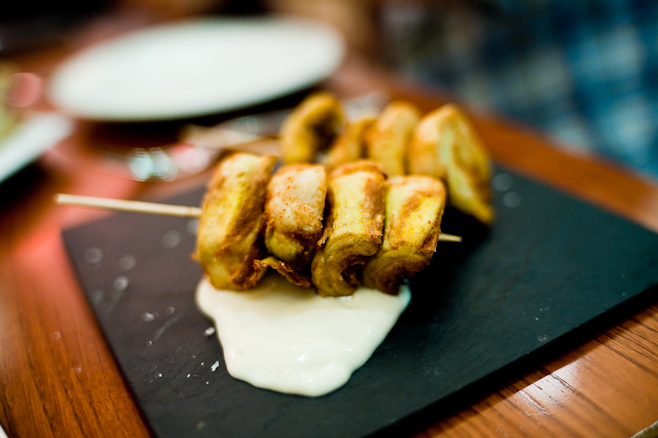 A powdery crisp on the outside, the insides retained much of the original juices – I tasted alot of garlic (a good thing in this case) and the pear aioli was simply divine. Really creamy, really rich, just hints of pear, and smothering the artichokes with the sauce led to one very satisfied LondonEater, and I'm not even a fan of artichokes. The last time I had such a memorable vegetarian tapas was Salt Yard's courgette flowers, which seemed similar in execution and conception.
Of course, we had to get something from the chef's special section and chose the Quail with chocolate guanaja, pomegranate and creamy potato€ (£7.80)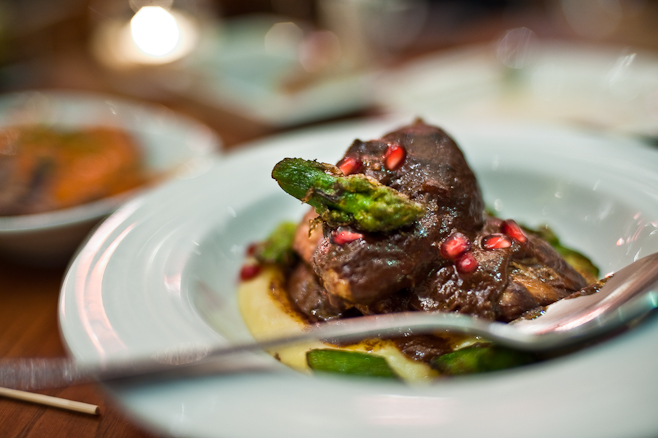 Um, I didnt like. First of all, the dish doesn't look very appetising, and under the low lights in the restaurant, it just looked abit confusing to me. I couldn't really taste much of the chocolate. While I anticipated sweetness, it was mostly bitter. As for the quail – it was a little gamey but mostly it just tasted deflated to me. I don't know, I thought this dish was just ill conceived to begin with, it sounded like it could be fantastic on the menu, but in hindsight, it was just gimmicky.
Thankfully, that was about the only bad thing we ate on the night. The ham croquetes (£6, pictured here) was really milky and creamy on the inside, not quite the best I'd had in London (that honor belongs to Cambio..) but better than most.
Right then, on to the meats.
We ordered both pork and beef. Starting with the epic sounding Iberica Pork loin 'presa' with tangy herb sauce and confit (£8.30, pictured here). It was superbly tender, with a cloud-like texture that you could tear away with just the lightest of bites. Yummy. It was mostly salty, but perhaps just abit too much to the point where I was experiencing abit of bitterness.
Finally, the Grilled beef spare rib "churrasco" with rosemary and garlic (£7.80)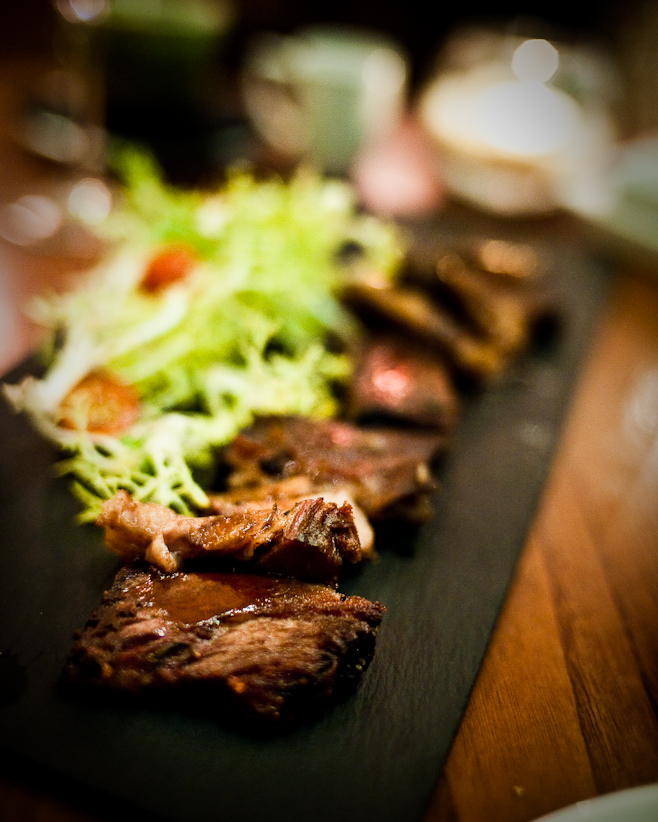 Again, extremely tender and another flavour explosion, but the texture with this one was mysteriously bouncy as opposed to a usual melt away sensation. It was reminiscent of spam, but in a good way. I do wonder if some sort of tenderising powder had been added during the preparation stages, still it tasted good and that's what matters in the end.
Finally the desserts – Caramelised Spanish Rice Pudding (£3.50) and Stewed Nectarine with Cinnamon Ice cream (£3.85)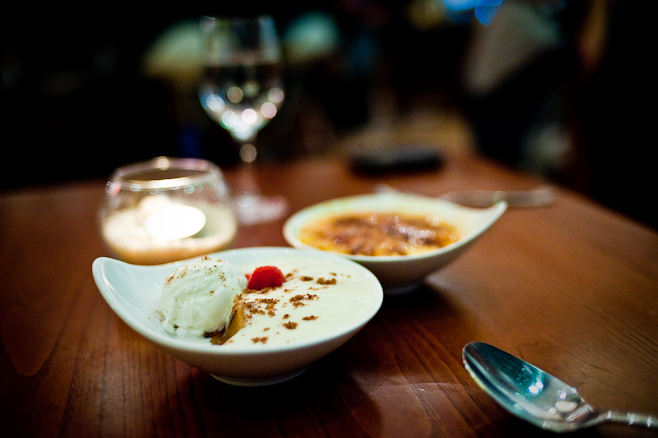 Both puds were exquiste, in particular the rice pudding which Mark said tasted as good as the best rice puddings he's had in Barcelona. Andy who runs Spittoon also has high praises for iberica's rendition of this particular recipe. As for the stewed nectarine, well it was equally fantastic, and the lasting memory of the airy cinnamon ice cream lingers on as I reflect on the meal…
…All in all, I quite enjoyed Iberica. There were alot of positives, flavours were mostly in the right places and I came away feeling satisfied with the meal in general. It probably hasn't knocked Cambio off my top list, as I feel that the cooking lacks the epic clinical touch, though, I have a feeling this is probably deliberate, as they've probably saved the theatrics for the posher eatery – Caleya – which resides in the same building. Don't get me wrong though, food is still tasty and Iberica definitely comes highly rated. I think we experienced a proper taste of Spain what with it being a packed out Monday night and with most of the diners speaking Spanish. Our bill came to £85 plus two glasses of wine and service, it is just a tad over the budget, but overall food tastes good, portions are significant, and it's definitely a place, I would go back again.
When you go, make sure you try the broken eggs.
The Gist of It
Iberica official site £35pp
195 Great Portland Street
Tel: 02076368650
Tube: Great Portland St
More pictures of the meal here.
Did you enjoy reading this post? Why not subscribe to my feed updates for free. Alternatively, You can subscribe via email.