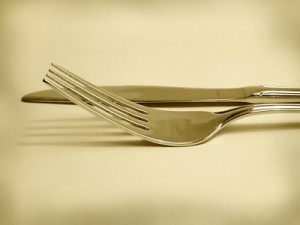 This is the first update to my totally subjective London Restaurant Must Go list launched last month. Think of this as LondonEater's very own all time premier league of super duper whooper deliciousness rankings meter ultimo list to defeat all lists that were ever created, and then some. This illustrious farce to the eight restaurants which has produced the best meals I've ever eaten, so far.
I had a few really good meals in April and it's changed my perspective on London food abit. I'm afraid Sushi Hiro has been knocked off the top but I do welcome that – the tastier the merrier.
The Must Go List, May 2009.

1. Terroirs (Modern Euro/Wine bar)About £40pp with wine (New Entry)

Reviewed in April 09 I said: " It wasn't ground breaking hauteness nor was it a culinary lesson of exotic foods. This felt more of a celebration of classic dishes. Terroirs is definitely a great place to have long lunches, and perhaps even longer suppers. I think the greatest compliment I can shower upon it, is that I like it enough to want to go back again and deep down, I want this place to succeed."
It was a tough one deciding this, but indeed, I had a great visit. There were issues with speed, but food was impeccable and the wines were even better. Not cheap, but not expensive and plenty of soul. Some say it suffers from bad service, I'm sure you can overlook it, for now. Near perfect bone marrow and truffle on toast; it definitely deserves to be the meal of the month.
2. Sushi Hiro (Sushi only, seriously) About £20 pp ….. £25 if you are greedy like me. (Down One)

Reviewed in Nov 08 I said: "If you've always been curious about raw fish, then I wholeheartedly recommend you go here to get your introduction to the Japanese delight. For everybody else, you'll remember why you love sushi all over again, it's really that simple."
Sushi Hiro is actually only a 15 train ride from my workplace, and I went back twice in the last two months. I mean, this is perhaps one of the few places that I pop back into every now and again, and its because it just does slap bang perfect sushi on the cheap (relatively anyway). If you love Sushi and you live in London, just go already.
3. Dinings (Japanese) , £40pp no sake. (New Entry)

Reviewed in May 09 I said: "Unrestraint and free from pretension; Dinings is a mellow and comfortable restaurant where one can sample some ethereal Japanese fusion. Its not glamorous, nor is it cheap, there are some dishes which appear underwhelming and in comparison to some of the luminaries in Green Park – cooking is not as clinical. But what you get instead, is lovingly cooked food, a subtle rainbow of flavours and sushi that just tastes great. Folks, this restaurant is a little special and if you've never tried euro-japanese food before, then I suggest you try the epitome that is Dinings."
If Sushi Hiro served hot food – it would be called Dinings. My love affair with Japanese food continues and this well-liked restaurant is excellent. Its a romanticised version of Nobu, bit like Renee in Jerry Maguire compared against Renee in Chicago. She ain't special, she ain't perfect but that's why I love her. Cue Bruce Springsteen, Dinings had me at Wagyu tataki.
4. The Ledbury (French) £25 set lunch , £50 lunch £60 dinner (Down Two)

Reviewed in March 09 I said: "I enjoyed the Brett Graham show, alot. I think the young Australian is chock full of talent and he rightly deserves his rising two star status. If he keeps up this standard of cooking, he will rocket all the way to the top."
On my visit, the salt crusted ash roasted celeriac with truffle mayo was perhaps one of the tastiest things I've ever put in my mouth, and that says alot. The memory of the meal is still fresh in my mind. The bleeding edge of the michelin star, go celebrate with someone special here….
It's slipped a couple of positions since last month, but still, one of the best meals I've ever had.
5. Franco Manca (Serious Pizzas, only) £7pp (Down two)

Reviewed April 2009 I said: "Yes, the chorizo is good, the cheese is good but the dough is spot on, it's really really good. So much so, words stopped flowing when I was eating there as these were the notes I took: "Spongy. Tear resistant, and…" And? That was it. Forget blogging, I was too busy eating."
It's true, it's all true, the best pizzas in London are made in the wood fired ovens at Franco Manca, its not just good, it's amazing. As a Londoner, I am proud and feel fortunate that Franco Manca belongs in London. Special stuff.
6. Cambio De Tercio (Modern Spanish) £45 pp (Down Two)

Reviewed in September 2008 I said: "I've left it to last. I love Cambio De Tercio. They tick all the right boxes for me. Spot on, zippy service, waiters who know their menu inside out and they make educated recommendations. A robust wine list consisting of the best Spanish Riojas, and one that spans all budgets. The decor that oozes flair, character and is relaxed, just a nice space to eat in."
This restaurant has a special place in my heart, it's my personal favourite in London and I've had many a great meal in this great little eatery. If I had to choose one to go back to again and again and again, Cambio would be it. She's the one folks, she really is.
7. The Square (French) £75pp a la carte, £35pp set lunch (Down Two)

Reviewed in January 2009 I said: "I'm still abit miffed as to whether these salt and pepper shakers actually contain anything or if it's just table decoration, because you need none of that here, food is perfect."
Seriously good food at Phil Howard's exciting two michelin star French molecular gastronomical creative workshop. Mate, the banks are finally profitable again, so perhaps that means we'll all soon be able to afford that £75 dinner, again.
8. Pearl Liang (Dim Sum) , About £15pp plus tea (New Entry)

Reviewed in April 09 I said: "Wonderful, simply wonderful dim sum and this has displaced the special place in my heart, which was previously occupied by Royal China. I must say, the prices here are very competitive, my bill, 9 dishes, plus service came to just under thirty squiddodles for two, most importantly, food is excellent – mostly it is characterised by lots of melt in your mouth sensations"
I revisited Pearl Liang last week and tried more dim sum, particularly, I had their heavenly custard tarts. Critically – it was served too piping hot, burned my tongue, but the runny egg like texture coupled with the purity of rock sugar, stunning. And they do a £10 set dim sum, unbeatable on the price front, Beautiful indeed.
The Gist of It.
I have a booking for Tayyabs tomorrow and I am trying to push Ollie Thring for a visit to Hawksmoor with me (Anybody want to come along by the way?). I hear tremendous things about both places (Tayyabs is rated 120% by urbanspooners) and so I will be looking to see if both places match up to any of these eight. For now, my top recommendation is Terroirs, if you are skeptical, try their one plate lunch plus salad plus glass for a tenner.
Happy eating folks, and do be careful when claiming your lunches in your expense forms.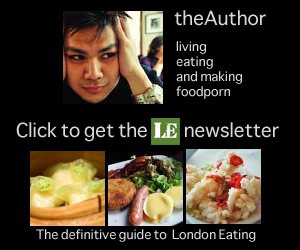 Did you enjoy reading this post? Why not subscribe to my feed updates for free. Alternatively, You can subscribe via email.