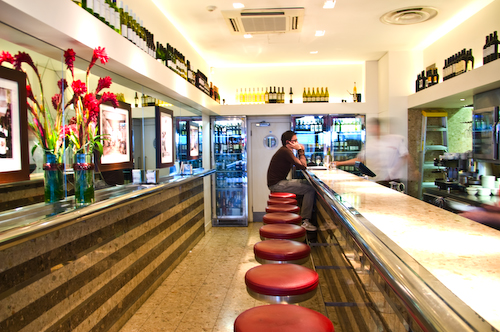 I'm almost always unsure  i I should keep the headings simple or come up with something more elaborate to get you to click on it. If you live in London, you will have heard (and read lots of reviews) about this nice little tapas bar in soho, and if you are planning a visit to London soon ( exchange rate as of writing is GBP£1 to US$1.55) then you might fancy paying a visit to one of the slickest tapas bar in the capital.
Spanish Tapas UK style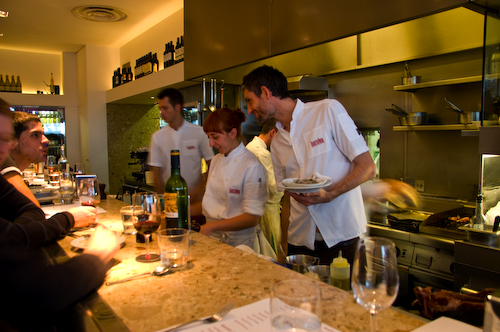 Some of you will know that my favourite eatery in the city is a Spanish place called cambio de tercio, which I reviewed not too long ago. To quote myself ( sounds abit weird reading it back to myself… there it is again!) , Tapas in the UK is a cuisine in itself , rather than just over-sized bar snacks.
While cambio is a proper restaurant, barrafina is a 'full-blown' tapas bar where the eating space is an L-shaped marble table top, complete with burgundy red stools. The restaurant does not seem to take bookings and is almost always constantly packed ( it is pretty small anyway ) . You know, I love things that break tradition , while eating at a bar is not ground-breaking stuff, it does provide for a refreshing change from a more traditional setting. You'll notice the bright lights and the colourful atmosphere the moment step into this place; I really quite like the setting, even though it's quite a cosy affair (literally rubbing shoulders with your neighbours) ,  I felt a cool vibe emanating from both the restaurant and the diners alike.
I'm mixing things up a little and am just going to jump straight into food and reflect on the menu last.
Curing my meats, iberico style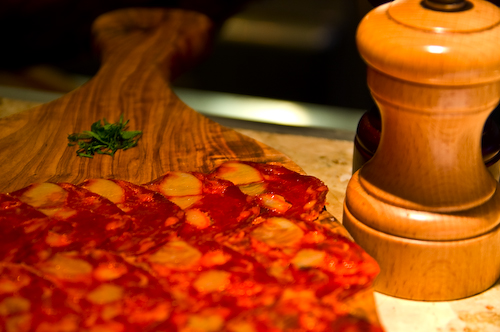 There is nothing lovelier than prime spanish iberico ham. If you've never heard of it, Iberico is only the finest hams produced in Spain. The pigs are fed on a diet consisting of acorn, nuts & barley. They are allowed to roam the lands freely and are treated like kings, afterwhich, their succelent legs are hung for anywhere between 24 to 36 months. The result of which is a sweet, nutty, oily (but not too oily) and soft texture that melts in your mouth. I love iberico cured meats and I think the concentration of the sweet & savouriness just make it the top ham around ( open to raging debate of course ). The jamon iberico ( which is the finest money can buy) will set you back £17.50 for a plate. Yenni loves chorizo, so we plonked for the more sensible £5.50 platter instead.
In an octopusses' garden in the sky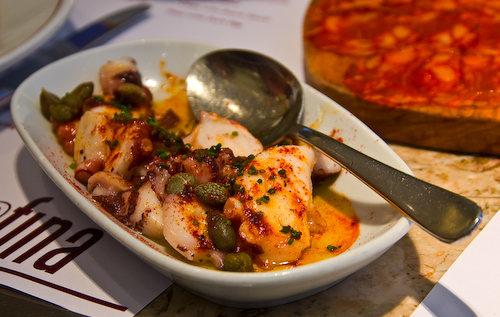 Weighting in at £7.50 is the octopus and capers. I love octopus. This one was grilled to perfectly, that is to say it's just ever so slightly undercooked on the inside and just charred enough on the outside to impart that beautiful smokey flavour. It maintains a succulently soft texture which is a great bite that just melts away as you chew it. I found this to be a relatively simple dish , in that you can actually see all the ingredients on the plate, octopus, capers, paprika, olive oil and salt. Sometimes, there is beauty in simplicity and this was it.
seabass specials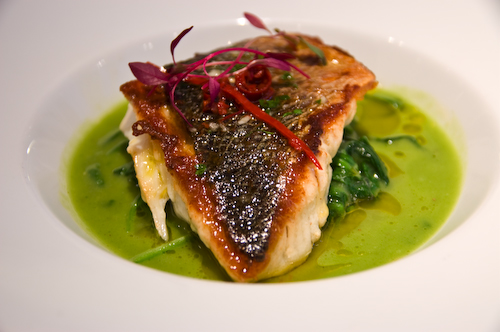 You know a restaurant knows it's stuff when they offer a smattering of seasonal specials in addition to their standard a la carte. When the waiter introduced the specials, he didn't point to a board, rather he pointed to the fresh produce resting on a bed of ice ( like it would do in a food market ) and consequently explained how each one is prepared, not forgetting to proclaim that each dish is 'very nice' before polishing off his performance with a subtle wink wink. My eyes, however were firmly affixed on the lobster.
There were far too many, but I do remember him recommending a risotto dish cooked in squid ink , some fresh greens and this rather enticing seabass with spinach, which we ordered. As you can see, it's nicely grilled; though I'm not personally a fan of the seabass because I think the meat is abit dry & chewy for my liking, I tend to prefer my fish flaky and delicate (which is why I enjoy cod) . Although having said that, the spinach soupy base that the fish sits in, for want of a better word, moisturises it nicely and gives it a juicy profile which is both hearty & rich at the same time.
Yet another simple dish where the flavours are uncomplicated as there doesn't seem to be any hidden ingredients at play… actually correction, a nudge nudge from Yenni because there are clear hints of white pepper at play. Sneaky as it were, it does give this dish a good kick.
chicken supreme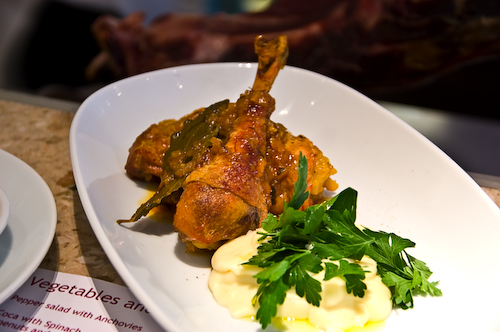 As the saying goes, chicken tastes rather like chicken. I don't normally order the faithful poultry, however on this occasion I made an exception; maybe it's because Yenni is tagging along on for this write-up, but perhaps it's more the fact that this one is done in a saffron sauce and a parsnip puree. That indeed sounds a lovely combination and besides, anything that is pureed has got to be good, right?
Oh yes, the saffron is not immediately recognisable ( no perfumery smell ) , instead I was getting a hearty chicken casserole steaming into my head, but the taste, oh it really blew me away. This one really surprised me, firstly the meat is so delicate & soft that it just fell away as my knife poked into it. The first bite and there was this rich savoury taste which came through. I think I'm tasting sweet onions & garlic , this is just really good chicken that you would expect from your best friend's grandma's secret forty year old recipe passed down from the generations ( Mike, she gave me 'memories' … and no, not that kind. ) . The parsnip puree lends even more sweetness & colour to an already rich palette of flavours, overall just a stunning chicken dish…. and for only £6.50 ( I say only..) , I could eat this all day.
omelet du tortilla?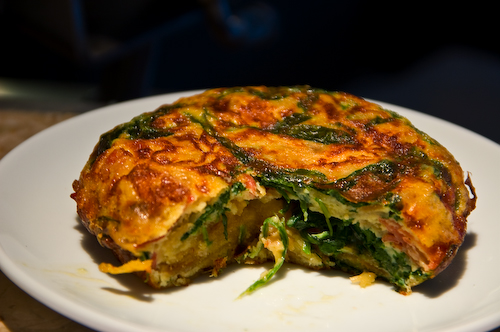 We ended the meal with a ham & spinach tortilla. I've had too many overcooked and overdone omelets in my lifetime but I've also had alot of perfectly cooked eggs to know that you want the outside to be sizzling and crispy, but the inside should be steamy, creamy and rich. I think that the omelet here is a tad dry, didn't quite blow me away as I was expecting it to taste alot more than 'just eggs', because it really did look appetising. Alas, at £5.90 you really can't complain, it was good, just not great.
…and we are back at one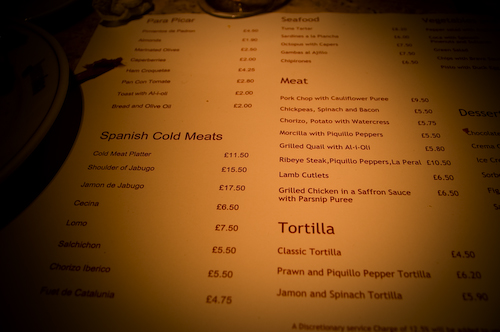 There were lots more I wanted to try such as the lamb cutlets or the quail eggs and how about those pork chops with cauliflower puree. Everything on the menu is simple, straightforward and is composed of ingredients which would appeal to most tastes. All this and I haven't even got round to desserts yet.
Personally, I think the prices are actually OK for London , though some have said that for relatively simple cooking, it's abit steep. My theory is as long as the cooking is spot-on, I'm happy to paying extra (within reason of course) .
Whether it is or not, I leave that for you to decide, but there is abundant evidence that Barrafina is a bit of a stunner. Many bloggers out there share my enthusiasm ( such as this american in london and Abby who eats the right stuff ) and I suppose I can see where the attraction comes from; It's just damn good cooking going on.
Did you enjoy reading this post? Why not subscribe to my feed updates for free. You can also subscribe via email too, and for free.
Basics
Barrafina 54 Frith Street, W1D 4SL|
0207 813 8016
How to get there: Leicester Square tube How much: OK (ie, not cheap but not going to burn a hole in your wallet) , tapas ave £6 to £8 , meatier & fishier ones at £12 to £15
http://www.barrafina.co.uk/