I'm a hopeless romantic.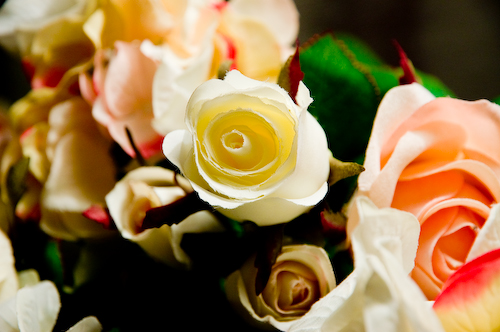 I'd like to think that London has an atmosphere for love, lots of intimate hidden away places where two people can duck away from the loud lights of the urban jungle and gaze into each other's starry eyes until the candles wither away. It's little over three weeks to V and I've compiled a short list of a few valentine restaurant / going out ideas if you are still scratching your heads.
1. Dine at home
While Gordon Ramsay and Michelin are indulgent names, I think it's abit Bruce Wayne and boring to just go out to a busy fine dining restaurant for V, why not surprise your better half with a dinner at home? I'm sure everybody loves surprises and you could easily turn your boudoir into a lovenest with a few simple ideas.
Pick up these items for mood:
a. Tea candles (for swaying moody lights)
b. Rose petals (for dramatic effect on the bed)
c. Adorn the walls with red linen, satin or silk.
d. Get a good Jazz CD , I'd go with Ella Fitzgerald.
e. Lots of flowers.
Make sure you pick up good cutlery/china ( now would be a good time to use the stuff in the wardrobes) and lay out your usual dinner table with a perfectly white table cloth and stick a rose and a fat candle in the middle of the table. Get olives too.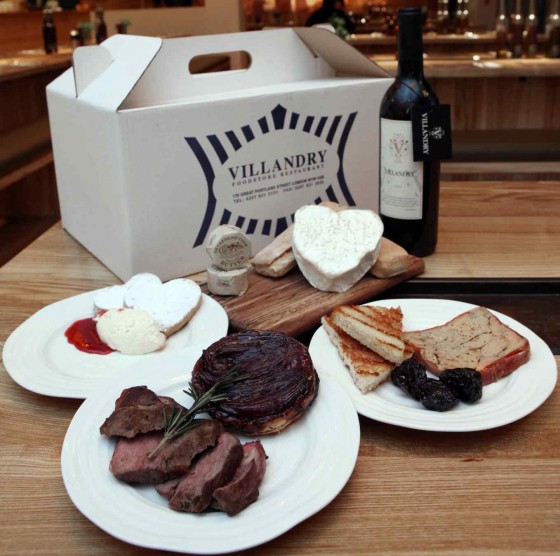 If you know how to cook – then all the better, if not, you might be interested in this do-it-at-home four course hamper from Villandry. Basically, it's a precooked meal from the Villandry foodstore & restaurant delivered to your place of choice and all you got to do is serve it. The mains include lobster & tarragon mayonnaise and roasted garlic potatoes and puds cover a Dark chocolate truffle cake with compote of cherries and kirsch. £37.50 for 3 courses. There are more choices and all the details here.
Laying out a table is not difficult, but if you require assistance here is more info. Otherwise, remember you need a small plate for bread, a spoon for soup, small knife & fork for entréeand the big ones for main and a tea spoon for puds. Roll the napkin in a funky way on the bread plate, pull the chair for the lady as she 'arrives' for dinner, light the candle with an old school match , put the cd on and gaze deeply into the woman's eyes.
2. Cambio de Tercio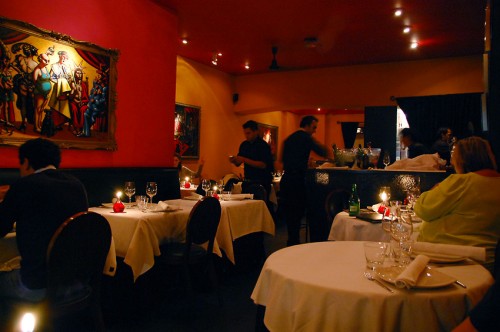 If you must eat out, then go to my all time favourite restaurant, it serves modern Spanish food, everything tastes amazing, the low lights, dark walls and white table cloths are really moody. It's not too pricy (£50pp I'd say) , staff are friendly, I could go on and on… I visit at least once every quarter and the last time (twice) I did a Valentine's here, the night ended really well. Full review here.
3. Dans le Noir?
What could be more sensual and exciting than dining in complete and total darkness? You can let your imagination run wild about the stuff you can do above the table with no one watching… and I'd like to keep this site PG-13 so I won't go into anymore detail. Do note that there are UV cameras monitoring the room. For sheer novelty factor, there really is no better place to dine than at Dans le noir to be quite honest, you might have to check to see if they have availability, if not, the next day, but whatever it is – you must go at least once – not for food, but for everything else. Full review here.
4. Ronnie Scotts
I did call and they only have standing seats left, £30 pp . This legendary jazz lounge will remind you of those Noir movies with voiceovers (Casablanca) , the band is really really good and Natalie Williams is playing on that night. Conveniently located a few steps from Barrafina and Arbutus. Official Site here.
5. Sushi Hiro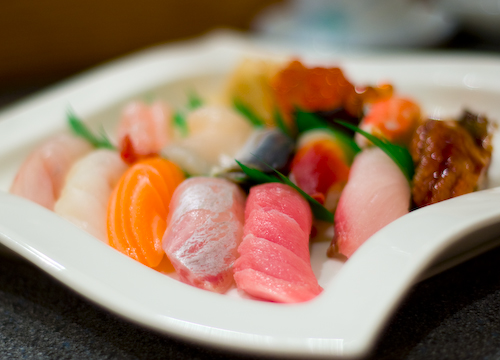 It's out of the way, its tiny, its dingy it'll just be the two of you chatting away about heaven and everything in between. You drop your tuna belly into the soya sauce and some of it gets on your shirt, you look up, she calls you an idiot and the two of you laugh the night away with sake. I think this still trumps any superstarred restaurant for romance on any day. Which reads better in a novel: meeting in a sushi bar which nobody knows about, or worrying whether your dress is more expensive than the woman a few tables down from yours? Your choice. Full review here.
6. Da Aldo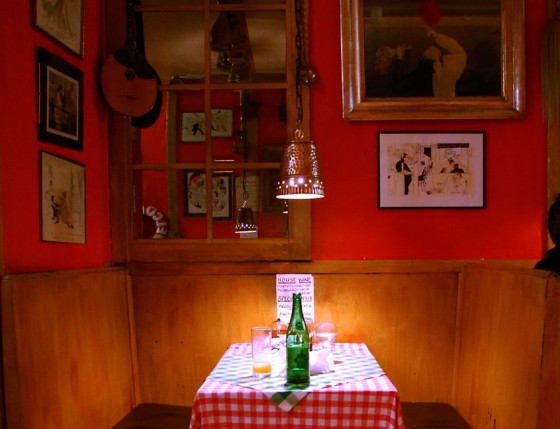 I've been waiting for weeks to reproduce this recommendation here.
The food is passable edible but you don't come to Da Aldo's for food. You come for romance. Let me set the scene. It is a cold Febraury evening, the clouds are threatening to make you wet. A busy and bustling soho crowd knocks your gloves to the ground but then a tall, dark and lean gentlemen picks it up for you muttering the words in a much too posh standard R.P. accent…
" I believe these are yours? "
Both of you just happen to be standing outside the quaint tratorria the insides so small, neighbouring diners are literally rubbing shoulders, and your sexy sir in shining armour continues…
"Hungry?"
You peek inside and you see the burgundy walls, aged wooden booths, 70s style table cloths, those dim low lights and Robert De Niro look-alikes waiting on the diners. What do you say? Full Review here.
7. Da Mario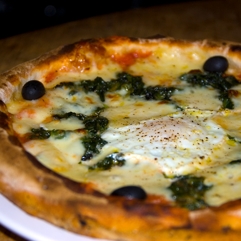 This was Lady Diana's favourite Italian restaurant before she passed. The restaurant is small, has lots of low hanging plants and pictures of the owner through the years. Legend has it, Mario created the first pizzeria in London several years ago and he was also responsible for pizza express's dough. They do the Diana special on weekends, you must go, cheap, cheerful and full of soul. Official Site.
That's it, those are my seven recommendations for something romantic to do when V day arrives. Make sure you book early to get in front of the queue. I hope this little list inspired some great ideas for you and whatever you do, as long as you show you care, that's all that matters.
Did you enjoy reading this post? Why not subscribe to my feed updates for free. You can also subscribe via email too, and for free.