Other meals at Bonhams : Oct 16 , Sept 16 , June 16 , May16 , Mar16 , Dec15 , Oct15
Quite a number of months have passed since I wrote-up a meal at Bonhams, this being my 21st and yes, it is firmly my favourite restaurant in town today. There's been some shuffling in the kitchen, Theo Clench, (now ex-)Sous off to other delights down under. Mark Malden steps in to the Jr Sous role to Chef Tom Kemble, who is of course still very much leading the charge, and making his own sourdough daily.
This time of year is always an exciting time to eat out, what with the myriad of colours that Spring up on the plate. Not to mention the bountiful noble fish swelling with the ever increasing good weather.
And so here, we are at Tom's Spring to Summer transition, I left it in his hands for another of his Omakase/Carte Blanche menus, for £120pp. Never have I followed a Chef quite so closely as I do Tom, and with each meal, I can taste his style maturing into a distinct identity. Tom continues to hone his style of restrained elegance, allowing natural flavours to speak for themselves. Of course as you already know, he goes to some lengths to source top notch ingredients, though not enough is said of his respect for fruit and vegetables, in the way he chooses to harmonise with star products. The restaurant still mainly offers an ALC menu, catering for lunch, and fulfilling its main role as the vaunted auction house's 'canteen', if you will. Not your average canteen.
But what differs in his taster menus is how he stretches out his creations across the more expansive canvas. He uses each plate, as a piece of a larger puzzle, giving you a snapshot of the season at hand.
We paid £700.88 in total for 3 people. 3x Carte blanche (£120pp), 2x cheese, 2x cofee and a bottle of 1999 Meursault Les Vireulis from the formidable Domain Roulot (£235).
And yes, if you love some tipple or are curious about wine, then Bonhams is the perfect place to start. Ask around and you will find that the wine list – especially at the top end – is priced very, very competitively and at times, below the industry market average of 3x mark-ups. Sometimes, well-below. For me, Charlotte is one of London's best sommeliers, and one of Bonhams' great assets. She is very hardworking, she coravins wines properly (cheesecloth) and she has a very disarming style that is customer focussed and inviting. With Richard Harvey (M.W., Bonhams head of wine) behind her, it makes their wine list one of the smartest and perhaps best-kept secrets in London.
If somehow this is the first time you read of my praises of Bonhams, then I will repeat that it is worth a visit. As much as I love the taster menus, I do also love choice, and bigger plates of food, and I would start with a lunch there with the a la carte. Give Charlotte a budget for wine, and ask her to pair a couple of glasses for you, and you'll be good to go. I love Tom Kemble cuisine to bits, and it remains my favourite restaurant in London.
Pictures and some descriptions of the May 2017 Carte Blanche below.
Details
Bonhams Restaurant
Modern Euro
Lunch ALC : Mon – Fri £52pp 3courses (ave) + drinks + service
Dinner Taster : Wed – Fri £70pp 7courses + drinks + service
7 Haunch of Venison Yard
London
W1K 5ES
Tel: 020 7468 5868
Tube: Bond Street or Oxford Circus
1. 63degC poached Porthilly Oyster, grany smith apple granita and plankton foam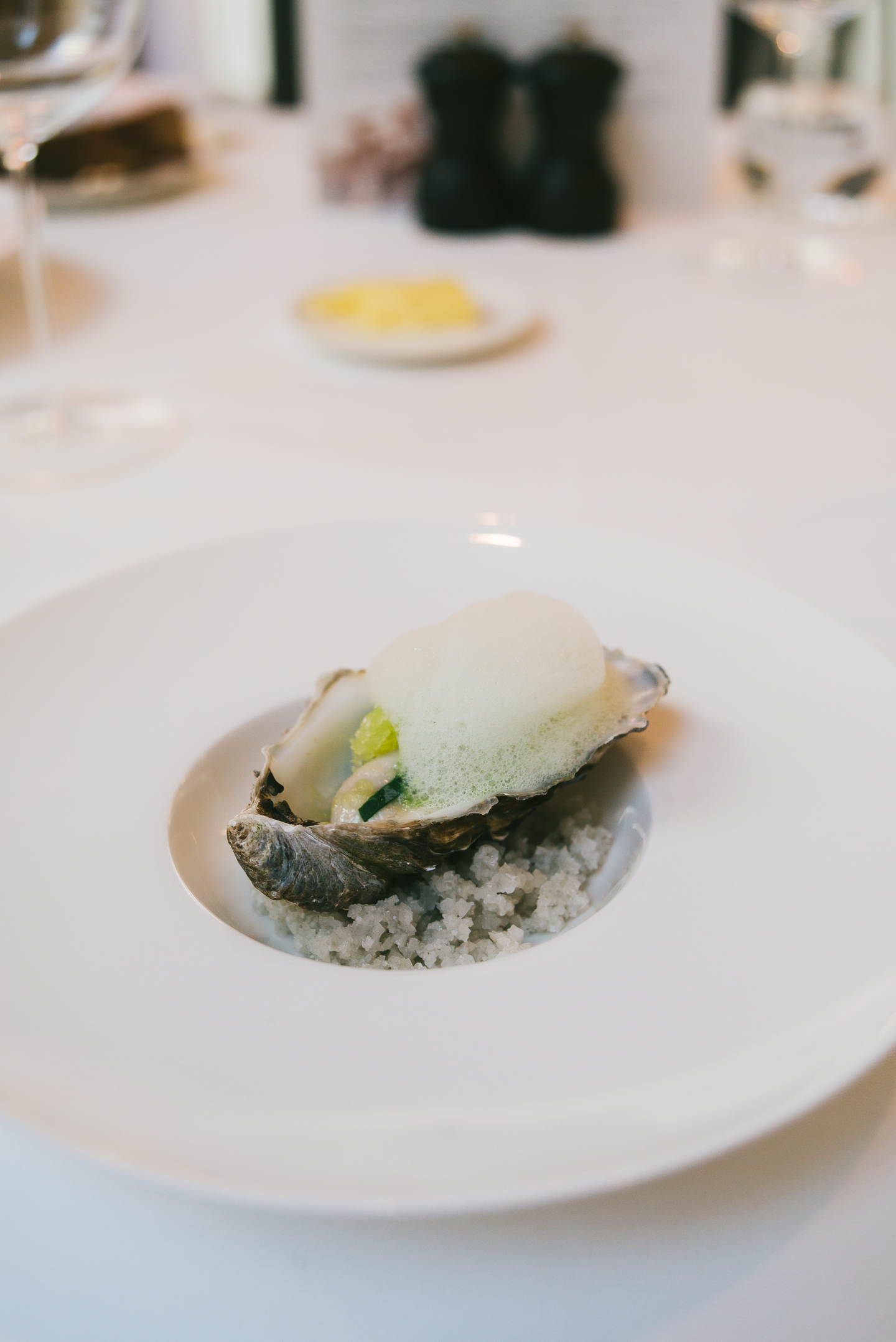 2. Wye valley Asparagus Vichyssoise with fresh curd, taggiasche olive and arbequina olive oil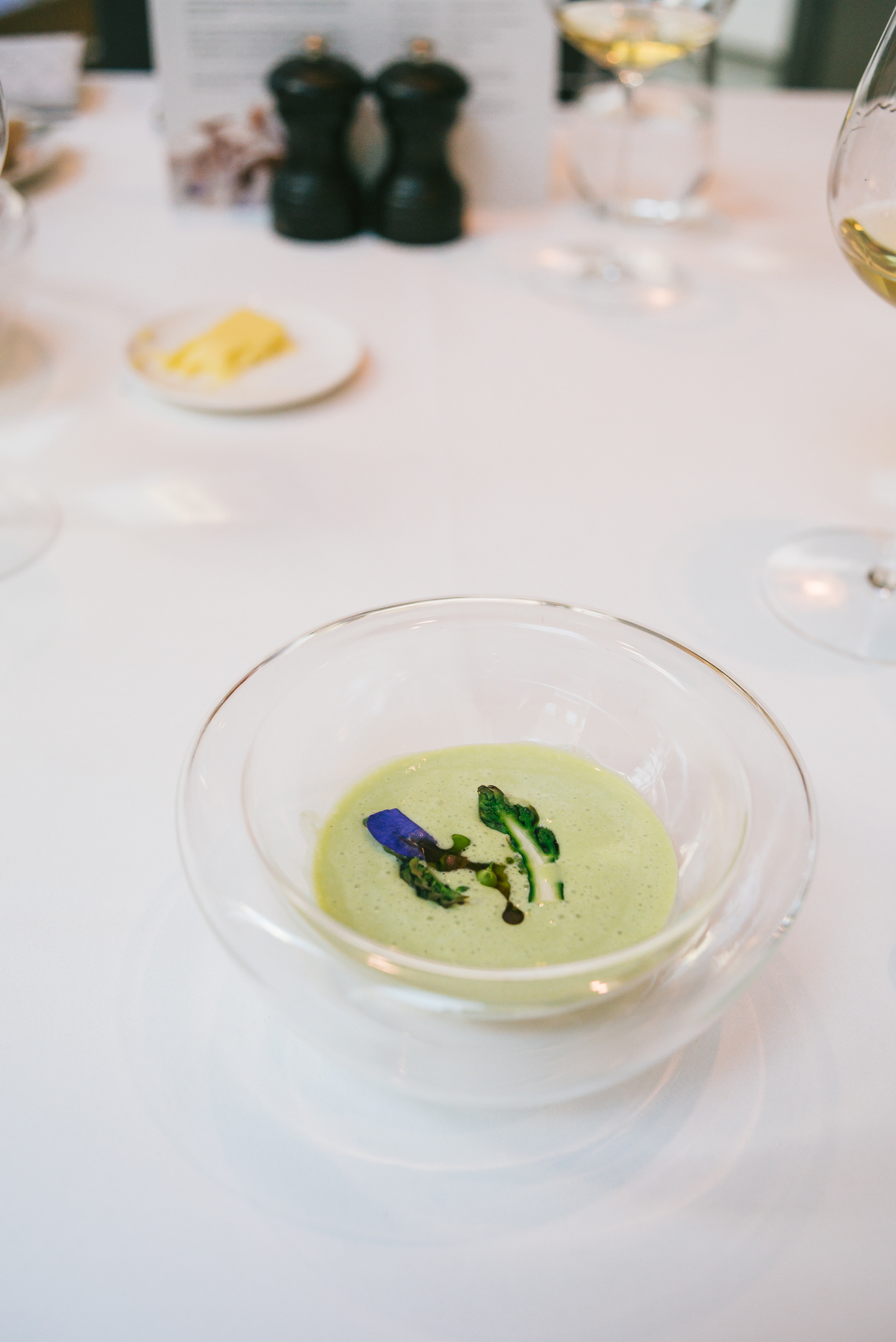 3. Isle of Mull Scallop tartare, abalone liver sauce and smoked eel jelly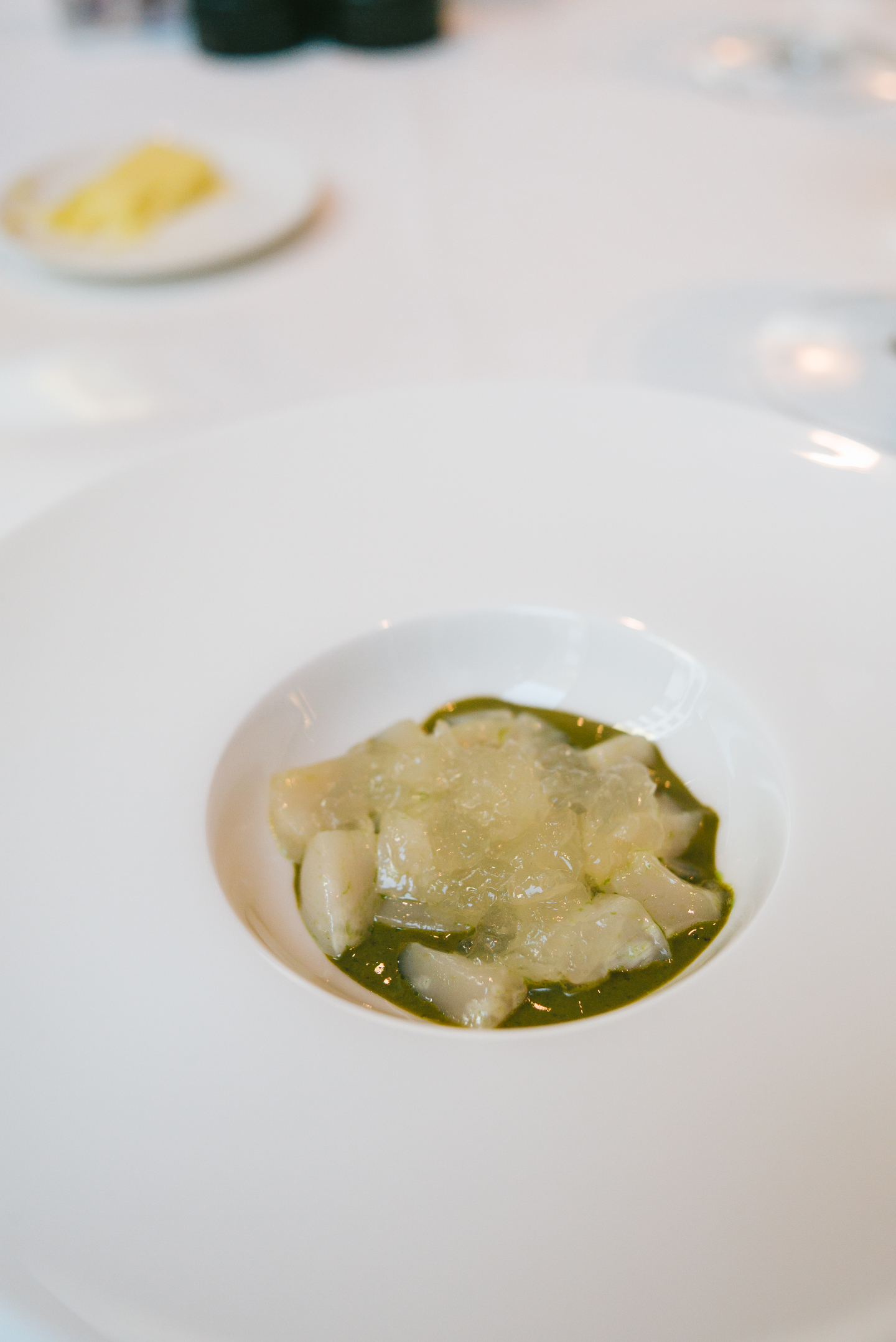 Shucked to order, so firm, sweet. A very delicate abalone liver sauce.
4. Flamed line-caught mackerel, mackerel tartare, oyster leaf emulsion and confit tomatoes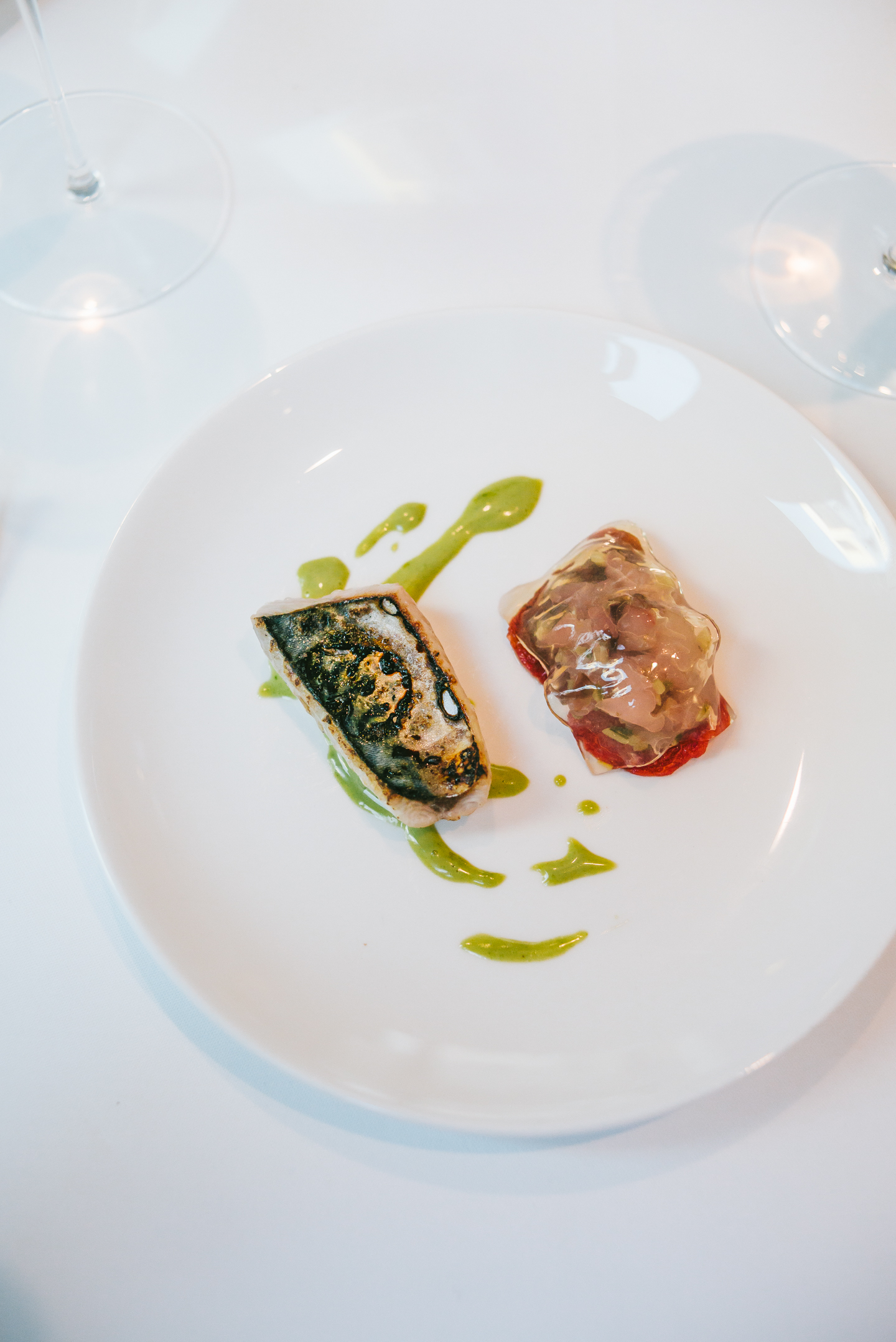 5. Crispy Swaledale pork cheek, XO sauce, dandellon, green apple
With a satisfyingly crispy crackling. With a thick gelatinous, melting cap of cheek fat, all balanced on a restraint XO sauce. Deliciousness! This is the Kembler getting his siuyuk on.
6. Cornish native lobster tail, endive, peas, pink grapefruit and coral sauce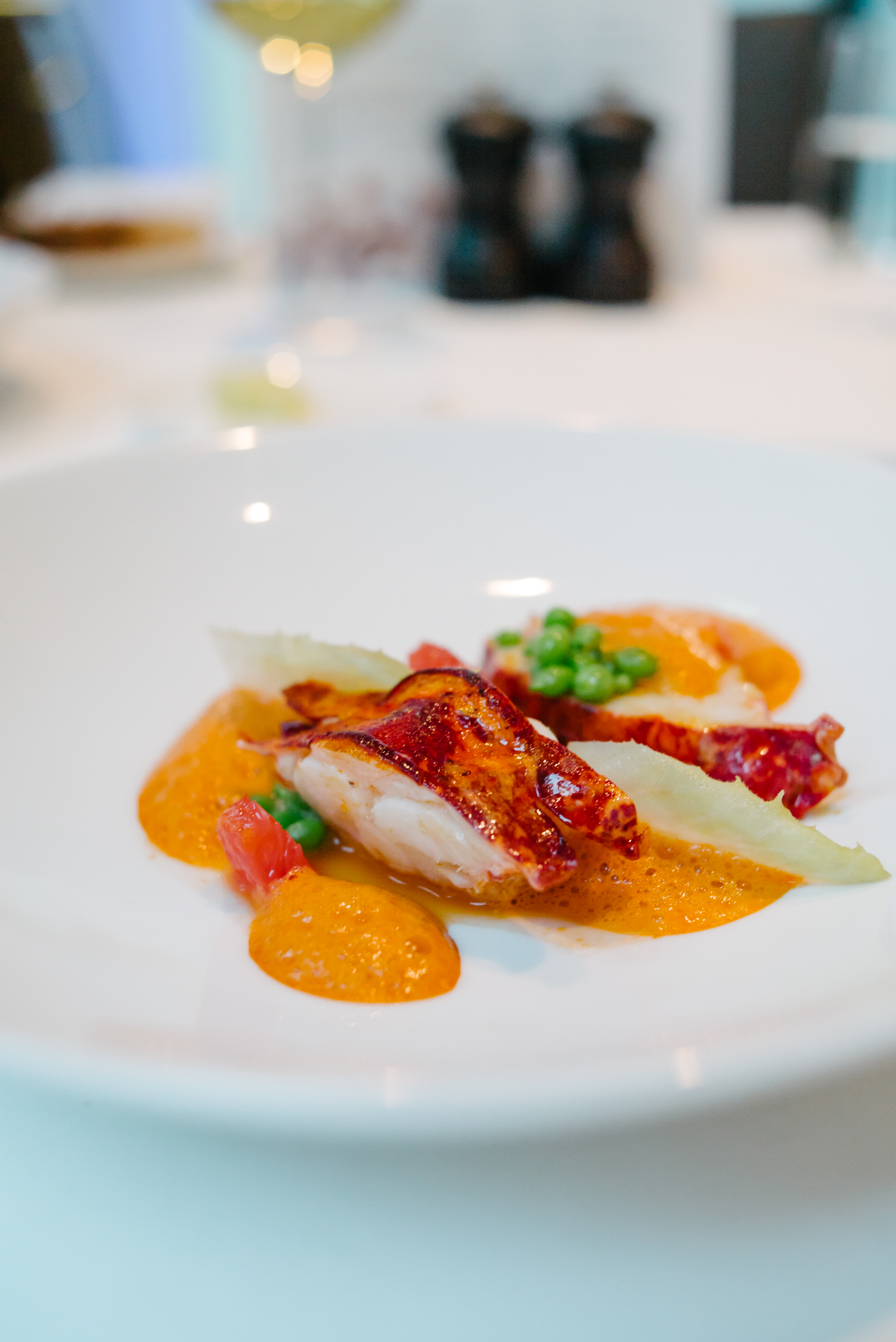 I love Tom's lobsters, this particular combo of grapefruit and endive now becoming one of his mainstays. He shells them entirely, prior to butter baste in the pan. This yields a very full roast flavour, and brings out the redness of the underskin of European blues. Taken to the perfect temp, with just a touch of translucency in the centre, and is beautifully cooked.
This lobster is a slightly larger lady than Tom usually serves, quite a meaty tail, eyeballing it, I'd say from a 1.5kg, and I suspect, full hard shell before molting season starts (?). I like firm tails, for me is just as sweet, with a satisfying density to it. Looks like high coral yield I suppose it is the season,, and so the sauce is a vibrant orange hue.
7. Slow-cooked Cornish turbot, peas, grelot onions, radish and tomato sabayon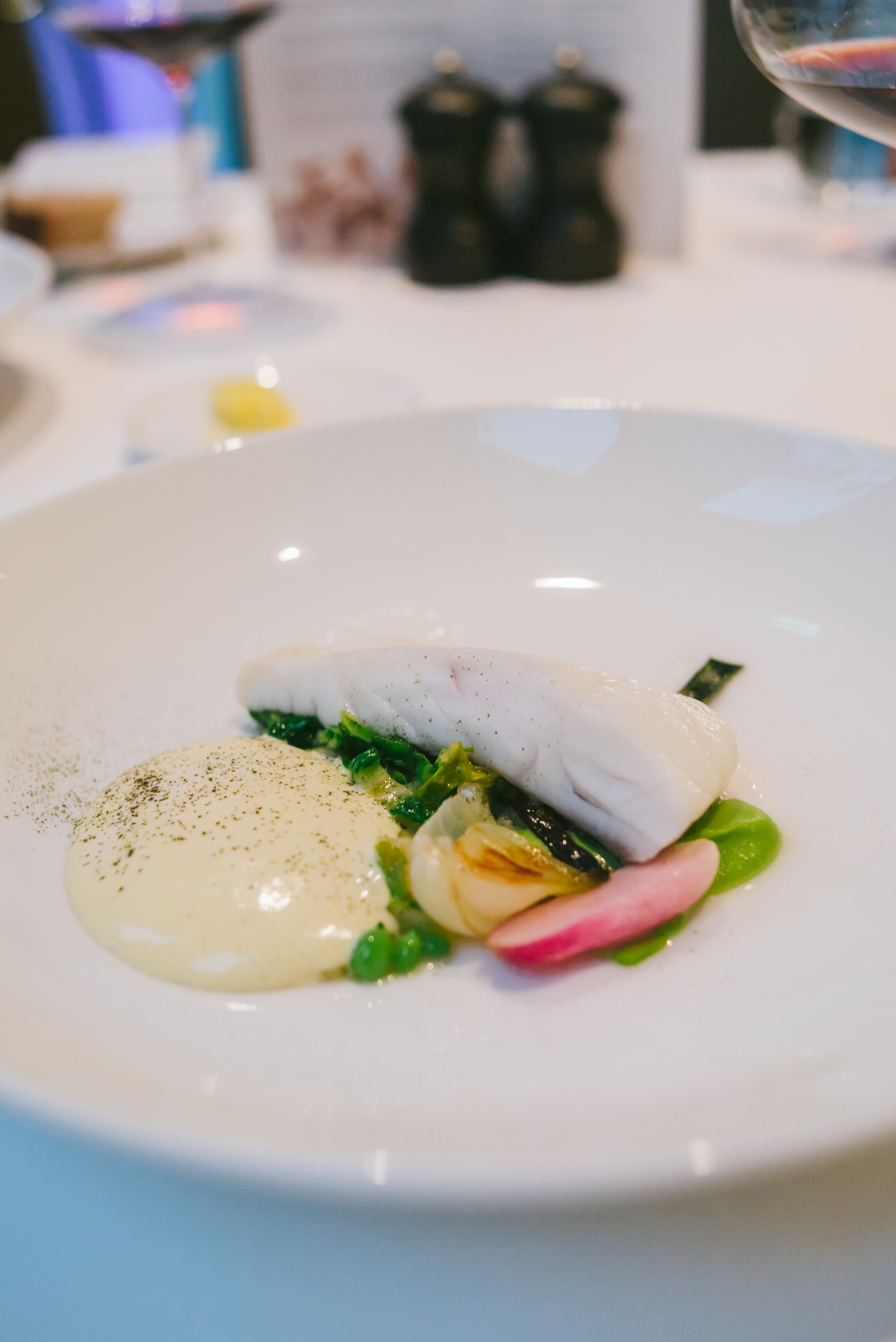 Always comes out to a beautiful glimmer, tender, moist and flakes like no other. They are plentiful this time of year, and this from a slightly larger fish is meaty and firm, even with a few days of age on it, and considering this is the white side too. I love it. Sabayon is a beauty today, light, gastrique and umami laden.
8. Dengibhshire lamb, white Poitou asparagus, linzer potatoes, morels and parsley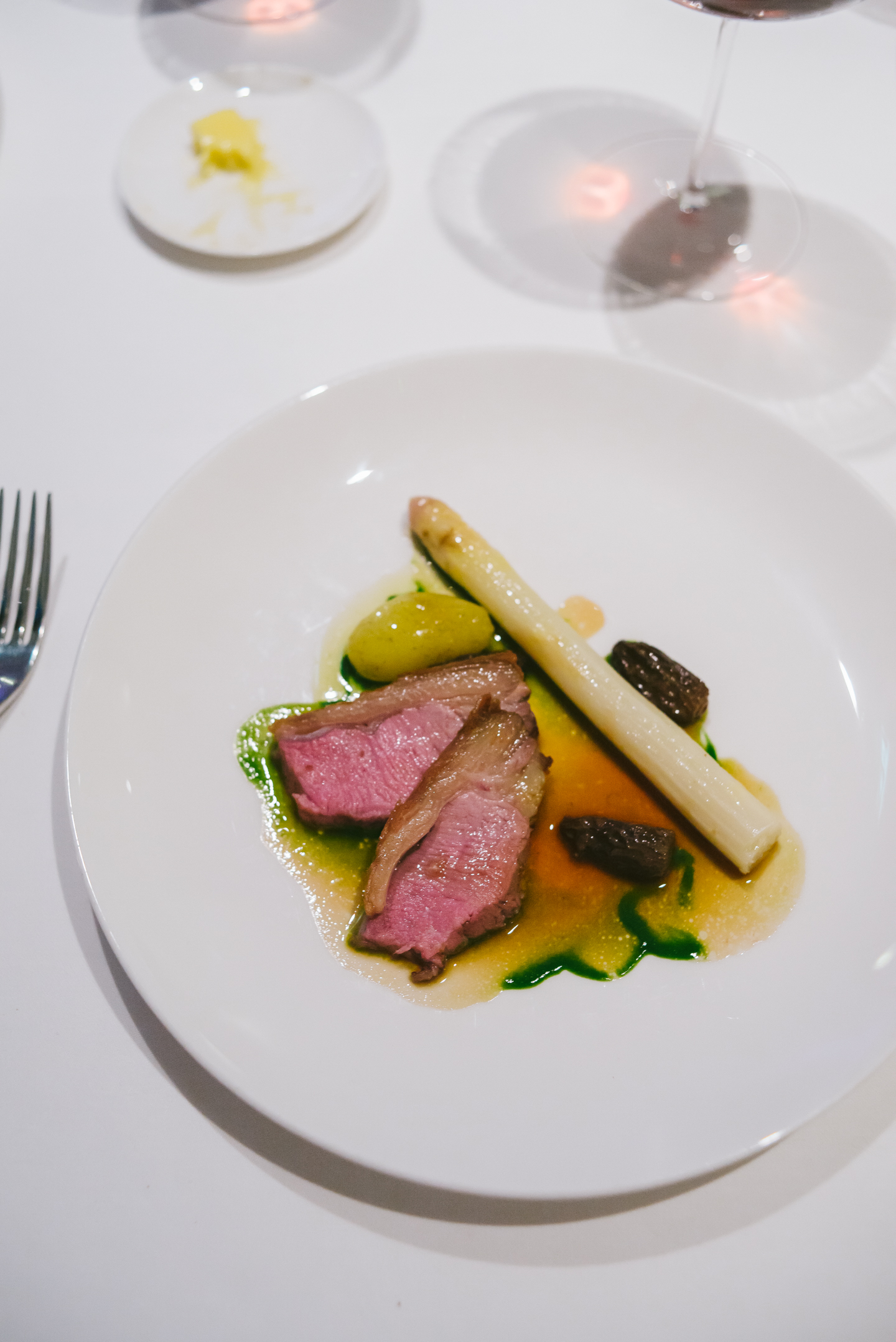 Spring Lamb. It was perfectly pink, and my only gripe is that the saddle has come off its bone – this is a break from his modus operandi. I thought the white spear could have been cooked just a touch longer to remove its natural bitterness, but that's more a personal preference.
Of course, Summer is when Tom's lamb is in full force, as in Salt Marsh Lamb, and with his excellent ratatouille. I attach a photo from last Summer below. I can't wait to have that again in the coming months.
9. Alphonso mango sorbet, coconut foam and pink grapefruit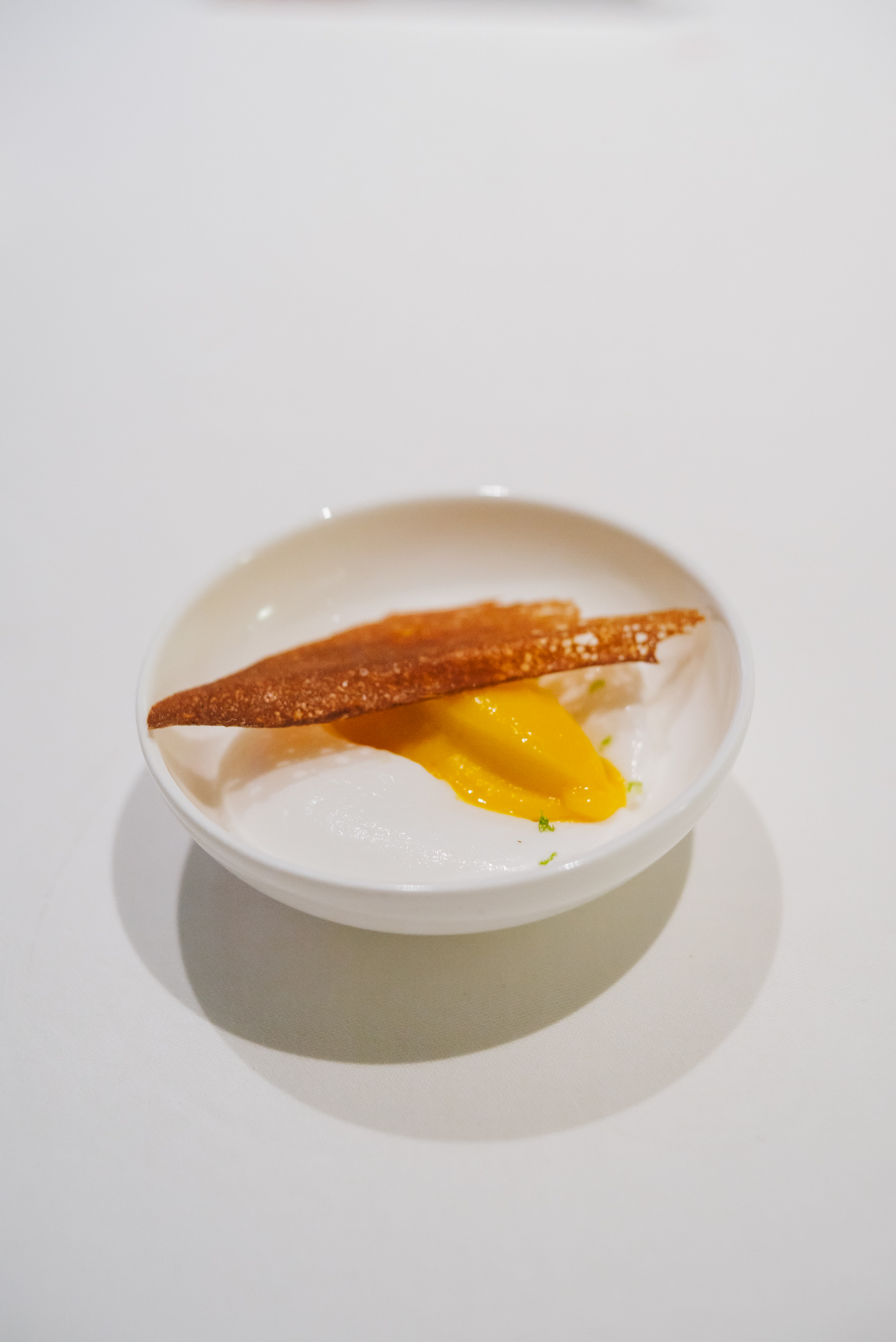 10. Tulameen raspeberry and gariguette strawebetty Feuillete, fromage blanc sorbet, creme diplomat, 15 year old balsamic and muscovado tuile
—-
Some dishes from my other meals that I have not blogged about:
Langoustine sashimi, aged soya sauce, sudaichi, lobster & prawn gelee, oyster leaves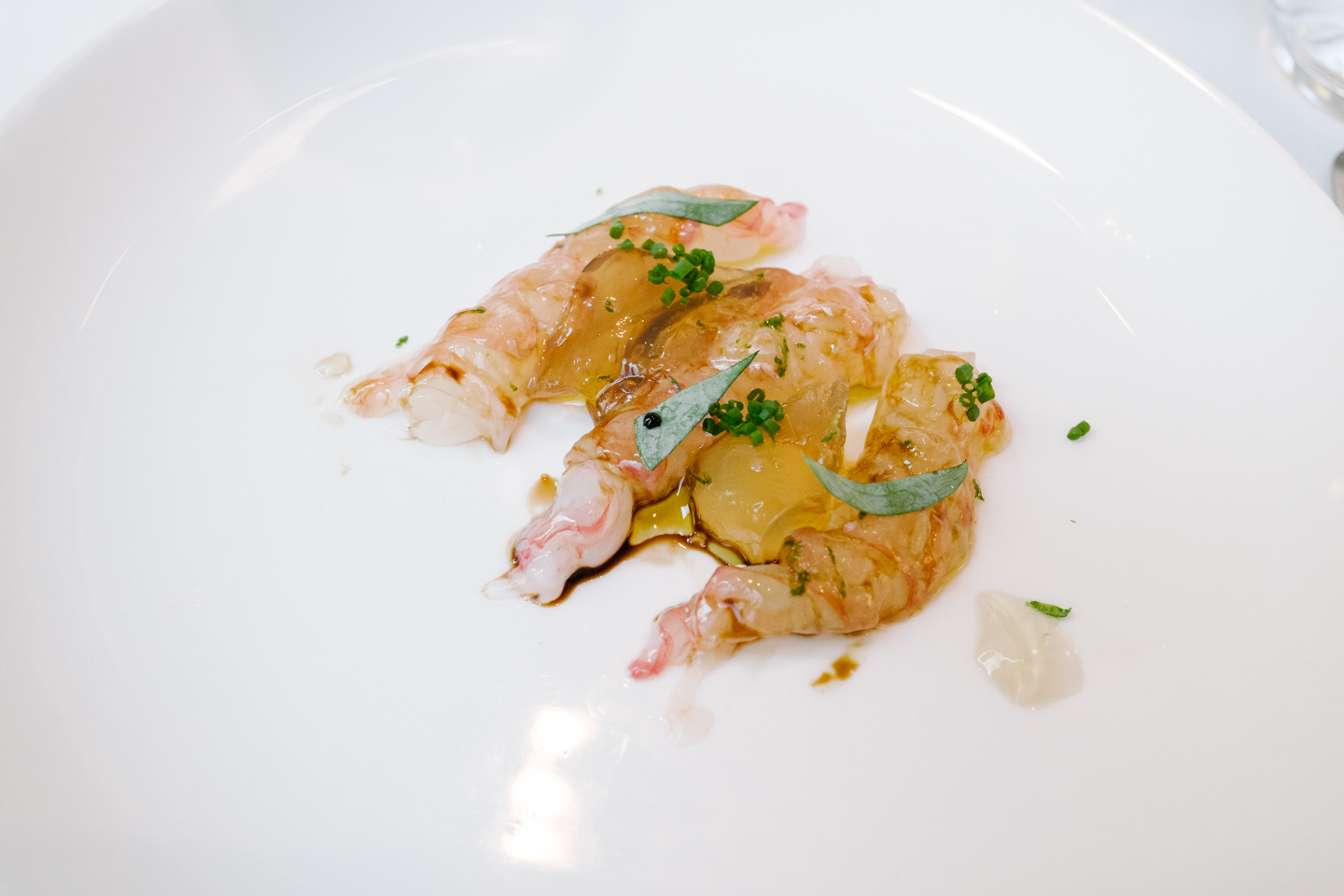 From my birthday meal last year. Sushi Kemble. He can do it I think. His amuse bouches may as well be called otsumami.
Devon crab, sea lettuce emulsion, tomato jelly and fresh almonds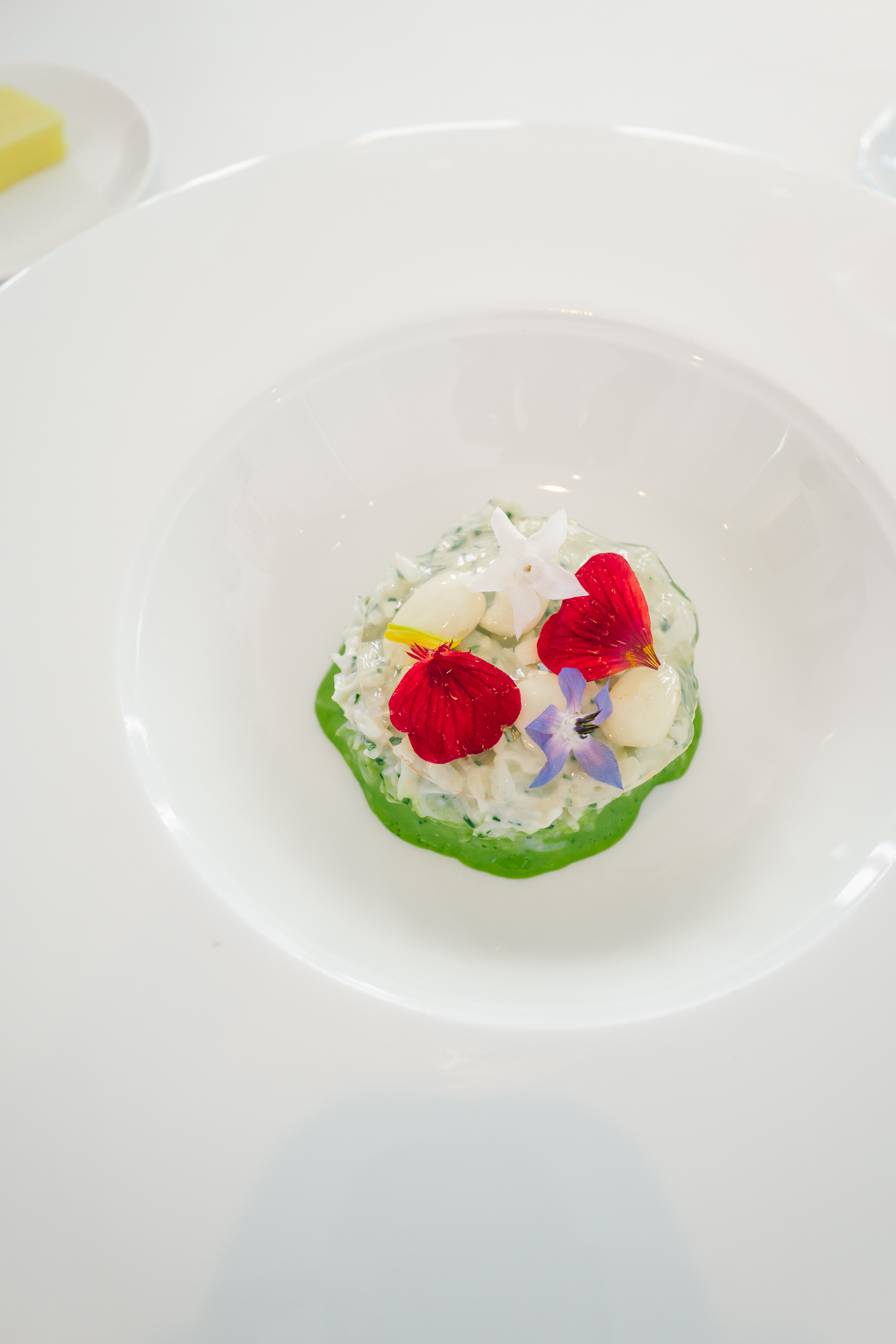 Early summer time, fresh, delicious and beautiful to look at.
Roast monkfish, cuttlefish, smoked linzer potatoes, stuffed courgette flower and bouillabaise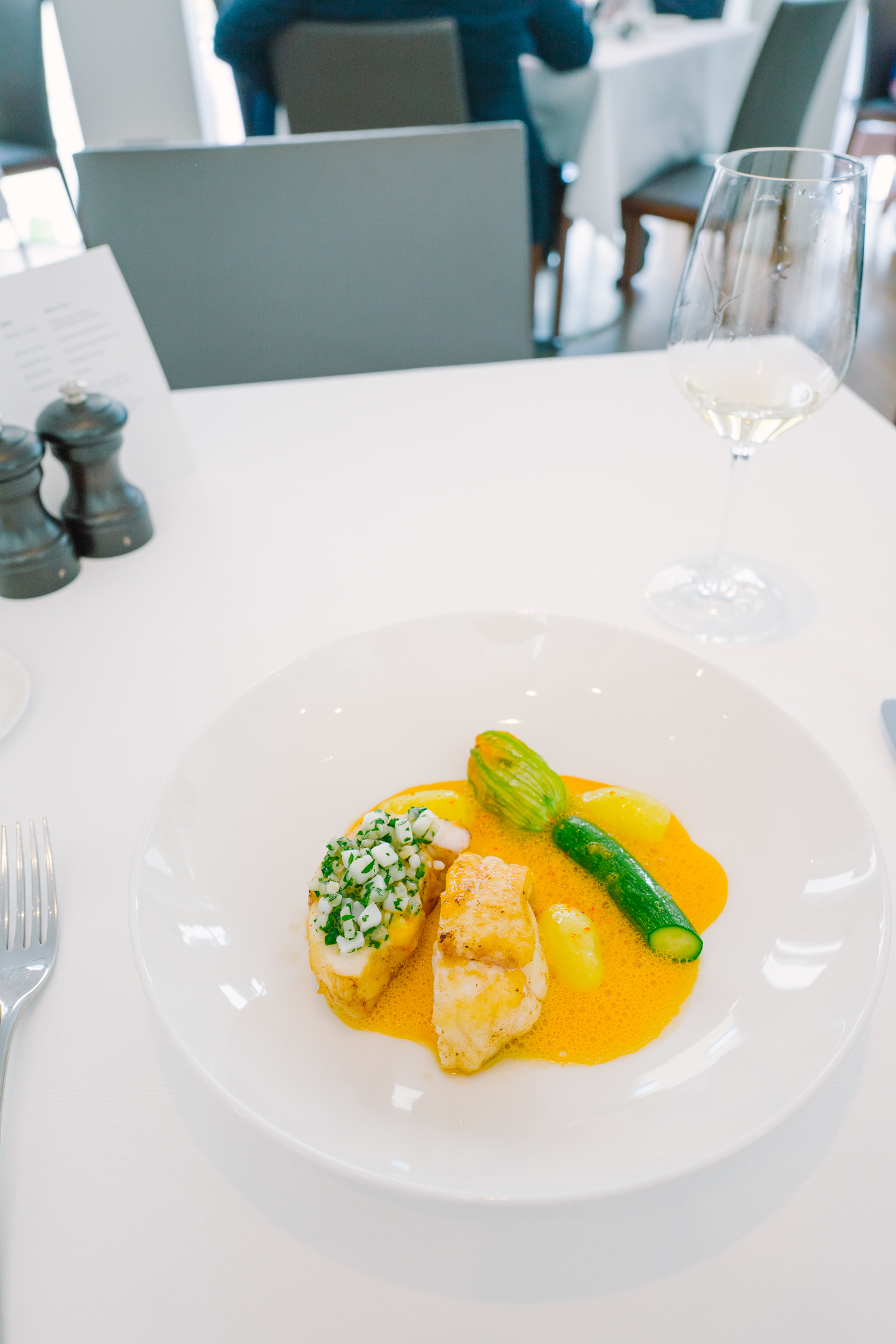 Pretty much Tom Kemble cuisine on a plate. The bouillabaise is an absolute stunner, here lighter in body to match the Summer days.
Irish abalone 2 ways
Hot. Chicken consommé
Cold. Sauce of seaweed, it's own liver & stock with fresh grated wasabi.
The molluscs slowly cooked (>10hours) until the texture is superiorly tender, yet also retaining its bounce, and importantly natural sweetness. Perfect.
Of course this is all about the precious natural flavour extracted in both sauces. Both different expressions of umami, and as it is Tom Kemble cuisine, incredibly balanced and utterly delicate.
Extremely impressed with this, a noble product handled with total respect. A lot of work gone into these. A true gastronomic delight. Hope this catches on in London.
Rhug Estate Salt Marsh lamb rack, ratatouille, anchovy, lucques olives, red pepper and jus gras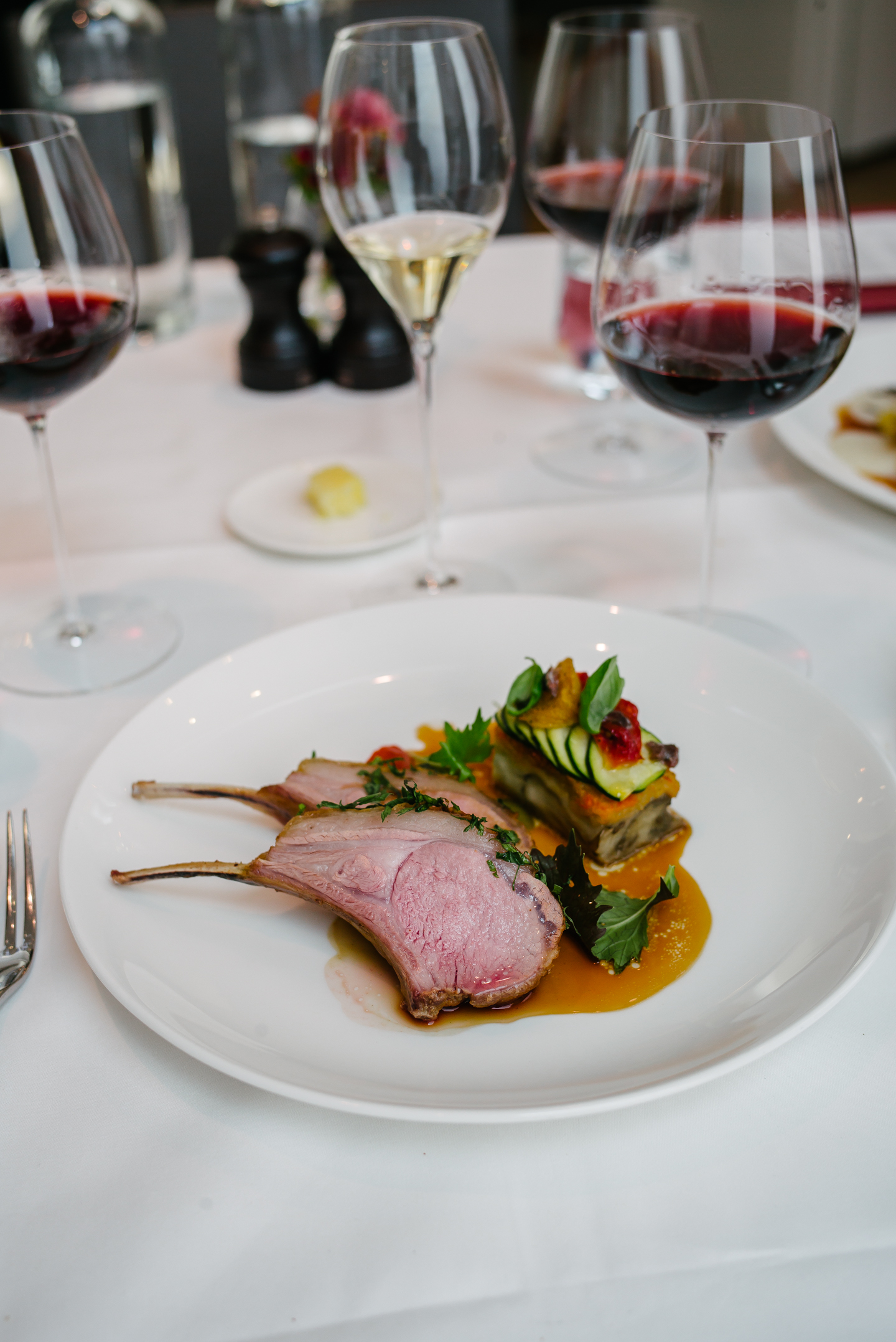 From last Summer, all about the ratatouille, absolutely stunning! One of the best dishes Tom has ever produced I think, from the jus to the cooking of the lamb and the ratters. Hoping to see this come back on the menu this year. And I am hoping for perhaps Mont St Michel pre-sale… real deal salt marsh!
Isle of Mull scallops, steamed, bellota ham jelly, lettuce veloute, granny smith apple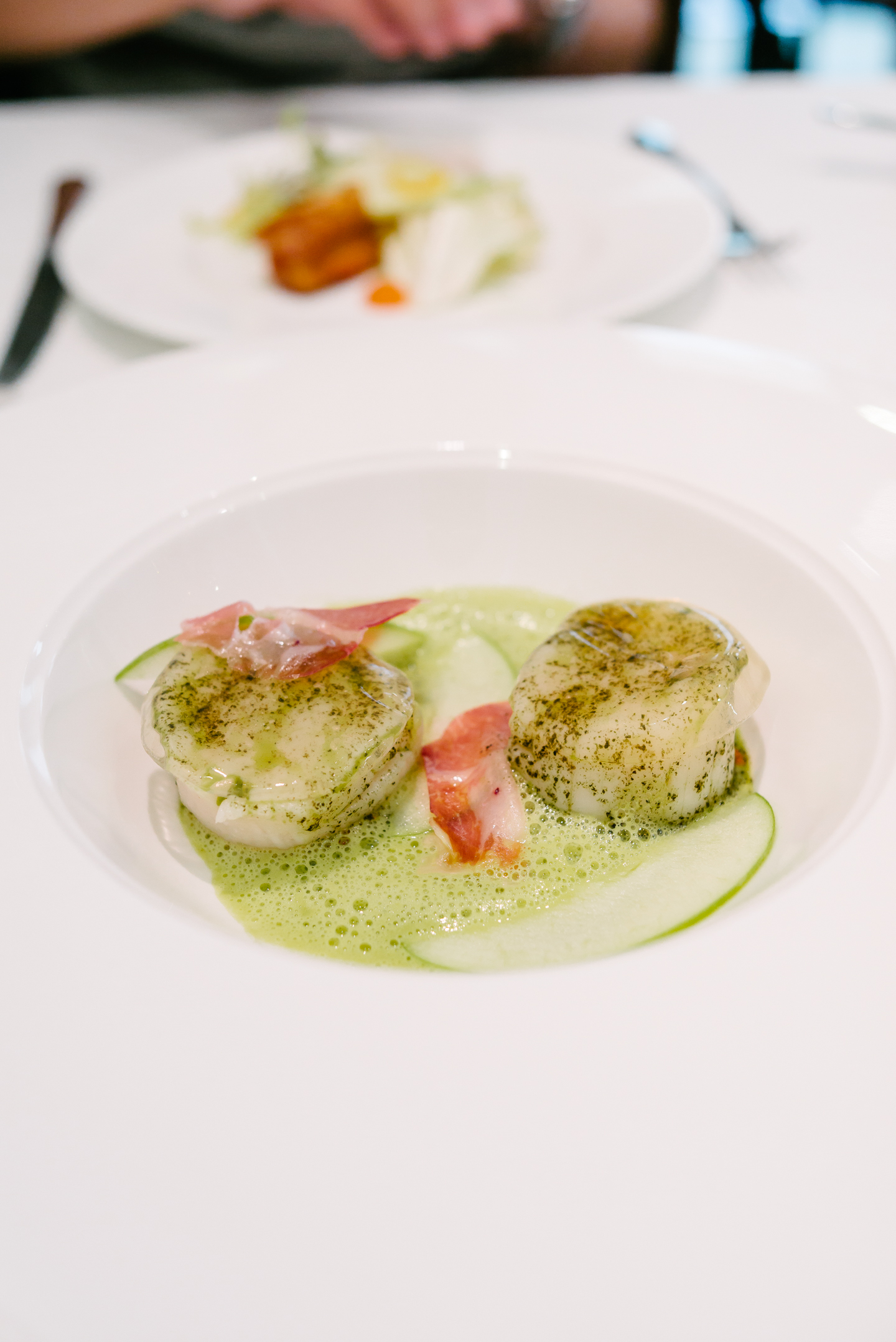 Pretty big ones, Tom shucks his scallops to order and these cooked quickly to a mi-cuit centre. Incredibly sweet.
Roast Mesquer squab pigeon, rhubarb, pistachio and offal sauce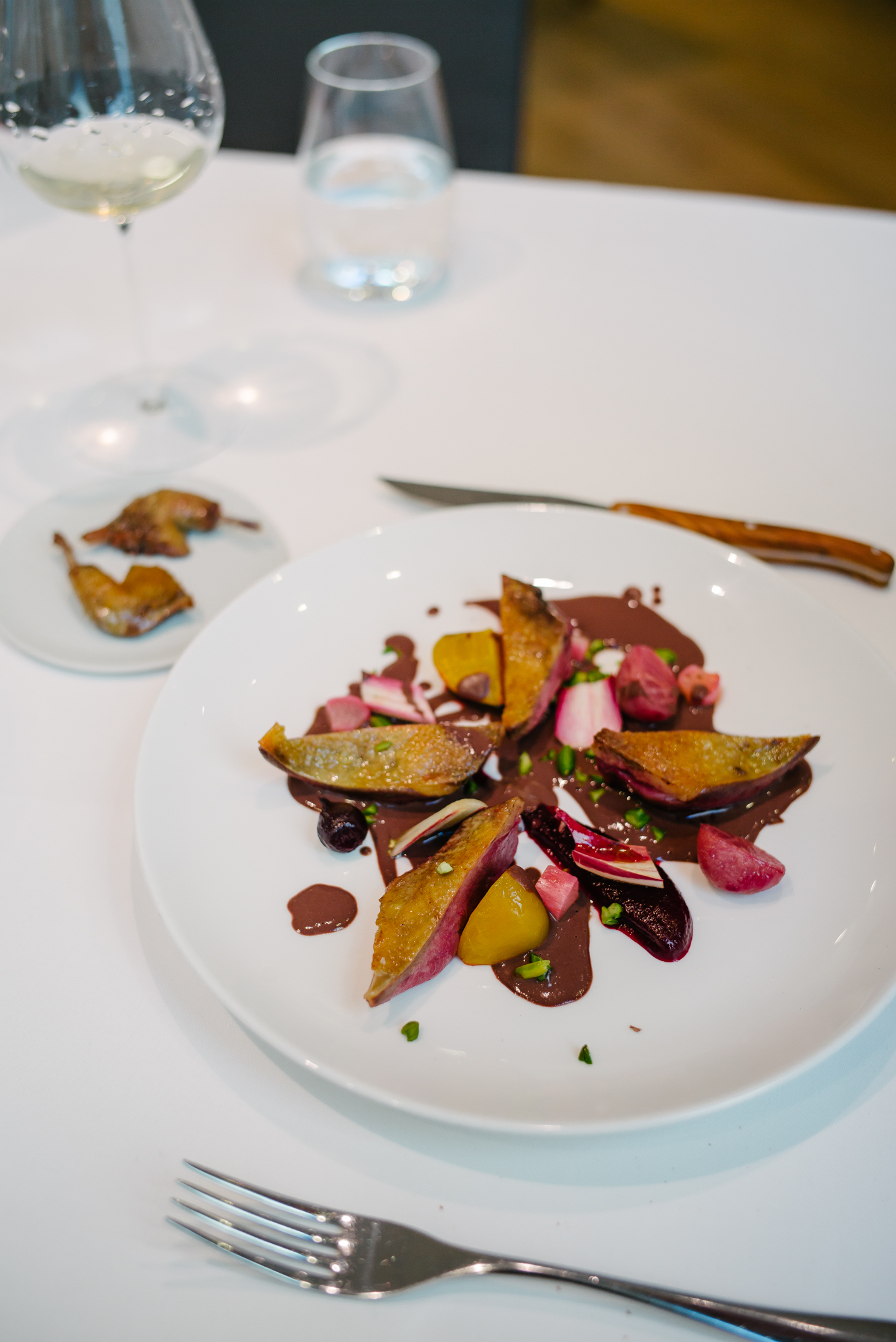 Pretty much perfect. Confit and roast to a perfect pink. Some chocolate sweetness goes in the offal sauce, and dare I say, Tom's (blood) squabs are better than MJ's at Hedone.
Veal sweetbreads, XO sauce, wild garlic veloute, granny smith apple and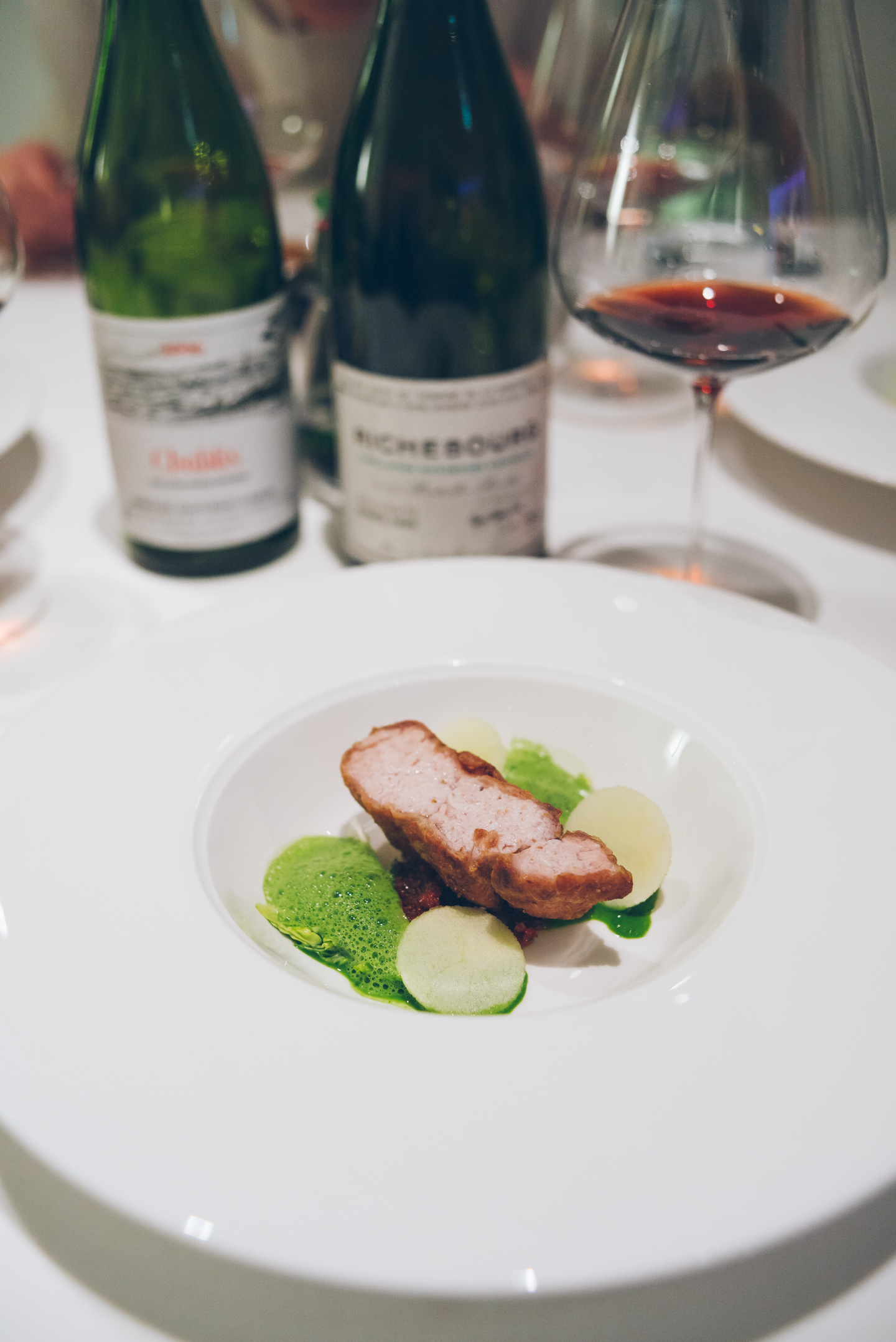 This I thought was supremely well balanced. The very slight heat from the (home-made) XO sauce melding nicely with the creaminess of the veal sweetbreads, freshness from compressed apples give it a nice acidity boost.
Millefeuille
Rhubarb and Pistachio
Tom put the classic French pudding on his menu in March this year, and I think the puff pastry is superb. Layers, flaky, snappy puff pastry that shatters as properly made ones should. With a glazed top as well. It took him long enough to unveil it, as he alluded to the choice of flour being the secret to the flakiness. Pistachio creme pat a thing of utter deliciouness.
Vanilla creme diplomat, aged balsamic and garriguette strawberries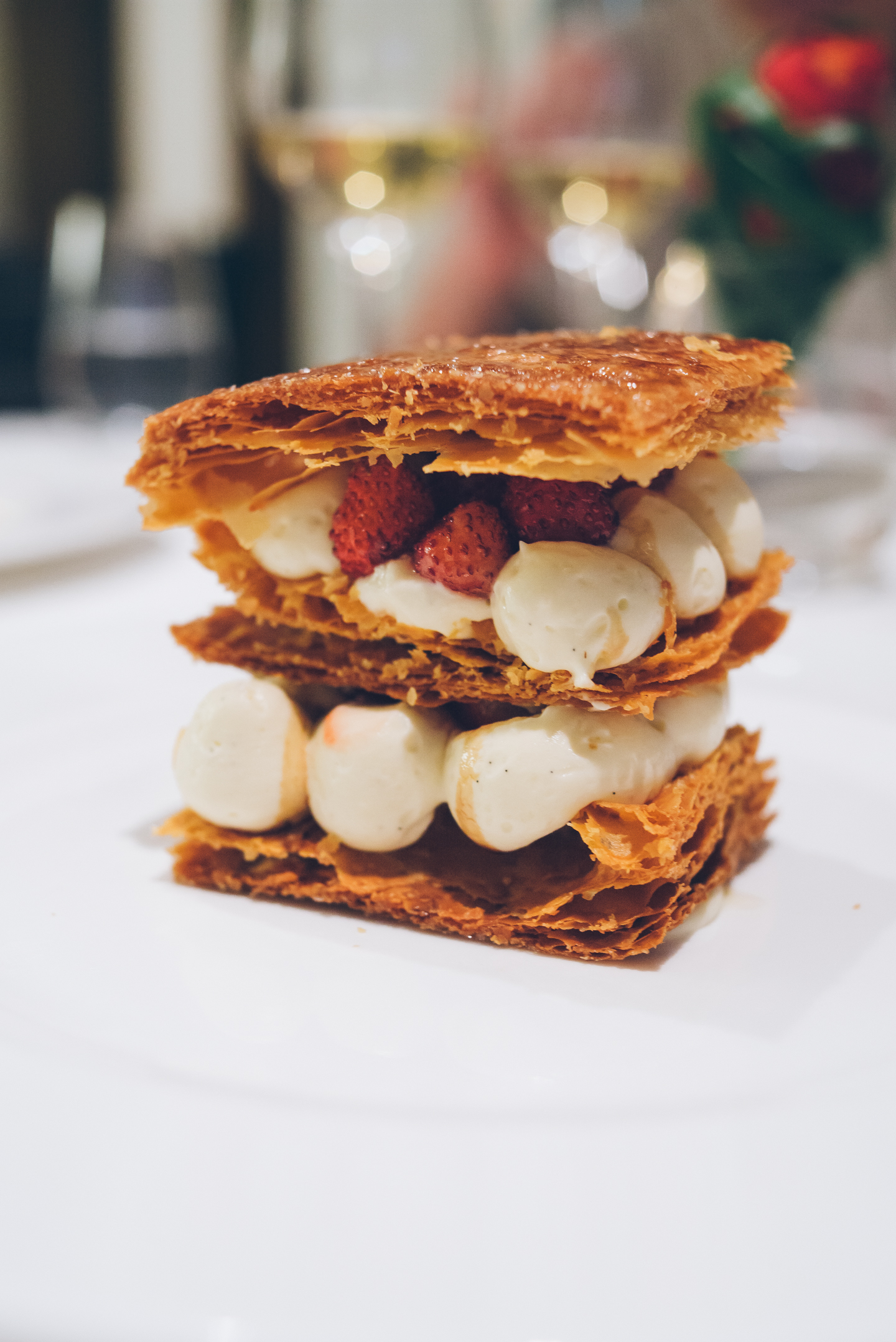 As you will be able to identify, strawberries put this meal in April/May. I actually think there's 2 types of strawberries in here. Gariguettes long, sweet and fragrant and wild ones, smaller, rounder and kicking in acidity. Aged balsamic doused on the vanilla creme diplomat, and i love the version they make here, every time it finds its way into their puddings. It is so airy and light, an indication of the amount of Chantilly that's been folded into the creme pat.