Other meals at Bonhams : Oct 16 , Sept 16 , June 16 , May16 , Mar16 , Dec15 , Oct15
The best meals I ate in London this year are at this auctioneer's little gem of a restaurant. You can tell how much I bloody loved it from my last blog post in which I was a total runaway froth-fest. I couldn't help myself. I loved it that much.
Tom Kemble has mad, mad skills, he can seriously cook, and he's still getting better at it. There's just this lightness of touch with his food, people talk about this elusive balance and his cooking is It. It begins with sourcing of great produce, an (almost) obsession ala his previous employers, but that's only half the equation. The rest is the talent to take it to the yonder. Tom's beyond is his ability to reshape everything with gorgeously soft, rounded corners, in a natural, minimal interventionist manner. This is in my Cambio and Medlar category of personal favourites, this is my sort of love. I totally dig his gastronomy and I can eat his food any day of the week.
This second visit was to try his supperclub menu, which takes place on Thursdays nights (for now). 4 courses for £55, an omakase so to speak, needless to say the 2nd meal has confirmed Tom's genius and that he is cooking with even greater precision with every service.
As before, the meal starts off with a savoury nibble-portioned crackers as an amuse before we broke into the courses.
No.1 Celeraic 'Tagliatelle' with black Perigord truffle and parmesan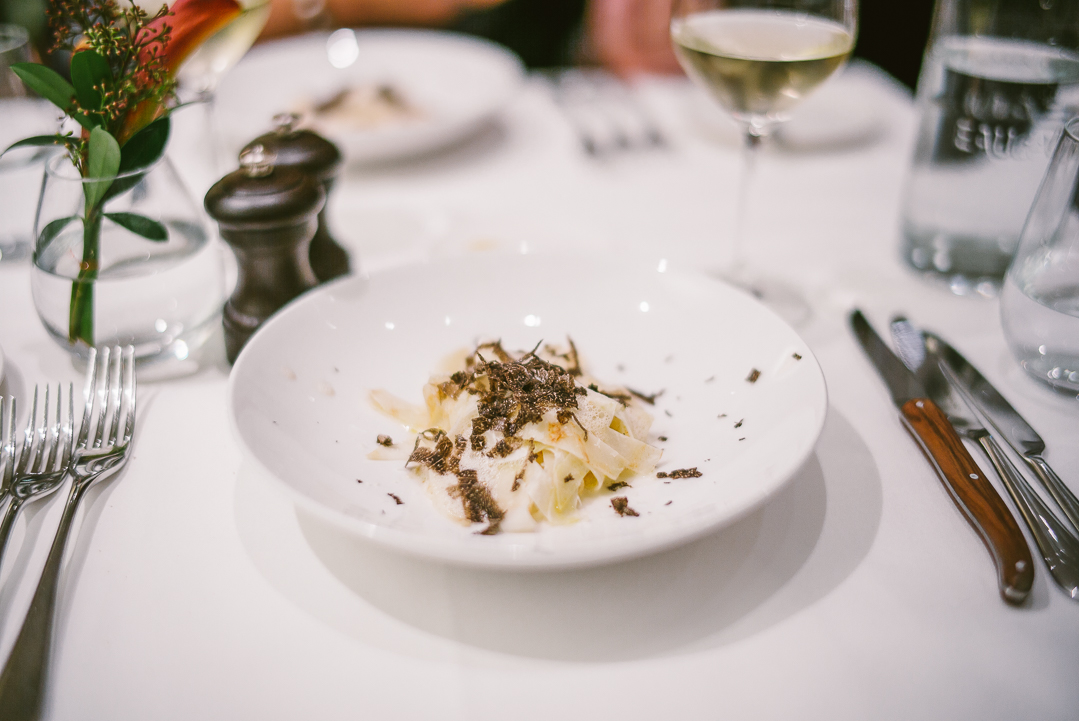 Immediately those aromas of root veg and truffle, umami on umami. It smells gorgeous. Slices of celeriac (blanched?) disguised in tagliatelle form are just soft enough in texture that you can twirl it on the fork. This vegetable-as-pasta jedi mind trick just makes me smile. There is some wetness to the dish, a 'water' of its own natural juices, which the celeriac is drenched in.
Utterly effortless cooking, it just looks so simple but it gives you all these complex emotions. The flavours are so round and in total harmony. This is a pointe. This is skill. Delicious.
No.2 Charred Cornish cod with bok choi, trompette mushrooms, seaweed and a dashi emulsion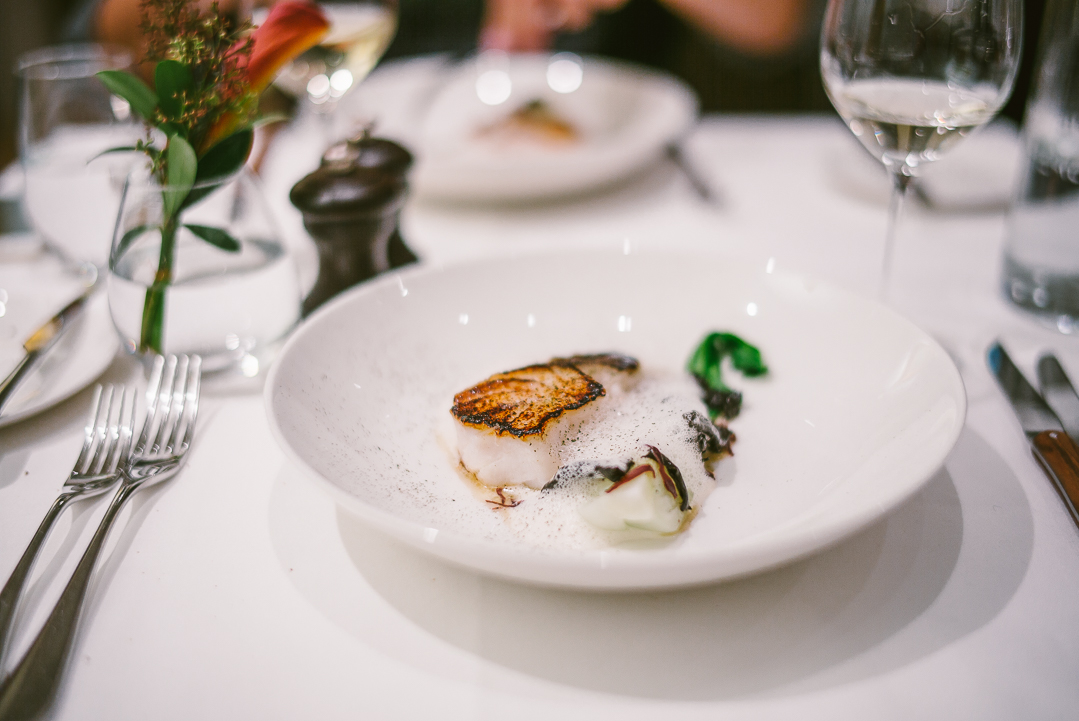 That dashi froth, quietly bubbling away, leaves a brief impression of eating fish by sea. It's aromatic and so soothing, redolent of that Heston sound of the sea dish. My best guess is that the nori has been dehydrated to a powder and then generously sprinkled across plate, giving this dish a phantom sensation of seaweed. It brings like a funk or an edginess to the fish's charred crust (look how 'flat' the surface is), a sense of meatiness that elevates this piece of pan roasted cod. Inside, the fish is translucent, flaky, original textures totally retained and is perfectly cooked. It is yet another superbly executed dish. Gracefully balanced flavours with subtle aromas that just teases your olfactory no end. Ridiculously good.
No.3 Roast squab pigeon and crispy leg with crapaudine beetroot, damnson puree, radicchio tardivo and offal sauce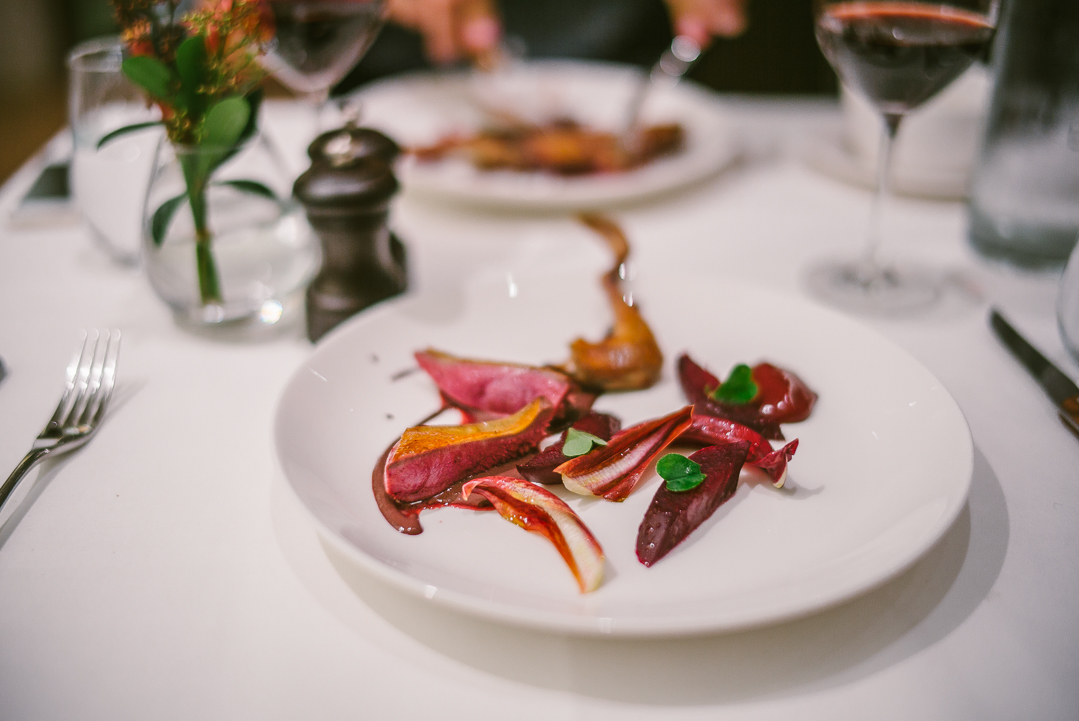 I remember Mikael's pigeon dish well and honestly his preference for bold flavours is too overpowering for me (I had his hare royale once, which was challenging).
I braced myself but then, gasp… lightness. How? Night and day, total contrast to expectation. Where did he source this pigeon? How is this pigeon so clean in flavour? This is more like duck or quail. The skin is crispy and has a thin layer of buttery fat just underneath. The cooking of the pigeon itself was precision personified. It's very tender, cuts easily and has this sensation of juiciness, like sealed-in moisture from being well rested. Gorgeous.
The best part however was certainly the offal sauce, but not because of bold flavours. Rather, it was surprisingly light, a sense of freshness, a fresh chocolate sauce, an impression of whipped liver, or something like that.
I understand game and offal, the big flavours and all, but it's often over-emphasized, which is when it becomes overpowering for me. Tom has done the exact opposite, he's dialed it down, smoothed it out and made for cool runnings on the palate. Precision game. My mind is blowing up as I try to process his cooking.
The three courses just flew by too quickly, I couldn't believe the meal was almost over. I was longing for more savoury dishes, I could easily have had three more, no, at that moment, I wanted three more.
(Side note on wine : I had a glass of Ata Rangi Celebre, which was very interesting. It is not a Pinot but a Bdx blend, which I didn't know they made. It was surprisingly good, reminds me of cab franc or even carignan, with the funky wild flowers, pepper but with sexy backbone of sweet merlot. Could easily pass as a St Emilion. Full bodied, nearly opaque and serious.)
No.4 The meal ended with a raw pear Sorbet palate cleanser followed by his signature chocolate tart, which by now, must be one of London's best puddings.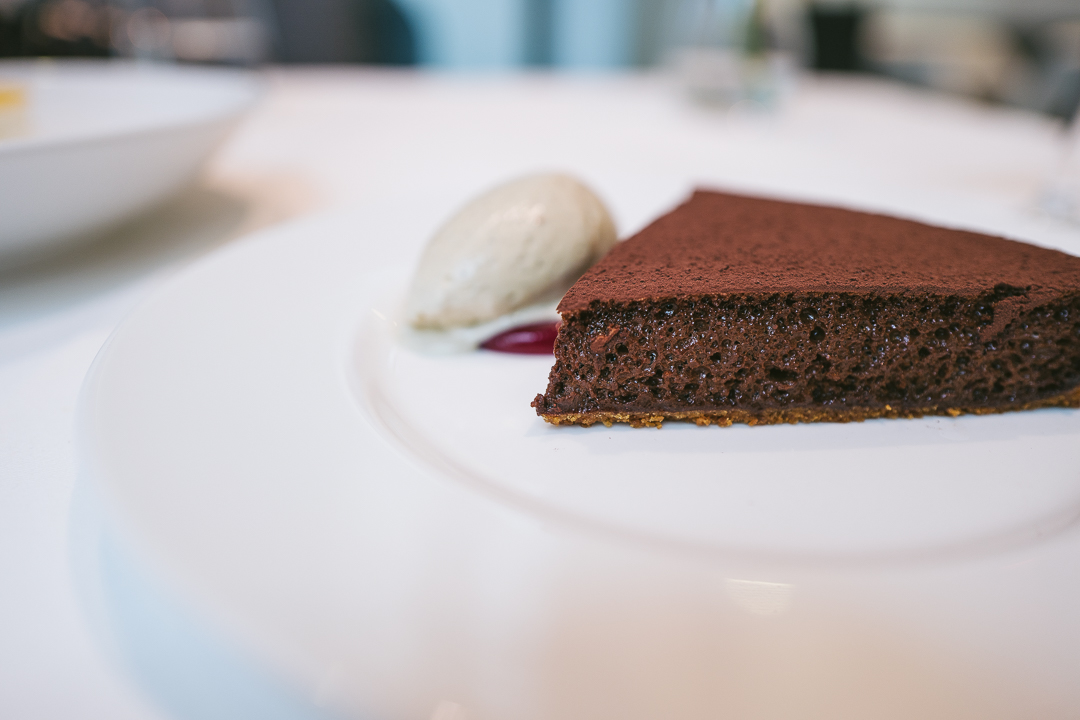 We paid £95.63 each, for the menu and two glasses of wine each.
We met Tom afterwards, when he came out to greet his customers. Nice guy. It was a hero worship moment for me, we praised his cooking and he talked briefly about where he sourced those lovely French pigeons. He then told me that most of the time there's only 3 people in the kitchen, himself, his sous chef Theo and another helping hand, which makes me respect this restaurant even more. Mad props.
Really I tried to keep the word count down, but too much love to give. Bonhams Restaurant is amazing. The best of London in 2015. I look forward to the 3rd visit, which I will tell you all about (again) in the new year.
Happy Christmas, eat well and stay safe kids, see you in 2016.
The Details
Bonhams Restaurant
Modern, £60pp lunch, £85pp supperclub
Lunch Mon-Fri, Supper Club on Thursdays only
7 Haunch of Venison Yard W1K 5ES
Tel : +44 20 7468 5868
Tube : Bond Street