Other meals at Bonhams : Oct 16 , Sept 16 , June 16 , May16 , Mar16 , Dec15 , Oct15
I assume you've read Jay's love letter, in which he described his glorious meal at this restaurant. A Michelin star soon followed, as Bonhams has been included for the 2016 red guide. Not too shabby for the 32 year old Tom Kemble, at the helm of this restaurant's debut year.
Tom cut his teeth in the kitchens of Faviken and Hedone, prior to this head chef role at this restaurant situated within the auctioneer's premises in swanky New Bond Street. Naturally, I would expect the restaurant's primary function is to facilitate business friendly bread breaking (Weekday breakfast and lunch only, with a special dinner menu for Thursdays) and so its curious as to why its even open to public (Not that I'm complaining, because I'm the very joe bloggs who gets to experience Tom's cuisine).
Aside from a couple of pleasant paintings, the dining room itself is a largely featureless narrow rectangular corner of the building. Their bar is located on the floor below and feels like its designed for private receptions. When it is empty, it's so deadly silent that it turns the infamous silent shutter of a Leica M into a booming snarl. Service seemed nervous in the beginning, but they warm to you quickly. Though I think some soothing background music will help break-up this tension on arrival completely.
"Table 15 has sat down" Ah, so I'm table 15. "Table 15 has ordered." Wow they radio my every milestone to the kitchen, but Tom doesn't always acknowledge. Due mainly to the silence, you get to hear all the background going-ons. It's nice to know that these guys are so devoted to choreographing my experience.
The menu is seasonal 3 course ALC, and like his former mentors, Tom's cooking is produce-led and of a minimal intervention style. Mushrooms appear to be the in-season theme. They read out a few specials, which sounded too good to pass up, so I opted for two starters, instead of one.
Amuse Bouche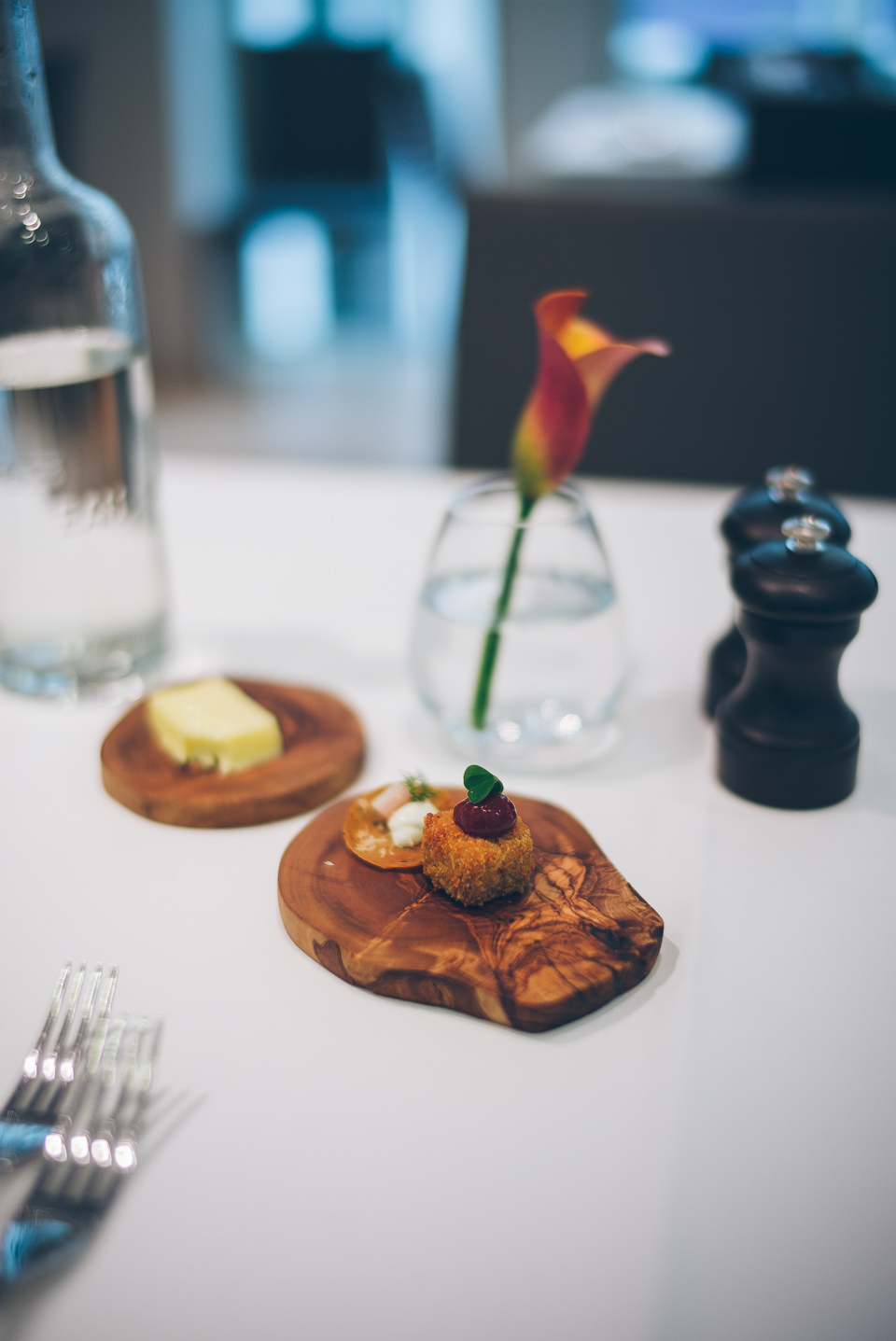 Appetisers were nibble sized pig's head croquette (served piping hot) with a sea eel and sour cream buckwheat crisp. Cute.
Their own-made sourdough is quite brilliant – doughy, floury centre and crispy crust – and every bit the legitimate rival to Hedone's. Not too much, save some room for the rest of the cooking.
Buckwheat 'Ravioli', chanterelles, egg yolk, parsley and Jerusalem artichoke, £11.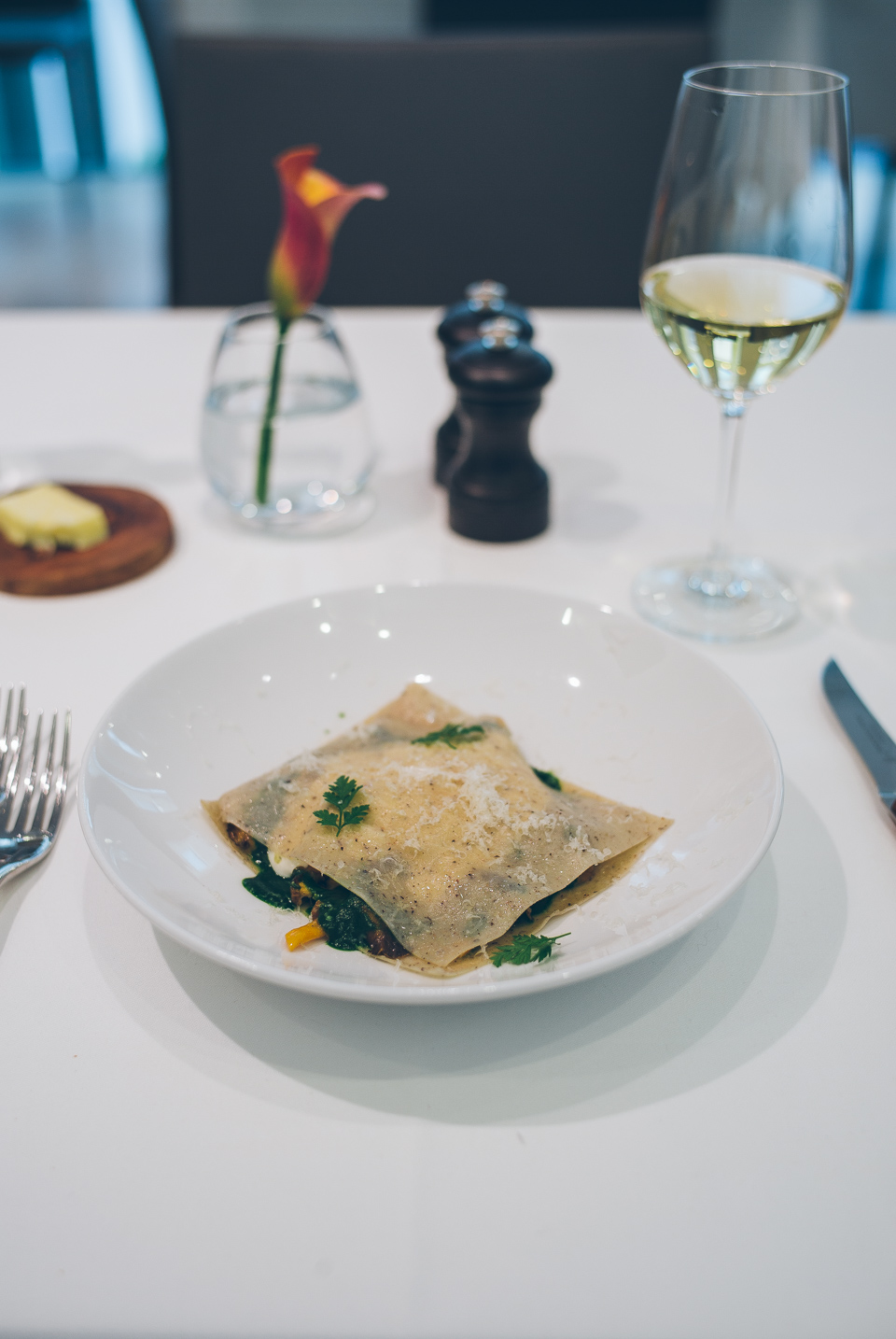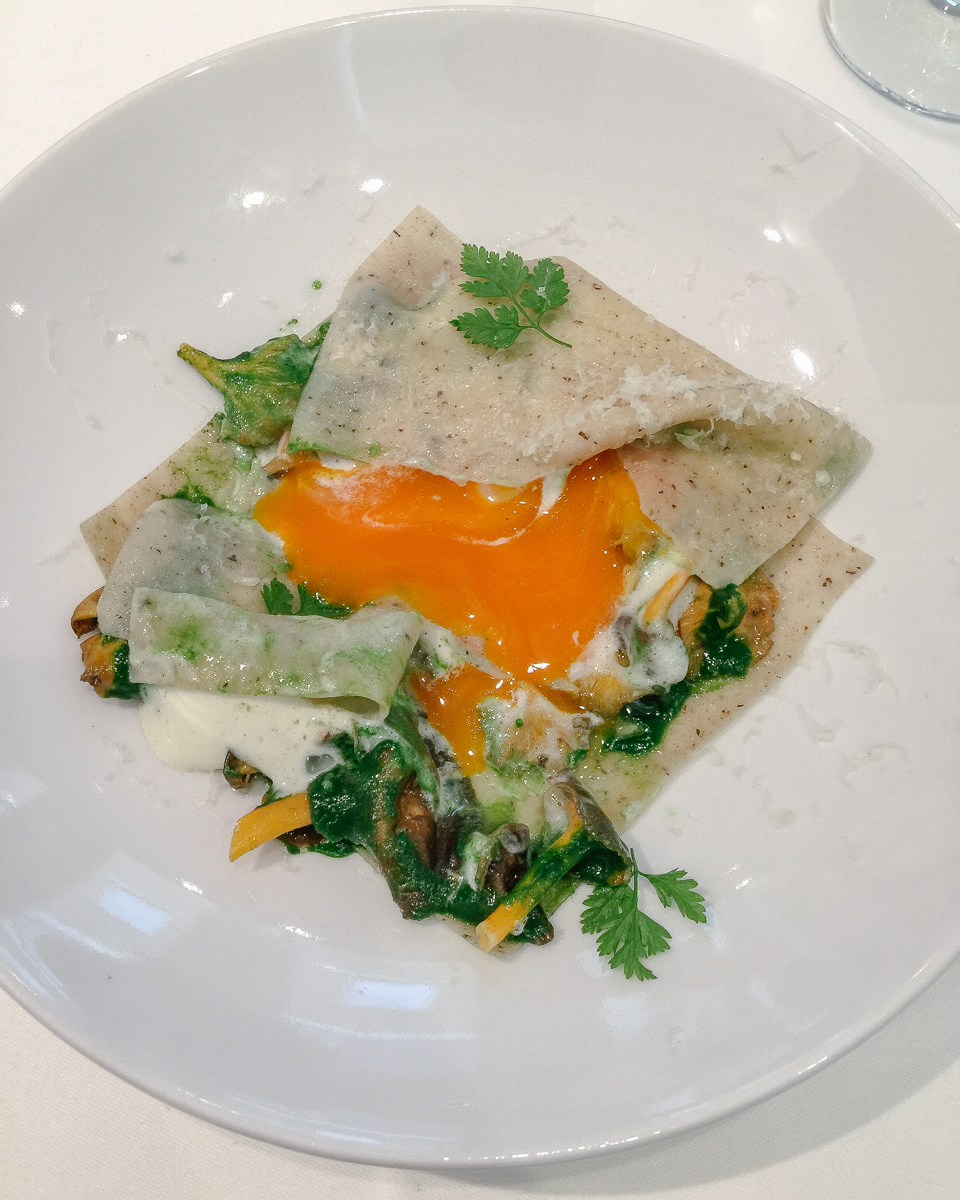 I tore the millimeter thin al dente buckwheat pasta to reveal that intensely creamy omega-3 rich egg yolk. Everything inside seems boiled or blanched, and so it gave me this feeling of warmth, silkened, almost watery sensation of slow food that just tingles the senses. My brain immediately started to hunt for a familiar old feeling of savoring something so naturally delicious. (I settled on a memory of local hand picked morels & garganelli at Rodrigo in Bologna).
The palate feels like it is taking a simmering onsen way up in thin air, overseeing a snowy mountain in the distance. My goodness, serious cooking and seriously good vegetables too.
Native lobster salad, raw cep, chestnut and lobster coral sauce £14.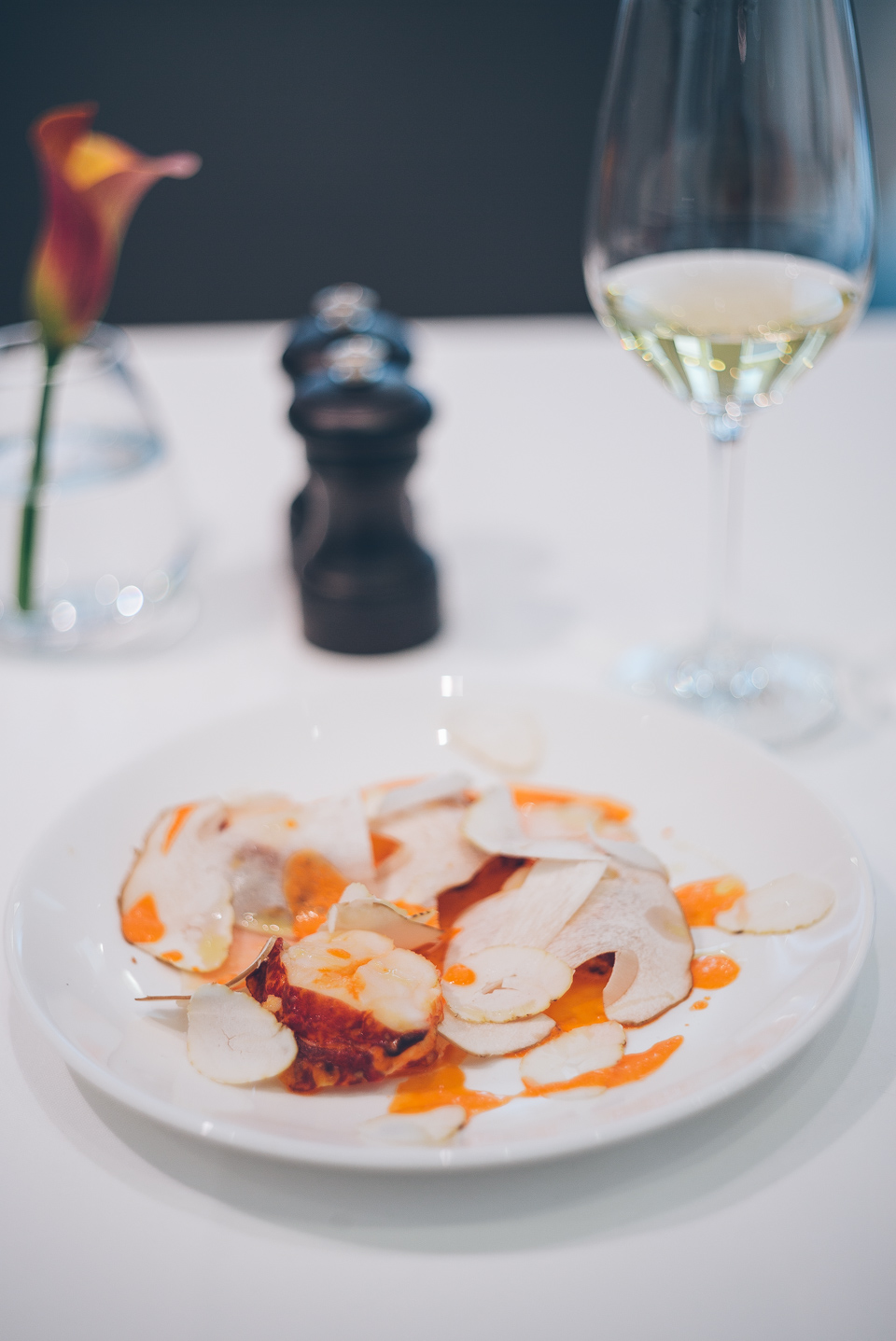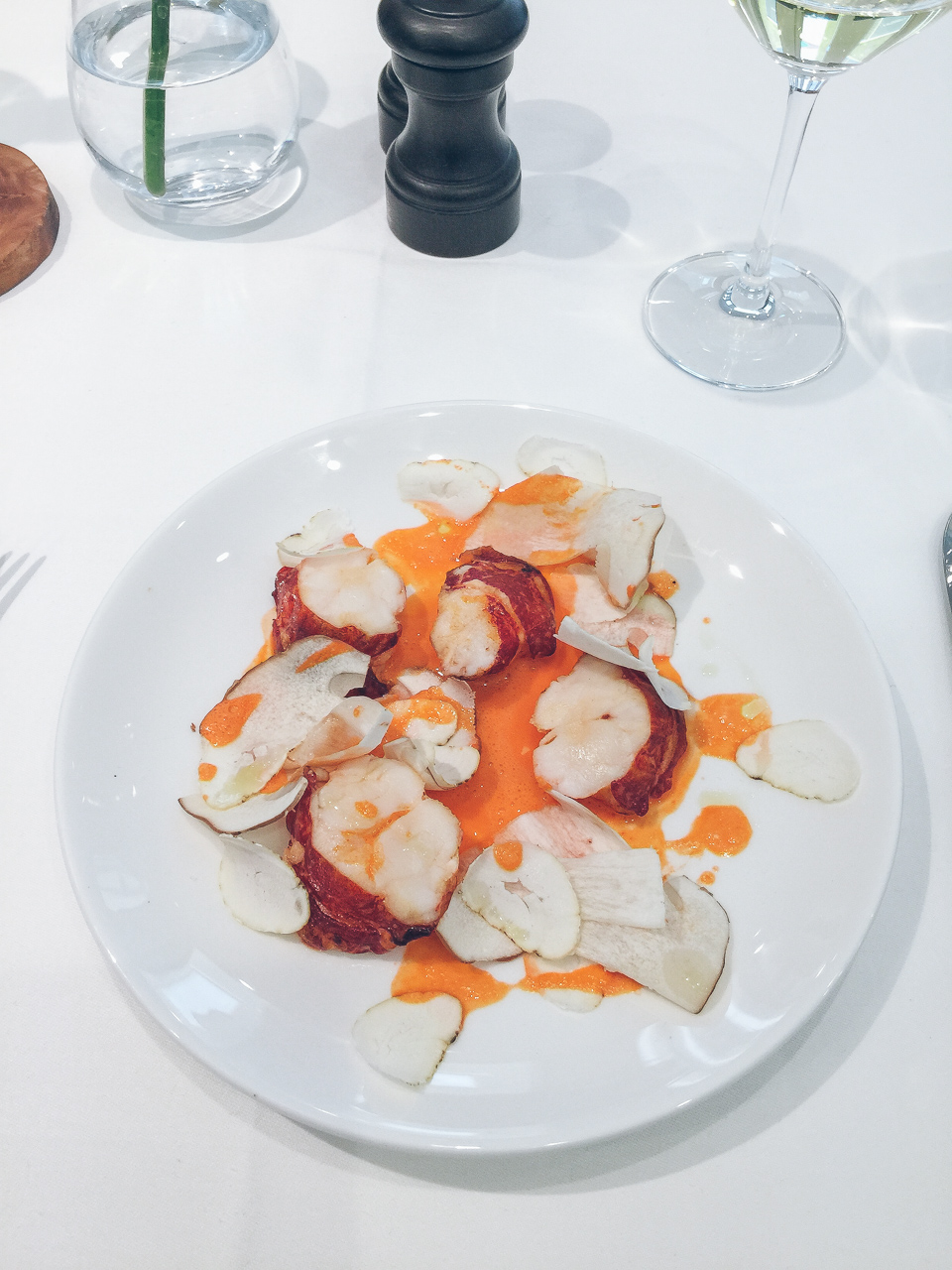 This was the daily special, which I slipped in as an extra starter. I'm speechless. It's dangerous to be so minimal as the recipe is essentially naked in its pursuit of isolating just the primary elements, but Tom's really pulled it off here. There is no where to hide but it needn't because that lobster tail is very simply perfectly cooked. It is just essential. All the best attributes of lobster are present, fleshy, meaty, sweet, briny and fresh. It also felt like the rest of the crustacean – brown meat and shell – have also been absorbed into the meat. How did Tom achieve this? Did he leave the meat to soak in its own stock? Is it the coral sauce? Or just fantastic produce? The mind baffles, the palate rejoices.
To borrow a wine analogy, the "finish" continued with lingering flavours of fresh, sweet lobster for minutes. I agonised whether to wash away with the wine. Truly fine.
Roast Sika Deer loin, crapaudine beetroot, fermented turnip, chestnut & juniper puree, roasted ceps, £28.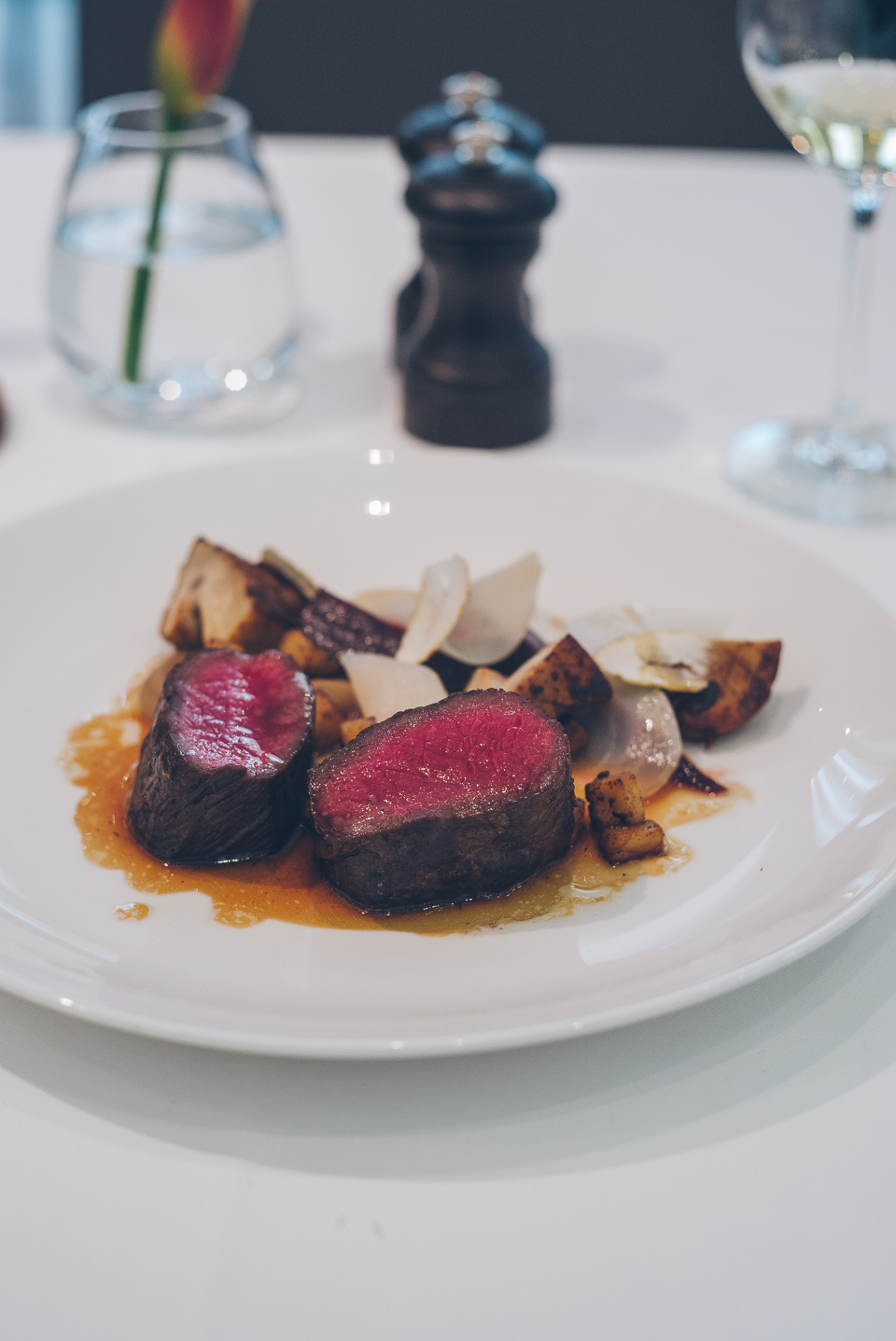 Crapudine beets – new one for me. In French, the word also refers to female toad, though this is an ancient variety of beetroot that traces all the way back to Charlemagne. Interesting choice but I can't say it tasted anything unique.
On the other hand, those ceps, they had this smoky seared charred quality, meaty & plump, blindfolded I'd have guessed foie, or even some sort of steak fat. Such was its depth of flavour.
That feeling of warmth yet again, the recipe is framed like an alternate version of steak & chips. Ceps for 'steak fat', and deer for steak, chestnut puree as sauce and beets for chips.
Like previous dishes, Tom's handling of the deer is just picture perfect execution. Expertly harmonious flavours, with a lightness of touch that makes everything so easy to eat. Not heavy just heady. I could easily have another plate.
Soleil Black figs, fromage blanc sorbet, meringue and honeycomb, £9.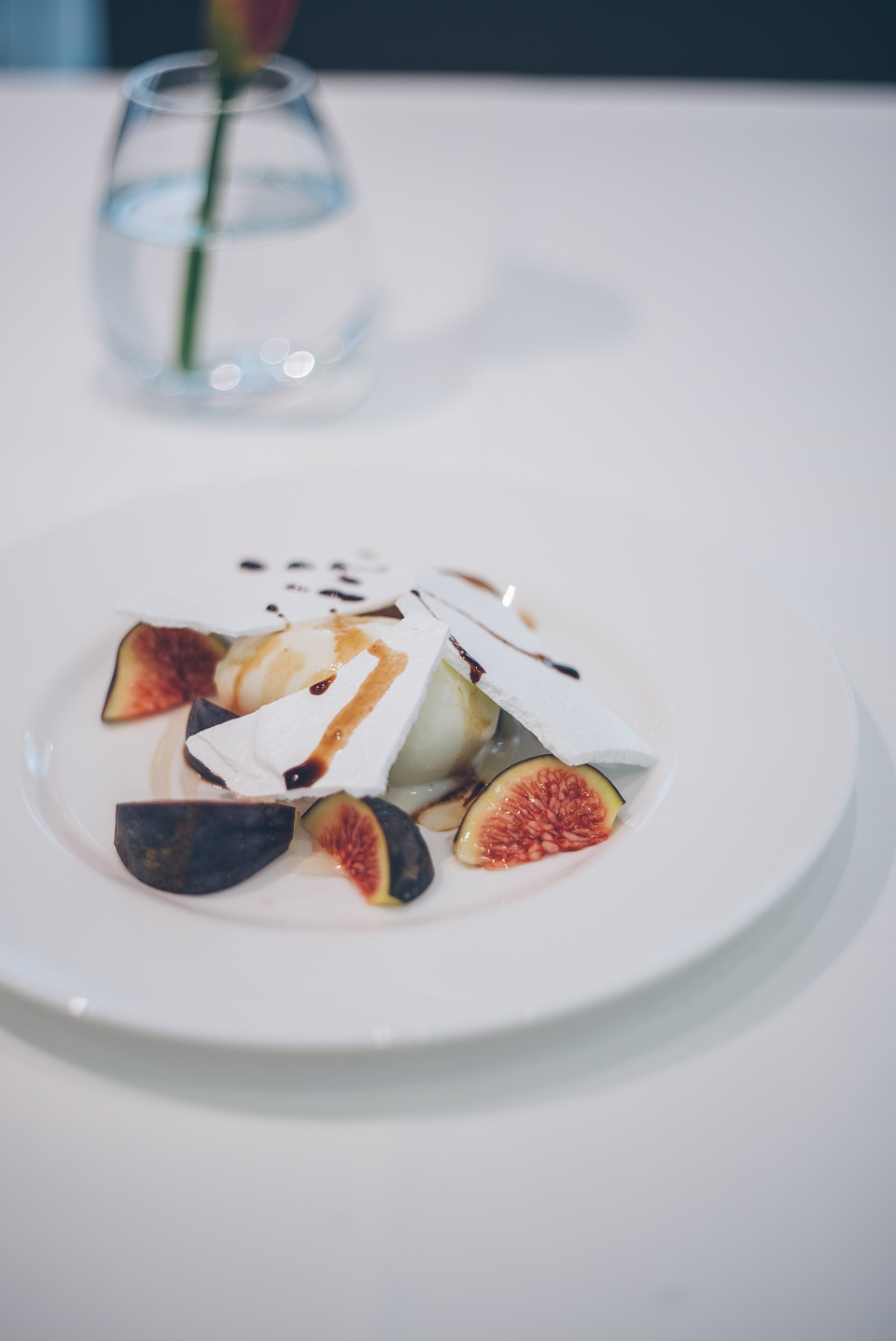 Still waiting to stumble across a fresh figs pudding that actually tastes special. I just think this fruit doesn't travel well. This recipe is well put together, the sorbet is a genuine palate cleanser, but it's really nothing to shout about. I should have gone with the waiter's suggestion of the sabayon tart. Oh well, there's always next time.
Chocolate Tart Sabayon, vanilla ice cream and blackberry, £8.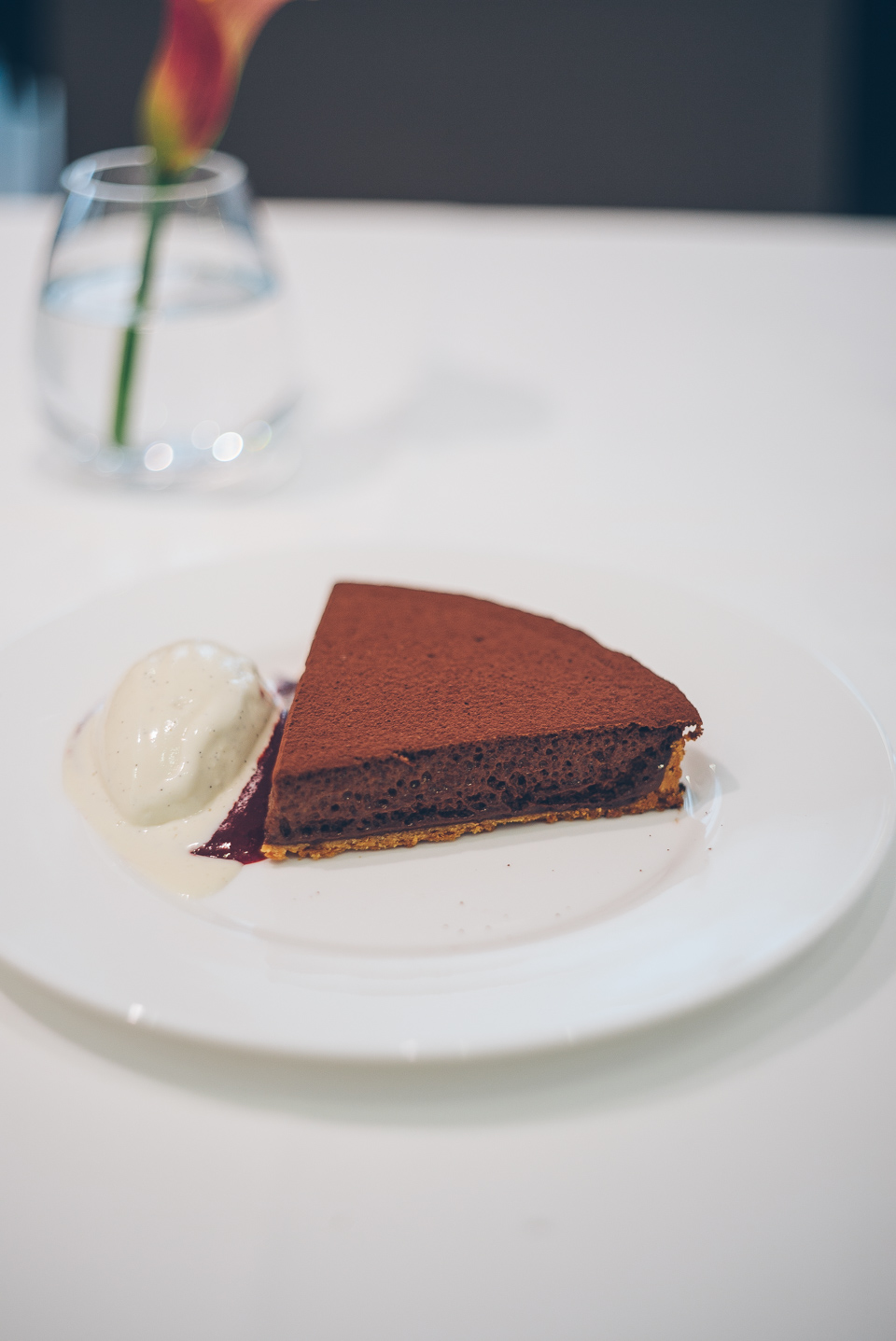 To my surprise, the kitchen sent one to me anyway. So my four course lunch turned into a five courser. Can't say no to a free pudding.
This looks like it could be a riff on a Thomas Keller pudding, although it is likely a direct homage to the chocolate tart at L'ambroisie. More akin to a chocolate laced custard or even a souffle, whipped full of air bubbles and (presumably) baked until puffy. The fragile tart sits on a delicate shortcrust pastry that's baked till just crispy and itself is subtly sweet.
It feels like you are eating puffs of chocolate laced cloud. Actually, it's somewhere between frothed milk or souffle, no maybe sponge cake …definitely custard. How do I convey this sense of dense lightness?
Truly, this pudding is something rather special. Mind thoroughly blown by Tom Kemble & co. Michelin star is well deserved. Great ending to a fantastic meal.
Four courses (plus extra pudding on the house), 1 glass of wine, coffee and service came to £82.69. Certainly not cheap, but not out of line with his peers and considering the sheer quality of produce and cooking.
I want to talk about the wine, because these guys are in a unique position to establish some synergy with the auctioneers wine team. I surfed around and found some special dinners to coincide with their wine auction activities. £90 Pontet-Canet paired meal. £25 shots of 'lesser vintage' Moutons. Damn, how could I have missed these? If you hear of a Haut-Brion special, please let me know. I'm there.
I do like the wine list, it's heavily curated and I'm sure its because they want to refresh it every so often based on the balance of auctioneer's activity (Any takers for my case of 07 Clos Ste Hune?). Stuff that caught my eye were '89 L'Evangile, '85 Lynch Bages, '01 Clos des Papes, '04 Pug-Mont Clavaillion Leflaive, '01 Pingus 2nd wine and '04 Vega Sicilia Alion. The prices are reasonable – for a restaurant – all the listed wines were under £200 a bottle. The pricing is as good as The Square. Although, it'd be difficult to savour them, given dinner only occurs on Thursdays, otherwise you'd have to convince some mates to take the weekday afternoon off. A crystal ball tells me that they may slowly open up more supper nights.
However, their by the glass menu is less exciting. They keep an enomatic machine in the downstairs bar though on my visit, there was hardly anything stand out. I drank a glass of Albarino by Bodegas Terras Gauda for £8. It was ok. No coravin in sight.
And so to last words on the cooking. Produce driven, careful, fragile, detail orientated cooking to achieve blinding simplicity. Dare I say, Tom's cuisine has more in common with Kaiseiki's care for natural flavours than the clear Scandinavian lineage. Or maybe both are similar in spirit, in the way it respects the essence of the ingredient. Of course, this style of cooking is hardly fringe, it's an established style pursued by many. Many of his London peers – including his old boss – have found an audience for it. Personally, I believe it requires great skill (and a great palate) to produce greatness out of this minimalism. I mean, small missteps can easily turn into bland dishes. But when its right, it boggles the mind. It's like sampling the perfect zuke akami sushi. When perfection strikes, it's never a clear cut sensation. It's all the subtle, complex gradations of flavours, tonality, range, depth, brain cells firing in all directions, Ratatouille scene, you get it.
Some restaurants assault the senses by bombardment on the grandest scale and there's nothing wrong with that, but Bonhams's flair is of a different sort completely. Tom's craft is sophisticated espionage, executed with the kind of evocative suaveness that infiltrates your senses with assured harmony. Every dish leaves your palate with the lingering phantom of fresh produce and excellently paired flavours. Such a lust for more. I love it. I want it back. That's right, I've totally lost the plot. It really was that good. I'm a fan. This is the best lunch of 2015 – there have been a few gems this year – and I urge you to put this high on your list.
The Details
Bonhams Restaurant
Modern, £60pp
Lunch Mon-Fri, Supper Club on Thursdays only
7 Haunch of Venison Yard W1K 5ES
Tel : +44 20 7468 5868
Tube : Bond Street