You know the crack at Alain Ducasse at The Dorchester, one of Blighty's quartet to be gifted the Bib's highest accolade. This has been the Dorchester's flagship restaurant for the good part of a decade, though I have somehow managed to avoid it for all these years. As of 2016, there was a change in helmsman, with Jocelyn Herland moving to head up the great Chef(-owner)'s Le Meurice in Paris. The current Chef is young Jean-Phillppe Blondet promoted from his head chef role and now fills the Exec chef spot. JP is a company man so to speak, has been with Ducasse since 2004, starting with Spoon at Sanderson (in London), then to Ducasse's jewel in Monaco and finally to ADAD in 2013 as one of Herland's sous chefs before eventually rising to become his right-hand man.
The room is stunning, manned by a well-drilled FOH whom are true professionals at welcoming their guests to the restaurant. It is what you expect from a restaurant of its pedigree. Even with the Ducasse's stature in mind, I was still thoroughly impressed by the spectacle – truly world class. Ironic considering grand rooms and grand service is fast becoming a heritage feature in The Big Smoke. With the way money flows these days, the major cities on the other side of the globe do grand better (but no longer cheaper) than European cities, but that's commentary for another time.
We were a table of 5, midweek lunch and Damien Pepin, the Restaurant Director offered a carte blanche (charged at £180pp, but more on this later) to showcase ADAD's signatures, new and seasonal dishes. We decided on the carte blanche, though I really had my heart set on the ALC classic dishes. There is always some trepidation with blank cards in expensive restaurants, because I'm human and I want what I want, especially when I pay top dollar for something.
I let Damien know that I love lobster and insisted to have 2 lobster dishes on the menu. The signature with chicken and pasta, the full tail. He nodded and floated away. I hope he got my drift. And of course The Pudding that could not be missed for first timers. After all, I needed a reference point for Baba au Rhum.
For wine, we opted for the top pairing, £195pp for 8 glasses. Alot of white burg, a mature 2nd growth and Yquem sounded like a good punt, and so off we went.
Goujères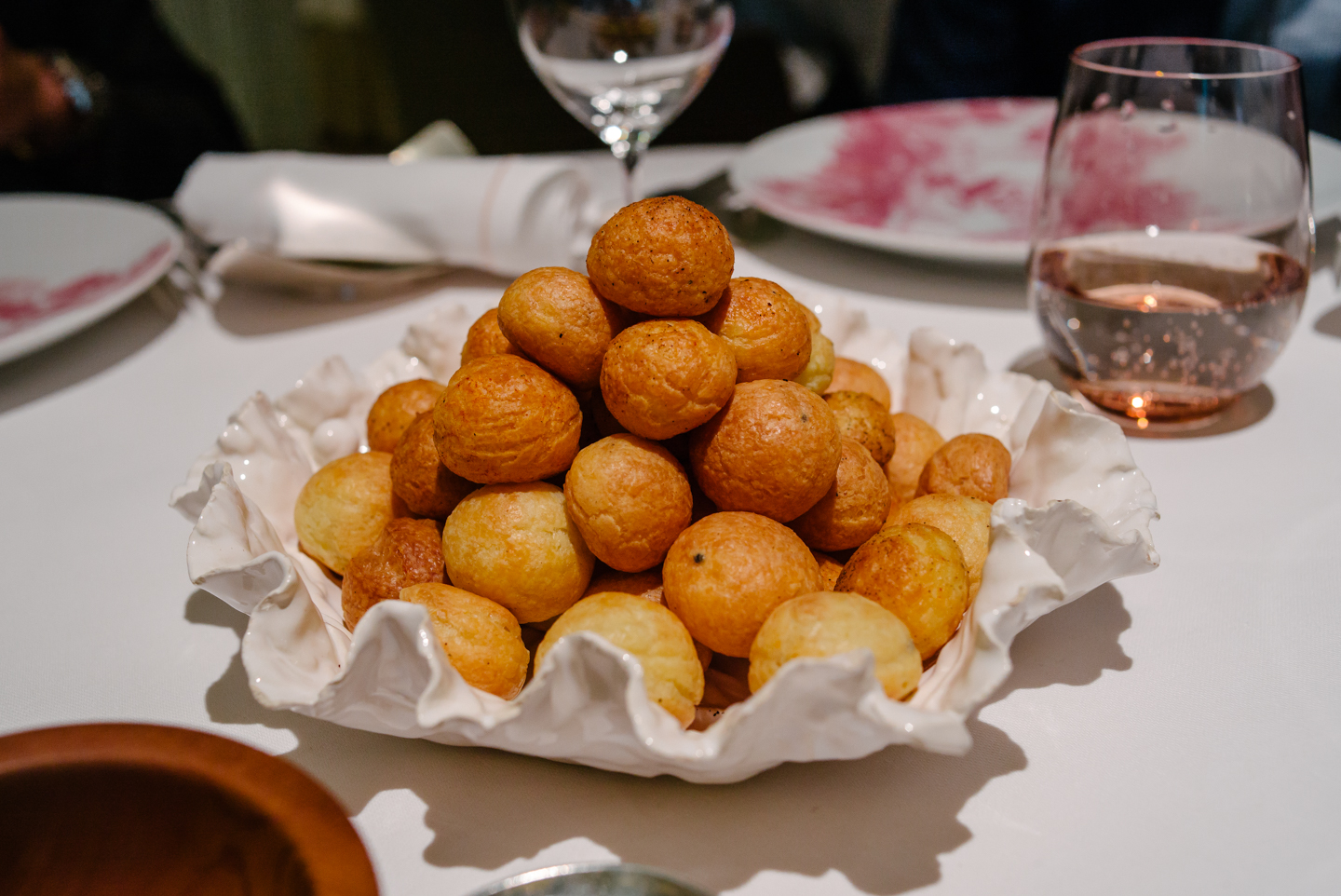 They came cold (intended as in sourdough which is best cold, or was it supposed to be to be served warm?) and to my palate, it had lost moisture and airiness. Light in cheese, so I couldn't say what these were made with. Perhaps emmenthal then, going by other accounts on the web. But no barbajuans to follow.
1. Scotch langoustine tail, Kristal caviar, dried lango roe, creamy nage reduction and consomme
with Henri Giraud Fue de Chine MV10
First off, the Giraud champagne was top-notch.
High quality lango, tail looks like it has seen some heat (a poach perhaps), but it is largely raw and less than mi-cuit (so I will say carpaccio ) , careful cooking, therefore sweet and very enjoyable. Clearly a hen as traces of green coral were visible, and I rather enjoyed the dried lango roe, a "caviar salt" so to speak. This potent nage, which I hazard is also made with lango stock, was superb.
The real star was the consomme, full & rich in flavour, perfectly clarified, I could easily have knocked back 2 more cups.
It is quite a large tail, but not the largest XXL Scotch tails (GR gets bigger ones for example), and a half was certainly not enough. And live langoustines pound for pound is not that expensive, hovering the £25/kg mark. To be honest, I'd rather JP put a couple of tails on the plate, rather than the caviar. Yes, generosity is an important element.
Now to the obvious, as much as I liked not to mention, this is the sort of plating that will only fan the flames of the anti-fine dining brigade as the unfashionable elephant in the room. It really does look as if the Chef though about putting more tails on the plate, but changed his mind on the pass. The portion is stingy considering the restaurant setting and the top tier food & wine prices which we elected to go for. Sure I get it, these guys have bigger spenders on their books, but I think a combined £375plusplus (per person) for food & wine is not an insignificant amount. Even Hedone would reward that category of spending.
2. Saute gourmand of Scottish lobster, truffled chicken quenelles, home-made semolina pasta, mascspone sauce, king oyster mushrooms
with 2015 Saint-Peray, A Clape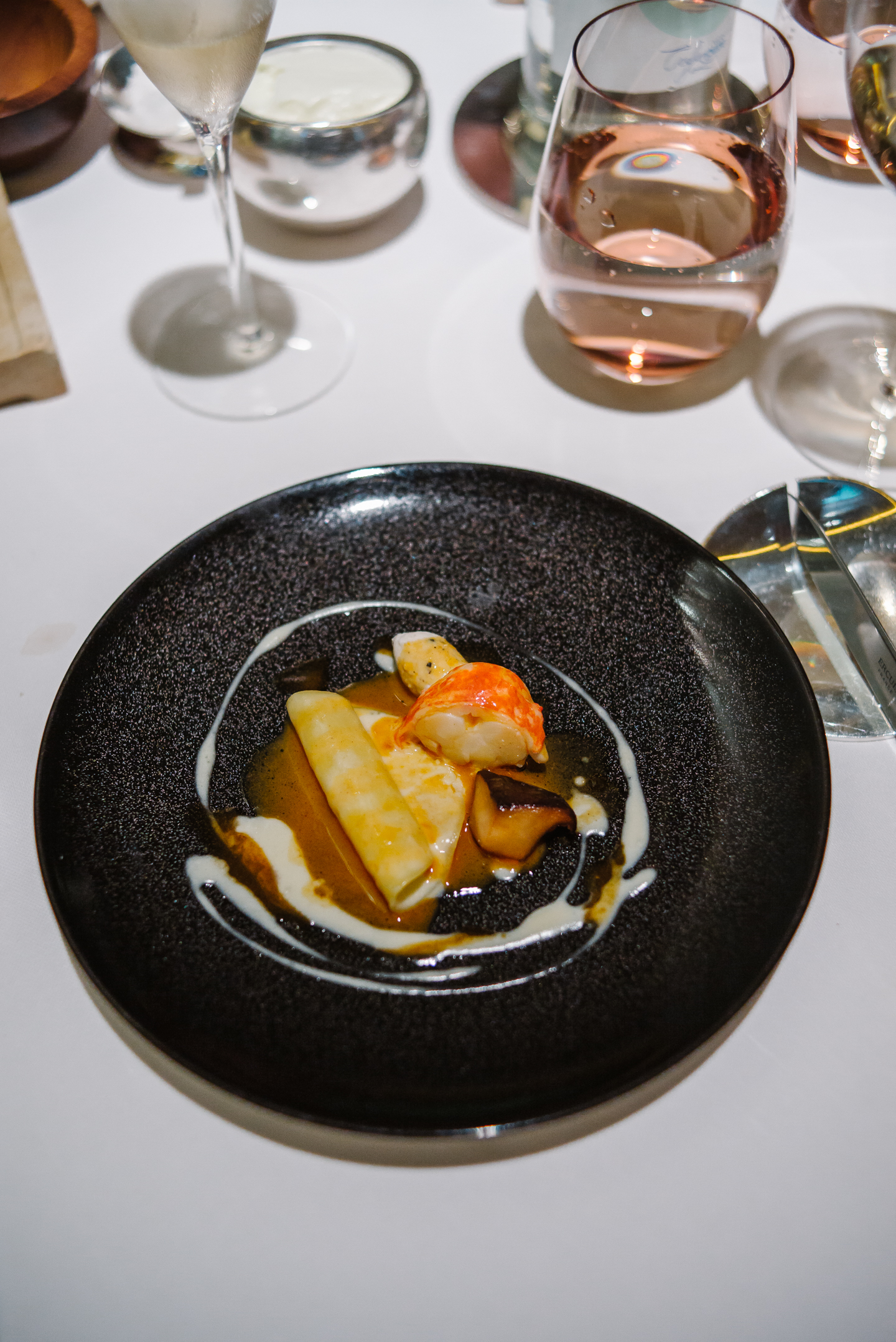 The long standing signature dish here, and it is brilliant. Lobster and chicken come together perfectly, pasta is very al dente (too chewy for some, but for me it is perfect), and the sauce is top notch, goes so deep. No doubt plenty of roasted carapace has been allowed to simmer long enough to extract maximum flavour. And the result is a proper lobster sauce. And this says a lot about the Saucier in a kitchen that does not cut corners.
This is why it is such a shame they sent yet another mealy portion, single pasta disc, single medallion, and no claw in sight. Portion is a problem for this particular dish, as it is in essence pasta with sauce. With this size, the generosity/hearty/satisfaction feelings are absent. Such a teaser portion leaves you wanting a few more spoonfuls. And you get zero closure. The frustration. Perhaps a little worrying is that the Chef seems to have dismissed the gravity of this dish. I get that its a long taster and all that, but some thought should have been given to how this dish is actually enjoyed. If JP's intention was to preserve the overall flow of this meal – it is better to have not sent it at all.
I did ask Damien why he sent such a tiny portion, and he did say that it was because there was 'more food to come'. I have heard that many times before, and more often than not, I usually end up disappointed (and sometimes hungry) after the long meal. I symphatise with Damien, it is hard to read diners, but that is the measure of a Maitre D. I do not feel it necessary to be any more literal than I was, if I have already expressed the things I would like to eat.
Note to Chefs: Be generous, especially with your best dishes. Don't leave people wanting more. It is not a nice feeling to have, especially when diners elect for your top menus.
3. Seared foie gras, grapes and rye condiment
with 2013 Muscat GC, Domaine Zind-Humbrecht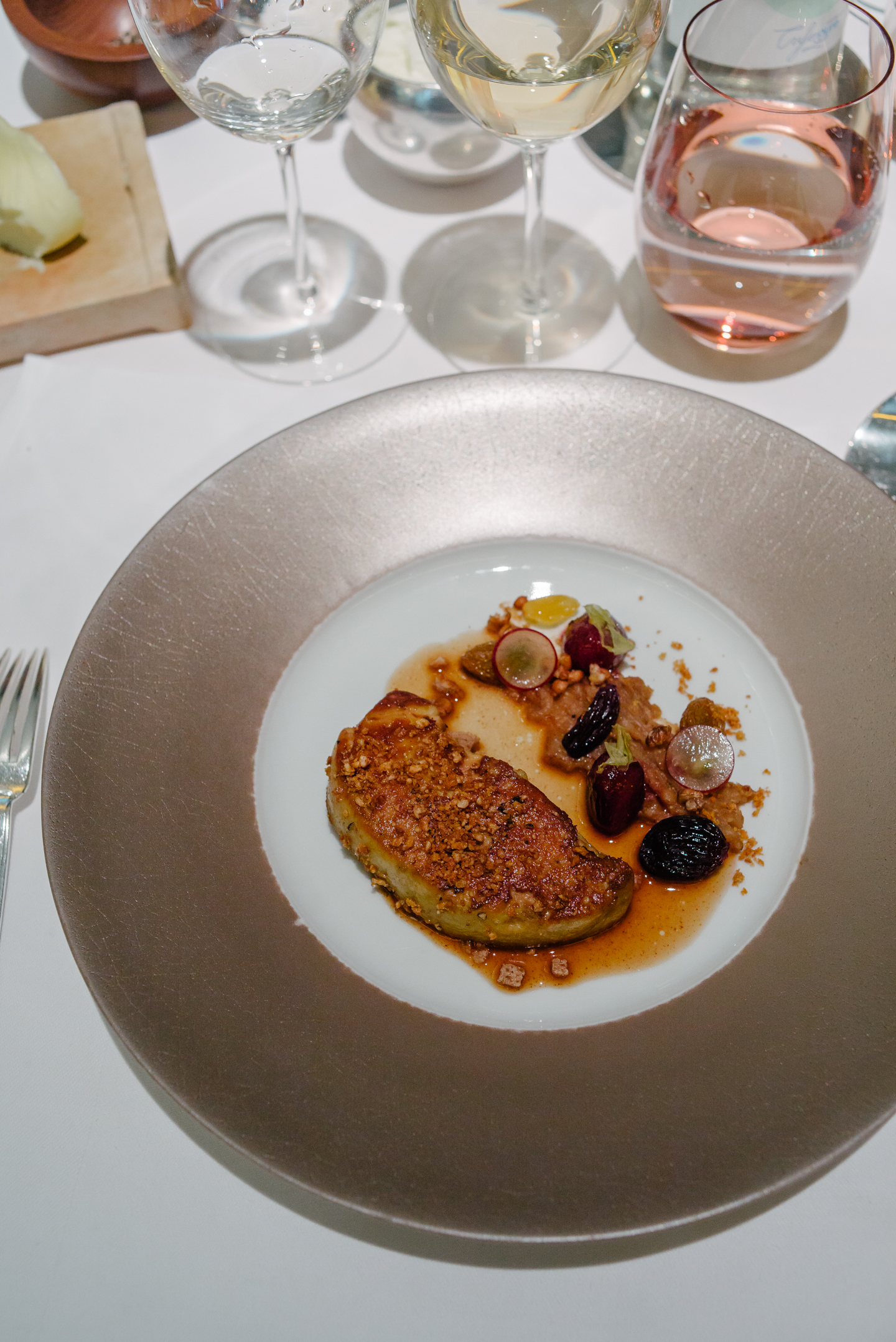 Superb quality foie, perfectly roasted, with a silkened centre that melts on the fork. I wasn't so sure about this rye condiment as it soaked up all moisture on the plate, and made for a rather coarse finish. Certainly it did not gel with classic notions of soft luxuriousness. But the foie was very good.
4. Line-caught sea bass, cucumber and juniper
with 2014 Chassagne-Montrachet, Bernard Moreau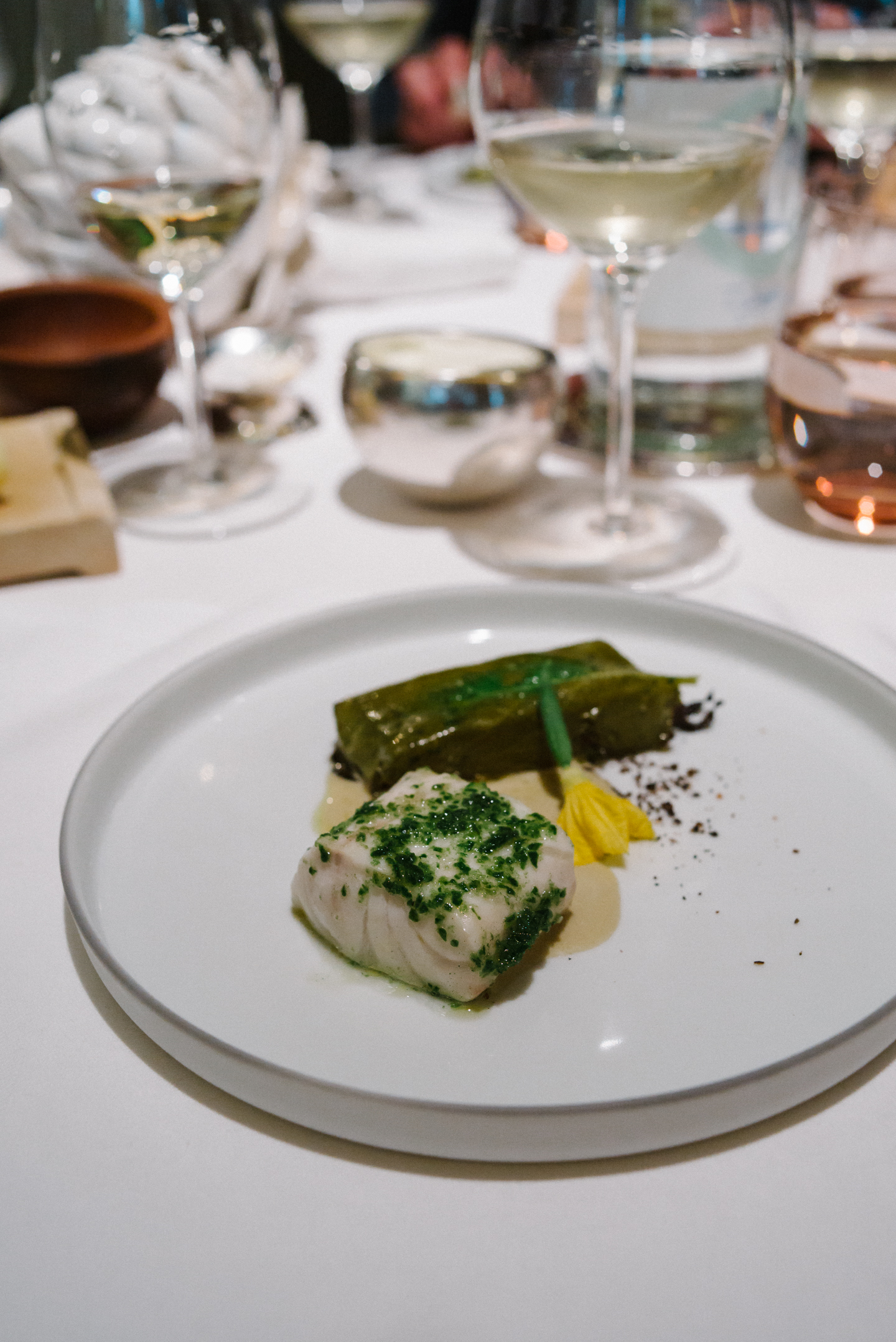 The smell of smoke, a hint of Greek domaldes perhaps, what with the vine leaf wrapped smoked cucumber. The cucumber was certainly the star on the plate, delicious and no issues with the cuisson. I did however wonder about the recipe and overall composition of this dish. Neither ground breaking nor particularly refined, and it almost felt as if it should have been a cucumber dish. Fish not required. A work in progress I think.
5. Native lobster tail, celery and homardine sauce
with 2013 Puligny-Montrachet 1er cru, Champ Canet, J.M. Boillot
Very good sauce, essence of shells, but as a whole, I think this is a lesser dish compared to the Saute Gourmand. As is expected for a restaurant of this calibre, a hen is expected and a hen is what we got. Tenderer and sweeter tails, poached well, yes a good lobster.
But yet again, so tiny. We had to question this, and were told that it came from a 700g native blue. Small. Almost the same weight as XXL langoustines from Skye. For such a tiny crustacean, it should make sense to send the entire tail, or at least a claw. A 700g lobster will yield a very small tail, half the weight is in the claws. Half of that tail probably barely makes 100g on the plate.
In all honesty, I did not understand the celery element. Visually, I thought to be rhubarb, but in a way, I think rhubarb probably would work better as a pairing. It is not out of place to see fruit paired to the noble shellfish to provide acidity. Grapefruit, peach, mango and even strawberries have been successful combinations for many successful chefs.
I did not however appreciate the lobster roe (which has seen a little heat but not enough to turn them red) flecked onto the plate. If it were a restaurant that carried a lesser reputation (and slimmer bottom line) then I would have intepreted this as a smart use of the entire animal. However, in this instance, I would much rather have seen oscietra caviar. Nitpicking yes, not harsh in the context of the 3 stars which it has. Therein perhaps is the root of the issue, the weight of expectation and in this instance, the bib is probably a little generous with handing them out.
6. Anjou pigeon, aubergine, lemon balm and sardine bones
with 1988 Chateau Cos d'Estournel
The 88 Cos was youthful and singing, flaunting its cedar and pencil lead in all its matured glory and enticing the palate with the hallmark purity which Cos is known for. Nothing beats a good bottle of mature claret.
The sauce taking limelight again, and this (offal) sauce bursting with aroma, well balanced with stunning acidity (from lemon balm I think) and is top notch work.
Good confit aubergine (even though they should have dressed it) and I do think of Summer nasu dengaku, specifically Pascal Barbot's steam and bake version… but also I think of it served with lamb. This is a problem.
With sardines (or another salted fish say anchovy), I find that the pairing of pigeon is not ideal. Given that we are midsummer, and the expectation of produce, a little salt marsh lamb seems more apt for the season, and a little more colour couldn't hurt either.
Cooking on the squab was good, pink breast, but I would have much preferred a cripsy skin, as well as the missing leg. IMHO there are better pigeons elsewhere in London, and you know where those are.
It would be easy to jeer at the fish bones, though I see it as a bold move by the Chef to plate it and wholly respect the risk taking. However I still couldn't shake the feeling that recipe was confused and says more about despair than confidence. A good squab does not require the surprise of fish bones. It ate well enough, don't get me wrong, but this dish just fell short of being captivating.
7. Bernard Antony 3 year old Comte, truffle condiment
with 1995 Madeira, Verhelho Colheita, HM Borges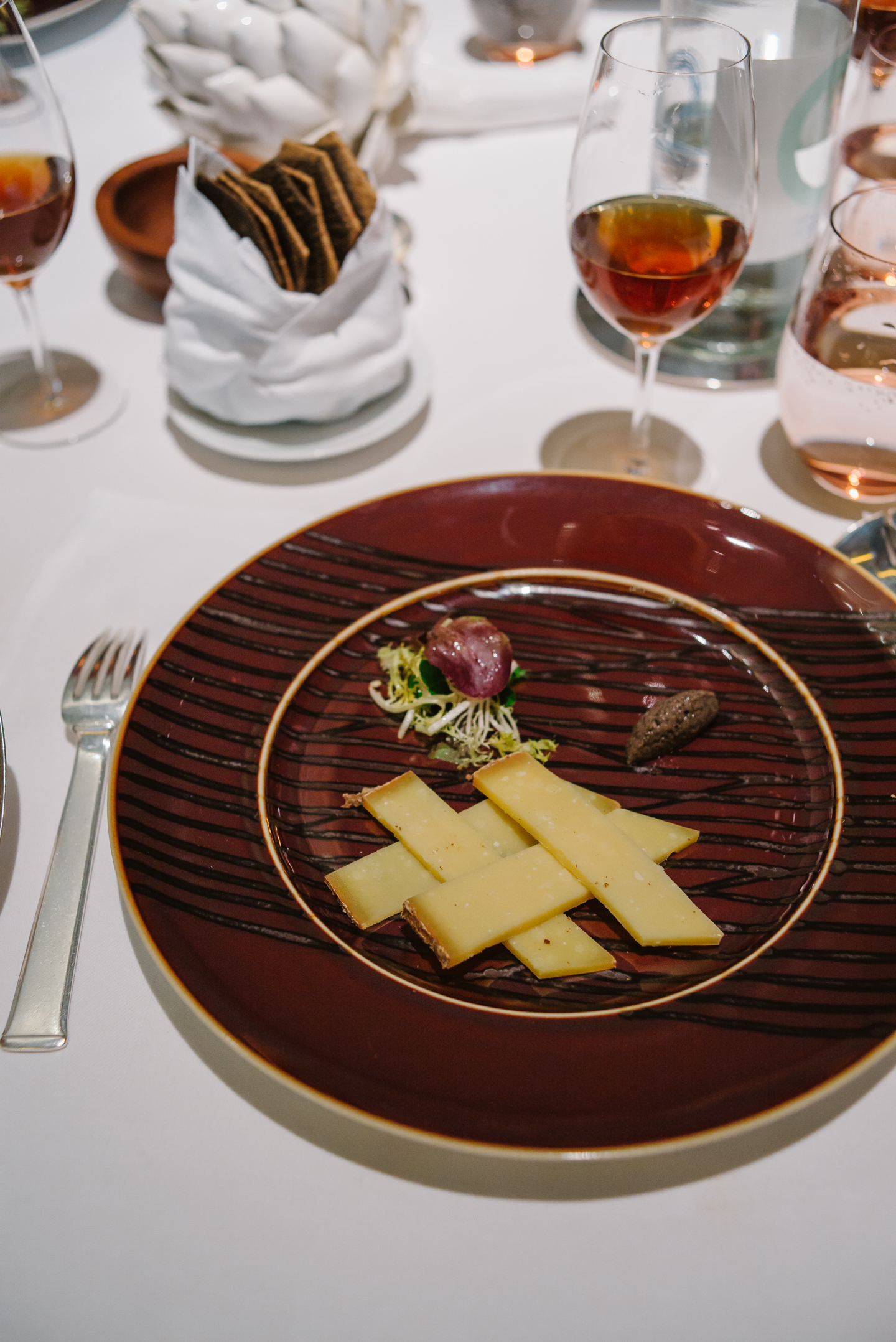 The real deal. The only thing better than Antony's 3 yo Garde Exceptionnel are his 4 yo Garde Exceptionnel. I like the truffle condiment, a nice touch and honestly comte and truffle go well together. Although if I am honest, as we are in OZ winter truffle season, a couple of cheeky shavings would have been a classy touch.
-petit fours-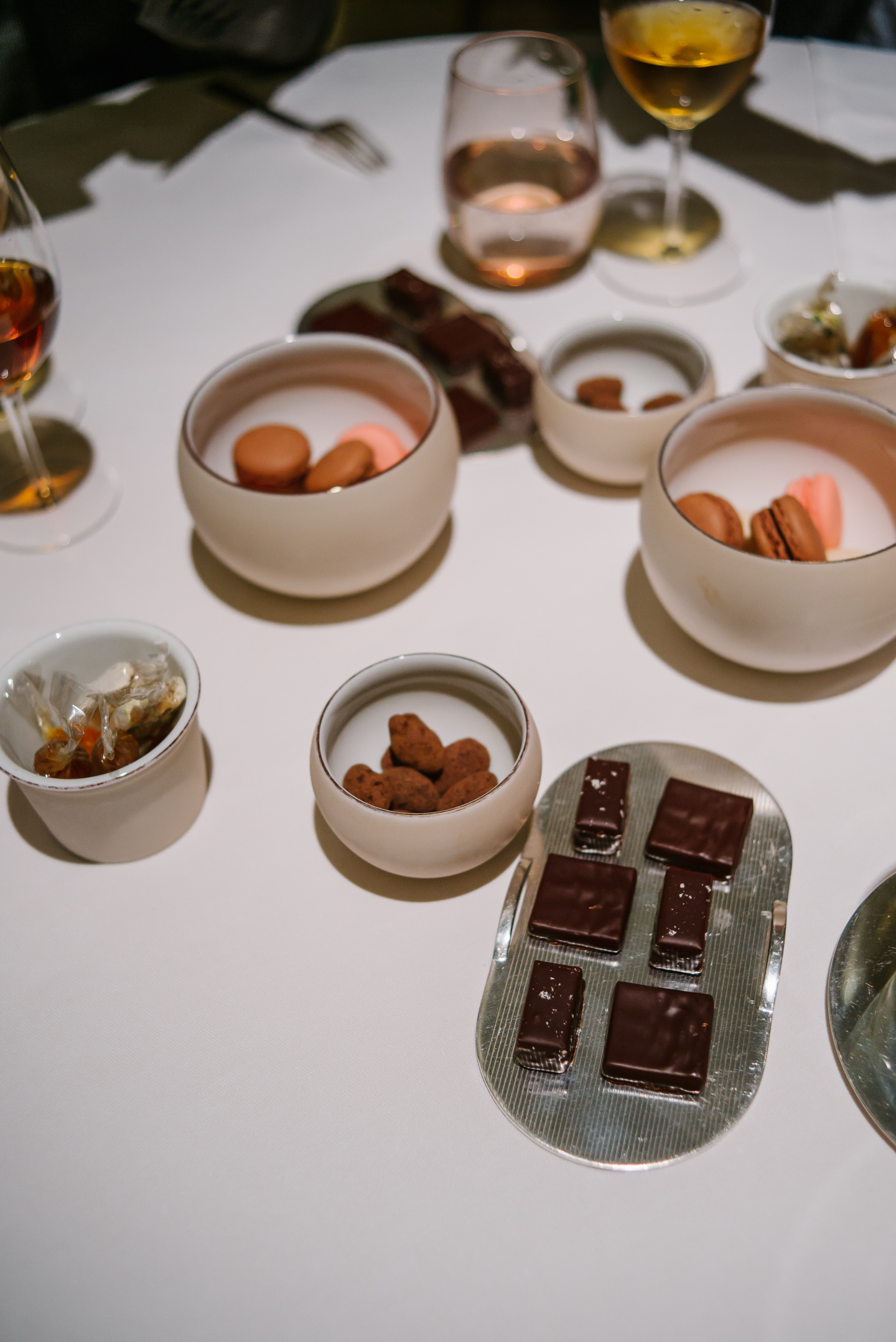 ….before the pudding. Yes, but then it becomes a distraction, so…
8. The Thing You Come To ADAD For
with 1998 Chateau d'Yquem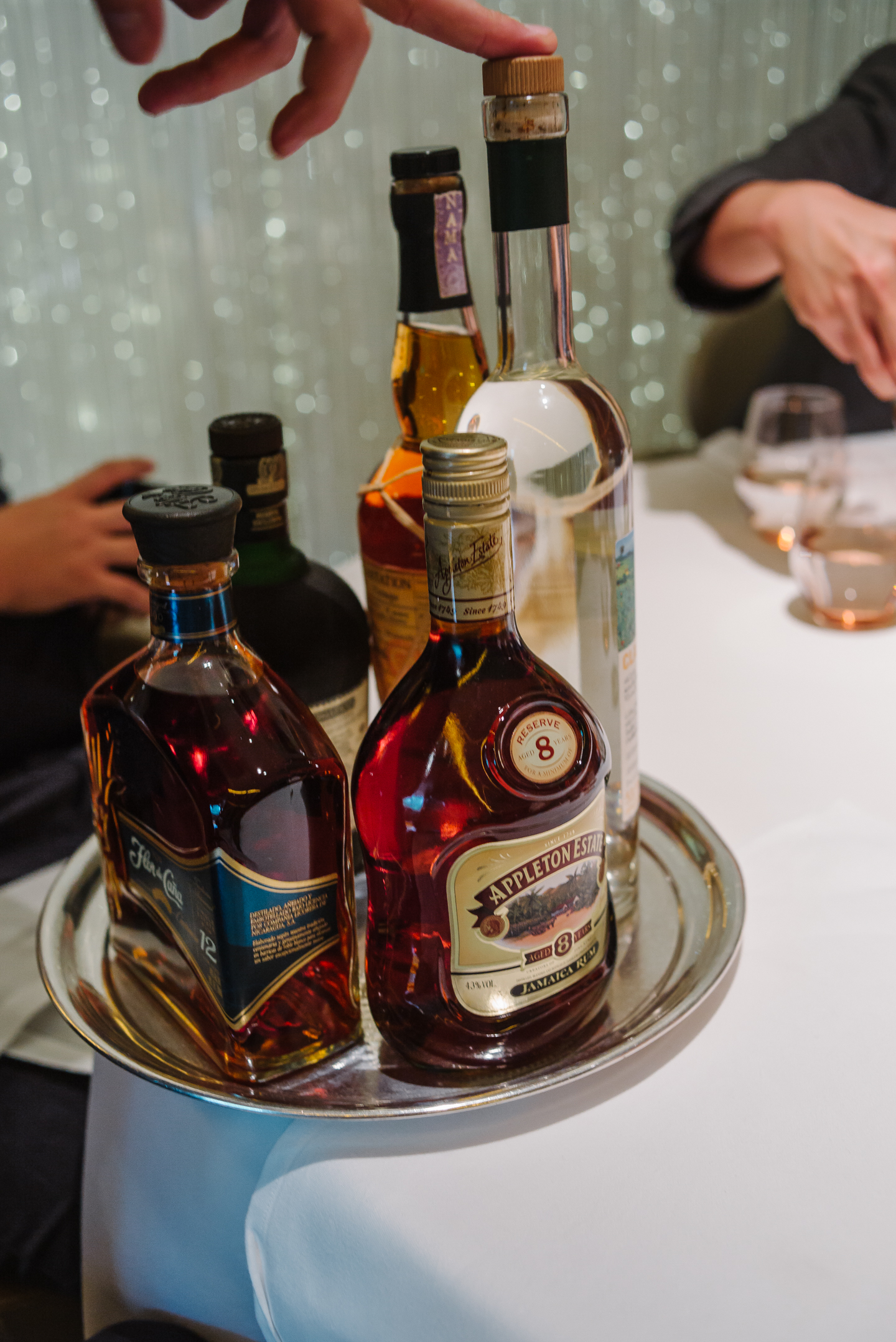 You know this one. Paired with a 1998 Yquem that was in fine nick, as amber as the shiny glaze on this Baba.
Yes. This is true 3 star pastry work as many have said, and is a reference point for rum baba. Ethereal lightness, but what is most beautiful is the vanilla chantilly whipped to very very soft peaks, smooth, silken, and yet also filled with plenty of air.
Not to mention the well-choreographed presentation to dress the baba, all five in unison. The baba dance of sorts. At this juncture of the meal – it shifted into Three Star territory. This was superb.
8.2 Eton mess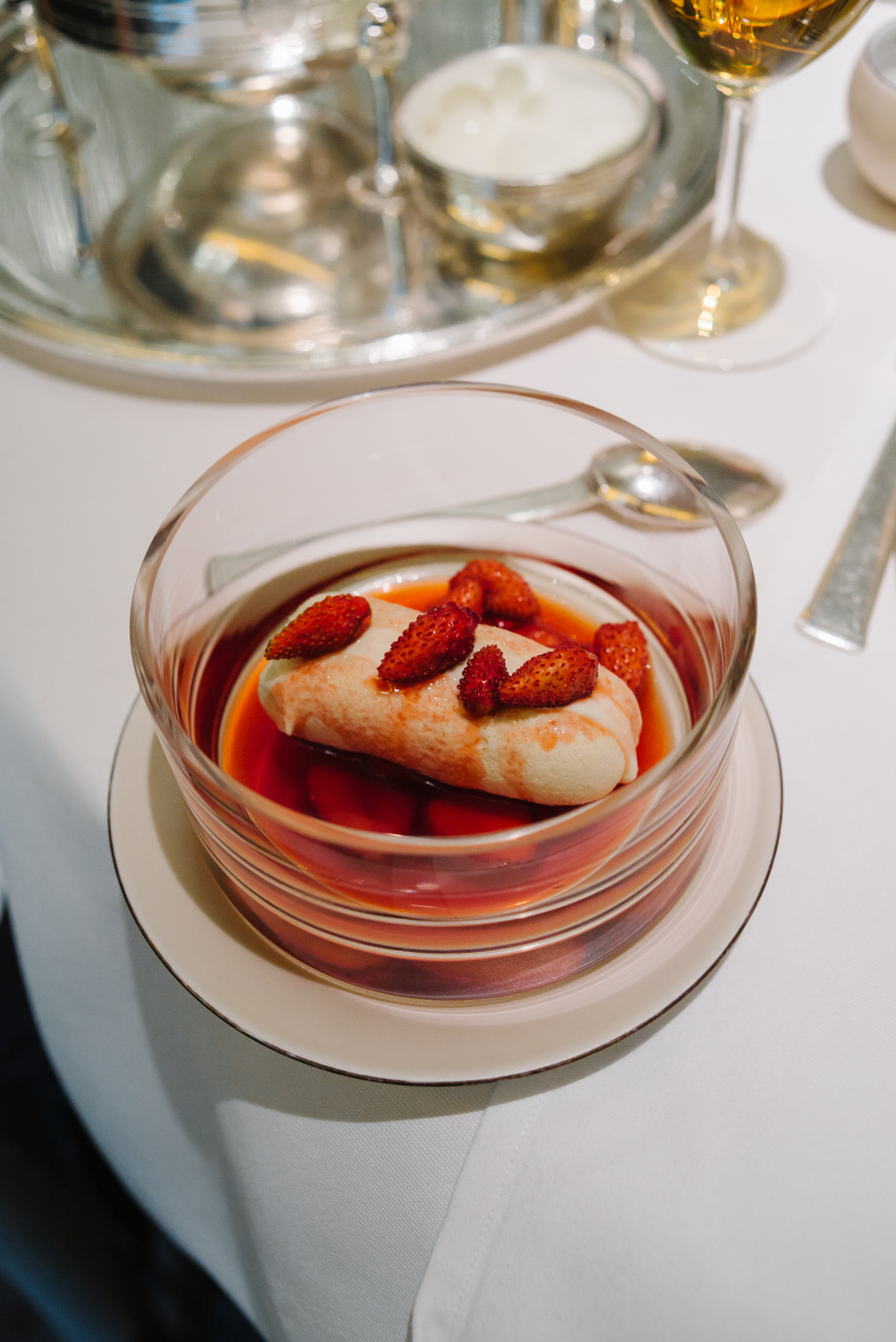 With wild strawberries. Actually very good as well, just overshadowed by the sheer magnificence of the baba.
We also had a few tea infusions, from fresh leaves grown at the Hotel's roof top. I chose lemon verbena (£7 a pop).
And so that was that. The bill came to £2278 in total for the top taster menu, wine pairing, 1 aperitif each, 3 bottles of water, 5 teas and service. That's £455 per person. A lot of money to pay.
First of all, the service is world class and the room is worth its weight in gold. I really hope they keep up this level of service, it truly is world class. So too were the wines, the madeira aside, there were no duds in this line-up. For the money, this premium wine pairing was actually pretty good, generous pours and top labels, just about par in terms of bang for buck.
The cuisson cannot be faulted, after all, JP does have more than 20 pair of hands in his kitchen and it is a full blown practice of Classic cuisine. Precision and consistency as is expected from the scale of operation, but I think what all this betrays is the lack of personality at its core. Far from being emperor's new robes and all that, there is plenty of substance every where you look. ADAD is a model of a serious restaurant, there are no short cuts, and everything is by the book. That then is perhaps the root of my ambivalence, that this entire operation feels like it is dictated by a set of instructions. Blondet may be No.1 at No.53, but he is not the soul of the restaurant. He can't because it is someone else's name above the door. The emotional connection is separated by so many layers of filters that by the time the food arrives at the table, some unquantifiable flair is lost. Not unlike Robuchon or Herme's global empire, there is the corporate feel of homogeneity rather than spontaneity. Everybody loves a Goliath slaying after all, sadly this meal did not help the case.
It really isn't the restaurant's fault that the Bib thinks it is worth 3 stars, though it is this rating that works against it. My opinion is that this is 2 star cuisine , with a 3 star pastry section and world class service. 2 stars is not a bad thing. Things peak and fall, new flavour pairings get invented, eating habits change and the scene moves forward. It is the way of the world. There are whispers of heritage 3 stars, some restaurants that The Bib cannot afford to dock for historical reasons, a gentlemanly honor if you like, for an illustrious past, and I get that. Maybe it is time for ADs to fall in that category. Bocuse, Taillevent, nothing wrong with that, still respected by the wider public. I say this, because I think in London, its peers already match or surpass it. Relative to the competition, I do not think its cuisine to be necessarily superior.
It is easy to write it all off as old-fashioned fine dining, but in truth this is a solid restaurant with a hard working team that does not cut any corners. The sauce making here is world class and fast becoming a lost art, but not here, where it is a masterclass of how it is done.
There is also the small matter of a paying customer who had tried his best to communicate what he wanted from the meal. Nobody goes to 3 star restaurants on the off, it is always a special meal and expectations always run high. That they did not hear me properly is an indication that ADAD were too pre-occupied with what they wanted to show us, rather than cater to what we wanted to eat. Say what you like, but I symphatise with the wringing of hands who suffer taster menus. If you must serve it, then be prepared to be judged on it. After all, this is both the beauty and randomness of the hospitality trade – it is based on solely feelings of the paying customer. Harsh yes and hardly objective, but at the end of the day, it is the punter doing the gobbling.
Details
Alain Ducasse at The Dorchester
French
£100 for 3 course ALC
£140 for 7 course standard taster
£180 for 7 course seasonal taster
53 Park Lane London W1K 1QA
Tel: +44 (0)20 7629 8866
Tube: Hyde Park Corner