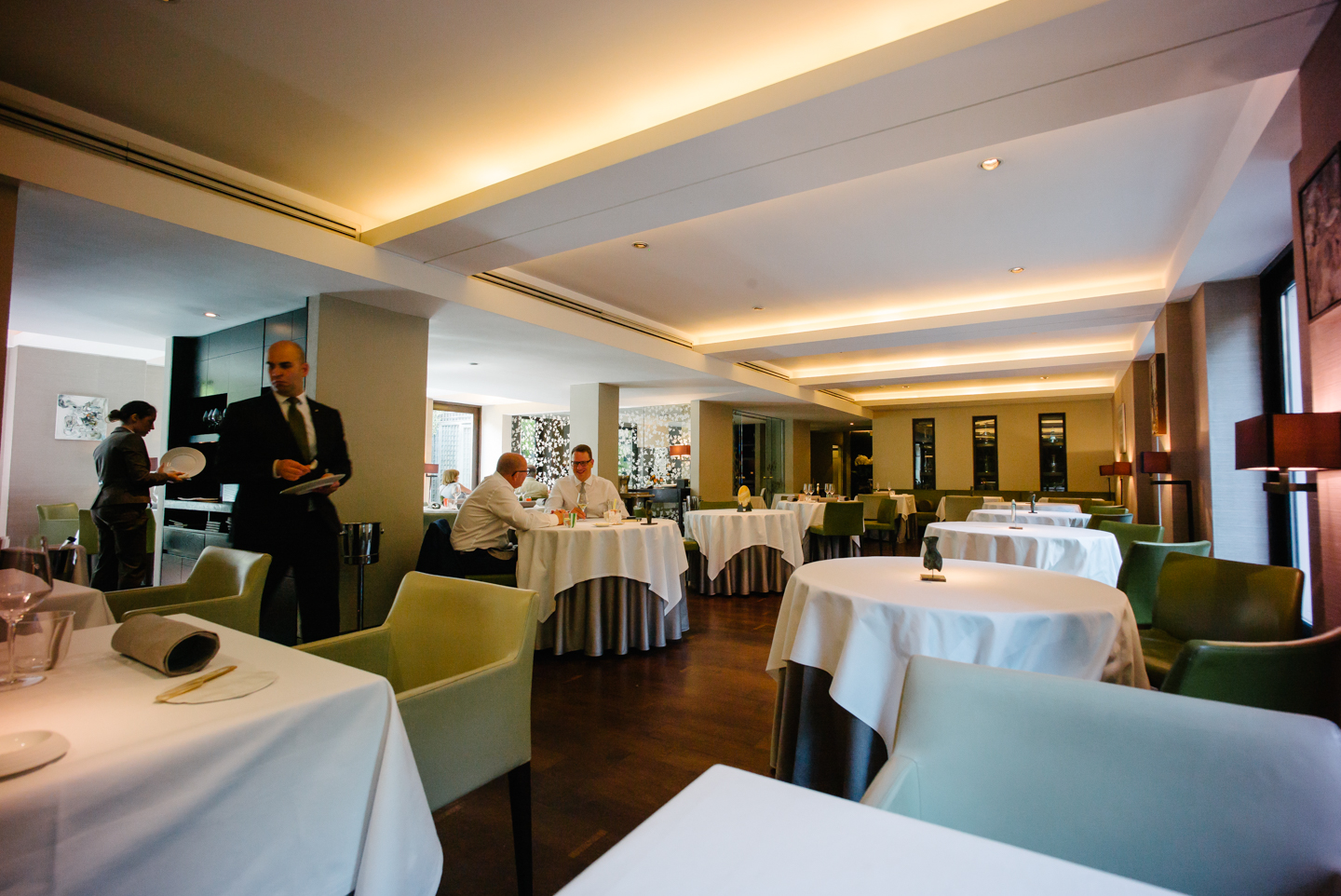 Amazingly this is my first trip to The Greenhouse. It is not a new restaurant, if my facts are right, has been around since 1977 under other auspices across the decades, until Marlon Abela purchased it in 2003. Abela retains ownership today, with Umu and The Square being the other jewels in his constellation of stars. Different head chefs have come and gone, and currently the restaurant is helmed by Arnaud Bignon, taking over from Antonin Bonnet in 2012. Arnaud's last role was Spondi's in Athens (where he became the first Chef in Greece to win 2 stars), and before that he had spent 7 years as sous chefs to legend Eric Frechon of Epicure, Le Bristol.
Arnaud has held on to his 2 stars at The Greenhouse since 2013, and by many accounts has been producing stellar classic cuisine that leans towards lighter styles, with some Asian influence and plenty of seafood. No doubt a consequence of his time spent in sunny Athens. As it should be for multi-stars, Arnaud gets his hands on the best produce he can, so much so that the first page of his menu begins with a list of provenance and suppliers. A swift scan reveals the usual suspects, some also used by Arnaud's London peers, as well as by Abela's 2 other gems in London. There are some delicious starting blocks listed including Mesquer squabs (also used by Tom Kemble), Limousin veal, smoked eel from The Dutch Eel Company (gold standard stuff) and of course some lovely fish from the West Country and Scotland.
This restaurant somewhat creeps under the radar, perhaps due in small part to the secluded location, which I do love; a discreet setting, as you descent into the mews. I was greeted by Marc Piquet, the GM (with Somm background), a beaming kind of guy who radiates warmth. Tip top service, and the rest of the FOH are also like that. Pretty formal, yet pretty relaxed.
Set lunch for £35, 3 course ALC is £100, 6 course Taster for £125 and the full Discovery menu (delivered as a surprise Carte Blanche) is £145 for 10. I was very excited about this visit and wanted to try everything, so I opted for the full load, plus a supplement course and the matching wines.
0. Canapes, bottom to top: Seaweed Biscuit with Cucumber Jelly and Tobiko; marinated beef tataki with feuille de brick; Pea & Wasabi Marshmallow and wasabi dusted peas.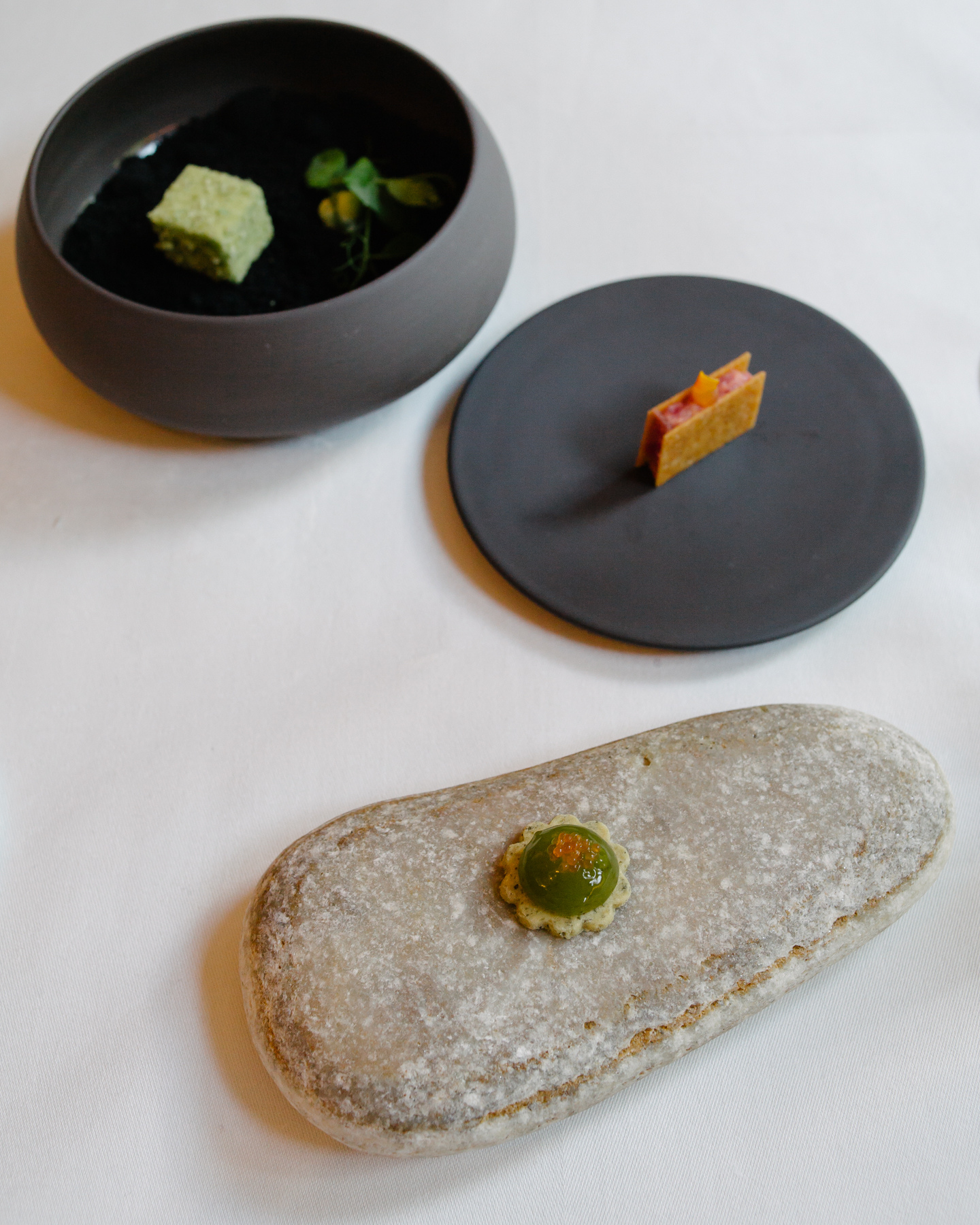 Tasty little morsels, carefully made and light in style, it somewhat reminds me of Chinese New year nibbles, especially the wasabi peas.
1. Dorset Crab, mint, cauliflower, granny smith apple, curry
with 2015 Saint-Veran, Domaine de La Croix Senaillet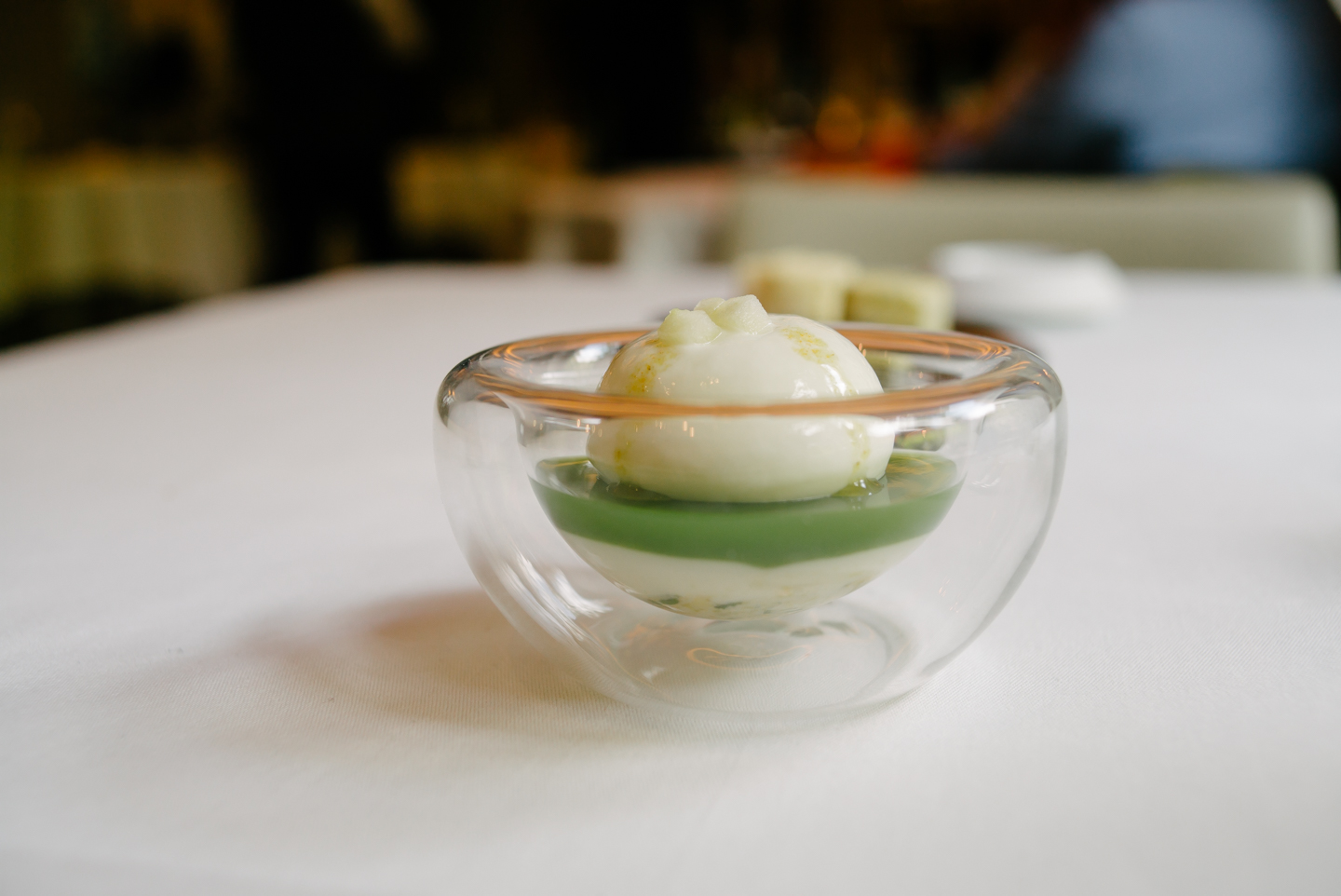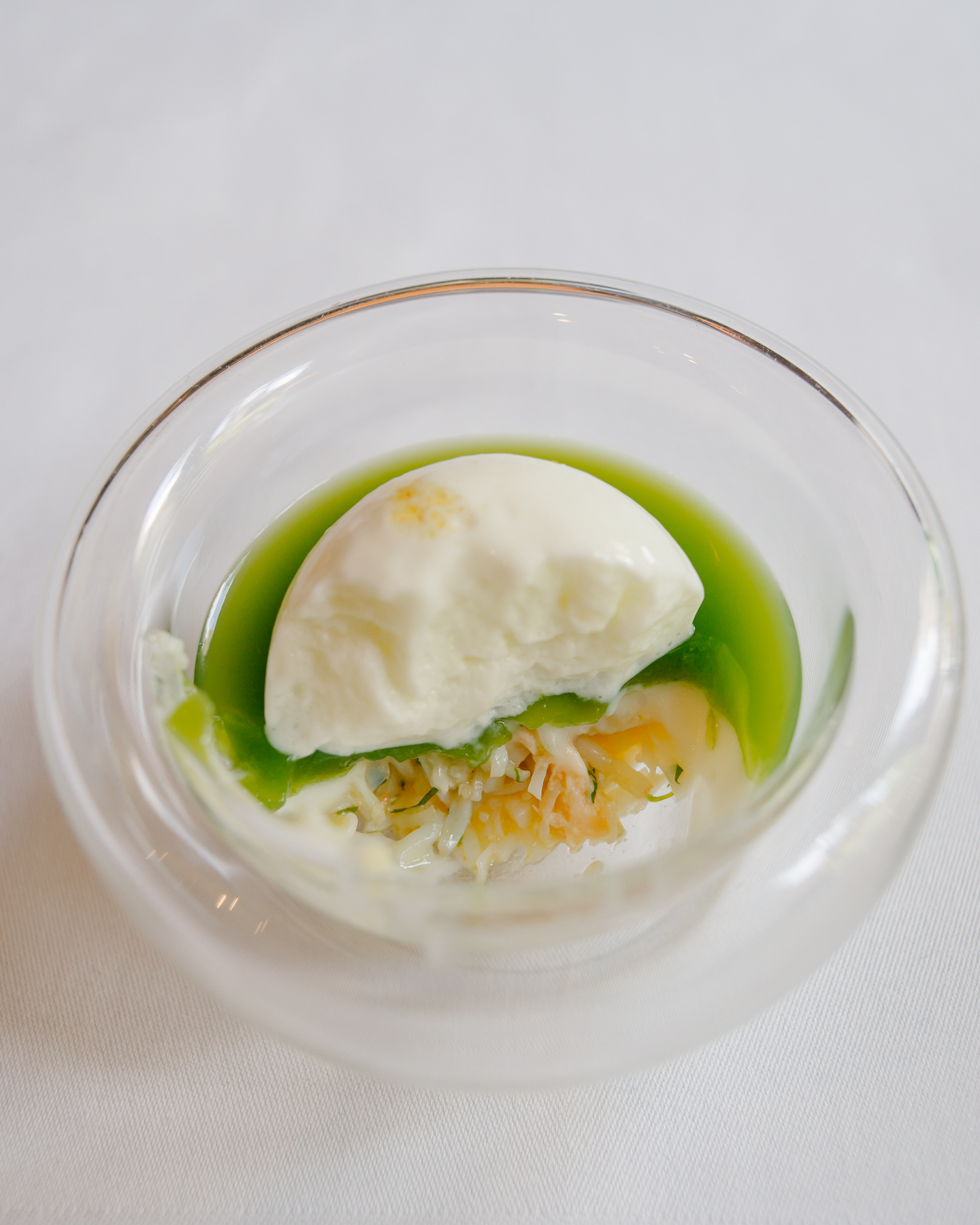 The meal kicks off with one of Arnaud's signatures, picked crab cauliflower puree, mint jelly and an espuma of granny smith apple with a touch of curry powder. It sounds complex on paper, but all ingredients come together beautifully to complement the natural attributes of the crab, this picked from a 3.5kg beast. I thought the granny smith foam was excellent, very stable, close to a very airy mousse, together with the curry oil, it had me wondering if it were green mango. Served cold, it is like a great Clos Ste Hune reconstituted as a plate of food. It is rich, but rounded and so refreshing. Gorgeous.
2. Potato ice cream, parsley sauce and dried baeri caviar
with 2015 Grüner Veltliner Hochrain, Veyder-Malberg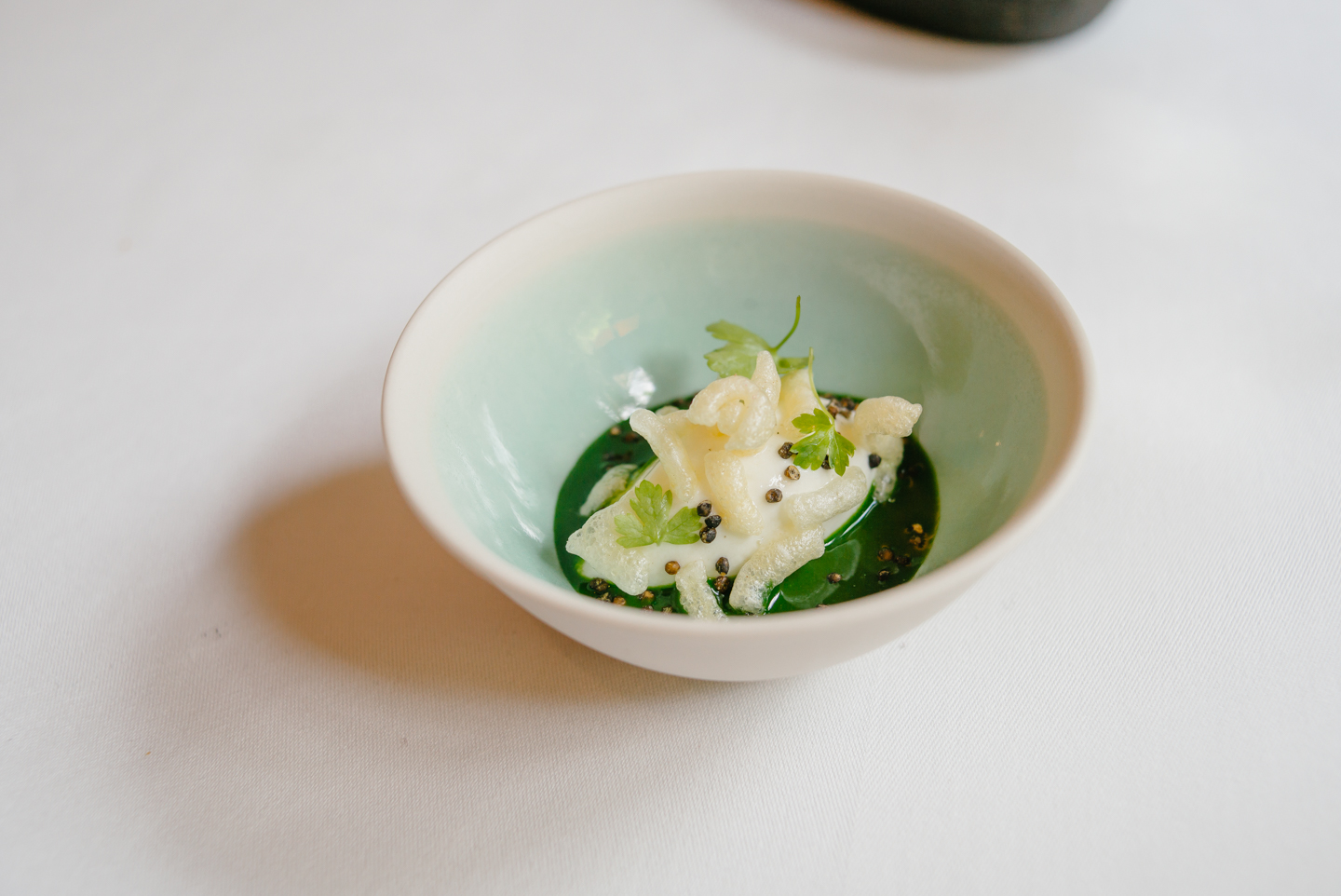 Profound little dish here, that was only recently added to his Discovery menu. This eats like a cold inversion of potato puree with gravy, that feeling of savoured satisfaction, and is a dish suited for the summer. There's also the textural difference between these popped crisps, like little baked souffle potatoes collapsing into the ice cream when eaten together. The best part perhaps is the dehydrated caviar. I've never come across it before, and dried like so, it is similar to bottarga in texture. It however delivers a much, much cleaner, purer and longer iodine finish as it serves to season the dish.
3. Orkney scallop tartare, Green zebra tomato, lemon balm, yuzu
with 2012 Riesling spatlese, Wolfer Goldgrube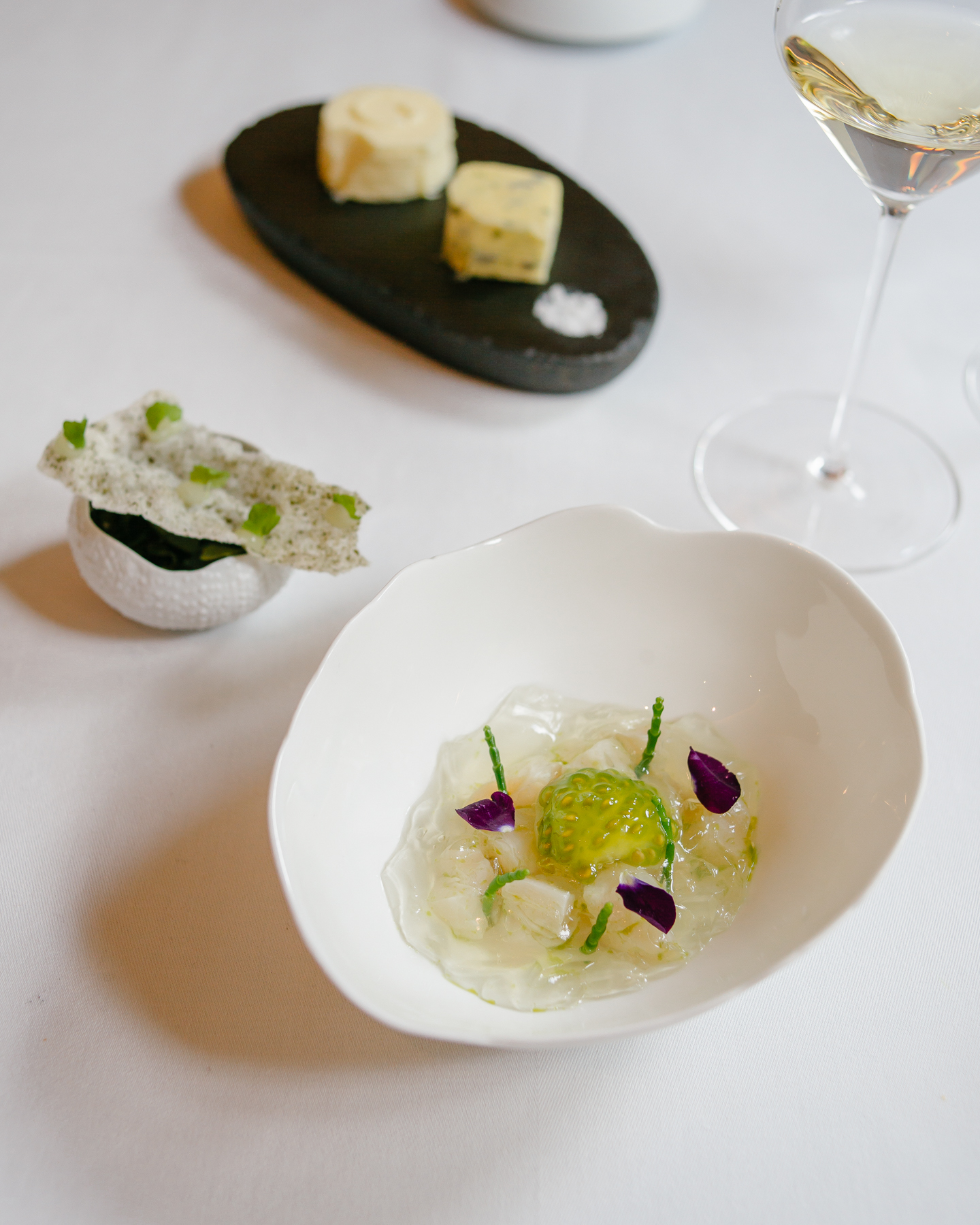 Refreshing, tomato jelly is Summer's gift of umami. But this really is about the quality of the scallop. I have no doubt it is freshly shucked, of the fist sized kind; Firm and flesh chunks of tartare. Incredibly sweet, jewel-like, like eating compressed lychee and longan.
What is very good is the nori crisp on the side. Dusted with scallop powder, topped with yuzu gel. It brought a parallel dynamic to the tartare. There is depth to the cuisine.
= Supplement dish from ALC, +£55 = Carabineros Prawn, 2 ways, stacked plates
with Meursault Les Tillets, Patrick Javillier
I saw this on the ALC and was intrigued by the 2 ways serving. I love 2 way dishes for shellfish (especially for Lobster) and had to give it a go. It isn't cheap, but then again, big Carabinero prawns are rather expensive things. Look around and it is likely that they cost 3x more than a decent hard-shell native lobster. Such a noble shellfish called for white Burgundy and apt one, as the Meursault has the right body and minerality to duke it out with the prawn.
1st way: Cooked over charcoal, served with yuzushu and almond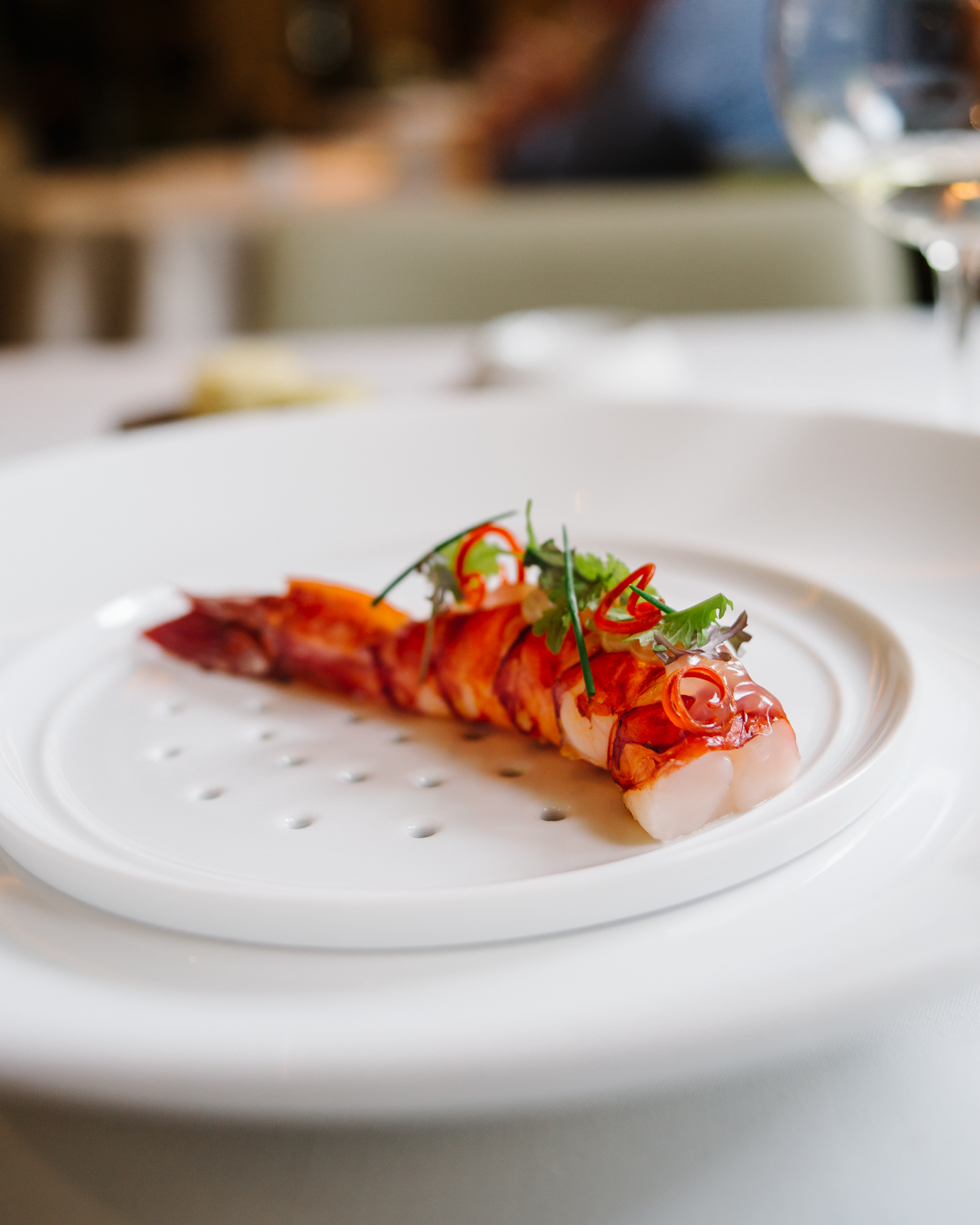 The dish starts with smoke billowing from the lifting of an opaque clotch to reveal the shelled prawn, head-off, tail attached.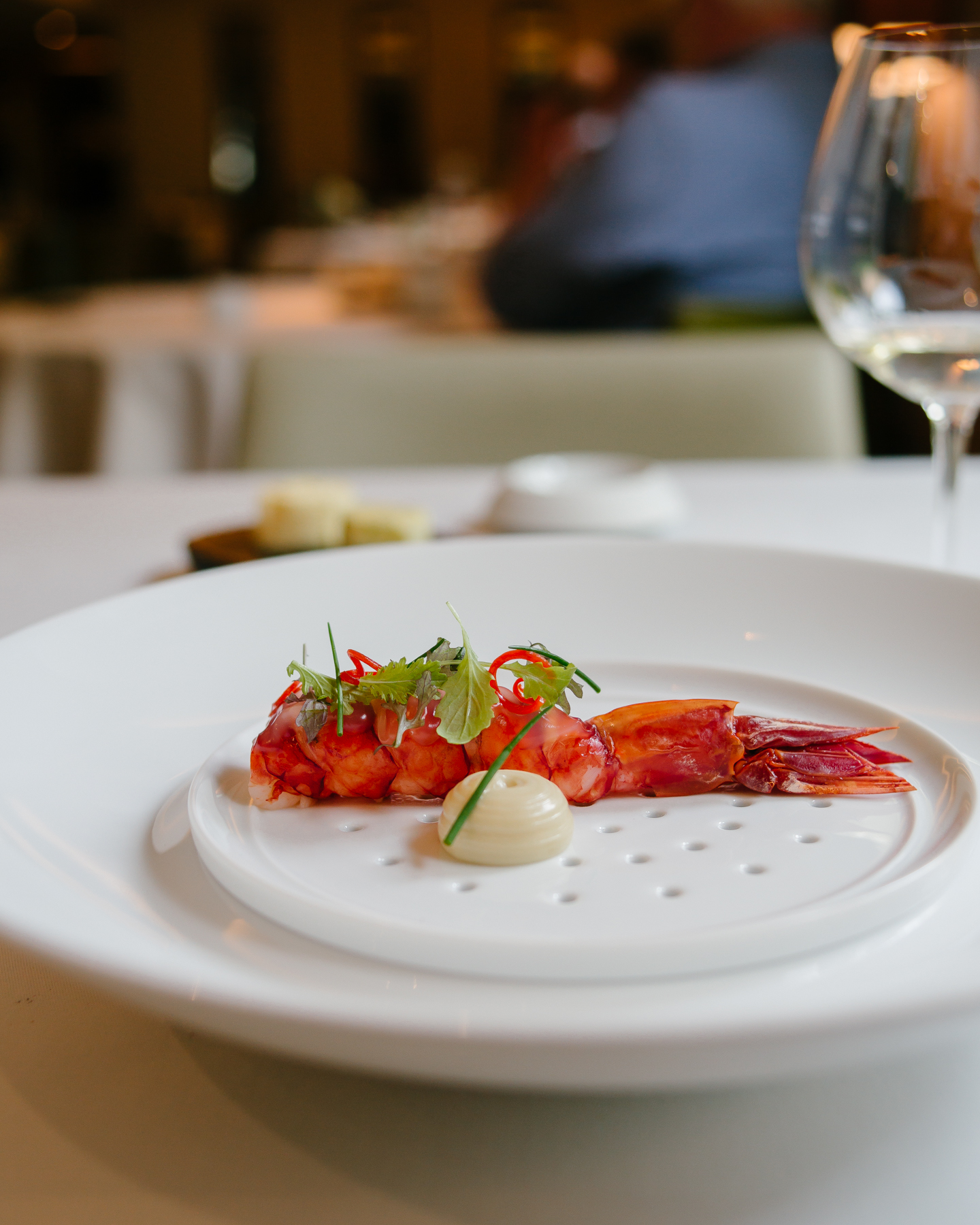 Gently and perfectly cooked in a green egg to mi-cuit, firm, with a subtle hint of smokiness lacing the vibrant rush of brine sweetness, matching the saturated colour of the prawn itself. Marc said just to pick it up and suck the tail, and indeed the best way to finish it off. I love this, restaurant dispensing with formalities in service of ultimate satisfaction. The incredible nobility of the shellfish called for a very sensitive hand to tune the second fiddle, and here I thought Arnaud did wonders to enhance natural flavours. Yuzushu thickened to a gel, and I particularly like the slivers of red chilli, a cheeky hit of heat to brighten the palate. Almond paste was something special – dense, buttery, sweet, which I thought stood up well to the prawn. Complexity abound, and a giant red prawn that was worth its weight in gold.
2nd way: Carpaccio with cucumber, radish and black olive puree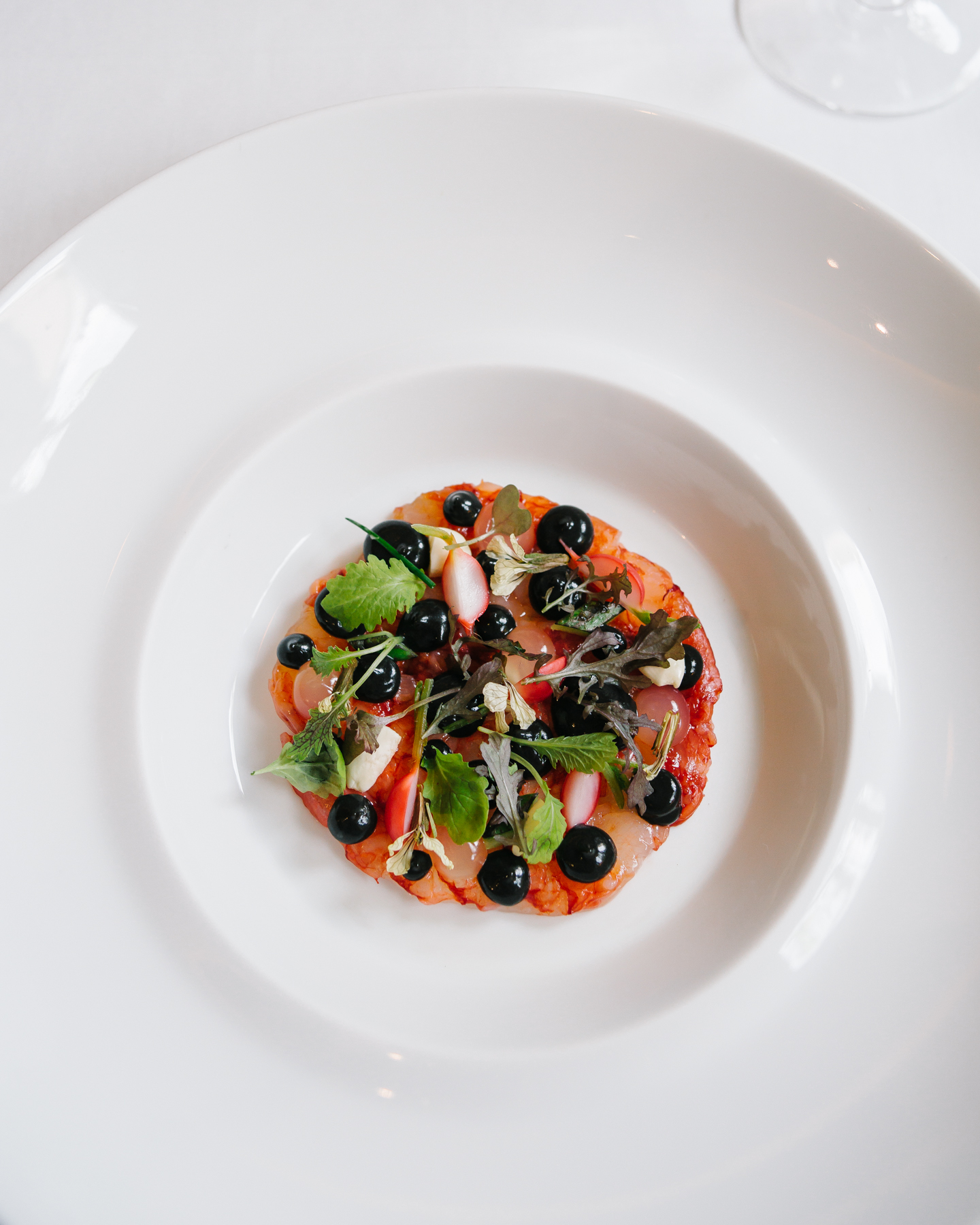 After you polish off the tail, a rehydrated hand towel appears, and the top plate is lifted to reveal the 2nd way – a carpaccio with radishes, black olives puree, and the bisque somehow distilled into the raw prawns. Deep sweetness and deep brineness, firmness, simply stunning. I'm a fan of the romance of Passard's lango carpaccio, but this Carabinero version is next level delicious, the analogous of projecting 70mm reels on to your palate.
This is an amazing dish, one the best things I ate this year, well worth trying if you are a seafood lover too. Fantastic product, carefully handled, and the result is pure and utter joy.
4. Seared foie gras 'Domaine de Rouilly', cherry, elderflower, almond
with 2015 Condrieu, Cote Chatillon, P et C Bonnefond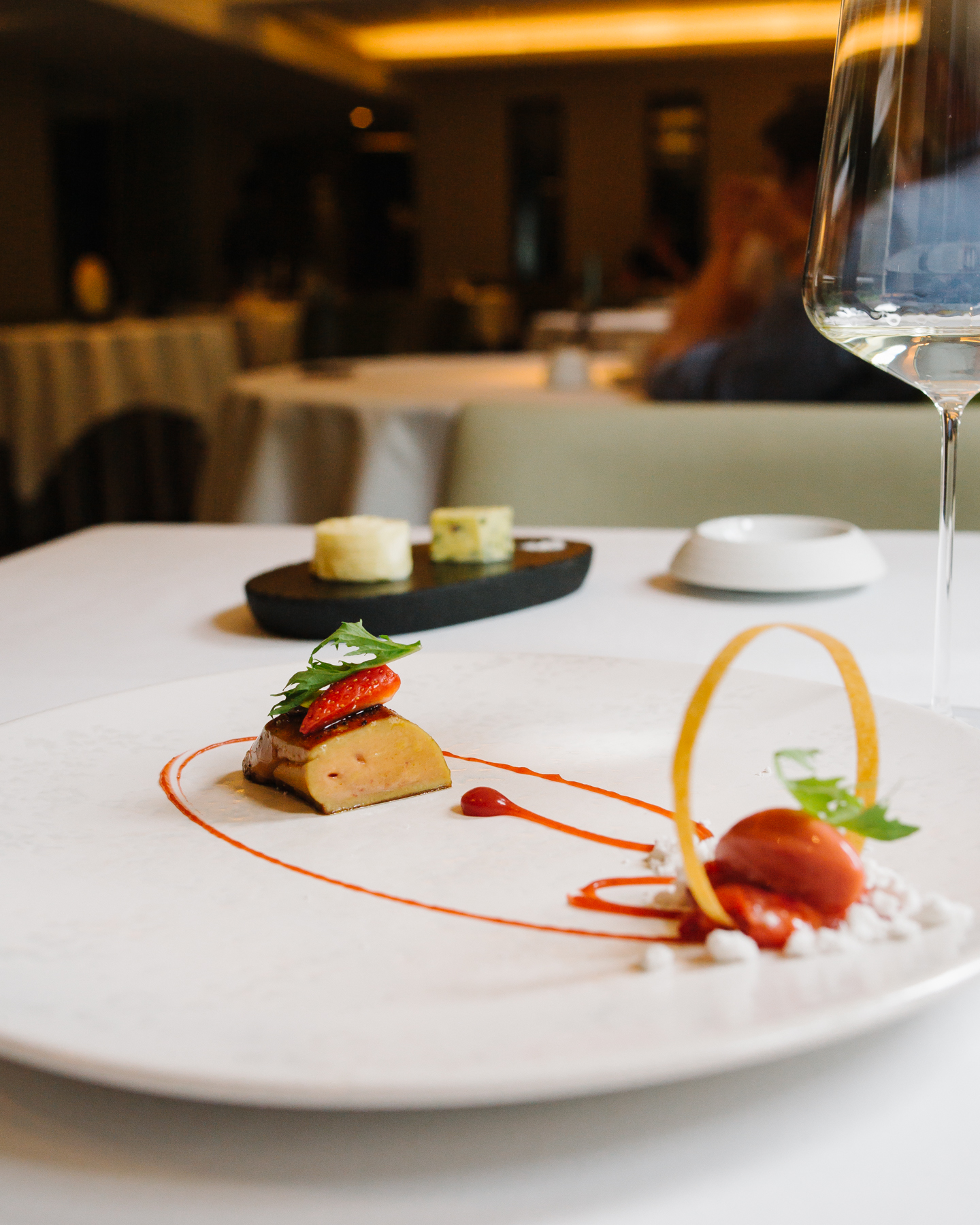 Perfectly cooked foie, tender and silken, leading me to wonder if he had firstly steamed it prior to the pan finish. The sweet cherry sorbet obvious foil to the rich liver, though I really liked the gariguette topped on the foie – salted. A small touch, but one that does wonders to balance the dish. This is a skilled Chef for sure.
5. Turbot, avocado, coffee, cockles, sorrel
with 2014 La Lence de Fontbonau, Domaine de Fontbonau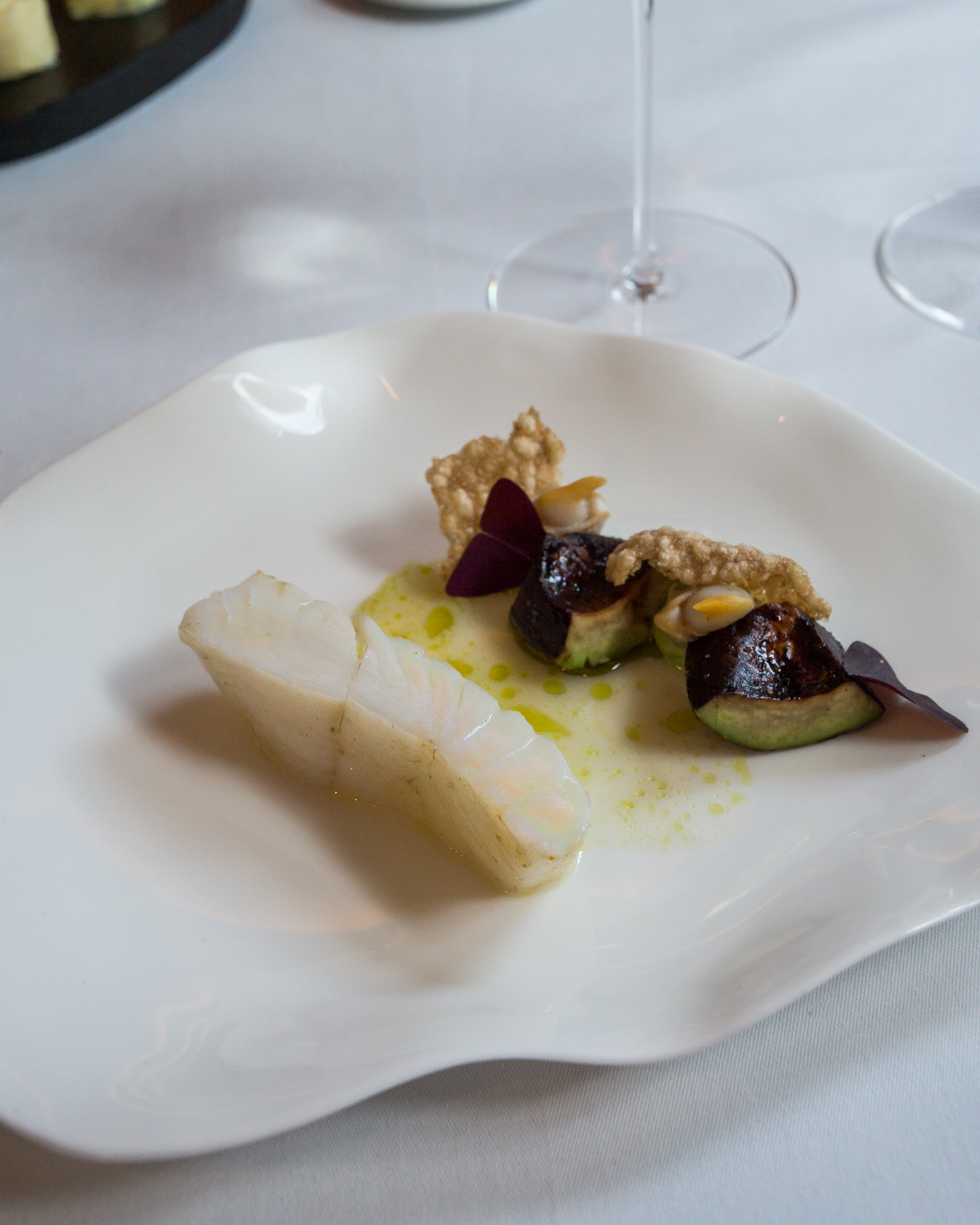 Nacre. A beauty, this is what its all about. A joy to eat, especially this time of year when big turbots are more commonly landed. This was from a 6kg specimen, not rested (I think), so it is both meaty with firm flakes, which I do enjoy. Perfectly poached, imbued with wondrous fatty acidity, and likely I think in a warmish classic liquid consisting of vinegar (seaweed) butter.
The sauce is made from the bones, and digs deep in flavour, as it is the stock from the fish itself. Delicious essence really. To my mind, this is like a pil-pil, with the addition of sorrel oil which helps to lift the sauce.
Cockles and turbot a tried and tested combo that pairs well, but I was mightily surprised and impressed by the coffee glazed avocados. Sounds a little risky on paper, but a risk that paid off. The fat of the avo absolutely compliments this noble fish's meatiness, and the coffee glaze, imparting a lightly burnt note, is not unlike soya sauce or even nori, an addition of umami to the avo. I love turbot and was thoroughly satisfied with this dish.
6. Welsh Organic Lamb from Rhug Estate, aubergine, gomasio, harissa and soya
with 2009 Chateau Tronqouy-Lalande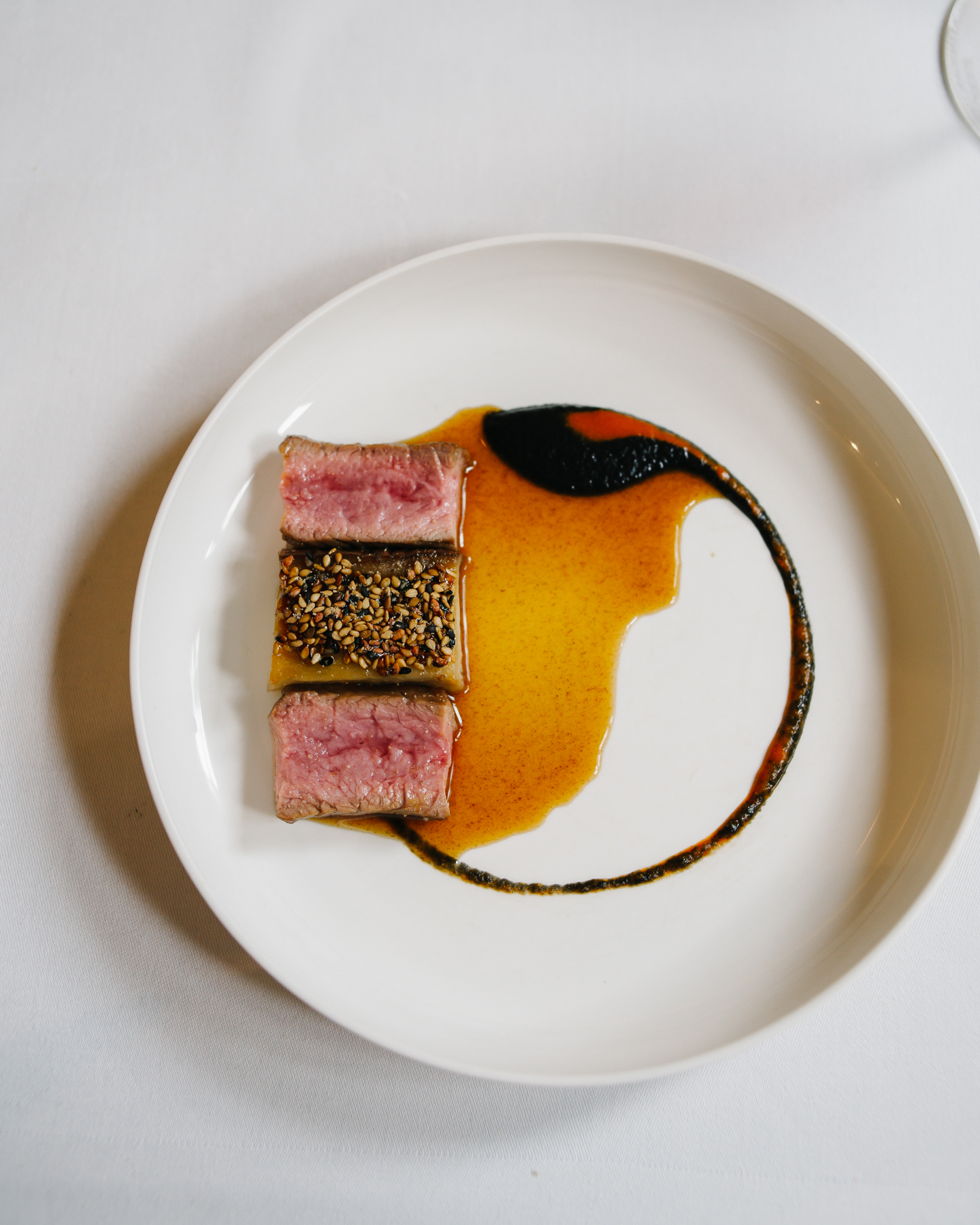 Lamb perfect pink, and for me the dish really is about the fragrance of both sesame and harissa. I dare say its like a very refined kebab. Delicious, and looks good too.
I greatly enjoyed the claret pairing, 8 years old, yet it is open, cedary nose and the palate retains the lushness of the ripe vintage. It belongs to the Ch. Montrose stable of wines, and made by the same team, albeit this one being accessible much younger than the typical Chateau Montrose, which usually takes at least 15 years.
7. 4 year old Bernard Antony Comte, country bread, summer salad
with 2012 Chateau La Gasparde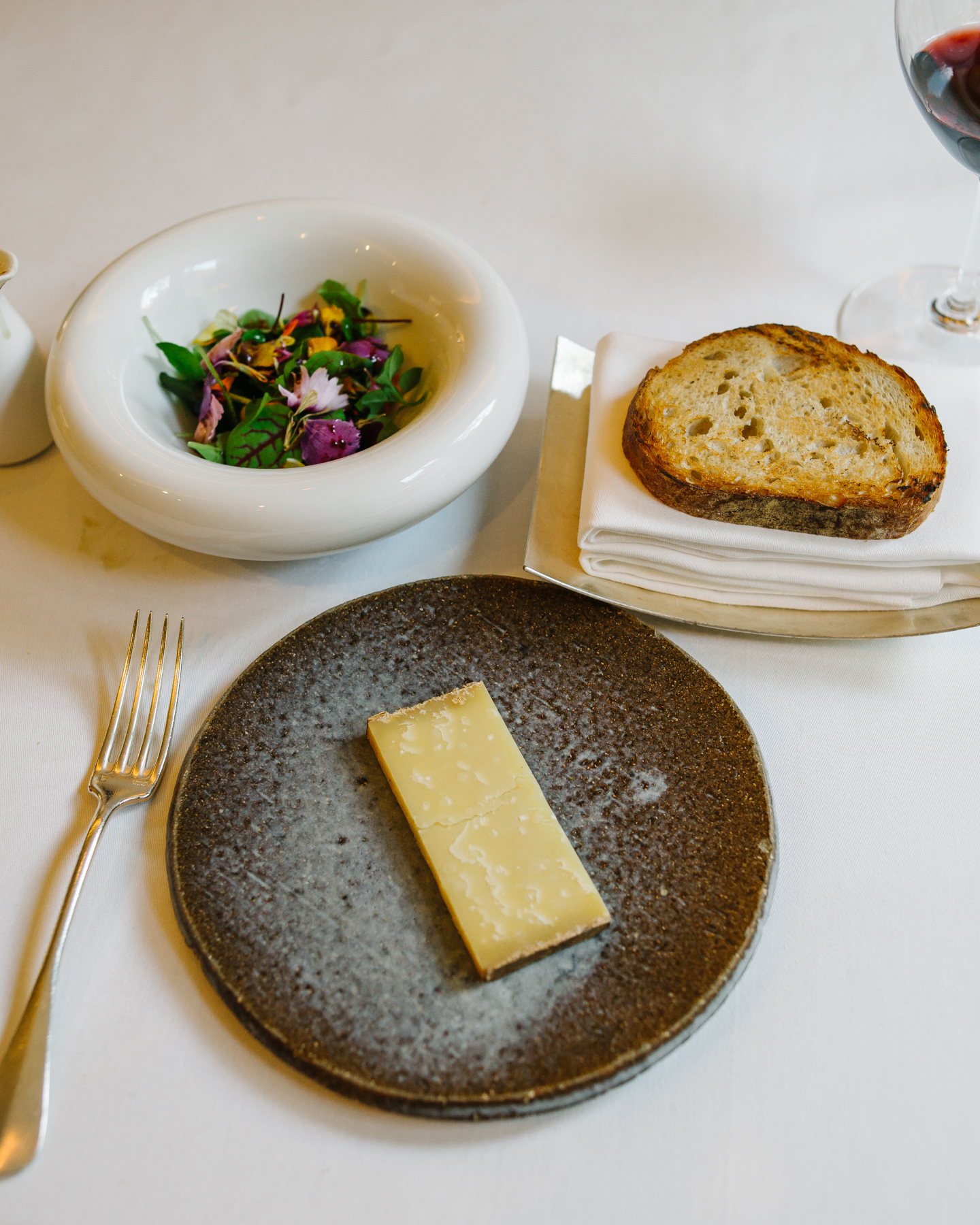 And yes, The Greenhouse cheese selection is of renown. One of few (if not the only?) in London which does the top notch cheese this old, from the great affineur. As you know, the stuff is considered the top of the tree and usually served by the best over the channel, chiefly Ducasse and Passard.
Very nutty, but also rather quite fresh. With plenty of those crystals formations, thanks to the long ageing – tyrosine, an amino acid, aka umami to the max. I really liked the side salad, an unidentified but tasty balsamic tipped in.
8. Rocket and mint ice cream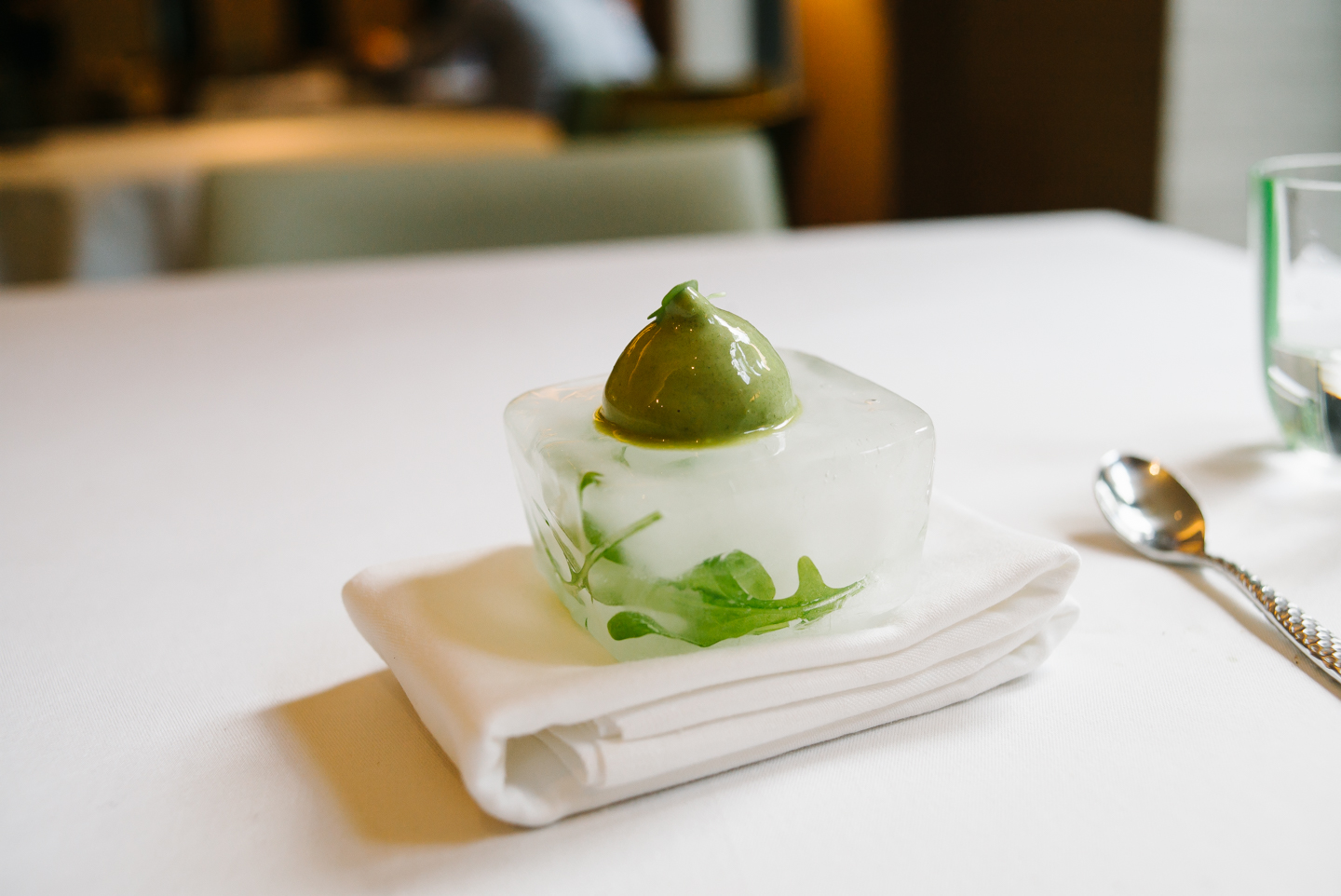 Interesting palate cleanser, eyes closed it could easily pass as mint and chocolate chip too.
9. Wild strawberries, rhubarb and elderflower
with Muscat de Beaumes de Venise, Domaine de la Pigeade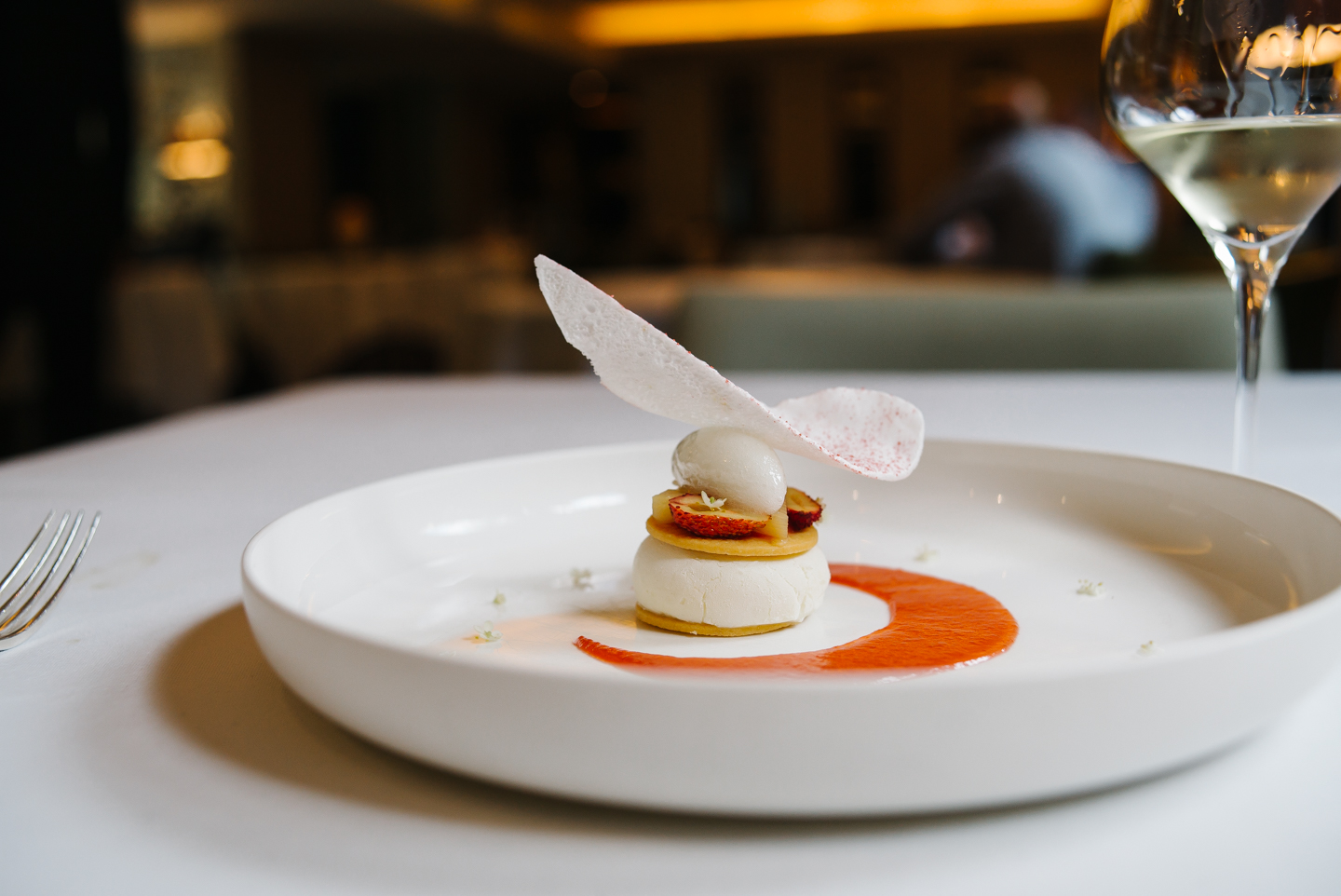 It is clear from this beautifully made pudding that there is a serious pastry chef in Arnaud's kitchen. A light interplay of summer fruits to take us down the homestretch.
10. Orelys Chocolate, pineapple, lime
with 2006 Rivesaltes Ambré, Domaine Des Chênes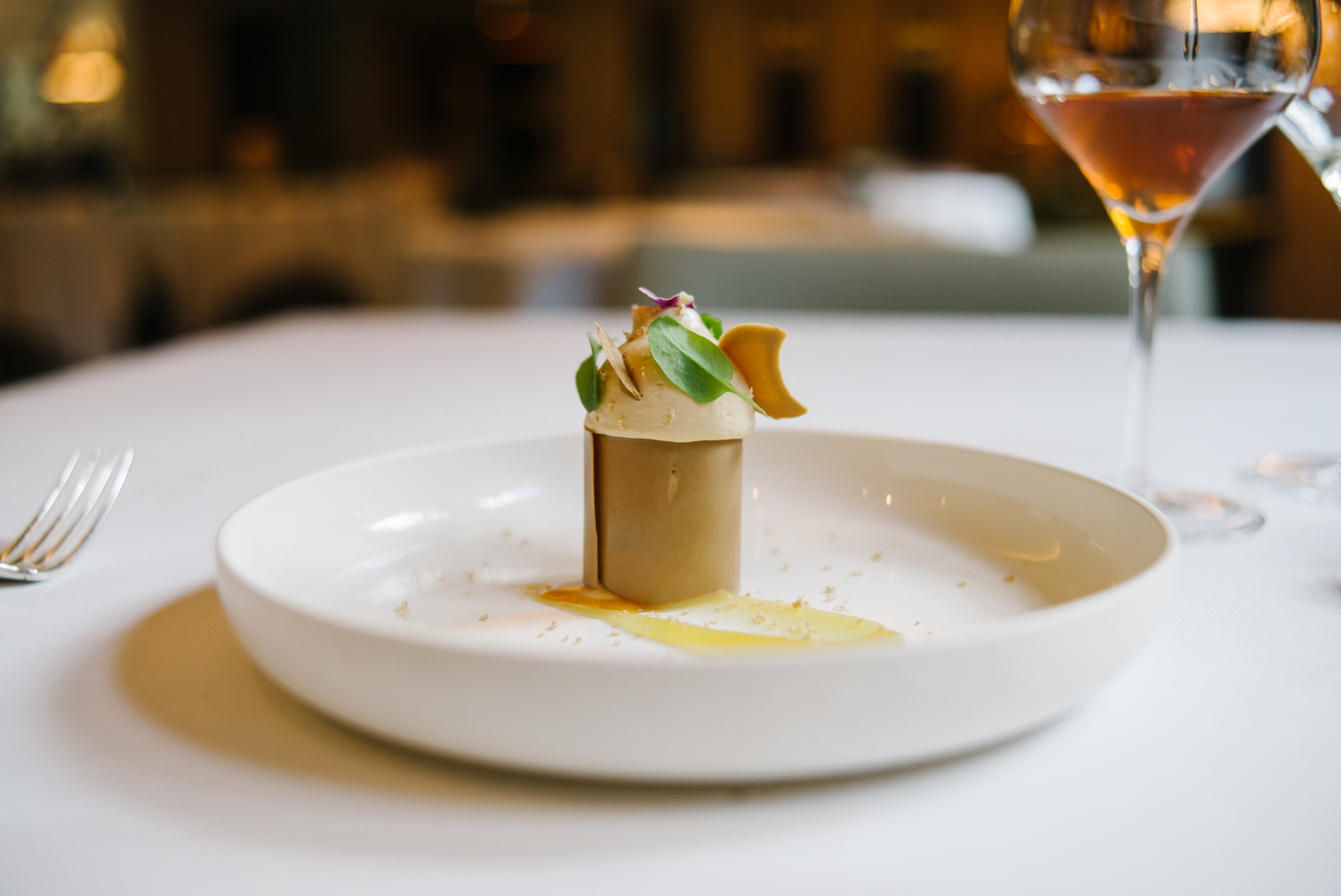 Presented as a 'white chocolate', which befuddled me a little, because that's like saying it isn't really a chocolate. In actuality, it does contain cocoa and is blended with muscovado sugar, making it a 'blond' chocolate. I find the texture of the chocolate mousse very interesting – it tastes whipped like a stiff chantilly, delivered brown-sugar and caramel in controlled waves. Pretty tasty. I am not entirely sold on the pineapple pairing, but overall, it did work as a lighter sort of chocolate pudding.
Petit fours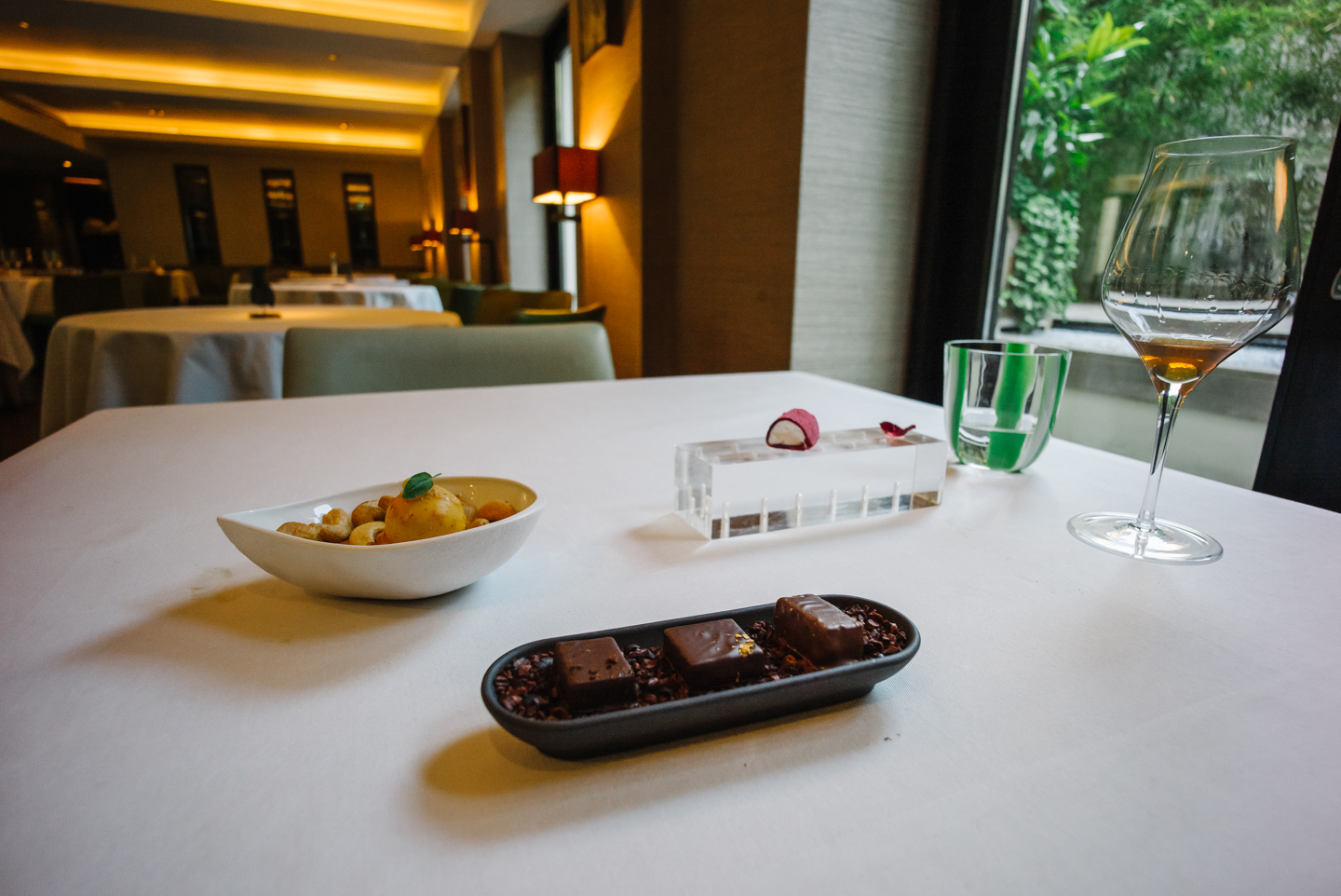 Like the canapes, attention to detail paid on the petit fours front. Cashew & banana, raspberry, peanuts, yuzu make appearances here.
—
I paid £343.69 for a solo lunch. The Discovery menu (£145), supplement Carabineros 2 ways (£55), wine flight (£100), water, service.
I can't believe this is only my first visit here, The Greenhouse is a fantastic restaurant ! I say this with much enthusiasm as I found some of the best cooking London has to offer here. Arnaud's lighter style certainly is distinct. There is a lot of polish in his layered compositions, whilst maintaining a sophisticated appearance. The greatest aspect of his food is how harmoniously balanced the flavours are, nothing is overworked and the cooking is confident.
I like that he keeps a discovery menu for those (regulars, I suspect) who want to roll the dice with the Chef's latest creations, and it is always a good sign to find a Chef continually polishing and adding new dishes to his arsenal. His cuisine bends with the season very well, and also is a style that is apt for summer. I can only speculate that it is due in part to his time in Athens which has greatly informed his cooking. Like some of his peers, there is Japanese influence, but the cuisine is also very much of the Mediterranean, whilst no less classic at its core. If you love seafood, you'll love The Greenhouse.
It is also clear that Arnaud's team are spinning along in top form, with no missteps in execution. As for the sourcing, from the seafood to the cheese, IMHO are top notch in London. The chance to sample the rarely seen 4 year old Bernard Antony comte alone warrants a visit. I didn't have a chance to look over the wine-list, next visit. And just to re-iterate Marc's FOH, these guys walk the line between formal and casual as fine as the Ledbury folk do. This restaurant thoroughly deserves its 2 stars both front and back of house. This crew are a proper setup, with menus at every price point. Have a look on opentable for the deals, as I do think this is well worth your time. I for one will be back again soon.
Details
The Greenhouse
Modern French
Lunch set 3 for £35
Dinner set 6 for £75
ALC 3 for £100
Taster menu 6 for £125
Discovery menu 9 for £145
27A Hay's Mews
London, W1J 5NY
Tel: 020 7499 3331
Tube: Green Park