Other meals at Bonhams : Oct 16 , Sept 16 , June 16 , May16 , Mar16 , Dec15 , Oct15
My brother was in town last week for Natsuki's excellent Hoxcup pop-up and for this trip, I was keen for him to also try Bonhams, which for me, is most exciting restaurant in London today.
Since my last visit in November, the restaurant has grown its kitchen team from 3 to 5. Still a small crew but it gives head chef Tom Kemble and sous chef Theo Clench some figurative breathing room to expand their developing repertoire of new dishes. They have also opened up their supperclubs to include both Wednesday and Thursday evenings, and may soon extend that to Friday nights too.
Well, as you know, I love Tom's cooking. He respects fundamentals (and the pan roast) and is himself an avid restaurant admirer, that it informs his cooking which always has this wonderful balance of delicate flavours. Like his mentor Mikael Jonsson, he's committed to sourcing quality produce from all over, and ways to draw out the best from the best.
We visited during Friday lunch expecting to only eat from the ALC. Even though their taster menu is usually offered during their supperclubs only, Tom gave us the choice of 6 for £70 / 7 for £80. It's longer than last year (4 for £55) and he is keen to offer this now that he has a bigger team. We went with the 6.
0. Canapés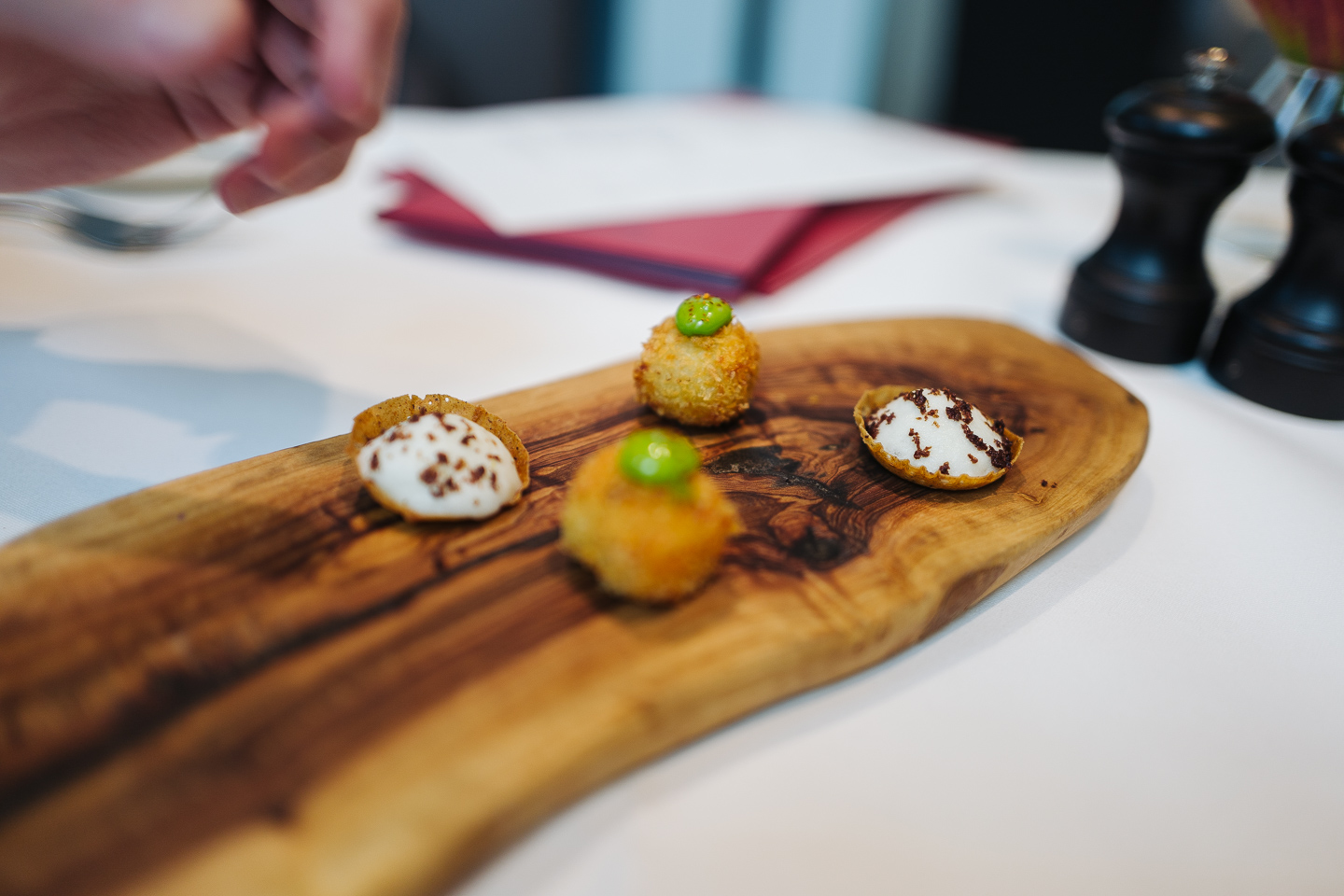 The fried cube of salt cod brandade, served piping hot was delicious and the other, I think was celeraic foam on a buckwheat crisp.
1. Umami flan.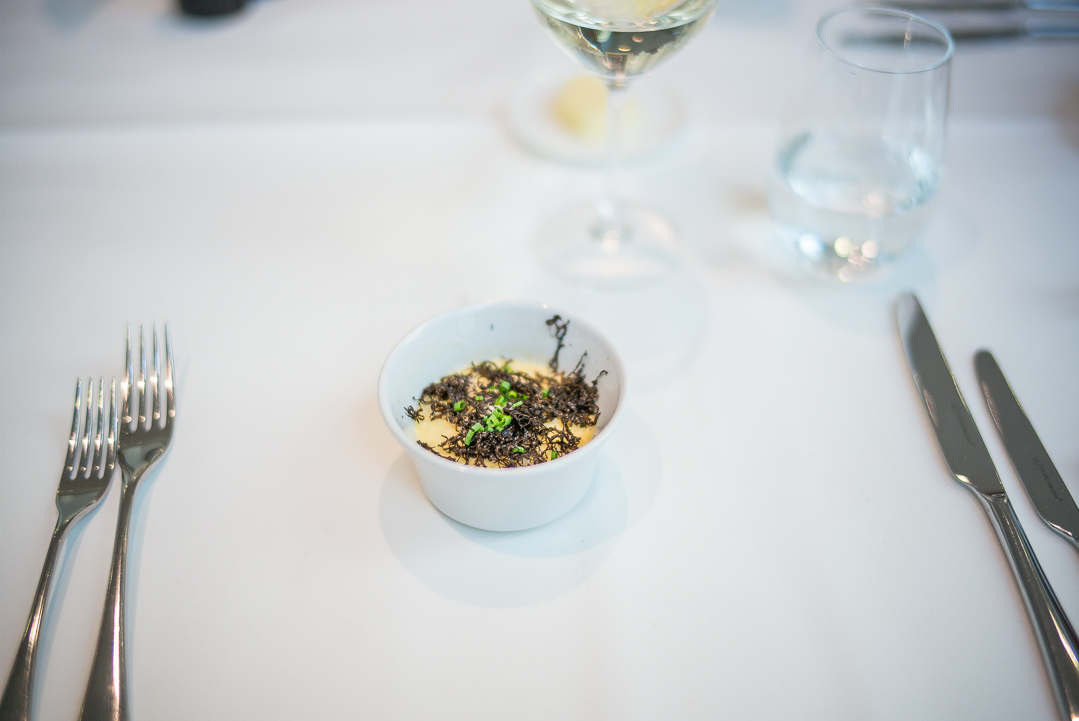 Made with iberico bellota, shiitake mushrooms, parmesan and generous shavings of black truffles. Perfectly turned out, it's fragile and wobbles, butter smooth texture is somewhere between a (savoury) egg custard and scramble eggs. The flavours just punches your lights out – pure umami. Thanks to Hedone (and Antidote) and Bonhams, London is now home to some of the best chawan mushis around.
-extra-
Isle of Mull scallop sashimi with Japanese vinaigrette, squid ink, radish and nori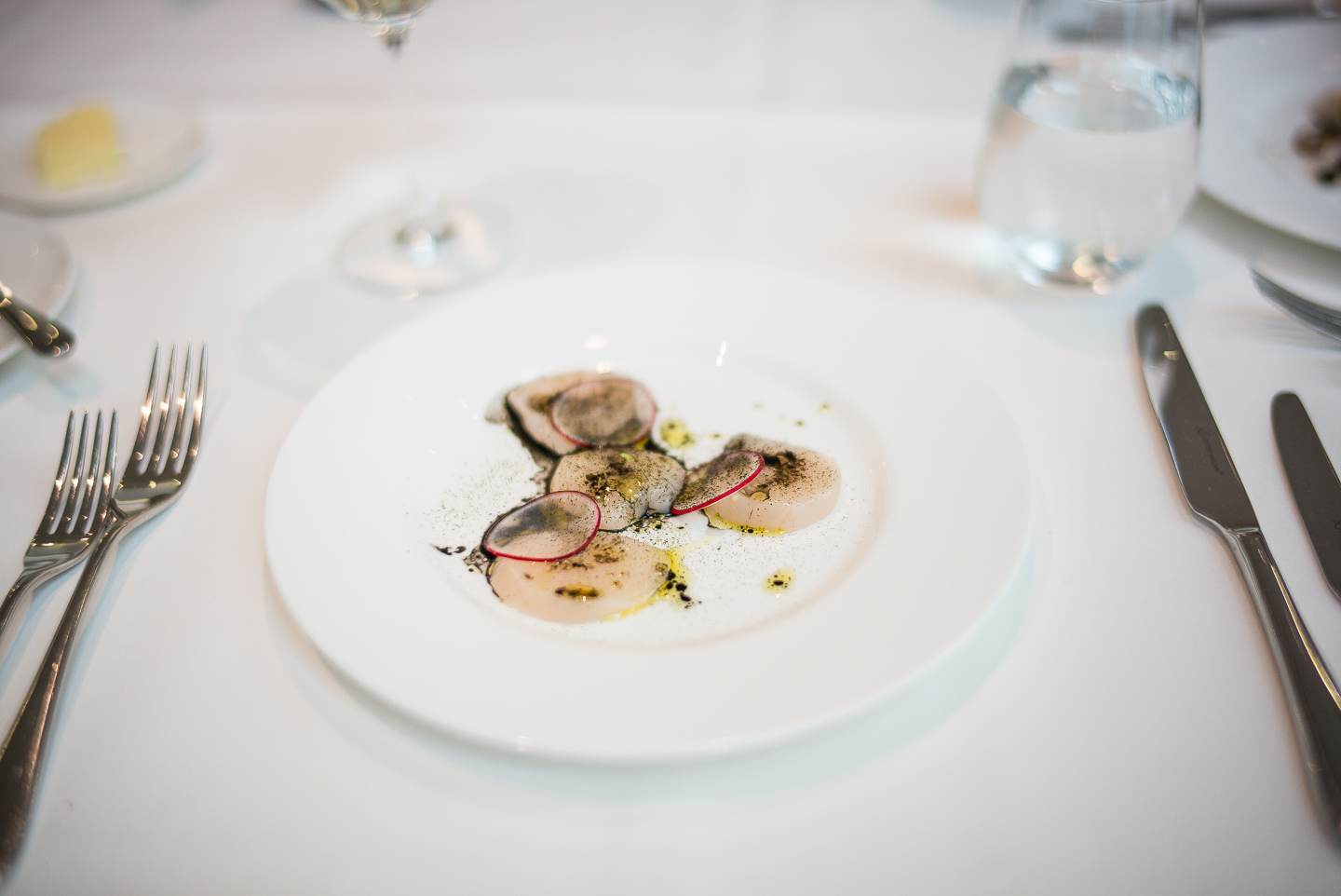 Sweet, oh so sweet. Beautiful, fresh scallops, got to be. Very pure and clean in flavour (which I sometimes think is very similar to lychee in texture) and I hazard it has been enhance due to the acidity from the vinaigrette. I remember the dehydrated nori powder from the last meal, it just adds some funky sea-side scents to the scallops. Nothing complex here of course, just freshness.
2. Langoustine tails, peas, guanciale, prawn consommé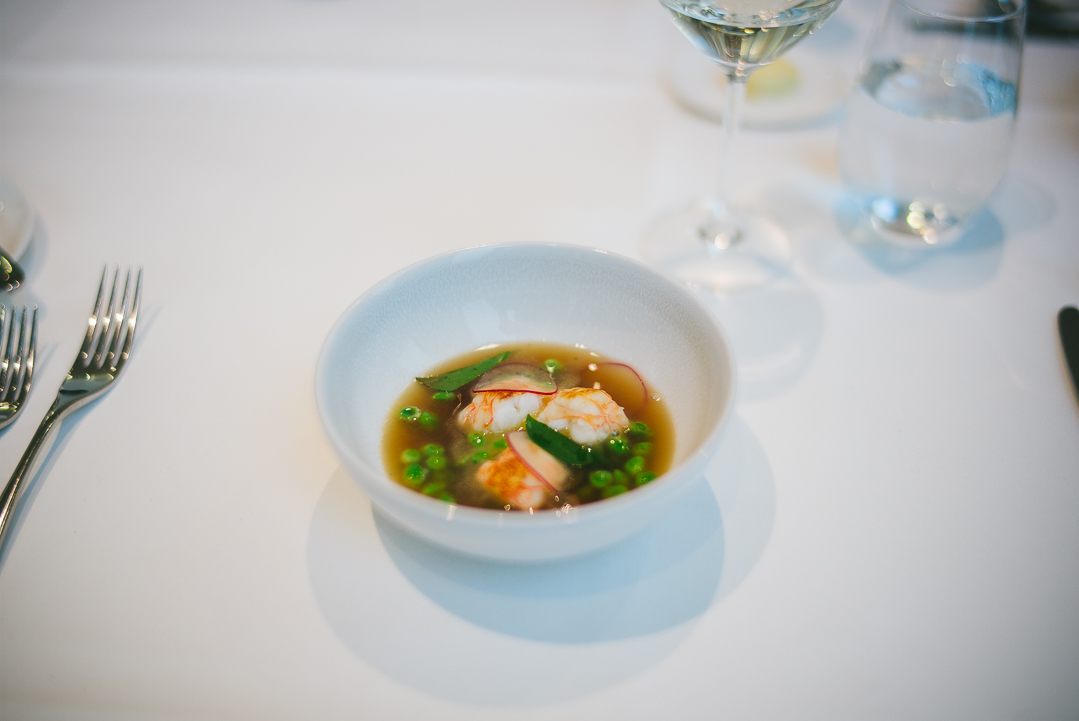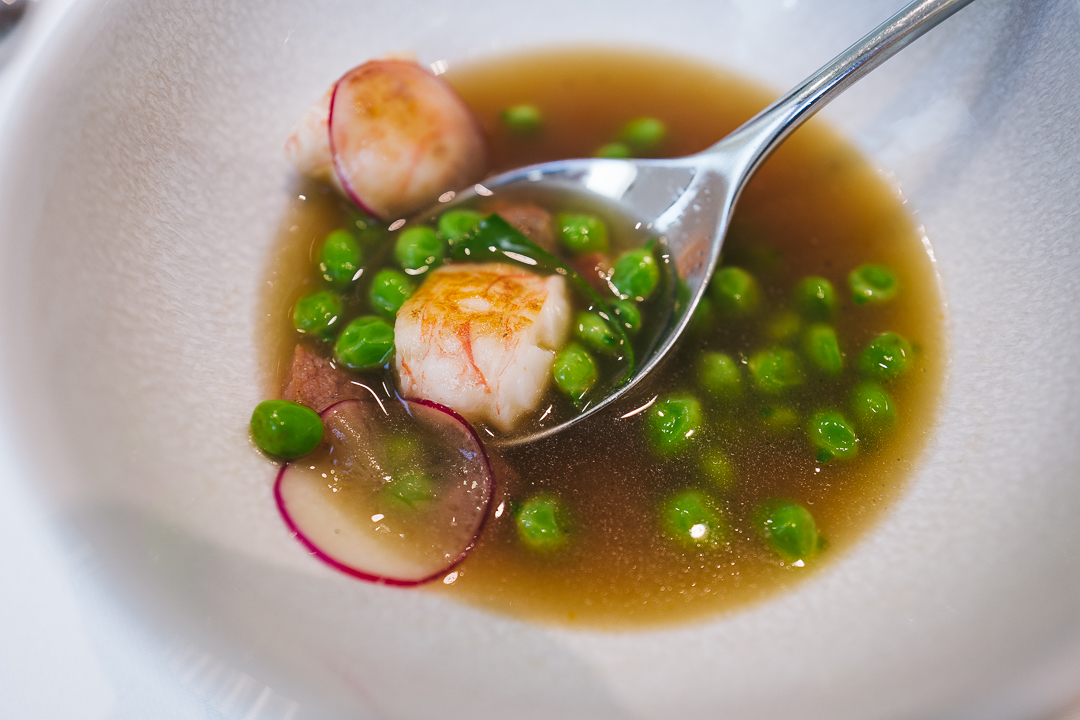 That is some consommé, served steaming hot, the fragrance of prawns so effervescent as it is poured into the bowl at the table. It reminds me of these tiny dried shrimps that my mother occasionally uses in her cooking. You could this smell forever, it's a triumph. After the meal, we asked Tom how he did it, and he joked in hindsight about how uneconomical this dish was – the consomme made from tiger prawns which he cooked, dried and compressed to squeeze the juices out. No wonder there's so much flavour!
You can certainly taste the guanciale (cured pork cheeks), imparting oiliness to the sweet and punchy consommé. The prawn and guanciale produced this lovely sweetness redolent of lap cheong. I love guanciale, it's funkier than bacon or pancetta and I think it is what makes pasta in Rome such an addiction.
Add some noodles, and you have the makings of a luxe wonton soup. Interestingly enough, the ALC version of the consomme swaps the langoustines for squid noodles (more accurately squid that's been sliced to resemble noodles), so clearly Tom's got the same ideas. Really, I can see this in Bo Innovation or even one of the Four Seasons' Heens.
And then those beautiful Scotch langoustines. It's masterfully finished on the dry pan, the centre is just a little under, it's all meaty and so sweet, you can just taste the sear from the pan.
This is a sensational dish and one of the best things I've eaten in recent memory. I love Phil Howard's langoustines and I think even he would be delighted with this dish.
I love how efficient this dish is but like a good carbonara, zuke akami sushi or soy chicken rice (layers), reaching this level of delicious simplicity takes some skill. You don't need to acquire anything to understand this. This is just gorgeous soup.
3. Luberon asparagus, brown butter hollandaise, hazelnut, confit lemon and black truffle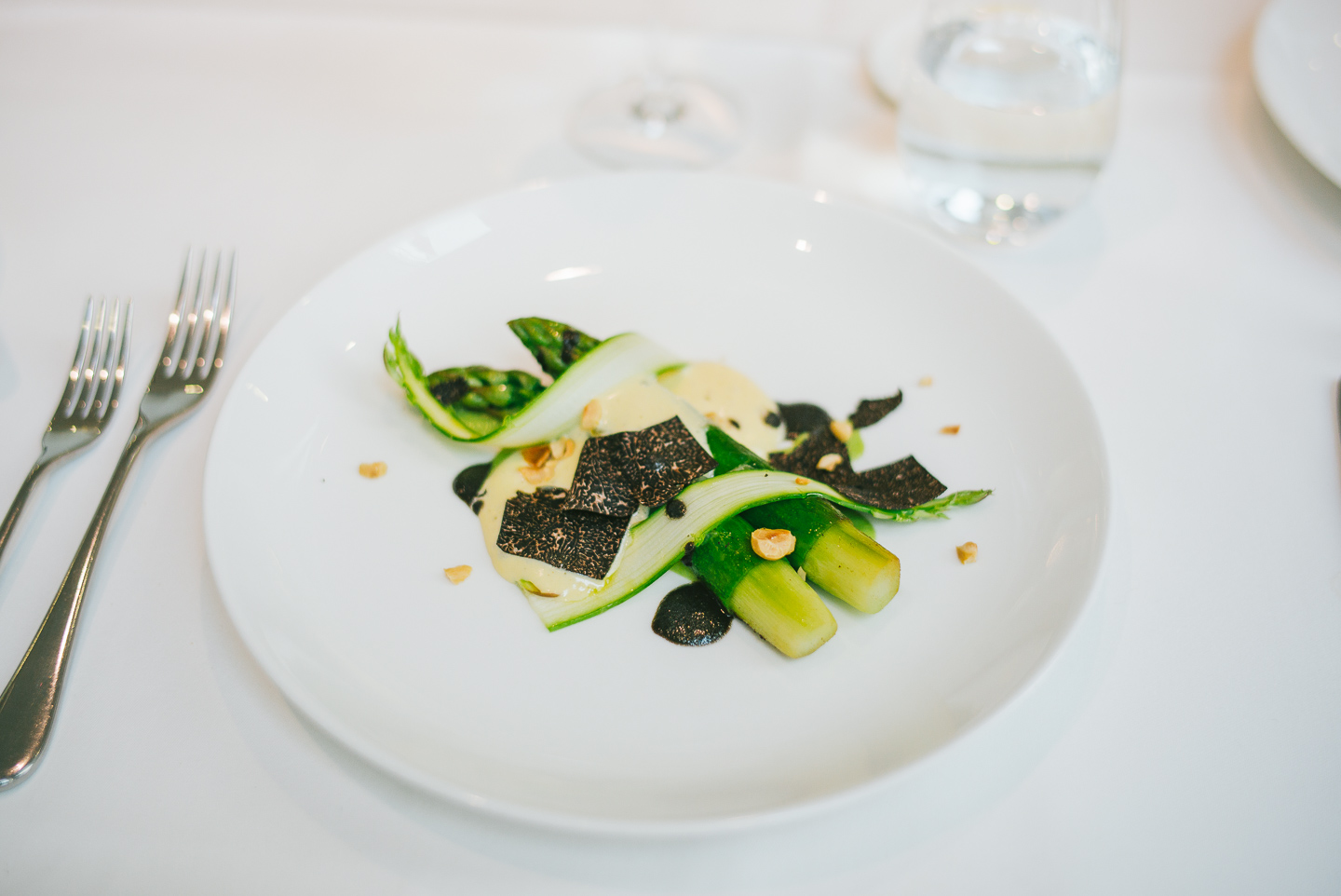 From Winter to Spring, with two ingredients meeting the transition of seasons. Smell those truffles (nearly the last of winter before they fade), the toasted hazelnuts, the bright lemon, meeting the start of healthy spring spears, just bursting with juices. Another plate of freshness.
4. Roast kintoa pork chop, potato terrine, charred Calçot onions, watercress coulis, Piquillo pepper & jus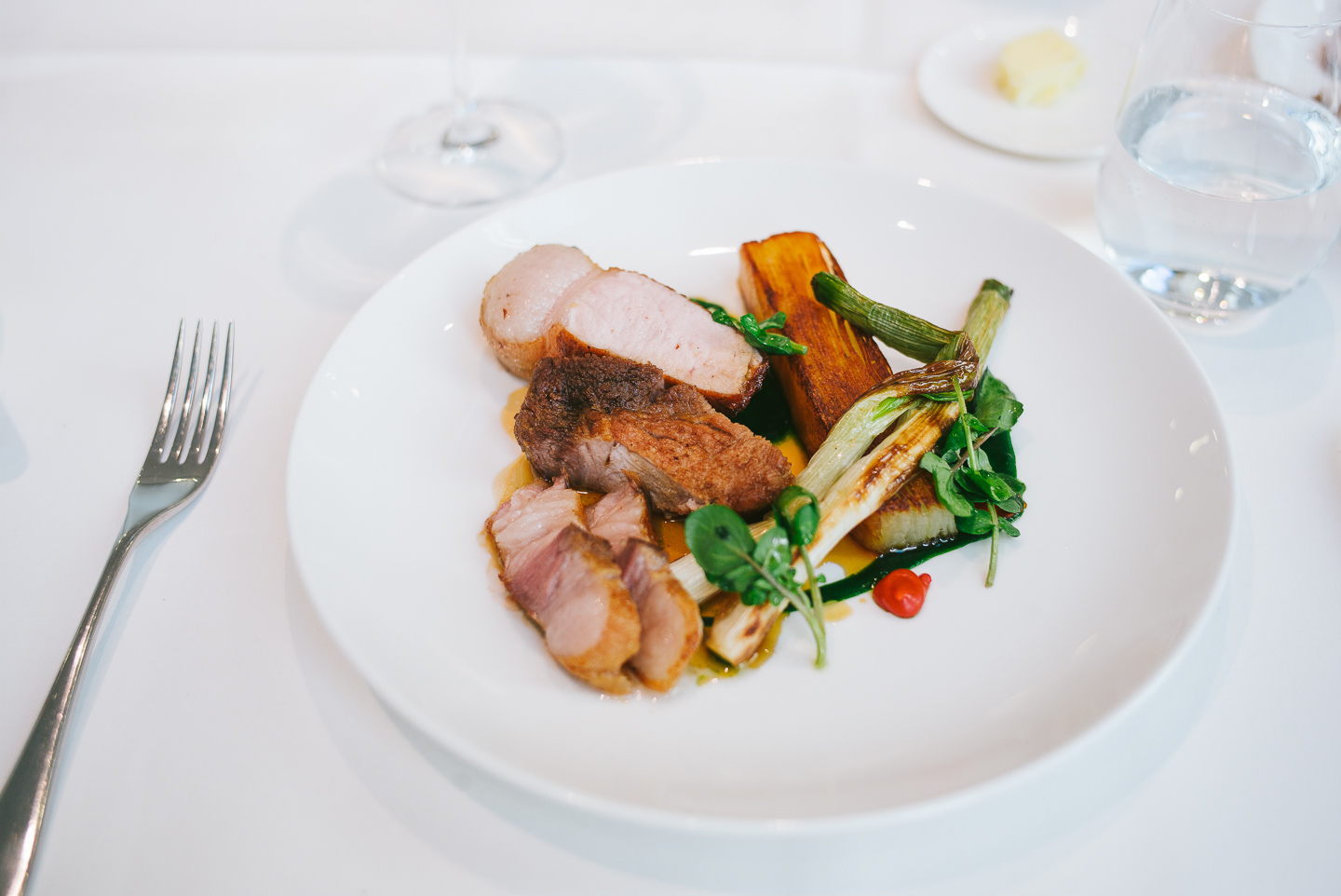 I had Kintoa pork (for the first time) at Frenchie a few weeks ago and thought this breed of pork is really excellent. It's fatty like Iberico, these Kintoa are also a kind of black pig, bred in the French Basque Country. If you love your Mangalitza, you'll be impressed with this, the fat has a delicious nutty fragrance. I can only imagine what the smoked pork belly would taste like. I forgot to ask, but I guess that they've come from Terroirs Avenir.
Excellent potato terrine. Pillowy layers inside and crusty on the outside. I love those calçot onions, charred like this, they give off this beautiful smoky, grassy bitter-sweet oomph.
My only criticism is that I would have preferred the pork to be just a touch more pink, or even served on the bone for extra succulence.
5. Ginger poached Yorkshire rhubarb, crème diplomat, lychee, pistachio and rose meringue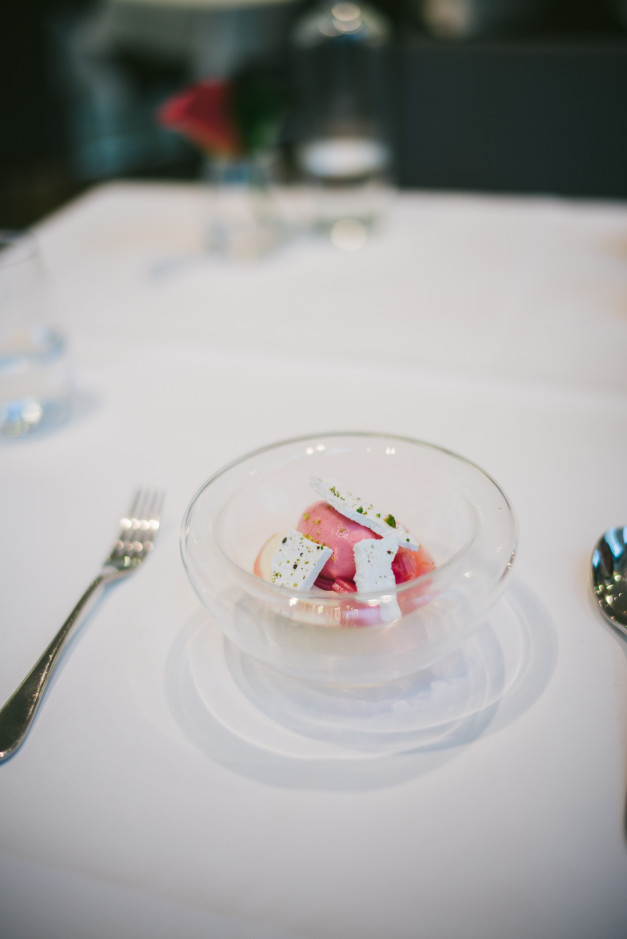 This is a fantastic recipe that has been precisely executed. There are these flavour and temperature graduations going on, that push and pull to cleanse the palate. From sweet and creamy to one side, the cold sorbet, and the tart of the cubed rhubarb retaining its natural crunchiness, with a soothing aroma of ginger. On top of it all, you get the perfume of rose and nice touch with the tropical sweetness of lychee. I think these were fresh, not canned, but I can't tell as it's been some years since I last cracked lychee back home, I always miss the season for it. It is always a pleasant surprise to find the fruit being used in restaurants over here.
6a Ile Flottante, citrus anglaise, caramel tuile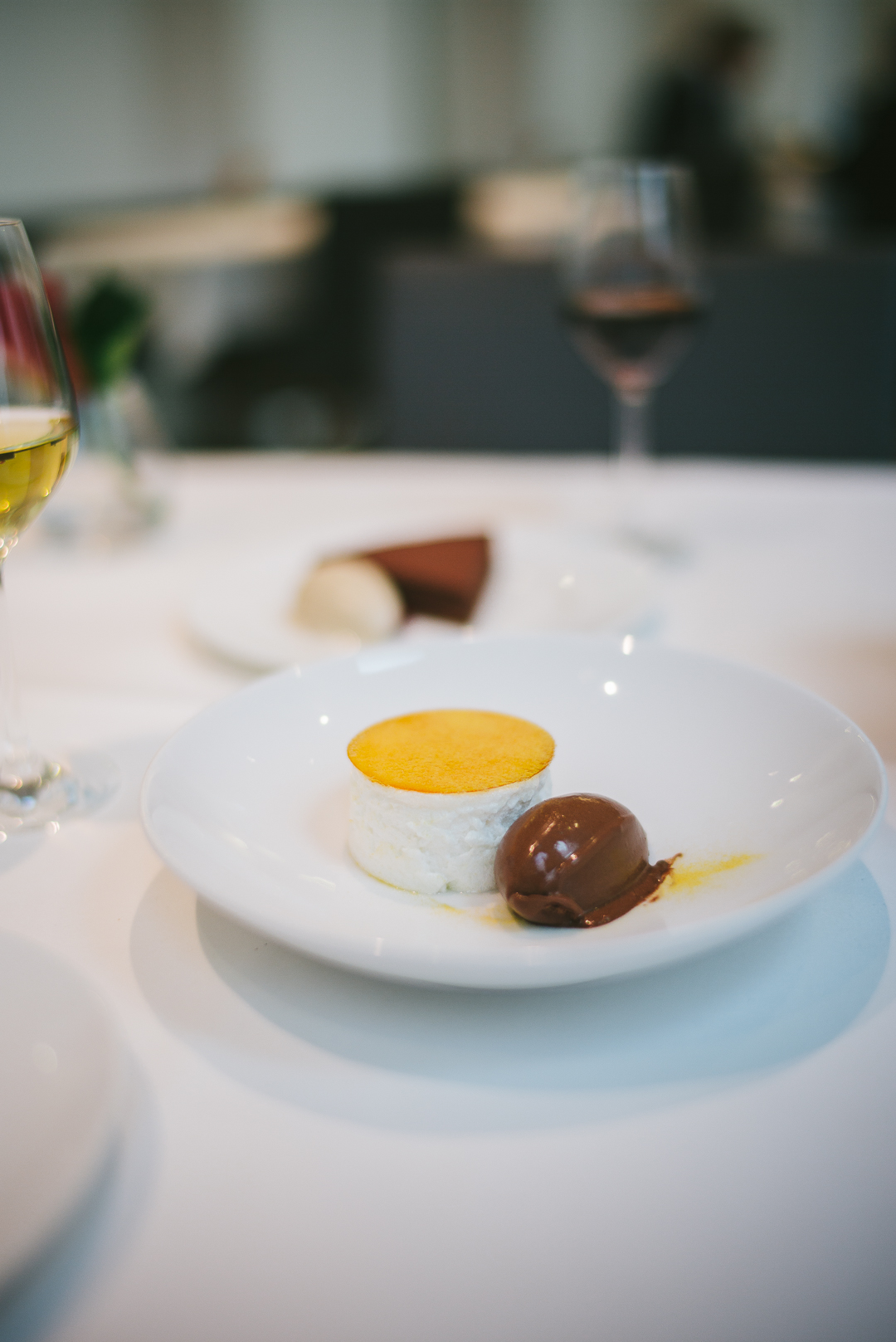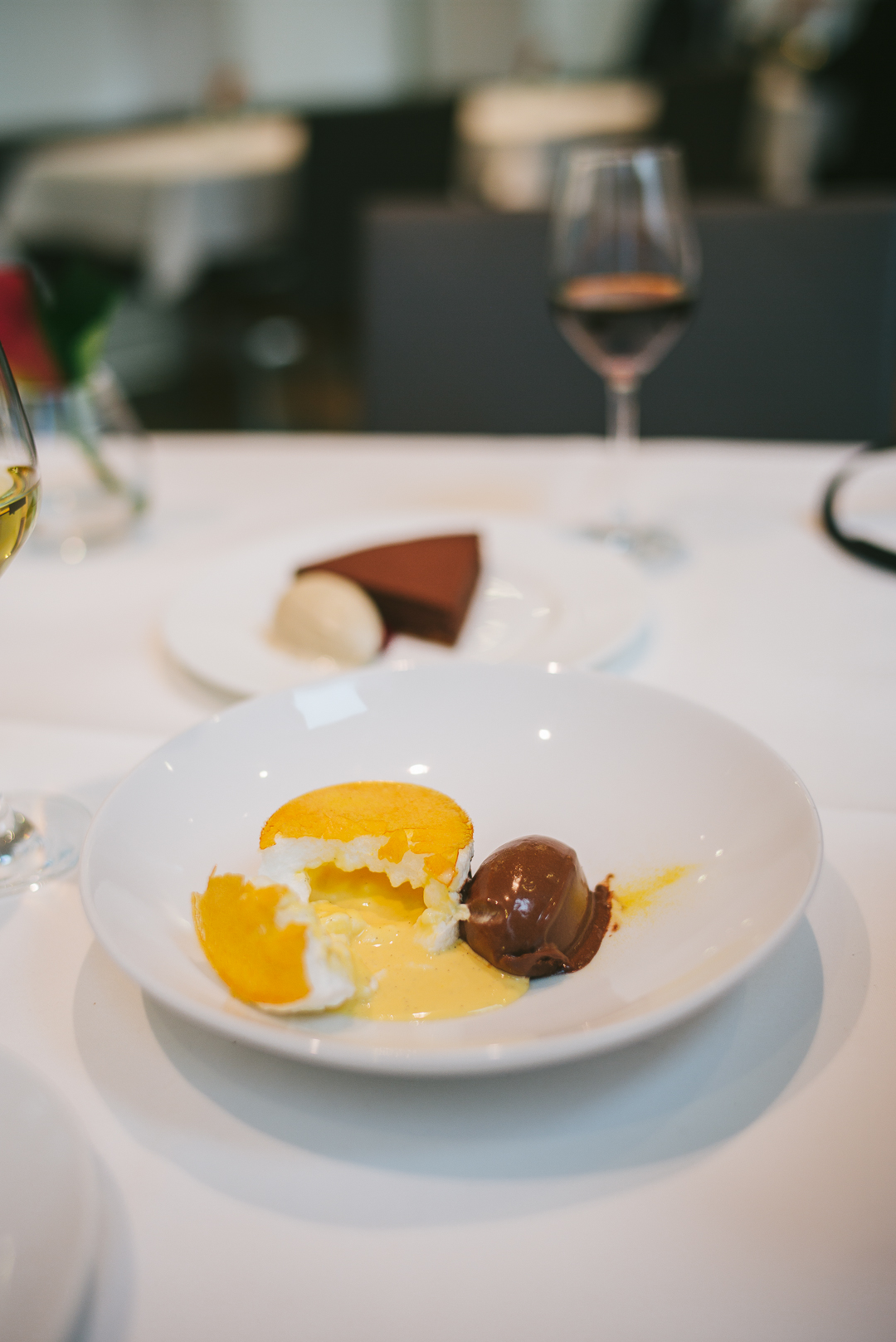 Now then to the pudding, the homages. A new addition to Tom's menu, a homage to Jean-François Piège's blanc manger that reverses the classic floating island with custard inside the meringue encasing.
Ain't that pretty? Theatrics aside, the meringue, the tuile and custard are very well made, caressing the palate with the gentle balance of sugar and zest.
6b Chocolate sabayon tart, sour cherry puree and vanilla ice cream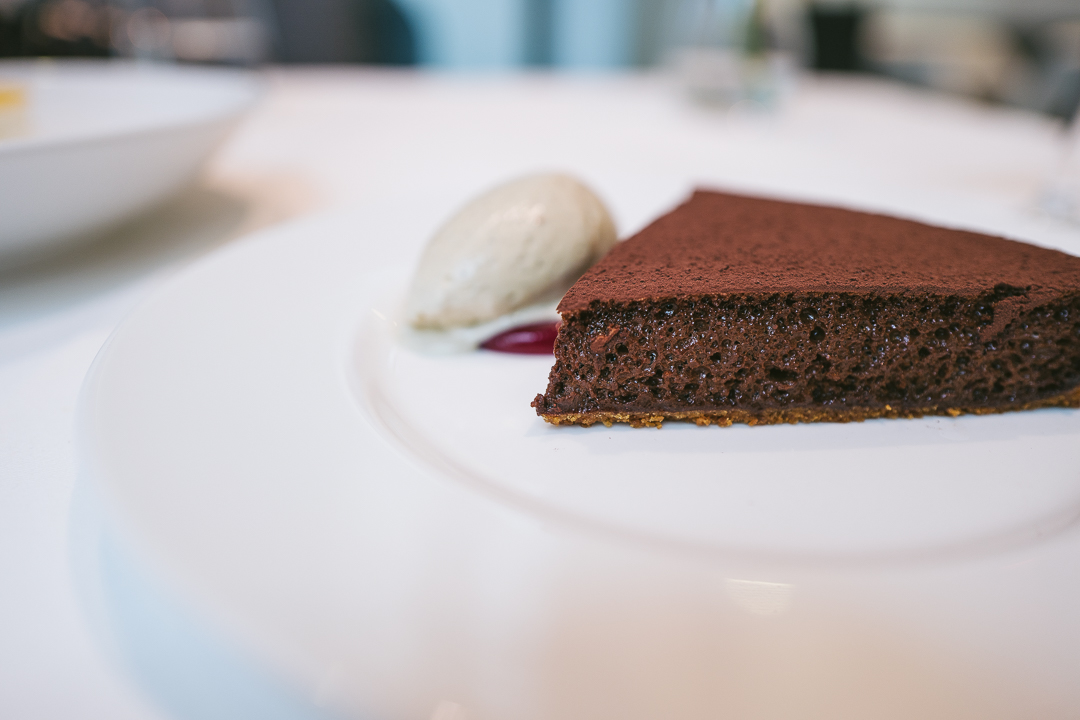 Finally, the ultimate homage. I asked for one of the puds to be the sabayon tart, so my brother could try it. Look at all those bubbles, it's just so light and airy, but with a creamy density and that wafer-thin sable base. It blows my mind a little bit every time I eat this pudding. On this visit, the vanilla ice cream seems to have moved up a notch, I wonder how many vanilla beans have gone in, going by the light gray appearance and intensity of flavour: quite a lot.
My brother loved it and I'm sure Chef Pacaud would be delighted with this take as well. I am glad to see this (and Alexis' Louis XV) in a London restaurant.
We paid £190.69 for two menus and also drank a carafe of their excellent house white, a white Rhone, 2013 La Borry.
This young Bonhams team are getting better and better. They are honing their fundamentals, all the while pushing the boat out with new dishes. And they are doing this from a minuscule kitchen with a pass that is smaller than my desk at work. Every dish is prepared with such attention to balancing delicate flavours that I feel fortunate to eat cooking of this quality. It is such a pleasure to be a local witness to this restaurant's continued pursuit of pure gastronomy and if they keep up the improvements, who knows where they'll end up. ( ** )
Ok I'll space them out, lest you tire of the endless future Bonhams posts to go up in the months ahead. I can't help it. The cooking is seriously that good, it's an addiction. Till then, call Bonhams to arrange a carte blanche and ask for what's in season. It'll be worth it, I promise.
The Details
Bonhams Restaurant
Modern Euro, £60pp lunch, £95pp supperclub
Lunch Mon-Fri; Supperclub on Wed & Thur only
7 Haunch of Venison Yard W1K 5ES
Tel : +44 20 7468 5868
Tube : Bond Street