Other meals at Bonhams : Oct 16 , Sept 16 , June 16 , May16 , Mar16 , Dec15 , Oct15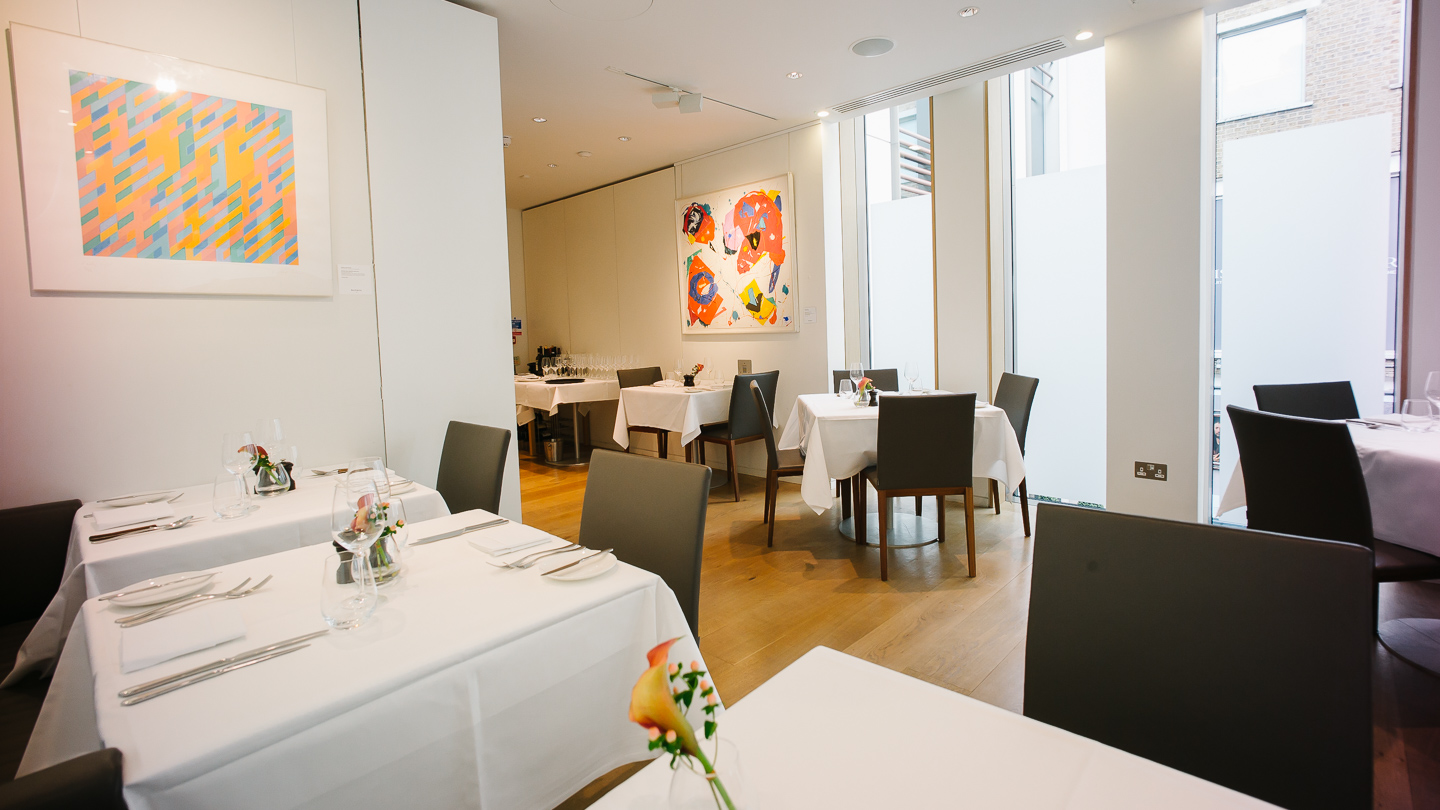 As I completed the Opentable booking form for my fourth visit to this fabulous little offering inside the auction house, I made a special request for Dorset blues and turbot and the longest carte blanche menu Chef is able to cater. It is always a pleasure to eat Tom Kemble's food, I am their biggest fan (I think) and it is exciting to follow as he and Theo Clench continually polish their (already fantastic) cuisine, now sailing past 18 months since opening late 2014.
Already a broken record (Mar16, Dec15,Oct15) nevertheless I present you my reasons of what I most enjoy about his cooking and it is mainly to do with natural flavours. There is purity, clarity and skill to achieve classic notions of deliciousness – the smoothest textures and an array of flavours in perfect unison. You need good ingredients to make this kind of food, the best you can get your hands on, not so easy to achieve in this country, though just like his mentors at Hedone and Faviken (and now with more chefs in town also pushing harder for this) , Tom continually obsesses over the best of the season that he can bring in practically to fit his menu. Seasonal also means luck and sometimes it's merely good but when it is great, in my case it is medium sized wild 'mouse' garoupa from the South China Sea, you will remember it for life.
The theme and techniques are consistent, but each meal is different enough as you eat the seasons and as Tom refines and adds to his recipe book. Peas and asparagus in the Spring, the sweetest strawberries of the Summer, the headiest tuber melanosporum and the juiciest langoustines in the Winter.
I noticed new artwork hanging in the room now rotated to something more abstract and colourful, I did not pay enough attention to say anything about them however, you might recognise them. I did ask for carte blanche, and therefore ate this meal as a surprise, so knew only the basic headline of 8 courses for £90. This is outside of the restaurant's norm but Tom is more than happy to lay on something longer, so if you're greedy like me, it is well worth an afternoon off to do Bonhams like this. 3 hour lunch, paced well, enough time to drink, no rush or rush if you want to, they will cater and they can pull it off. This was another meal that demonstrated the kitchen's excellent form.
Their usual taster is 5 courses for £60 and now they offer it for lunch (in addition to ALC), as well as their supperclubs, wed, thurs and now Friday evenings, starting this month. The remainder 2 fridays in May is a good time to check it out, as they are laying on a free wine flight to go with the £60 taster at night (see here).
I didn't get the wine flight, instead relied on the sommelier to recommend glasses to go with the lunch. She is the talented and demure Charlotte Edgecoombe and due to their unique setup within the auction house, you can find some nice beauties on her wine list for relatively modest mark-ups. 2002 Beaux Monts, a banging Vosne-Romanee 1er cru from Jean Grivot goes for £150 (I bought for £87.42 at L&W last year), 1985 Lynch Bages for £190 (Underrated vintage IMHO, the Haut-brion magnificent, aside from 89/90, this 5th generally hovers the £120 point). And I am always heartened to see English bubbly on wine lists, Charlotte pours the excellent Hambledon for £9/gls or £40/btl, a mere £10 mark-up on retail. Don't sniff at this, it is a solid wine and can rival your favourite champagne on a good day. Charlotte is putting together a Cathiard tasting soon she told me, gasp, I cannot wait…
I paid £145.13 in total, 1 tasting menu (£90), 3 glasses (£34.50), coffee (£3.50), EdV filter water (£1) and service. For this quality produce and level of skill, it's totally worth it. And this team is still quite small, perhaps 10 people. A kitchen of 5, 2 in the dining room, and 2 downstairs in the bar area. They gave me a copy of the menu to take home at the end of the meal. I forgot to ask the team to sign it. Another reason to go back in June then. Notes and pictures of this meal below.
The Details
Bonhams Restaurant
Modern Euro
£45pp(ave) ALC; £60pp Supperclub ; £90 for Extended Carte Blanche + drinks and service
Lunch Mon-Fri; Supperclub on Wed-Fri
7 Haunch of Venison Yard W1K 5ES
Tel : +44 20 7468 5868
Tube : Bond Street
Canapes : Seaweed cracker with Japanese glazed eel and yuzu mayo ; Guinea fowl and foie parfait, rhubarb jelly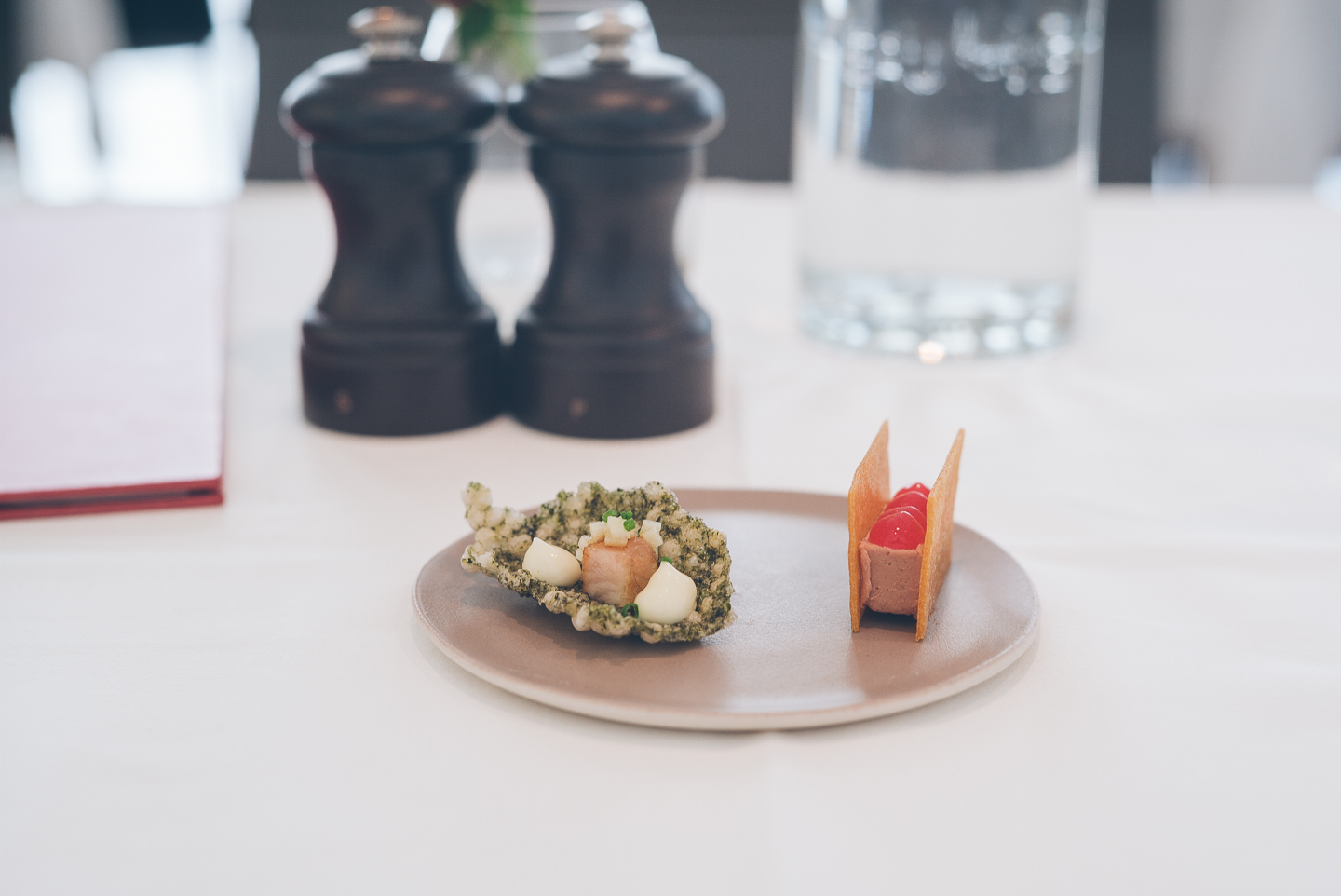 Teasing and zesty, colourful to reflect the good weather incoming. Perky cube of unagi, citrus fresh mayo; The parfait was excellent, creamy and sweet, rhubarb accentuating the tart.
Bread : Sourdough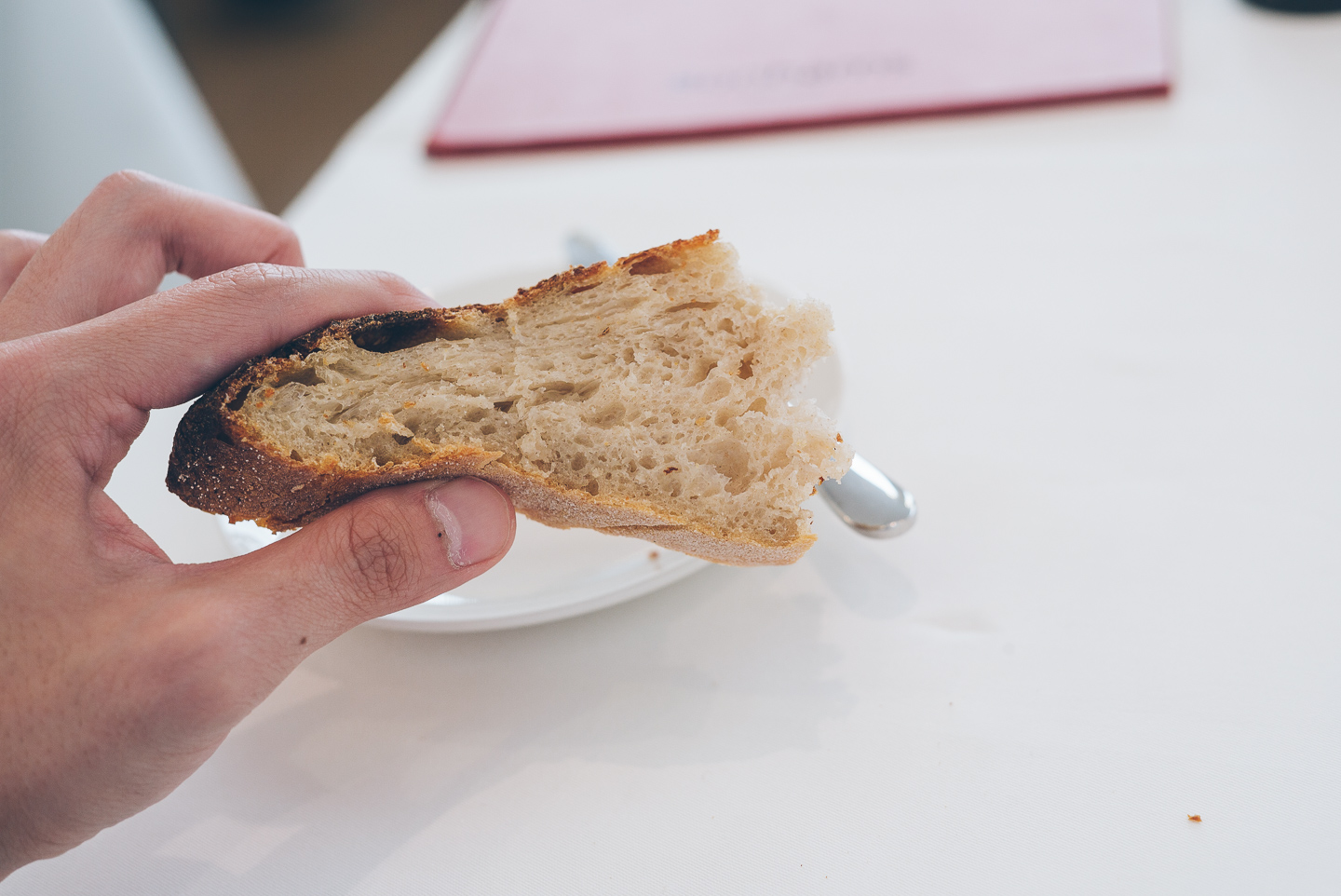 Today it is moist, sponge-like even, like good pizza dough. Made in-house of course, and usually with beautiful ears. He is ex-Hedone after all.
1. Asparagus Vichyssoise, fresh goats curd, Exmoor caviar
With 2014 Gavi Montessora, La Giustiniana, £11.50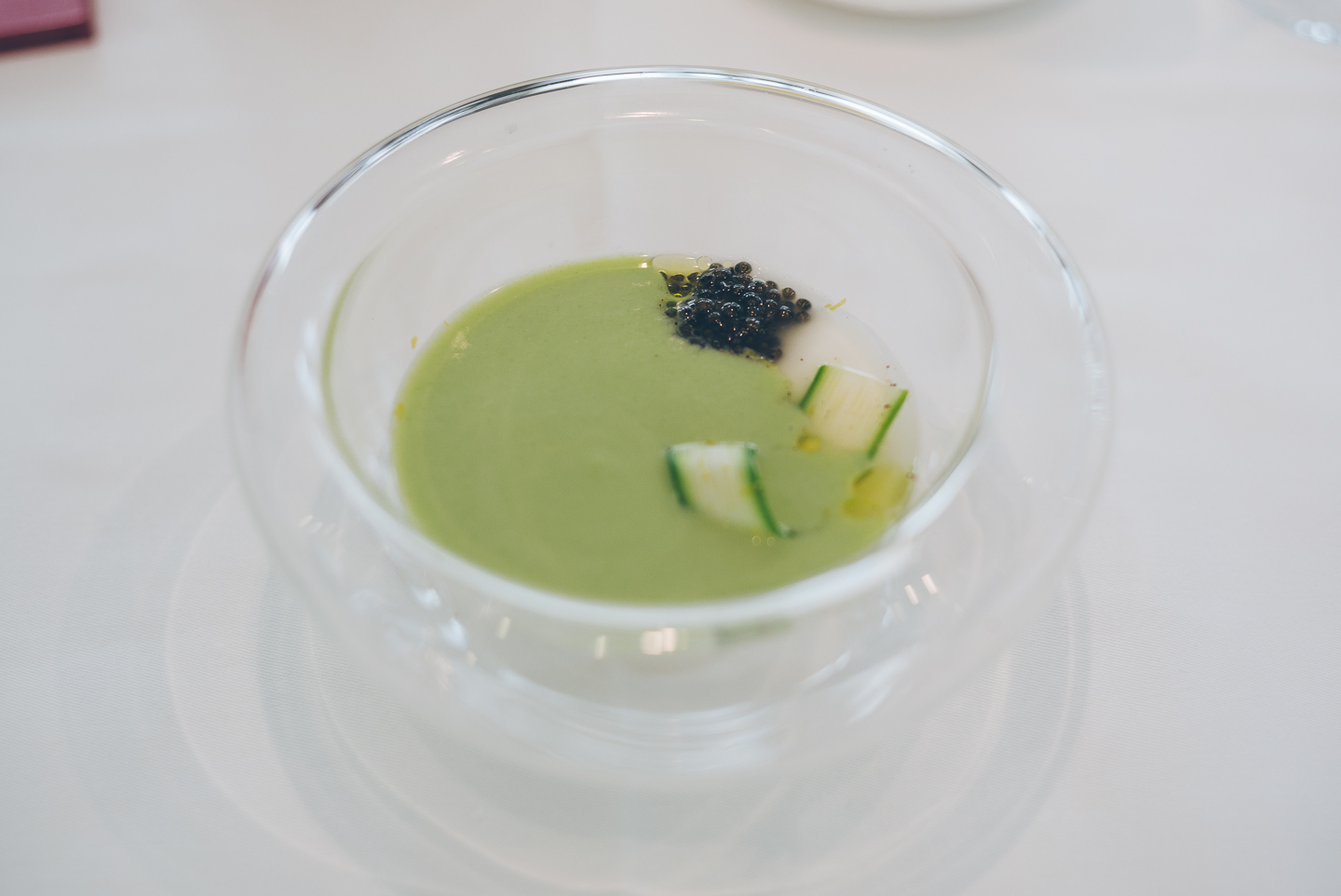 Wow, what is this fresh curd? It's like tofu-fa, slick and fragile textures, to meet the purée that had deep natural flavour. Caviar like little natural bombs of seasoning. Freshness, lightness. This British caviar is decent, from farmed sturgeon finished in Devon waters and with Cornish sea salt.
The Gavi was crispy and mineral, apple tart and not unlike the qualities of Sauv Blanc.
2. Bonito Sashimi, turnip, olive oil and soy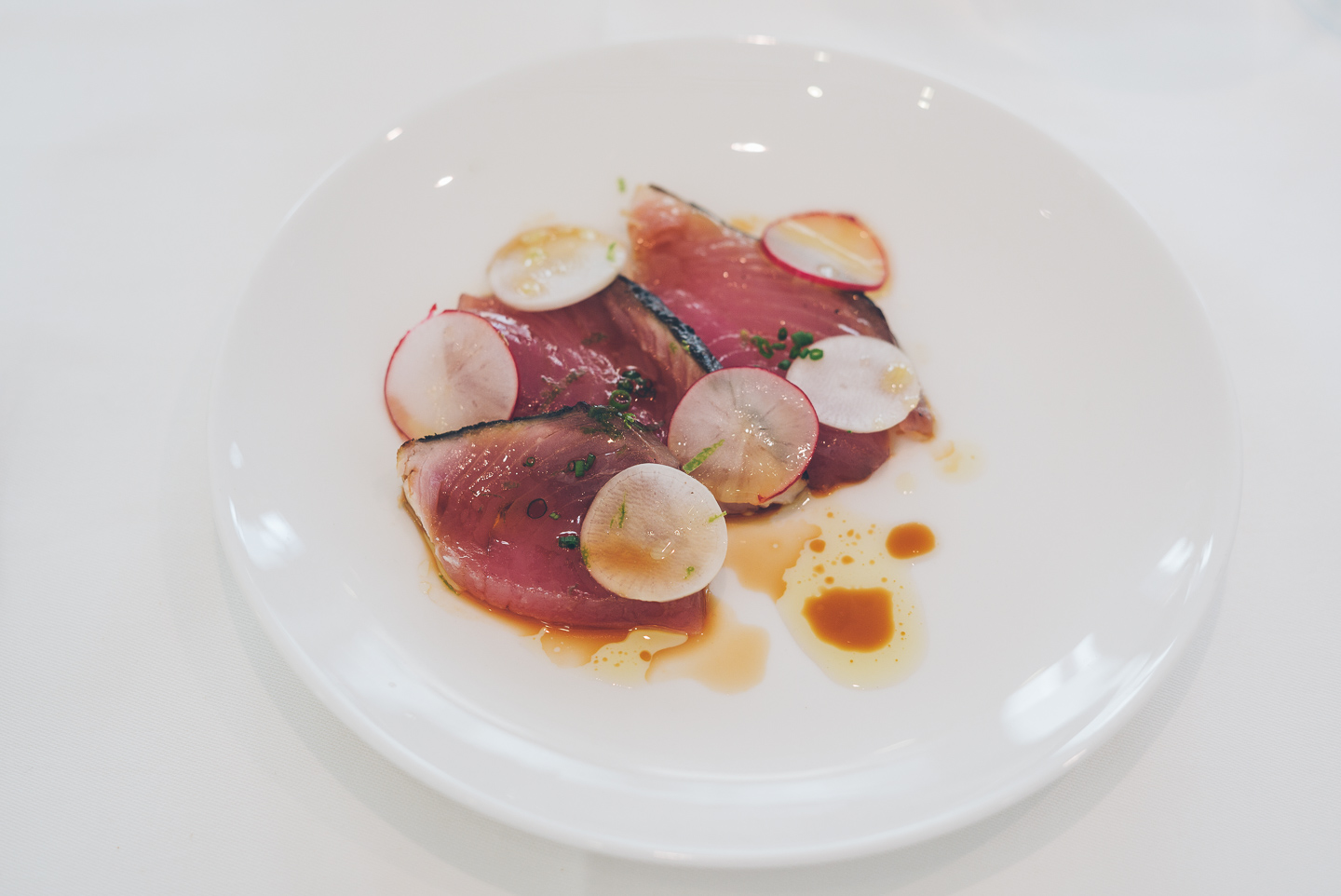 A kiss of flame and a quick salt cure before dipping in Tom's version of a zuke. Great texture, it melts on impact. Missing chopsticks here, so I carefully fold on the fork and eat the remainder slices whole. I think is important to fully appreciate Chef's knife work. I like Katsuo, or skipjack tuna, it's meatier and brighter in flavour than bluefin, tastes cleaner during the spring as it sheds fat. This was an instant reminder of that car park from when I visited during sakura bloom a couple of years ago. Chef does love his sushi. These should be Cornish. Good catch.
3. Native Lobster Two Ways
Part 1. Lobster Claw 'Seafood Salad'. Porthilly rocky oyster, baby gem, confit lemon, seaweed and a sesame dashi vinaigrette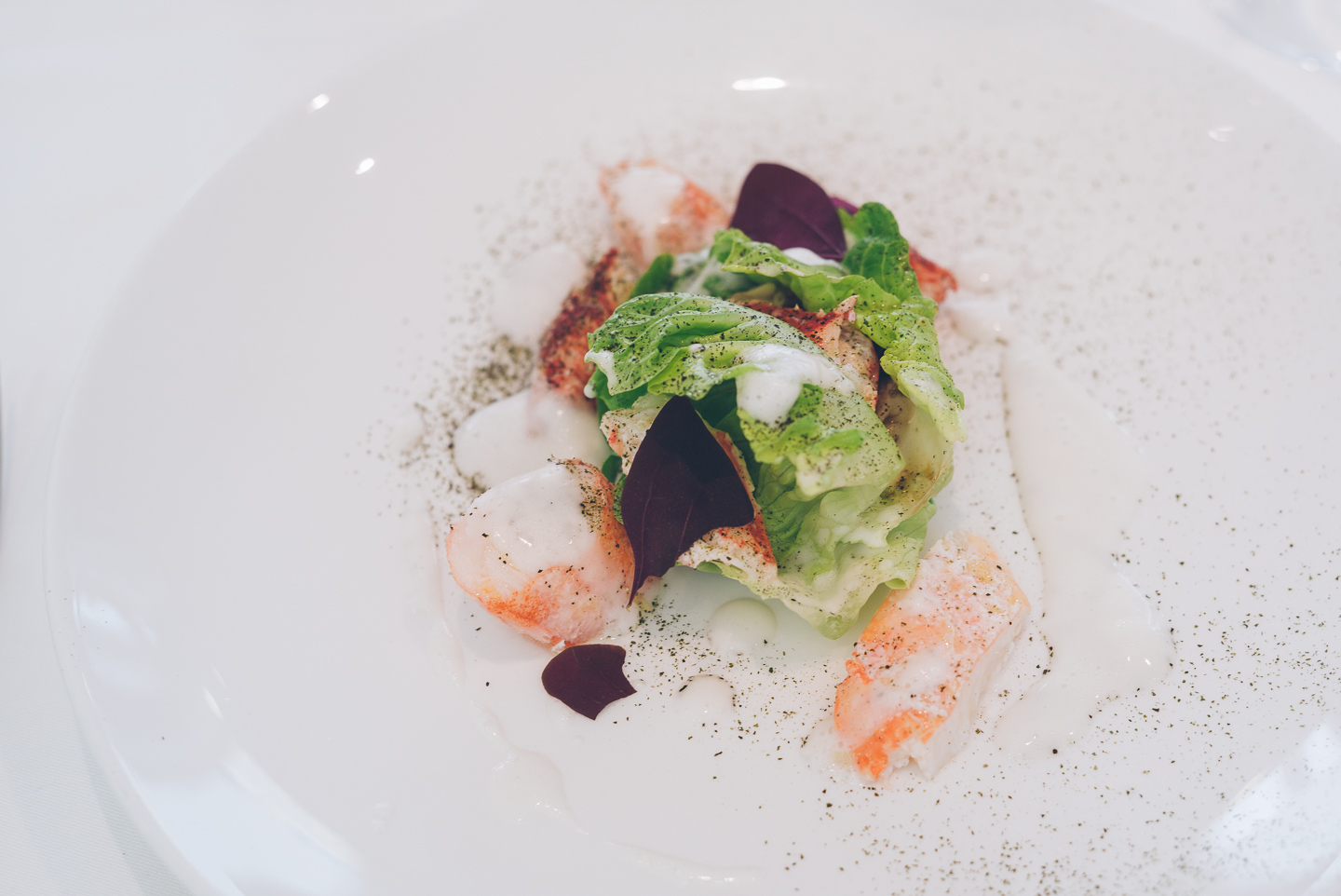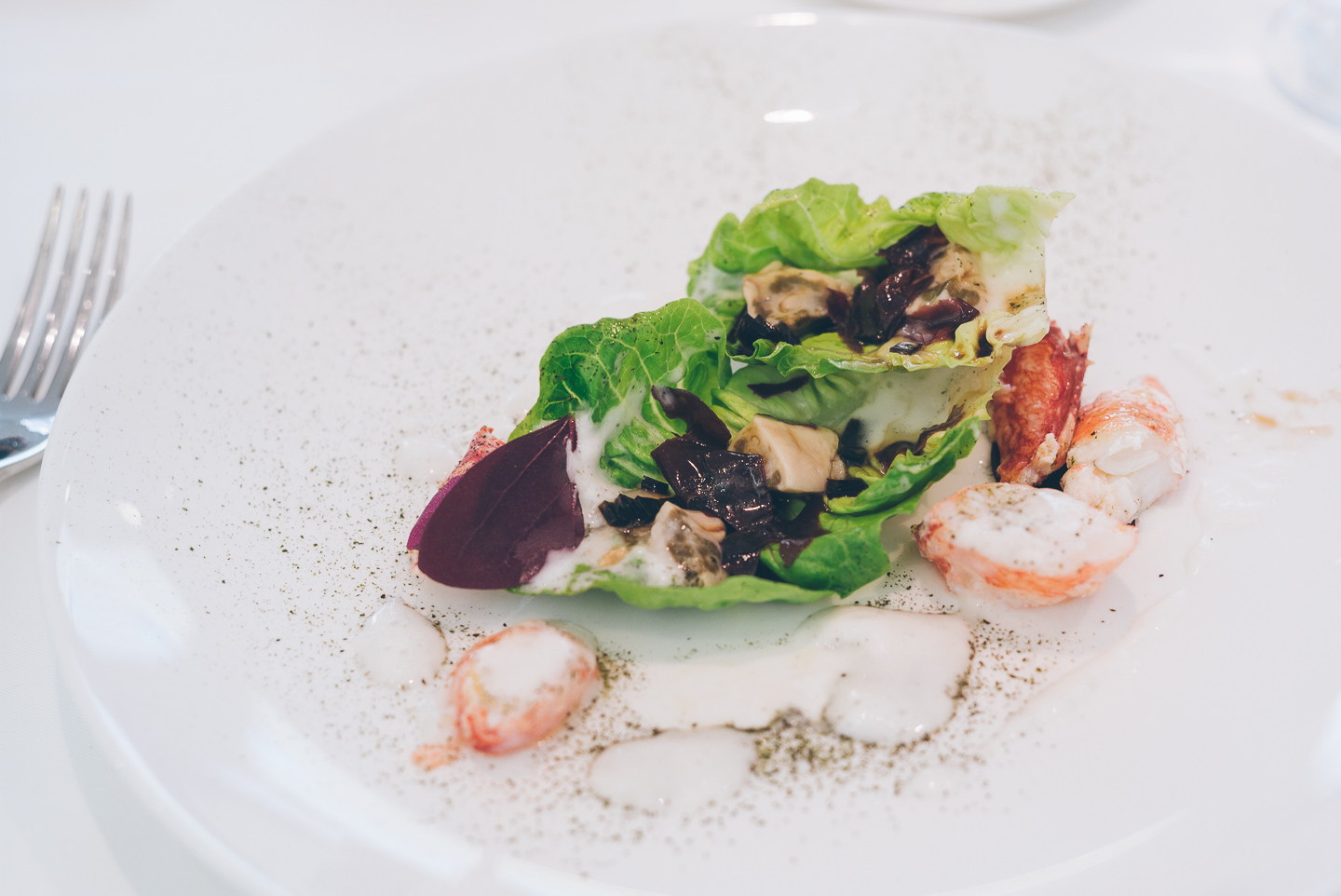 Uncovered to reveal the oysters, they are shucked and cut (and thus raw), the brine and minerality, then this peak of rushing acidity, the confit lemon, the vinaigrette, a taste of pickle. When it meets the delicate flavour and texture of the claw, Woo….
You could eat this like finger food, claw with a dabble of the emulsion, in with the kombu and oysters, an 'open sandwich' of baby gem. Pure.
Part 2. Lobster Tail, peas, pink grapefruit and coral sauce
With 2013 Weiner Gemischter Saltz D'AC, Nussberg, Weingut Wieninger, £12.50
Check the vivid colour. How much roe has gone into this sauce! It is creamy but also light, with an almost candied acidic element which I gather is from the grapefruit. There is something spicy with the peas, like pepper, along with the taste of heat from a pan. But inside, they are crunchy, retaining that original fibrous, snow freshness. The tail carefully blushed in the pan, is dense and juicy, has this incredible sweetness, deep and natural, screaming purity and of brine, totally off the charts. I remember this from last summer, it is even better today. And what a pleasure it is to eat great catch. The luck of the draw and the skill of a chef who has handled it respectfully.
This is what I came for and I'm fully satisfied. Here is my money, please take it all. I show my appreciation with a slice of bread as seen below. Check the colour smear onto the linen (Sorry Tom, I am a slob..).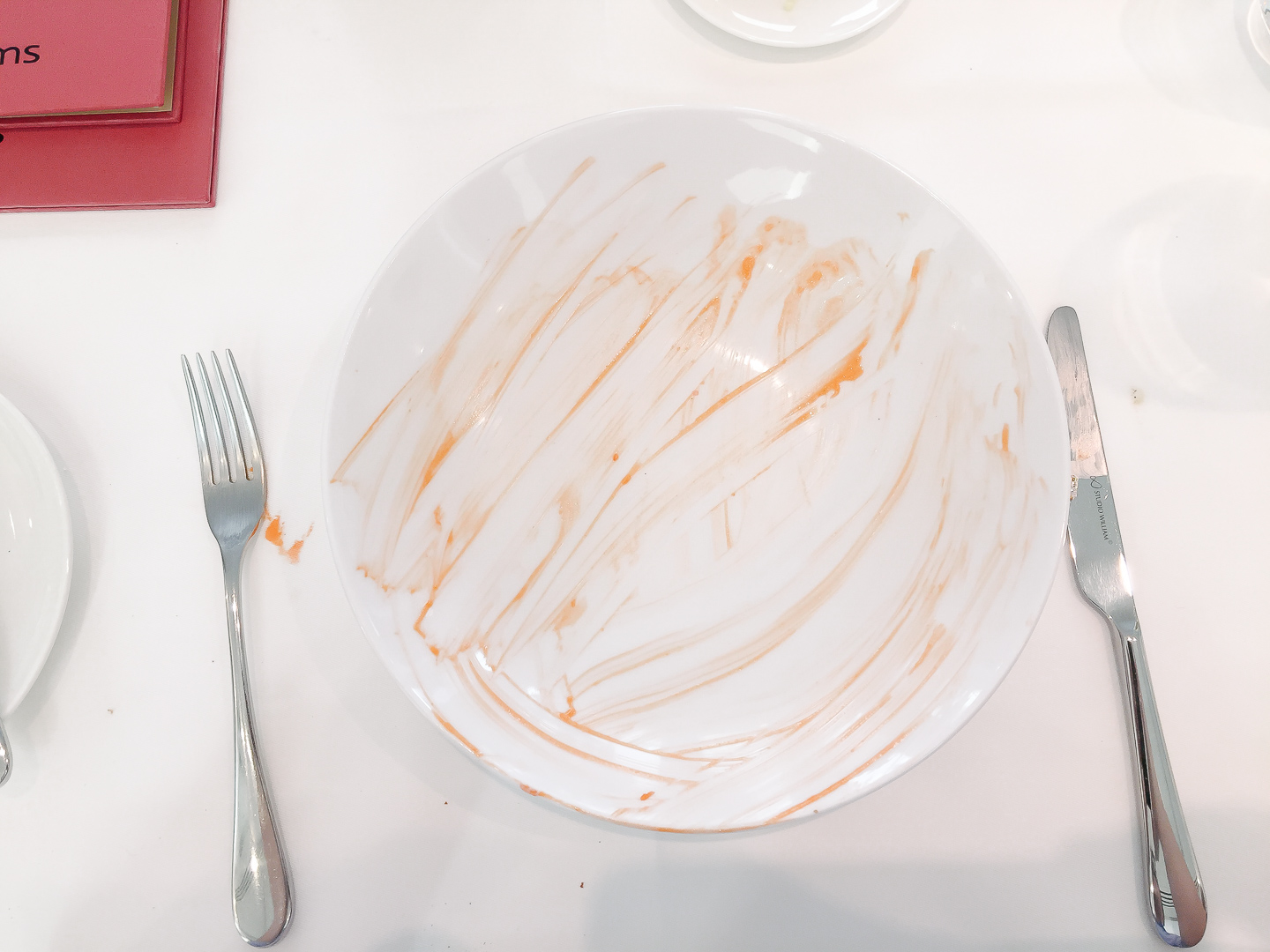 Charlotte's rec of this Austrian beauty is a little transcendent. It sounded overkill, a white comprised of 8 varietals, but each grape lends a strength to the overall bouquet. Rich lychee and then vanilla that is verging on butter. Then peaches, it's a big white for sure. The nose is flinty and full, fresh but also fat and generous. An acidic finish. Good wine to match the fish to come.
4. Slow-cooked Cornish Turbot, keffir milk foam, bone marrow and beef jus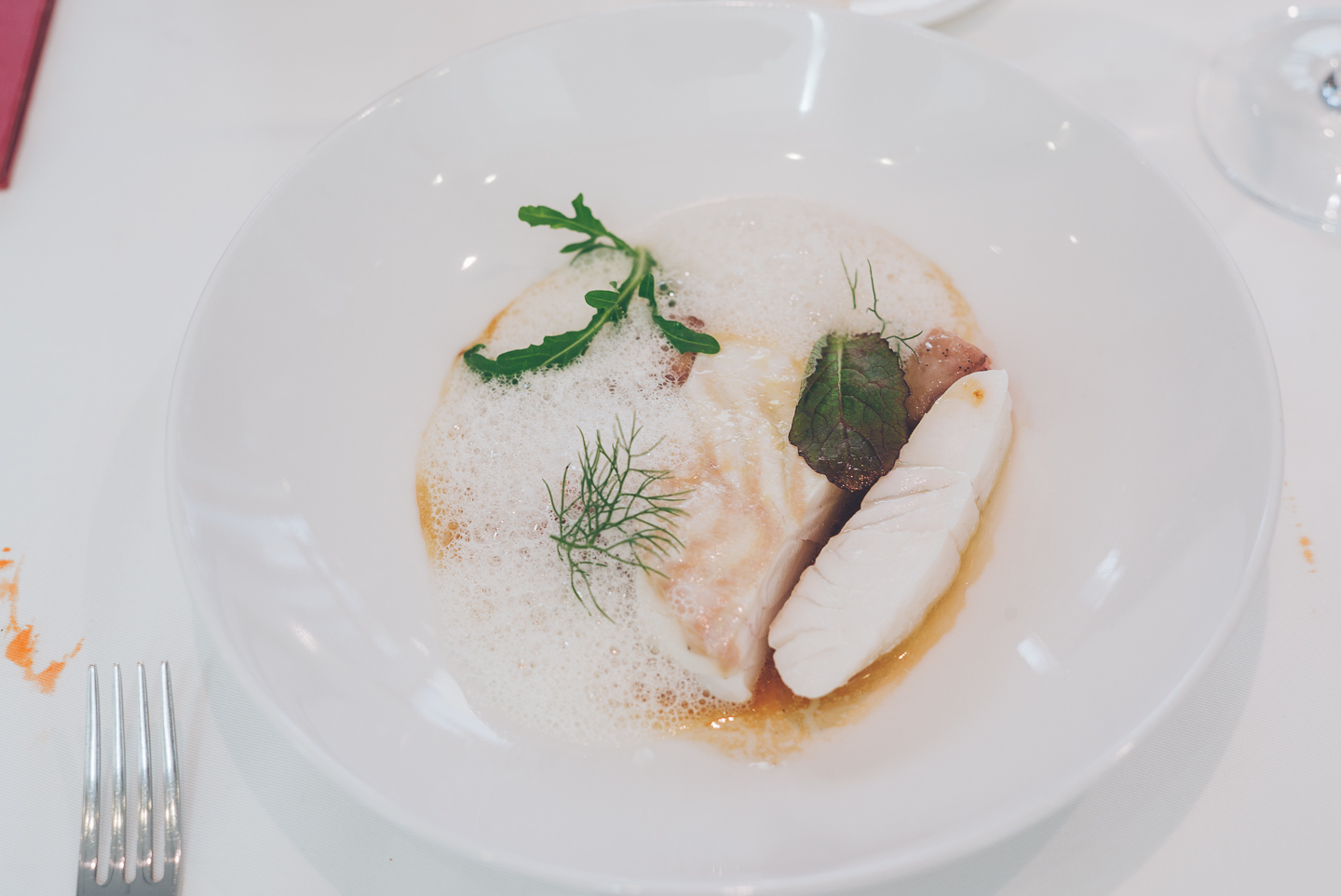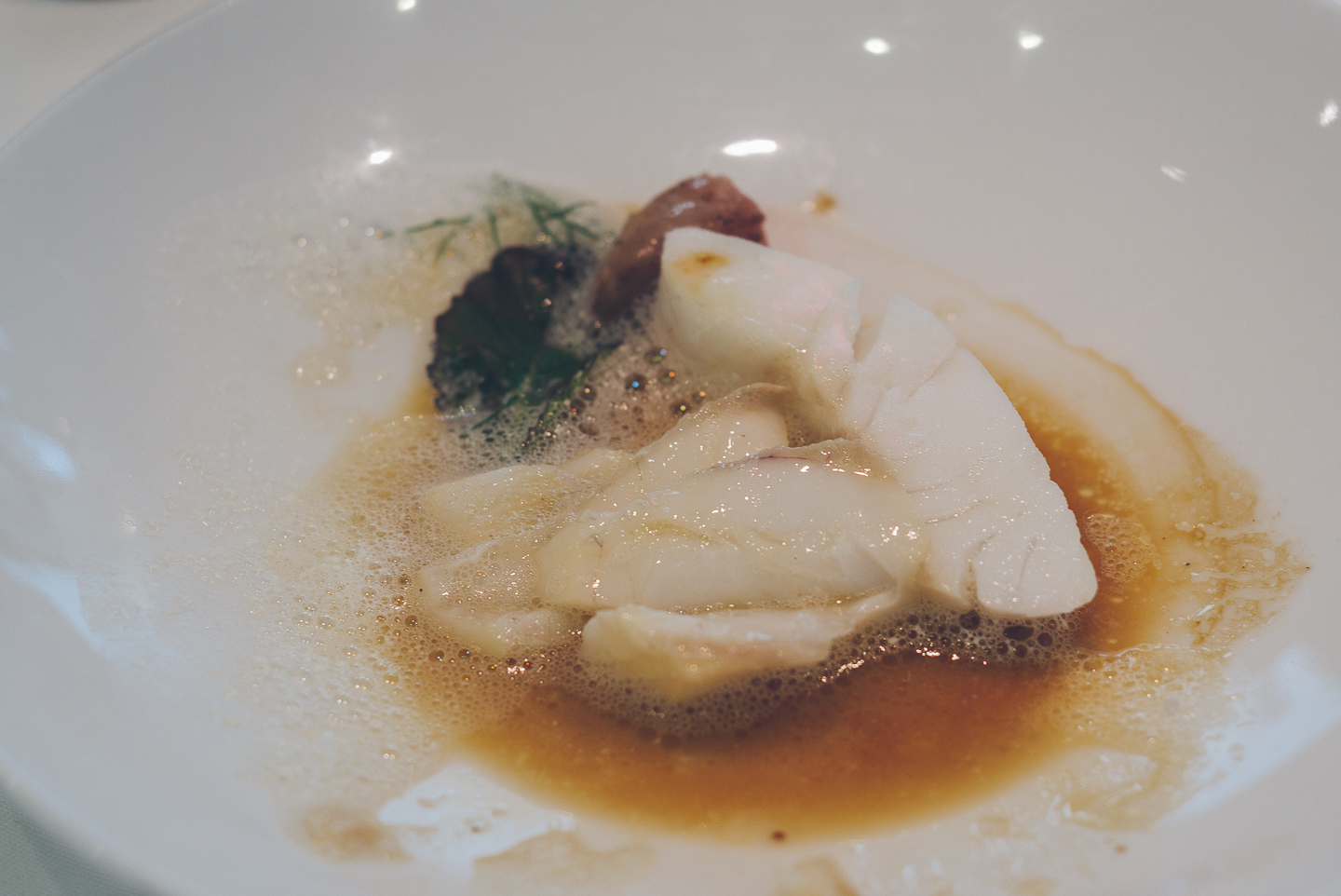 Some say 52, others 62degC in the (steam?) oven, and you need a big whopper too. To me this is mythical stuff you come to restaurants for. The fabled a la nacre, using slow cooking method and requiring good catch to get there. I catch a glimmer of the pearlescence on the surface of the turbot, but probably not quite enough to be mind blowing. Not quite lucked out, the catch is not the primest example, but there is still much to admire with execution. Carefully cooked, firm yet flaky. The beef jus is basically seasoning, rehydrating and oiling the fish. Almost a surprise are cubes of marrow, cooked to a core of see-through pink, flavour bombs, texturally similar to the fish. This is lovely work.
(FYI, subsequent visit 2 weeks later, turbot was superlative)
5. Pan-fried lamb sweetbread, morels, ramson, baby gem and a mushroom and vin jaune emulsion
With 2013, Rosso Montalcino, Il Colle £10.50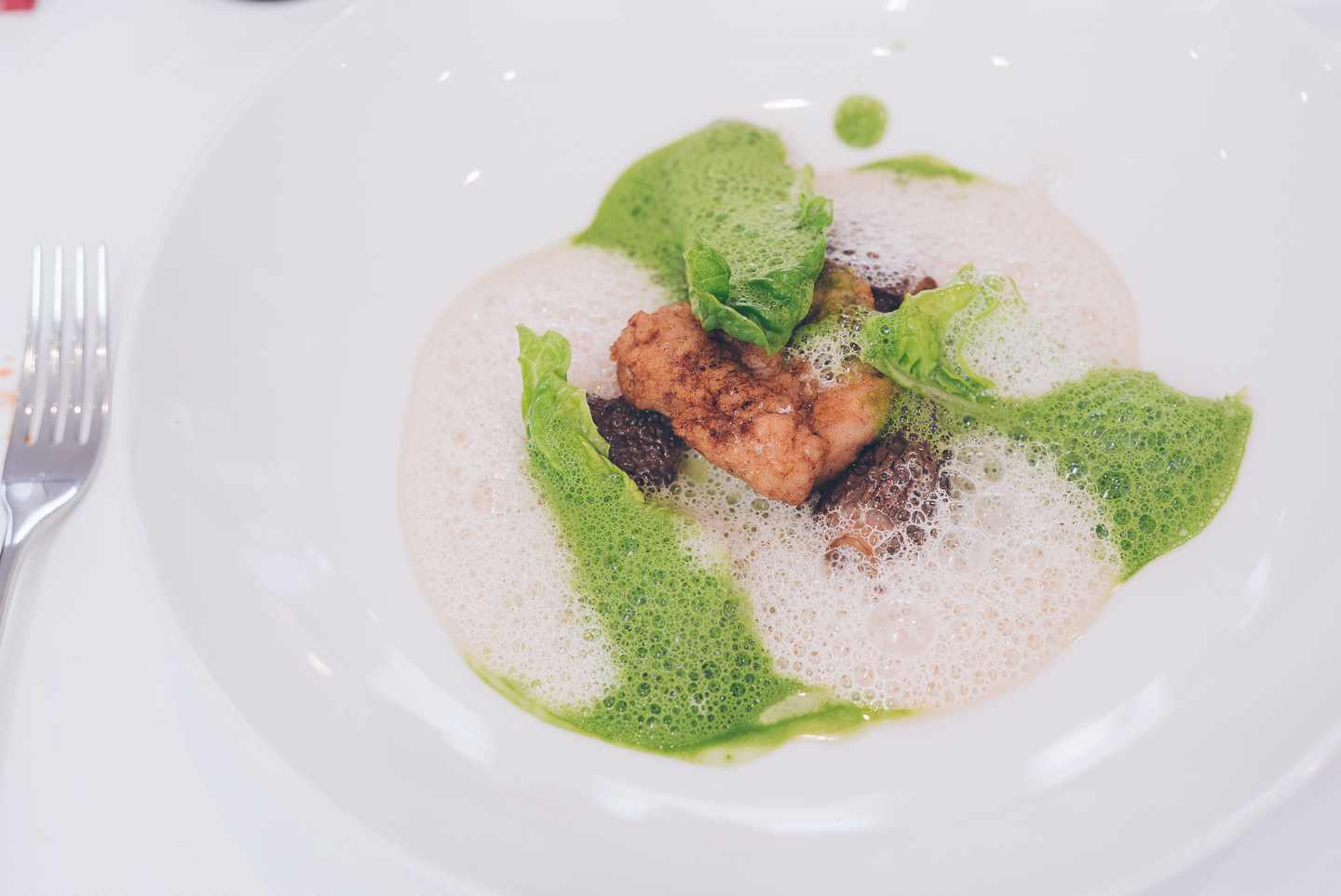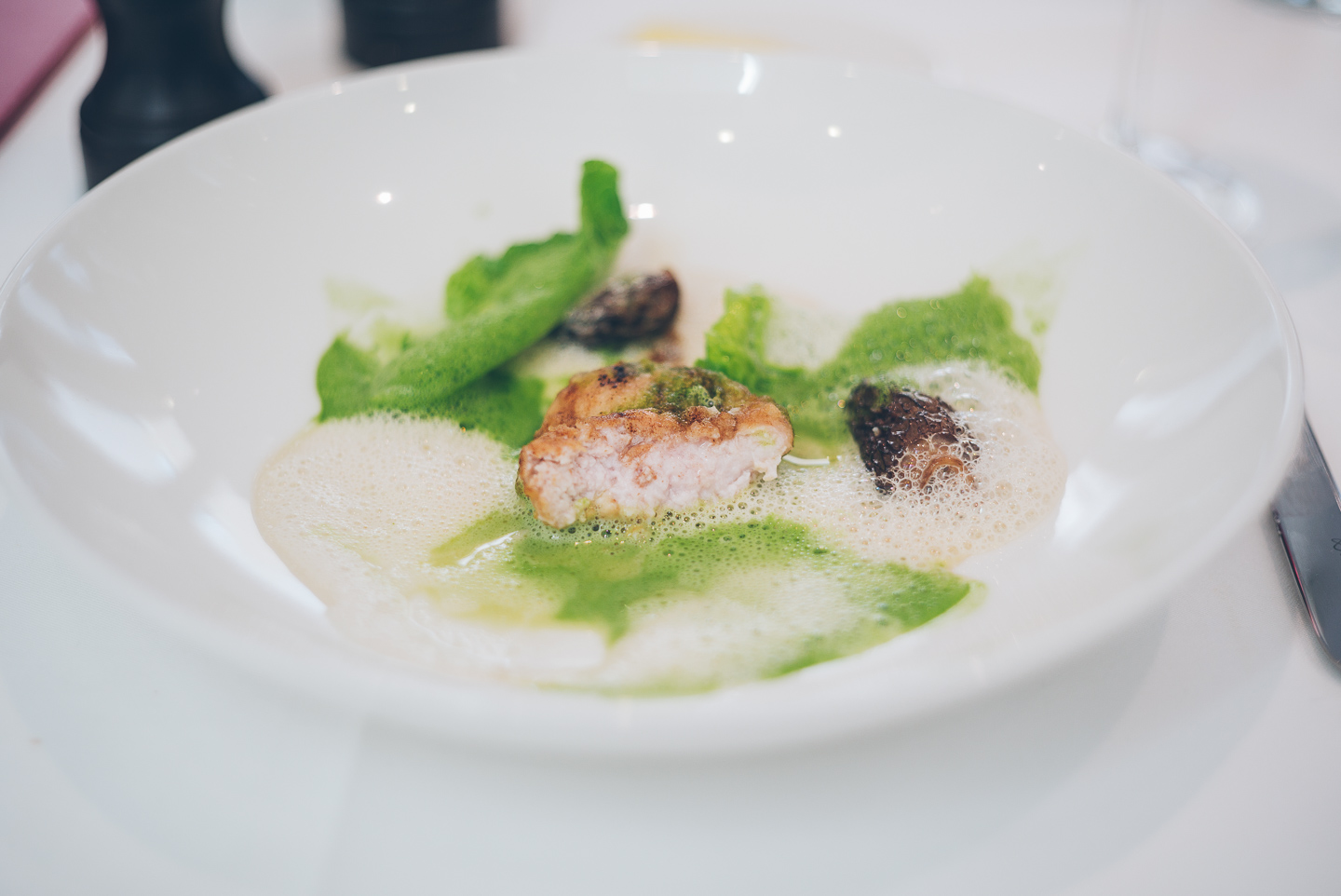 The blossoming and saturating colours of summer on this plate. More than chrophyll, the essence and aromas of wild garlic are retained in this emulsion, with a contrast to the creaminess of the mushroom sauce with just a tiny hit of acidity from the Jura. Morels and sweetbreads complete the tour of umami.
6. Roast Squab pigeon breast and confit leg from Mesquer, smoked linzer potatoes, parsley and taggiasche olive condiment, Piquillo pepper, offal sauce and Ras el Hanout spices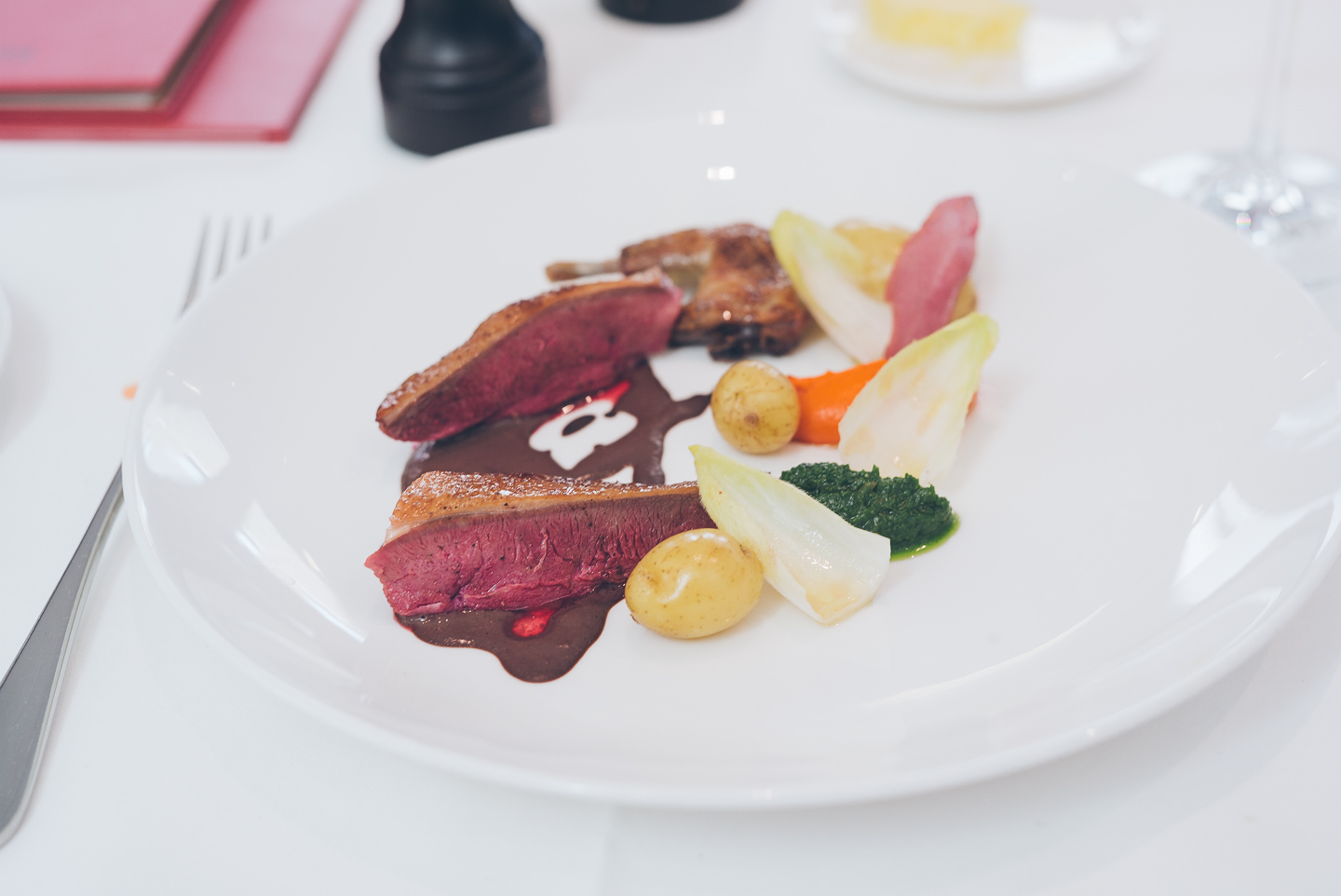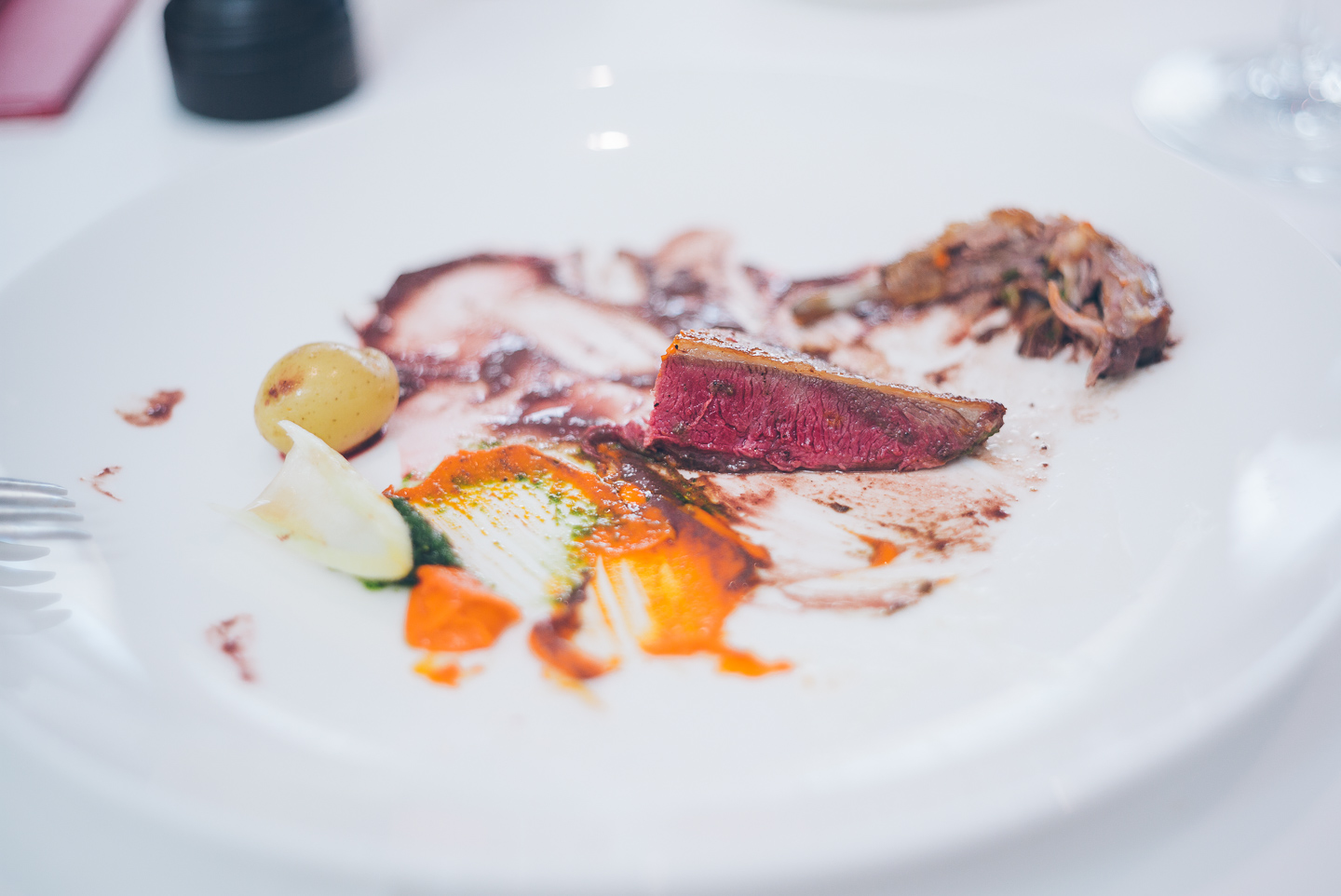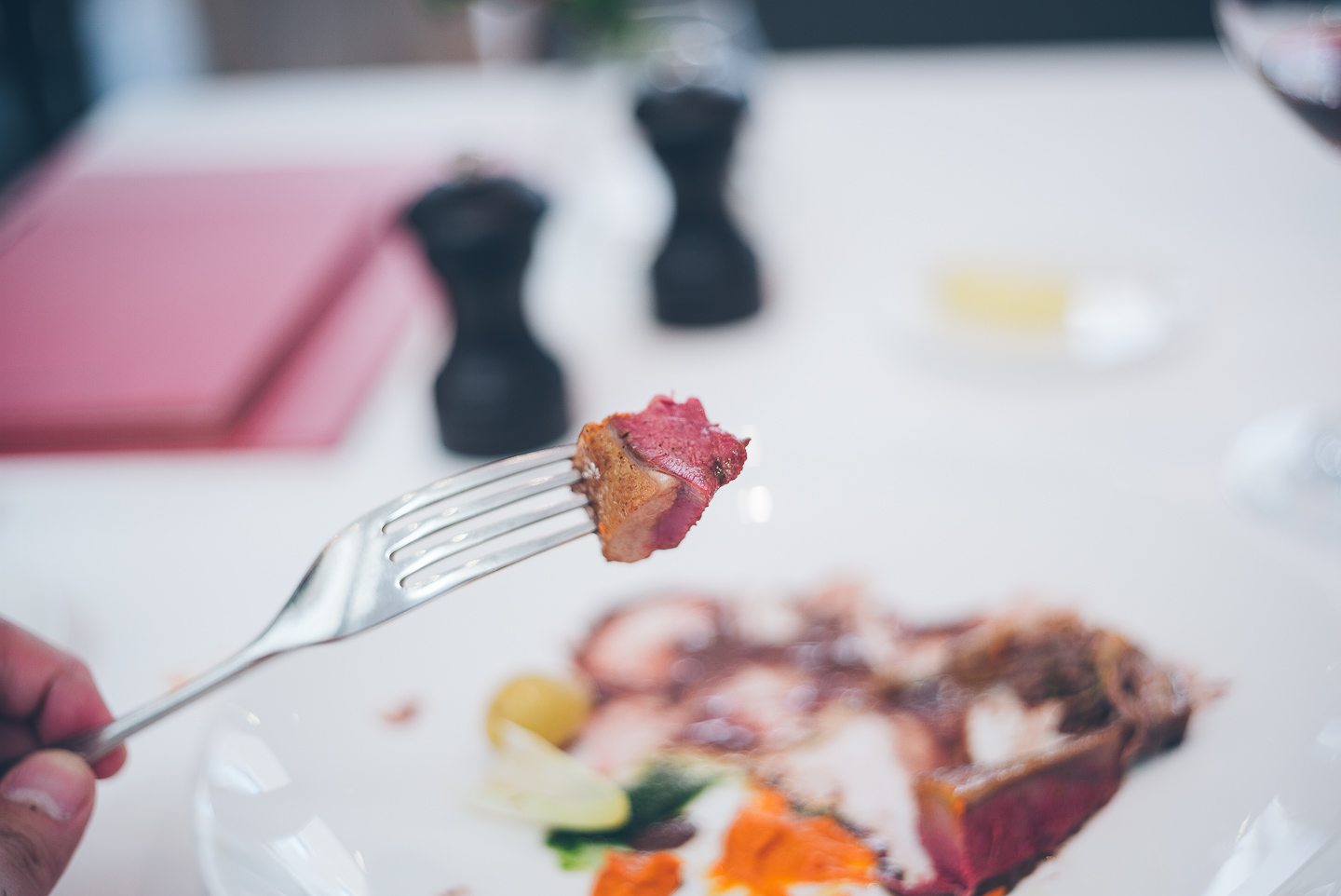 This is the sort of cooking that would convert non-believers into total pigeon lovers. Check the colour, wonderful work in the roasting pan. This happy French bird must have eaten a healthy diet. It has beautiful clean flavour, lean, with enough of a rim of fat under the skin. The piquillo pepper paste is a spark of life. The offal sauce is as good as the last time, it's delicate and nearly sweet, like chocolate even, it is a contrast to expectation. I savoured the confit leg, silkened and oily, well seasoned, beauty.
On the Italian wine, Sangiovese, the nose has unfurling wood, alongside a rush of fresh black fruits. Young and fresh on palate, pencil lead and also cherry liqueur edge. It is well balanced maybe even some gunpowder too on the cherry finish.
7. Alfonso Mango sorbet, coconut foam, passion fruit, basil and a lime tuile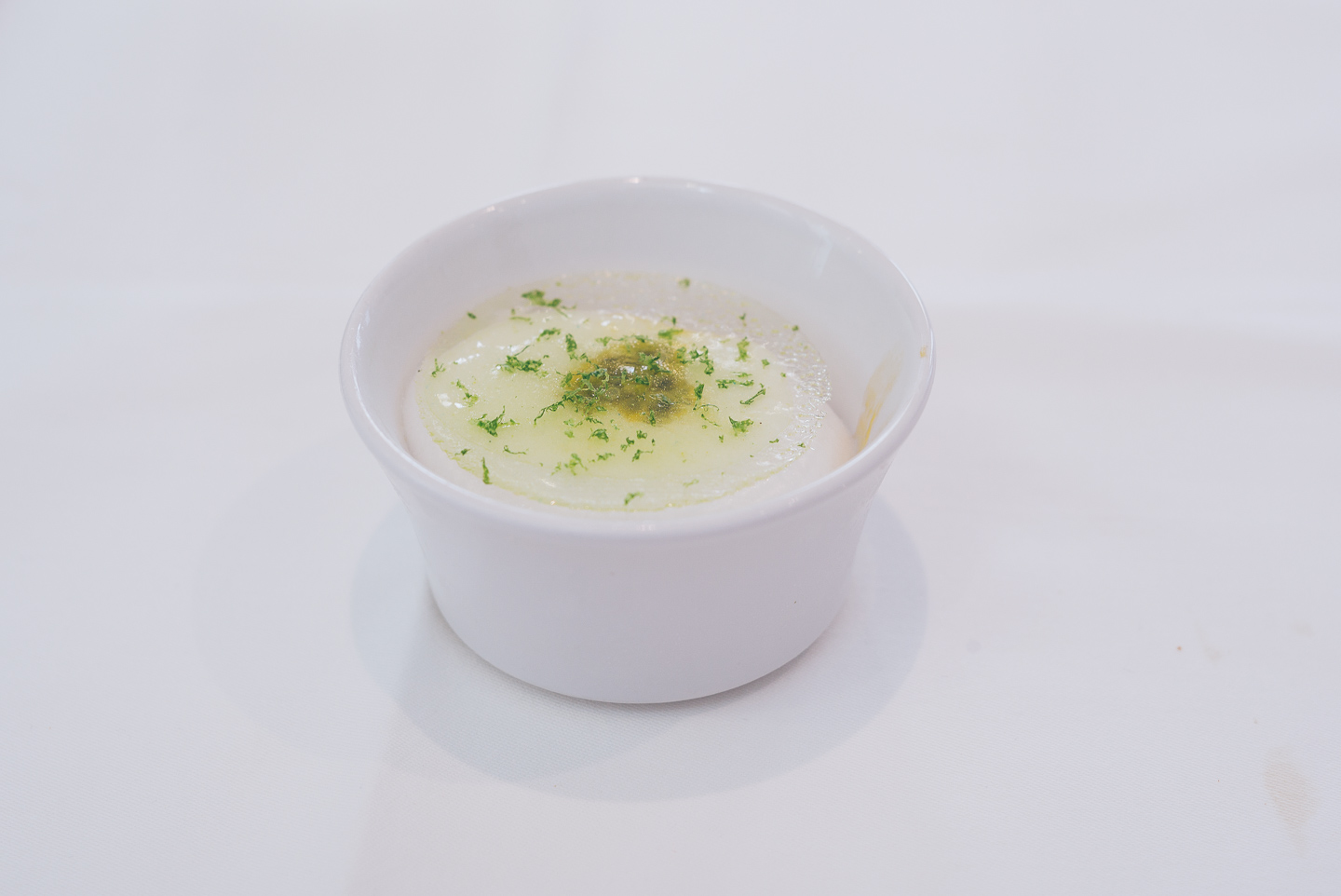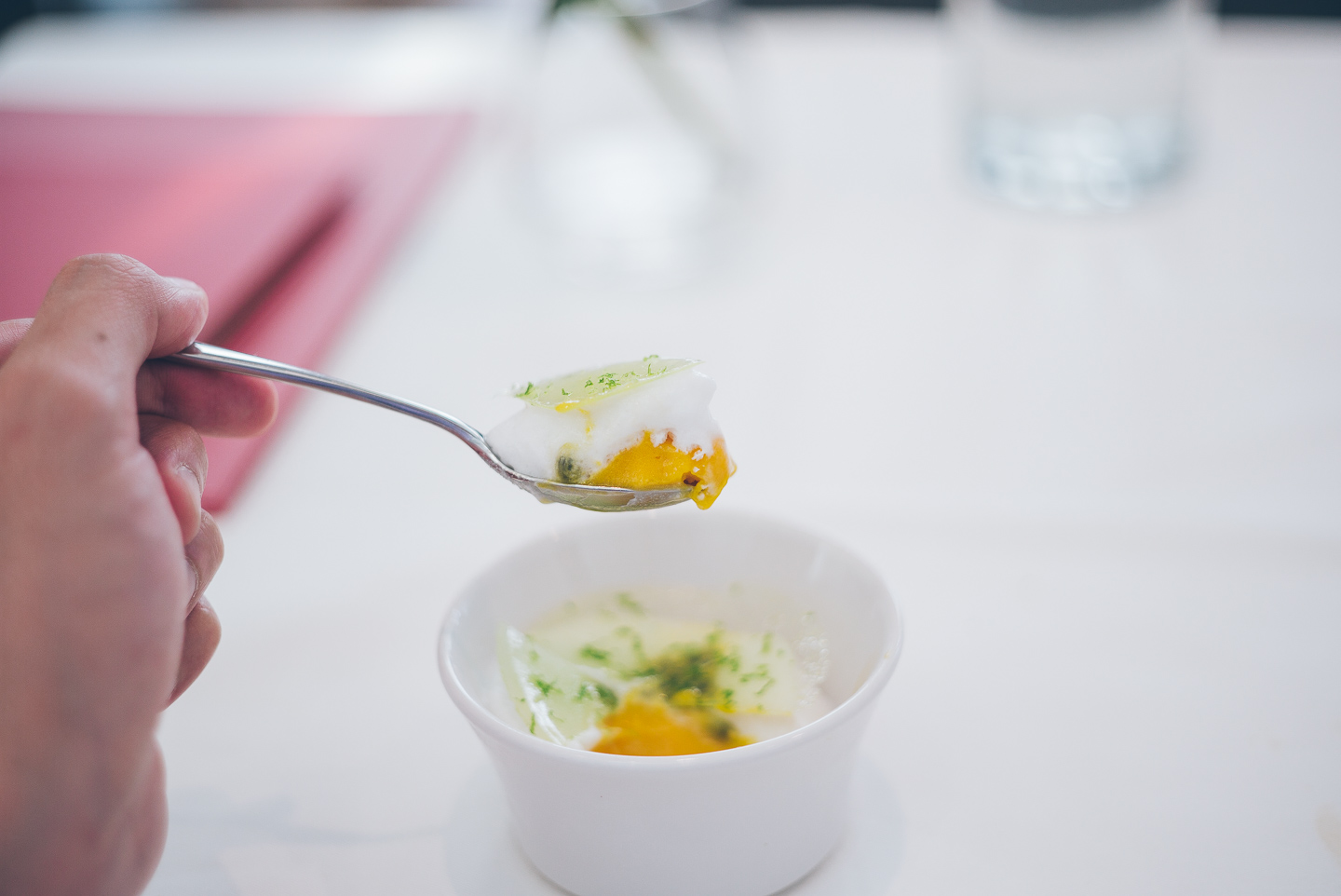 Incredible effervescence – it's like a lime grove. Then there are the layers of fruit, fresh and light coconut, sweet mangoes, acid and texture of seeds of passion fruit. Pudding always a highlight here. Love this one.
8. Tulameen Raspberry 'Feuillete', fromage blanc sorbet, creme diplomat and 20 year old balsamic vinegar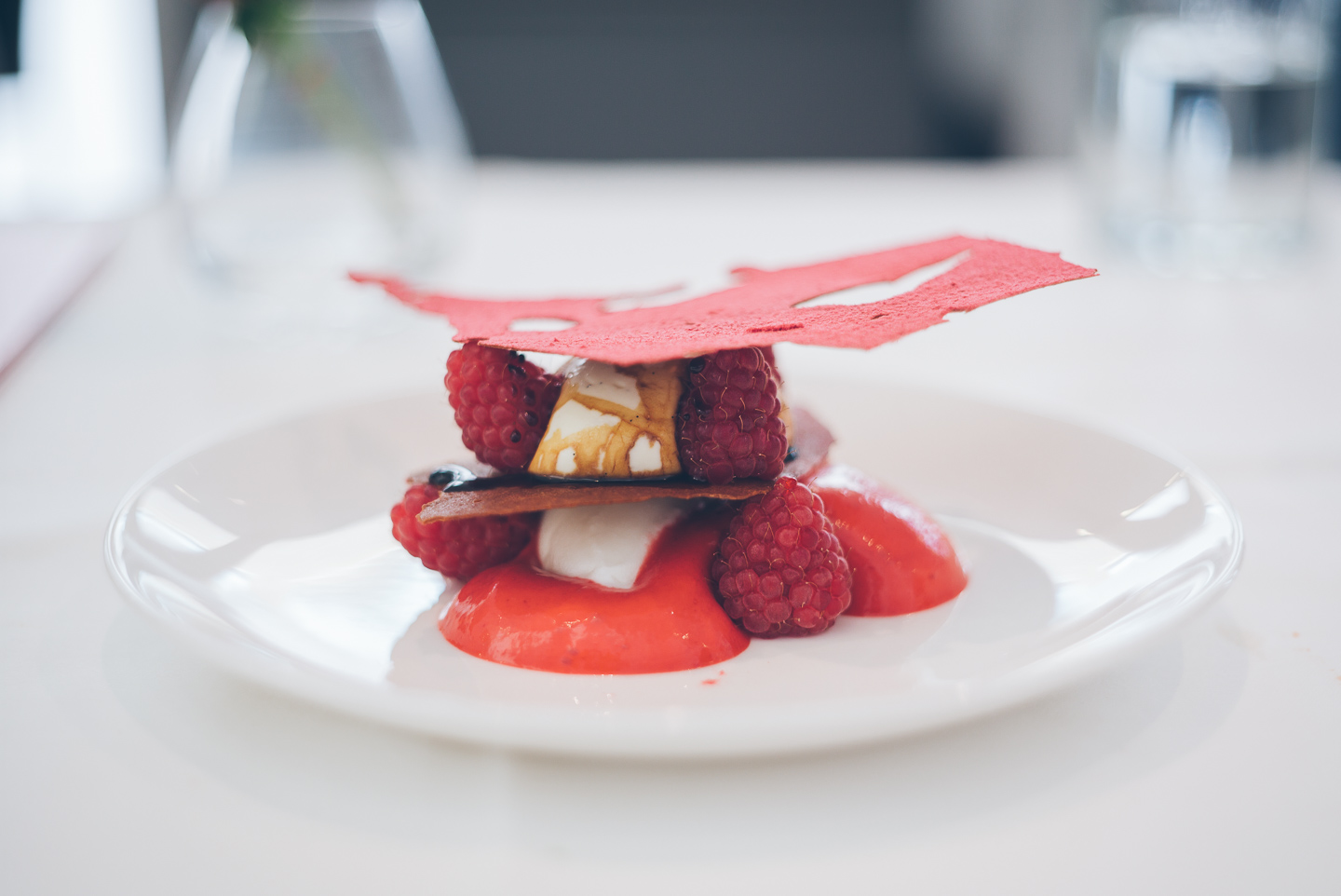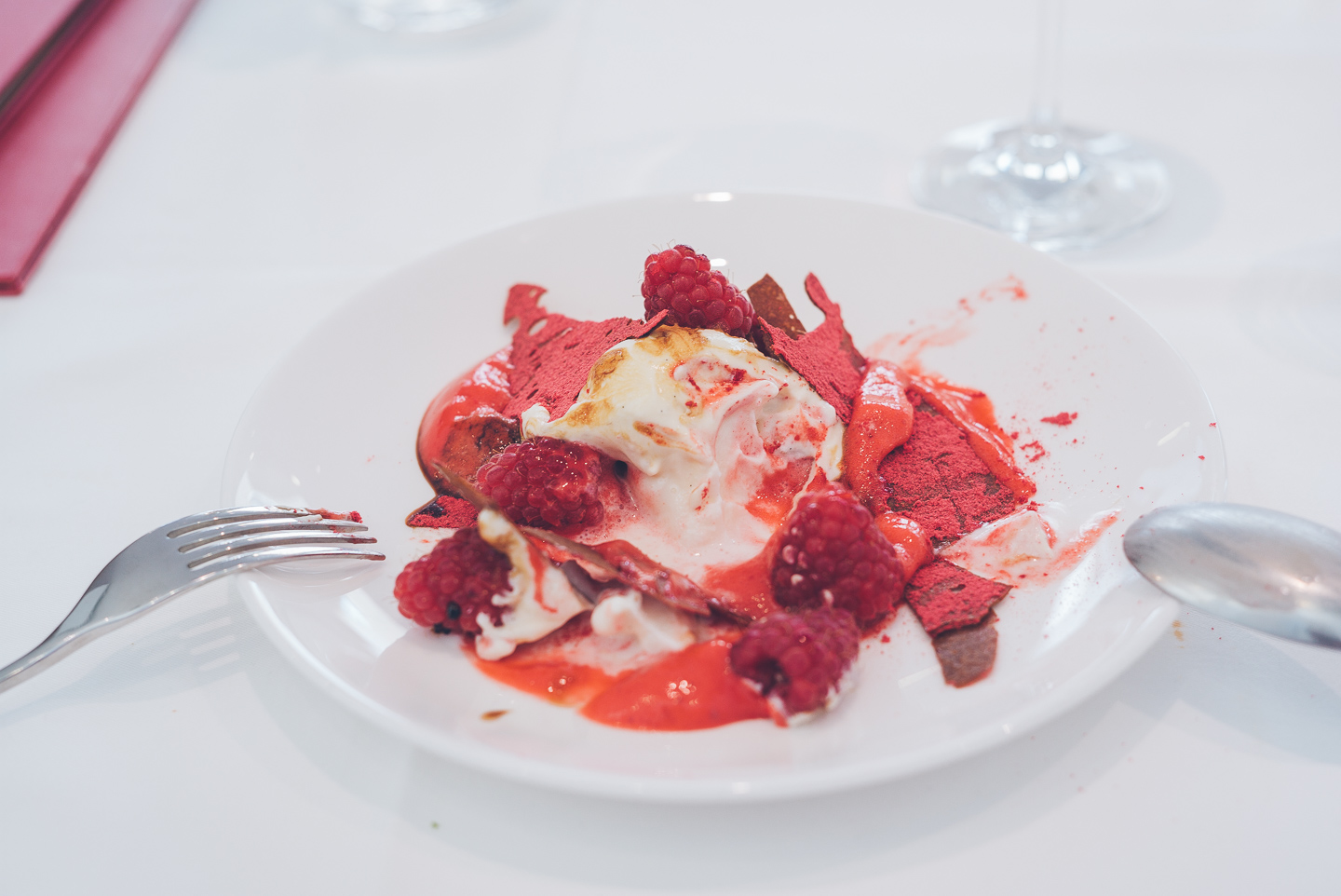 Check the pastry dusted with raspberry powder. Isn't this pretty? Love their creme diplomat just so well made. Like an ice-cold custard, melt resistant milk ice cream even. The tart against the creamy, beautifully pitched against one another, balance and harmony, a joy to the end.
Petit Fours: Lemon tarragon macaroon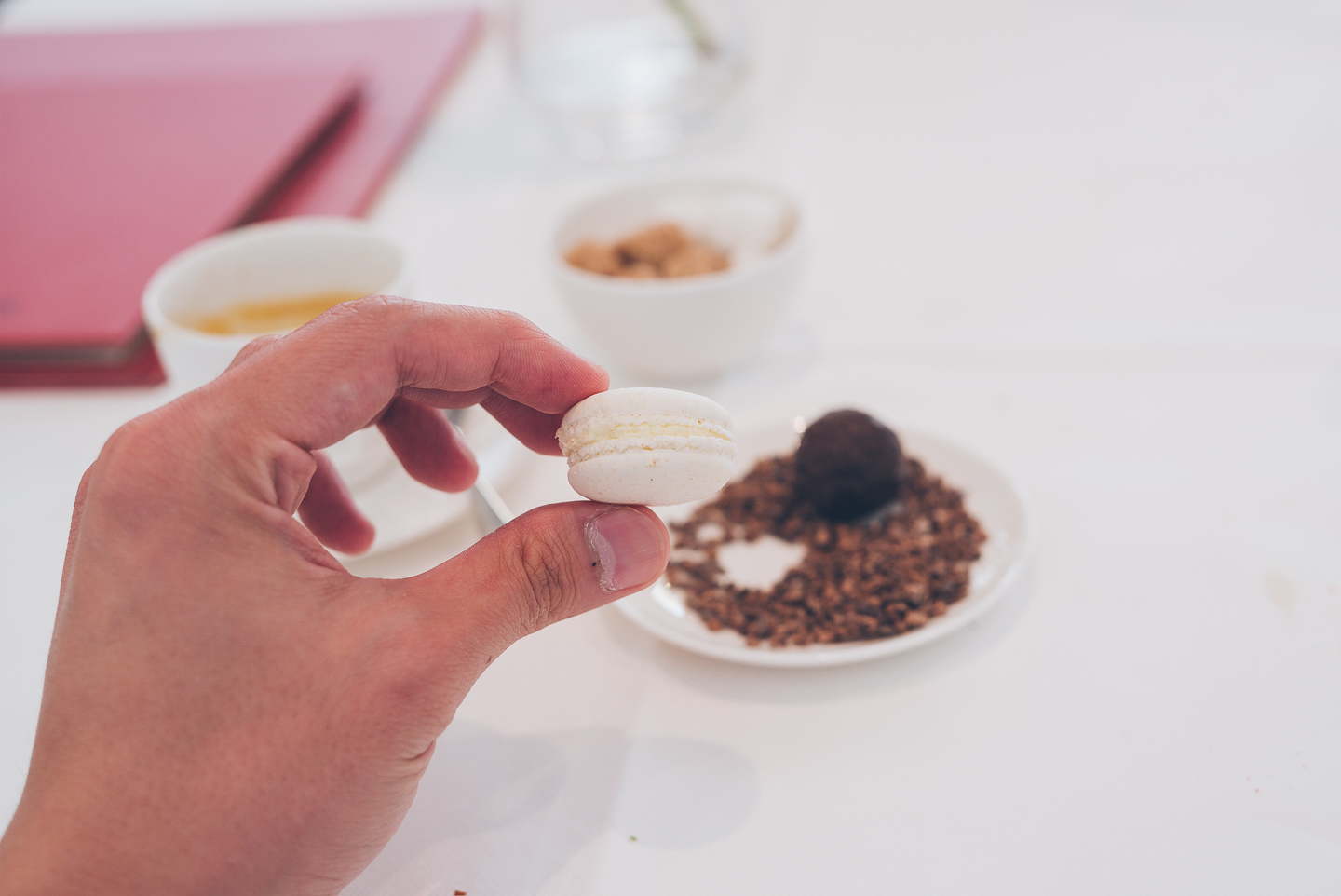 The Details
Bonhams Restaurant
Modern Euro
£45pp(ave) ALC; £60pp Supperclub ; £90 for Extended Carte Blanche + drinks and service
Lunch Mon-Fri; Supperclub on Wed-Fri
7 Haunch of Venison Yard W1K 5ES
Tel : +44 20 7468 5868
Tube : Bond Street