My weekend odysseys to K-town in New Malden continues to reward and surprise with all manner of delicious things. Most restaurants here are humble, homely and priced without the London premium. Palace is such an outfit, it is located further down the high street toward the fountain roundabout (near the swish Nandos), shielded by the shadow of a very big tree. For this reason (you'll see what I mean when you visit), this restaurant has slipped our minds every time we bus up the road for a meal.
Yes, the menu does look a little shady, with a 'Chinese Menu' section appended to it, but therein lies the shock, when actual decent food turns up at the table.
You should order your glass noodles, kimchi pancake and bibimbap if you need them, but there are other things to try out too. Most have a version of bossam (boiled pork belly, Yami's is my fav so far) that is always worth ordering, even though we didn't do that for this meal.
For BBQ, I'd actually recommend you stop at Motspur Park to Jin Go Gae , because they have actual charcoal grills at each table (and very good spare rib soup), rather than one run on gas or an induction type as is the case here.
We start with the appetizers, on the house as is the modus operandi for Korean restaurants.
Banchan, free
This changes depending on mood and time of the year. For this Saturday lunch, we had Kimchi, beansprouts and I just love the sweet soya glazed potatoes. They have CASS too, but Hite is always cool.
Pigs Trotters, £10 for a 'small' portion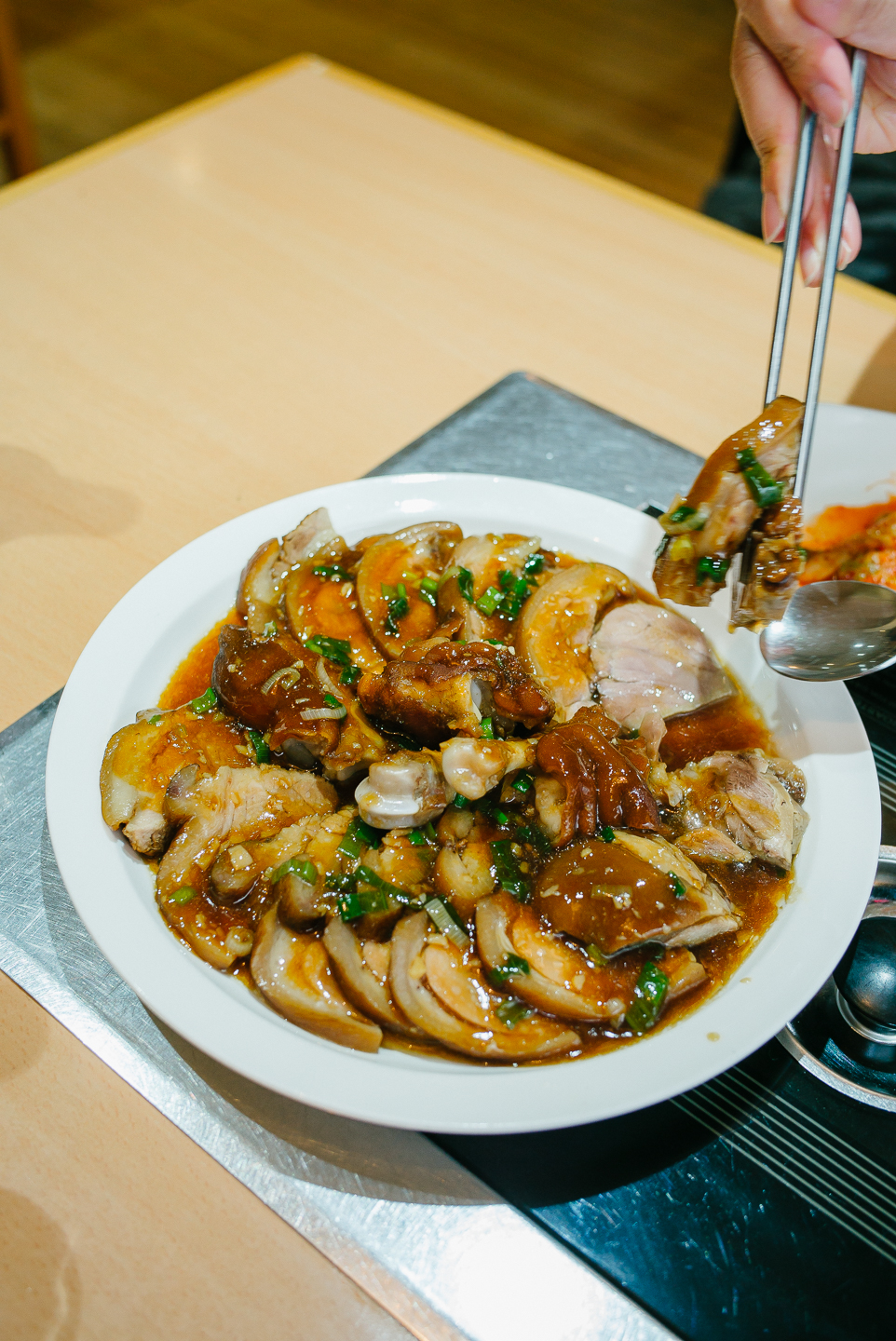 Woooah… this is abit generous for a tenner. Slow cooked until the meat is tender and the fat is rendered so that it liquidises as you eat it. If I had to guess, then a garlic and soy based glaze thickened in cornflour – a spoonful of rice, and this is a kind of perfect life. I would think Mr Koffman would approve too. The Taiwanese better half certainly does. Don't miss this, such good knuckles.
Kimchi fried rice, £6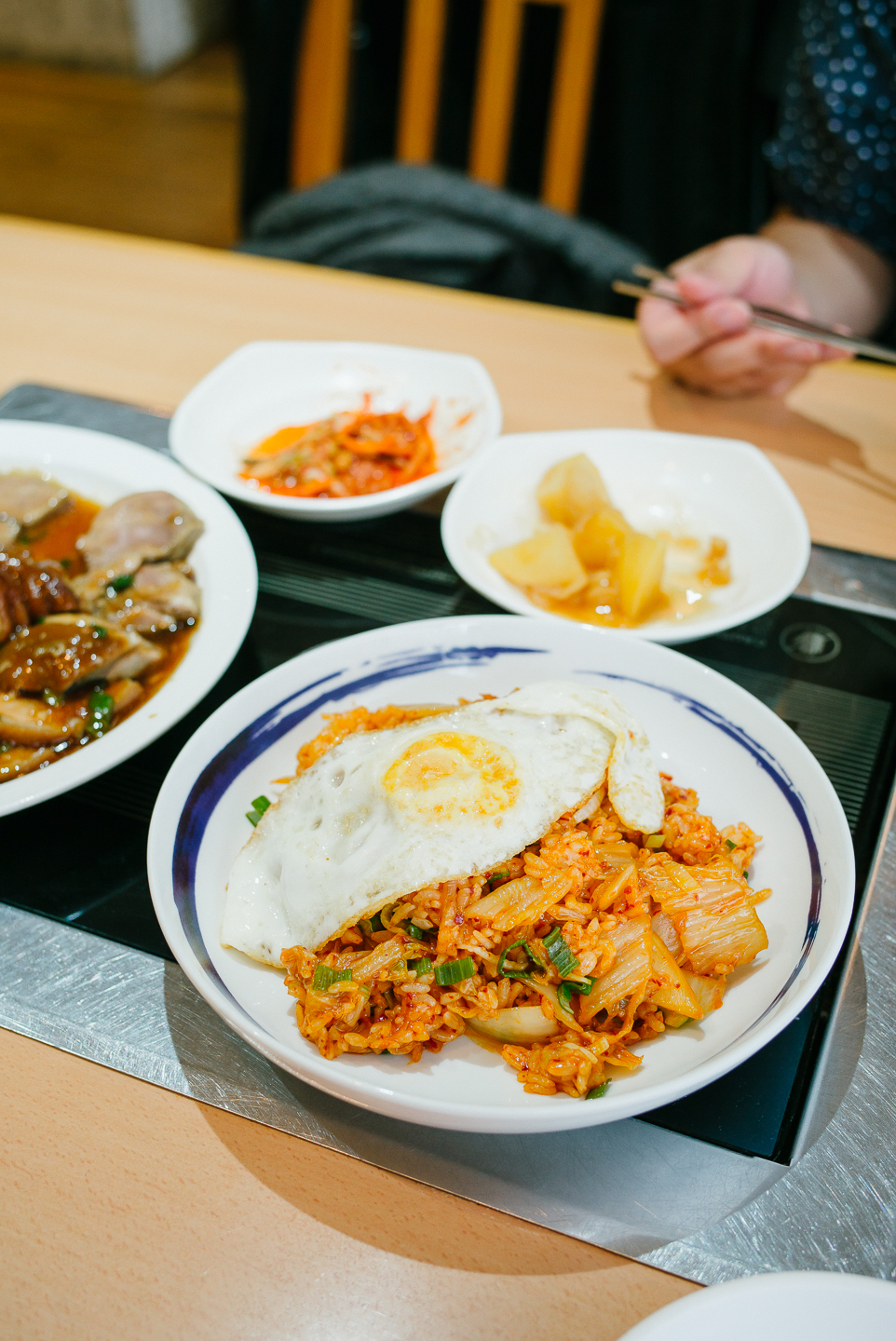 And speaking of that… £6 for a pretty big bowl of fried rice too. I didn't even have to ask for the fried egg – it comes by default! These guys are proper in my book.
I am a big fan of the korean-run Japanese restaurant called Osaka in Worcester Park, of which I feel that they are totally a hidden gem that does excellent Kaiten-ish sushi, but Osaka are tops with their kimchi fried rice – oily, unctuous and toasty.
This is better. Not overly oily, and I love the effervescent acidity (and spicy kick) that kimchi brings to a bowl of fried rice. Fly and then some. My current benchmark.
Kimchi and dumpling chungol, £10 for a 'small' portion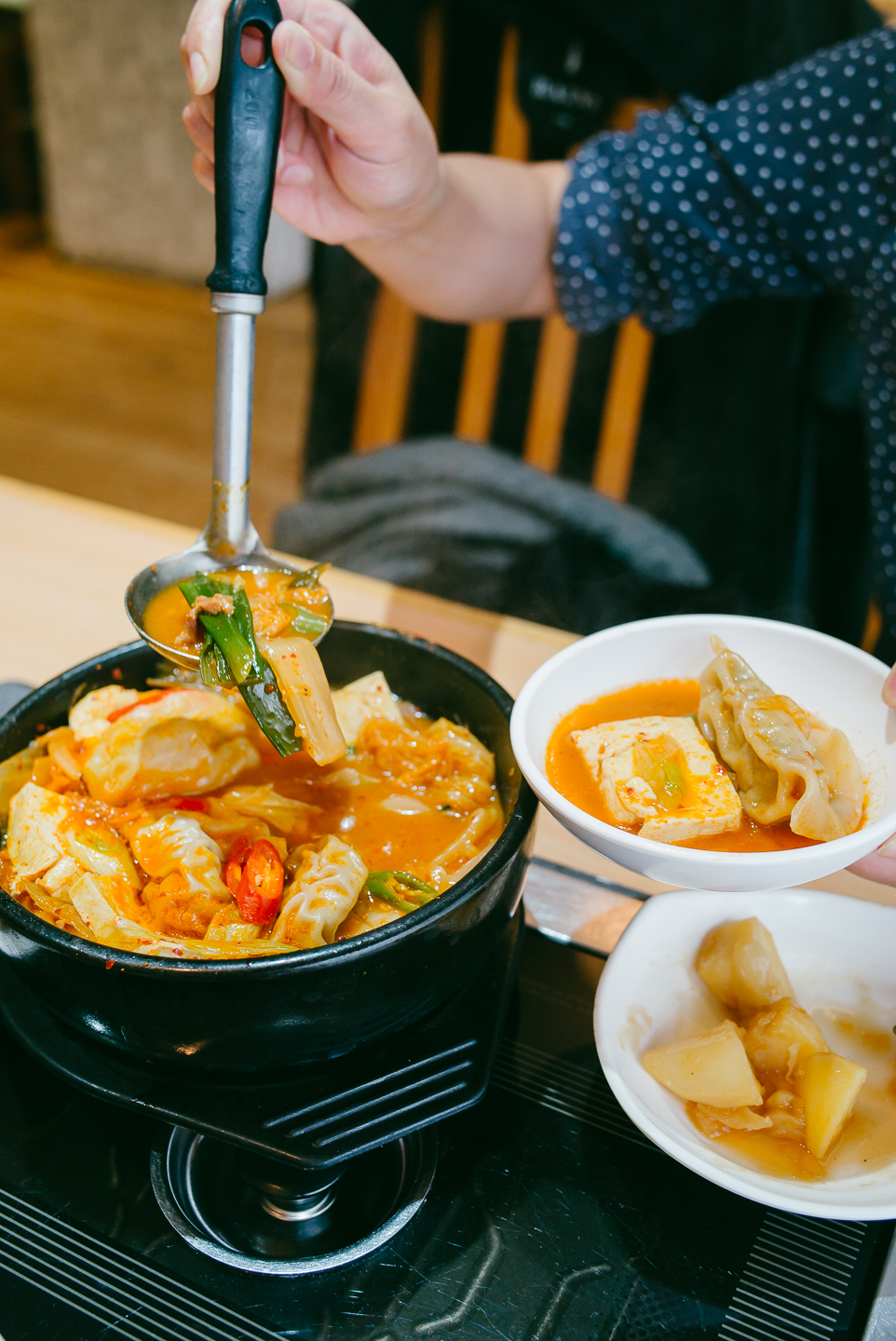 The better half loves her soups and she comprehensively approved this hot pot. It is sent out bubbling hot, with kimchi, pork belly slices, tofu, five well-stuffed dumplings with mince (and more kimchi). Sometimes I like dumplings with thick skins, especially big ones like these, analogous to an al dente raviolo. It's very satisfying, a meal unto itself.
Another generous portion for a mere tenner. Is the year 1996 or 2016? Fabulous hotpot – you must order it when you visit.
Deep fried chicken with spicy sauce, £13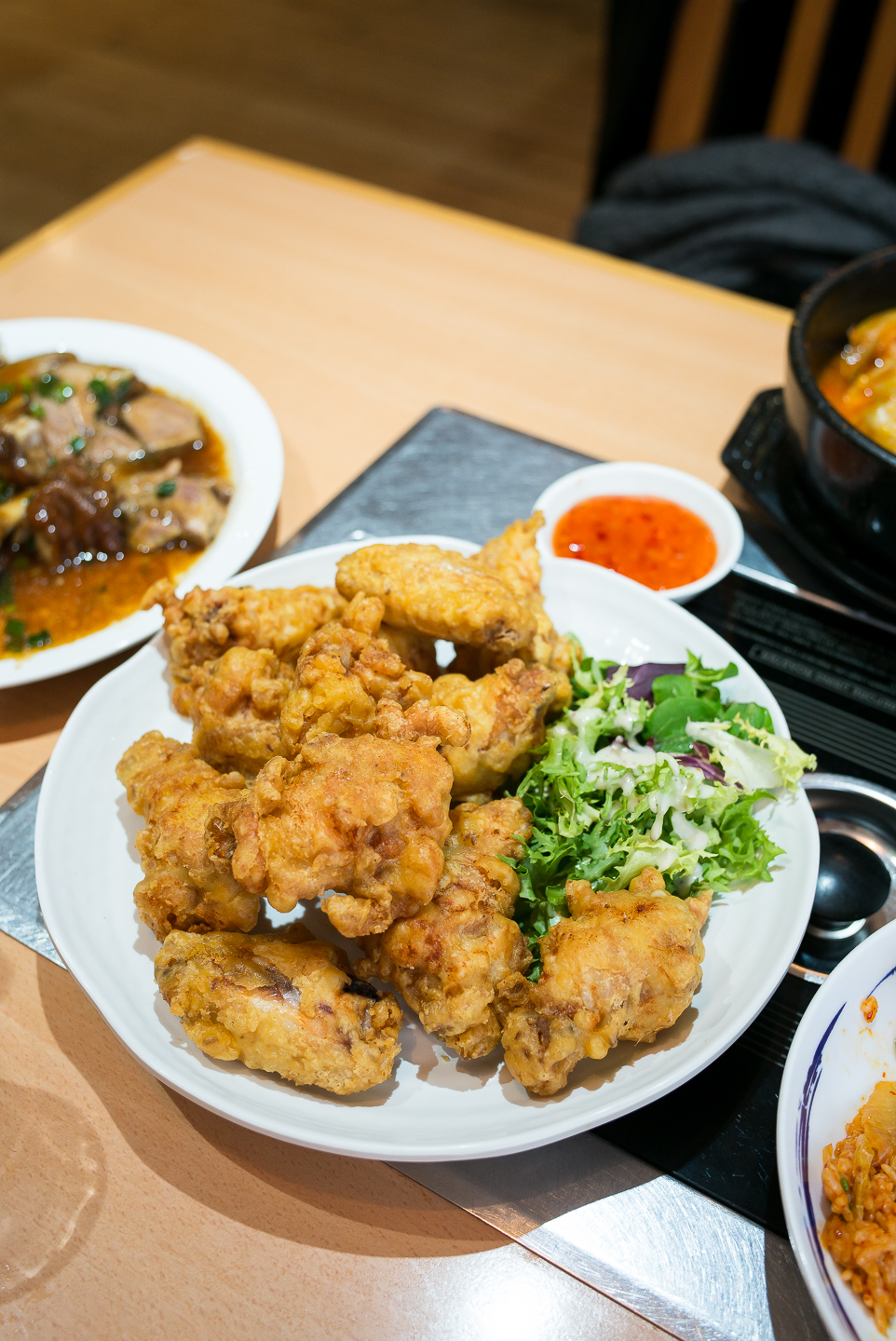 And finally, the KFC. Not a whole chicken like its peers down the road, but rather chicken wings. You KyoChon fans might recognise it, the double-fried, crispy and bubbly batter. I also wonder if they have added a touch of fish sauce too. Good batter. Just like the local competition, they make you wait for this because it is done properly, fried a la minute, as it should be. It is delicious, the bubbly batter is absolutely fantastic, but for me personally, it lags behind Kangnam and Yami in that order. I tell you what, it feels like a privilege to have more than one decent option for Korean fried chicken nearby.
We paid £48.50 for all food and two Hites – way, way too much food for two people, and so we doggie bagged 1/3 of it. The trotters reheated, tasted even better the following day. Another fab Korean outfit to love in New Malden.
In every post I make about New Malden, I feel the need to re-qualify your reward-v-trek ratio, and with each successive visit, the case gets stronger. Here it is this week: If you also roll in a visit to Seoul Plaza for groceries (Chisang rice yo and taro), then a bingsoo (korean shaved ice) at Bingsoo Cafe and end with dinner at Takahashi in nearby South Wimbledon, then yeah, 100% mate.
Bonus points: There are two Seoul Plazas at either end of the high street, one by the station and the other near the fountain. Go to the Seoul Plaza at the fountain and head toward the back of the shop. You will find …..a restaurant!
Details
Palace
Korean
£20pp + drinks + service
183-185 High Street, New Malden, KT3 4BH
Tel : 020 89493737
Rail : New Malden