Happy Chinese New Year! This year I would like to wish you
猴年大吉, 招财进宝, 和气生财, 恭喜发财.
—
The Frenchie has arrived in London, or more precisely, the Frenchie is back in London. He spent nearly a decade of his formative chef years cooking at The Savoy Grill, Mandarin Oriental and became head chef of Fifteen, where – as gastronomic folklore has it – Jamie Oliver gave him his nickname. After a year in Gramercy Tavern NYC, Greg and his wife Marie headed back to Paris to give birth to his son and his 26 seater bistro in 2009. And so the Frenchie legend began. Seven years on, Rue de Nil is home to Marchand's bistro, wine bar and a sandwich/coffee spot.
I am one of those totally romanced by bistronomy; La Regalade, Le Comptoir, Yam'tcha, Le Chateaubriand/Dauphin, Frenchie, I ticked some off that list but never managed a table at Greg's bistro. It continues to amaze me even though I think this style of liberated expression has certainly inspired a bunch of restaurants over here.
We've got our fair share of modern casuals including Antidote (and if you are a Chris Johns Fan, then Newman Arms), Upstairs (sadly defunct), Arbutus/Wild Honey and more recently Portland, Lyles, Ninth, all of which could qualify for a few inches in Le Fooding. If it ever did a London guide.
I'm a little nervous about this early visit because of the incredible way Le Chabanais bombed out of London last year. Although it might have had some fundamental issues with the location and probably just a bad idea to bling up the original anti-restaurant for export. Looking back, I still think I had a great meal, if a little expensive.
I have a feeling Frenchie will stick around in Covent Garden for a while longer, which looks to stay true to Greg's original spirit of fresh produce, fresh recipes and that feeling of freedom and conviviality. Split across a ground floor and basement with a shotgun entrance that opens up a squarish room with a marble-topped bar. Stark white walls, no table cloths and gorgeous oak parquet floors.
The lunch and dinner menus are markedly different, as explained to me, dinner is loosely based around 'to share' dishes, organised by nibbles (£5 to £9), dishes (£10 to £24) and puddings (£9).
Lunch is prix-fixe (2 for £22 / 3 for £28) and that's where Mark and I started off last Friday.
-LUNCH-
Huntsham Court Farm Pork Terrine, Piccalilli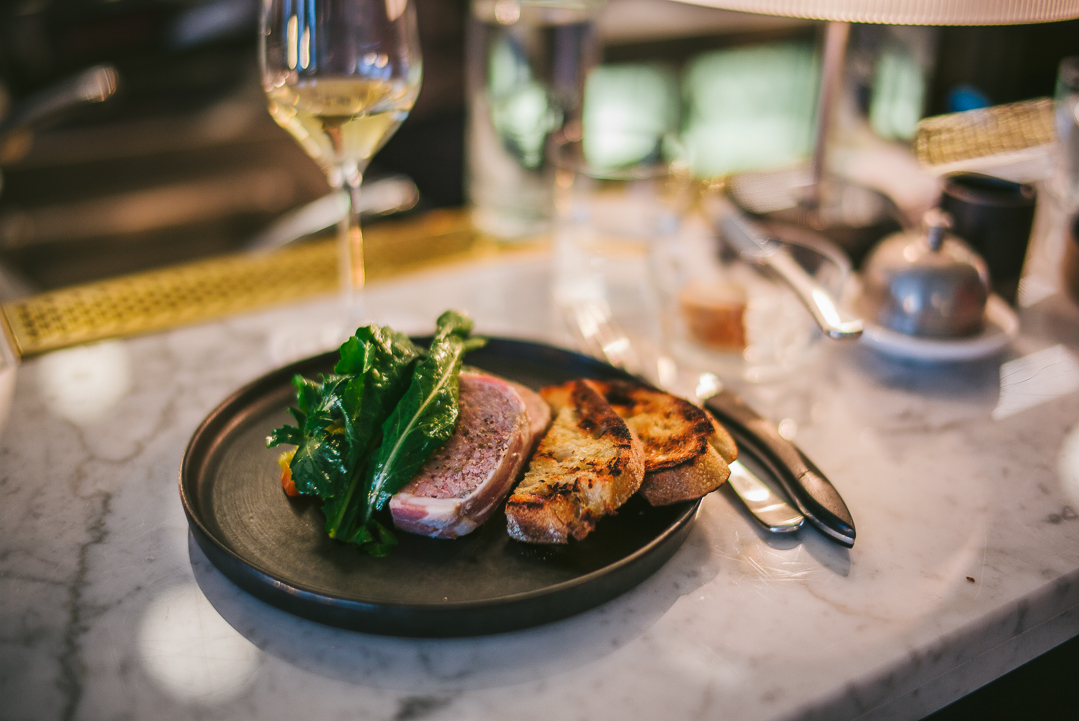 The terrine has this texture of loosely pressed minced that's fluffy, oily and mildly season but has this splash of lemon that gives it a real freshness. The piccalilli has a stinging acidity with mild sweetness that wakes you up. Subtle cooking, it's cool but it's no brawn.
Hot smoked trout, brussel tops & whey
On the other side, I tasted abit of Mark's trout which has been carefully cooked. With a sous-vide like texture and a soothing sauce. Nice execution, freshness again with that lovely acidity.
Quail, chervil root, baby spinach and poached pear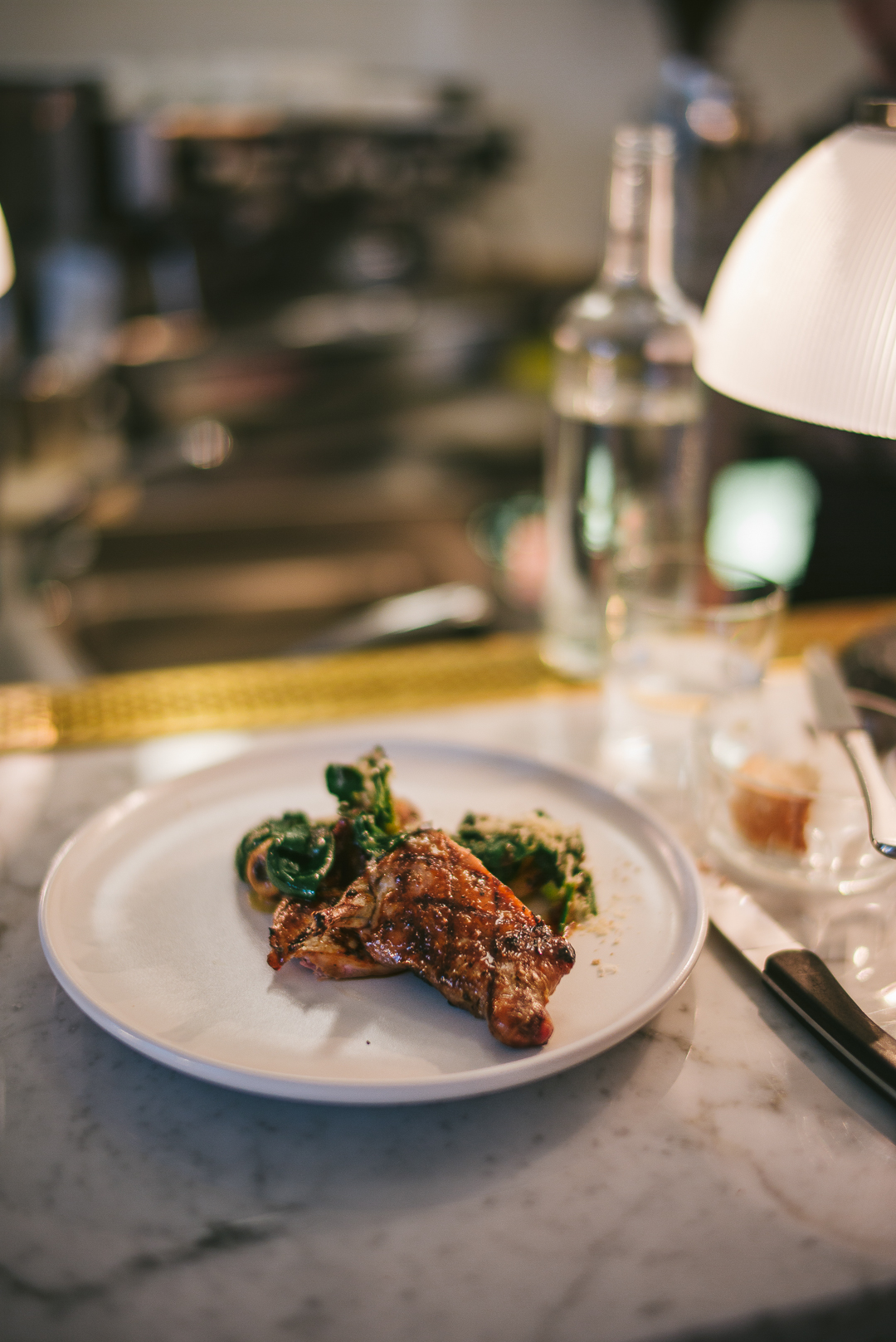 Smoky, seared juicy quail, perfectly pink in the centre, with this acidity yet again. The chervil root was fantastic, sweet like parnips but nutty like anya potatoes. Gorgeous. Lively recipe, good cooking here, if a little basic.
Cornish Cod, button mushrooms, Shiitake & Meyer Lemon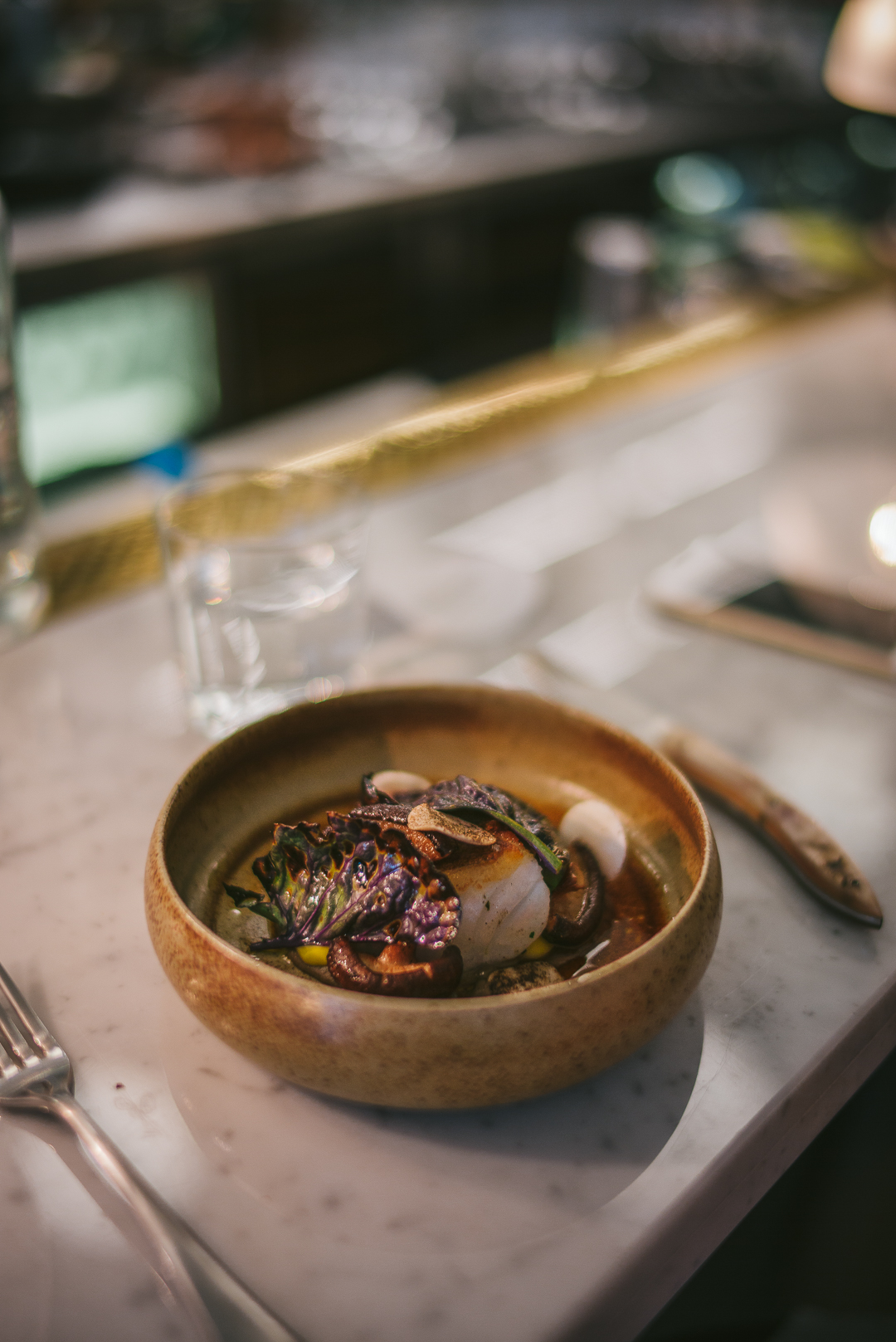 Gorgeous, translucent cod, I have a picture of the flaky transculent flesh somewhere, oh I wish I ordered this dish. That acidity yet again to brighten the dish up, this style runs through all of Greg's savoury dishes.
New season Yorkshire Rhubarb, Brillat Savarin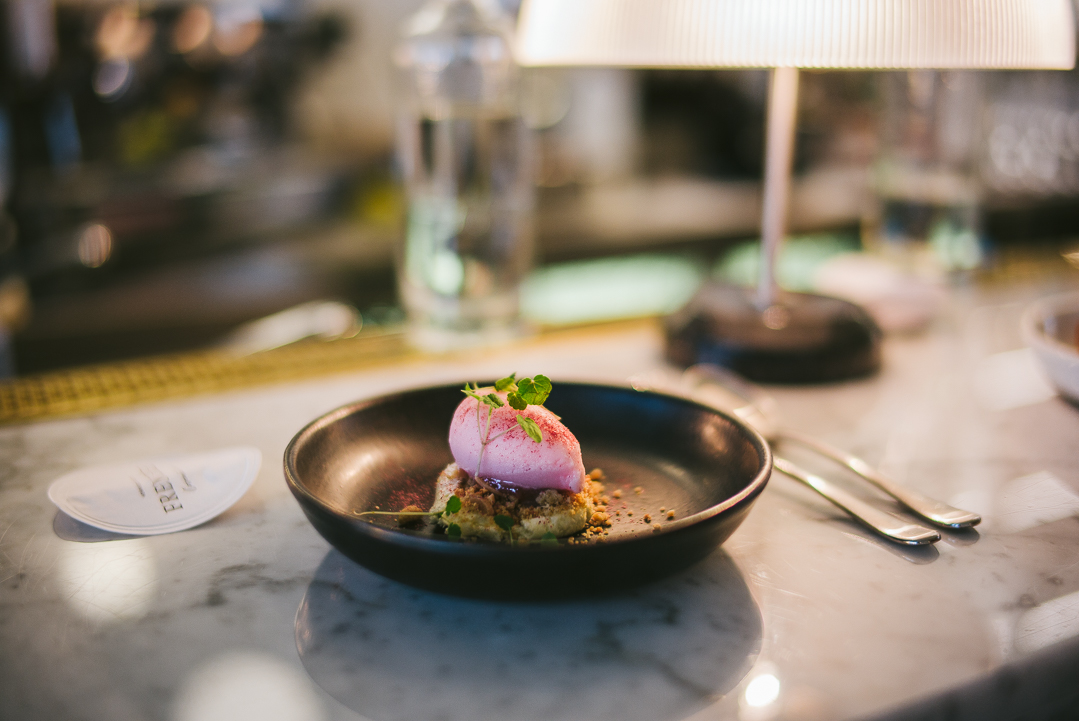 "Cheesecake, French style" says the waiter as he presents it to us. The cheesecake is like a meringue, light and in every other bite, you get the sting of the rich brillat savarin.
Bitter sweet chocolate tart, maldon sea salt and Bacon ice cream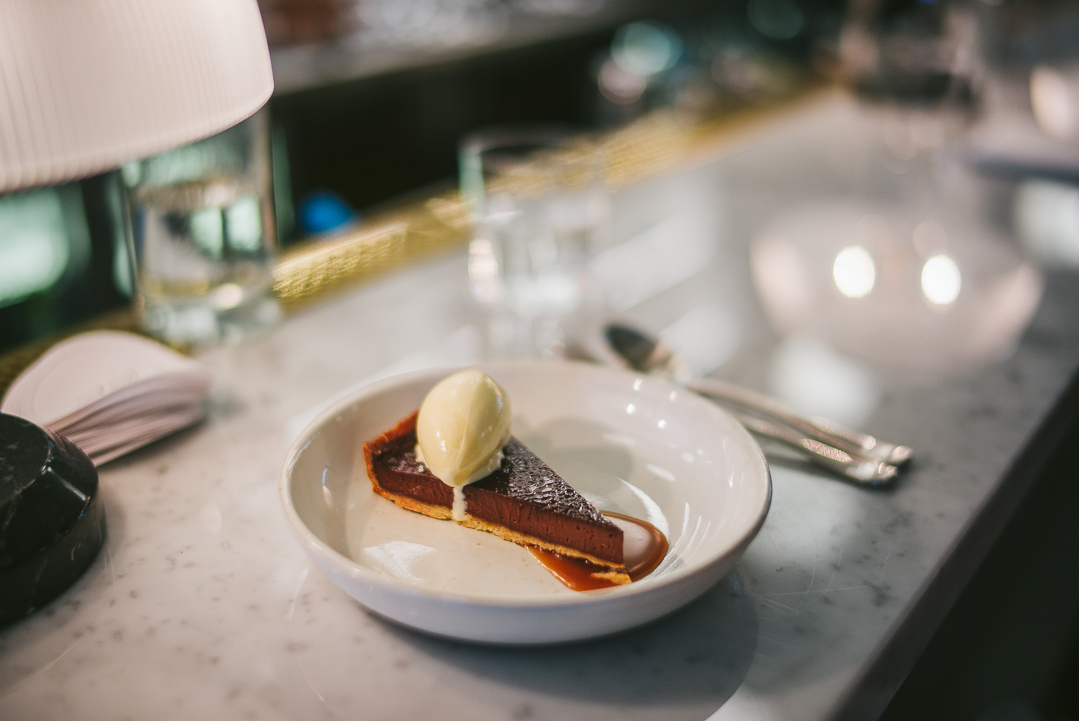 I thought the chocolate tart was good but not great, because I think there's a number of solid challengers in London including Quality Chop, Portland and of course Tom Kemble's version which itself (probably) rivals that of L'Ambroisie.
I think Greg's got a good palate, or perhaps I should say that Greg has acquired one that hunts for balance in his dishes. Sweet and sour for savouries and just the touch of saltiness for puddings.
We paid £90.56 for two 3 courses, two glasses of Alsatian Pinot Blanc and two coffees.
Nice cooking, I like it but this lunch was only flirtatious, a mere preview of the peacock's tail. The portions are just right for lunch, just enough to leave you wanting a little more.
Greg floated around the room and he came over to speak to us. Real nice lad, he said we had to come back for dinner for something more substantial. He's going to spend his time in London for the initial days and likely split his week 4/3, when the operation finds its feet. I told him London was glad to have him.
Seeing as to how it was Chinese New Year, the missus and I decided to return the next day and luckily we managed to book a last minute early sitting. No table though, only at the bar for a 2h15min slot.
-DINNER-
At night, they turn up the music, dim the lights, even bigger smiles and the cocktail throwing is limited only by the barman's wingspan.
Movin'g & Grooving, £12.50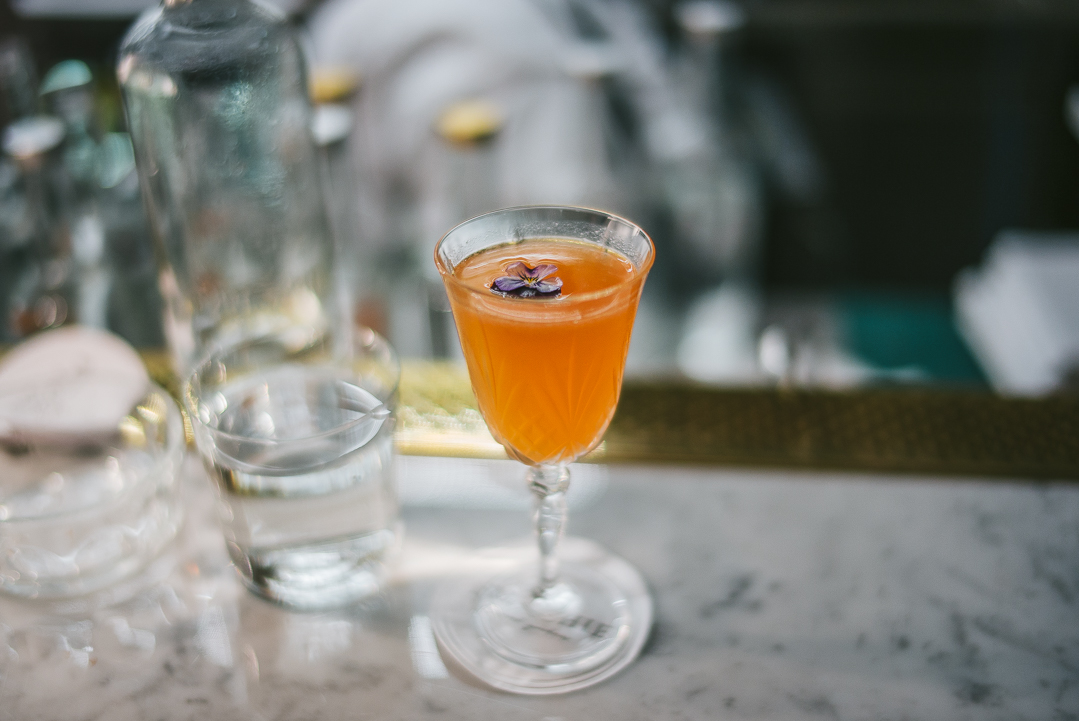 My knowledge of cocktails starts and stops with old fashions, so my comments in this area would be even more worthless than usual, but you really should try them here because they've got Rudi Carraro (of Artesian at Langham) to run the bar.
I asked for something fruity and Rudi recommended this summery Aperol, Pineapple & Yaguara mix. Brilliant.
Ok. I'm ready for food. Let's go.
Duck Foie Gras, smoked eel & Beets, £14.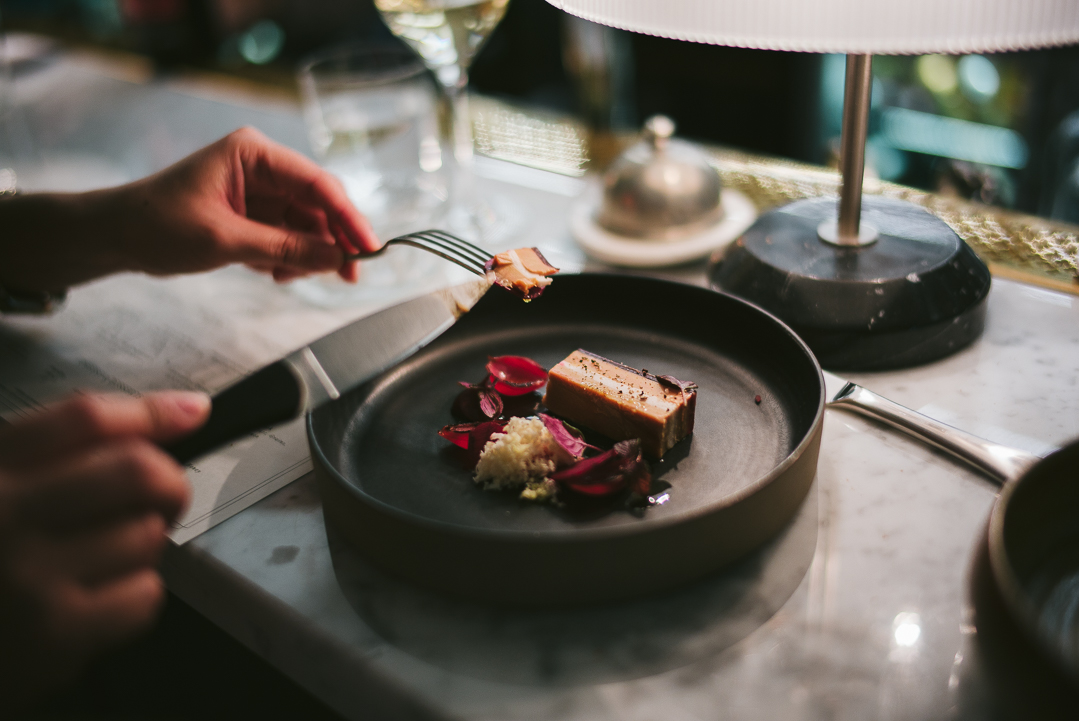 Wow – what a step up from lunch. It's beautiful to look at, layered like a Heston BFG, all aerated, whipped with bags of flavour. What's that white layer? Dashi? The jelly is an umami punch, like a mushroom stock gentled sweetened, it's glorious. The beetroot are pickled, so the signature acidity. I carelessly ate a spoonful of the shaved frozen horseradish and wept tears of joy and remorse.
Sizzler, fantastic dish… but so little of it.
Veal and scallop tartare, miso, endive & parmesan, £14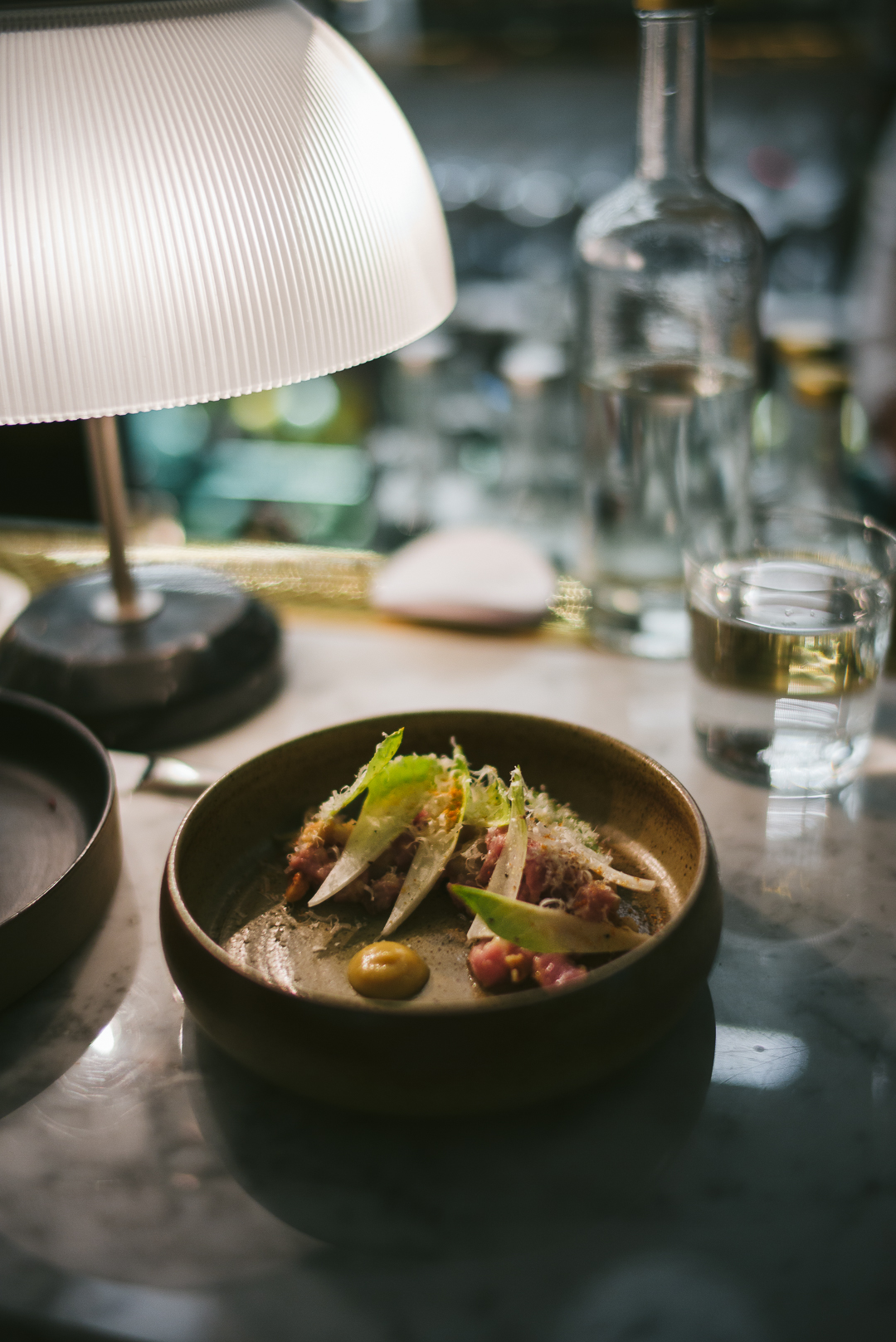 This is a reverse tartare, it's light, sweet and fresh with the squeeze of lemon. No capers. There are whole (hazle?)nuts for texture. Miso and parmesan – who would have thought it.
Exciting. Next.. next… bring it on!
..10
….15
….. 25
……. 30
……… 45 mins.
Oh dear. Still teething on first week I suppose. 1 hour into our meal and only two starters. We only have the seats for another hour.
Braised pig head, smoked bramley apple, jerusalem artichoke, buckwheat, £10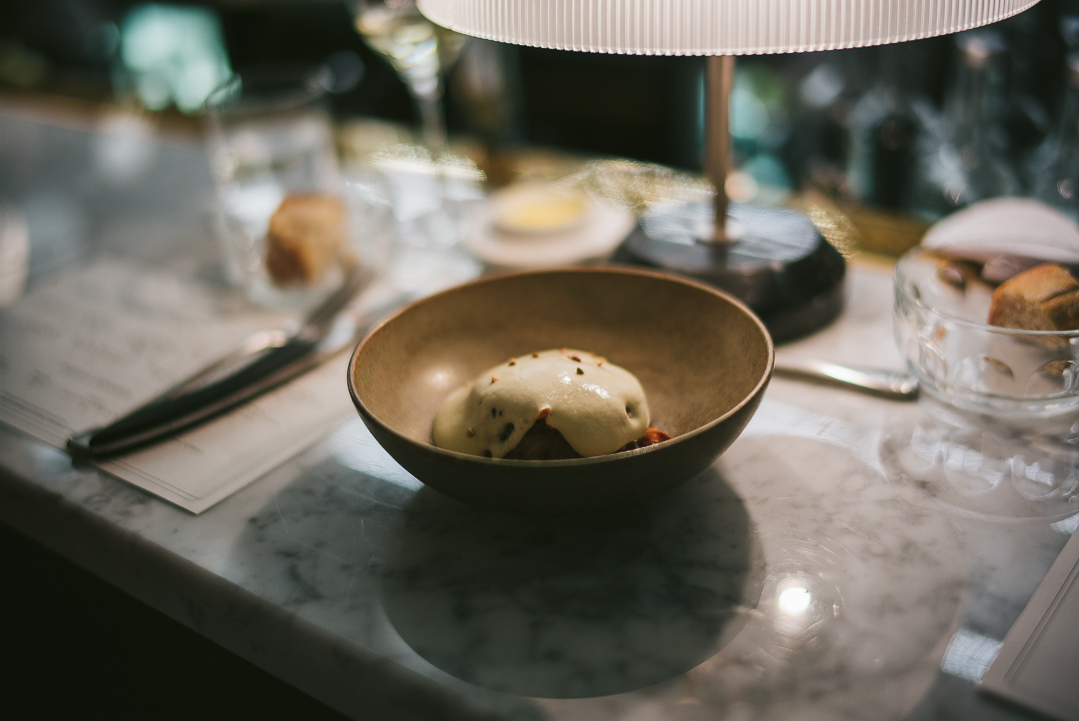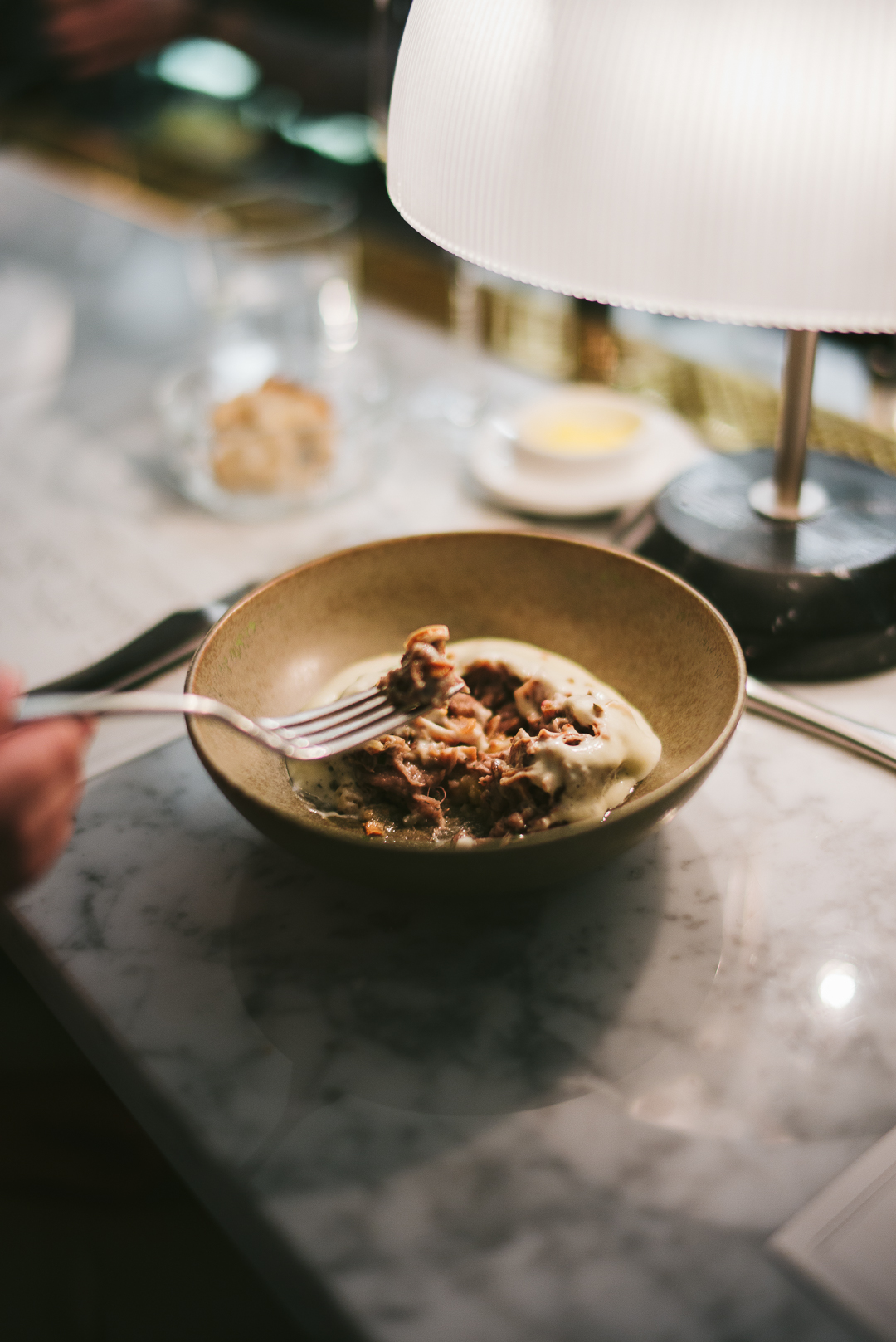 It does eventually arrive, and you smell it first, oh hot and piping head cheese. Covered in a thick espuma of Jerusalem artichoke, which itself has those wonderful sweet root veg flavours.
The meat falls away like pulled meat, with salty gelatinous bits and I'm sure there's just a subtle smokiness which I attribute to the apple that's buried underneath. This is delicious, it's like a hot rilettes, mop it up with bread. Good stuff.
I still have vivid memories of Arbutus' signature pig's head dish, from years ago which I still think is the best in town. It's not same obviously, but similar feelings.
Kintoa Pork, cooked in a salt crust, grains, cedrat lemon, £24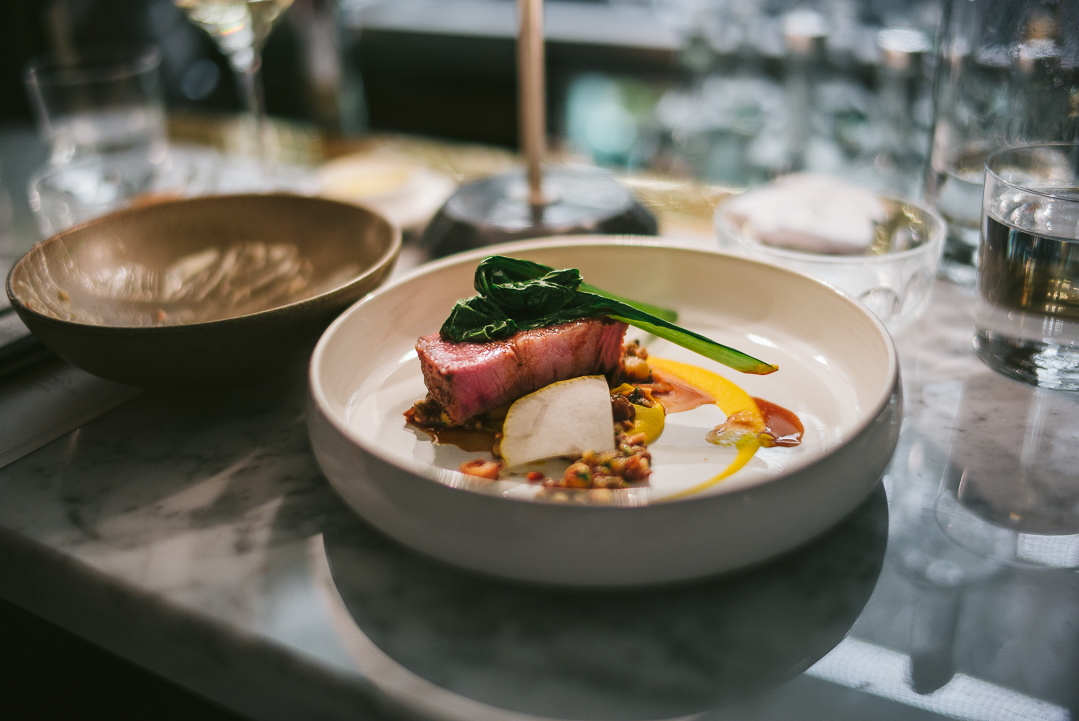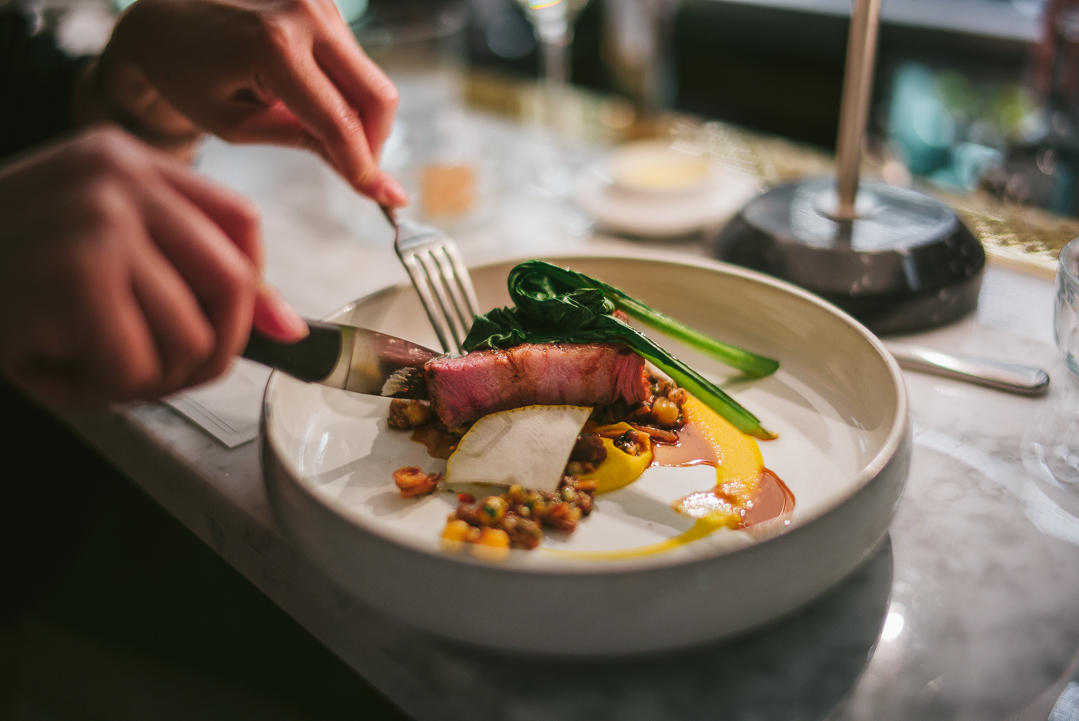 Kintoa – acorn fed French Basque (right?), a kind of Iberic breed, this blew my mind. This salt crust method they applied is ace, the meat is cooked thoroughly but still pink and if I wasn't told, then I would have guessed sous vide. The natural protein is fully retained, no denaturing. Excellent execution, Mikael Jonsson would surely approve.
It's bursting with natural juices and oiliness, bags and bags of nutty, sweetness, oh my goodness… formidable! It has a layer of fat running through the middle, so at first I thought it might have been belly, so I asked and turns out it's loin. It like Mangalitza, fragrant creamy, sweet flavour, beautiful pork. Chickpeas for texture, with a curry-like fragrance.
I recently had (fresh) 5J Iberic at Akelarre which I also really enjoyed and I think this is up there. Unfortunately there was just too little of it, measuring perhaps 1″ x 3″ in size, this is taster menu portions. I struggled to share this with the missus. Even though they say it's a sharing menu, but really this dish is not designed for it.
We were still ravenous at this point, clearly, we didn't order enough food. The portions are smaller than lunch, 4 dishes just ain't enough. But because of the long wait between the first and last two dishes (and that we were quickly running out of our allotted time), we decided to go straight to puds.
Banoffee, nutmeg, £9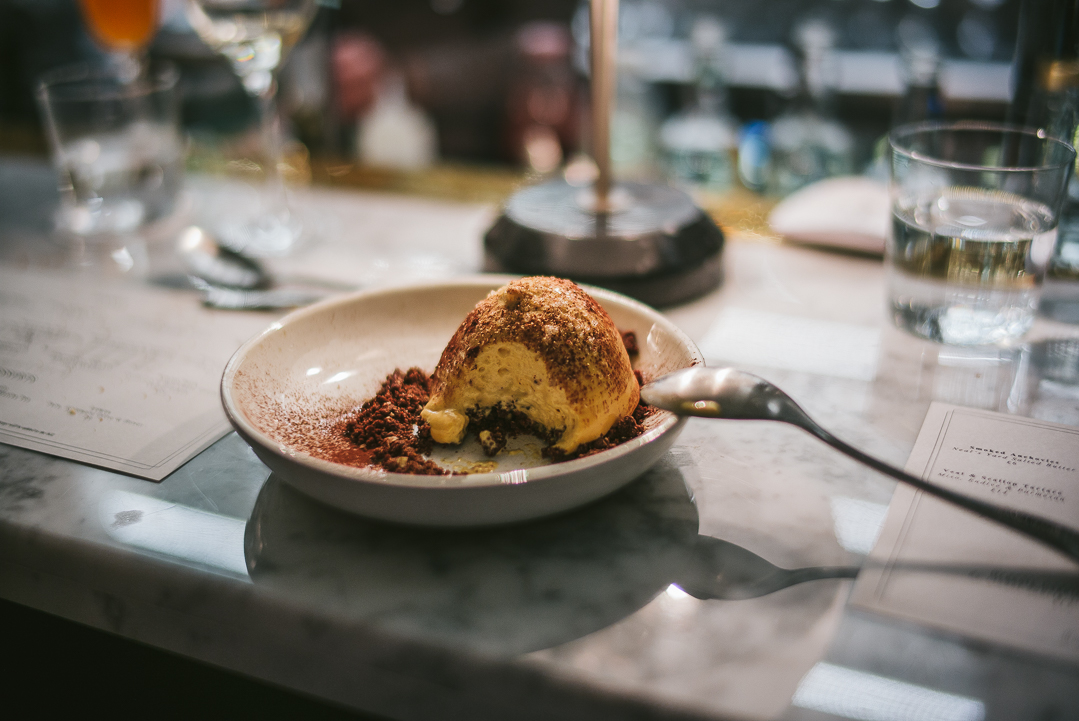 "Deconstructed" said our waiter as we were served. Yes it's good, superbly whipped, full of bubbles and also heavily salted, and underneath, frozen slices of banana. Nice textures, flavour balance, temperature contrasts etc.
OK time to go.
We paid £98.44 for 5 plates, 2 wines and 1 cocktail.
The food is spot-on, it met my expectations and I understand why Greg has found so much success in Paris. His dishes definitely have this theme of freshness and acidity, framed around decent ingredients. The cooking is carefully handled and flavours are balanced.
Their best dishes are on the dinner menu, but you should be aware that portions are smaller at night. I think the pricing is decent – or at least in line with the market – but like Palomar, they suffer from being just too small and are impractical to share.
We went to dinner thinking 3 courses each, hence the 2+2+1, but they really work like taster menu dishes and I could have had all 5 to myself. We definitely under-ate this meal, I had a shack burger afterwards, and the missus made herself a warm bowl of noodle soup when we got home.
I think you should order at least 4 dishes per person, unless if they decide to increase portion size. So 4 courses would be around £55pp plus service and drinks. Still, this pricing is not bad, a notch above mid-level (Lyle's is £44 for 4, Antidote's £45 for 5). But not as good value as I hoped for, though there's a lot of staff on the floor and rent is very likely to be high in Covent Garden. Who knows they might roll out a taster in the future. For reference, the 5 course carte blanche in Paris is 68 euros.
(Lunch on the other hand is just right. Scroll up for the commentary)
As for the long wait times between dishes, I think it's teething issues, they'll work it out in time. I'm sure of it.
I enjoyed the 2 meals here. When it's on point, the cooking is fabulous. As I mentioned earlier, Frenchie does have stiff competition, not so ground-breaking as I initially thought, but overall a worthy addition to London. Glad to have Greg on both sides of the Channel.
Details
Frenchie
Modern Bistro
Lunch £45pp Dinner £75pp
16 Henrietta St WC2E 8QH
Tel : 0207 836 4422
Tube : Covent Garden