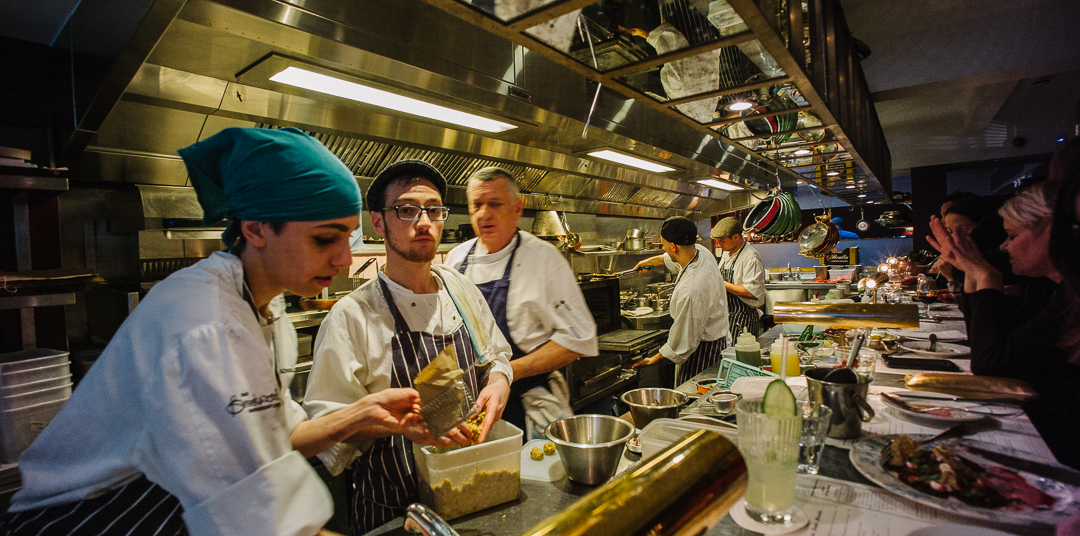 The Palomar are coming up to their two year anniversary in May and I imagine the owners must be over the moon with their success thus far. They have amassed heaps of glowing praise, sweeping a number of 'best of' awards and sniping an empty seat at their 16 seat kitchen bar is a rare success during peak times.
It is the fifth outpost of an established Jerusalem restaurant, Machneyuda opened by chefs Uri Navon, Assaf Granit and Yossi Elad. They have brought this to London in collaboration with former DJ Layo Paskin and his sister Zoe, who previously ran nightclubs in London such as The End. Tomer Amedi is installed as head chef, though on both visits, Chef Elad was stomping around behind the bar.
What is it that has made London fall so hard for this restaurant I wonder. Is it the vibrant Sephardic cuisine that absorbs the cultures of the Mediterranean or is it the free-spirited approach that is unshackled from tradition? Pork and octopus are on this menu, so it is hardly kosher, but that's entirely the point – the taste of modern day Jerusalem, as they proclaim and the great fun of it all.
London has already been road-tested principally by Yotam Ottolenghi and his ex-employees including Josh Katz (Vivid memories of Made in Camden dayz man, what a chef, I will visit you at Berber&Q soon), Sarit Packer and Itamar Srulovich who have all found much success outside of the Ottolenghi umbrella.
But Palomar's pixie dusts aren't found on the plate, it's everything else and most apparent when you sit at that kitchen bar. The vibes, as they say, are unreal. Before the visit, I was skeptical of this circus kitchen parade known to down shots with customers, merrily grooving to J Dilla, as they josperize steaks and octopi. But when I was there I found myself loosening up and tapping my feet …hot dayme, is this what cool feels like…
If there's a formula for vibes then these guys have hit on it. Probably its the collective spirit of those working behind the bar, helped by the playful interior design that features a marble oyster counter, a shiny zinc bar and a pink neon sign, whatever it is, Palomar has few rivals in the atmosphere department.
And what of the food?
-1st Visit-
My first visit was completely incidental. I'd just stumbled out of the 70mm panavision screening of The Hateful 8 at Odeon, it was 2.45pm Saturday and I was looking for something quick. At this hour, it was still packed to the rafters, but one seat came free and there wasn't a queue, so I thought why not.
Challah Bread, £2.5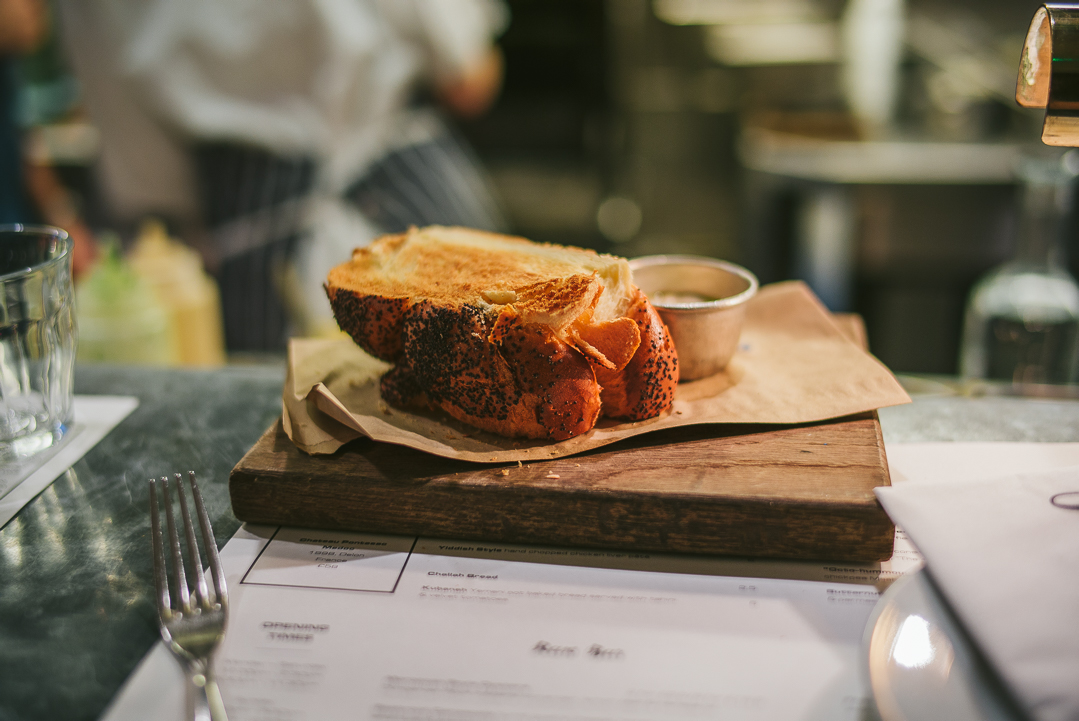 Presumably made in house and served toasted hot. It's crusty, fluffy, steamy, entirely wonderful with the tahini dips and the crunch of the sesame. Gorgeous bread.
Yiddish Style, £6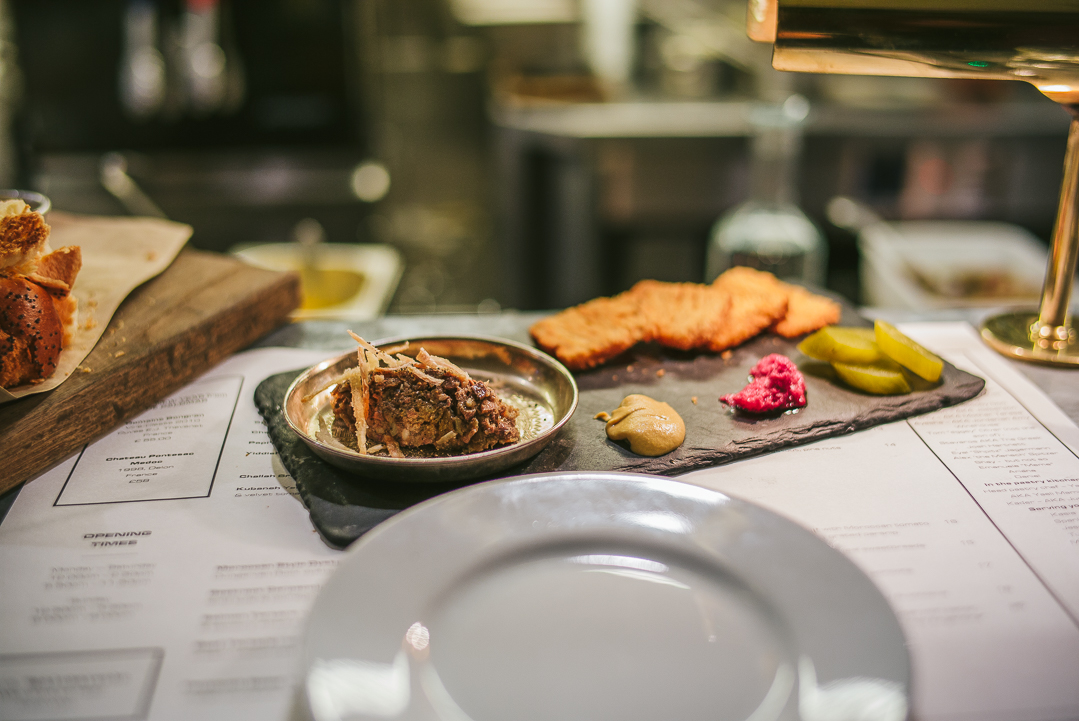 I love a good chopped liver and easily eat a couple of sandwiches. I was expecting a huge dollop like in New York (ok bad example, maybe vulgar in size), so this incredibly tiny portion was shocking. I've no problem with the pricing and it was delicious don't get me wrong, but I really wish there was more of it.
Anyway, I take this opportunity to include a link of my favourite chopped liver in London, made by Susan Bloom. She has a food stall and can be seen at Lyric Sq on Fridays. She does briskets these days but if you happen upon her stall, ask for her matzo ball soup, salt beef and her date cake. It's the best.
Octo-hummous £13
Josperized octopus "steak" chickpea msabacha & cherry tomato confit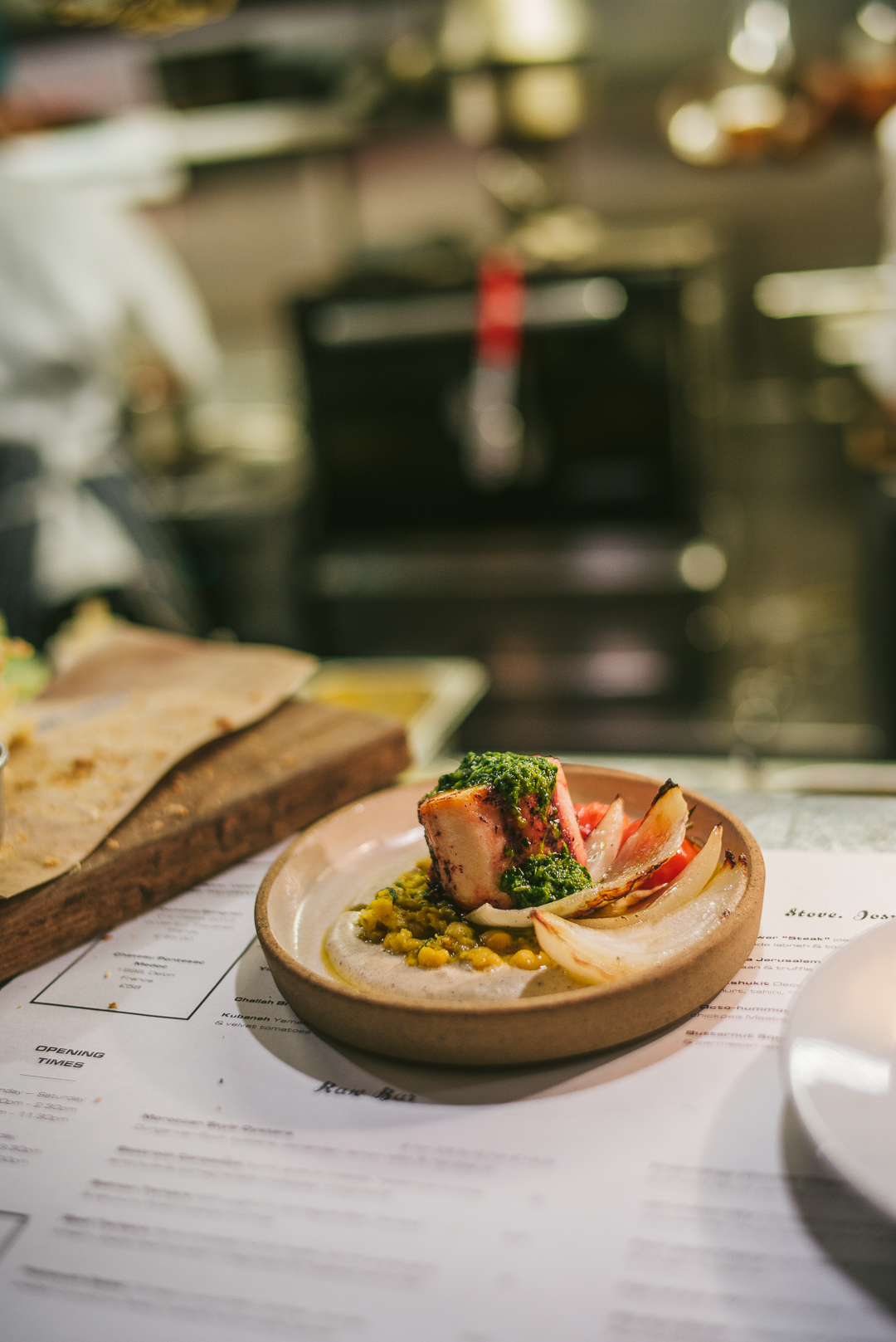 Woah this is good. Octopus looks rolled up and sliced to resemble a tenderloin. They stuck the octopus and the onion in the Josper grill and it comes out smoking and gorgeous. The insides are juicy and totally tender, beautiful lick of charcoal. Everything else on the plate brightens up flavour, bursting with sense of freshness. Good cooking. But why so small?
The bill for food plus 1 espresso came to £27. The cuisine is hardly transcendent aside from the playfully written menu, but food does taste good, so credit where its due. Incredible ambiance, I get why people love it, but so little food…
-2nd Visit-
… so I went back to try more. Amazingly I couldn't convince someone else to join me, so I went back for another solo lunch, this time high noon on a Friday to beat the queue.
Moroccan Style Oysters, 2 for £5.5
Dungarvan Rock Oysters with coriander, lemon zest & harissa oil.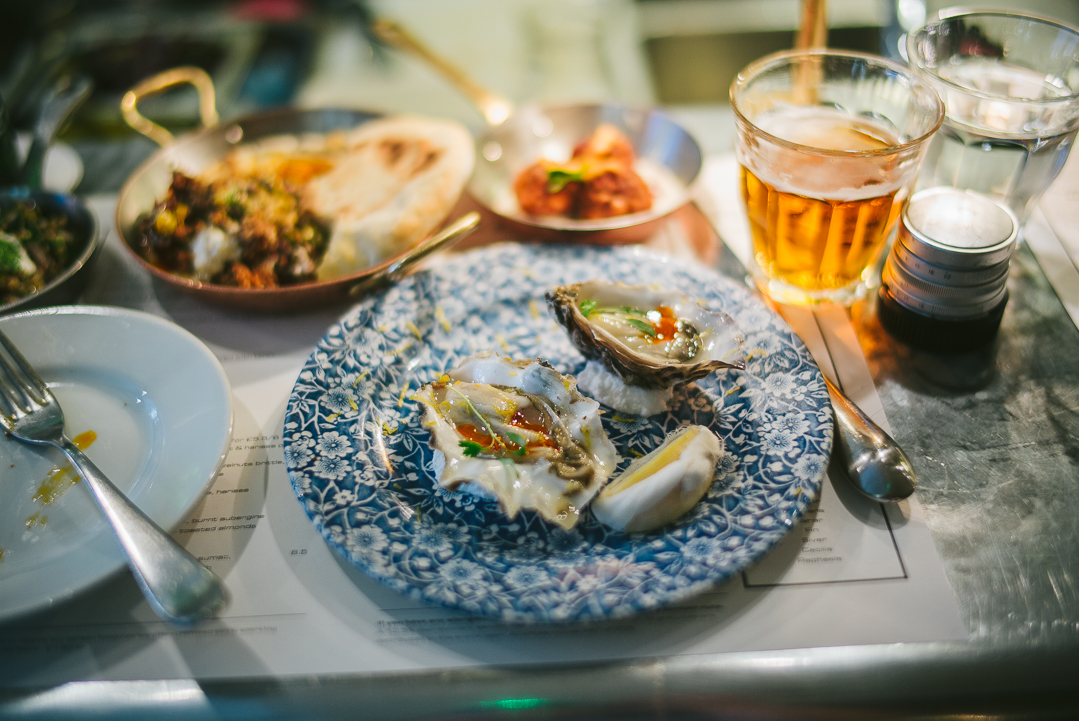 Slurp. Good oysters.
Shakshukit, £12
Deconstructed kebab with minced meat, yoghurt, tahini, "The 4 tops" & Yaeli's pita
This is quite the dish, minced beef and then layers of zest and spice with yoghurt, pinenuts, harissa, lemon probably – more like a cold ragu than kebab. Tear the pocket of steamy pita, spread the beef – simple pleasures. Interesting, but feels dear at £12. I don't mean this in the negative sense (maybe more sense of loyalty I suppose), but I wouldn't say I prefer this over a decent kebab at my local.
Nish nush, £4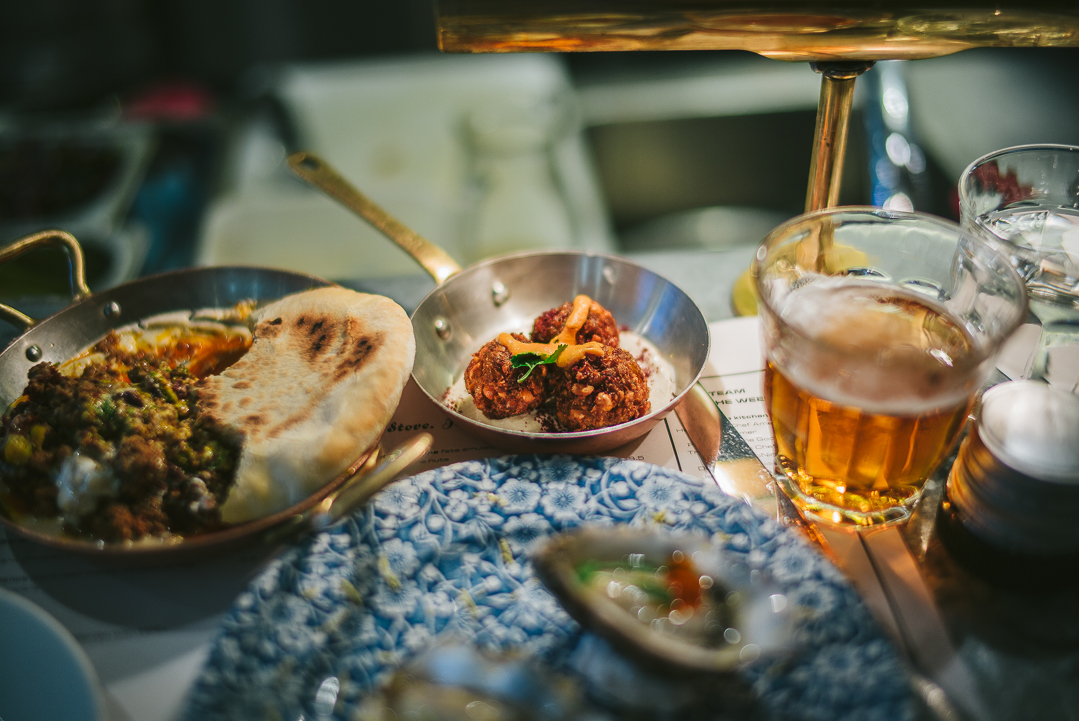 Fish I believe, deep fried, yeah good snack.
Butternut Squash Risotto, £14
with mangetout, pine nuts & parmesan labneh foam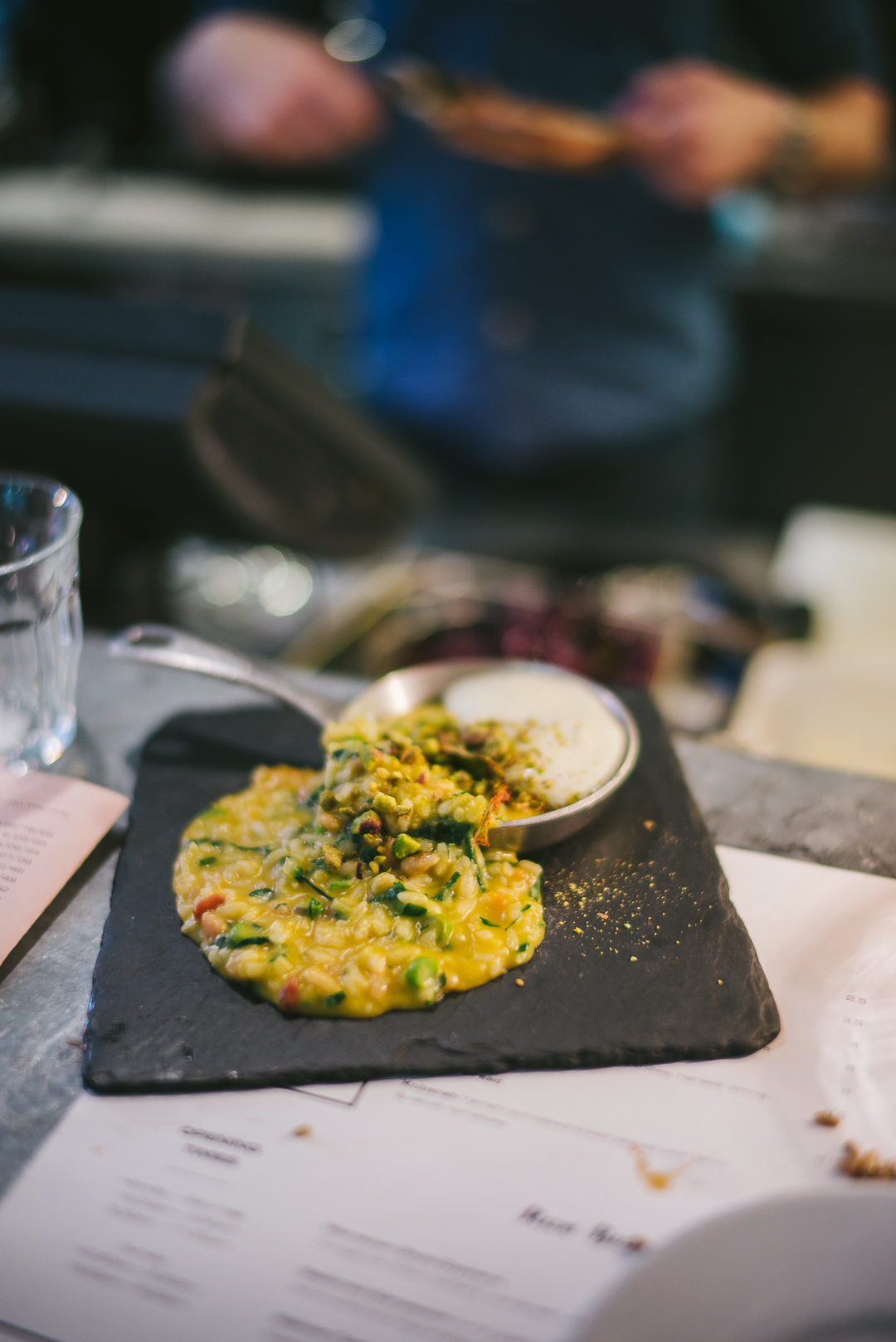 Very fragrant toasted pine nuts, interesting presentation but what a challenge to scrape rice off a flat surface. Not sure about that foam because it just collapses into the gloopy texture of risotto anyway. It is a decent risotto with good flavours, cooked well, perhaps just a touch overseasoned. It is decent, but I preferred the butternut squash risotto made with fregola at The Ninth, which I had a week after, for half the money.
Chocolate Crémeux, £7
Earl grey infused crémeux, blood orange, milk streusel, cardamom marshmallow & coco-hazelnut tuile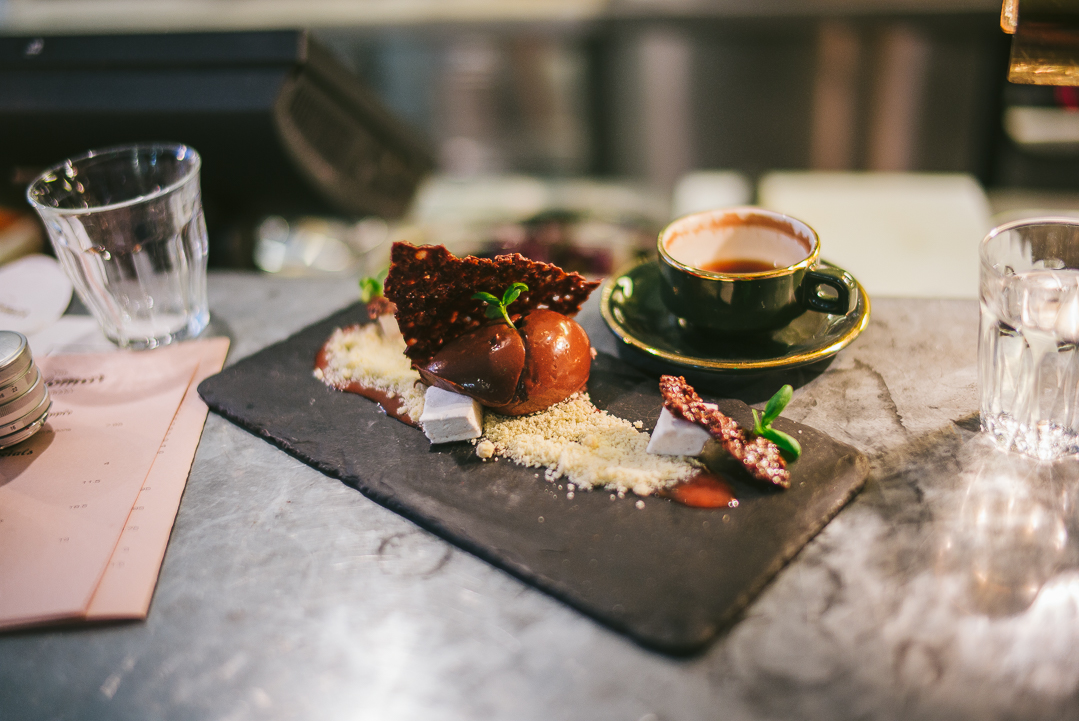 Good chocolate pudding, perfumed, the marshmallows were fab.
I also had a bottle of Alahambra (£5) and a turkish coffee (£4) and the bill came to £57.94 for one.
I love the electric ambiance, it is nearly peerless in London, but once you are past the cosmetics, I wonder what exactly is so special about the cooking. I'll hold my hands up and admit I'm not well exposed to Jewish cuisine at all and not traveled to Israel. But for what it's worth, my opinion is that the food here is decent, some dishes even brilliant, but hardly the bleeding edge which some in the press have described. I think Honey & Co and Zest offer better food. I do find the portions atypically small for small plates, and those prices represent low value for money.
I know what it means to share food, my family is Chinese after all, so I am perplexed as to why it means something totally different in some restaurants here. Dishes seem just barely enough for one person and I'm curious if this is the same at Machneyuda. I cannot imagine having to split the octopus or the shakshukit with another person or more, it's inelegant and frankly impractical. I get that it's the mood of the market and tiny plates work for some of you, but I do wish restaurants would move on from this tapas bar hangover and explore better ways to share. Sorry for the flame.
Details
The Palomar
Modern Jeruselum Cuisine
£50pp
34 Rupert Street W1D 6DN
Tel : +44 (0)207 439 8777
Tube : Leicester Square or Piccadilly Circus