I just love Roman cuisine. The simplicity, the richness and pecorino romano. The first time I had cacio e pepe (literally cheese and pepper), it required a taste re-orientation because of the sheer amount of pecorino that goes into the sauce. You're completely engulfed in the pungent and sharp characteristics of the cheese. And then there's the pizza al taglio, sold by the slice/weight which prompts me to mention the brillant Pizzarium with its diverse range of toppings.
But Rome for me is chiefly about carbonara. You eat the best versions of it in the city, each chef bringing their own minor variations to a core recipe. The Roman way consists of five main ingredients : egg yolk, pecorino romano, black pepper, dry pasta and guanciale (cured pork jowls). Absolutely no cream. Instead, the creaminess is created from pasta water, oil from cooked guanciale, egg and cheese mix, tossed with cooked pasta over a bain marie until the right stickiness emerges. I think it's hard to get right. I've been trying and have a mild obsession in attempting the holy grail texture.
So I went back to Rome in January to get my carbonara fix, specifically to two restaurants, being the subject of this post. The first is quite famous, you probably have heard of Roscioli. The second Baccano is a little bit of an oddball, it looks like a certain New York brasserie, but also does classic Roman pasta dishes.
(I didn't visit L'Archangelo on this trip, but wanted to get it in here because their Amatriciana was awesome.)
– Roscioli –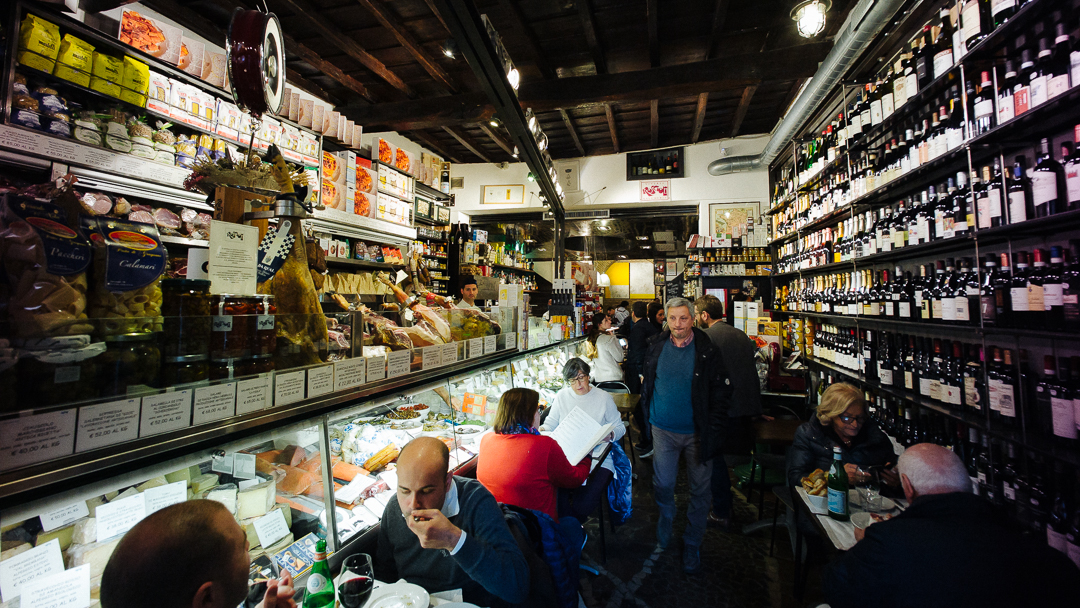 What doesn't Roscioli do? It's a restaurant, deli, wine shop; it also is a bakery that does pizza al taglio and it opened a pasticceria this year. It's spread across 3 shops all within a few steps of one another. This family business has been carefully nurtured by four generations of Rosciolis (today, brothers Alessandro and Pierluigi run it) , and their bakery dates to 1824, making it a bona fide antico forno.
Ricotta (free)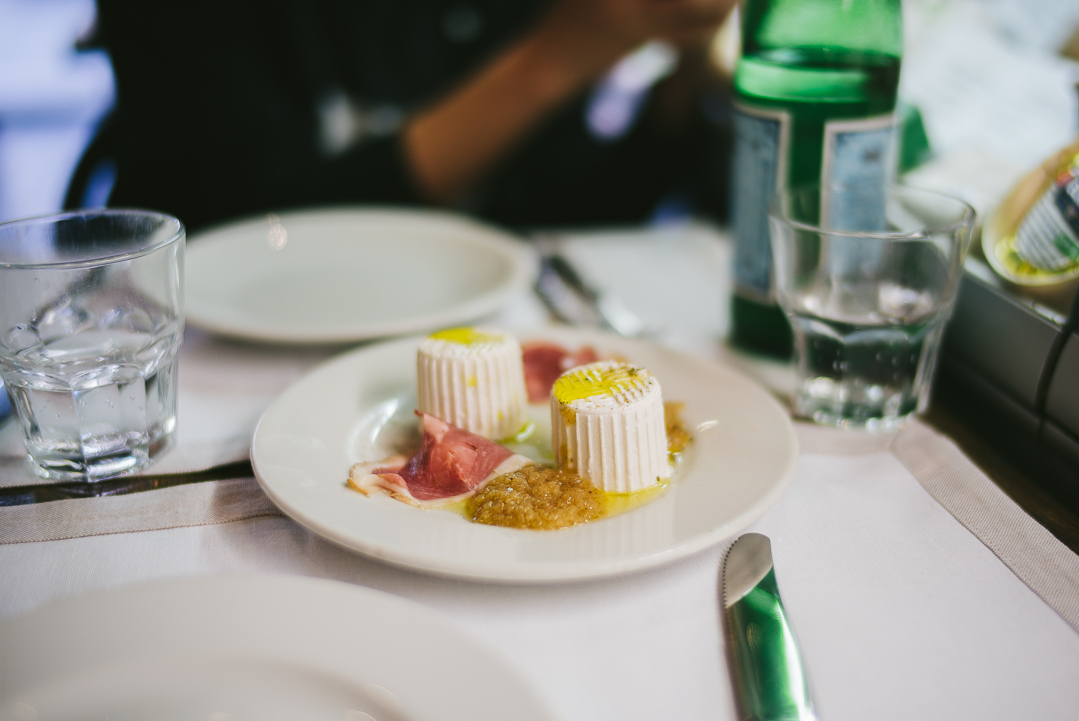 Because of the grocery business heritage, Roscioli prides itself with the procurement of the ingredients. Prima della cucina or before the cooking being their motto. If you like your bling ingredients, this is the place to be.
All meals start with this ricotta on the house, that is brimming with freshness. It's fluffy and so sweet, it's nearly pudding. Really you shouldn't skip cheese and cured meats, they are a treat.
Bread, €3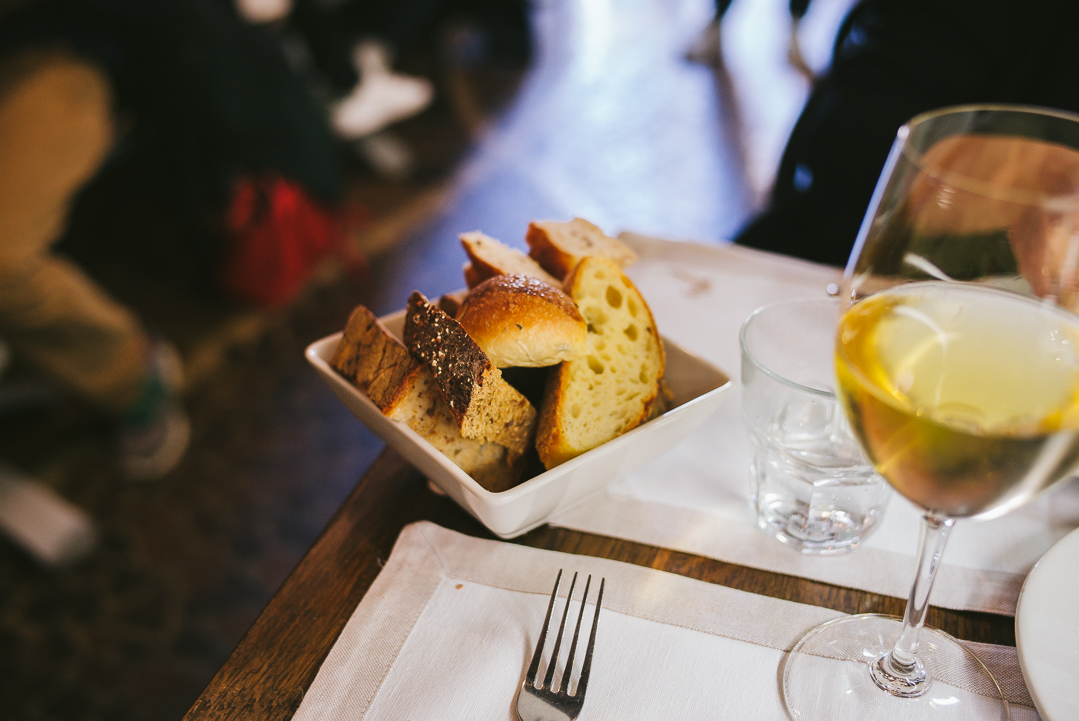 It's the family business after all and is still renowned for its pizza. Great bread, served warm.
Pugliese Burrata with baby dry tomatoes, €17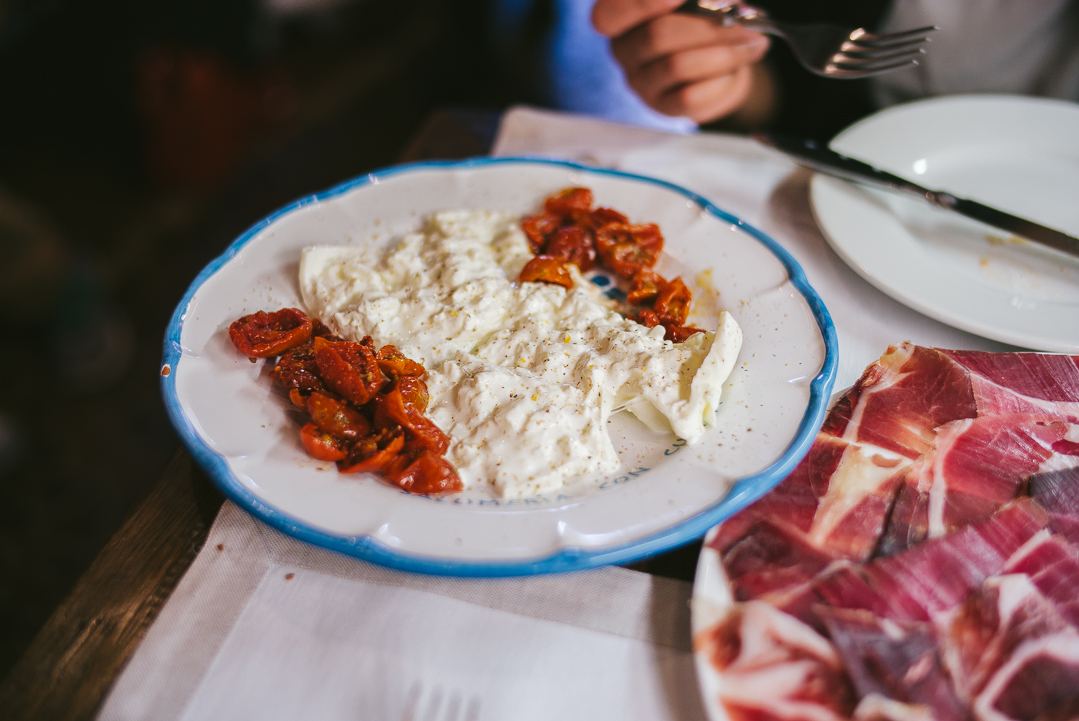 … and cracked Malaysian black pepper. The urban legend is that Roscioli gets all their fresh cheese delivered daily, hence the freshness when it arrives at the table.
Really this is glorious cheese. It's creamy but not runny, and the burst of freshness totally opens your appetite, and then you get these superb cherry tomatoes with bright berry sweetness to balance off that creamy cheese. I've not had better fresh cheese.
(ps: they do burrata and pesto pizza by the slice at Antico Forno… it's so good, you weep tears of joy wishing breakfast could be like this everyday.)
Black native breed Parma Prosciutti, €29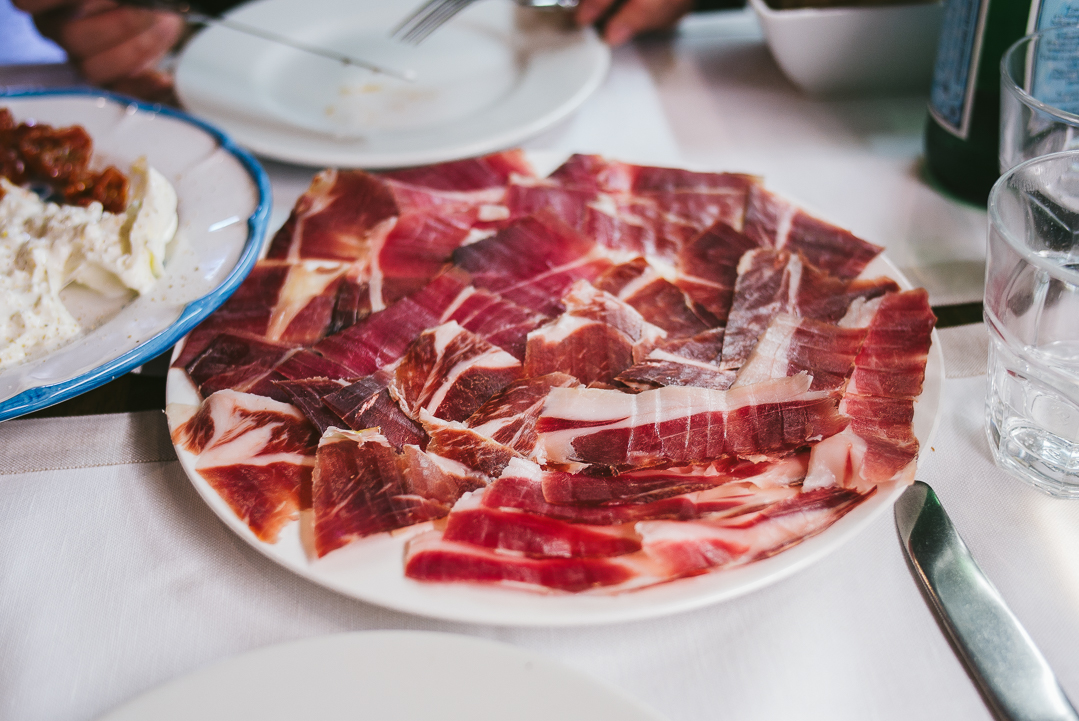 Ain't that a pretty plate of ham?
It's all hand carved and I suppose this is the Parma equivalent of Jamon Iberico. They listed a bunch of black pig breeds – Nebrodi, Cinta Senese, Mora Romagnola, Grigio Casenteno, Casertana, Nero Calebrese – though I'm not sure which is which on the plate. It has the same olive oil, nutty, sweet characteristics, but less oily than iberico. Gorgeous ham.
Spaghetti Carbonara, €15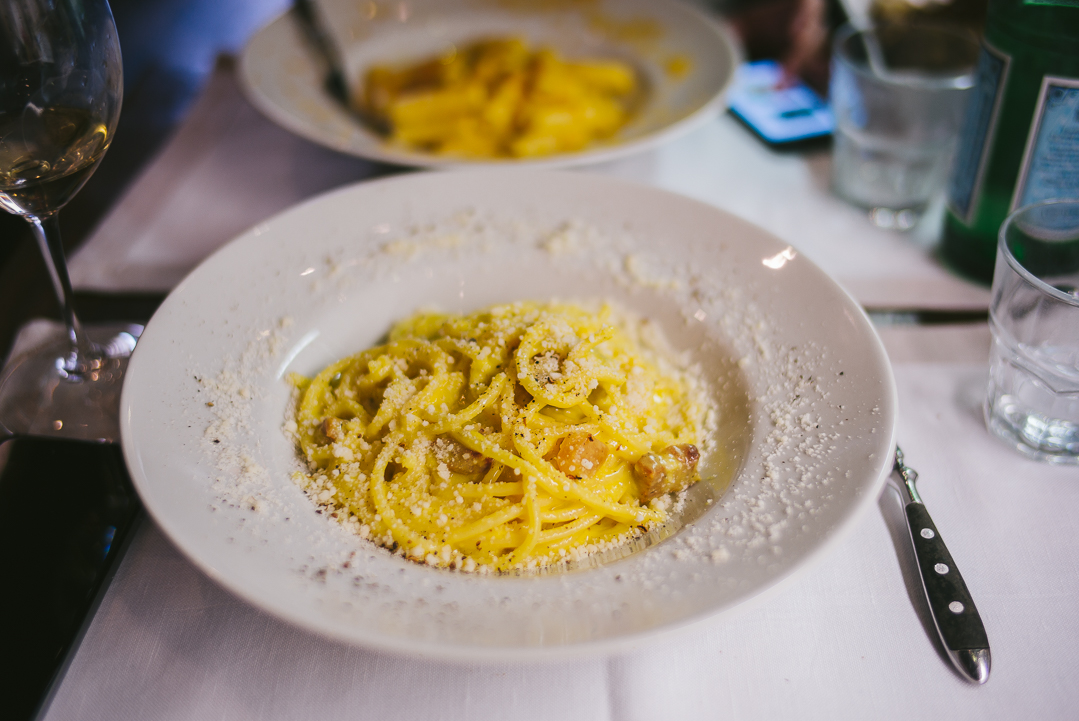 And finally we arrive at primi. You smell the cheese immediately, phew that's pungent. They do a mixture of pecorino with parmesan over here. The brainchild of head chef Nabil Hadj Hassen who has been recognised by the Gambero Rosso, over the years, for his talents with Roman cuisine.
Roscioli's carbonara sauce is atypically rich, almost like a custard or even a savoury sabayon and has a distinct golden hue. I've attempted Rosciolis' recipe twice now, using the home-kit, and I do think that the Paolo Parisi eggs give the sauce extra density. The eggs come from Livornese hens, in Parisi's farm in Pisa, which are fed on a diet which amongst other things includes goat's milk.
The goats milk diet is often credited as the reason behind the rich yolks with more fat content than typical. These white shell eggs are pretty expensive and can cost up to 10x the average egg, so they better damn well make the difference.
I scrambled some I brought back and they do have this distinct golden colour, seems denser than typical eggs and has a mild, pure flavour. Can't deny some unique qualities about these eggs, but my preference remain with burford browns. More flavour and costs less.
The pasta is verrigni, quality stuff and they generally cook to 8 mins. This thick sauce coating the spaghetti somehow makes it even more al dente. The dense, textural quality is enormously appetising.
That all important wonder ingredient, guanciale is from Monte Conero. They are cut into thick cubes (which I prefer) and cooked to a crispy golden brown, adding an extra salty punch to the palate.
I love it. Benchmark stuff. It's just so rich, alot of eggs, alot of cheese, alot of everything, and you feel all the quality jammed on the plate. It'll knock you out for the rest of the day. Quease monster.
And that's really my only criticism, it's strength is also its problem. They are not shy with the cheese and I think the saltiness can be overwhelming for some. Basically it just overloads your senses. Less pecorino sprinkles might alleviate the issue, but you wouldn't want to miss out on the massive pungent yolk-fest. It is truly special.
Rigatoni bottarga with yuzu butter, €19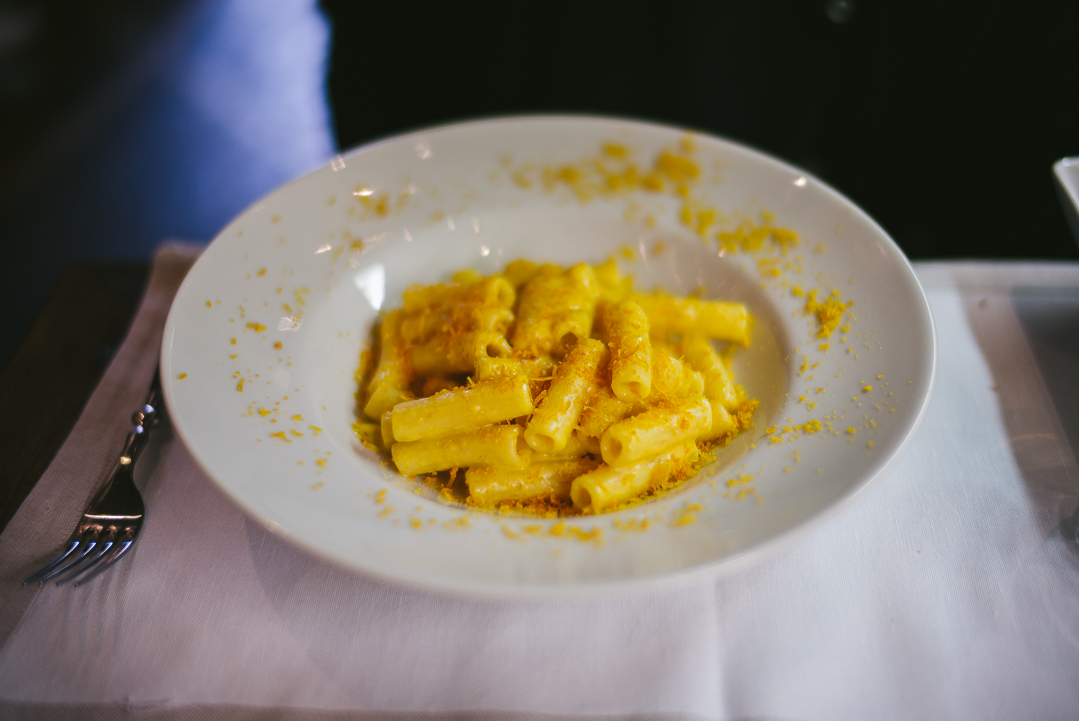 The bottarga, mullet roe shavings, was too pungent and for me overwhelming. First couple of bites were good, but difficult to keep going.
We paid €93 (£70) for food and a glass of wine. It's a little pricier than average, but you do get step up in the quality of ingredients. Whatever you do, make sure you book a table. Don't rock up and chance it, they don't seem to like serving walk-ins and you'd have to wait till late into service to get a table and prepare yourself for worse service than Wong Kei.
If you go in a bigger group, get a decent bottle from their solid wine list. Etna Rosso, Castello di Ama Chianti, Ceperellos and a ton of Sassicaia vintages. No '85 though who can afford to drink that vintage these days.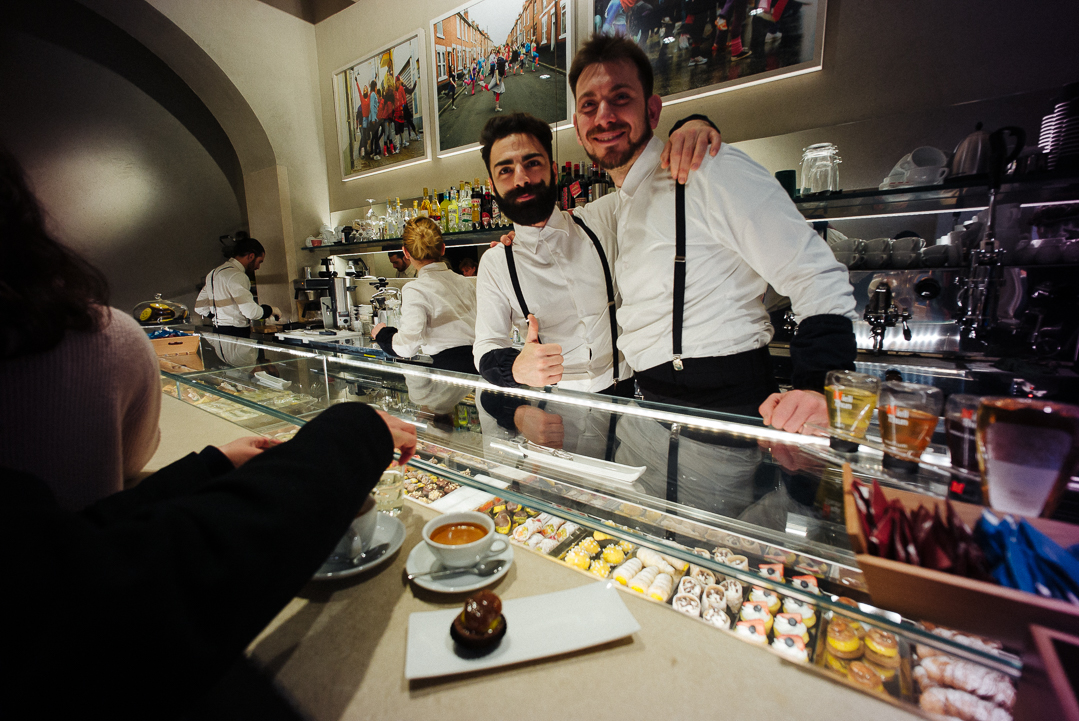 I had marron glace and an espresso at the pasticceria next door to the restaurant afterward. Slick cement interior design that is more Milan than Rome. It's sardine-can size and service is much more relaxed than the restaurant.
– Baccano –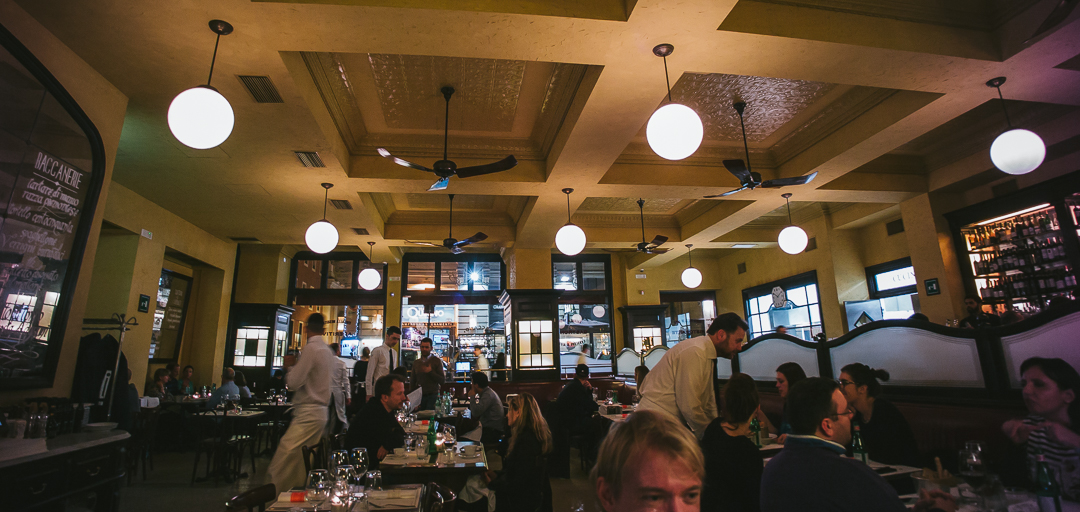 Basically this is Balthazar Roma. I don't know if there are any synergies or just coincidental or shared inspiration. It's near the Trevi fountain, and it's got classic Roman pasta dishes sitting alongside steak tartare, burgers and frites. I saw IG photos of their carbonanara and thought it might be an interesting place to visit.
Selection of raw seafood, €40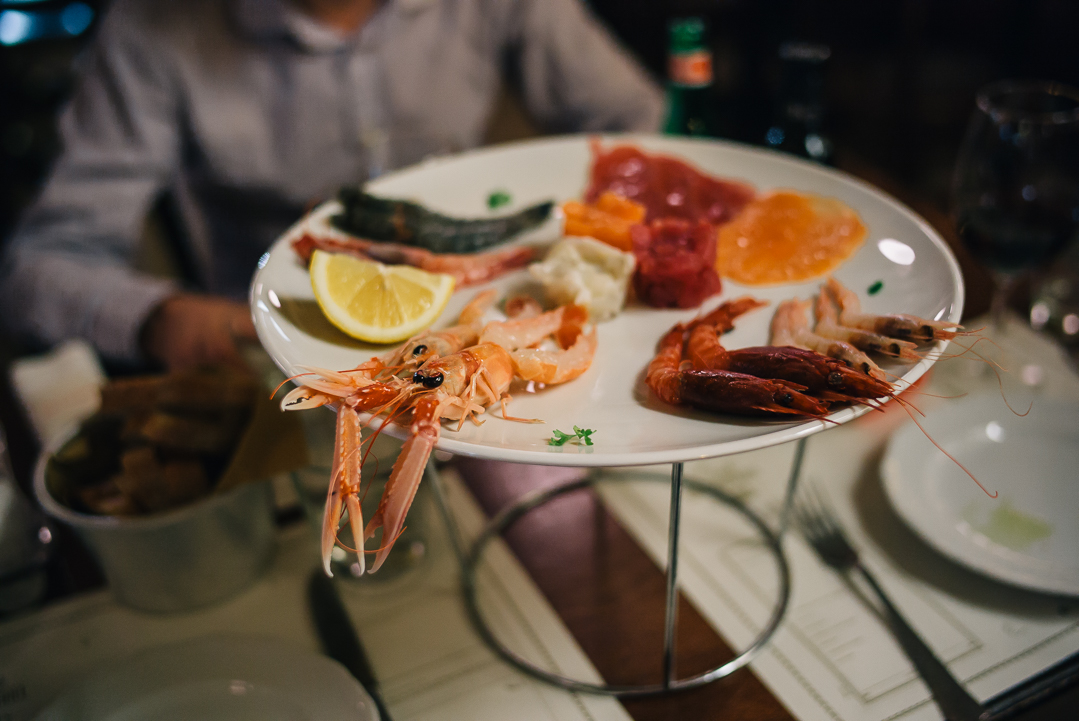 Prawns in all shades, red, violet, blue, tiny shrimps and langoustines. There's tuna and salmon tartare and carpaccio, the former being quite good – Spanish bluefin as preferred by some sushi guys over here.
The prawns were just OK quality, gambero rosso being the sweetest of the lot, but I wouldn't order again. Hardly Randall & Aubin and far from Rex & Mariano (I miss it, I do).
Carciofi Romana, €6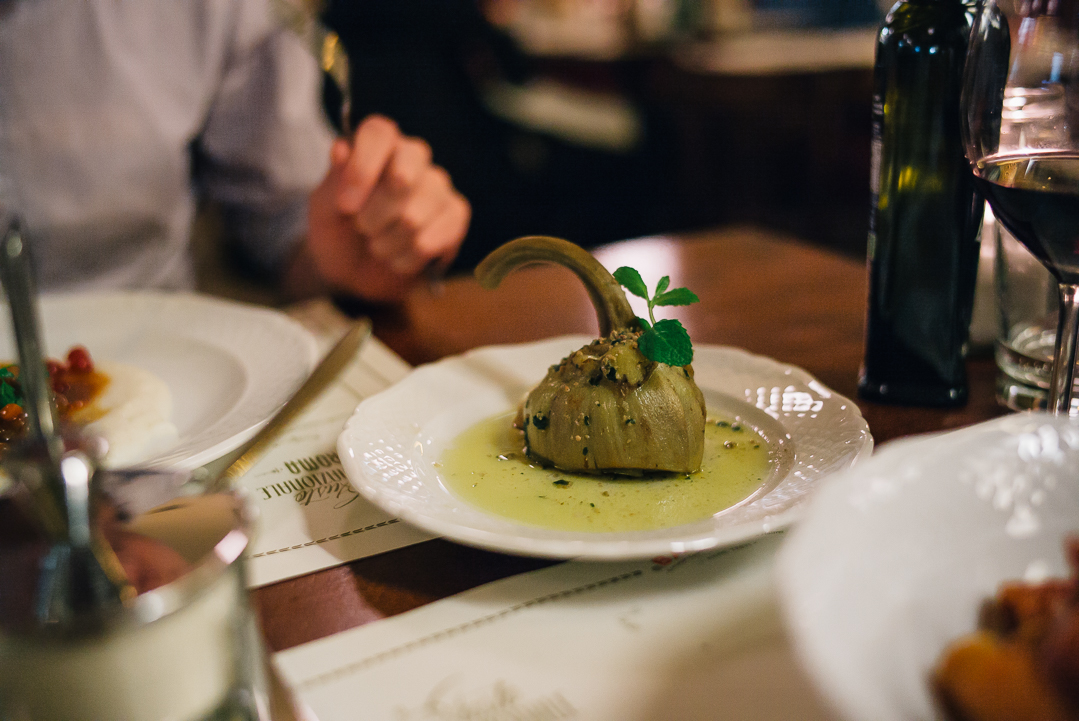 Can't pass up artichokes when in Rome. Stuffed with parsley, garlic, salt, pepper and cooked in white wine. They serve with salt, pepper and olive oil.
Mezze maniche Carbonara, €14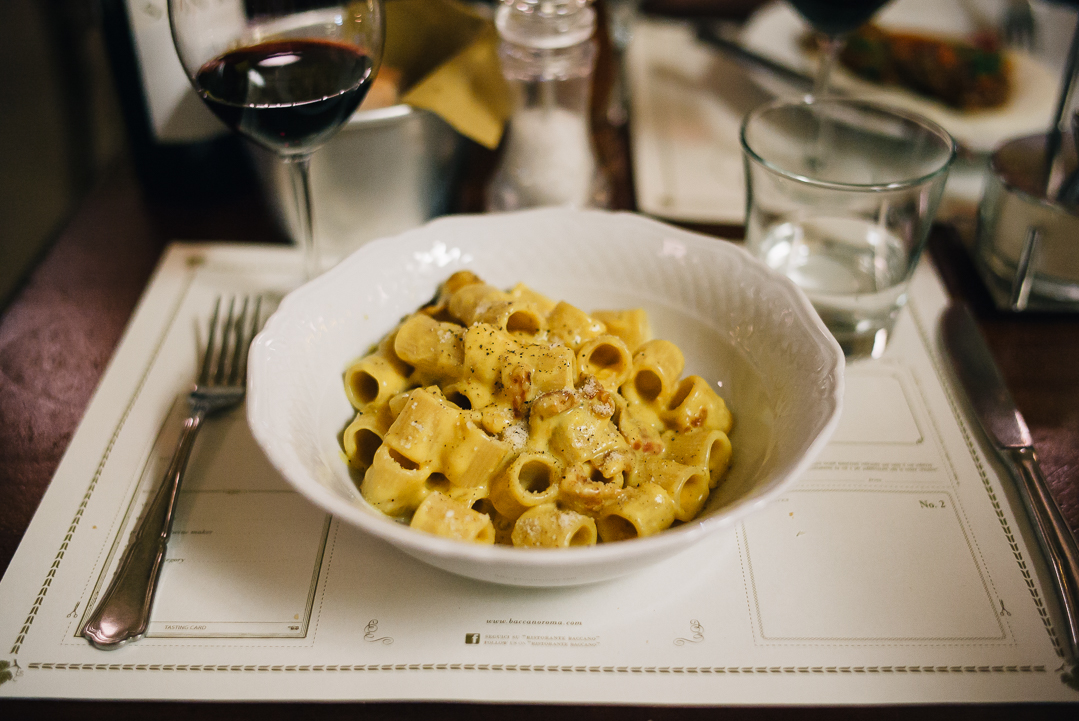 Check the texture of the sauce. Golden, pillowy, thick, gloopy, like a savoury custard as in Roscioli. Respect. They also use Parisi eggs, hence the colour and density, cheese mix is pecorino romano and gran sardo. The pasta is mezze maniche (a sort of shorterned rigatoni) from Mancini.
The guanciale is sliced paper thin, but I prefer the cubes ones at Roscioli. The key difference here is I think it uses less pecorino and guanciale, so there's more balance. You don't get sheer salty explosion, it's a toned down affair. It's solid carbonara nonetheless, I think it's very accomplished and is delicious. I would come back again for this.
Mont Blanc, €10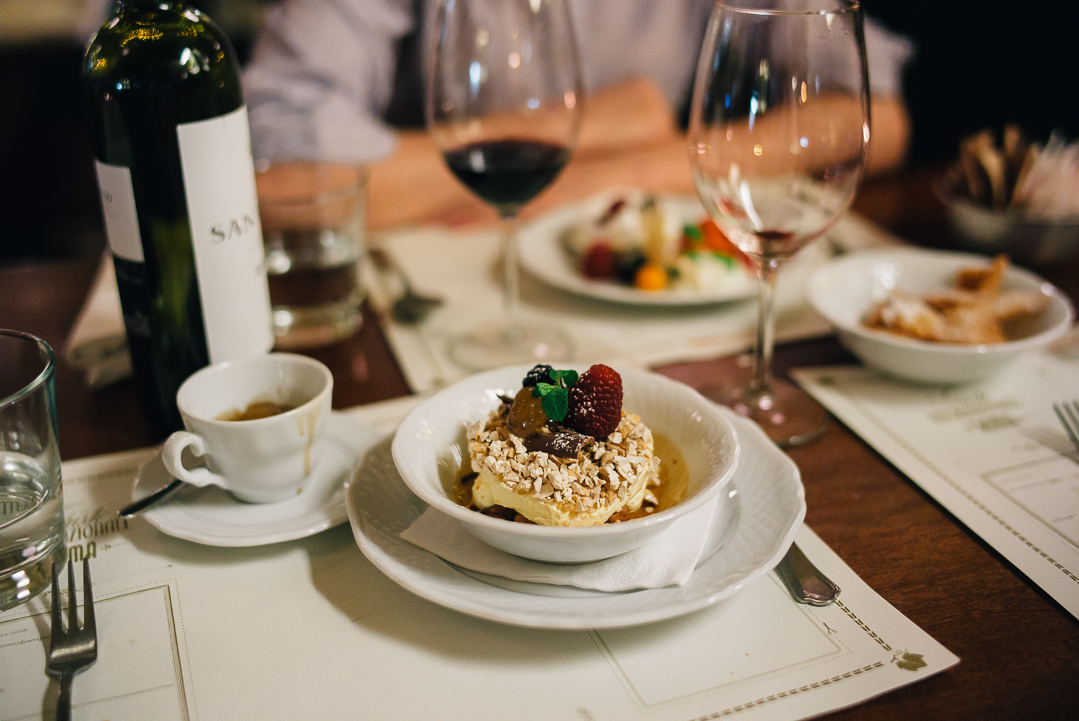 Italy or France …or Yokohama even. I never pass up the chance to eat sugared chestnut, whether in puree, parfait or ice cream form.
This was dinner for three, we also had a bottle of Ripasso and two other primis and the bill came to €149 (£110).
The smell of the cheese, that first salty crunch of guanciale, the egg sauce over al dente pasta. Can't get enough of it. Till the next trip, Armando Pantheon and Da Danilo…
Details
Roscioli
Roman Cuisine
£35pp
Via dei Giubbonari, 21 – 00186 Rome
Tel: (+39) 06 6875287 / Fax: (+39) 06 6865621
Baccano
Mediterranean
£35pp
Via delle Muratte, 23 / 00187 Rome – ITALY