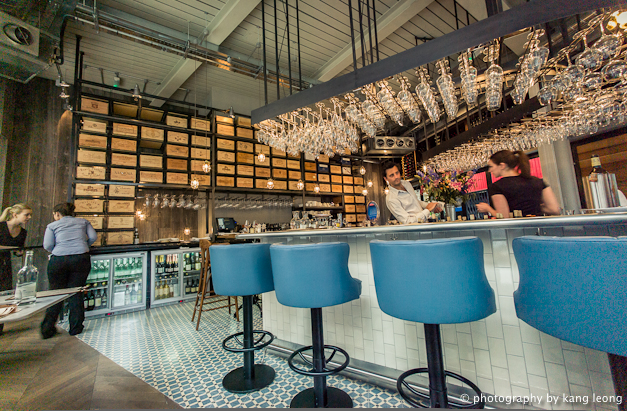 I have been heavily anticipating the opening of 28-50's new site in Marylebone Lane, by sommelier Xavier Rousset and chef Agnar Sverrisson of perennial Icelandic bib winner Texture fame, which has now turned into a fairly successful, well executed wine-bistro. Compared to the original Fetter Lane location, this is much more accessible (and strategic), personally a convenient bus ride from where I live.
I made a hurried reservation for a table on opening day, speculating that it may be full up. It coincided with the Diamond Jubilee concert, and as we arrived for lunch, the restaurant were only entertaining a couple of retirees, presumably residents from the nearby Marylebone Village. My only visit to the original was almost two years ago, for Laissez Fare's leaving do, so can't say its my usual haunt, but I did like it.
The standard wine list is roughly 20 reds and 20 whites long, all available from half glasses (WELL more like 60% at 75ml per measure) to carafes and of course full bottles. The other list – collectors – is bottles only format, primarily consignments from private cellars. The 75ml format, as far as I know, was pioneered by 28-50, and they remain the only restaurant(s) I've come across to offer this measure, with an average price of £3 to £8 per 75ml. This is all very good of course, especially for a wine bar, since a smaller measure is not only cheaper, quicker to wolf down , ultimatelynencouraging diners to 'discover' a wider variety of wines.
The kitchens are orchestrated by Paul Walsh (now oversees both sites), ex-sous chef to Clare Smyth at RHR, who has crafted a solid – and well priced – menu of classic Anglo-French fare with a faint hint of Iceland, plus all day nibbles menu of cheese, charcuterie and pates. ALC are 8 / 15 / 6 and 3 course set lunches are priced at £19.
Charcuterie Board, £5.95
with 75ml of 2010 Tokaji Dry, Ch. Dereszla, £3.25.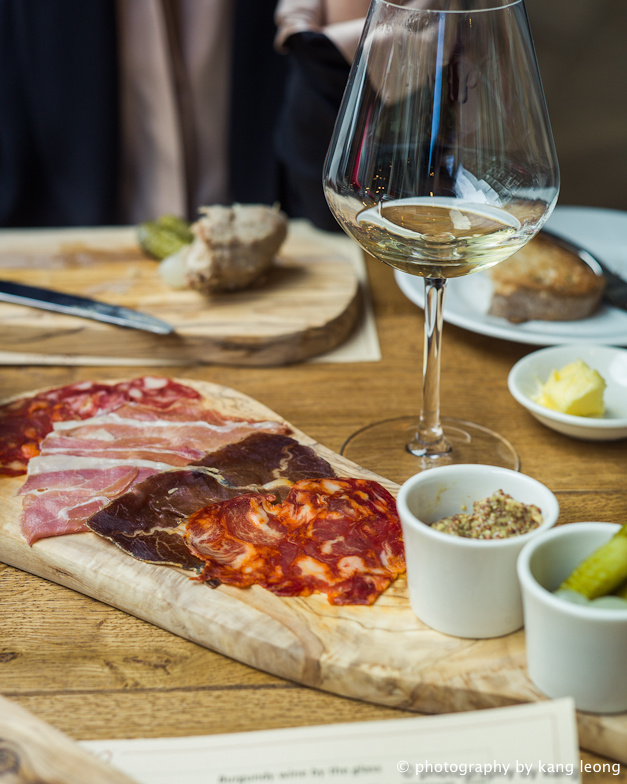 We started off with a small charcuterie board, expecting just a couple more slices at £6, but otherwise lovely. Judging by colour, I hazard a guess that Spanish chorizo, French saucisson are on this board. I couldn't tell what the black brown ham was, perhaps bresaola, or maybe smoked deermeat? Who knows.
To drink, I chose a Hungarian wine from the Tokaj region well known for its dessert wines rather than dry whites. This particular label had won a bunch of decanter awards in the past and a swift google search shows this bottle retailing for around tenner, making the bottle price (£29) a 3x mark-up. Made from a blend of predominantly Furmint varietal, which is probably what gives the wine its pale hay hue. On the palate, it was laden with fresh fruit like apricot and apple, so quite crisp, lemony and generally easy drinking.
Duck rillettes with cornichons and toast (Set Lunch)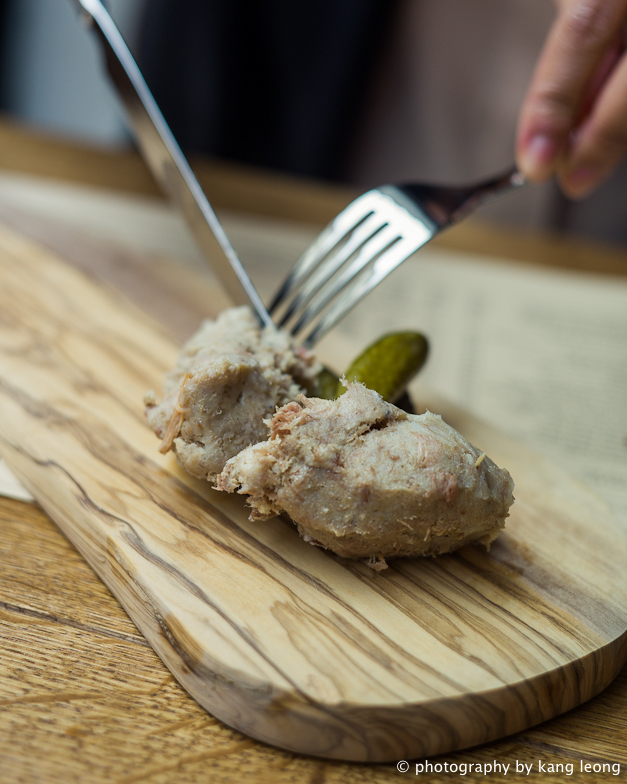 Served cold, the rilletes were duck fat flavoured, with textures like a mash laced with flossed meat which spread nicely on warm brioche.
Salt beef brisket with cornichons and toast, £6.50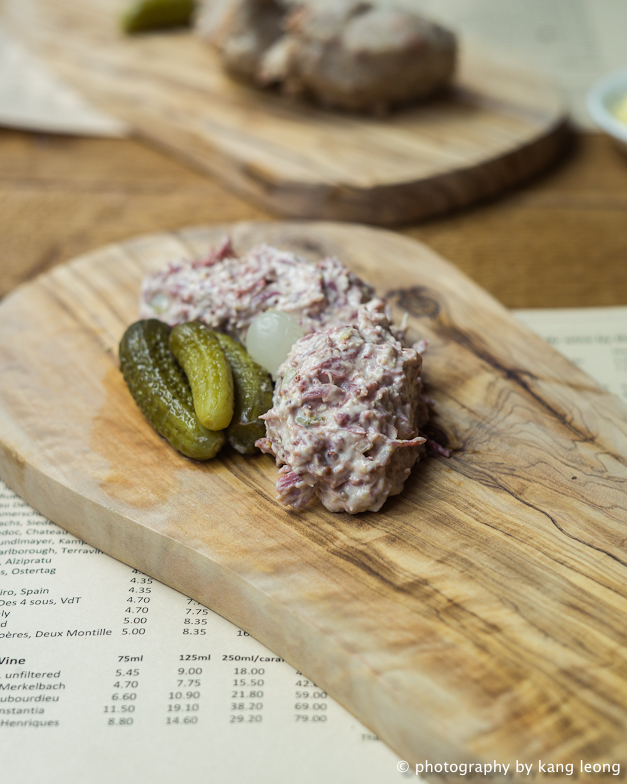 Punchy, pickled and mustardy. This chopped brisket spread was appetising like a relish, and reminded me of Hellman's sandwich spread. It all washed down tremendously well with the Tokaji.
Hake with crushed peas and marinated cherry tomatoes (Set Lunch)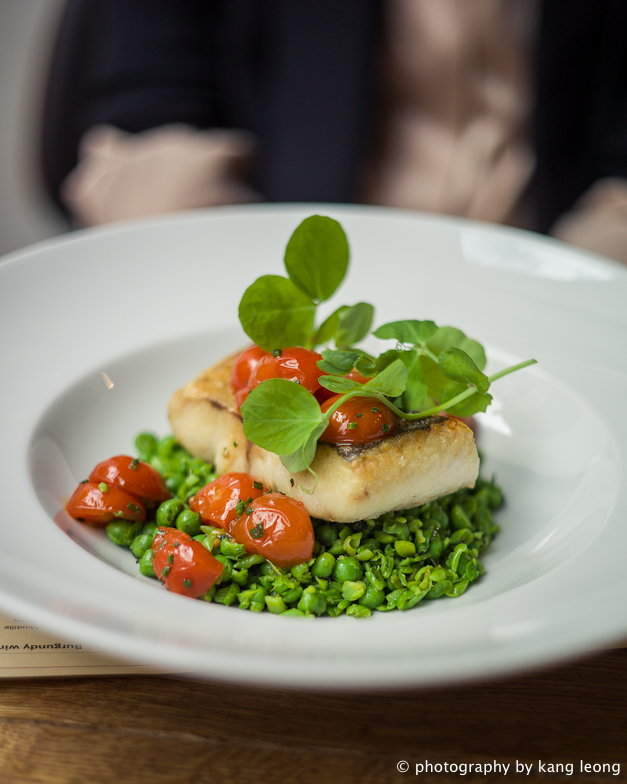 Well cooked piece of fish, flaky, slightly translucent, with very sweet cherry tomatoes, delicious. Although the missus did detect just a slight pungency, like ammonia as she first cut into the fish. So either hake is so inherently fishy that it needs a strong rub of garlic or the restaurant may have struggled for fresh(er) fish over the long weekend.
Icelandic Fish Stew with bearnaise and rye bread, £13.95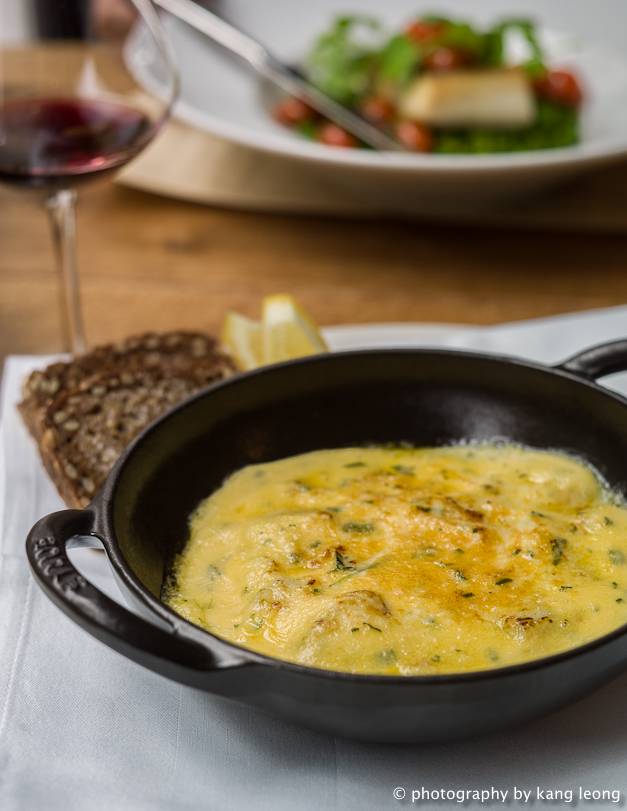 If not for the intrigue of trying Icelandic fish stew for the first time, I would have preferred to have had an onglet with the excellent choron sauce. Like a fish pie but with cubes of potato. It smelled wonderful, a well made bearnaise, the butter, egg, tarragon, mmm. Served piping hot. Rich but not overly queasy, surprisingly, great as a dip for the toasted rye. Very hearty and homely, but think they should serve it with a spoon instead a knife.
After the meal, Ed (Newman the manager) took us downstairs to the open kitchen to show us their charcoal oven for browning meat. It was an Inka (only one of 3 in the country apparently), Spanish made, so exactly a Josper alternative. This made me regret not ordering the onglet even more.
I ate (drank?) this with 3 glasses of red.
1. 75ml of 2009 Chambolle-Musigny, Dom Amiot-Servelle, Burgundy £8.80
For the 1st glass, I chose to go with old world finesse from the hallowed (but relatively small) Chambolle-Musigny appellation, itself belonging to the mighty Côte de Nuits region of Burgundy. Black fruit with just a touch of barnyard aroma, tasting mineral, soft and silken (as is typical of Burgundy), but with a drying alcoholic finish. A good rather than great wine which was not overly expressive to me. Though I thought it was a good choice with the fish stew, creating this nutty and fruity combo. Selfridges flogs it for fifty quid (which itself should have a markup built in) so the restaurant's bottle price of £79 indicates a 2x mark-up. It's surprising how quickly 75ml evaporates..
2. 75ml of 2010 Morellino di Scansano Rinaldone, DOCG, Tuscany £3.25
For the next glass, the sommelier offered to surprise me with something similar in style to the liquid silk of Burgundy. Cherry nose, light and fresh, very precise and with certain elegant (and wow) body that was incomparably seamless. Top shoulder compared to the Burg (mind the pun). He came back to ask me to guess the mystery wine, my first stab was to suggest that it was a Cab Franc, failing that I defaulted to Pauillac. Woefully off the mark of course, which says everything about my (lack of) palate!
Made from 100% Morellino, which as it turns out, is what they call Sangiovese in the southern Tuscan village of Scansano. Remaining relatively obscure through the century, the Morellino di Scansano vineyards have apparently only attained the DOCG classification in recent vintages. Italian wine classifications… are something I still can't figure out (are Supertuscans still 'outlawed'??) , and I'm unsure which producer has made this wine, so couldn't get a retail price. Though can't imagine it being more than a tenner. This is a varietal I shall be seeking out more often from now. What a wine.
3. 75ml of 2009 Les Gardettes, Montfaucon, Rhone, £2.90
Finally, I polished off the fish stew with a typical Rhone of fruit, spice and grippy tannins. It left a lingering sizzle in my throat after every gulp. Retail price at £9 vs restaurant bottle price of £26. 3x mark-up.
Vanilla creme brulee with peach compote (Set Lunch)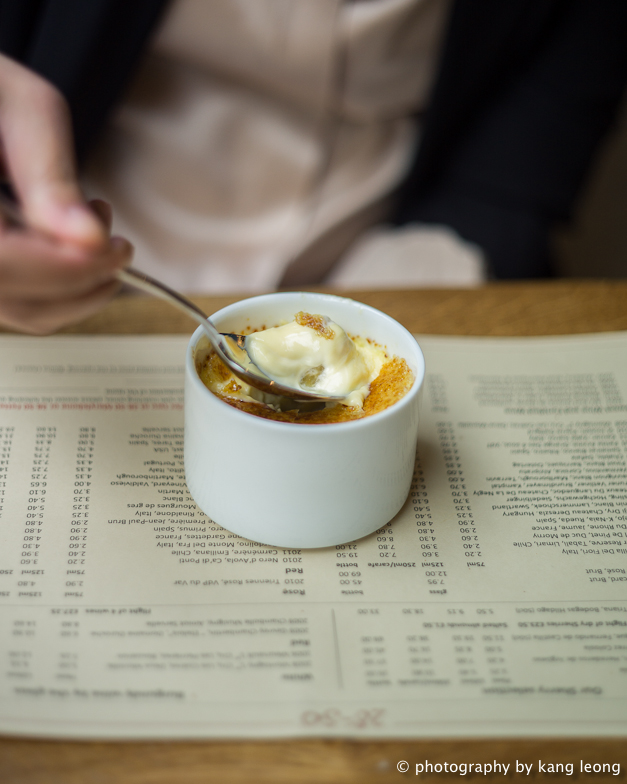 Superb creme brulee made with a jammy peach compote was a perfect compliment to the fantastic custard.
Lemon tart with milk ice cream, £5.50.
with 75ml of Riesling Auslese Fuder 5, Alfred Merkelbach £4.70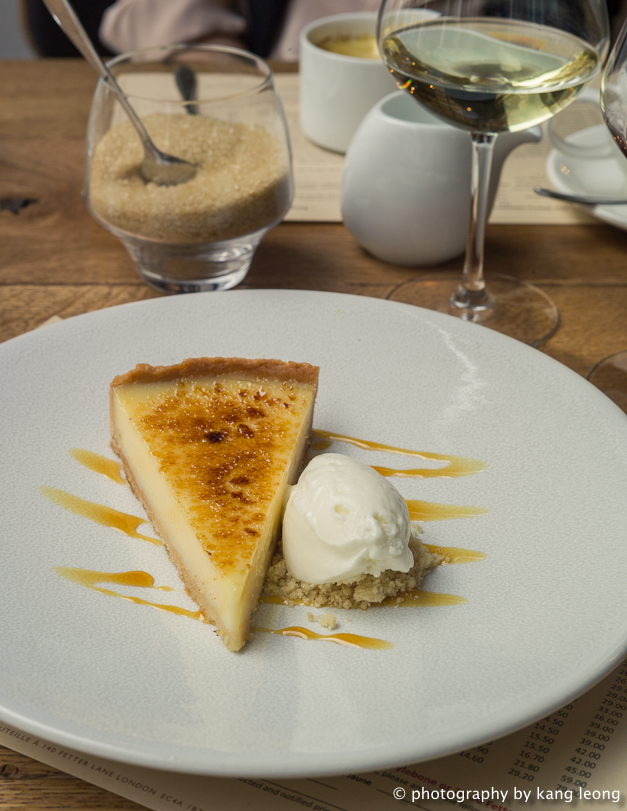 Super smooth milk-flavoured ice cream, a texture only possible with a Pacojet, and a rather rich (and wobbly) lemon tart. Tremendous minefield trying to demystify German wine classifications, as those crazy Germans really go through the trouble of sifting grapes from the same harvest, and turning out wine of differing quality in the same year. Fuder 5, should refer to barrel no.5 from the same vintage. Mineral sweet, so dry and a bouquet of fruit. It's sweet but quite light for a pudding wine, only slightly verging on cough syrup. A typical style of late harvest riesling, but surprisingly not quite rich enough to overcome the lemon tart. After consulting the sommelier, we thought a Sauternes might make a more suitable dancing partner instead.
In spite of all we ordered, the bill refused to climb into 3 figure territory, we paid £86 including service and coffee. Great pricing which forms the essence of a wine restaurant allowing diners the freedom to drink without fear of receiving an alarming bill. For me at least, this sort of restaurant is about discovery rather than to flaunt. There are no super labels on the wine list, I did not recognise anything at first glance, and the great Bordeaux chateaux are relegated to merely being ornamental wine cases for decorative purposes.
I like that they've chosen to finally pull the second 28-50 from the depths of its cellar-like original to this beautiful glass encased corner unit with lots of dangling glass reflecting light in all directions. It's completely refreshing.
To depend on the sommelier to select a crop of drinking wines is the measure of a wine bar, and based on this meal, it appears impossible to drink badly at (a) 28-50. On pricing, there is little difference in bottle price vs per glass price (per ml), meaning that the restaurant encourages diners to sample as much as possible. Mark-ups versus retail are around 2 to 3x, which I suppose, isn't low, but isn't sky high. This may not apply uniformly to the collectors list however. Food is practical rather than challenging, mostly delicious and is certainly a case study for planning a menu around wine. The set lunch is just unbeatable value.
There's enough preserved and pickled food to suggest that you should have a nice time sitting around the classy v-shaped bar to graze and sip. Plus it is a nice alternative if you are finally tired of queuing for burgers and ribs. There is no doubt about where I will be for the upcoming summer evenings to drown England's latest Euro sorrows.
The Gist of It
28-50 Wine Workshop & Kitchen
£35pp Wine & Food
15 Marylebone Lane W1U 2NE
Tel: 020 7486 7922
Tube: Bond Street
Did you enjoy reading this? You can subscribe to the Newsletter. Alternatively, you can subscribe to the RSS feed.