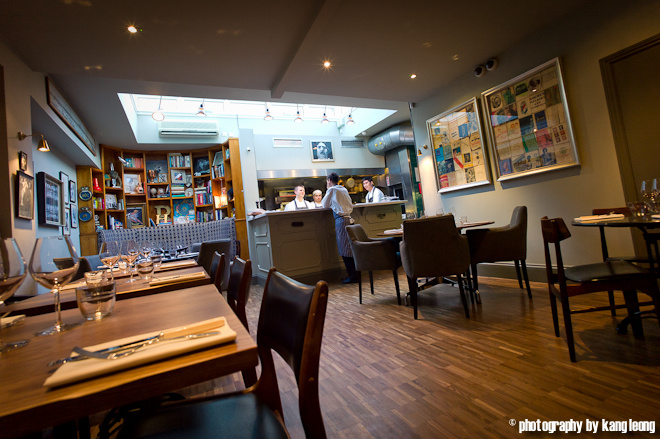 On paper, this two month old wine bar in Fulham road reads like a winner. A laid back, well decked out bistro atmosphere, a dedicated and extensive wine list and a grazing Anglo-French menu, with fancy charcuterie made in-house and otherwise sourced from artisans in Beaujolais.
The Henry Root, like Brawn, are derivatives of the hugely popular Terroirs wine bar in Charing Cross, all three openings have been choreographed by the same group of people. [Update: Nope this statement is not true. The Henry Root is not associated with Terroirs or Brawn at all. My bad, folks. People at Terroirs contacted me to let me know.]
At the start of 2011, it looks as if the sharing plates cum wine bar revolution is coming back into vogue. With a bang. Brawn is still high on my list, but I had decided to visit The Henry Root first because it's much closer to me than the former. Food is prepared by Sang Nguyen who packs premier league experience stinting previously at Orrery, Maze and Le Gav. I googled but failed to turn up on Finn the win guy's background. But I'm sure it is on equal footing to Sang's.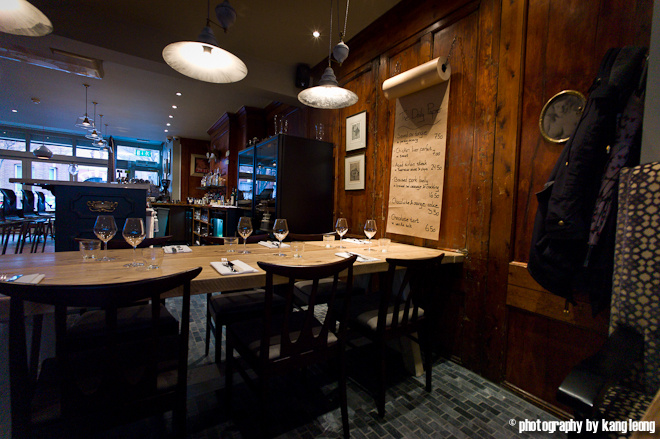 I really like the decor. It is completely open plan, from the receiving bar, that stretches deeply all the way into the kitchen, visible to diners and skylit. All very clean, comfortable, country chic kind of thing, with art deco polished wooden flooring, folk music in the background.
We ordered a glass of Madiran £4.80 and another house red (Cataratto) £2.65, both 125ml, but I was a little miffed that this wine bar offered more wines by the bottle than by the glass. In fact, for a wine bar, it's rather surprisingly there isn't a sample wine list online either. In the world where the excellent 28-50 exists, wine bars really should be more aggressive in pushing in giving customers the options and the incentive to drink in variety.
The menu is clearly organised into sections for small plates, large plates, cheese and of course the preserved meats.
'Small plate' – Monkfish with chickpeas £9.50.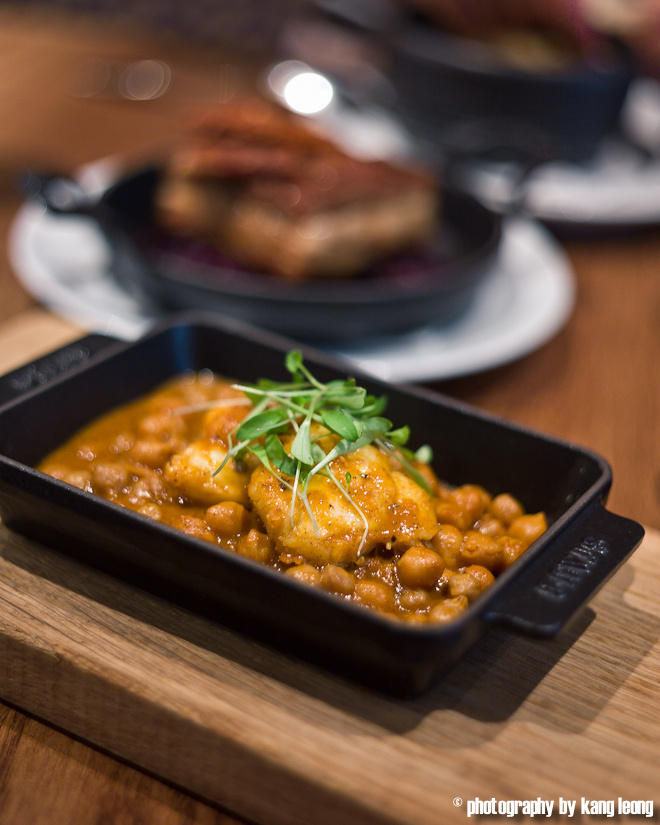 Considering we were only one of three tables throughout lunch service last Saturday, I was a little surprised it took the kitchen so long to get food out. Probably 20 minutes or so.
Anyway, the sauce was curry flavoured, the monkfish juicily pan-fried, but by gosh, this plate wasn't small, it was tiny. Did monkfish prices skyrocket in the past month? Two tiny slithers of fish, perhaps measuring an inch and a half in diameter, and no more than half an inch in thickness, with far too much chickpeas. The fish tasted good, but there was so little of it, it made dishes at Polpo look tremendously large. Overpriced at £9.50 in my opinion.
'Big plate' – Plaice and crab stew. £17.00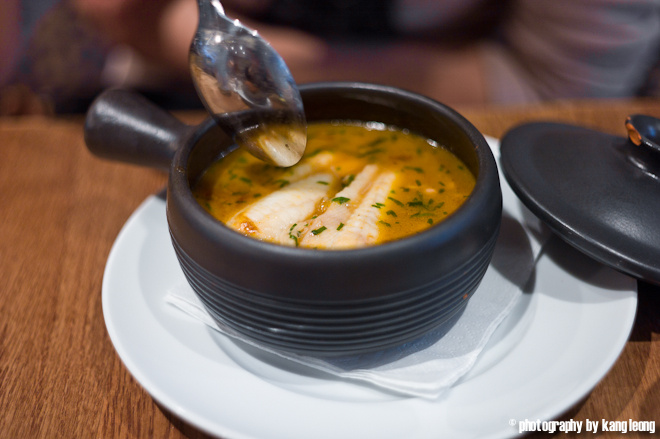 So we assumed the 'big plates' would actually be big plates of food, but I failed to see the difference in portion size between the 'small plate' monkfish and this 'big plated' fish stew. It was bad. It was more broth than stew. Incredibly watered down, served with haricot beans (and like the monkfish, way too much of it), the plaice was fabulous actually, a silky texture, and the broth had this wonderful sharpness from the shell of the crab. However, it was unbearably sharp and salty. The better half could only bear two sips before giving up. She hardly complains about food, but in the end, couldn't help but voice her concern at the end of the meal. We didn't really get feedback from the kitchen as to whether the saltiness was intended or otherwise however.
Anyway, I didn't think this was a fish stew. I think this was a £17 bowl of fish soup. Again, tremendously overpriced for what it was.
'Big plate' – Braised Pork Belly, red cabbage and crackling. £16.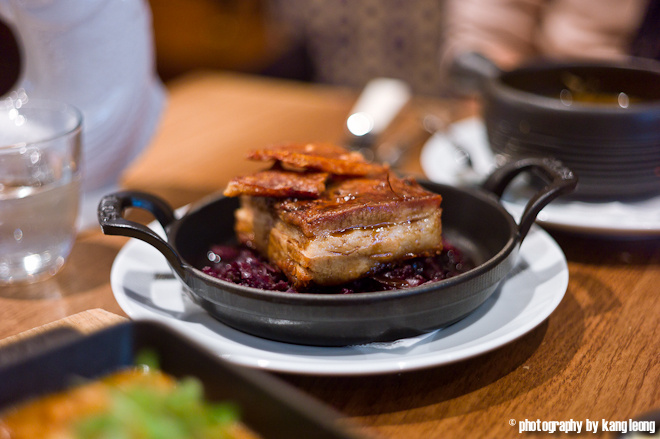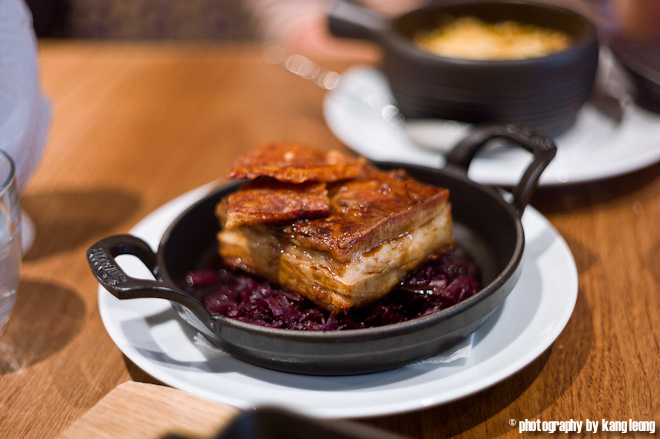 Here we go two angles – does that look like a big plate to you, or more like a small one? At this point in the meal, I felt frustrated. It had me wondering if the only practical difference between small plates and the big plates are that the big plates cost twice as much.
We loved it though. We thought it was properly cooked, juicy, melty fat, odourless white pork and cracking crackling. It illustrated the kitchen's pedigree really, all food showed great potential.
Treacle Tart, clotted cream. £6.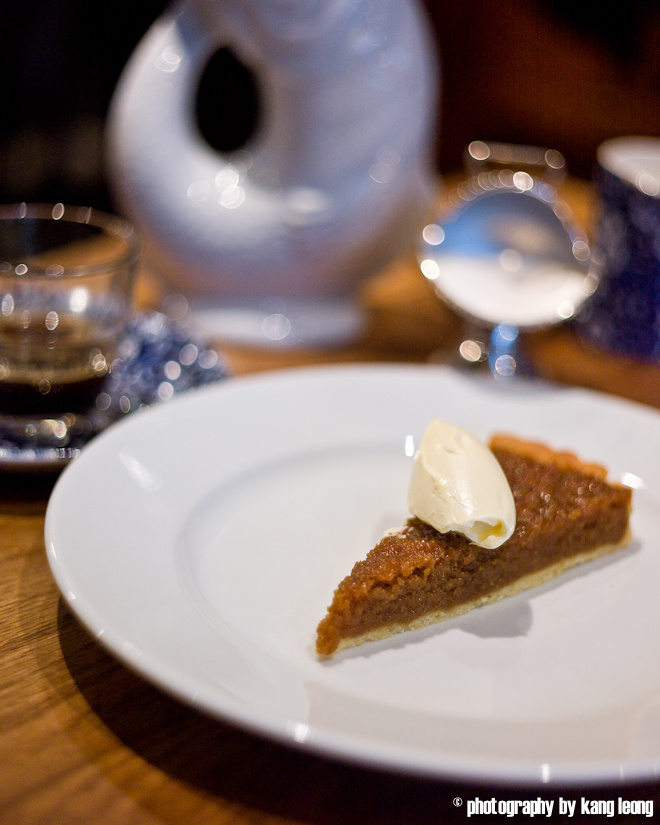 What?! Six quid for a treacle tart?! It was nice, not as gooey as I would have liked, dense and sugary. Five pounds perhaps, not six. This ain't Maze.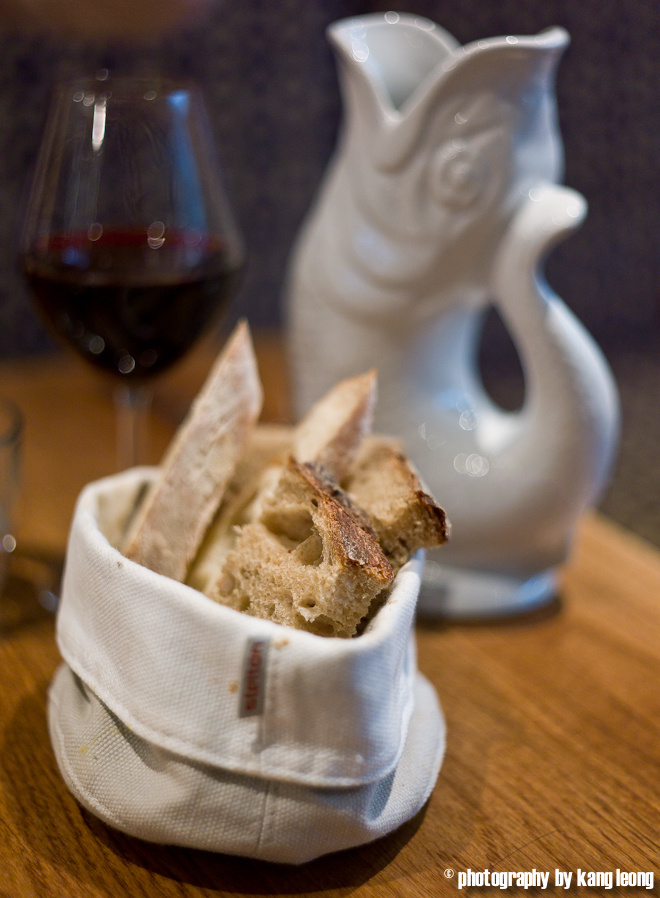 2x Jugs of Filtered (Tap) Water £3 , Bread Basket £2.
I don't usually review what should – in my opinion – come with compliments on the house, but nonetheless, The Henry Root has forced my hand.
We had asked for tap water, but didn't realise that their interpretation of tap water was a chargeable item on the menu, namely, Vivreau chilled filtered water, for £1.50 per jug. Oh the jug looked pretty alright; shaped like a fish, with water flowing out from its mouth. I had to google this Vivreau term, turns out to be a company that specialises in water purification.
I mean no disrespect when I say this, but I really did not care for fancy water filtering when we really wanted free flowing tap water. Bottled water is of course, another story, but as we did order tap water, and had we known that we were going to be given Vivreau's brew instead; I would have glaldy run to the nearest Robert Dyas to buy the smallest Brita filter in stock, and filtered the tap water on the table myself.
Come now restaurateurs, surely this is lunacy, when you start new ventures, do you consider how customers feel when you charge for tap water? Now I'm no expert in this area, but in the world of hospitality, it takes but a little show of kindness for customers to remember you for the right reasons, and to make return visits; equally it takes very little hidden charges to deter return visitors. I am guessing that a concept such as The Henry Root is targeting return customers who live in the neighborhood. Charging for tap water – filtered or otherwise – looks like a bad business model to me. You don't really want people to remember you this way : "Great food, but damn they charge for tap.". Do you?
Viajante offers a choice of still or sparkling on the house; even Strada offers complimentary filtered water. For a 'chilled-out' wine bar, charging for jugs of filtered water is veering on the wrong side of pretension.
Restaurants are of course free to charge whatever they like for their hospitality, but it does not mean that customers should agree with it. And in my opinion, this nonsense should be stamped out of restaurants. It is insidious and the problem with receiving a bill for what I assumed was tap water (but wasn't told it was filtered) , left a bad taste in my mouth. It really was quite an inhospitable feeling.
And while we're at it, let's have a go at charging for a basket of bread shall we. I'll gladly pay the asking price, but the problem with charging for bread, is that the basket then suddenly becomes very precious and scarce. You'll try to preserve its longevity for as long as you can by pecking away at it slowly like a pigeon, as you wait for the mains to arrive. And when the mains do arrive, you then spend the rest of the meal agonizing over whether the choice to put down another two quid for bread is worth it, and then you start thinking about service charge on top, and your mouth starts drying out because the fish stew (which is really a fish soup) is too salty and you need more bread, and so goes the vicious cycle. Hugely annoying.
We paid £74.53 for three savouries, one pudding, 2 wines, 2 coffees, 2 jugs of tap water (filtered by Vivreau) and a basket of bread, plus service. That's roughly £37 per person for not a lot of food. I felt so hungry afterward, I went home and pigged out on a bucket of ice cream. I went to Viajante the next day, bread was on the house (I had the cheek to ask for more) , still and sparkling water was free flowing and on the house; three courses plus amuse bouches, wine and coffee plus service amounted to a mere £44 per person.
Is it me or is this wine bar just a tad pricy?
It is unfortunate really, because I think Sang and his team have tremendous potential. The food did taste good. But the problem is, I feel that he has also taken all the bad habits with him, from his stints at 'high restaurants'. Little dishes work at Maze, since you're expected to have four or five of them suckers, but for a gastropub/bistro/wine bar, it is just pretentious and antithesis to the concept of becoming a friendly neighborhood joint. I would suppose that a more laid back setting would be an outlet for creativity, for the chef to create value for money, rather than find ways to subject customers to the plus plus. Psychologically, I felt that there were just too many factors acting as a deterrent for return customers, and sadly, we won't be going back anytime soon either. It's no wonder the chefs were twiddling their thumbs for the most part of the entire lunch service on a sunny Saturday afternoon.
The Gist.
The Henry Root
Wine Bar £45pp
9 Park Walk, SW10 OAJ
Telephone 020 7352 7040.
Tube: South Kensington / West Brompton
Reviews: The Hardens : london-eating.
Did you enjoy reading this? You can subscribe to the Newsletter. Alternatively, you can subscribe to the RSS feed.