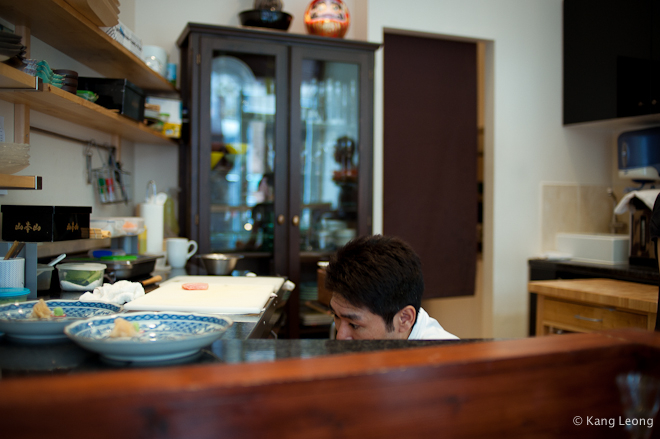 I swear, this is the last time I'm posting photos from a meal at Shiori…. so good…. So I believe I've tried everything on the Shiori menu now (not the tonkatsu or kaarage) , this set of photos are from my 3rd visit, and I've been four times.
The canape sushi at £23 deserves your attention, however if you are spoilt by choice, then the omakase is a good place to start with Shiori. I've had their omakase (the chef's choice menu) at £30, £40 and £50, and have found the £40 to be happy median.
Having said that, the £50 omakase was pure decadence. I'm mentioning prices, because that's what you need to decide when you call to book, and you'll need to because the sushi bar can only accomodate nine people at any one time.
I wrote two exhaustive reviews which cover more details, if you want to know more : First review ; Second review.
This blog post is just photos of the seven courses you get from a £50 omakase.
Needless to say, I love Sushi of Shiori.
Course 1: Abalone, enoki and spinach
You can tell that the £50 menu is serious, when they serve luxury seafood as an appetizer. Ponzu zestiness, soya sauce, refreshing stuff.
Course 2: Okra soup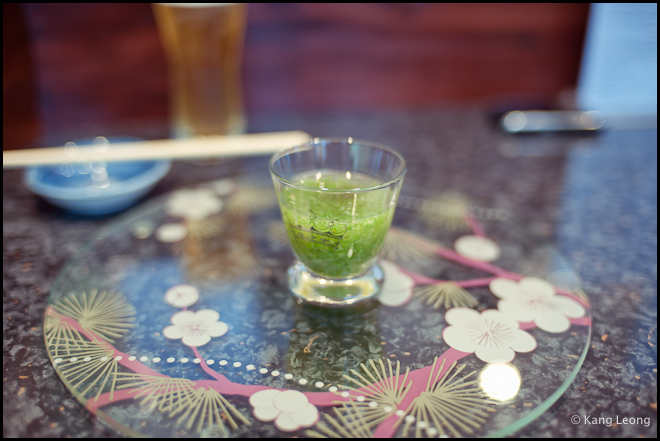 This was REALLY interesting. Chopped up okra, served cold, with all the slimy, gooey goodness of ladyfingers, juiced! Very unique mouthfeel, almost like drinking raw egg whites, but with crunchy bits, in a good way. For flavour, it was like essence of chicken.
Course 3: Fish roe, Yellowtail, white potato.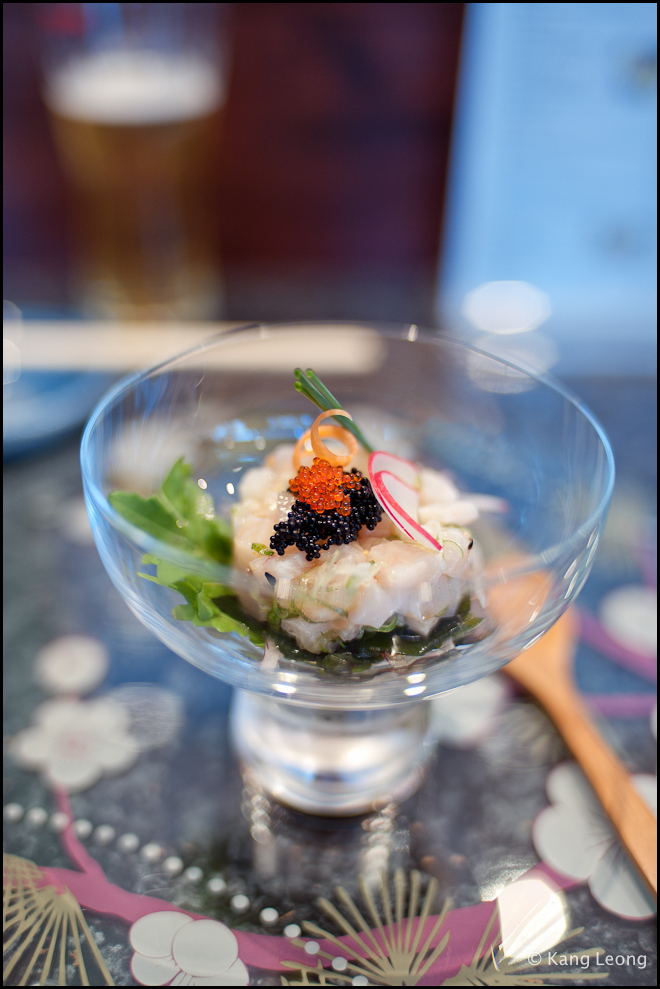 Oh.. I immediately thought of Roka when this came. Beautifully presented, and another exercise in the interplay of textures. Oily chopped fish was excellent, the little flavour balloons of fish roe were awesome, hear them popping in your mouth, abit of herby edge with the chopped spring onion added to the mix. Just fantastic.
Course 4: Sashimi platter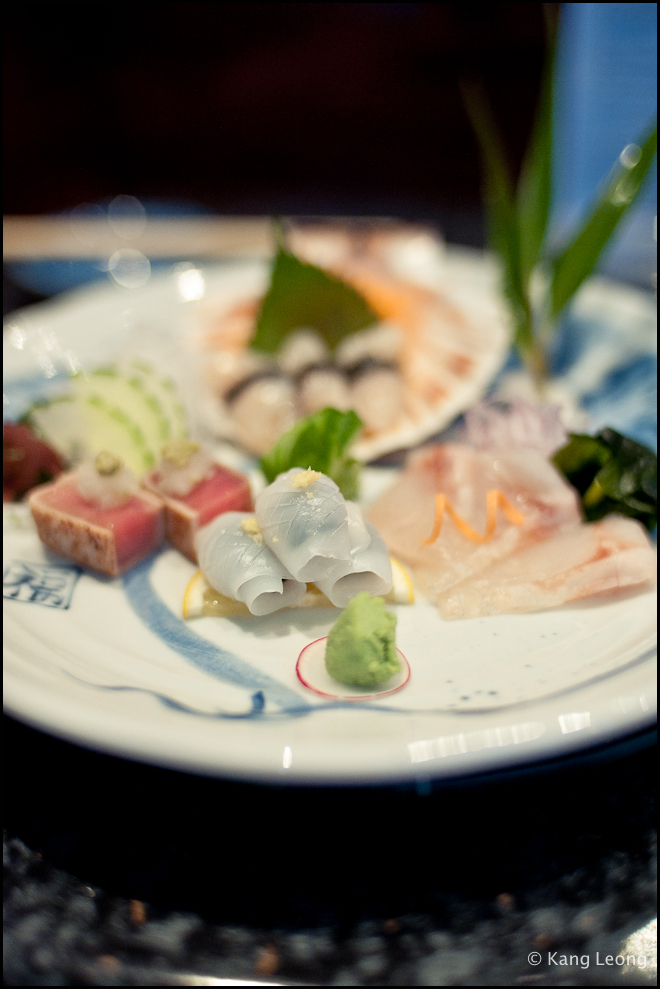 Seared chutoro topped with fresh wasabi, oh my god, so good it melts… with some charred flavour lingering. Scallop stuffed with a 'surprise', which turned out to be an orange coloured, grainy paste, sweetish, crab-roe like, made from sea urchin. Who knew scallop and sea urchin would make such a great combo. Squid stuffed with seaweed. Finally, fermented seabass sashimi which had been pressed between seaweed overnight, which I suppose harks back to the beginning days of sushi or narezushi (going back centuries here) when it was fermented. I was surprised how good this was. The seabass was golden hued, the texture matured, zero chewiness, as if muscles, sinews had been relaxed and broken down, analogous to dry-aged beef, I suppose.
Course 5: Sushi Platter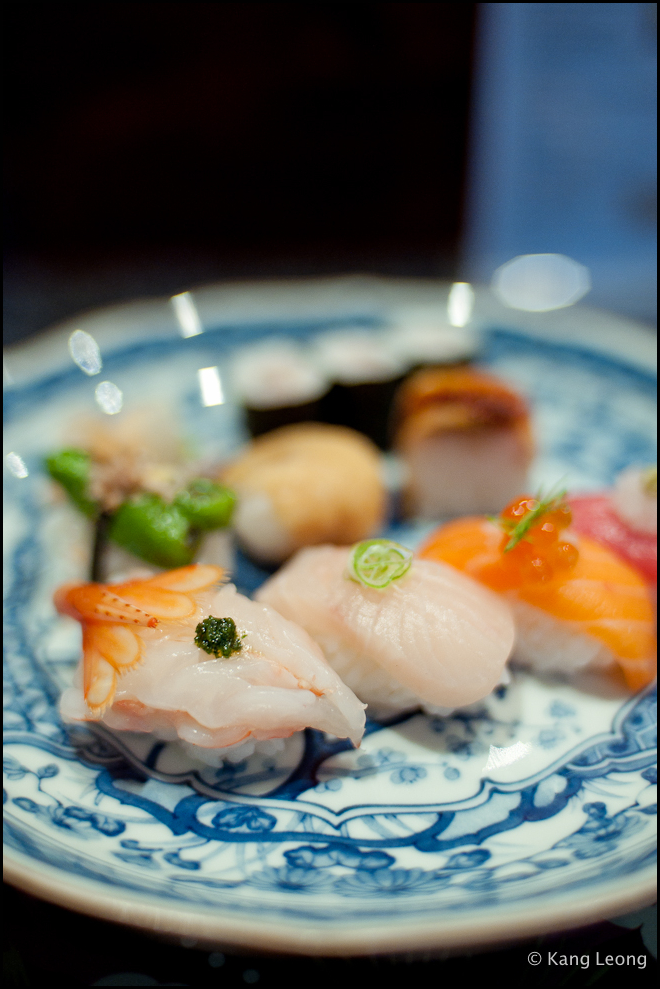 Seabass maki, pickled and sugary; Unagi Bo-zushi with abit of pepper, beancurd nigiri and a grilled pepper nigiri; Selection of fish nigiri including a sweet prawn with shiso leaf pesto, aji, salmon belly and tuna.
Course six: Two Wagyu Sushi per person..!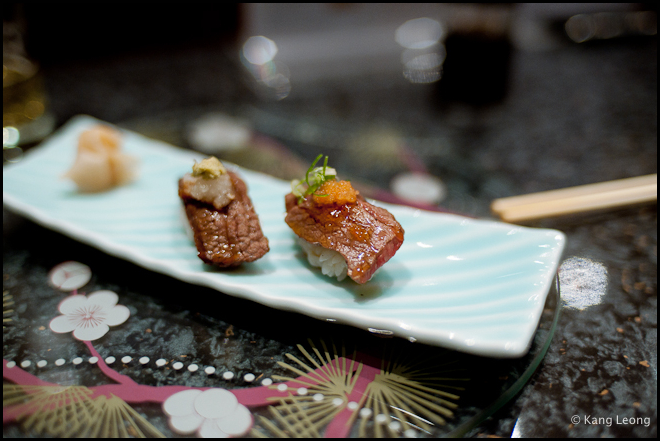 The pièce de résistance. Both were blow-torched, so crispy flamed exterior, and inside it was blood red. Both have a melting ponzu jelly scooped over it. Additionally, one has a kind of herby radish thing over it, the other stings like jalopeno. Amazing… but Dinings' Wagyu sushi might just beat this by a hair.
Course seven: Home-made Ice cream.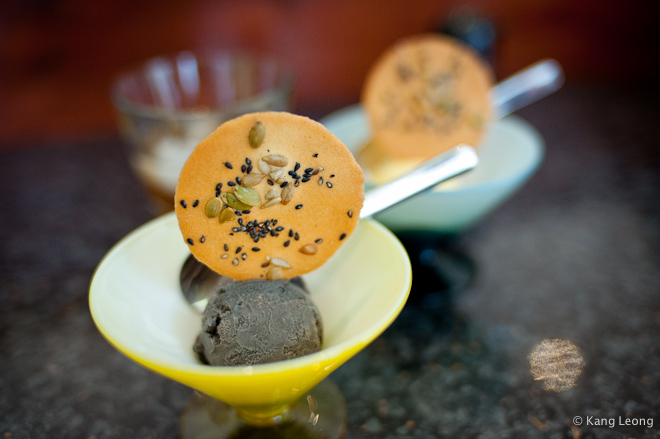 Since winter is coming up, they are offering chestnut ice cream, which I think is excellent. I particularly enjoy the black sesame as well.
I can't wait to go back to Sushi of Shiori again. And again. Again. If you're in London, and you need a sushi bingeing partner, I'm there. Hit me up.
I wrote two exhaustive reviews which cover more details, if you want to know more : First review ; Second review.
Sushi of Shiori
Japanese, £45pp
144 Drummond Street, Off Hamstead Road, NW1 2PA
Tel: 020 7388 9962
Tube: Warren Street
Did you enjoy reading this? You can subscribe to the Newsletter. Alternatively, you can subscribe to the RSS feed.
All text and photography on this blogpost is copyright and belongs to Kang Leong, LondonEater.com. If you repost this without my permission, bad things will happen. So please don't do it.