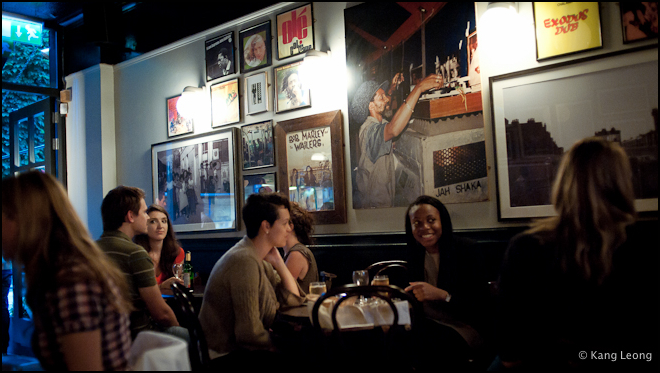 The Salusbury is the obvious hip hang out junction, where the beautiful, the youthful, carefree inhabitants of this rapidly gentrified part of NW6 flaunt their hide. It is hardly ever empty, and undoubtedly the most happening joint in and around Queen's Park. On the weekends, it's chock-a-block like can of sardines, and on weekdays it remains jubilantly full. It has a healthy reputation, and is a place which I have been wanting to write about for months now. Just before summer hit us, The Salusbury shut it doors for a few weeks for a minor facelift and now the pub and its adjoining dining room look ever more dapper than before. I'm very certain to have spotted Cillian Murphy moping around Salusbury road once.
Contrary to the trend of Brit-themed pubs, The Salusbury features an Italian inspired menu instead, so you won't see scotch eggs, curry or burgers on the menu and bread is served with olive oil, cracked black pepper and sea salt instead of butter. Don't bother with their official website either, the menu has been reworked ever so slightly since their refurbishment, and has now been expanded to include funkier selections include a burrata salad; pecorino with truffle oil; ravioli and pasta which now are claimed to be made in house. And according to the waiter, he told me the chef had decided to 'delve deeper' with the reboot.
Yes… from my tone you have probably sussed that I'm an occasional regular (oxymoron no?) at this pub, and have been visiting on and off for the last 18 months or so. Speaking of which, they used to run a grocery-takeaway deli (The Salusbury Foodstore) which was where I used to pick up saffron, truffle (with oil!) and cheese, but it has since been rechristened as Giorgio's, an Italian deli and cafe, which is fantastic, and which we (and the more esteemed half) spend some of our lazy afternoons in… or when we are just too lazy to cook. The chicken escalopes are awesome, and we love the home-style tiramisu, the pizzas won't win awards, but we're not pizza otaku and we like them. They are of the stone baked variety with toppings that include potatoes, truffle oil, egg and artichokes.
As for The Salusbury, the food is actually not half bad, in fact, it's pretty good. It's consistent. Gimmick free recipes are hardly ahead of the the curve, but I think it shines because it's hearty, wholesome cooking. The trademark dishes include pappardelle with duck ragu (sadly the chicken liver option which was fantastic seems to have been taken off) and their tagliatelle with lobster (sometimes served with the lobster shell, for dramatic effect) are the crowd favourites. The fish dishes such as cod with clams, mussels and cherry tomatoes are great too. Filling and warming. On to my meal now:
Octopus salad with chick pea and red onion, £7.40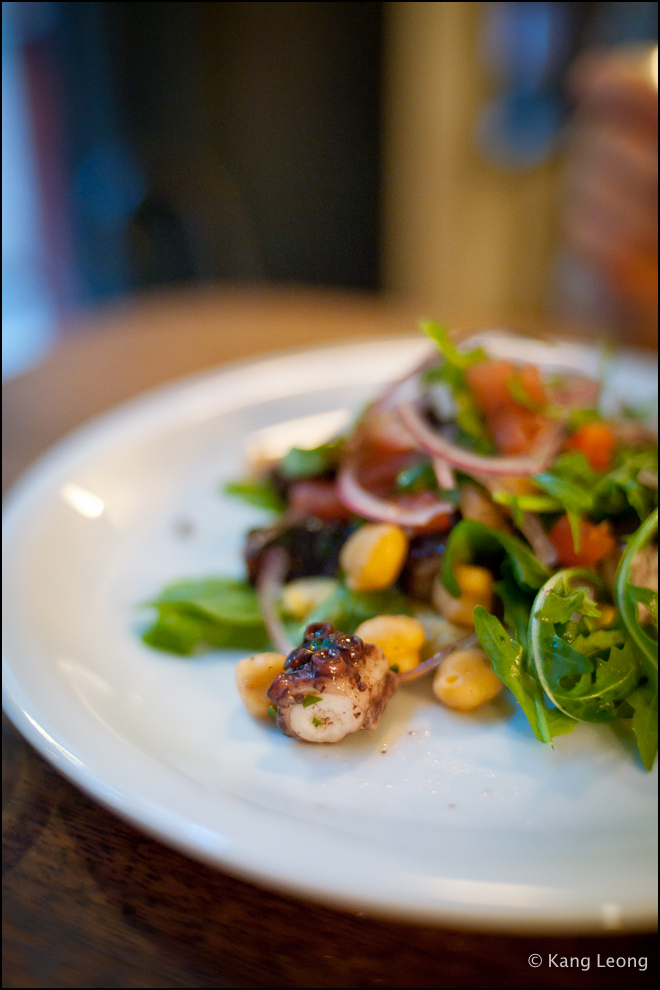 A simple rocket, tomato and onion salad, tossed with chickpeas, and sitting on a bed of grainy mashed chickpeas – like hummus, but without the gorgeous oiliness. The rubbery, fatty tentacles are chopped into tubular pieces, spongy, and the natural saltiness goes surprisingly well with chickpeas. It's a good start.
Brasato e Umidi …. braised and slow cooked oxtail with tomato and celery £11.20
Hot damn, what gargantuan servings. It might be a little too wintry a dish for this time of year, but it didn't stop me from completely devouring it and then proceeding to strip every bit of tendon and meat from the tailbone. The meat was slow cooked to a melty, flossy, coagulating mess that fell off the bone as it it had been greased with hot butter. Just gorgeous. The gelatinous tendon bits were the best part (of any oxtail dish really) giving it a brawny, full (fatty) flavour that was matched amazingly well with the full bodied gravy. You want to mop up the sauce with baguette, lots of it. This dish epitomises this kitchen's fill-her-up style of cooking, which is great if you are feeling particularly ravenous.
Fritto, Veal Chop Milanese £14.20
Gotta have veal chop if it's on the menu, and it is actually a chop on the bone, not an escalope. The meat was hammered to a pulp. Expectedly the meat was tender, the tenderness accompanied by a burst of juice. The crust came crumbly fried with a buttery fragrance, an eggy flouriness about it (if that makes sense), very appetising. A squidge of lemon really gave the butter flavour chop a nice zingy contrast. I've had this twice and both times I was really impressed with it, simple pleasures, but oh so very good. The better half struggled to finish this, since it was also amazingly large portioned, so we dog-bagged it (I had it for lunch the following day).
It is probably one of the priciest locations to eat and to drink in the NW6 vicinity, food plus a pint of Hoegaarden was a whopping £45. Beer alone set me back £4.70… that's shocking considering we are far, far away from Central London. Well zone 2 anyway. Such is it's degree of gentrification. Still the prices are perhaps not prohibitively high enough, as it continues to draw in the zestful soul of area, the busy atmosphere works both ways I suppose, but that's why they have a dedicated dining room for the discerning customer who might opt for a more 'serene' setting. It's all relative however.
The steak and chips (a slither of rib eye with a biting horseradish sauce £16) is also very good, and if you can overlook its frenzied reputation (and resulting spotty service) , you might find something delectable on the menu. Otherwise, take a breather at Giorgio's next door, and tuck away a couple of their ace cannolis.
The Gist of It
The Salusbury
Pub with Italiano £30 for food, £5 a pint (fucking yikes!)
50 Salusbury Road NW6 6NN
Tube: Queens Park
Tel: 020 7328 3286
Meanwhile…. Charles Campion says ; The Harden Brothers say ; Qype says
Did you enjoy reading this? You can subscribe to the Newsletter. Alternatively, you can subscribe to the RSS feed.
All text and photography on this blogpost is copyright and belongs to Kang Leong, LondonEater.com. If you repost this without my permission, bad things will happen. So please don't do it.