It gives me great pleasure to write about my favourite Japanese restaurant in London, recently relaunched and relocated to Bayswater and renamed …The Shiori!
Owned & operated by Chef Takagi-san and his wife Hitomi-san, this entire labour of love has finally shaken off previous trappings of having to pander to Edo sushi to fully embrace what Takagi-sensei does best: Kyoto style Kaiseiki.
They have expanded capacity from 6-7 covers to take a maximum of 12 to 16. Both Hitomi-san and Takagi-san each have an extra pair of hands helping on the floor and in the kitchen. The decor is of elegant polished wood, bamboo sliding paper doors, and Japanese style dining booths. It finally looks like a small family run restaurant which you might find along the side streets of Nishiki market. It is located in a completely unassuming street near Bayswater station and discovering it is just like discovering those famous little sushi-yas in Tokyo (like say Saito in a car park). You still get a view into the kitchen to watch Takagi at work, but it is no longer as up close and personal as the old Drummond Street setup – they have done away with the sushi bar which overlooks the kitchen.
This move has experienced a few weeks of delay, dragging its initial November relaunch to December, and I know a few of you have been anticipating this and finally last Monday, Hitomi emailed her distribution to let us know that they were finally open for business. So the missus and I decided to take two of my oldest friends for the second day of service.
When I was in Kyoto earlier this year and then sampling the kaiseiki while at ryokans in the Hakone area, they reminded me of my meals over the years at Sushi of Shiori. Save for ingredients indigenous to Japan – and yes, unfortunately the quality of produce in Japan is next level stuff compared to here – the style, the feel, technique were reasonably comparable.
Kaiseiki finds its roots in (the art of) the Japanese tea ceremony, deeply traditional and so too a certain structure to the way it is presented, and like many things in Japan, refinement, perfection, beauty and simplicity are adjectives which spring to mind when discussing this particular branch of Japanese cuisine. In many ways it is analogous to the theatre of French tasting menus but today I think there's is much convergence in this globalised idea of high end hospitality.
Lunch menus seem similar to the original Drummond street offerings, but like in Japan, the proper heavyweight menus are offered in the evenings. Currently they are showing two kaiseiki options. The 'entry level' – Kaiseiki Hana (for blossom I think) is the shorter menu for £65pp. The top whack is the Kokoro (for heart or heartfelt, feeling?) at £105pp and the menu we ate from during this visit. The menus expectedly shifts with the seasons.
会席 志 Kaiseiki Kokoro, winter edition.
1. 猪口, Amuse Bouche – Black sesame tofu with Uni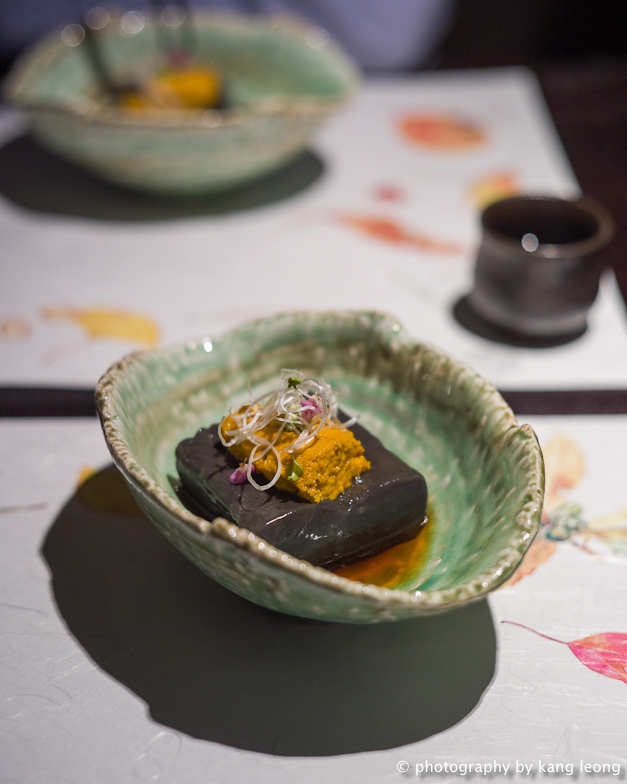 The meal kicked off with a dense and gooey tofu concentrated with grounded down black sesame and apt for the winter. As you know, uni which is available over here will never be as sweet as the stuff from Hokkaido, but that's ok, as the intrinsic bitterness is well balanced by the sesame. Yummy.
2. 先付け Starter – Simmered Haddock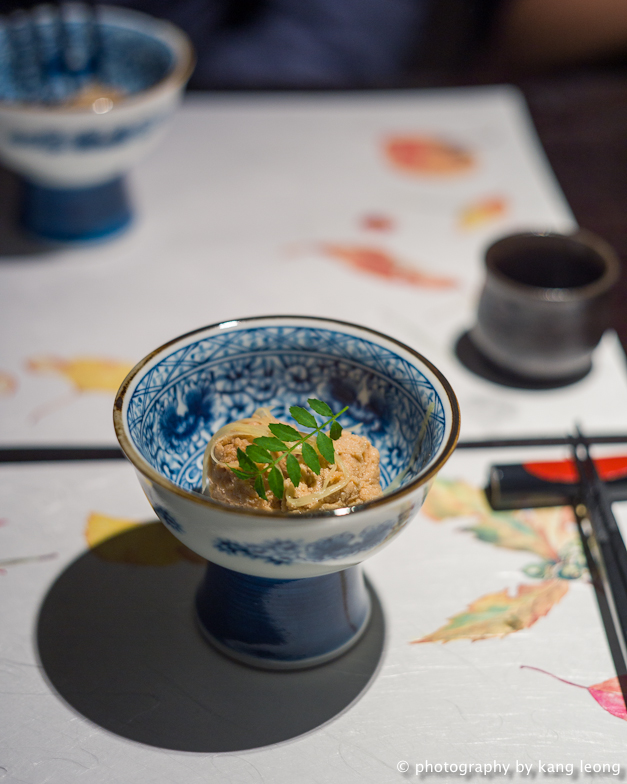 Appetiser No2 was an intriguing one. Powdery texture, which we thought felt like it may be have been brain, or something. It turned out it was part fish and part roe.
Do keep your eyes on the myriad of beautiful tableware each dish is served on, which for me anyway, is all part of the ceremony (and fun) of a kaiseiki.
3. 小鉢 Appetiser – Marinated salmon with fermented rice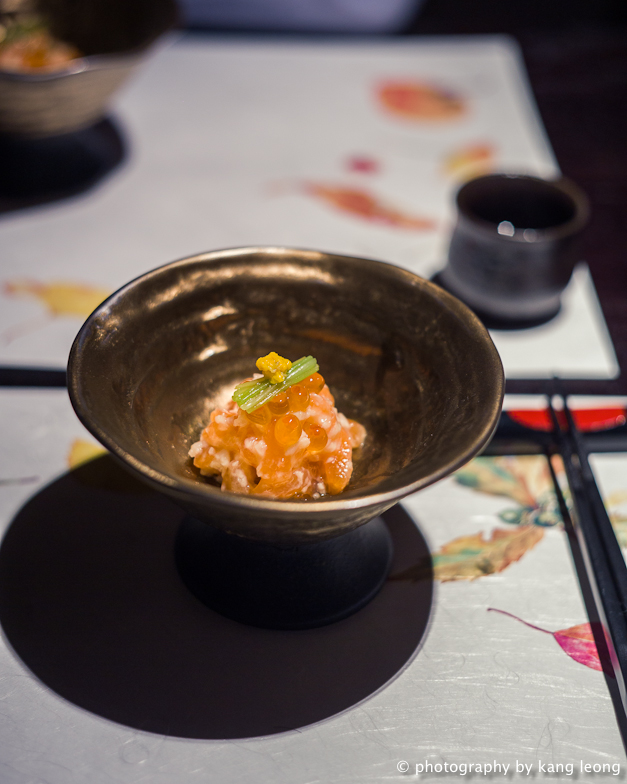 Knock out dish! Unsure what the salmon was marinated with, but it was salty and a little gooey too, with a kind of 'creaminess' imparted by the fermented rice, like cloudy sake (nigori sake). Rich, intense and garnished with some pureed chrysanthemum, if I am not mistaken. Very seriously good.
Sake: "Elegant Mountain Stream" , £68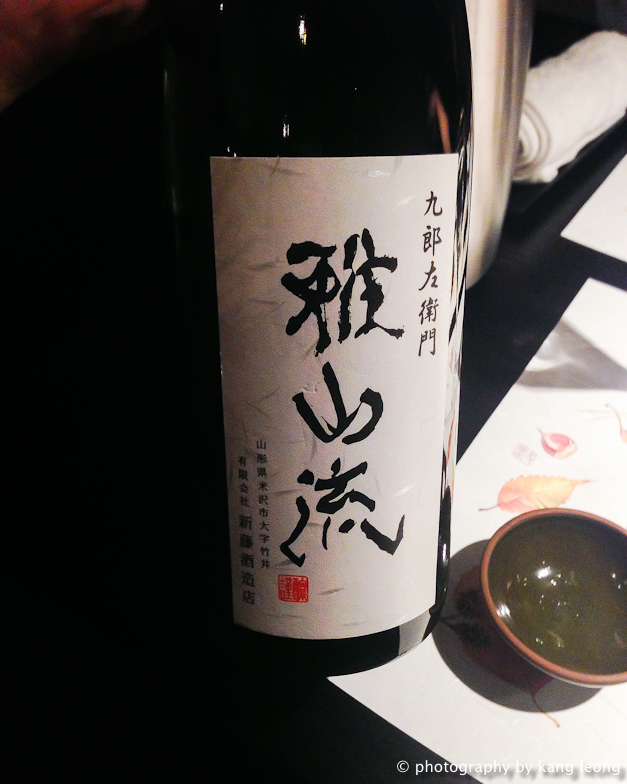 The last time I took some friends to (the old Sushi of) Shiori was in the summer and amongst that party was a sake-skeptic, who held this misconception that sake was hard liquor. Sake is anything but and – to me – is supposed to be this very floral and elegant drink that has more in common with a Montrachet than Jack Daniels. The emphasis on purity. So we asked Hitomi-san to recommend the good stuff and look, I'm no expert, but I always ask for a Junmai Daiginjo, the 'grade' of sake for which the rice is polished down to half its size before fermenting. (See wiki).
In the end, my skeptic friend was obviously completely taken by this sake, seduced by the floral nose, the delicate purity on the palate …and all that.
So for this meal, I thought to order the same bottle for this group and luckily it also drew the same responses. Ultimately we wanted to find out if we could get it retail and it turns out the answer is yes, as Japan centre sells them for £54 a pop.
The kanji – read as Chinese – translates roughly to 'Ya San Liu' or elegant mountain flowing (as in stream) and in Japanese, I think it is Gasanryu. When you visit Shiori, get this bottle with your meal, this is the stuff. But failing that, consult Hitomi for pairings. Her wine & sake list is pretty robust anyway. I seem to recall a light red (a Beaujolais?) she recommends for the wagyu nigiri.
4.お椀 Seasonal Soup – Dobin-mushi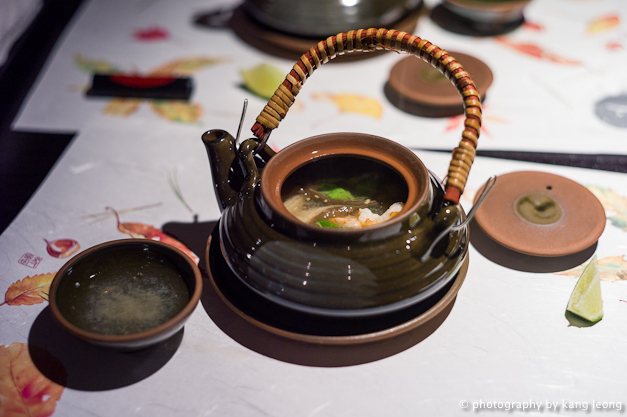 Next we moved to a classic wintry soup served in a cute dobin tea pot, for which you could pour out the soup and sip like tea. After you finish with the soup, you then pick off the shrimp, 'shrooms and chicken thigh.Hearty belly warming stuff, the soup was incredibly invigorating.
5. お造り Sashimi – Lobster, chu-toro.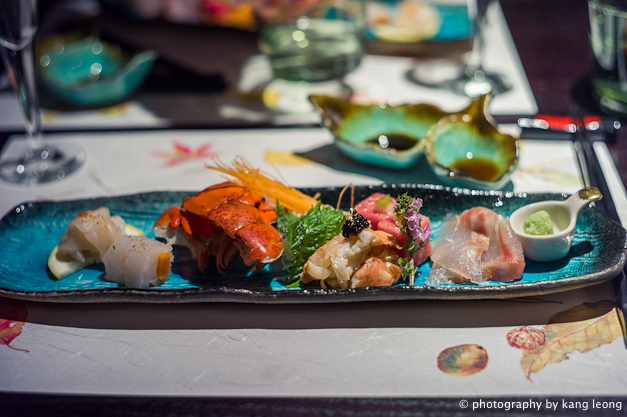 Takagi-sensei is well known for his beautiful sashimi platters over the years and here the dish is just a wonder to marvel at. Perfect cubes of chu-toro, sliced lobster sashimi topped with caviar and gold leaf, scored squid wrapped around herring roe, and the all-important garnishing of (tiny) flowers. I thought the lobster may have been poached quickly, but the better half thought it may be just raw sashimi. Either way, it was delicious. On the side, we were told that Takagi-san had fermented his own soya sauce and prepared the ponzu to go with this dish. Short of flying to Kyoto – it just doesn't get much better than this in London.
6. 焼き物 Grilled Dish – Oyster, Yuzu-miso Dengaku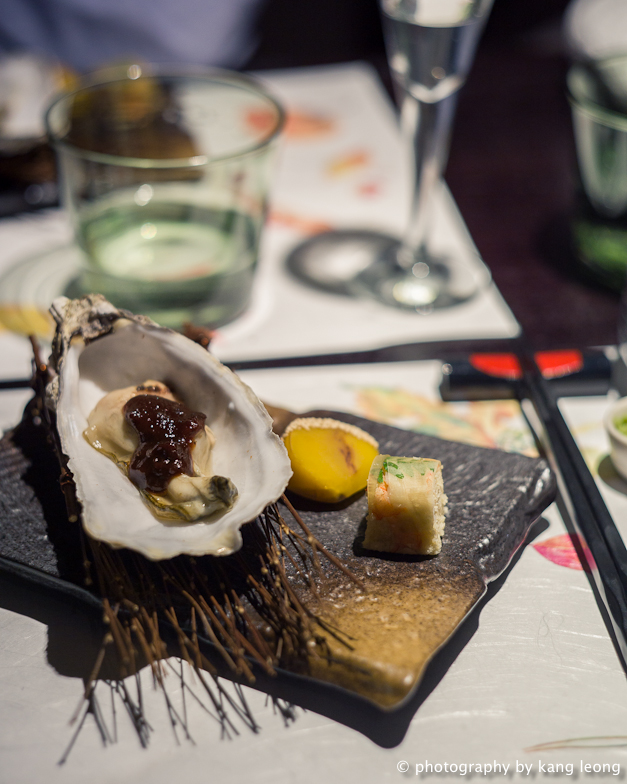 Speechless… great dish. The shell was still throbbing and the oyster was warming as it went down. That yuzu-miso paste was rich and punchy – not unlike chinese oyster sauce. On the side, a very sweet roasted chestnut accompanied. So simple, but so damn delicious.
7. 煮物 Simmered Dish – Snow Crab's Nabe
Like a mini hotpot of fleshy zuwan crab, noodles and some rolled Chinese cabbage. Another invigorating broth, so much rich flavour extracted, this one could probably rival the best consomme in the city's best French restaurants, in my opinion anyway.
8. 酢の物 Vinegared Dish – Abalone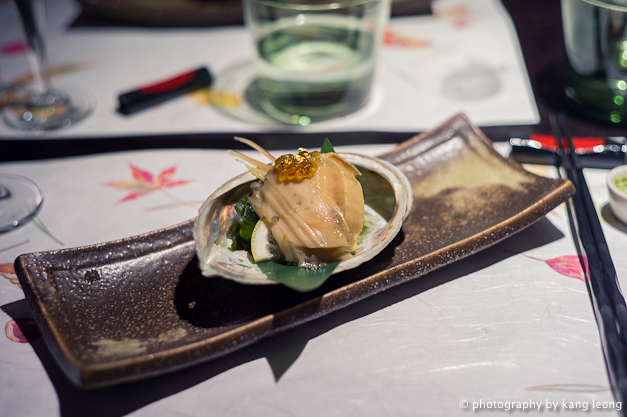 On to the sumimono. My very chinese roots was in approval of the high pricetag being justified with the glamorous ingredient. I grew up being taught that a good abalone was judged by the tenderness of its texture: biting into this was like sinking onto a waterbed. Garnished with some sort of acidic jelly (Yuzu ? Ponzu? Admittedly, I cannot tell the difference) that was explosively potent. Kapow. Another memorable effort.
9. 握り鮨 Nigiri Sushi with own made soya sauce & ponzu.
Part one – O-toro, turbot and monkfish with liver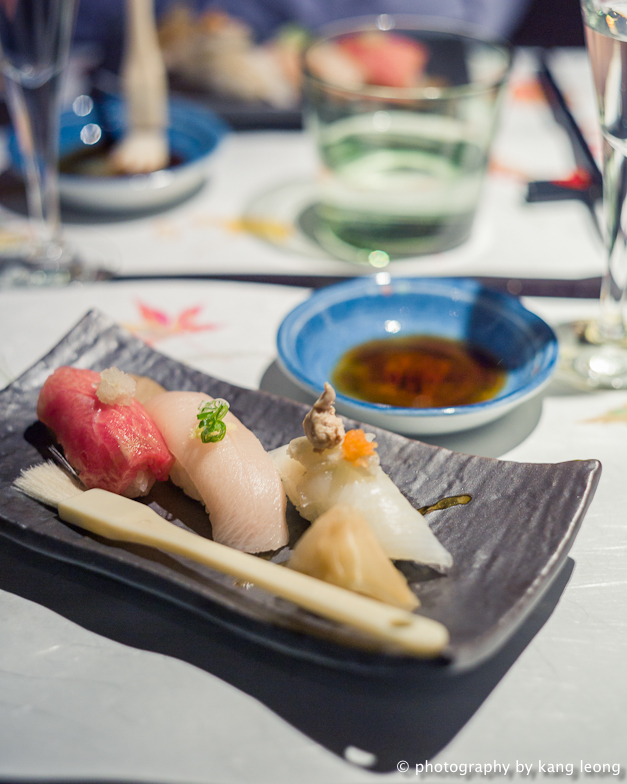 Flashes of Sushi of Shiori!
Yes, the brush was for the soya to go over the fish, rather than the rice, as it should be done. The shari was a little cold for this meal, but of course, Edo sushi is not Takagi-san's specialty – For that, the reigning champ in London right now is probably Takashi-san at Sushi Tetsu. But who can say no to buttery otoro sourced from Atari-ya right?
Part two – Scallop with own-made truffle, Sweet Prawn with own-made pesto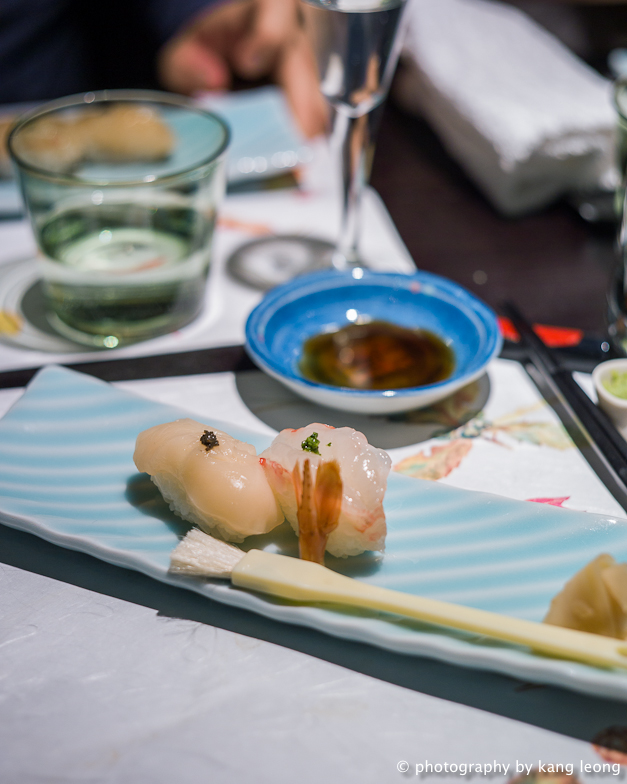 Ah yes, I remember the own-made truffle paste. I'm so glad it makes a cameo in this meal – his truffle just goes so well with scallop.
Part three – Wagyu with mustard.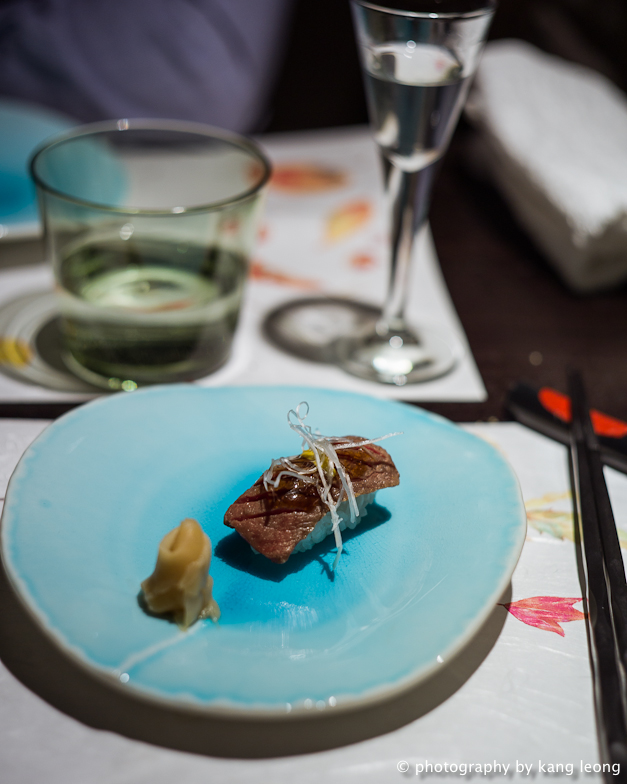 Blowtorched, but served without Takagi's signature ponzu jelly from the old days, for this meal at least. I'm sure he will bring it back… he will have to!
10. 季節ご飯物 Seasonal Rice Dish – Unagi Mushi-zushi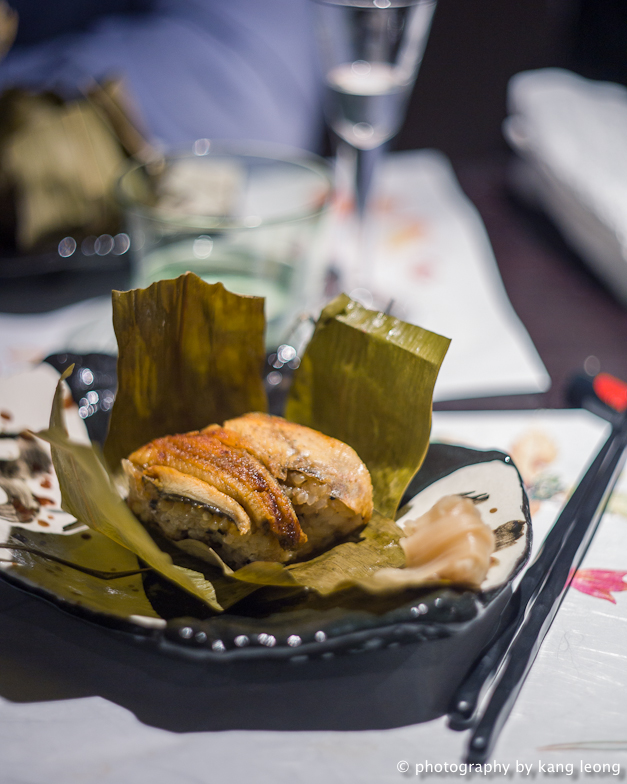 The rice dish, which signals that we are near the end of the meal. I though the meal was well paced, around 10 minutes in between courses, but by this dish, we had sat for nearly 3 hours, so it was quite a marathon. This was something entirely new to me, steamed unagi on rice with bits of what seemed like chopped pickled mushroom, and wrapped in bamboo leaves – a nod to the Kyoto roots. It was bloody brilliant, warm, melting eel over hot rice, like a 'Zongzi' 糭子, that wrapped glutinous rice dumpling you eat during the dragonboat festival.
11. 留椀 Tomewan – Lobster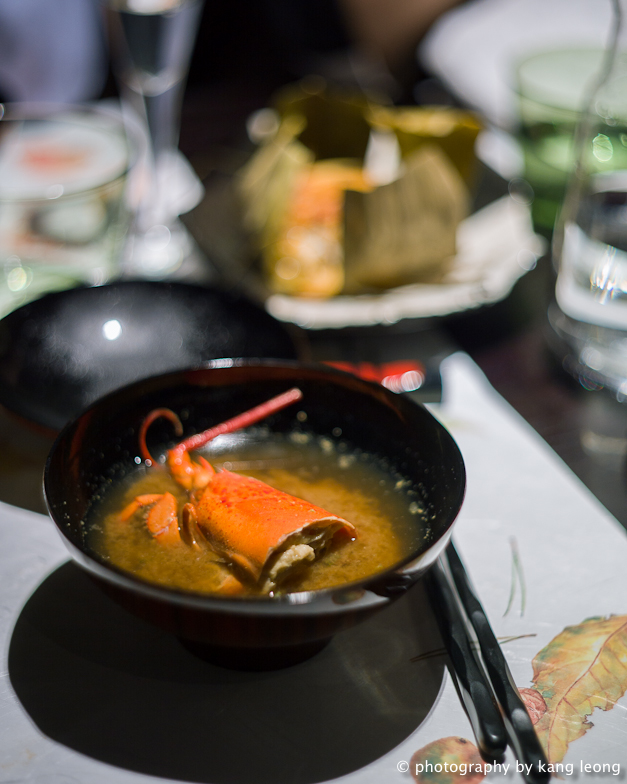 Lobster miso soup to finish…
12. 水物 Dessert – Own-made Hojecha, Matcha with azuki beans, Black Sesame & in-season Chestnut ice cream.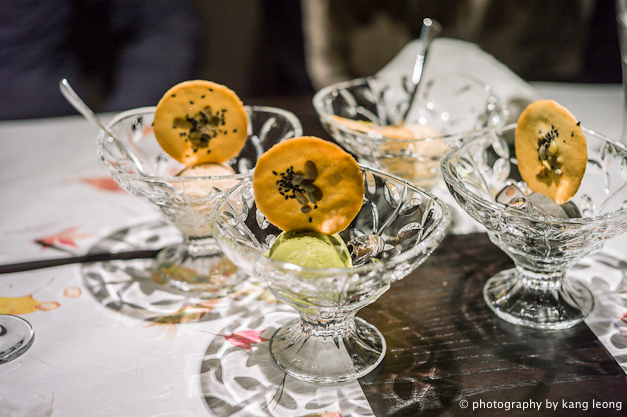 Ah yes, just like Drummond Street. I love the chestnut ice cream whenever it comes in season for winter, the earthy sweetness is perfect for the season. But I also love the bitter black sesame, with the doughy texture and rich flavour. Next step might be for Takagi to introduce cake with the ice cream, like they do at Kikunoi.
We paid £475 for four.
Another brilliant & memorable meal.
I cannot overstate my reverence, admiration and love for Shiori. I have always thought that Takagi-sensei and Hitomi-san's little labour of love was a true gem in London, and today I'm so happy to see it blossom even further in its 3 years or so, and that it is also appreciated by like-minded individuals like you. The greatest thing about Shiori is this personal sense of commitment, this journey which Takagi-san takes in order to source, prep and plate, all worked on by the same pair of hands. There are no herds of chefs sloshing about a massive kitchen, it's just one man, his pride, his passion, to make good of his training and to cook a great meal. There are no substitutes here, it's just Chef & wife (and two helpers) and when Takagi-san goes on vacation, so does the restaurant. It makes sense, in order to provide this standard of personability, the concentration and effort these Japanese chefs inject into their food really does limit the number of sittings. This unwavering commitment to achieve some sort of personal perfection, is a most admirable cultural trait. It's an idealistic fantasy of hospitality, it's poetic and beautiful even, watching the meal being meticulously constructed by Takagi-san, piece by piece, remains – for me at least – a moving experience.
Shiori is a special restaurant (that thoroughly deserves bookmarking) and comes with my highest recommendations.
PS: Also bumped into SkinnyBib on the same visit, do read his blog post too!
FYI: From now till 22nd Dec 2012, they are doing a promotion to knock 20% off dinner, 15% off lunch or free bottle of sake, see here.
Details
The Shiori
Kyoto Style Kaiseiki. £65 or £105pp
45 Moscow Road W2 4AH
TEL: 020 7221 9790
Tube: Bayswater
Did you enjoy reading this? You can subscribe to the Newsletter. Alternatively, you can subscribe to the RSS feed.