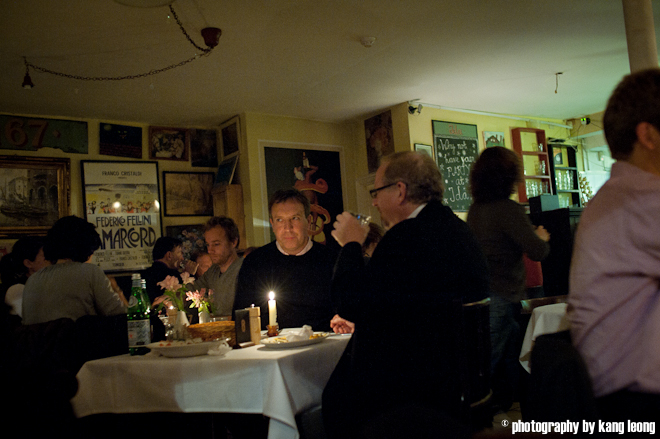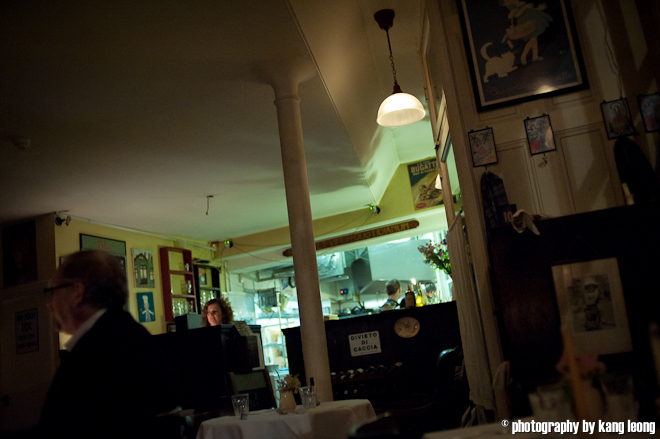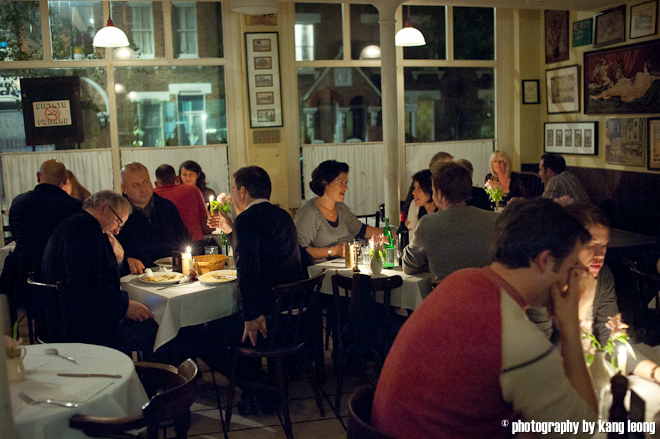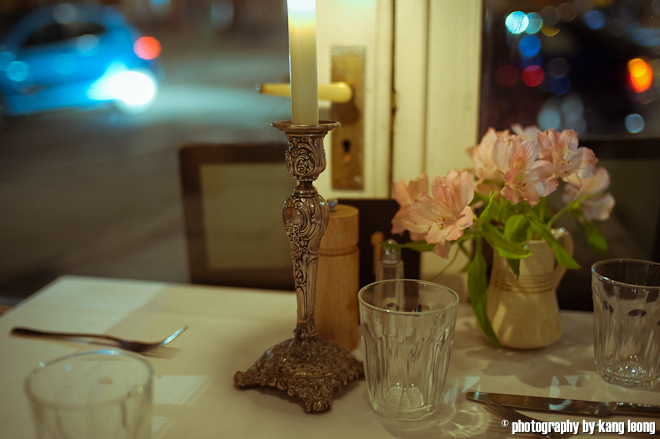 Ain't it just a beauty? I couldn't help but show you photographs of this lovely little Italian on the corner of Fifth Avenue, toward Kensal Green. Since my move to North London, I have been actively seeking out goodies in the vicinity. And I think I might have found a really nice gem to add to the 'collection'. Digging around online, I find that her highness, Fay had proclaimed Ida is "the ideal neighbour", and in equal measure, Marina O'Loughlin, the other high priestess of critiqueing heaped praise too.
The restaurant is heart-achingly beautiful, in an honest, homely and candle-lit sort of way. It exudes a gracefully aged atmosphere, even though it has only been opened for a few years. The walls are lined with colourful artwork seemingly curated through the years, all framed in a variety of shape, size and alignment.
At the heart of this quintessential neighbourhood operation are the husband & wife team of Avi & Simonetta Reichenbach, whom are an engineer and a novelist respectively, hailing from the Marche and Tuscany. Intriguingly, they were never in the restaurant trade, though I imagine the love for food courses through their veins. Hence the opening of this family business, I surmise.
The selling point then, is the home-style cooking, of passed down recipes, something a little more down to earth than the glitz of the usual London Italian restaurant. Ida lays claim to be one of the few restaurants in London – and even Italy – which makes pasta in-house by the dying art of hand-rolling, as opposed to machined ways. They evidence this through their twitter stream as well as weekend pasta making workshops. In the end, all the hard work, of course, is said to lead to infinitely lovely pastas.
We drank a 500ml carafe of their house red from Settesoli, Sicily at rock bottom prices, £8.95.
Food is served through the usual four courses, antipasti, primi and secondi, followed by the pud; the better half chose from the weeknight, £18 set menu (for 3 out of 4) while I chose from the a la carte.
Antipasti
From the set: Salad with cooked ham, french beans, peppers, rocket, tomato, onion and cheese.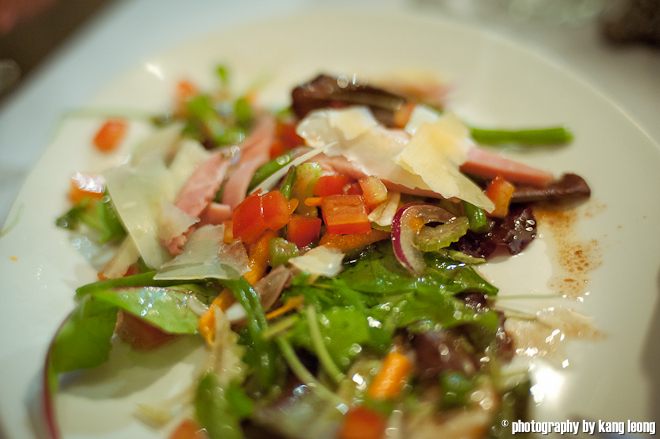 The greens were freshly chopped, not much more I can add to that really.
Primi
From the set: Spaghetti with anchovies and olives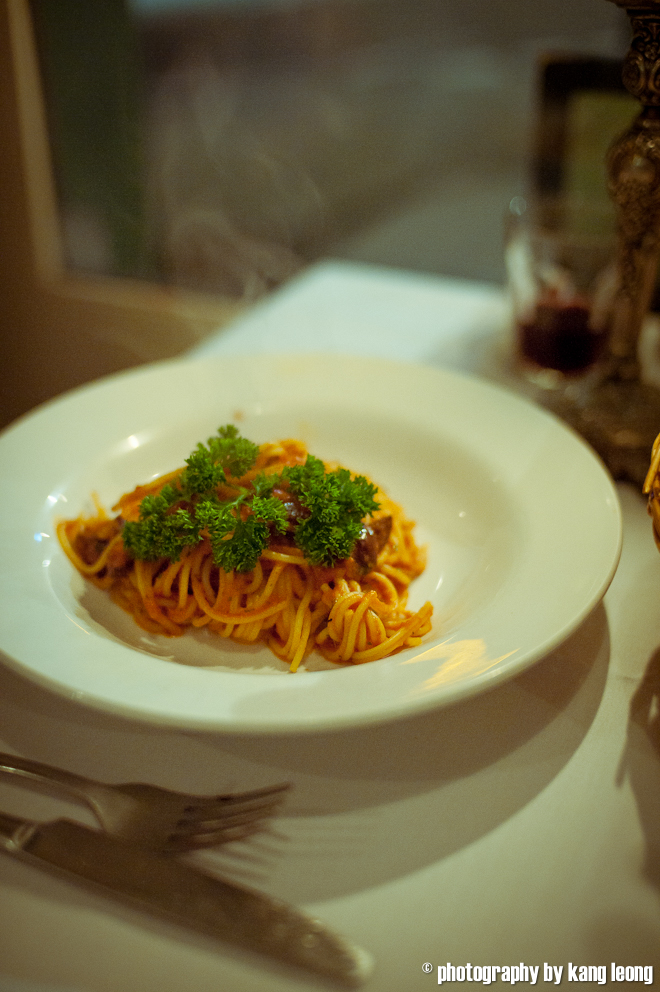 So this would be the first brush with their in-house rolled pasta, well, it is definitely al dente, the ragu was mild but came with a potent punch probably from the anchovies. The pasta released a lovely oxygenated chew. Yes, as we had expected really, Avi's cooking is heartwarming, comforting and made us smile.
A la carte: Ravioli di zucca e prosciutto con salsa parigina £10.50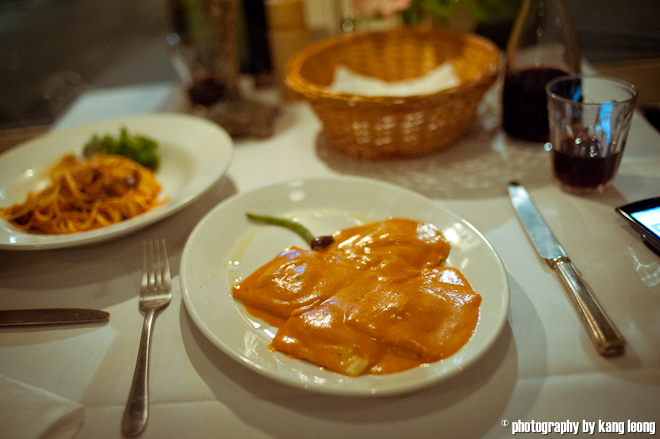 I had to order this dish, what with the tremendous description attached:
Hand-made ravioli stuffed with pumkin and prosciutto with a tomato and bechamel sauce. (Chef' Giacomo's personal recipe created aged 17 when an old man called Peppino delivered a horse drawn cart full of pumpkins to the restaurant where he was working. The ravioli were originally made for the kitchen staff, but proved so popular, they went onto the menu, where they remain to this day!)
Oh gosh, yes, this kitchen staff recipe, was exceedingly good. The pasta was meltingly soft, it hid a champagne coloured filling, that tasted as if it had been whipped for hours, it carried a kind of regality, approaching a sort of rubbery meat sauce and simply beautiful. The bechamel sauce poured over it – and a strategically placed french bean to simulate a zucca – oozed a wonderful balance of the zest, the tang and the buttery. When you visit, you must try this dish, it's love.
Secondi
From the set: Squid and peas, with tomato sauce.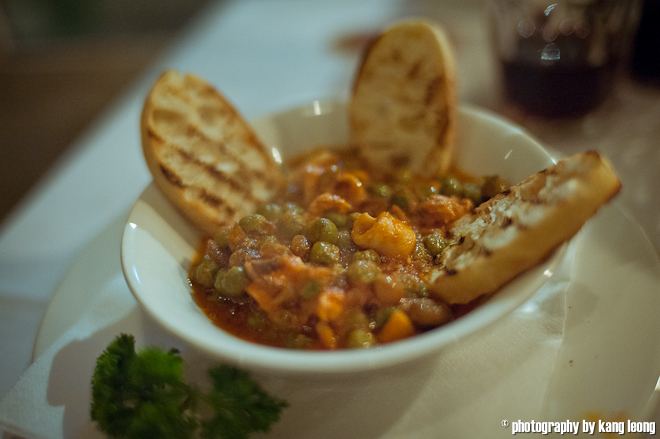 I apologise for the rather brief titles for the set menu items – I forgot to take a snap of the set menu you see. Anyway, the sauce – bloody brilliant, it reeks of fish, but it's strength is masked by the sweet peas, and I think there are far too many peas, and not nearly enough squid in the bowl. Grilled bread (also made in-house) is not for show of course, as it was the perfect compliment to the heavy sauce, soaking up all those wonderful flavours in the dough… oh, more bread please. Another simple dish, well made.
A la carte: Filetto di Maialino al Marsala con fagiolini £13.00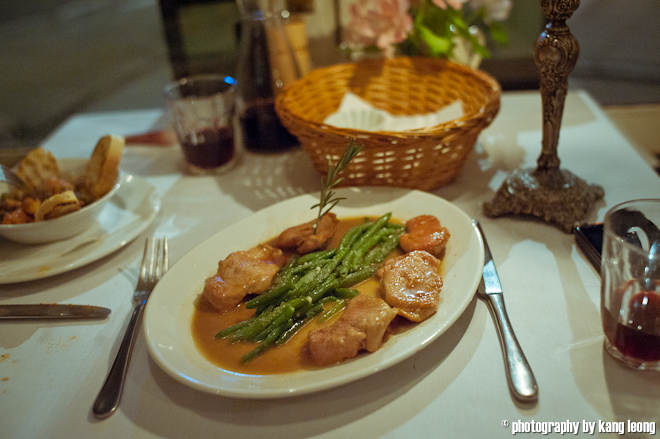 And finally, my main course, Tender pork fillet with marsala wine on a bed of steamed green beans. Firstly, the dish smells fabulous. A faint whiff of vanilla, I was amazed at how easily my knife went into the floured pork, it was cooked perfectly, perfectly juicy and perfectly tender, like a knife through moist sponge cake. Flavour wise, it was an exercise of restraint and subtlety, more of the vanilla – I gather from the marsala wine – reminiscent of veal than pork – the silken texture was pure heaven. A joy to eat such a dish, and if it appeared on a Trullo or Zucca or a Tinello menu, I would believe it entirely.
We visited on a Tuesday night, and by 8pm it was absolutely brimming with activity. For a short moment, I glimpsed a corner Italian restaurant in Middle Europe, and not Kensal Green, clientele seemed white collar, and having just knocked off work to enjoy a comforting meal. Simonetta roamed the tiled floor by herself, which took on a faded, tatty but loved beige colour. She was overwhelmed by the number of patrons in the restaurant. With food being served at the standard it was – and bearing in mind of the mystique of a neighbourhood gem such as this – I was not surprised by the good business. We paid £56.75 plus service, expectedly great value. There were many dishes which intrigued, and descriptions of which suggested some kind of history, either personal or the region which it originates. Food on the whole was well cooked, and for me, it was a brilliant alternative to an elusive table at Trullo or Zucca. I can't wait to return – and I've used the word many times throughout – in the end, it was a loving meal.
The Gist.
Ida
Italiano, £25pp
167 Fifth Avenue London W10 4DT
Tel: 020 8969 9853
Underground : Queen's Park
The Grand Dames: Fay & Marina , both for the Standard.
Did you enjoy reading this? You can subscribe to the Newsletter. Alternatively, you can subscribe to the RSS feed.