When I grow up, I want to roam the twenty regions of Italy to discover all the local specialities, so intertwined with the nation's culture and history. Pesto made with Ligurian basil, a hearty Milanese ossobucco from Lombardy, sip wine in a Venetian baccaro, visit the factories which produce Parmigiano Reggiano in Parma and if I am fortunate, be taken on a hunt for white truffles in Tuscany. For all my fantasies, I have never been to Italy and I concede that I actually know very little about the intricacies of this most well-documented of European cuisines. Italian is one that enchants and mystifies, one that is entirely romantic, familiar and wholesome.
Enter Blackheath. A'village' in South London that – legend has it – got its name from blades of grass which grew to a noticeably darker shade of green. It was my second visit to this part of town, feeling utterly like a tourist, rolling around the hilly roads, the winding streets and appreciating the neighbourly restaurants which populate the village. I have no history of what Bella Vista was like before it was re-imagined earlier this year, though I jumped at the opportunity to join Charz on a trip down to South East London to sample this restaurant's offering. I am particularly interested since the mastermind behind the menu reboot is one Piero Marenghi, a key figure in the kitchens of L'anima. L'anima being Francesco Mazzei's upmarket and supremo Italian Cucina in the City, very well regarded by so many, and whom some feel, was robbed of a michelin-macaron this year. Alex Tyndall formerly of Chapters, a sister restaurant to McLeish's michelin-starred Chapter One, is head chef. On paper at least, this restaurant has a pretty vista.
The menu (just like at L'anima) features an informative legend sheet which explains the various Italian monikers attached to the dishes. For example, 'Carbonara' in this case accurately refers to its Roman roots and the key ingredients of the recipe which includes egg, pancenta, black pepper, red onion as well as the all important use of pecorino cheese.
It would appear that Bella Vista's food errs toward Central-Northern Italian cooking, as I noted the regional specialities such as Breasaola (from Bulls of Valtellina in the Northern Alps), Maltagliati from Bologna and the use of Monk's Beard, a unorthodox green that shares a resemblance to samphire. It has an unusually short seasoning period of about 5 weeks in April/May, and was originally grown by Capuchin Monks in Tuscany.
Of course, there are also other recognisable classics such as follows: Fried calamari, crab & avocado salad for starters, Pappardelle al ragú di pecora and classic spaghetti carbonara in the pasta offerings. Roasted sea bass, rosemary, potatoes & tomatoes; Veal cutlet 'Saltimbocca' from the mains. I should probably mention their set menu deal, the 'Menu Speciale' , which costs only £11.95 for two-courses and £13.95 for three, add £3 for dinner, Monday through Thursdays.
I opted to kick off proceedings with a glass of Delle Venezie Pinot Grigio (£6.25) that was a crispy, easy-drinking and characteristically fruity, which typifies this grape.
Starters: Traditional Lasagna Bolognese (£5.25)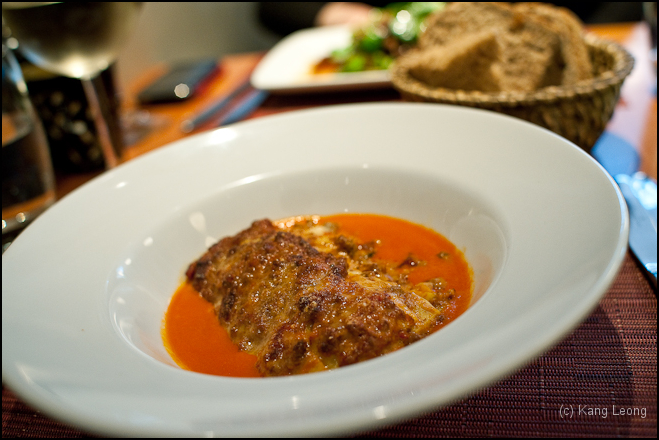 I noticed certain dishes carried the 'BVC' tag, glancing back at the definitions tables revealed these to be 'Bella Vista Classics' which are described simply as firm favourites. I did not choose any BVCs, instead I started with an interpretation of the age-old Roman 'cooking pot' casserole. Lasagna. Mmm…. the aromas! The dish was served very warm, the pasta was puffy, squidgy and juicy, which I assumed were freshly made, the sauce was gooey with a rich tomato zing with really robust meaty flavour. A hearty ragù to say the least, very rich and entirely wholesome. Exceptionally appetising as this dish really opened up my appetite.
Veal cutlet 'Saltimbocca', Parma ham, sage & roast potato (£18.50)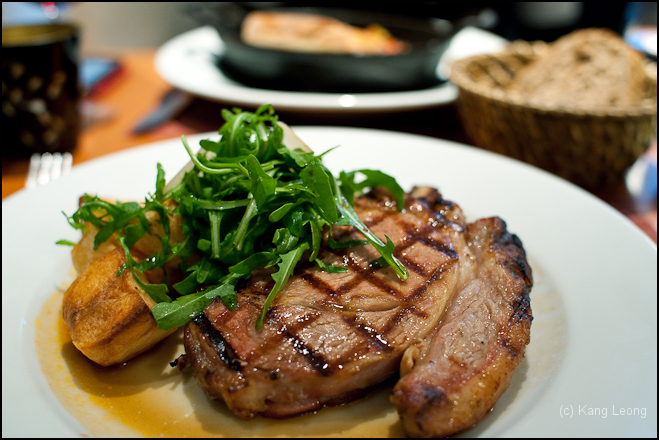 Saltimbocca literally translate to 'jump in your mouth', a dish which is also popular in other parts of Europe, though this is a firmly Roman recipe which for which key ingredients include the use of prosciutto and sage, in addition to the wine and butter.
It was ok, juicy, yes, and very salty, 'jumping in my mouth' as it were. The cutlet sat atop a slice of Parma ham, crusted and glazed in oily juices. The saltiness was not unlike bacon. It was missing the charred caramelised exterior I was used to, yet the dish was not wet enough to coat the cutlet. The use of rocket was distracting, the peppery and papery character of the leaves felt lazy. It was able, but frankly a week on, I struggle to remember the experience, it lacked wow factor. As an aside, the grilled veal chop at Zucca (though not strictly a Roman Saltimbocca) is the best I've yet had experienced in London. I really do highly recommend you try it there, and it is a lot cheaper too, under £13 compared to the £18.50 for this.
Date & Mascarpone tart, frangelico & hazelnut sauce (£5.50)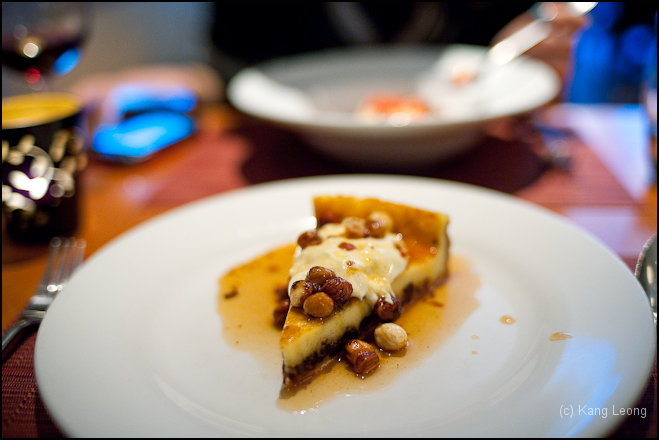 The finish was much, much better. The pudding was simply beautiful. An ethereal honey-like nectar smothered the dense and cool mascarpone tart. There was a fragrantly nutty flavour of hazelnuts seemingly infused within the tart itself, the texture of whipped clotted cream, if clotted cream could be whipped that is.
Affordable, neighbourly and able Italian restaurants are hard to come by, ironic considering the nation's general love for Italian food, or Jamie Oliver more precisely. I definitely felt relaxed, seemingly far, far away from the bullet-train effect of a more central location. However, if I am being brutally honest, I find little compelling reason to not get off at London Bridge for Zucca, instead of staying on and struggle to find the right train to Blackheath. Or even to take the bus all the way to Lavander Hill to visit Donna Margherita. Then again, I now have a third choice, which surely can only be a good thing. Service was affable and personable, it was a pleasant meal and the restaurant lent itself to a cosy setting. The quintessential neighbourhood Italian, which I suppose if you live nearby, you will easily come to love it.
The Gist of It
Bella Vista
Italian, £30 per person.
3/5 Montpelier Vale Blackheath SE3 0TA
Tel: 020 8318 1143
Rail: Blackheath
Recondensed from the virtual ether Intoxicated Douglas ; Sabrina Ghayour for Foodpedia ; Charmaine says.. ; Fluid eats ; The dude on the bus says ; Lizzie Eats!
Did you enjoy reading this? You can subscribe to the Newsletter. Alternatively, you can subscribe to the RSS feed.