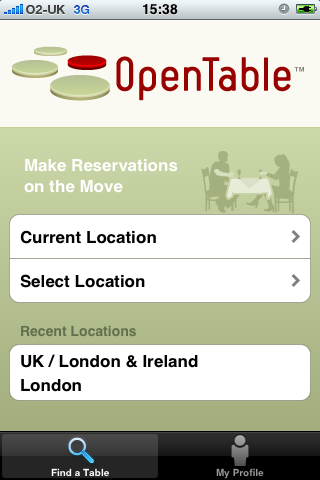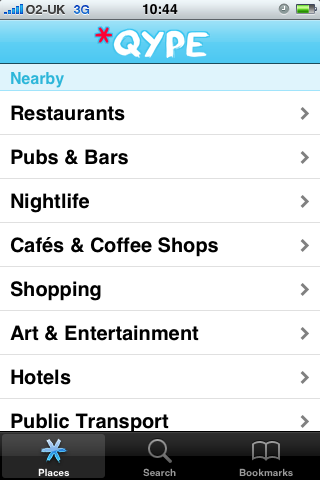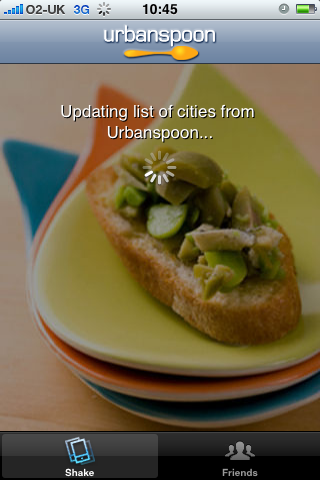 Community sites are starting to realise the power of the iPhone, and to an extent the Google Android platform. Lately, I've been test driving three free apps which can help you find something to eat in the City and their usefulness when on the move, so this might be helpful if you're an iFoodie too.
1. Qype Radar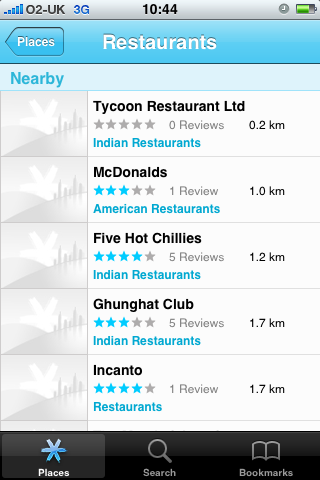 Let's get this going with the one from the boys at Qype. This community giant started out in Hamburg and how now grown to become a pretty massive user review site. My understanding is that users can pretty much review anything they like in the city/community, so it's not just limited to food. In a sense, it makes Qype Radar rather powerful as you get direct access to quite a huge information base there.
As you can see, the interface is quite simple, no fancy pictures, just an easy to read list, I noted the apps' quickness. So let's try hunting for some curry in Harrow: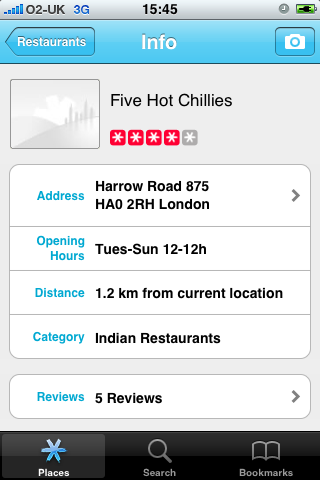 So I'm interested in 'Five Hot Chillies', rated 4/5 stars by Qype users, GPS (for iPhone 3G only?) tells me how far the location is and it also tells me how many Qype users have reviewed it. The simple interface is great on the move – it loads quick, gets me the information that I need, quickly, I would have loved to see a phone number displayed though. Overall it loads fast and its got a big database.
2. OpenTable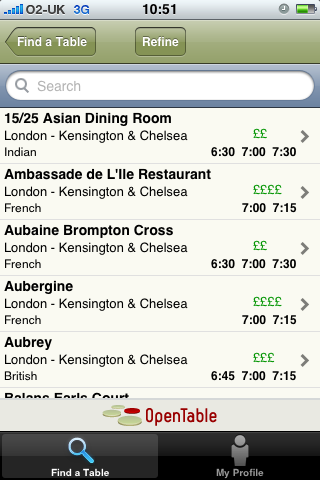 Let's move on to OpenTable app now. The OpenTable concept is simple, it allows diners to make reservations without having to physically calling the restaurant. You would have to sign up with the Opentable website and the iPhone app is basically a natural extension of that idea.
The interface is alittle snazzier than the Qype radar, but it still loads relatively quickly. This one helps locate a free restaurant table for you in a selected region, or perhaps even a near your current location. Once you punch in the time, date – it will tell you what restaurants in the vicinity have free tables and at what time.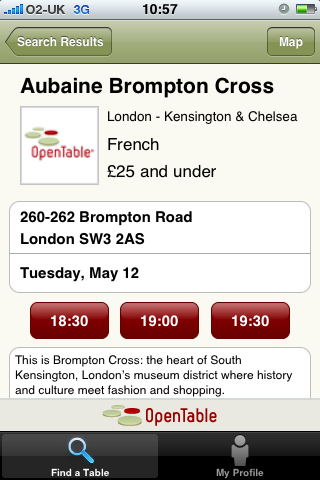 Its as zippy as the Qype radar, and you can instantly make reservations. Extra step involves you signing up with an OpenTable account in order to make reservations though, and there is an option to view the restaurant menu, if indeed the restaurant has posted one. You gain speed in booking a restaurant and gauge instant availability of several places in the area all at once, but you do lose out on user opinions.
3. Urbanspoon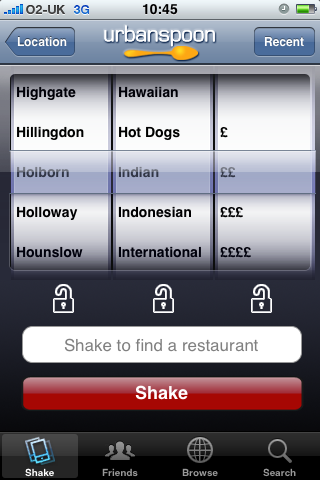 This is the most graphic intensive, and unsurprisingly the slowest app of the lot. Urbanspoon primarily is a community restaurant review site which draws together reviews from critics, bloggers and also users get to vote on whether they like a place or not. The best thing about Urbanspoon is this voting aspect, which gets fed into a popularity top-list showing you an approximate 'trend' of what everyone is eating in the city. It's in lots of cities and unsurprisingly, London is included in it.
It's also the most gimmick heavy in which the main screen is a 'jackpot shaker'. Put in where/what you want to eat and shake away. This will throw up some suggestions in the area you chose, though ONE BY ONE.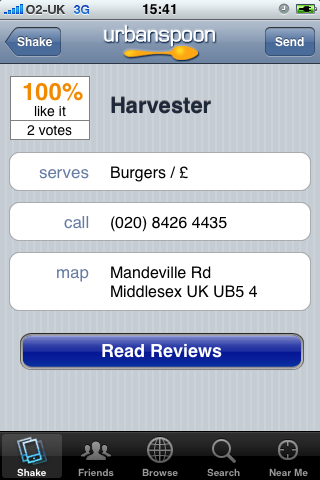 I've pulled up The Harverster for this one (Still want to try the salad bar there).
The interface looks great and the 'lottery' aspect of is kinda fun – but on the move, where speed is key – it becomes a real pain. I mean, I have to keep shaking it to get individual recommendations, instead of just an easy to use list. On the other hand, the individual review page is excellent. It has the urbanspoon 'score' which tells you how popular it is, it has links to read user reviews and it's got a phone number, mighty helpful. I have tried using this on the go while looking for restaurants and the search function is usable. My only gripe is that its slow and its the sole really I dont use it more often.
Best of the best of the best
So, which should you download? Well, honestly, just download all three, its free afterall. Each have their own strengths and each do slightly different things.
I guess the best thing about these apps are that each can be further improved in future version. Personally, the apps I use the most are always the ones which load quick and run fast because when you're on the move, every second counts. I'm sure cocoa developers out there are aware of this fact and are working hard to streamline their apps for a more elegant experience.
I have yet to try the snazzy new SpoonFed Radar which requires the latest 2.2.1 iPhone update (I'm still on 2.0.1, I think) and I am still waiting for TimeOut to do their app. Metrotwin should not be far behind and maybe we'll see a trustedplaces , toptable one or even a tipped one in the near future.
OK. So what are your thoughts on iPhone 'Going out' Apps, do you use them, like me, and if you do, what are your favourites, and what kind of App would you like to see in the near future?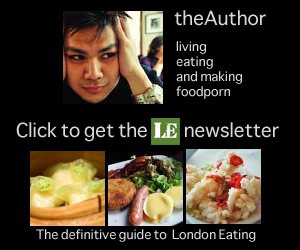 Did you enjoy reading this post? Why not subscribe to my feed updates for free. Alternatively, You can subscribe via email.