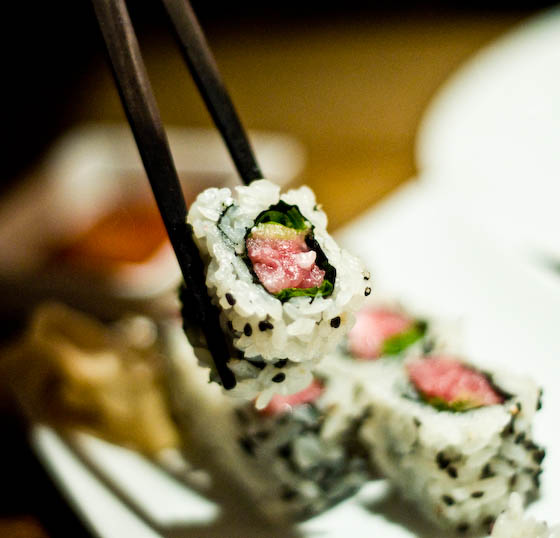 Dinings £40pp
22 Harcourt St W1H 4 020 7723 0666

To this day, I still think the best miso cod are the ones made in the Nobu Kitchen, particularly the Berkeley branch. Ex-Nobu Chef Tomonari Chiba has left the establishment to set up his own take on Japanese-Peruvian ponce cuisine. Comparisons are inevitable; is this Nobu on a budget (wasnt that called Ubon?) or could this possibly outshine the Matsushita institution? Lets find out.
Dining with Family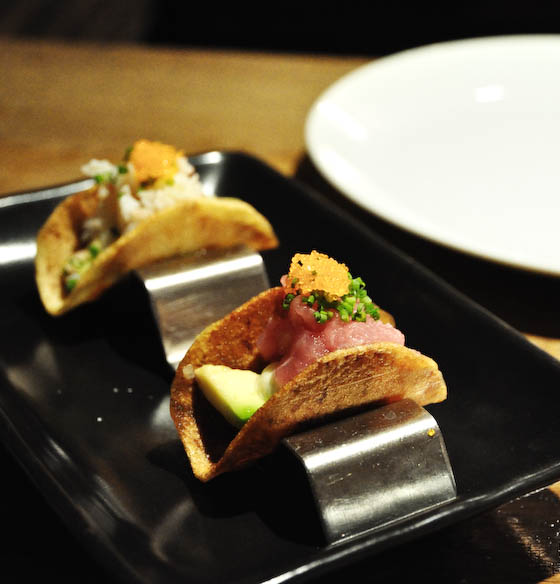 My brother is currently on assignment in London and his job descriptions entails an intensive course in touch-typing – a break from the usual spreadsheet staring I suppose. There is no such thing as good sushi in Reading (open to raging debate, I'm sure) ; and he's been craving for the stuff ever since he moved there a year ago. He doesn't quite like paying a hefty premium for his food, although he does enjoy a good scallop sashimi, and with the reputation Dinings has been gathering in the critiquecosphere and beyond – it was only a matter of time before I made my way here.
The restaurant is superbly snug and I wished we were seated upstairs on the sushi bar which gave me the impression that I could replicate the Kill Bill scene with Sonny Chiba slicing up some razor fresh sashimi. Alas, they led us downstairs to the incandescent lit basement and light brown furnishings. To my surprise, the basement feels quite nice. In the background, a familiar faux chicky jazz soundtrack is playing – probably a bespoke mix by a soundscape surgeon like Brian Eno or better yet – a Sakamoto mix. Whatever it was, I was glad to not see marble floors or stuck up supermodel waitresses of Nobu gloss. In its place were modest polished wooden tables and down to earth, chilled out staff in Converse.
So far so good.
We kicked off with a couple of taco chips, one stuffed with otoro (belly tuna woo!) and the other is king crab. The bite sized canapes were about £4 each. Folks, when you eventually get round to Dinings – please avoid this, its unnecessary fluff that was probably a result of the chef's brainwashing at Michelin academy. Its a complete waste of cash.
Speaking of leftovers
The menu is pretty much a carbon copy of Nobus. New style sashimis, chargrilled meats, a variety of 'hot tapas' dishes and of course fancy sushi rolls. The difference however, is the inclusion of foie gras and truffle in some of the sushi rolls. One particular dish stood out: the wagyu beef roll with truffle for £12.50. It was either this, or the wagyu tataki. The waitress informed me that the roll, wasnt so much a roll but more like two sushi pieces, while the wagyu is a spread of beef. Hmm, spread of beef sounds alot better to me. I know that Nobu use Australian Wagyu and I was going to assume the same for Dinings; The waitress did tell me that it wasn't from Japan, but she wouldn't confirm where the beef was from. No matter, the first dish: Wagyu Tataki £12.50.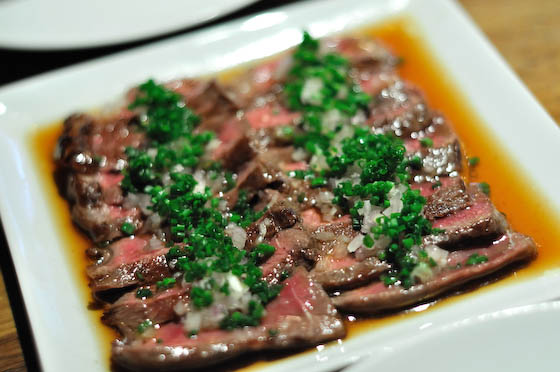 Yes. Yes. Yes. The tataki is perfectly rare, just lightly seared on the outside and the texture is not unlike a delicate silk pillow. The dish looks exactly like the Berkeley one – save for the degree of bbq-ness. At Berkeley, they've got a great big wood fire oven to smoke their food – hence the sizzling truffle cabbage steak – and also the amazing smoked wagyu tataki. Where the nobu tataki was sizzling, the Dinings one was subtle and mellow. The sauce was zingy and citrusy, with sweet soya sauce for taste and I think a dash of vinegar was in the mix as well. The heat from the shallots and garlic was a robust complement to the beefy flavour and like any good tataki, its all about the softness and this was the pinnacle. Soft pillows, oh the pillows.
I'm not sure which I prefer better – I might say this one for pure mellowness.
The House Special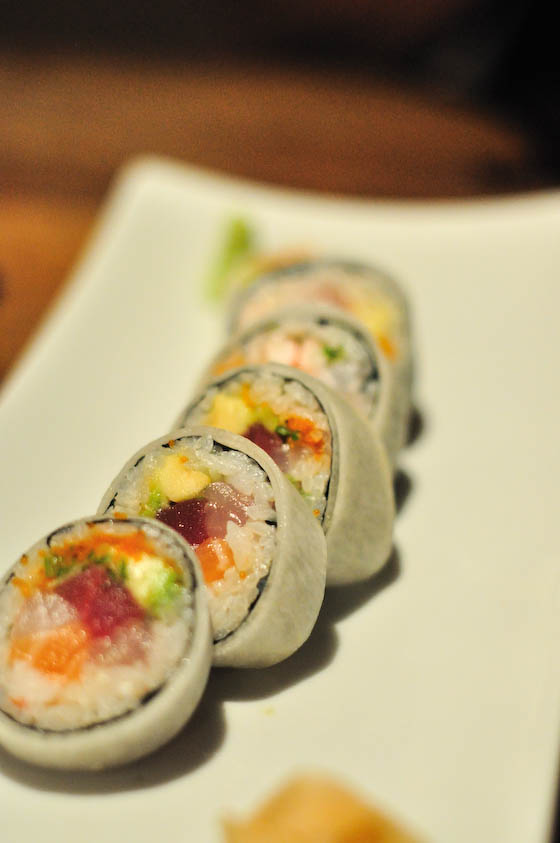 We followed up the excellent tataki with the House Special roll – another carbon copy of the Nobu menu. The stuffing is expertly matched salmon and tuna, with avocado and tamago (i think), the all important sushi rice is bouncy, temperate and silky. Finished off with a white radish wrap to liven things up – the sushi tasted excellent.
Next up was one from the chargrilled list. We really wanted the chargrilled razor clams but were told that they ran out, and so we went with Chargrilled King Crab and Avocadoes (£7) instead. Served in a little iron pan and smothered in avocadoes, mixing things up revealed fleshy chunks of the crab meat. The dish is warm and the avocadoes were buttery, so much flavour.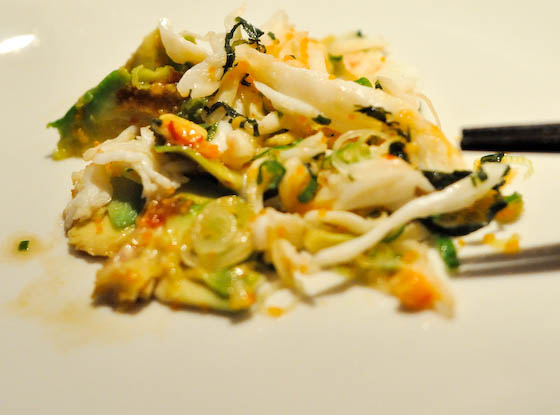 The fragrance of the crab meat dominated the palette, with chopped spring onions and a soya base, this dish really sizzled with serious chargrilled intentions. I even tasted the micro fish roe popping about in my mouth. Quite a simple dish which my brother thought was good, but not great; personally I enjoyed that it was a simple dish – fuss free and just some great tasting crabs.
The Iberico
The other place which I know that does great progressive fusion-sushi is Kobe Jones, or I should say, was Kobe Jones in Totenham Court Road. I believe they are quite famous in Australia and they serve their sushi with dollops of the kind of cream yuzu sauces. Really yummy. London needs more sushi bars like this, more Californian style cream sauces and cream cheese rolls, oversized una-hamamakis please.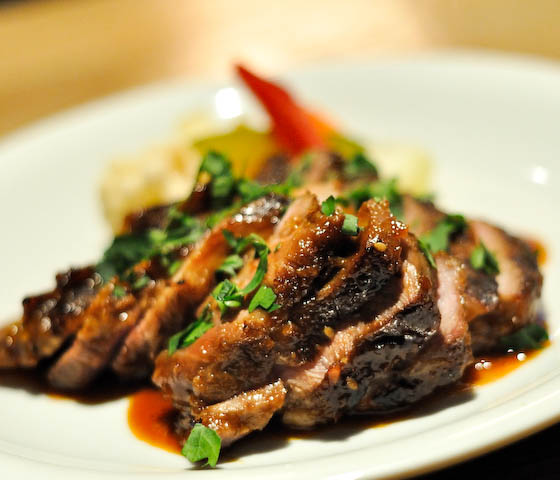 Anyway, Chargrilled Iberico with spicy korean miso (£7) ,with some boiled rice. There was  lovely gradation of flavours within the miso sauce, from the sweet to the citrusy, and in between was a rainbow of fresh spices and I also detected hints of black bean. However, the sauce doesn't overpower like bottled bbq, instead it was a sharply aromatic compliment to the strength of the pork. The meat was bouncy, yet rather tender. The smokiness was subdued and mellow – not unlike the beef, perhaps this was grilled on lower heat? Whatever the case, the mild sizzles were delightfully appetising – more rice please.
Roll me up
At the end of the pork, we were still feeling hungry. We need more sushi rolls.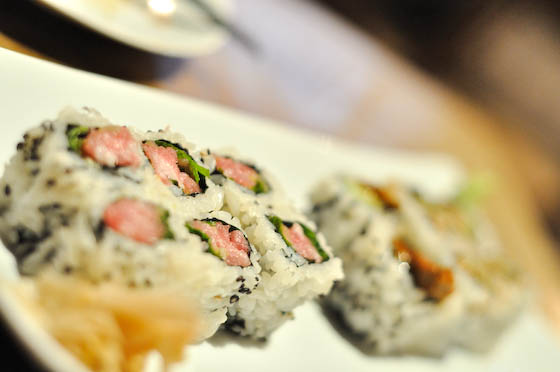 First up. Toro, with shiso leaves (£8.90). It's terribly expensive, but it was one of the best rolls I've had in recent memory. Premium Otoro, fatty, silky and moist – it didnt just melt, it dissolved in my mouth. The use of betel leaves is always welcomed, what with it's minty fragrance – really helps to wipe the palette clean.
Next: £4.70 for Unagi with cucumber – now we're talking, not quite rivalling the cheap £3.30 rolls at Sushi Hiro as yet – but £4.70 is still very competitive. The eel is really oily and creamy, lovely dominant eel flavours, it was a little warmish which upped the flavours even more – it was a little bit of unagi heaven and like the otoro, this roll also disintegrated on cue.
Brilliant, just brilliant.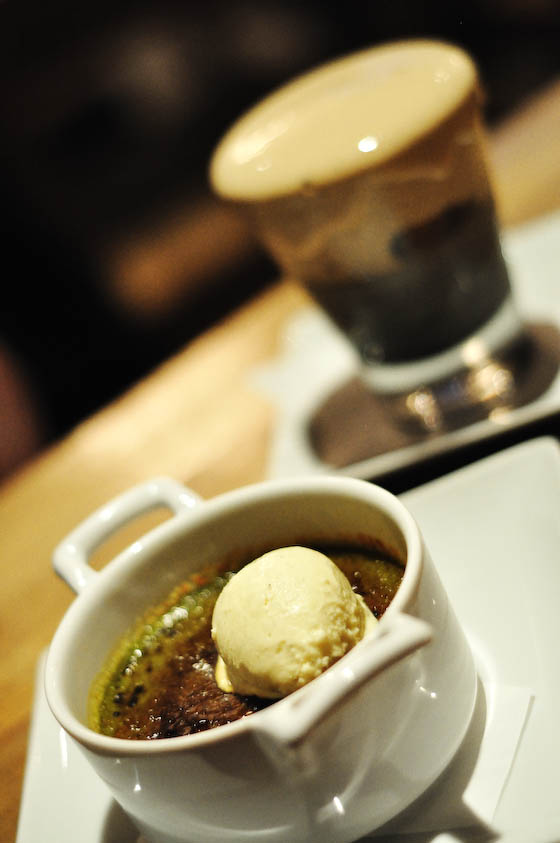 I really do love Japanese food and I think Dinings is very good indeed. Bearing in mind, a meal here is not cheap at all – there were so many other things I wanted to order but I had to refrain myself, in fear that my bill would run into the triple digits. We chose to end the meal with the Green Tea Brulee and the sesame pannacotta, both priced at £5. The Macha brulee needed to be more custardy and also more sugary – but that's just me and my sweet tooth. Similarly, the black sesame was rich in flavour, but I felt it needed more sugar in there – it's quite a sober comparison to the majestic Nobu puddings of chocolate bento boxes and melting chocolate balls (seriously). In hindsight, I would have liked to swap the puddings for a couple more sushi rolls.
So – is it better than Nobu? Nope – but it's close enough. There is no miso black cod on the menu, but there's another version of the fish instead and the Chef's food here is more Eurocentric than South American, which I think is rather nice. The flavours are definitely more subtle, more gentle and there are far less gimmicks on the menu – like a sakura in full bloom, gently beautiful and harmonic. The tiny restaurant benefits from a hidden away location and – I'm being romantic now – it adds to the restaurant's mystique. Staff are very warm, if abit clueless about their menu.
Unrestraint and free from pretension; Dinings is a mellow and comfortable restaurant where one can sample some ethereal Japanese fusion. Its not glamorous, nor is it cheap, there are some dishes which appear underwhelming and in comparison to some of the luminaries in Green Park – cooking is not as clinical. But what you get instead, is lovingly cooked food, a subtle rainbow of flavours and sushi that just tastes great. Folks, this restaurant is a little special and if you've never tried euro-japanese food before, then I suggest you try the epitome that is Dinings.
The Gist of It.
Dinings £40pp
22 Harcourt St W1H 4 020 7723 0666
Verdict: Glorious sushi, and even more amazing are the chargrilled dishes and hot tapas. Subtle yet rich flavours and above all, appetising. An instant classic.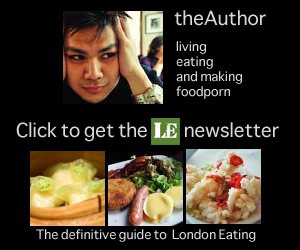 Did you enjoy reading this post? Why not subscribe to my feed updates for free. Alternatively, You can subscribe via email.