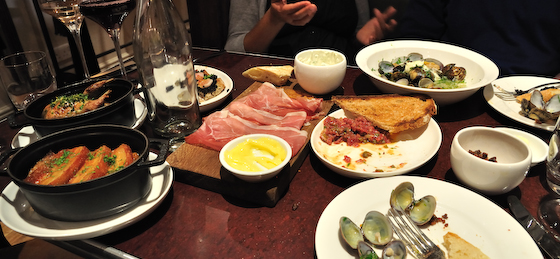 Terroirs, 5 William IV Street, London, WC2N 4DW £30pp Official site
Left, no. Right, not there either, perhaps straight on.. hm. As you can probably tell, I'm a little lost. I'm dreaming about a spread of gorgeous food & wine but we're not quite there yet. My iPhone is suppose to guide me toward the very latest wine restaurant to grace our city, but the cursed gadget is only as smart as I am at this. Hunger setting in, but wait, an alley way emerges. 
Gonzo Kang.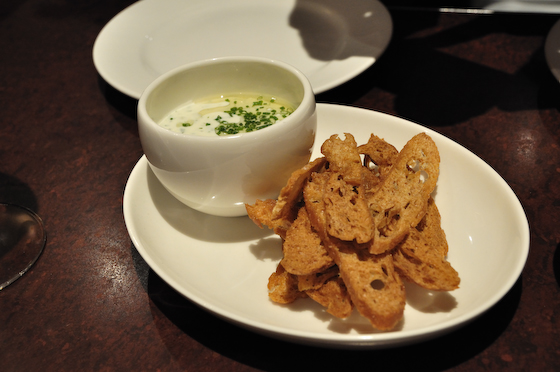 I am still feeling the sting from the coffee 'masterclass' at Taylor St earlier in the day – I never knew we had such great coffee in London. I think I've got it, my iPhone is snapping on to a location. Finally, after minutes of circling back and forth. A little curious that it's leading me toward a shopfront with no labels along a desolate side street, but blinded by the glorious weather, I follow nonetheless.
I am joining two food lovers for lunch today – a break from the usually lunches with just the camera. The buzz about the Twiterati is that Terroirs rocks; Although this was a backup to our original rendezvous at Hawksmoor but they close for Saturday Lunch. Say hello (again) to Ollie Thring– up and coming foodblogger extraordinaire and Candice – Editor extraordinairess of Metrotwin.

The dull green exterior was nothing like the lively interior. Perfectly aged wooden floors thumped and clicked with each footstep. Our waitress led us toward the back of the room, pass the bar and high stools with an exposed kitchen, down a couple of steps and before we finally found our table in the semi-recessed subterranean space. Curious coathangers noted. Before long Candice joined us and while service was a little slow, it did take us a while to order because we couldnt quite choose what we wanted; oh can't we just have abit of everything?
Opting to start with some tasty duck scratchings (£2.50) – crunchy salty and perhaps a little oilier than it needed to be – I was however more impressed by the other bar snack Cervelle de Canut (£3) , described to us as a sort of garlic cream cheese dip, but it tasted closer to a zingy lemon creme fraiche with spring onion.
Reintroducing myself to the wine bar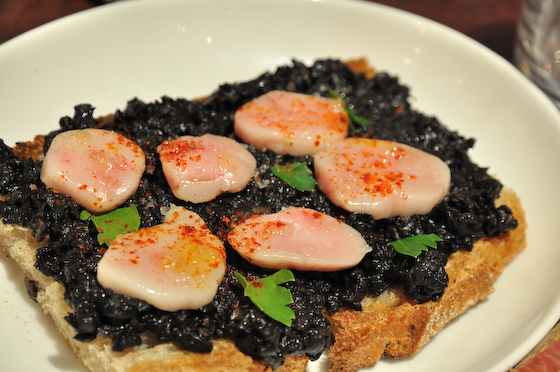 Ter-wahs' is branded as a showcase of artisan producers of Britain, France, Italy and Spain, and they've set themselves up as a kind of souled out chill fest of a wine bar – complete with bricks for walls, large dial art-deco clocks and surrealistic blue lights emanating from the exposed kitchen which seeks to churns out a menu that features tapasy, bar snacky small dishes, which we Londoners are quickly becoming accustomed to. This Euro fusion feast of sorts does seem to err toward the side of the Normans. Speaking of Candice, she squirmed as our conversation shifted to offals – it's just not quite her thing. Just as I was about to recount my favourite trotter story, our order of Bone marrow & Truffle(£7) had arrived. I noticed just how vivid this dish looked – and upon first sight, we were all fooled into thinking that perhaps those cream coloured dollops might have been scallop sashimi instead of marrow. They taste amazing. The richness of the mushroom paste drowned out the rest of my senses and the flavoursome marrow intensified the umami and really created mini explosions for me. I could also taste sea salt – a particularly clinical dish and what a way to start.
May Day, we have a winner.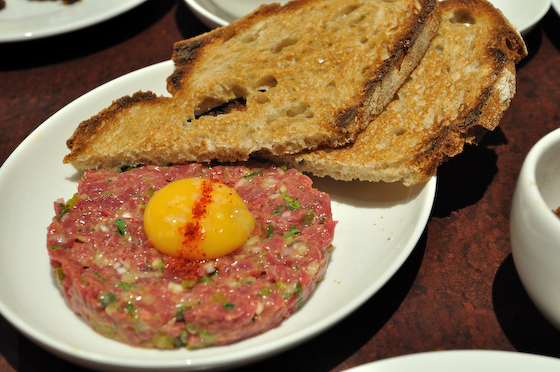 I noted a slight wait for between the bar snacks (15 minutes) and then the wine (another 15 minutes) and then the rest of the small plates (10 minutes), but boy was it worth it. I was struggling a little between ordering the tartare or the bavette – in the end I opted for the rarer choice. I was duly rewarded with a richly moist tartare gloriously stuffed to the brim with capers and well peppered throughout that gave it a nicely spiced finish. The hand chopped tartare was delicately soft and while it wasn't quite up there compared to restaurants in Belgium – it certainly was still very good.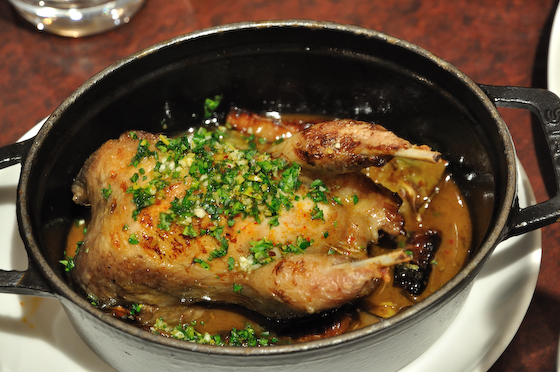 There it is. Ollie really wanted it and I gave up the Bavette for it but there it is, one of the dishes of the day: The pot roasted quail, Italian artichokes, pancetta & gremolata (£12). Served in a Le Creuset, it was steaming with much rustic roastness and like the marrow – it felt as if we were conjuring our happy dishes with Peter Pan in our midst. The vivid quality of the dish was really something to behold. Oh gosh, what a great roast. Still ever so slightly sizzling in a hearty soup, the poultry was succelent and bouncy. One could really taste the bird's freshness and I am hardly ever impressed with poultry when dining out but with this, I was progressively blowed away bite after bite as it sizzled away with hearty comfort.
Let's talk about the wine.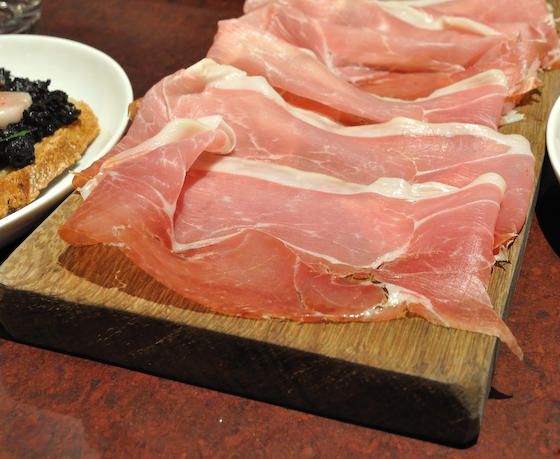 The wine glasses had distinctly tall stems, perhaps to create drama when tipped over. At the end of the day, this is still a wine bar and while they didn't serve their alcohol in carafes, they did do them in 500ml bottles. So a curiously off-pink hued 'slightly sparkling' Italian white was bubbling with freshness and youth, while I left it to the waitress to fetch us a distinctive red that had carried hints of cranberries and chocolate….. both of which were delicious and both of which names I forgot to jot down and by now, my face was as red as a san marzano.
French reared iberico pigs,  Really? We're on to the charcuterie board now – I was alittle bemused but went for the Spanish variety of Jamon de Teruel (£8) instead. It certainly wasn't anything close to the best iberico hams, instead it tasted very close to an Italian San Danielle – hmm, curious indeed.
Next: Clams, Vermouth & Aioli (£9)– our waitress' recommendation from the small plates section: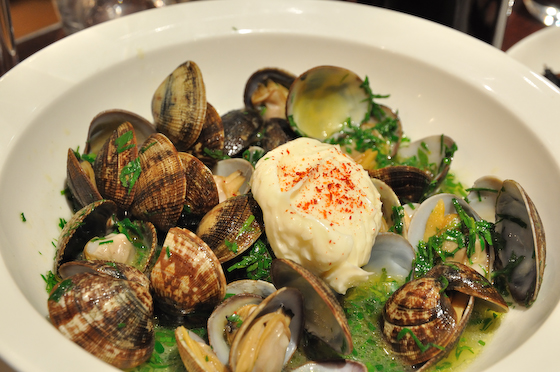 Softly seasoned and garlic themed, the flavoursome broth was a magnet for bread dipping. The clams themselves were velvety and I'd never imagine these things going well with garlic mayo. A simply tasty dish.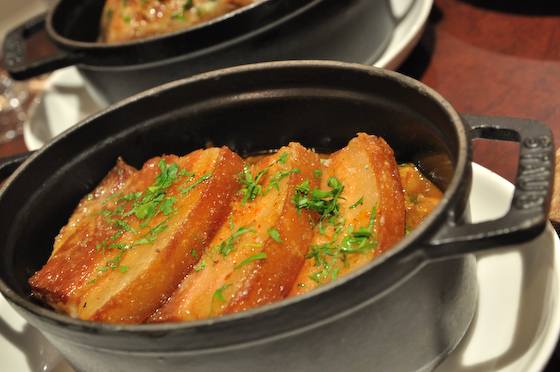 The other creusetified dish from the du jour section was the slow cooked suffolk pork belly, braised chick peas & morcilla (£12). Lots of body to the sauce and lots of umami rich savouriness. The only criticism levelled against it was perhaps the chewiness of the fat, which I felt could have been alot more delicate as this was more leathery than silky.
Finally, our meal was rounded off with vegetables of the season – asparagus with hollandaise sause (£9) , served on a wooden block no less. I'm still not sure which to pick as my favourite dish of the lot.
There is still pudding to go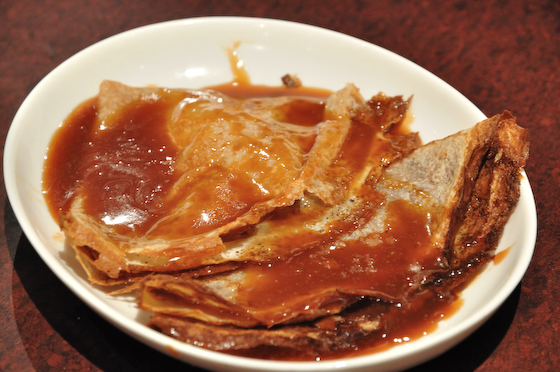 This is abit of a treat, there's three of us and we all wanted abit of pudding and being the generous foodies we are, we all shared abit of everything. Candice got the ball rolling with her crepes and salted butter caramel (£5) ; to which I noted a crispy pan-fried heat on the texture and an intense rich caramel sauce which had a rather interesting dash of salt in the aftertaste. Ollie went all Italian and ordered Panna cotta, blood orange and campari (£5).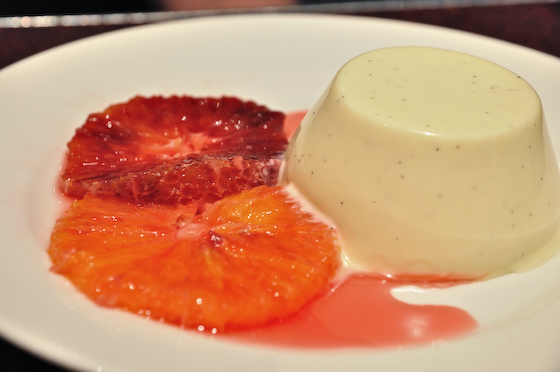 I was slightly shocked to see campari listed – that stuff usually knocks me out within a couple of sips! Oh gorgeous, gorgeous, gorgeous – I could taste the depth of the vanilla, so much so, it was as if I had emptied an entire vanilla pod into my mouth. The texture was superbly dense, a cross between a clotted cream custard and a melting gelato – this wasn't just plain vanilla, folks – this was vanilla panna cotta.
I want to go back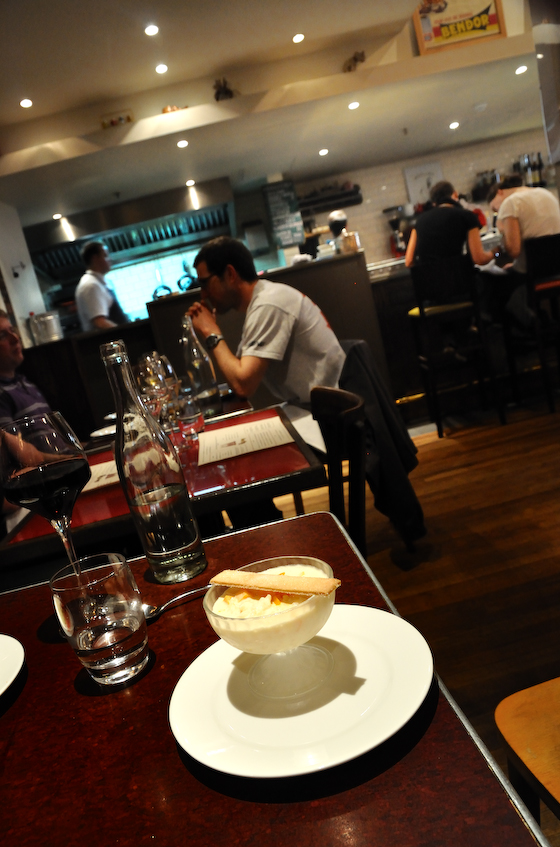 The bill came to about £140 between three of us, abit hefty but it really was a mother of a lunch. Was it good? Nay. It was pretty spectacular. There were so many things they did right – particularly the bone marrow, no perhaps the clams or even the panna cotta. Heck, even my alphonso mangoes and rice pudding (£5)was solid. One of the more memorable experiences to date, but (yes, but) it wasn't ground breaking hauteness nor was it a culinary lesson of exotic foods. This felt more of a celebration of classic dishes. On the whole, food was straightforward, easy to understand and cooked to near perfection and I think this is what makes it special. Terroirs is definitely a great place to have long lunches, and perhaps even longer suppers. I think the greatest compliment I can shower upon it, is that I like it enough to want to go back again and deep down, I want this place to succeed. They do lunch specials too and on the day's menu, it was a tartiflette with salad and a glass of wine for a tenner. There really is something special cooking in the Terroir kitchens, and I'm delighted to say that the only way to find out is to eat there.
The Gist of It.
Terroirs Official site
5 William IV Street, London, WC2N 4DW £30pp
Verdict: Refreshingly great food in a characterful dining space. All in all, a fine experience.
Did you enjoy reading this post? Why not subscribe to my feed updates for free. Alternatively, You can subscribe via email.