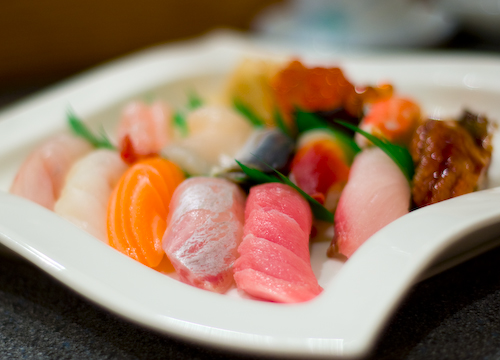 The great thing about running a food blog is that people tell me what's good around town. I thank them and then proceed to said recommended place to eat my heart out. Sushi Hiro is one such place, as recommended by Yenni and in her own words, this is the 'best kept secret in London'.
The cat & the asahi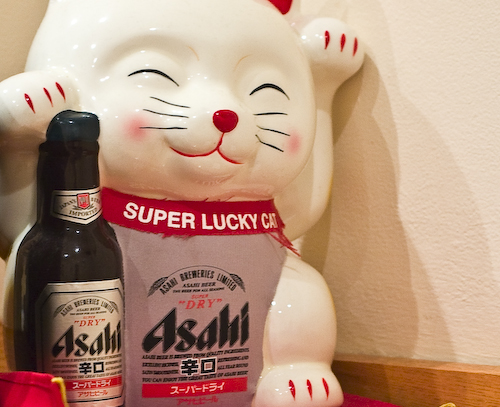 It is deceptively plain from the outside with no more than white walls and a banner with its name in bold black print. Even the windows are frosted, making it look so sterile from the outside that you might just walk right past it. In case you didn't and managed to step through the door, you will be greeted by the all too strong fluorescent lights and a rather cosy sushi bar with little more than five tables. You can find this little guy tucked away at the furthest corner of the counter.
First of all, sushi hiro does one thing only : sushi. There aren't any katsu's or karaages' or even pudding on the menu. Just sushi – and lots of it. No real point in exploring the menu much further, just pick your favourite fishes and watch the youthful sushi master whip it up in front of you ( sit on the sushi bar for maximum effect )
Exhibit A: The exotics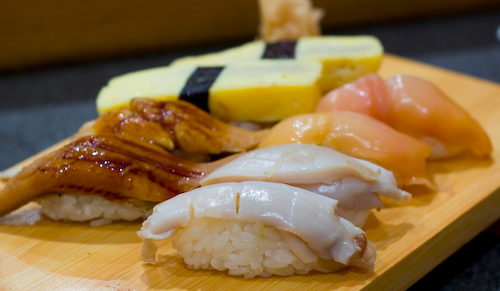 I counted a total of three staff: the waitress/hostess , the sushi chef and his assistant. There's no kitchen, all the magic happens behind the sushi counter. Amazing. With such a narrow scope, I am hoping that the quality is high.
I was fooled by it's rather humble appearance, one look at the variety of fish available and I was quite in awe. Abalone is a delicacy in the East ( especially in Chinese cooking ) , when done right, it has a bouncy texture , can be chewy at times but has a fully developed and rich seafood taste. There is only other place where I've ever had abalone sushi ( and believe me , it's hard to find that in London ) and that's at Nobu Berkerley. Even they've discontinued it.. and it was a whopping £5 per piece, not inclusive of VAT or service charge.
Bastards.
So imagine my delight when I saw it on the menu here. Hurray! And at £2.50 a pop, it's as cheap as you can get in London! If you are wondering what abalone is, it's the light brown one in the centre of the frame. On the far right are the razor clams, behind that is the tamago (egg) and then behind the abalone on the left is the sea eel. Up till my visit to Hiro, I didn't think there were different types of unagi, but apparently there's fresh water ones and then there's sea water ones.
Why is tamago exotic you might think? Well it's not, but a good tamago nigiri is hard to come by in London. Also, it's sort of my benchmark sushi – to really see if the chef knows his fish. Often, it's the simplest dishes which are the hardest ones to cook. And boy, does he get it right. The first bite and I can feel the moistness, the slight creaminess and that fluffyness that comes with good tamago. With a refreshingly sweet hit at the end that balances nicely with a hint of soya sauce. Great.
Suffice to say, the rest of the items on the dish are all very fresh and tasty.
Exhibit B: Sashimigans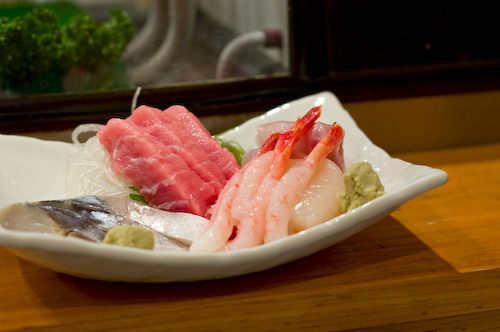 I believe this sashimi platter is about £15 and is one of the 'chef's choice's'. From left to right, Mackerel, Toro (belly tuna) , sweet prawns and scallops. What you can't see is the sea bream just behind the prawn tails.
Unless you've never had sushi, belly tuna is the most tender and flavoursome part of the fish. The reason it's so soft is because it's belly is laced with fat ( just like mine ) . If you go to any established sushi spot in London, you'll find that belly tuna is either very expensive , between £4 to £6 per slice (that's when you're in luck) , or it's just sold out (most of the time) . Here, it's about £4 for three slices … and it's available. I should also mention that there are different grades of belly tuna. The lower grades, naturally taste worse, sometimes so bad it stinks. That's a good tip when eating sushi by the way, Fresh fish should smell fresh and should have a crisp and clean taste. If your fish smells so bad that you need to completely douse it in soya sauce, then don't eat it – it might have gone off.
Anyway, none of that here , that belly tuna is one of the best and freshest I've ever had in London. Mind you, I love sushi so much that I don't mind paying abit to have fresh fish every now and again. The belly tuna is, dare I say, even better than Sake no Hana. And that's saying quite abit. I wonder if there's anything to do with the fact that there's a fresh fish stall just two shops down. The sweet prawns and the scallop are of equally formidable quality. Very fresh, very clean and extremely tender, especially the scallops, they were just oh so sweet. *Muah* great!
All except the mackerel, personally not a fan of it as it's too fishy (stinky) for me, it didn't taste out of the ordinary, just not great.
The platter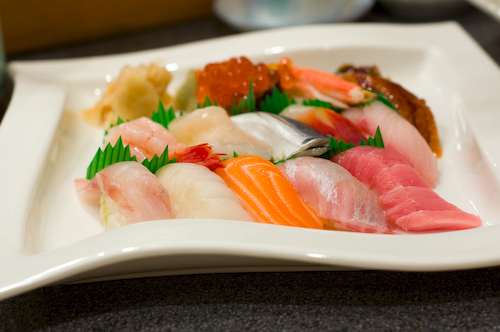 This nigiri platter was one of the set choices, if my memory serves me right, this one is £15. It's got all the basics.
Front row L to R: turbot, white fish, salmon , sea bream, belly tuna. All great, especially the salmon, another acid test dish, the salmon here is super fresh and really appetising.
Middle row: sweet prawns, scallops, mackerel and I'm not exactly sure what the last two fishes are. I can tell you however, that all of it tastes so, so good.
Back row: Fish roe, snow crab & Unagi.
Pieces of scallops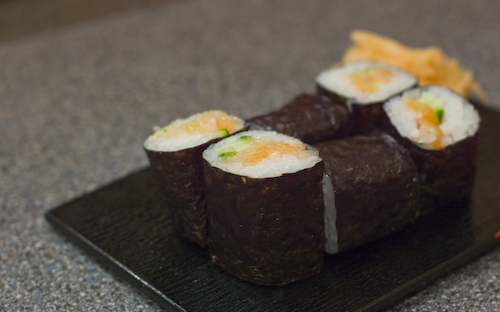 I have to talk about this dish which is the scallop pieces roll. Yes, that is the actual name, scallop pieces. Yenni ordered this one and she didnt really tell me too much about it. Ok, before we get into the scallop, let me talk about Yenni alittle, she's what you would call, extremely subtle. It's difficult figuring out what goes on in her head ( Jason Bourne perhaps? ) .
Let me just say that great things come in small packages. It's comprised of cucumber slices and chewy scallop pieces which I can only assume, were stripped away (as waste) from the main chunky tender bit of a whole scallop. I'm not sure if these 'pieces' were marinated, but it had this subtle sweet & savoury taste to it, almost like squid. It's definitely chewy and abit crunchy, but that interesting texture is what made this so good. The simplicity of this dish really boggles the mind as it manages to work so well. It's also great thinking from the chef to recycle the otherwise wasted bits of the scallops which would have been too chewy for to turn into sashimi.
Can we go for seconds?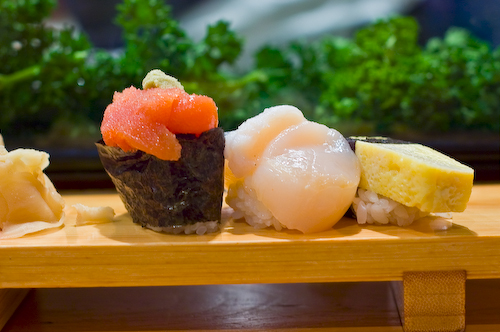 Seconds because it was that good.
Chilli flying fish roe, more scallops and another tamago. The chill gave the sweet roe a nice crisp edge and well, the scallops were so good we had to order another one.
All in all, I was impressed with Sushi Hiro. This really was London's best kept secret and more people should know about them. Not only is seafood fresh, but the selection is just great, rarities such as abalone and belly tuna can be had for comparatively reasonable prices. Granted, sushi is alot more expensive compared to other cuisines, our meal came to about to about £60 for two. The freshness of the fish, however is nearly peerless in it's price range. For the same quality, you'd have to venture to a Zuma or a Nobu but for three times the asking price, and a million times the pretentiousness. Any sushi bar whose clientele include a Japanese family with three small children going 'Ho-si!' ( my jap is horrible but loosely translated to good taste!) has got to be great.
If you've always been curious about raw fish, then I wholeheartedly recommend you go here to get your introduction to the Japanese delight. For everybody else, you'll remember why you love sushi all over again, it's really that simple.
Did you enjoy reading this post? Why not subscribe to my feed updates for free. Alternatively,  You can subscribe via email.
Basics Sushi Hiro 1 Station Parade Uxbridge Road W5 3LD | 0871 3328401 How to get there: Ealing Common How much: OK for sushi £25 per person, £35 if you love it.