My view of Big Sweary has softened, desensitised even, though it perhaps is because this styled TV persona has also mellowed over time. Cuddly Sweary now appearas to be the new Gordon Ramsay across the Atlantic. Every now and again when he shows flashes of his previous life in the kitchen, such as his lobster shelling demo on US masterchef, I'm reminded of what a loss it is that this fella is no longer regularly on the pass.
As you probably know, Gordon loves a bit of claret, the man has a palate (and his recipes DO work, as opposed to say Nigella..) and has good taste, albeit an expensive one in wine, namely Chateau Petrus, that most reknowned of Pomerol and what the restaurant is named after.
I wish not to dwell on this restaurant's colourful history, Gordon's feud with his former best mate and the wrangling away of the name from Marcus (although, the name really belongs with the Moueix family who own the wine). All that now seems quite a distance memory now.
This current iteration of Petrus in Kinnerton Street opened in 2010 with Mark Askew (Gordon's former exec chef, very talented guy), Sean Burbidge and walking charisma machine Jean-Philippe Susilovic manning the first year of service, and winning its star in 2011. Ramsay's jewels have shrunk in recent years though Claire Smyth and Neil Snowball had steadied Gordon's top two as both restaurants are mostly full and relatively hard to book (even in 2016!). Neil was Petrus' head chef until earlier this year, when his sous-chef Larry Jayasekara was promoted to Head Chef.
And this is the reason why I've returned to Petrus. You must watch him describe the dishes that saw him scoop the 2016 National Chef of the Year award, and most recently, he has retained the star for 2017 after Snowball's departure. I have quietly followed his dishes on IG and it all looks so fresh and minimalist with clear identity.
Larry's path is an interesting one, he hails from a fishing village in Sri Lanka and came to the UK in 2002 where he was exposed to classic cooking whilst at South Devon College. From there, he joined up with Ramsay at the original Petrus in 2004 and from there his career has taken him around some famous kitchens, moving with Marcus Wareing, then to Waterside Inn, a stage with the esteemed Michel Bras and then to Raymond Blanc's Le Manoir. A decade later, he would rejoin Ramsay's group as sous chef in Neil Snowball's kitchen, and finally work his way up to to this current head chef post. His dad worked his way up the ranks to Chef in Sri Lanka, and he surely must be proud of his son's achievements.
I remember how slick this room was when I visited six years ago, oddly enough, it has not aged well and feels very 90s, for a restaurant that opened in 2010. Quite unlike say the Ledbury which feels fresh. Maybe it's the cream coloured carpets, or its combination with these rather odd choice of tiles that certainly no longer belong in a dining room. They should consider laying down some parquet.
I visited for Friday lunch with my brother. I read about the small portions with the taster menu, so I thought to go with the ALC (3 courses for £75), whilst my brother saw a deal with the set lunch (3 for £37.50). Both of us were served with an amuse and a pre-desert.
Amuse: Jerusalem artichoke veloute, with a grilled soldier covered in a mixed cheese mousse with autumn truffles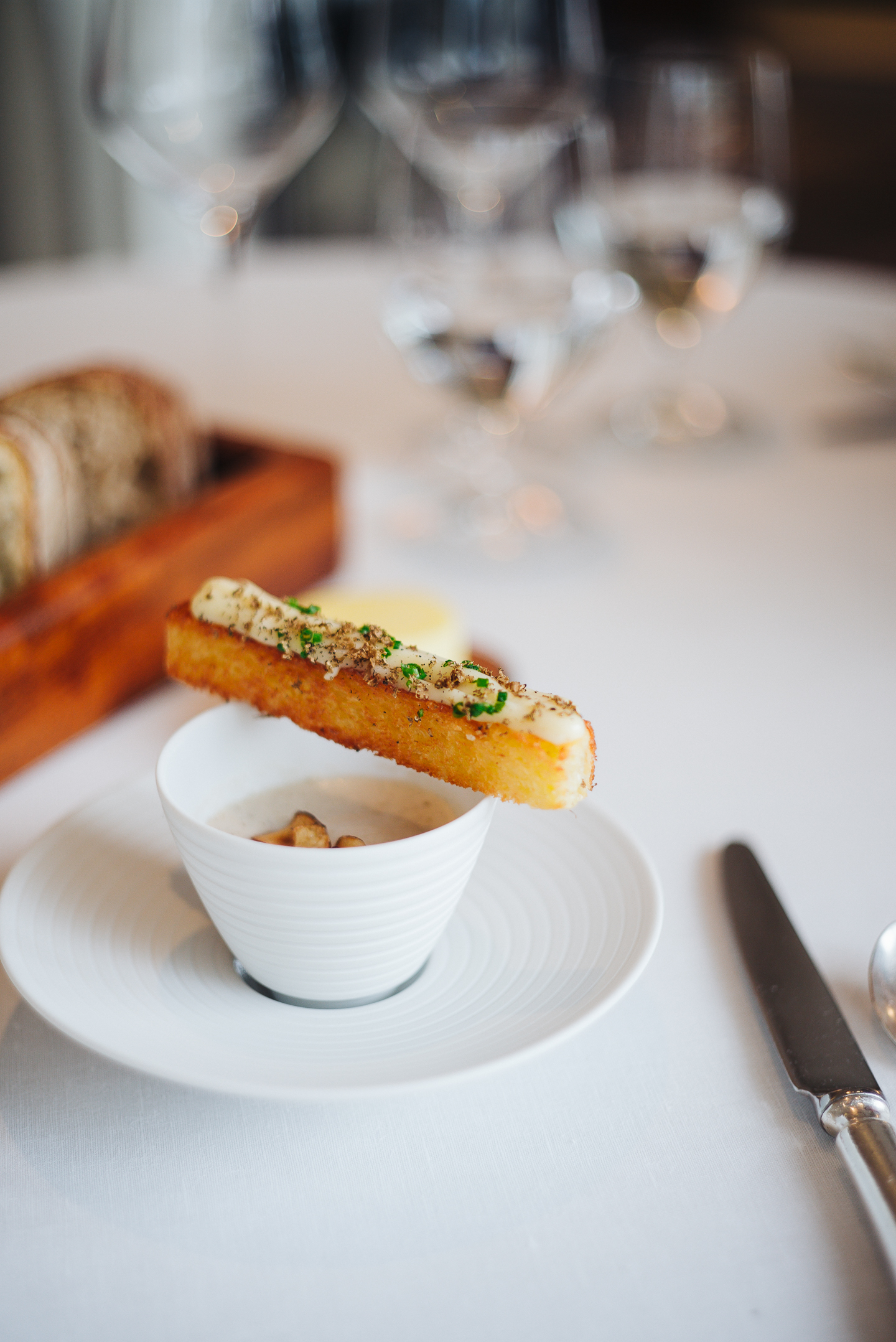 This amuse is one of simple pleasures, well made and tasted absolutely delicious. Especially the soldier, no doubt toasted with generous lashings of the tremendous house butter – the incomparable unpasteurised stuff from Bordier. Like at Passard's this stuff is very addictive, you have to stop yourself from filling up with too much bread and butter. A grand start, Larry's talent confirmed.
STARTERS
Set: Scotch salmon and prawn agnolotti, fennel, sea purslane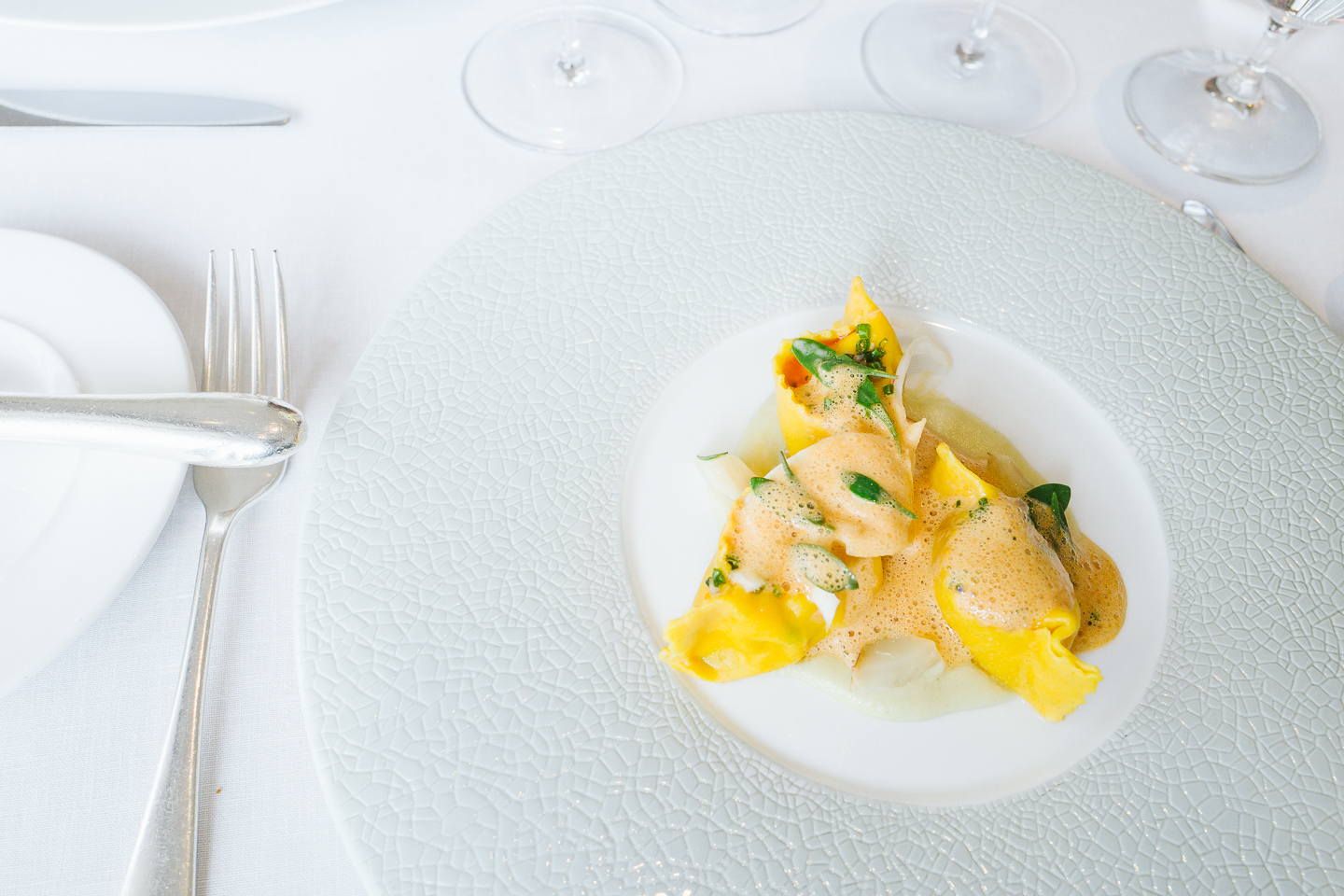 Salmon and prawn were minced and so there wasn't much in way of texture. Taste-wise it was ok, pasta clearly made fresh in-house but notthing particularly exciting. I think this could have done with full or roughly chopped tails instead.
ALC: Butter poached Native lobster, girolles, truffle cannelloni, wood sorrel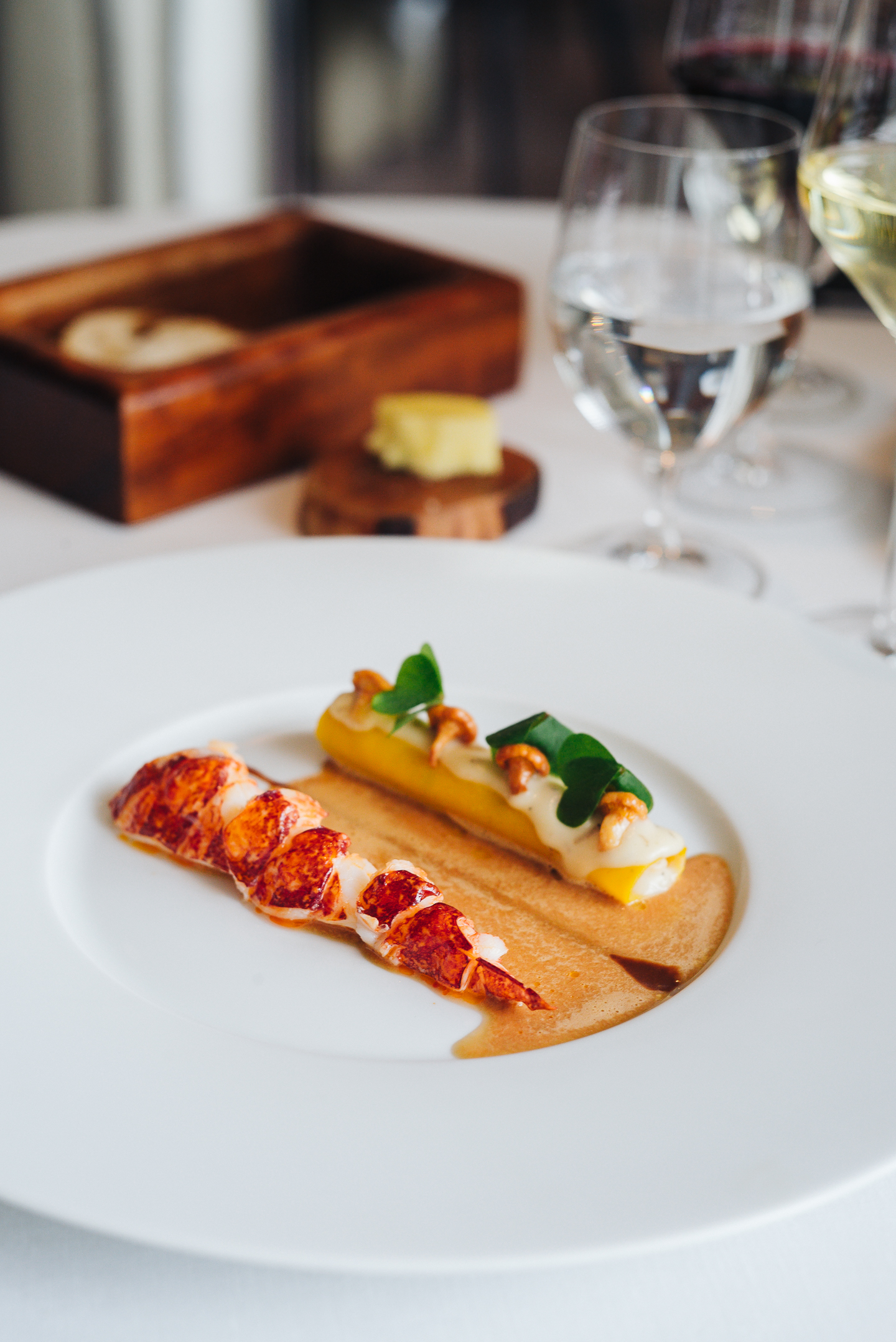 I've seen so many photos of this and it is even prettier in reality. Accomplished simplicity.
Finished with bisque sauce, colour and intensity indicating coral gone in here. I can't be certain but I think its the same cheese mousse with little bits of truffle shavings as from the amuse, spooned on top of the cannelloni. The pasta is rolled thick and generously stuffed with lobster (unsure what the binder is) and creamy aromatic (autumn?) truffle. This is delicious.
As for the cross section tail, you certainly taste the firmness and therefore Scotch, even with the poaching timed perfectly to a touch of translucency (so perhaps 55degC at a guess, but definitely not lower than that), the tail has springs.
Quality produce, however, the lobster is sous-vide and surprisingly, its natural flavour is mild and still 'sleeping'. It would have benefitted from being finished in the pan or in the green egg (as he had done, with boil+bbq in shell, on his way to his 2016 #ncoty win).
I'm not evangelical about modern cooking methods, so long as it produces the best tasting results. In this case, it just lacked a touch of smoky oomph. Served like this, the classic beurre monte method at 80ish degC may possibly have produced a far more intense flavour of sweet brine and butter, IMHO.
The official photo of this dish on @petrusrestaurant is a little misleading (count the girolles). Considering this is off the 3 course ALC (for £75), the cannelloni could be slightly larger in portion. Good nonetheless, but could be better.
MAINS
Set: Roasted haunch of Fallow deer, Boulangere potato, charred chicory, juniper jus
This was a baffling one, we wondered if perhaps the meat had been rested for too long or perhaps did not see a generous enough butter baste. Even though it was cooked to the right temperature, it was oddly rather dry. The thin slices of potatoes were interspersed with delicious confit or braised meat (I suppose it is also deer), but could have done with longer cooking, and they tasted just a touch underdone and fell apart too easily. As is evident, the jus is luxuriously made.
Like the previous dishes, there were niggles that required attention and they are amplified for such a minimalist style.
ALC: Line caught Newlyn seabass, langoustine, saffron potatoes, and bouillabaisse sauce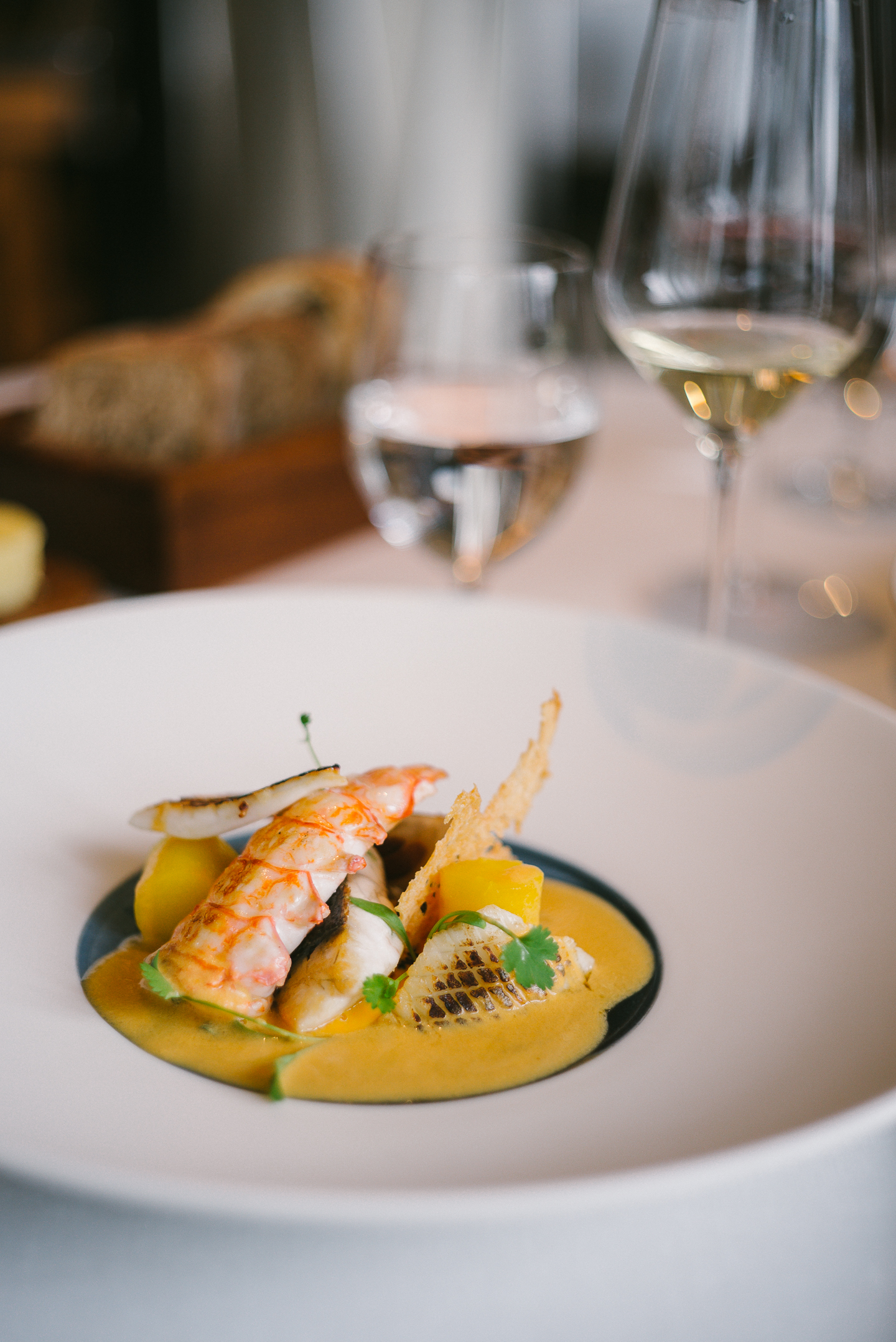 Oh there's the fish. It's hiding behind the XXL lango tail. Perhaps this dish should have lango as the lead ingredient. And yes, it must be Scotch and it is an absolute pleasure eating these massive tails. Only the Norwegian cousins landed on other side of North Sea are meatier. Talk about Great British produce, even Pascal Barbot uses Scotch at Astrance. Ironically these tails are a rare sight in London.
Surface indicates a pan finish on one side, inside mi-cuit and deliciously taut. Charred cuttlefish also beautifully executed, totally smoky and blackened on one side, but underside retains its natural chew and plumpness. Beauty. The potatoes are soft like fondant, and the saffron is a light touch. This is amazing shellfish and it is a sign that the GR group is very ably supplied.
Many ticks, but then, niggles appear again.
Like the lobster dish, the official photo @petrusrestaurant is misleading. For a mains on a 3 course ALC, they should consider bulking up the seabass portions. Could always give more than 2 potatoes, or on the side.
And getting back to the fish, the seabass probably measures 2inx1in. Considering how small it is, it is cooked just, and dangerously close to over. A slightly larger portion makes sense here and would be practical as you get crispier skin and retain flakiness. I get it the Knightsbridge premium and all, but this just seems unneccesarily self-sabotage.
The sauce was unfortunately problematic as I thought it to be too refined. The colour is light and overall effect is a little lifeless. My main issue is that it does not smell of much. No saffron or pepper or much else spices, and lacks acidity. All this meant that it was much too mild to tie the superb seafood elements together.
There's no way I'd guess it was a bouillabaisse that's being attempted here. The texture is good, seems reduced to a thickened pour, finely sieved and therefore demonstrates the technical ability of the brigade.
A stronger sauce and maybe a slice of toast with rouille on side is a better fit perhaps? There are good elements, but I think the chef should let loose on this dish. Be brave, keep to the spirit of a wholesome fish stew.
Pre-dessert: Lemon curd, granite and tea foam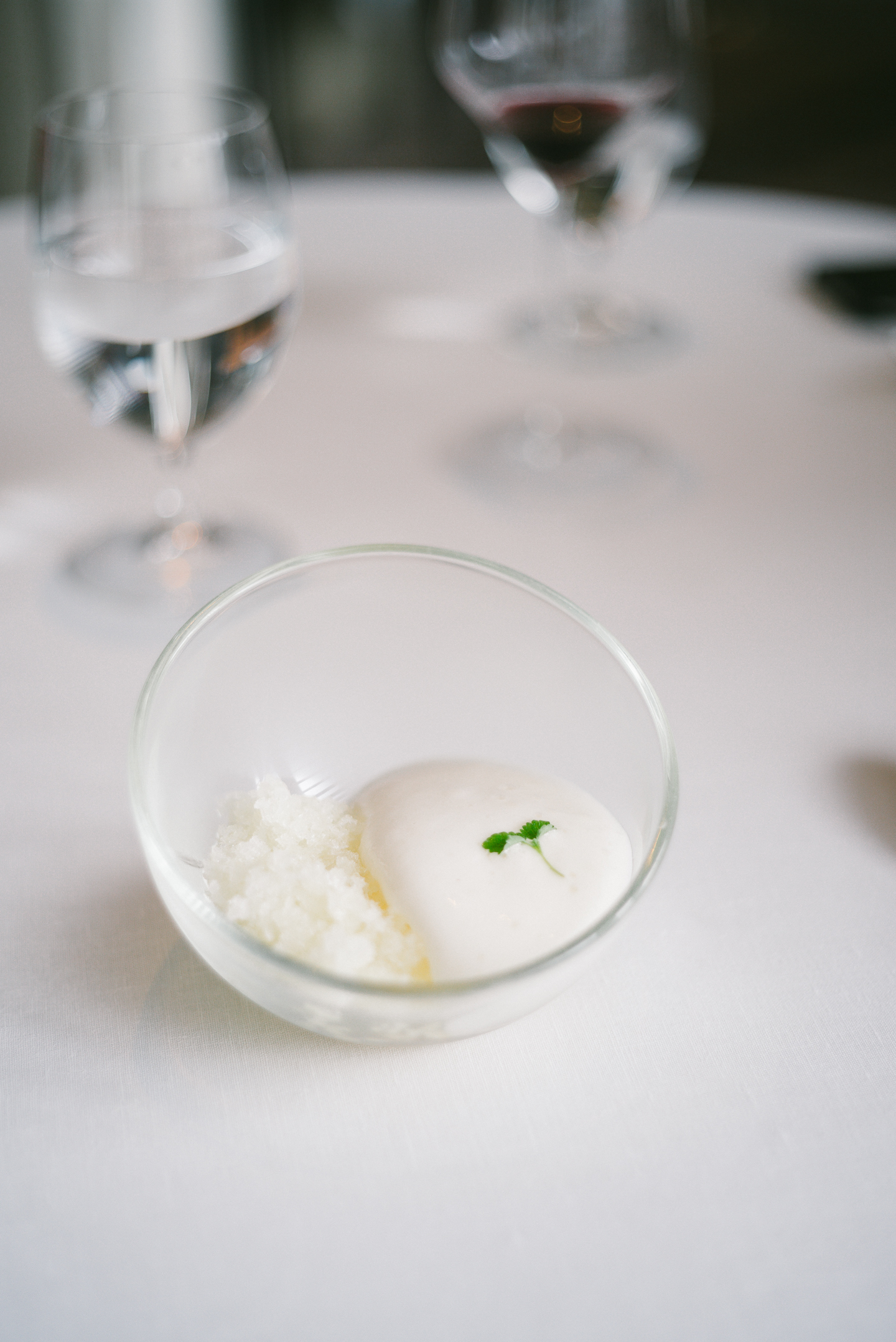 I love that there is almost nothing to look at and this pre-dessert is designed for ?% taste. The pastry chef has quite some skill, each element is perfectly made, a measured recipe with each element in the right proportions for balance of sweet and toe curling acidity. Refreshing.
PUDDINGS
Set: Citrus delice, ruby grapefruit and blood orange sherbet
Simple but effective. It's abundantly clear that there is a good pastry chef in the house. The recipe is well chosen and the resulting dish is light and refreshing with laser acidity. Absolutely ?.
ALC: Black forest, kirsch mousse, amarena and morello cherry sorbet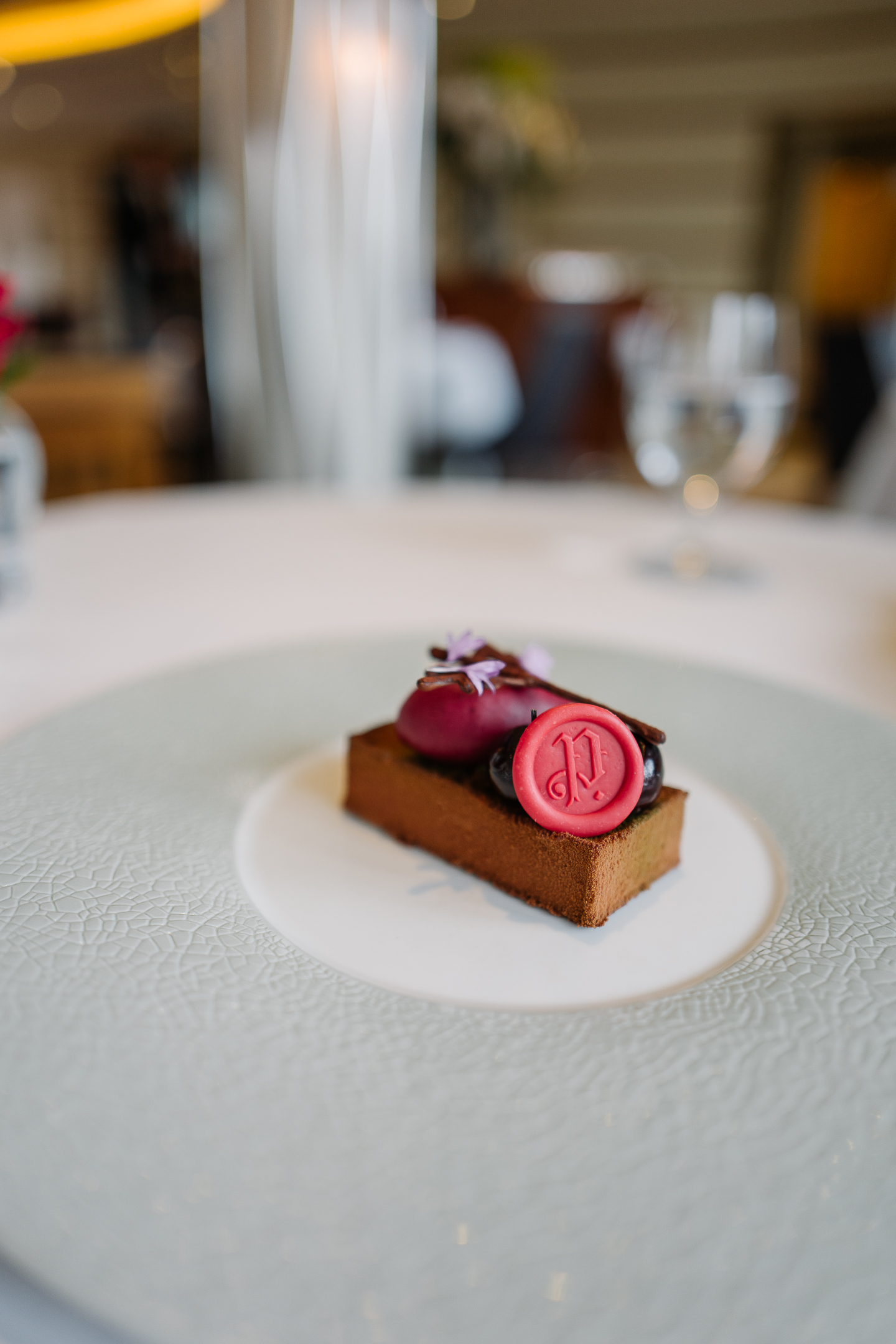 In contrast, this postage stamp black forest is straight-up and… well, there's not much more I can add to whipped kirsch cream dusted with chocolate. I mean, it is quite far away from say Heston's enormously brilliant BFG. Perhaps it is missing some texture or richness – a sponge, a ganache centre or both. What it does not miss is the faux wax stamp of the Petrus (wine) label, which I feel is woefully outdated and does nothing to enhance taste. I don't think even Petrus has wax stamps anymore (or ever?). Just a printed label on the bottle isn't it? It would look a hugely elegant pudding without it. Should have gone with the dark chocolate palet d'or instead. Oh well.
—-
I do wonder if there is a secret wine list hidden from public. The list of Petrus wines is surprisingly short. I would have thought they'd taken the last 6 years to amass a small fortune of it, but I only count 10 vintages. No 82s or 2000s vintages. Why? This is in total contrast to the Petrus in Hong Kong (no relation to GR). If you are feeling flush, both restaurants keep a 1928 on their respective lists, Ramsay is 2x cheaper at £11k to HK's £49k (for magnum), though personally, I wouldn't bother buying any wine that's nearly 100 years old, even if it is a good vintage. As for the rest of the wine list, there's a 2011 Domaine Chevalier for £156 (3x mark up) and a 1989 Haut Brion for £3k (also about 3x mark-up). Quite a short list. Petrus is the only Pomerol on it. The problem is that Chateau Petrus is now so expensive (if you can get your hands on them at retail) that it is out of most people's reach. They could at least have included a few alternative Pomerols here, VCC, L'Evangile, Pin, other Moueix wines, La Fleur Petrus… so many.
We paid £144.56 for 2. (1x ALC 3 course £75 , 1x Set Lunch £37.5, 2 x wine 125ml and service)
I concede that there's a postcode premium attached, which you will doubtlessly be aware of too. We have been spoilt by East London, and prices here and at newish Chelsea openings (ask Phil how much his rent is) can feel painful to re-adjust to. I'm down with that, decided prior to visit. I'm not so down with the tiny portions, because the double whammy effect of high prices + anaemic portions is jarring. Charge another tenner, offer more starch on the plate or offer some starch on the side. Just a little more food would have sufficed. We left hungrier than expected. Having said that, the lunch deal £37.50 for 3 courses with all the house freebies thrown is a pretty good deal considering.
There's no doubt Larry is a gifted chef. This fella knows old-school luxury, smooth sauces, soft textures, everything regal and well-made. I cannot fault the technique. I like the style of the cuisine, compact and smart, modernised classics which are beautiful to look at. The problem however is that the refinement is too severe. It feels caged as if the soul of the cooking has been filtered out and it seems like a conscious decision.
Perhaps Larry is playing it safe in his first year in charge but I think he can be braver and allow more of his personality to show on the plate. I know there's more potential because his 2016 NCOTY starter reads like this "Lobster with red pepper and cardamom, leek, fresh yogurt and lemongrass". Tail finished in its shell, in BBQ. That dish should be on the menu. I hope he pushes his cuisine in the coming year. I'm keen to see it evolve.
Last words however are for service. I'm never one to complain about it, as I think generally most FOHs are well-intentioned. However, I feel the experience we had at this meal is worth bringing up, especially considering how different it is to when Jean-Philippe Susilovic was in charge here.
Service during this lunch was mostly fine, even though we arrived to an empty reception and stood there for a fair few minutes, as waiters seemed more interested in floating about the room, rather than to welcome punters. Generally, this team are very slow to react to things, a particular comedy highlight came at the start of the meal. It took a while before the wine list was brought to us and by then, the amuse had come out of the kitchen. The server saw me flipping through the list, and he didn't know whether he should serve us or not. Cue traffic jam in the middle of the room, man with oversized silver tray, though not his fault in because he was waiting for direction. Where's the maitre d? All throughout the meal, I couldn't work out who was leading this shindig. The maitre d did a very good job making him/herself anonymous.
I can overlook all of this and do not mind a slightly uncoordinated team. But I do mind if I ask a question and do not get an answer. After we finished our mains, we were still feeling a little peckish, so I asked our waitress if we could have the amuse again. She said she had to check with Chef, which is the sensible thing to do. I was happy to pay for it either way. Shortly after, our pre-dessert came, then pudding then the next time she spoke to me, was to ask if I wanted coffee. At this juncture, I'm still happy to eat another savoury, because I'm still hungry. She chose to leave me hanging and either forgot or chose to ignore my request. Even if Chef said no, I think it's only manners to tell your customers about it. It's the little things. Details. They don't cost anything, but they are vital elements of hospitality. The kind that leave lasting impressions.
Details
Petrus (London)
French
Set Lunch £37.50 + drinks + service
ALC £75 + drinks + service
Taster £95 + drinks + service
1 Kinnerton Street, SW1X 8EA
Tel: +44 (0)207 592 1609
Tube: Knightsbridge