Have you been following the news of River Cafe staying, moving, staying? Last I read they are staying and I am glad for it. It has never been cheap to eat there (at least in my lifetime) but I adore the room, Lord Rogers' design is simply timeless and you eat the best of the season. Plans for their second restaurant (in 30 years) appear to be underway and 2017 cannot come sooner. Though I mourn the closing of Zucca but this means that we should expect something in the near future from Sam Harris. And this brings me to another, if not actually the most important of, River Cafe alumnus.
Theo Randall has been busy as he celebrates his decade long tenure with the Intercontinental this year. He's linked up with ASK and started up diffusion outposts, Simple Italian in Earl's Court and Theo Mio in Bangkok. Are those golden cuffs loosening with time I wonder. Earlier this year he also gave his eponymous restaurant a facelift, as well as a (rare) rejig of his menu. The room is still windowless and quite a difficult mood to lift, though it is at least fresher with a faint smell of the forest. Those tables are solid oak, not veneers, quite sturdy indeed.
We visit for lunch on a Friday, I don't recall seeing a set menu but the website shows a 3 course set for £35. For lunch there is a consolidated ALC that is loosely arranged as starters/pasta, mains and dolci. Most of his classics remain for lunch and dinner, some for the same money and others slightly cheaper, such as the pasta ragu (£10 lunch vs £12 dinner) and game bird on bruschetta (Guinea fowl lunch £24 , Anjou Pigeon dinner £36). There also is a 5 course taster menu for £70, which actually seems reasonably, relative to the market.
I was amused and impressed by the two (Amalfi?) lemon trees that greet punters at the entrance to the restaurant. FOH told me they place them under strong artificial lights between services to keep em healthy. The love of produce.
Bread : Bruschetta and Focaccia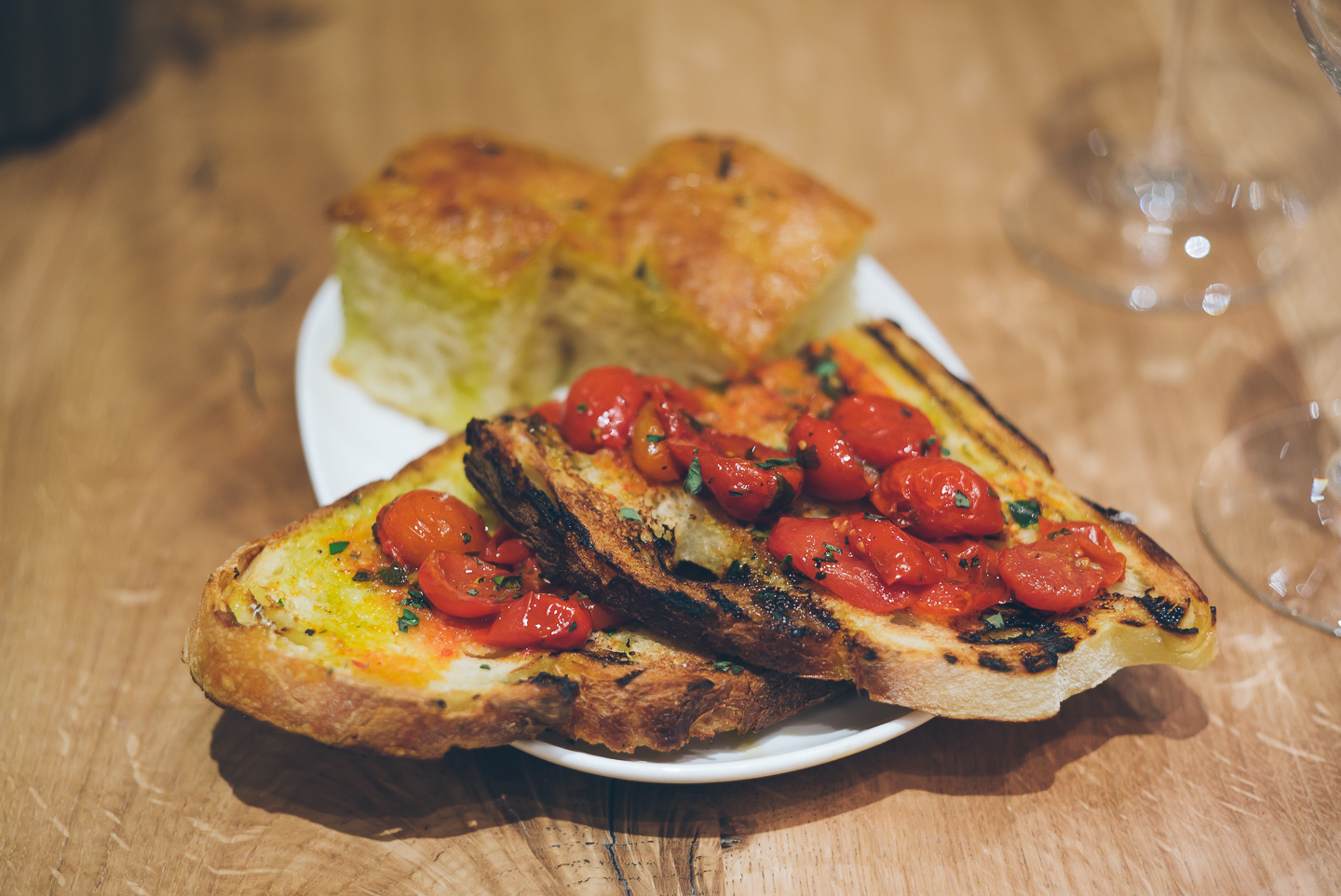 Toasted, tasty olive oil and just the sweetest tomatoes. Those datterinis are just the sweetest things. Simple pleasures, this is what it's all about.
Calamari in padella, £16
Pan fried squid with lamon borlotti beans , chilli, anchovies, parsley and chopped rocket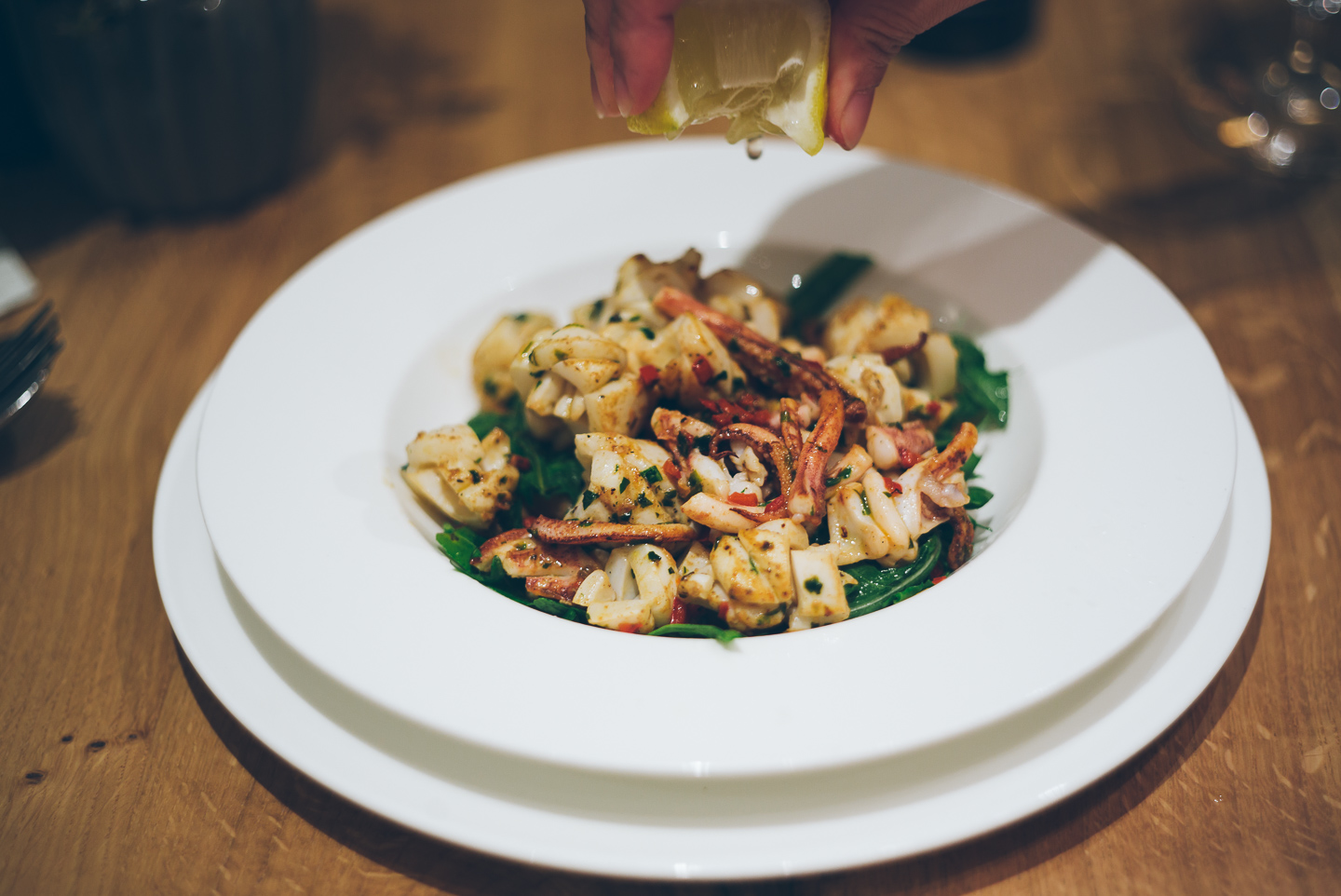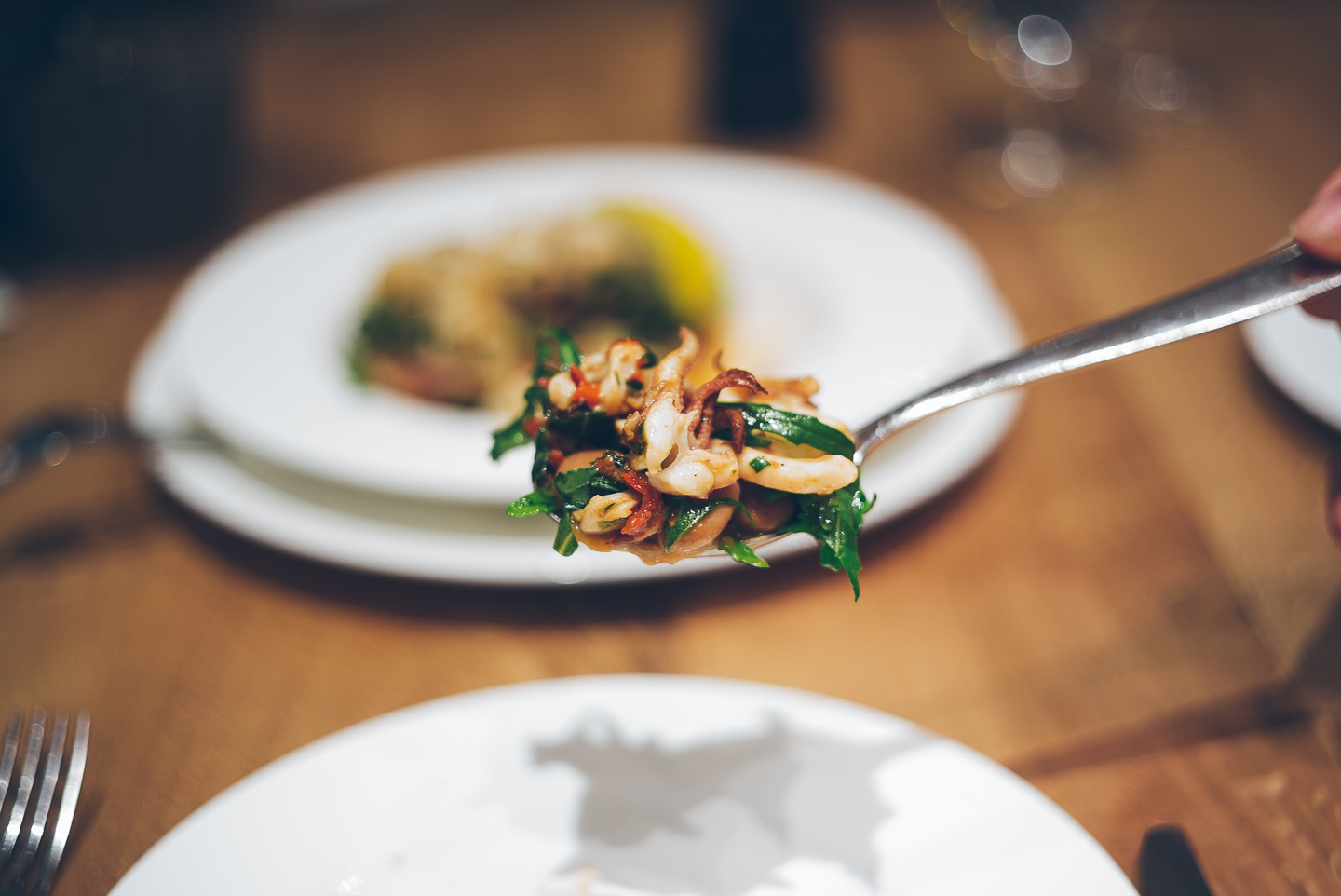 Taste the padella, the sear is enticing, zest, then the buttery smooth texture of the borlotti beans, anchovies to season. The addition of chilli brightens up the whole composition. Kodakchrome, saturated flavours, vibrant. All of this is done in the right proportions. It opens up the appetite.
Cape Sante, £20
Pan fried Scotch scallops with sage, chilli, anchovies, herbs and vinegar with fried polenta and braised cime di rapa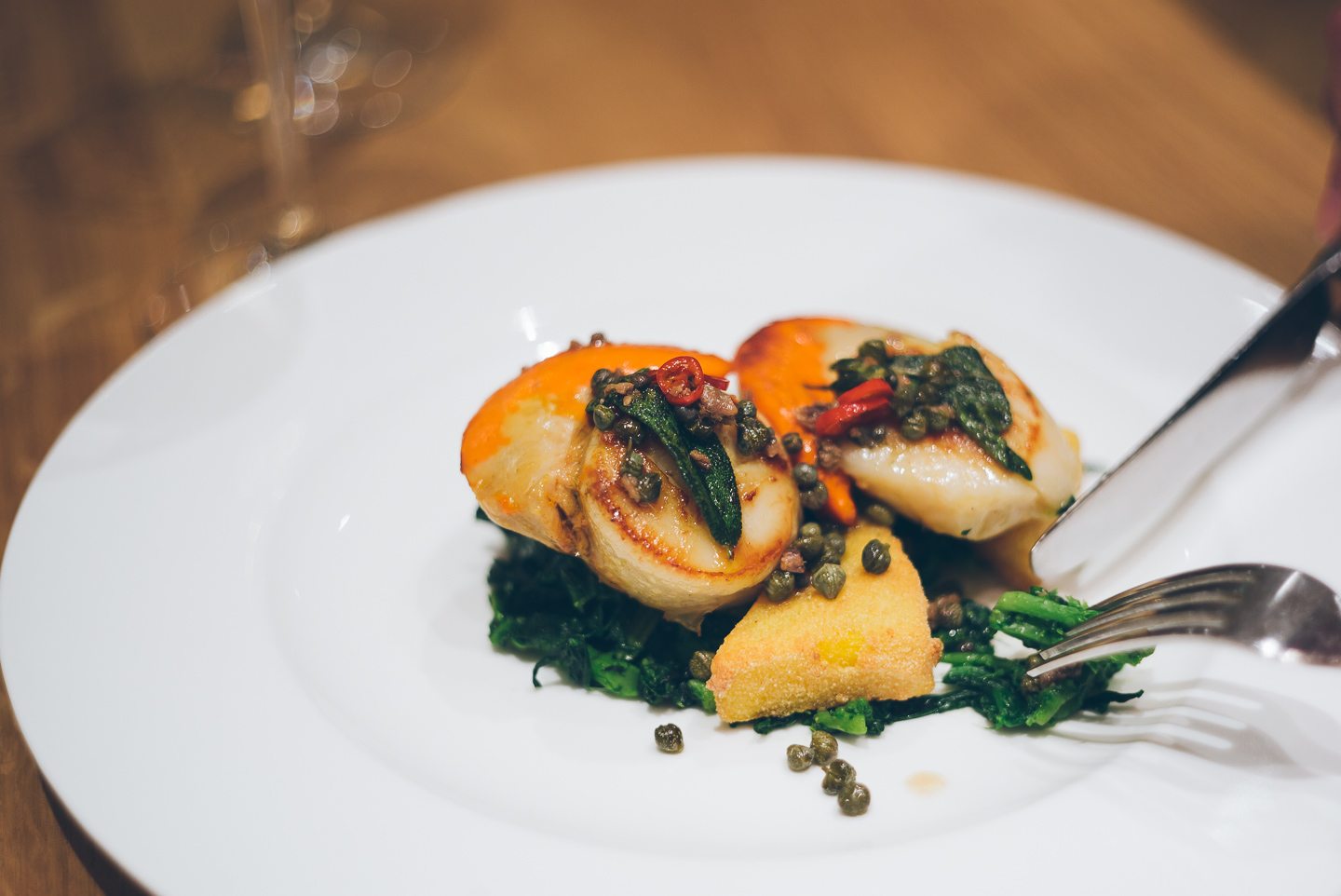 A little dear, but they are healthy and juicy with coral attached. Cooked perfectly, just a jot under, seasoned richly, in the right proportions. The cime di rapa drew a breathless wow, sweetness perhaps from the vinegar. Everything together with the crisply fried polenta turns to sizzles. A beauty.
Pappardelle con ragù di manzo, £10 (starter portion)
Fresh pasta with slow cooked beef in chianti and san marzano tomatoes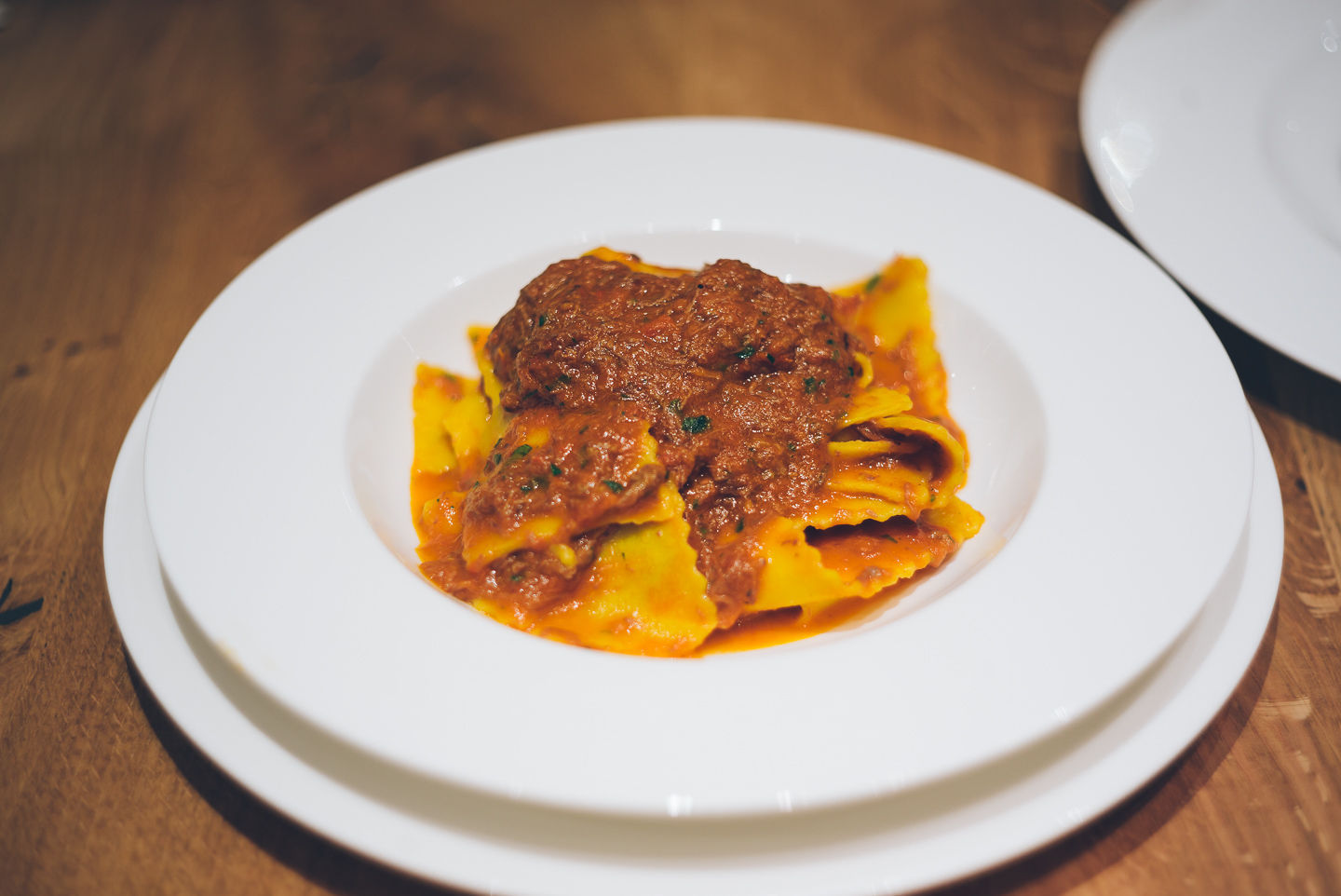 Pre-parmesan so we can appreciate the immensity of that ragu. Check the texture – it's basically the beef totally flossed and cooked down. Those tomatoes really are (also) just the sweetest things. Warming home feels. Generous sprinkling of cheese teases out the flavours. The pasta is beautifully made, it has bite but also carries water, as it should to pass for Theo Randall. You feel better with each spoonful, triggering the firing of endorphins into your faculties. This is good, this is doing the business it's meant to do.
Nothing is quite like a trip to Meloncello for the Bologna classic, and whilst I prefer a meatier sauce as opposed to something so cooked down like this, you cannot deny the deliciousness of this ragu. Incredibly only a tenner for a portion that does not look so small.
Taglierini con gamberetti e carciofi, £15
Handmade pasta with brown shrimps, artichokes, chilli and butter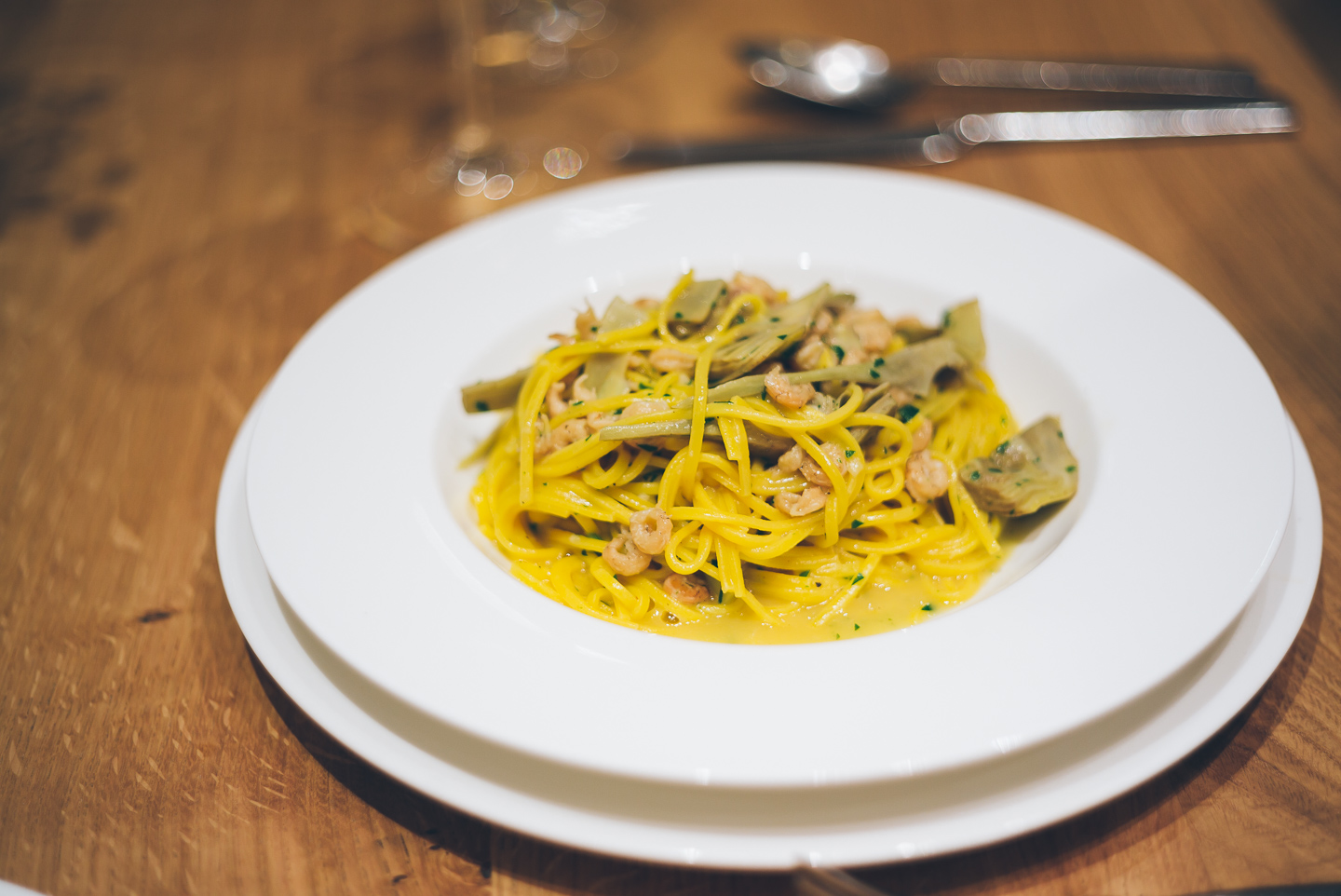 The aroma of those brown shrimp, then lemon butter and the thin pasta, like threads of silk. No fuss, just good ingredients and solid cooking. Incredible depth of flavour for something so apparently straightforward.
Arrosto di faraona, £24
Wood roasted guinea fowl stuffed with prosciutto di parma, thyme, lemon zest and mascarpone on pagnotta bruschetta with new season Italian peas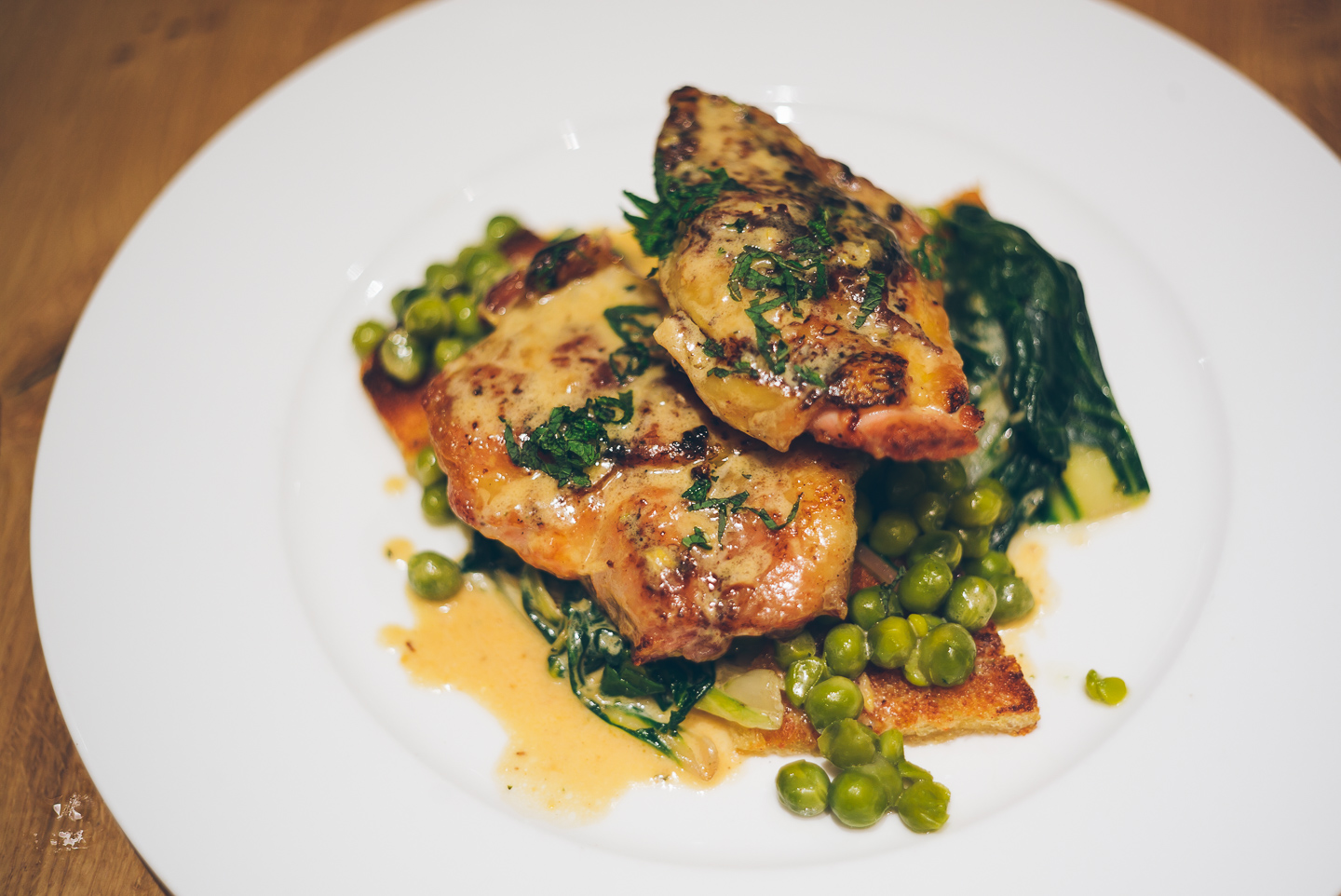 I watched The Chef's Protege on iPlayer recently and there is a scene where Theo gleefully chows down his protege, David's take on his pigeon dish. The expression he makes when he savours the effort, is exactly how this dish eats, when it is well executed. It is totally hearty and has sheer depth of flavour.
This was a meal from the middle of April, so I suppose peas are actually in season now and since we are eating Italian, cooked to a mush. On this visit, I found this dish done well. The bird is just cooked, juicy, the sauce of lemon aromatic and winning. The bread soaks up remainder straying goblets of liquid flavour and overall I find this protein on carb totally pleasurable.
Mango sorbet, £5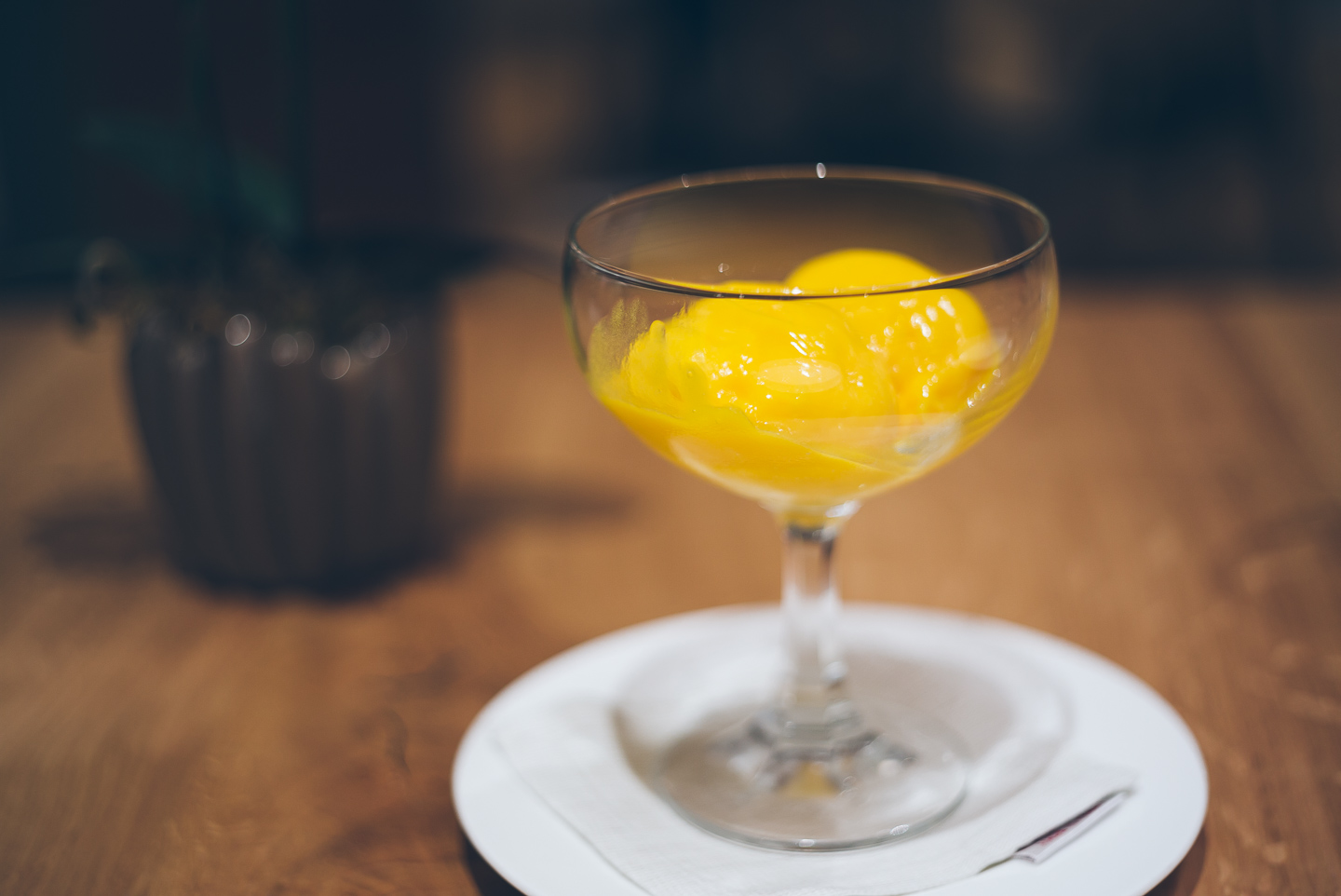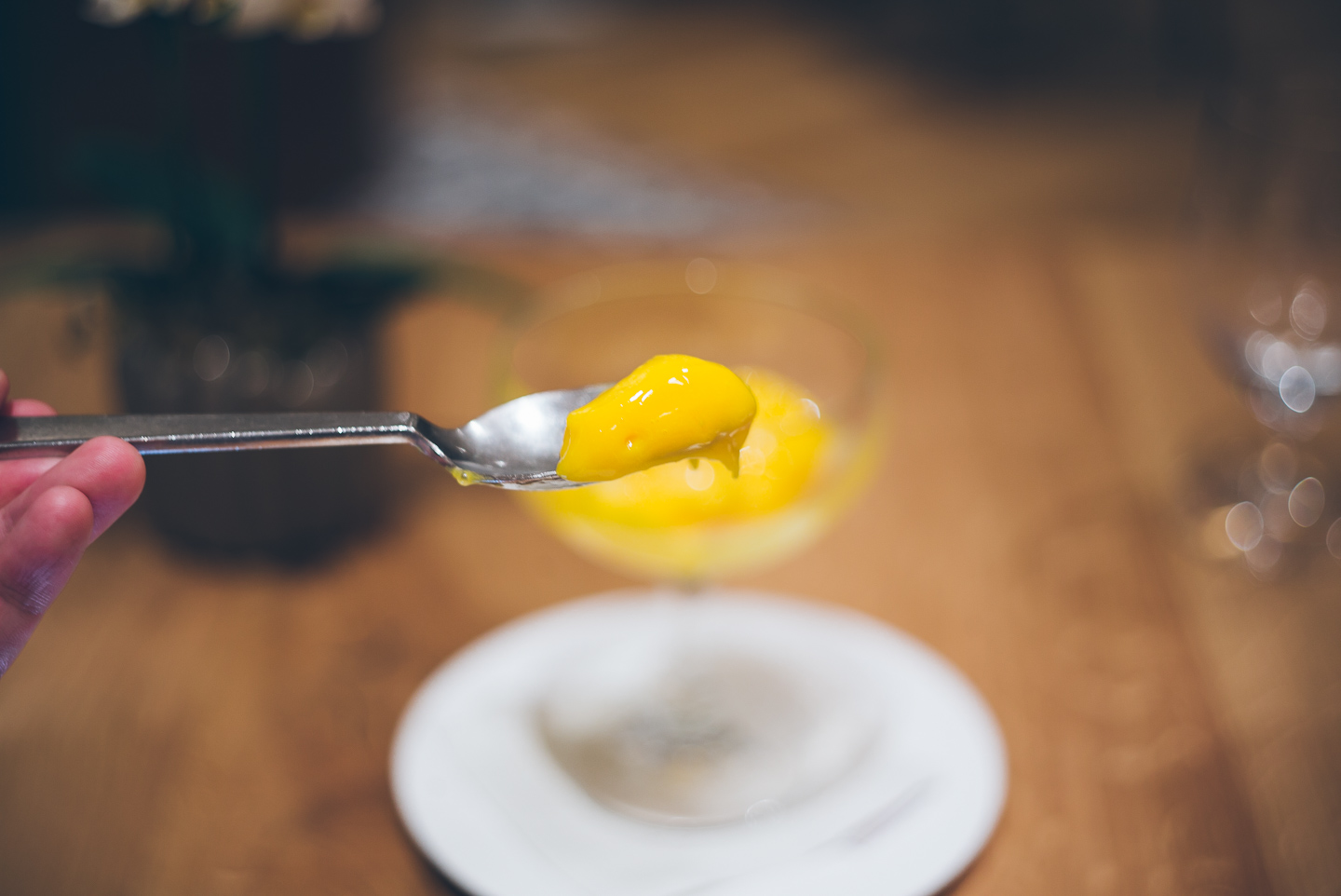 We were about to order the lemon tart, but our waitress then told us that the kitchen had just whipped up a mango sorbet. Nothing precious here, just sweet mangoes, Alphonso I am guessing, creamy nearly sugary and dense paco-jet smooth textures. Nice clean finish, darn it I missed that lemon tart though.
We paid £127.69 for two, food, 2 glasses of wine, 1 bottle of water and service.
Not cheap but not too bad considering the rather generous portions and each dish packing in a more than decent medley of ingredients. If you choose well, you could eat for a little less, for lunch. Theo was not cooking in the kitchen during our visit, he was somewhere in the hotel prepping for his Saturday cookery session. I was told that the sous-chef, coincidentally Theodore, took the pass instead and on this form, doing his boss proud.
I still can't get over the room. Maybe it works better at night but the problem isn't that it's in a hotel. For Theo's simply cuisine to work in full effect, I do think some rays of sunshine and waffs from the wood fire oven are important, perhaps even integral to the meal. Sure, the mind naturally wanders to River Cafe (and Zucca) ambiance, but it is so very inviting over there don't you think? Theo may be years away from another refit, but if he does stay with the hotel, I wonder what the roof is like.
And so it seems that classic recipes, good ingredients and solid cooking alone are not enough to elevate a restaurant into the realm of the fashionable. On this visit the restaurant was not overly busy, though this also means that the kitchen can spend the time doing closer quality control at the pass. Make no mistake however, Theo Randall is a brilliant chef and this is a (large) kitchen with real ability. This and L'Amorosa (and my local La Mama's) are presently on my mind for Italian in London. It's those tomatoes and the sauces, wholesome and comforting, I lust for it. I do like Trullo (how can you not), but I am waiting for the hype to pass before venturing out to Borough market. While you queue for the opportunity to watch pasta being tossed, I'll be getting my fix here.
Details
Theo Randall
Italian
£40 – £60pp Lunch
£70 – £120pp Dinner
InterContinental London Park Lane
One Hamilton Place W1J 7QY
Tel : +44 (0) 20 7318 8747
Tube : Hyde Park Corner or Green park